Eggplant is a deep purple color with brown undertones, named after the skin of the eggplant vegetable. It is also known as aubergine since the eggplant is called aubergine in some regions.
As a shade of purple, eggplant is associated with the same qualities as purple, such as luxury, nobility, and wealth. It works well with so many shades, as despite being quite dark, it is not heavily saturated and produces a muted look.
In the context of interior design, this color looks stunning in a matte finish to create a velvety smooth style as wall paint for a luxury modern look that is versatile and timeless.
Eggplant is an interesting color to work with in home decor because it has really balanced energy that feels neither obviously cool nor warm, so the colors you use with it are going to dictate the kind of atmosphere you create in a room. Here we look at some of the most stylish color palettes to use with eggplant.
White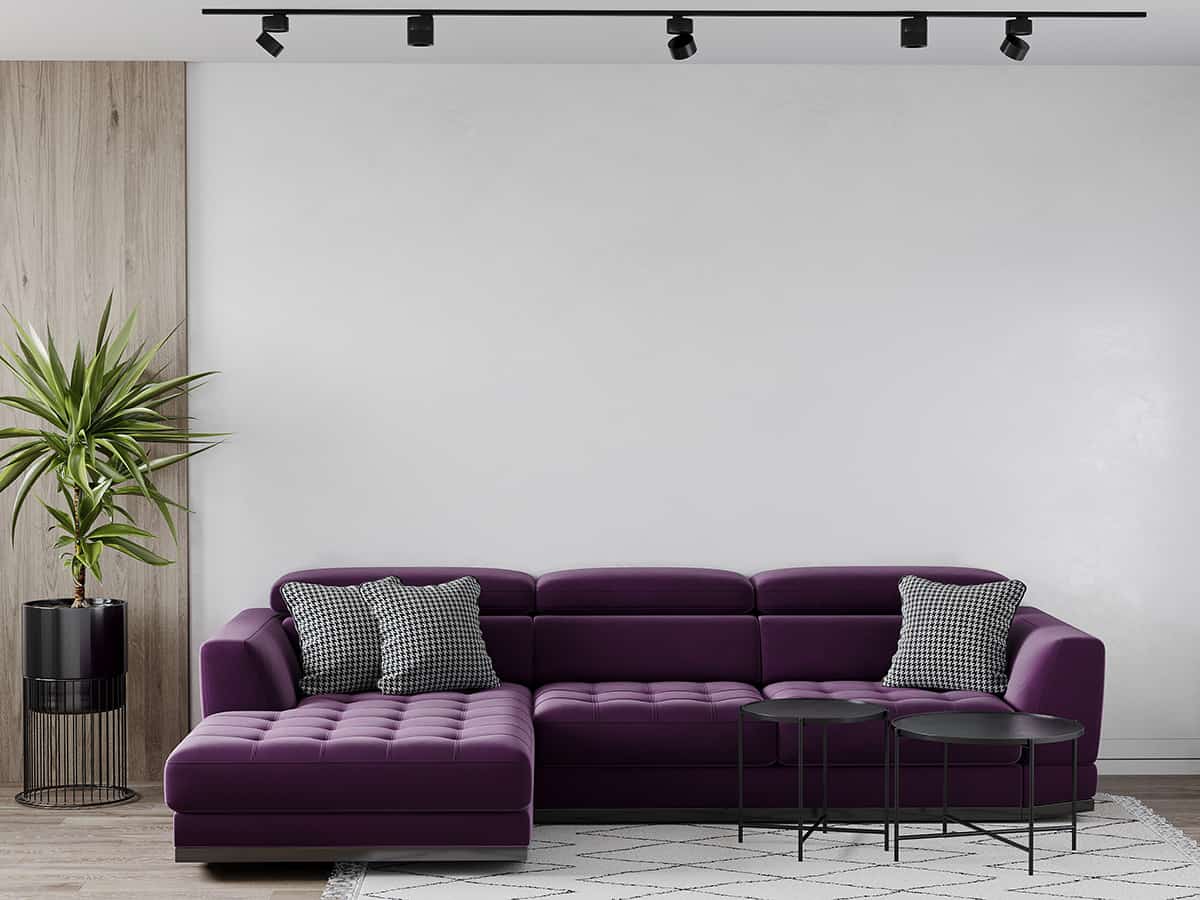 White and eggplant make for a color scheme that can be sleek and modern, luxurious and elegant, or even vintage retro. Use white as your base color for the walls in a living room, with white-painted furniture and a fluffy white area rug. With a background this clean and neutral, eggplant furnishings and accessories are really going to pop.
Opt for an eggplant sofa in a luxurious fabric like velvet and heavy suede eggplant drapes at the window. Add in a few smaller items in eggplant shades, such as a frame on the wall and a candle on the coffee table.
This is one example where less is more, as the greatest impact will be created if you don't saturate the space in the eggplant color. This is a look that will read as chic and glamorous and can also be made to feel minimalist if you add in some glossy surfaces such as glass side tables and a white marble floor.
For an atmosphere that feels more cozy and secure, paint the walls in eggplant and use a layering technique to add texture and depth. This entails stacking textiles on top of each other, which all have very slightly varying shades of eggplant.
For example, include bedsheets in a dark eggplant, a comforter in medium eggplant, and a series of cushions in medium to dark eggplant.
This monochromatic eggplant look sets the perfect scene for white accessories to be added, which they will stand out, bringing a sense of brightness with them that contrasts against the muted tone of eggplant.
In a bedroom that is predominantly eggplant, fix white picture frames to the walls and use white lampshades.
Mustard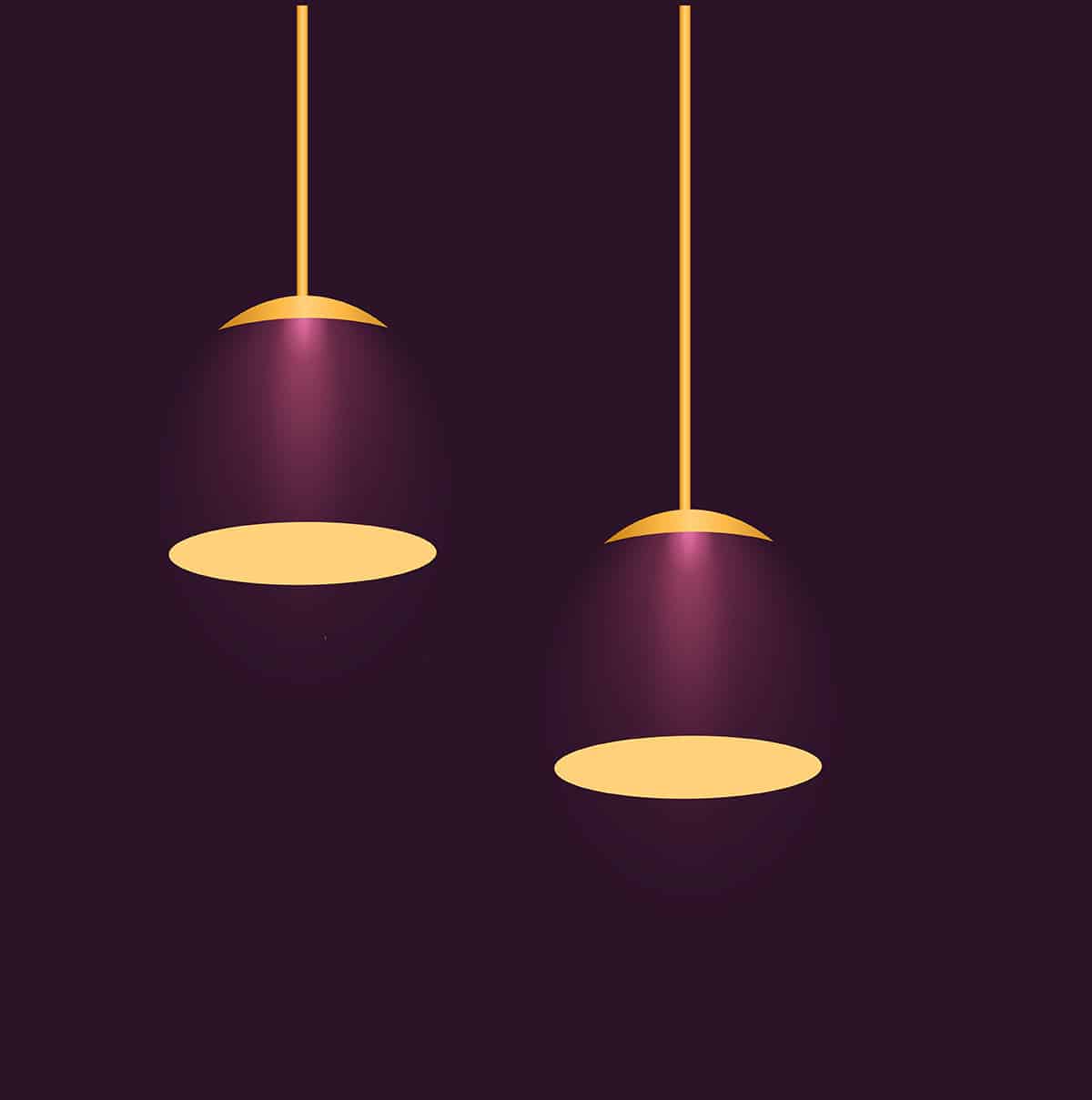 Yellow and purple are opposite colors on the color wheel, and therefore they contrast and complement each other really well. Using a bright yellow and bright purple in an interior room would create a very intense look that could feel overstimulating.
However, as eggplant is a dark and muted shade of purple, and mustard is a dark shade of yellow, these two colors are great for creating a contrast that feels energetic without becoming overwhelming.
For a relaxing vibe with these shades, use matte textures and simple shapes. Eggplant-painted walls in a living room will look stylish with a mustard yellow sofa in velvet or corduroy and some small mustard yellow accents such as plant pots and a framed mirror.
Use the accent color sparingly to make the best impact, and add in a third neutral color if you want a more subtle result, such as pale gray or cream.
For a more energetic look, use mustard as your base color on the walls and tone it down with splashes of eggplant. For example, in a bedroom, paint the walls mustard and choose an eggplant-colored rug with eggplant bed sheets.
Dove Gray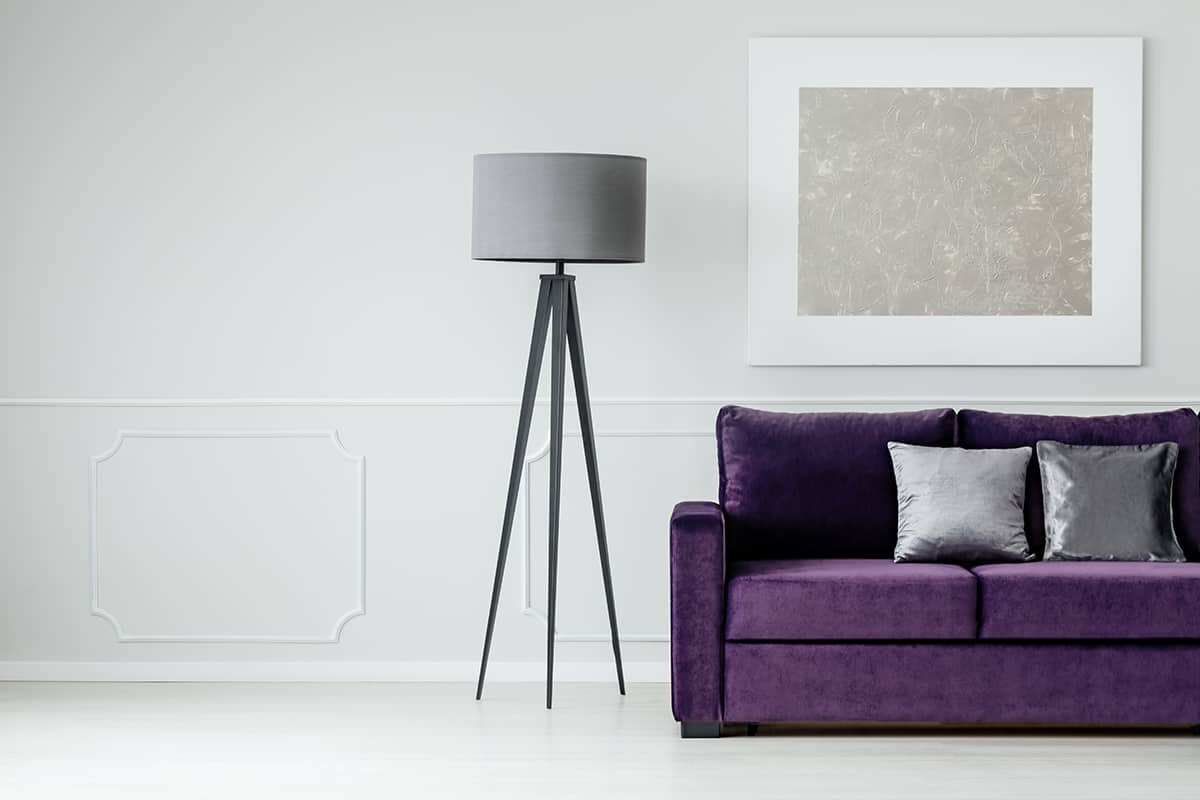 Dove gray is a pale shade of gray with cool tones that adds a crisp and fresh atmosphere to an eggplant-colored space. This is a nice color combination if you want to ensure your eggplant decor feels fresh and modern.
The dove gray elements will bring a contemporary feel to the room, while the muted eggplant elements will create a sense of safety and comfort. This is a color scheme that will work really well in a bathroom or kitchen because it will feel clean while also providing a sense of relaxation and calm.
In a kitchen, paint the walls in dove gray and select matte finish eggplant cabinets with a gray marble countertop. In a bathroom, eggplant-painted walls will make for a cozy and secure feel, while dove gray tiles and towels will maintain a modern look.
Lime Green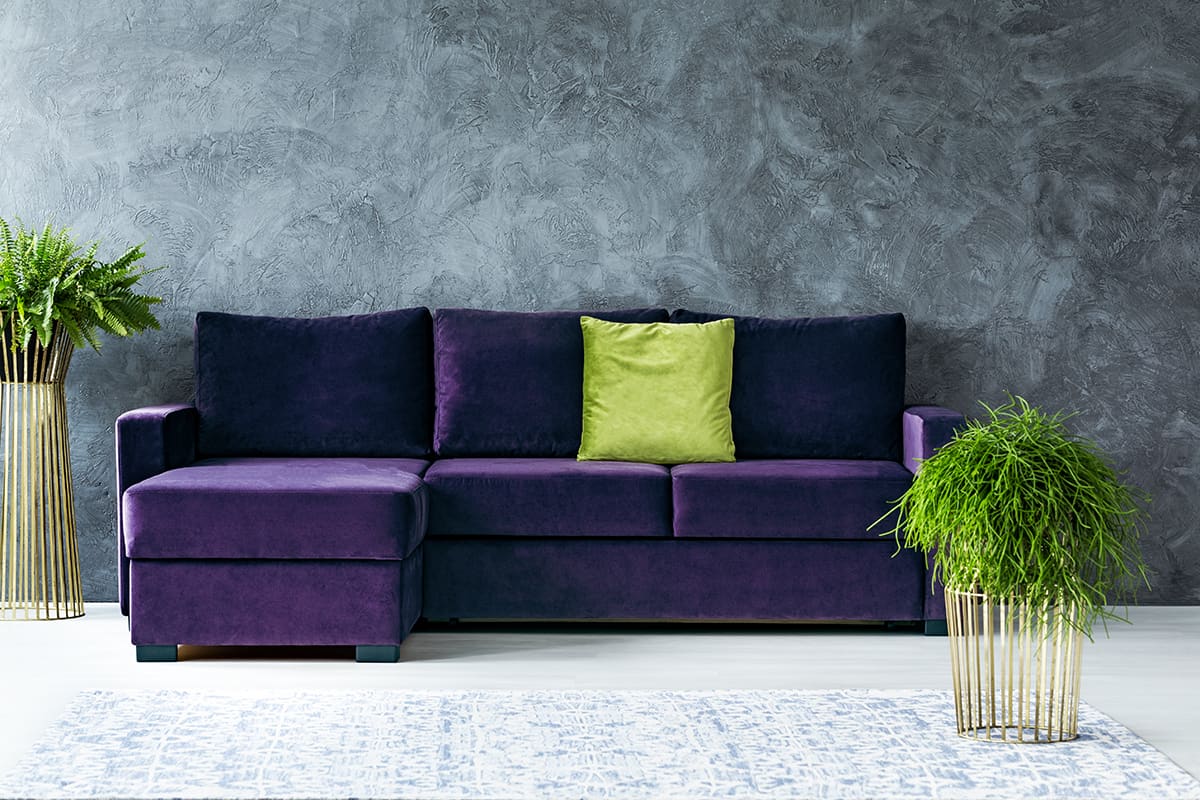 Lime green is a vivid yellow-toned green, and since it has a distinctly yellow hue, it works well as a contrast against shades of purple.
Despite lime green being a bright color, the contrast it creates with eggplant isn't overwhelming because this is a dark and dulled shade of purple. The eggplant and lime green color combination is fun to play with, and it is great for bringing a quirky look to interiors that are typically conservative.
For example, in a formal dining room with traditional wooden furniture and eggplant-painted walls, choose lime green upholstered dining chairs to add a shock of color. The result is a playful take on challenging expected color palettes and traditional design.
If you have a predominantly lime green room and you want to make it feel more mature, then use eggplant accessories and furnishings. For example, in a living room with white walls and lime green sofas, add eggplant cushions and an eggplant vase on a side table. This will help to tone down the vibrant energy of lime green and achieve a look that feels more sophisticated.
Lilac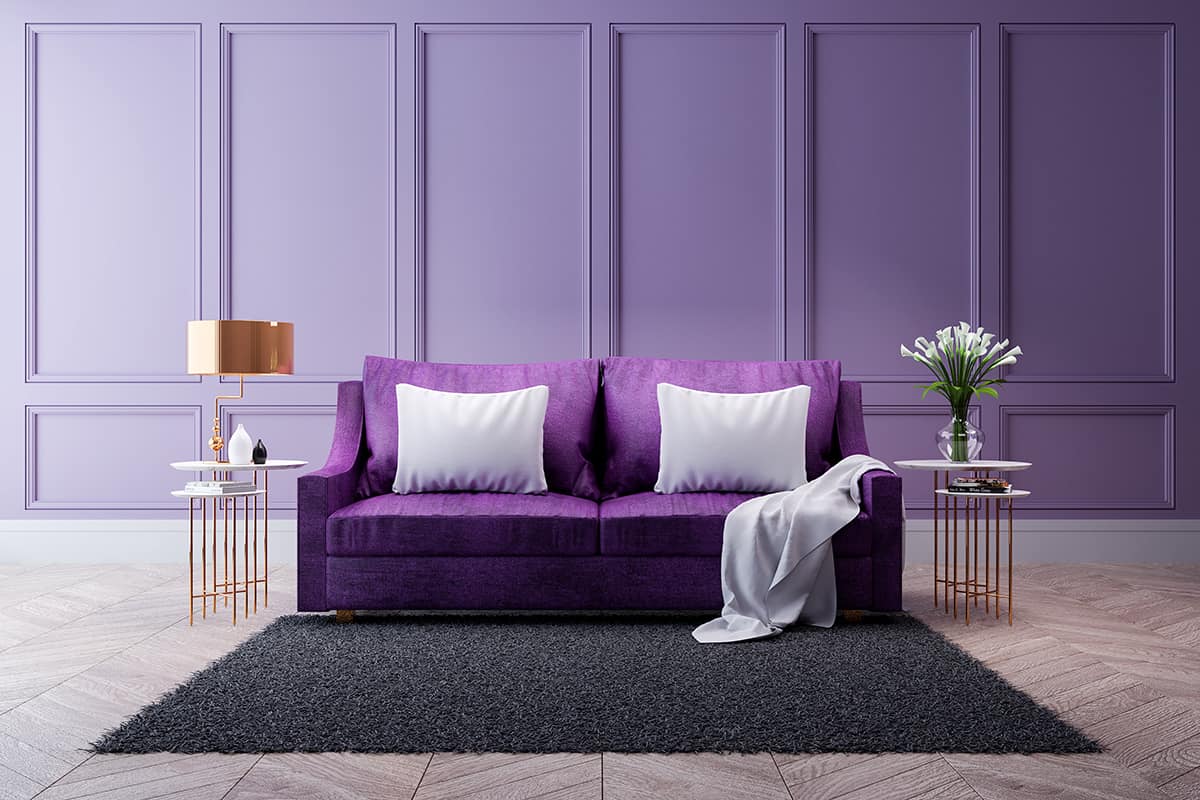 Lilac is a pale shade of purple that can be used to create a really soothing energy in a space while also maintaining a fresh feel. As a pastel color, lilac feels easy and pleasant to be around.
It is a color associated with friendliness, and it is also linked to femininity. Lilac is essentially a much lighter shade of eggplant, so when these colors are used together, the result is a space that feels tonal and layered. This is a color scheme that suits a bedroom perfectly.
For a casual and breezy feel, paint bedroom walls in lilac and use eggplant-colored cotton bed sheets and lampshades with lilac cushions and throws.
Reverse this color scheme if you want a space that feels cozier and cocooned, and opt for more tactile fabrics such as satin sheets and chenille throws.
Peach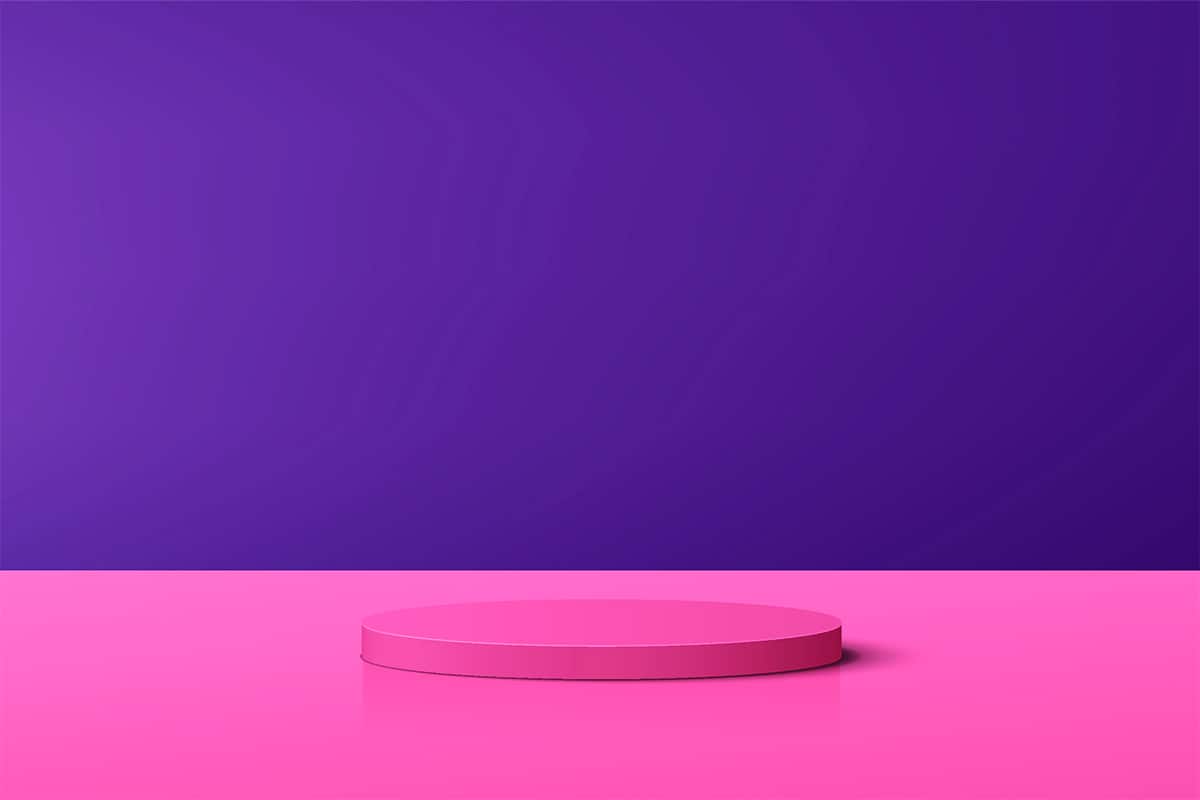 Peach is a pastel shade of orange-pink, with a femininity that feels more quirky and playful compared with the usual pink or lilac shades.
Choose peach accents in an eggplant room to add youthful energy to the space and create an uplifting mood. The orange components of peach make it feel inspiring, and it can help to boost your energy, while the muted eggplant parts of the space will create balance.
Denim

Denim is a medium to dark shade of blue with a slightly muted gray tone. Since blue and purple are next to each other on the color wheel, they are analogous colors that create a sense of harmony when used together.
As shades of blue and purple, denim and eggplant work together effortlessly in interior design to create a space that feels easygoing and relaxed. Blue is a soothing shade that induces a sense of calm and tranquility, and this can be emphasized by using it with eggplant since the muted tone of the color builds on the soothing energy.
In a bedroom, paint the walls denim blue and choose eggplant-colored bed sheets and curtains, with a denim-colored area rug and cushions on the bed.
Moss Green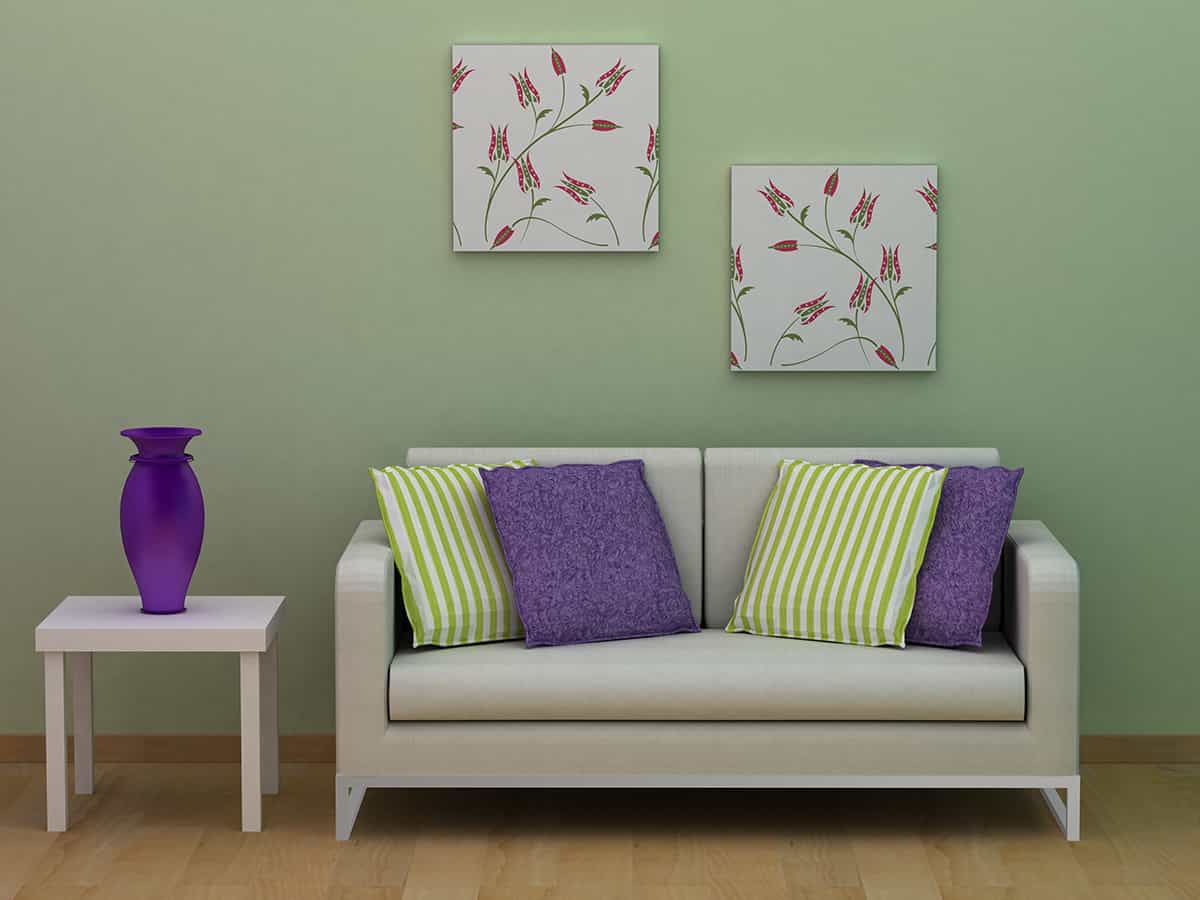 Moss green is a dark and earthy shade of green, and it will be beautiful in a botanical-themed space with eggplant accents. As two darker shades with muted tones, the eggplant and moss green color combo creates a sense of magic and mystery, like an enchanted forest.
Paint living room walls in moss green and choose eggplant suede sofas with green cushions featuring foliage prints. Set a bowl of dark purple potpourri on the coffee table and choose some art prints in darker shades of green and purple to fix onto the wall in wooden frames.
Tan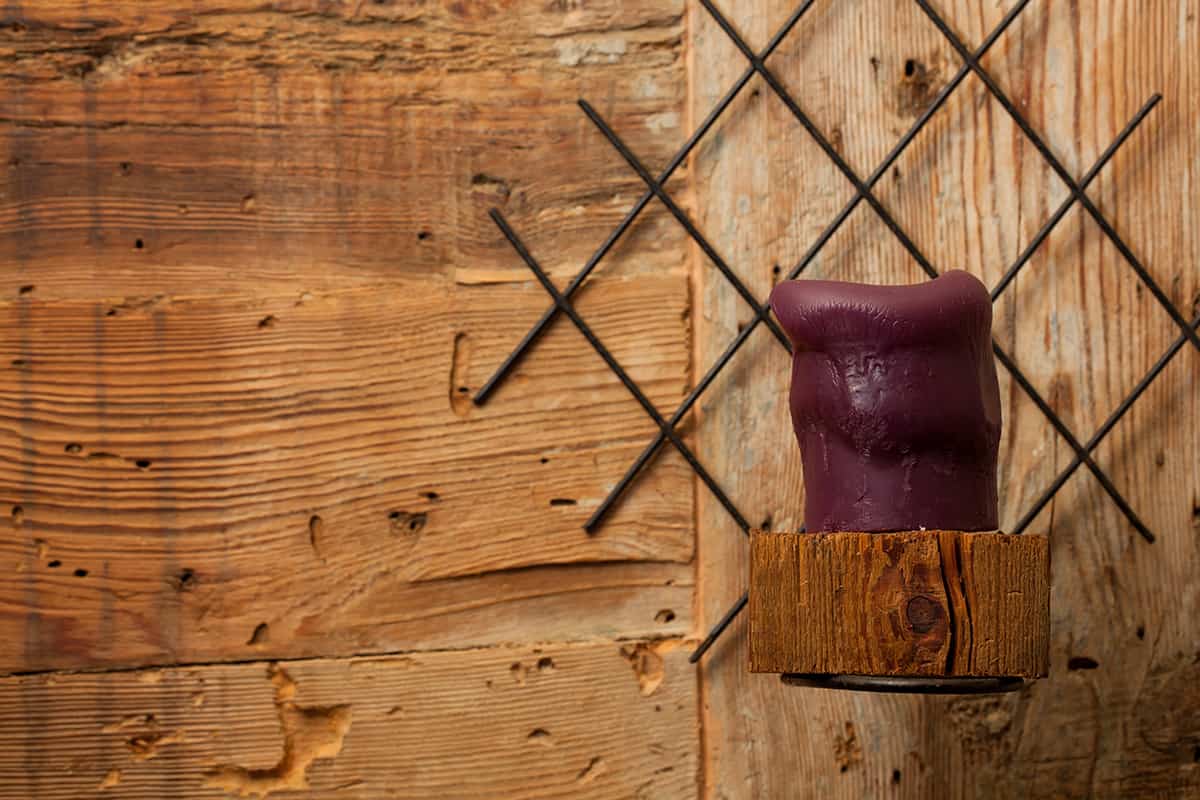 Tan is a neutral shade that can take the form of dark beige or light brown. It can be used with eggplant to create a warm energy in a room, though it can have a tendency to lean toward an old-fashioned style.
To prevent the room from feeling outdated, use very subtle shades of tan which aren't heavily saturated, and be sure to stick with matte finishes for any of your eggplant items. A glossy eggplant finish points to an early 2000's interior style.