Lilac is a color that is named after the pink-purple bloom of the same name, though it is considered to fall under purple more so than pink. Lilac is not a bright or strong shade of purple, but it is not light or pale either. It is darker than lavender and has less of a blue-gray tone than this other popular purple shade.
Lilac is a color that seems to be forever falling in and out of style when it comes to fashion. It was announced as the color of 2018 by many fashion houses, and we saw an influx of lilac clothing, shoes, and accessories as a result. Lilac hair also took the world by storm, following on from the previous silver-gray hair trend.
In interior design, lilac is a color that is consistently used in nurseries as an alternative to pink, but it can also be used to create a sultry and sophisticated decor or a pretty and traditional style.
Here we will look at ways to incorporate lilac into your home decor and explore the best colors that go with lilac.
History of Lilac Color
Lilac is a shade of purple, which is believed to signify first love, but it is also a color that is associated with grief and mourning. In the 1800s, lilac was worn for the latter stage of mourning.
During Victorian and Edwardian times, the etiquette following a family death was quite strict, and a widow left behind by a husband would have to wear black for a full year, and in the second year, she could progress to wearing lilac and white.
The latter stages of mourning would be dictated depending on the person who had died; for example, if your mother-in-law had died, you would wear black for a month, followed by lilac afterward.
Today, lilac can signify spring and more joyful emotions, as lilac flowers are among the first to bloom in spring. Lilac can also be used to convey feelings of tranquility and relaxation. As a shade of purple, lilac can also be used to signify royalty and luxury.
This is because purple was a popular color among royalty through the ages. This trend began as early as 1570 B.C when it was discovered that certain types of sea snails, now known as rock snails, could be massaged to induce them to secrete a purple liquid. This purple secretion was harvested as a dye with which royalty and prosperous families had their clothes colored.
Cleopatra was known to love the color purple and had teams of maids milking snails to make the purple dye. The dye could be diluted to varying degrees, which would result in clothes that were the color of lilac. Because of this, lilac gowns and togas among the nobility were commonplace.
Because so many snails were required to make a small amount of dye, it was purely reserved for the richest people, which is why purple, and in turn lilac, became known as colors to signify royalty and luxury.
Lilac is an attractive shade that can be employed in almost any style of interior design. It can be used as the primary color in a room or as an accent color. The colors listed below are some of the best shades to pair with lilac in interior decor.
6 Great Colors That Go with LiLac
Moss Green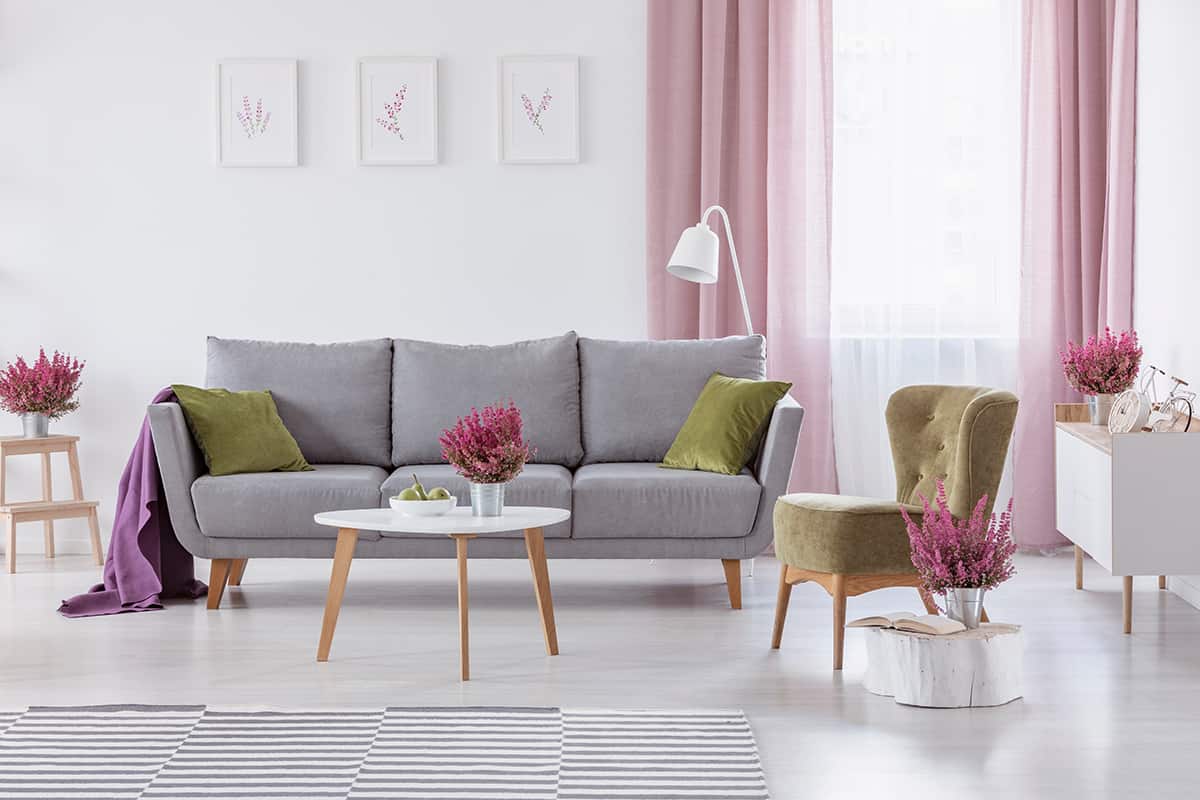 Moss green is an earthy shade of green that is similar to olive green, but it has more gray tones in it than the brown tones found in olive green. This is a subtle and understated green color that can sometimes have hues of blue running through it. Moss green provides a nice natural feel to lilac, which can look cheap or garish in some lights.
Moss green balances out lilac and helps to ensure a more mature environment is created as a result. If you want to use lilac to create an earthy elegance, then moss green is a great color to use with it. Moss green works as almost a neutral shade because it is a color so frequently seen in nature.
Use it as a wall color in a living room, and pair it with natural fabrics in beige shades such as a jute rug or cream canvas cushion covers. The lilac and moss green color scheme would look nice as it is, but the addition of lilac accents would elevate these colors up a few levels to achieve a stunning and stylish space.
Cornflower Blue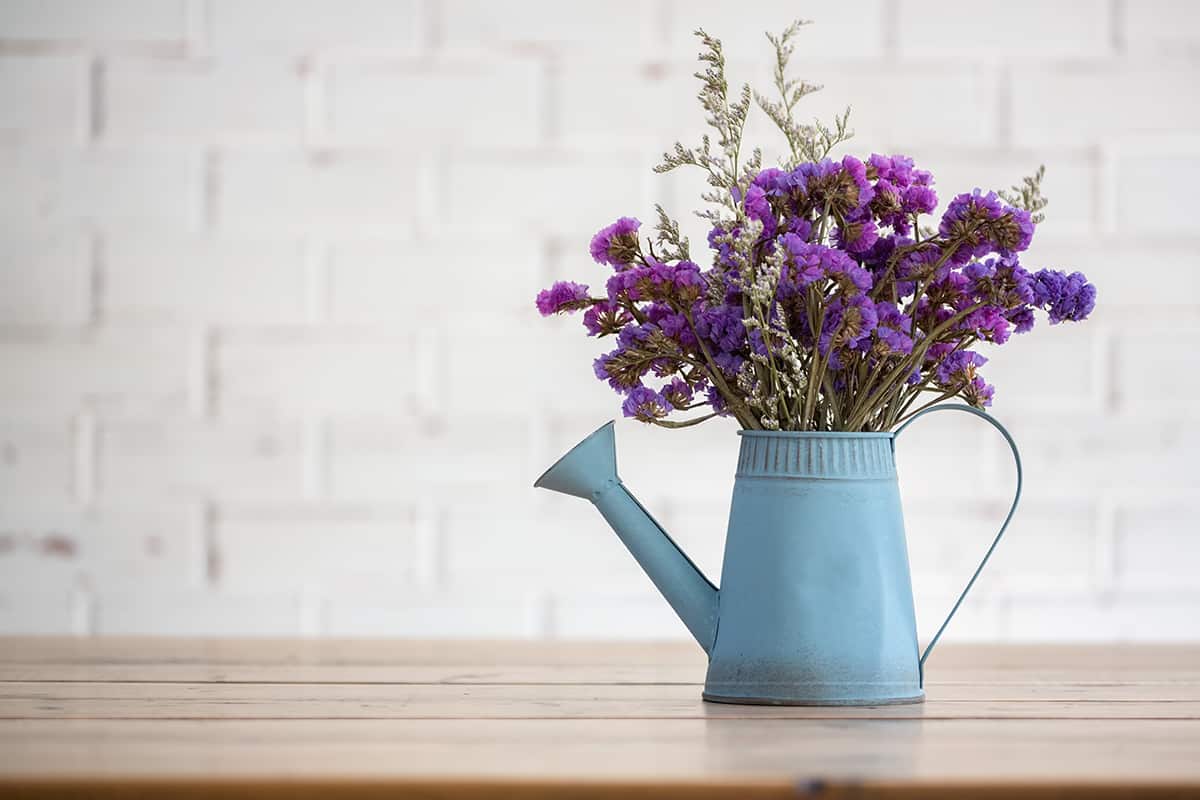 If you want to use lilac to create a country-style in a bedroom or living room, use it alongside cornflower blue. These two colors are floral-based, and they work really well when used in floral print fabrics.
Choose a dainty floral material for a cottage chic look, and use it for bedding, cushions, or even to upholster a sofa. These colors will look fresh when set against a clean white background, but they can also look great for more traditional styles on a cream or beige background.
Cornflower blue is a medium to a light shade of blue, which has more purple in it than most shades of blue. This means it can create a stylish, tonal look when used with lilac because the two colors share a lot of similarities. As two cool shades, these colors can be used to make a fresh and relaxing space.
Taupe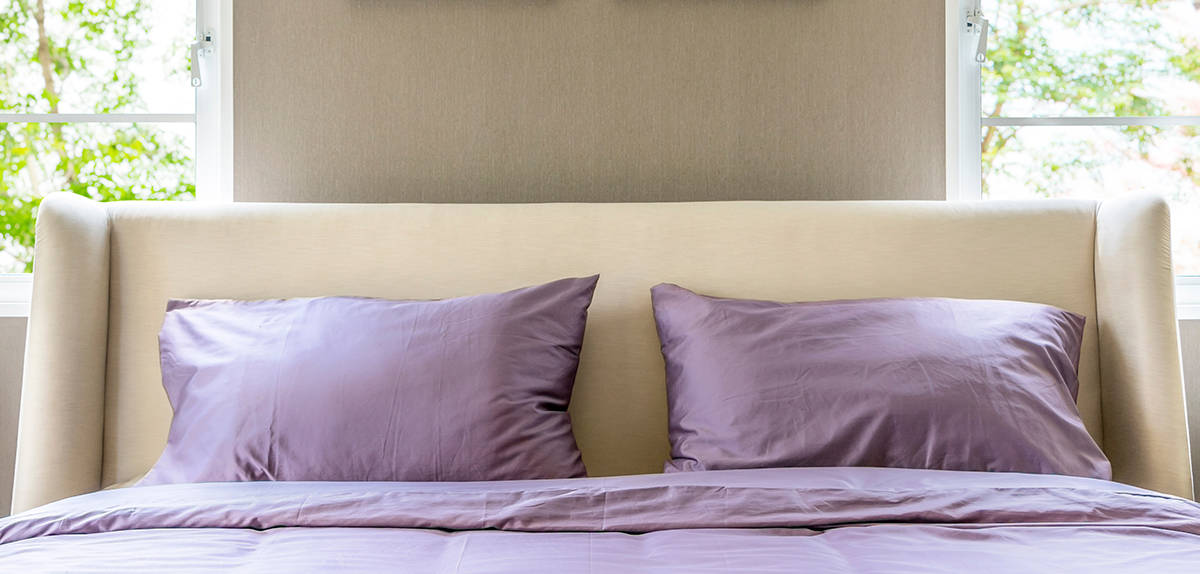 Taupe is a shade that sits somewhere between gray and brown and could be described as a darker shade of greige. Taupe provides a warming yet earthy base, which will level out the brighter elements of lilac and make it feel more mature.
Taupe also creates a subtle contrast against lilac because lilac is a cool shade while taupe falls more into the warm spectrum.
If your lilac room feels too fresh and uninviting, you can make it feel more welcoming and comfortable by incorporating taupe accents. Taupe is a nice warm neutral shade to use on walls, or you could choose taupe-colored furniture such as sofas or upholstered beds.
It makes sense to choose a color like taupe to go with lilac if you are someone who likes changing up your decor style every few years.
Taupe goes well with a wide range of colors, so you won't need to re-paint your walls or invest in new furniture if you get bored of your lilac accents. Instead, decorate your taupe room with lilac accessories that can be easily swapped out if you want to change your color scheme, such as lilac candles and lilac throw cushions.
Rose Pink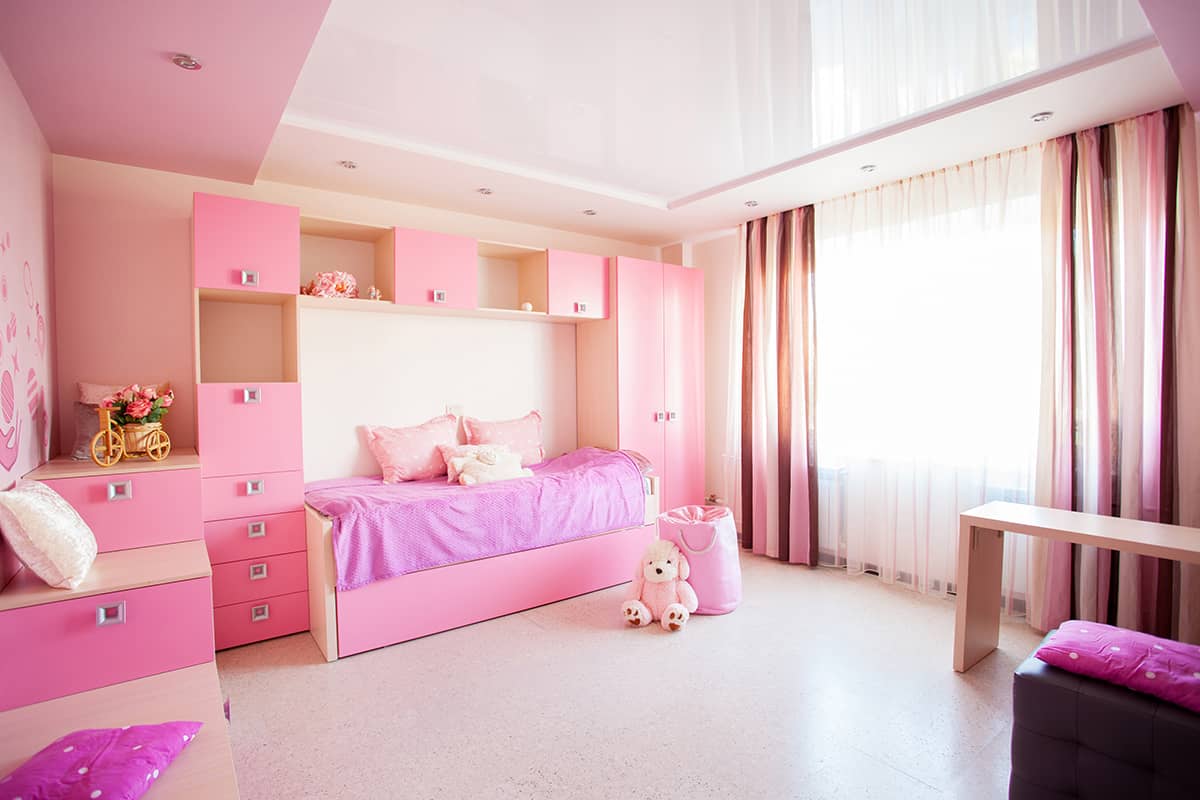 Lilac has undertones of pink in it, so these two colors can look really pretty together. Be sure to use a subdued shade of pink like rose pink or dusky pink so that the style is sultry and romantic rather than brash.
These colors will work well in a bedroom, but they can also be used in more common areas of the home, such as living rooms, kitchens, and dining rooms.
Avoid floral prints unless you want the theme of the room to be traditional or kitsch, and instead, opt for more modern patterns and materials such as geometric prints or velvet throws.
Lilac and rose pink can be employed to achieve a glamorous and sumptuous style by incorporating elements of cool gray and warm metals, such as gold or copper.
Gray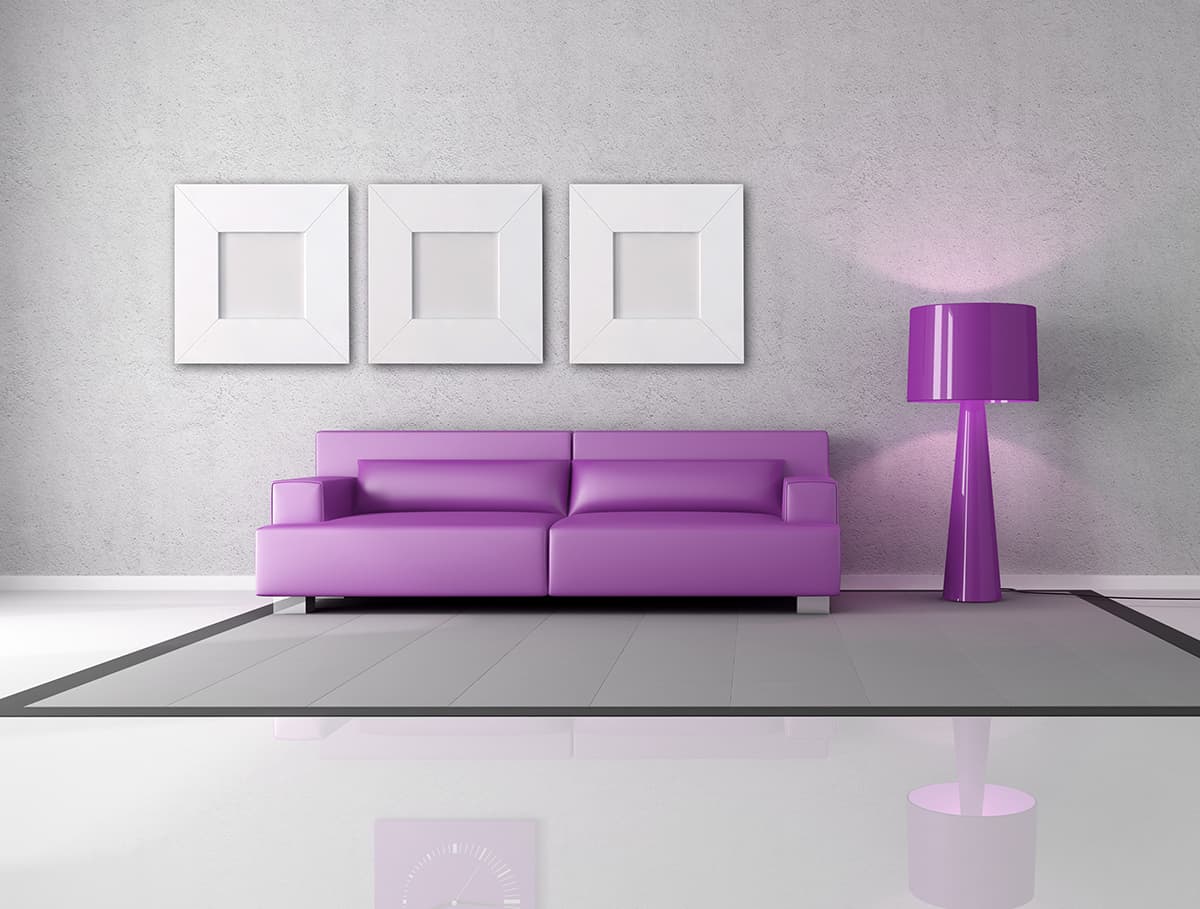 If you want to ensure your lilac room sits firmly in the modern decor style, then use gray with this color. Concrete gray is a mid to light gray, which will be ideal with lilac, balancing out the bright tones with a duller hue.
Gray shades can have various undertones, and while the best gray with lilac will be a pure gray that has no other obvious shades running through it, and cool shades of gray will work well.
Paint walls lilac and opt for medium or light gray accessories and furnishings for a relaxing and tranquil space, or choose dark gray accents for a more severe contrast.
Mulberry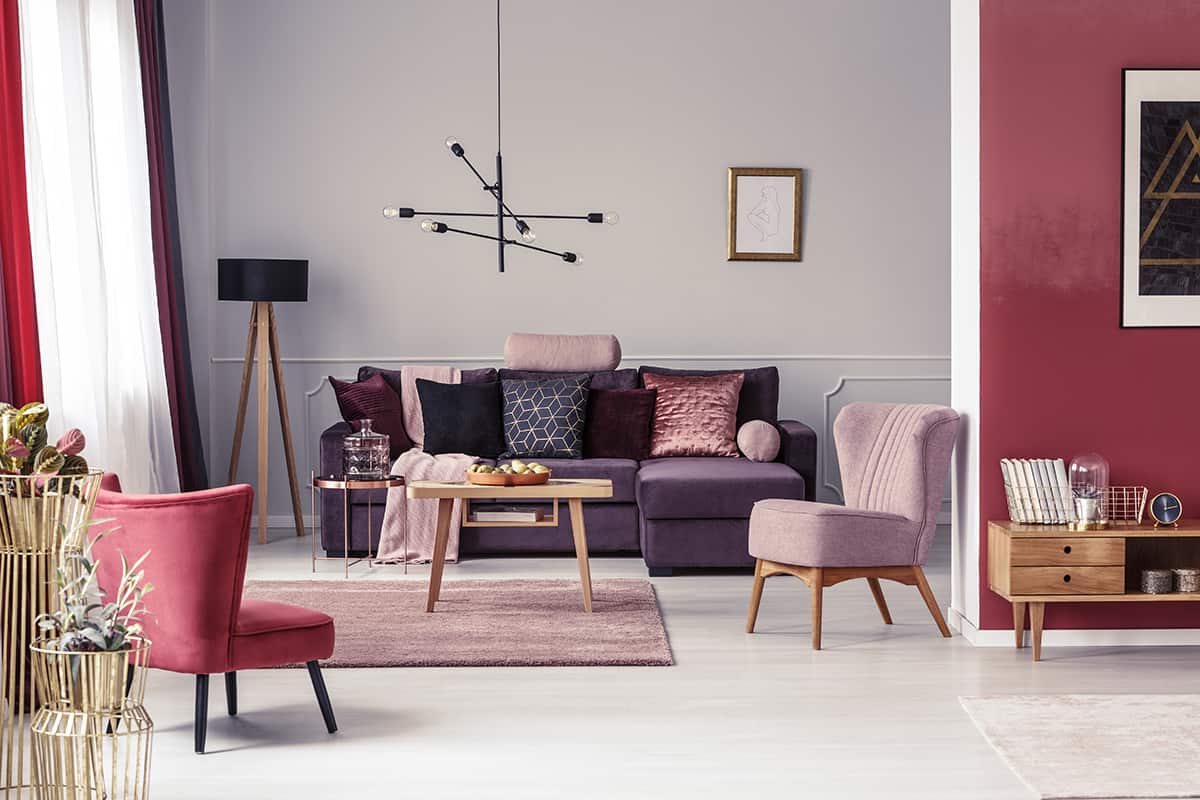 Mulberry is a red-purple shade named after the mulberry fruit. It is a dark and rich color that works well with lilac because it features purple tones, making for a deeply layered and tonal look. Opt for mulberry bed sheets and stack them up with an array of mulberry and lilac cushions in a number of complimentary fabrics.
As mulberry is a warm color, it will make lilac spaces feel more welcoming and cozy because lilac itself has a tendency to feel cool and fresh. For a room where you want to rest or snuggle up under a blanket, mulberry and lilac will serve to create a warming atmosphere that is also stylish.
The higher percentage of mulberry you use, the cozier the room will feel, while with a greater proportion of lilac, you can expect the room to feel more refreshing. As the lighter of the two shades, lilac will also make a space feel brighter and airier, whereas mulberry adds depth and comfort.