Mahogany is a type of wood that is chosen for its rich red-brown tone, among other covetable qualities. It goes well with a wide range of colors, including warm tones, which help to highlight the warmth in mahogany, as well as cool colors, which will contrast against it.
Mahogany surfaces, such as hardwood flooring or furniture, are popular in traditional-style homes, but they are less favorable in modern interior decor.
Here we will look at some colors that work well with mahogany wood, as well as mahogany color paints and soft furnishings.
Benefits of Mahogany
Durable
Mahogany is a durable wood that is strong and long-lasting, making it a great choice for flooring and investment pieces of furniture that you want to keep for many years. Mahogany holds up well against wear and tear, so it is ideal for flooring in high-traffic areas.
Many people choose mahogany not just for its appearance but also because it offers good value for money since it is expected to last for a long time.
Attractive grain
The grain of mahogany wood features a flecked pattern along with some subtle swirling, which gives it an attractive appearance favored by many people. The appealing aesthetic of the grain is one of the reasons why this is a popular choice of wood.
Polishes well
Mahogany wood can be polished to a high shine so that it looks glossy. If you are looking for a wood that can offer a sleek appearance, then polished mahogany will fulfill this perfectly.
Water resistance
Mahogany has a good natural resistance to moisture, which makes it ideal for use in homes where spills do happen. Mahogany wood should also be sealed to increase its water resistance properties and keep it protected.
Rot resistance
Mahogany has good natural rot resistance, which is another reason why this is a popular choice of wood for use in the home.
Warp resistance
People who work with wood will often choose mahogany over other types of wood because it is resistant to warping and, therefore, will be easier to work with and result in better pieces.
Wall Colors to Use with Mahogany Wood
Navy blue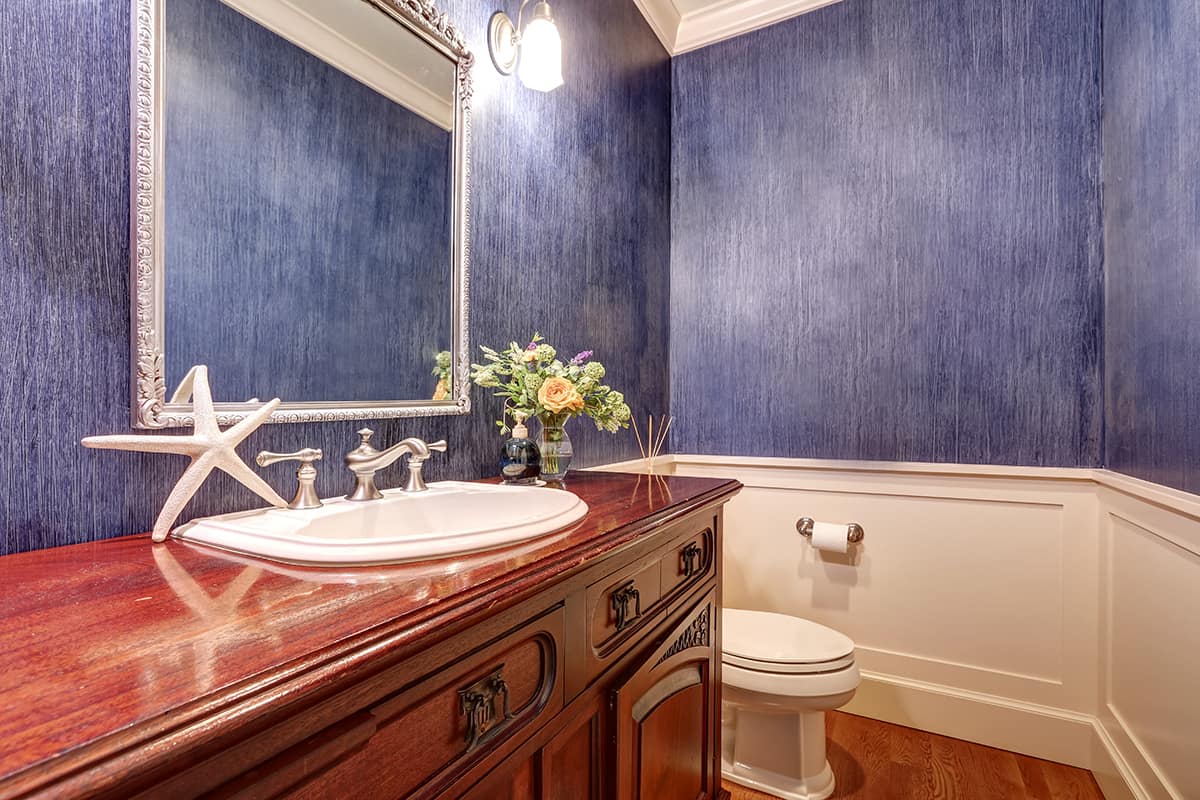 Navy blue painted walls will look great with mahogany hardwood floors because it provides a subtle contrast.
Blue and orange are contrasting colors, and since mahogany has some orange shading in the grain, navy, and mahogany will create a contrast that is appealing without being demanding of the eyes. The fact that navy blue is a dark and muted shade of blue will also add to this sense of a soft contrast.
To create a formal feel in a room, choose navy blue walls with mahogany flooring and pure white trim. This can work for a home office or dining room, and it could also be used as a basis for a nautical theme if you add gold fixtures and fittings with nautical-style accessories.
Olive green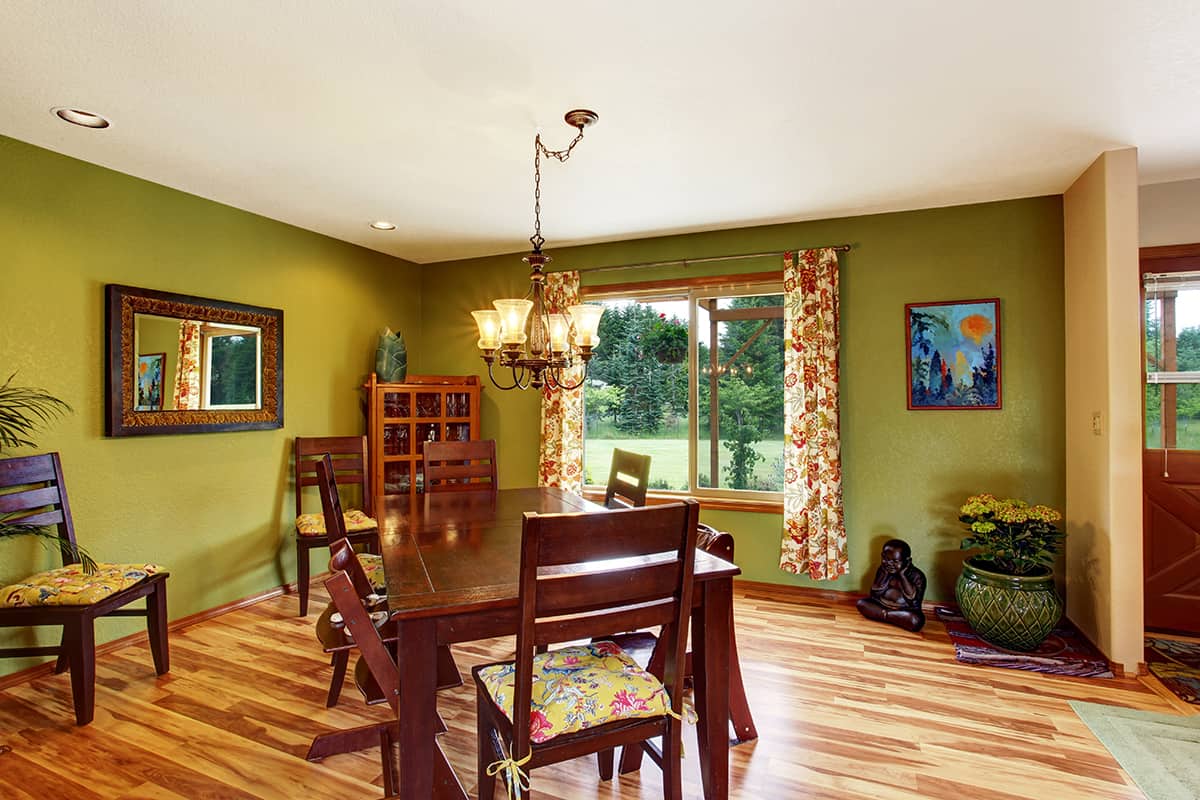 Since mahogany is wood and therefore a natural material, you can use it in natural themed decor. Olive green is a popular color to pair with for this style, as it is an earthy shade of green that is commonly seen in natural environments.
In a room with mahogany flooring, consider an olive green sofa and off-white walls, or invert this color scheme with olive walls and a natural-colored sofa. This color scheme can be beautiful in a kitchen for a homely and comfortable yet fresh feel, with mahogany kitchen cabinets and olive green walls.
Olive green is a muted shade that provides some contrast against mahogany because this wood has a red tone, and green is the opposite color to red on the color wheel. As contrasting colors help to make each other appear more vibrant, you can use olive green if you want to make the red tones in mahogany stand out more and become more prominent.
However, the fact that olive green is a subtle green shade means that the contrast is not too harsh and instead appears visually interesting.
Red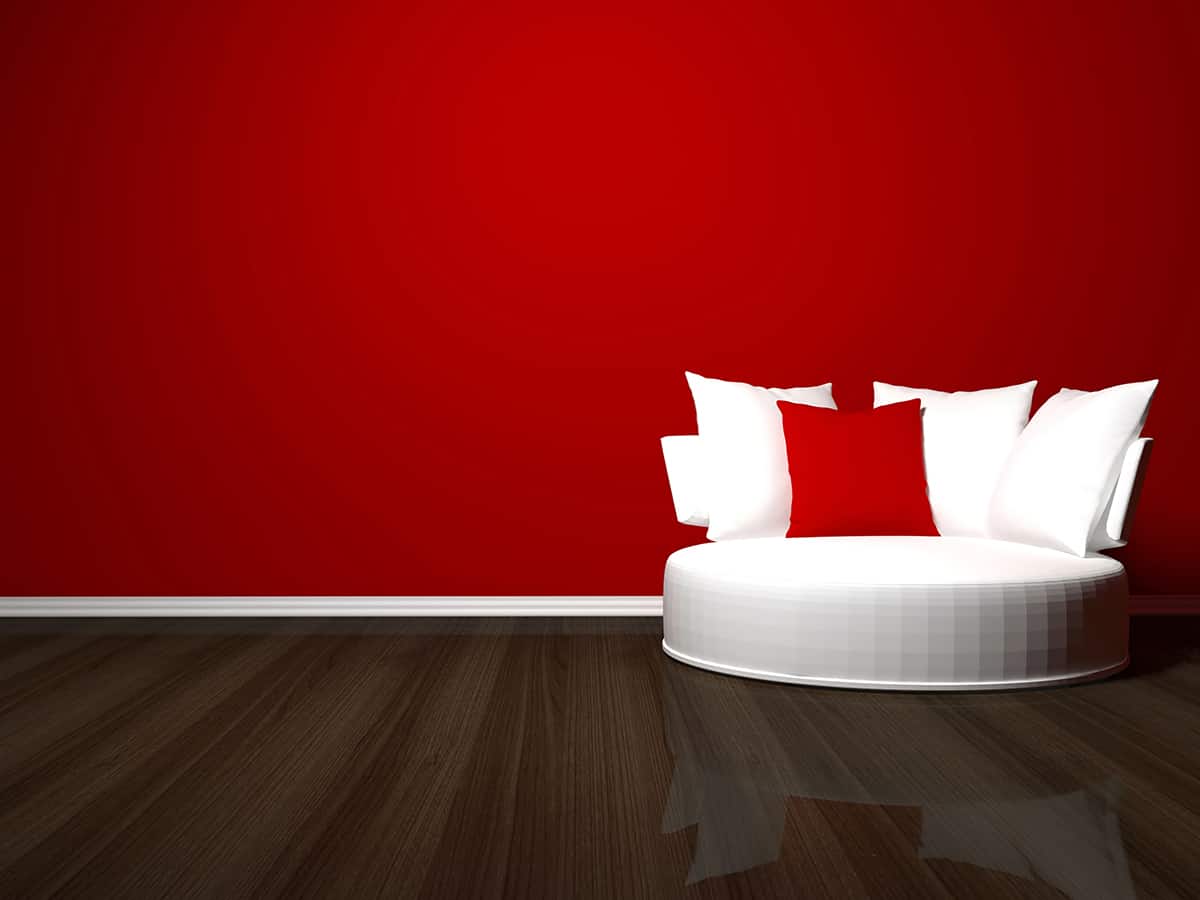 Red may not be a color that immediately springs to mind when choosing a wall color to pair with mahogany wood, but it can help to draw out the red tones in the wood if this is something you want to do.
As red and mahogany are both warm, the mahogany and red color scheme can be very rich and inviting. Paint walls in a dining room in a dark crimson red, and pair this with a mahogany dining table for a strong, comforting style.
Gray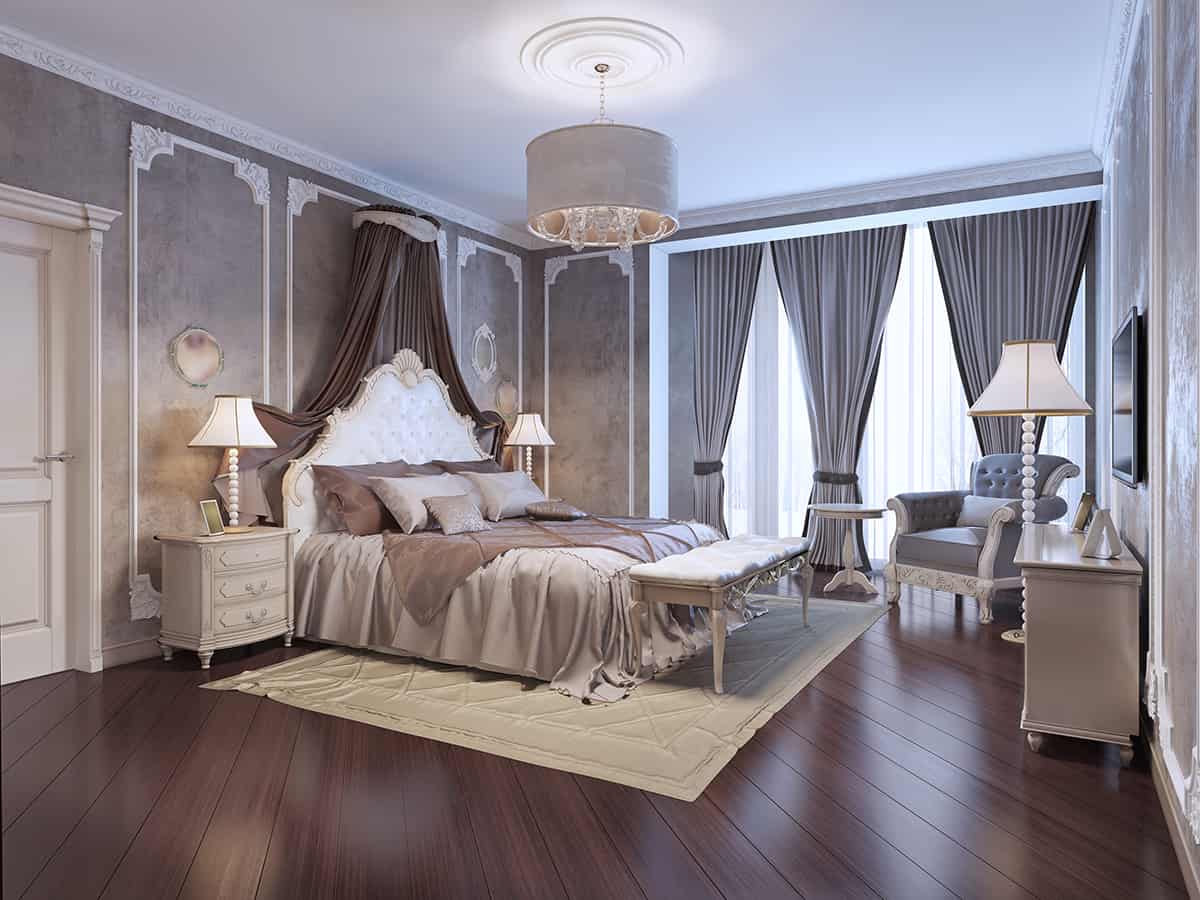 If you have moved into a house with mahogany floors, then you will probably either love them or hate them. Some people adore mahogany hardwood floors for their warm and rich tones; however, some people find they look dated and old-fashioned.
If you fall into the latter category, then you will probably plan to replace the mahogany floors at some point, but in the meantime, there are ways you can decorate that will help to make mahogany floors appear more modern or to draw the attention away from mahogany floors.
One of the best ways to update the look of mahogany hardwood is with gray walls. Gray is an inherently modern shade that, when used as a wall paint, can transform any old-fashioned space into a more contemporary room.
The shade of gray you choose is important as this will affect the resulting atmosphere. Choose a pale gray with blue undertones to make the room feel airy and cool or a dark charcoal gray for a more intimate feel. Pale gray will contrast against the mahogany flooring, while a darker gray will draw attention away from it.
Warm gray colors can also work well with mahogany if you want to achieve a modern feel while helping the flooring color to fade into the background. Try greige or taupe, which are gray shades with warm undertones.
Color Schemes with Mahogany
Mahogany is a popular type of wood, but it is also a color that can be used as a paint or in fabrics for soft furnishings. Mahogany is a red-brown shade that is similar to burgundy and sometimes can also have subtle purple hues.
Use mahogany as a dominant color to create a rich and comfortable decor, or use it as an accent shade to add drama to a space.
Mahogany, burnt orange, and eggplant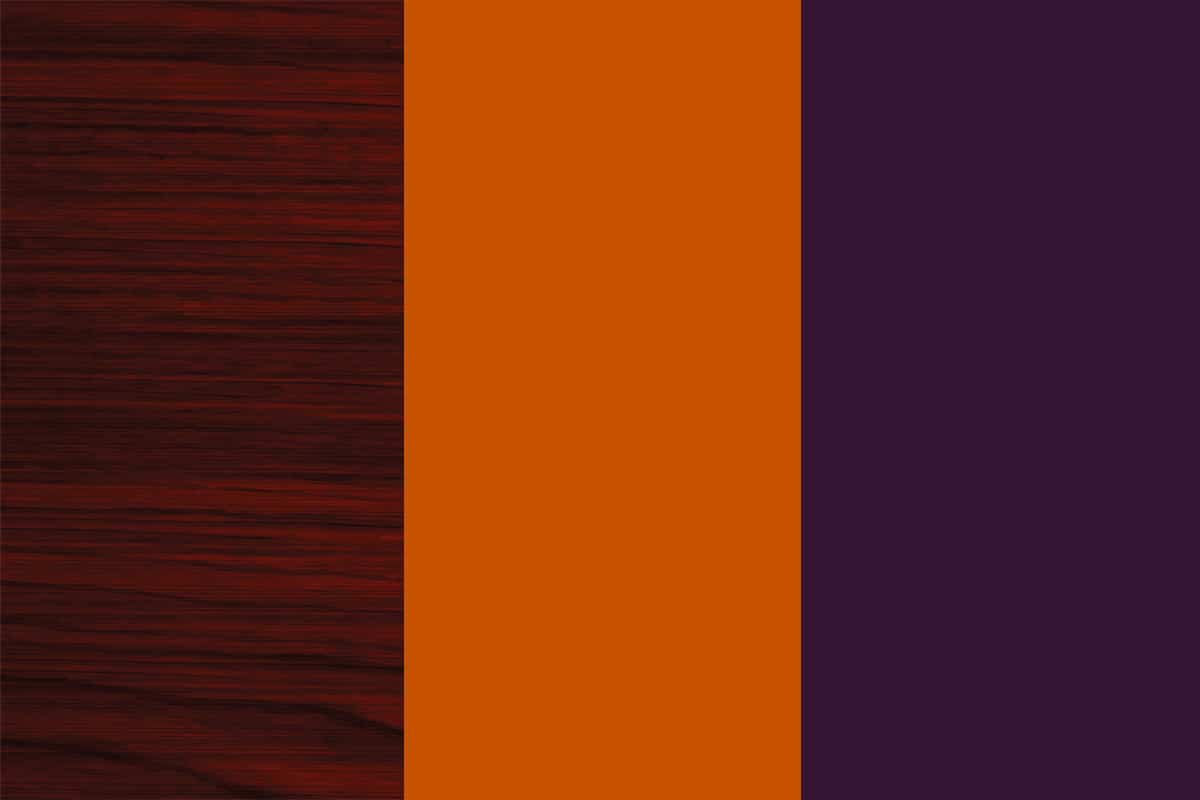 These three colors all have warm temperatures, which will make for a cozy and inviting space. Choose mahogany-colored wall paint and accent this with a burnt orange sofa and burnt orange curtains, with eggplant cushions and lampshades for a harmonious look.
Mahogany, cranberry, and faded jade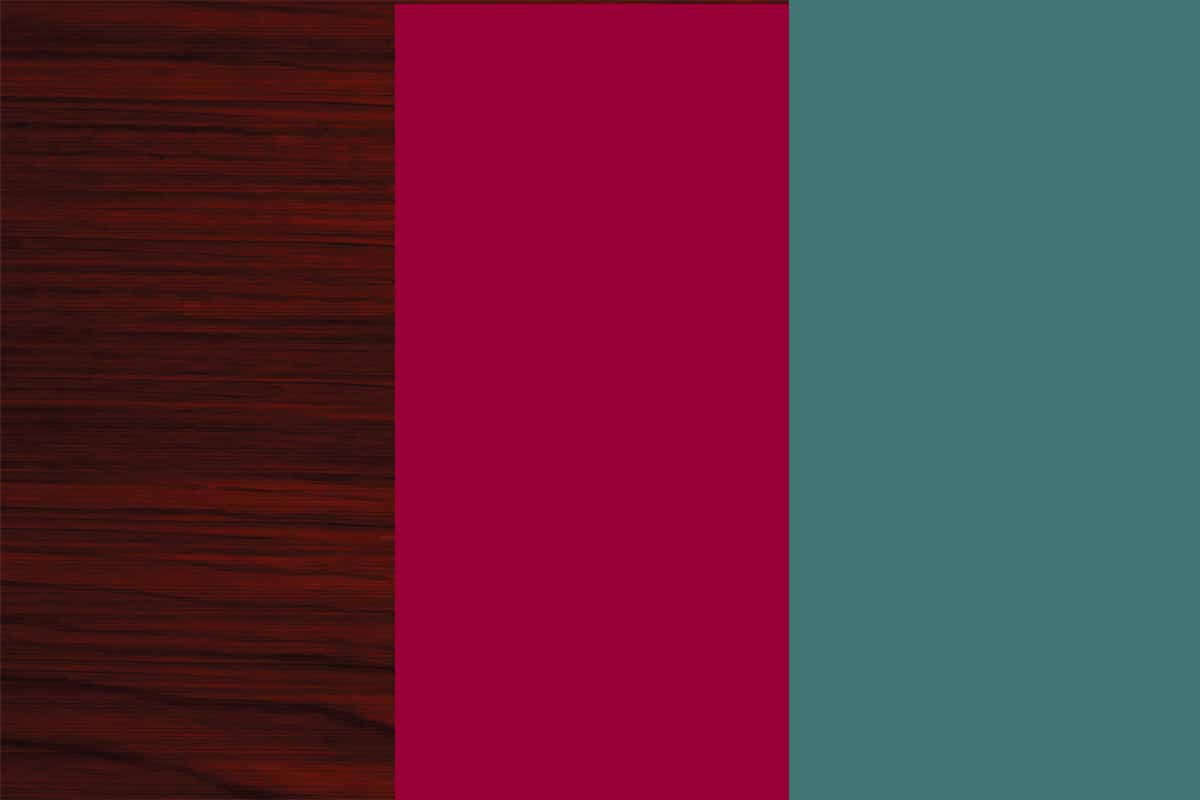 Faded jade is a muted blue color with green undertones, which gives off a calming and serene vibe. Contrast faded jade walls with cranberry curtains and mahogany furniture for a look that feels sophisticated and soothing.
This color scheme will work well in a bedroom, where the balance of cool and warm tones helps to achieve a sense of relaxation and comfort.
Mahogany, tangerine, and teal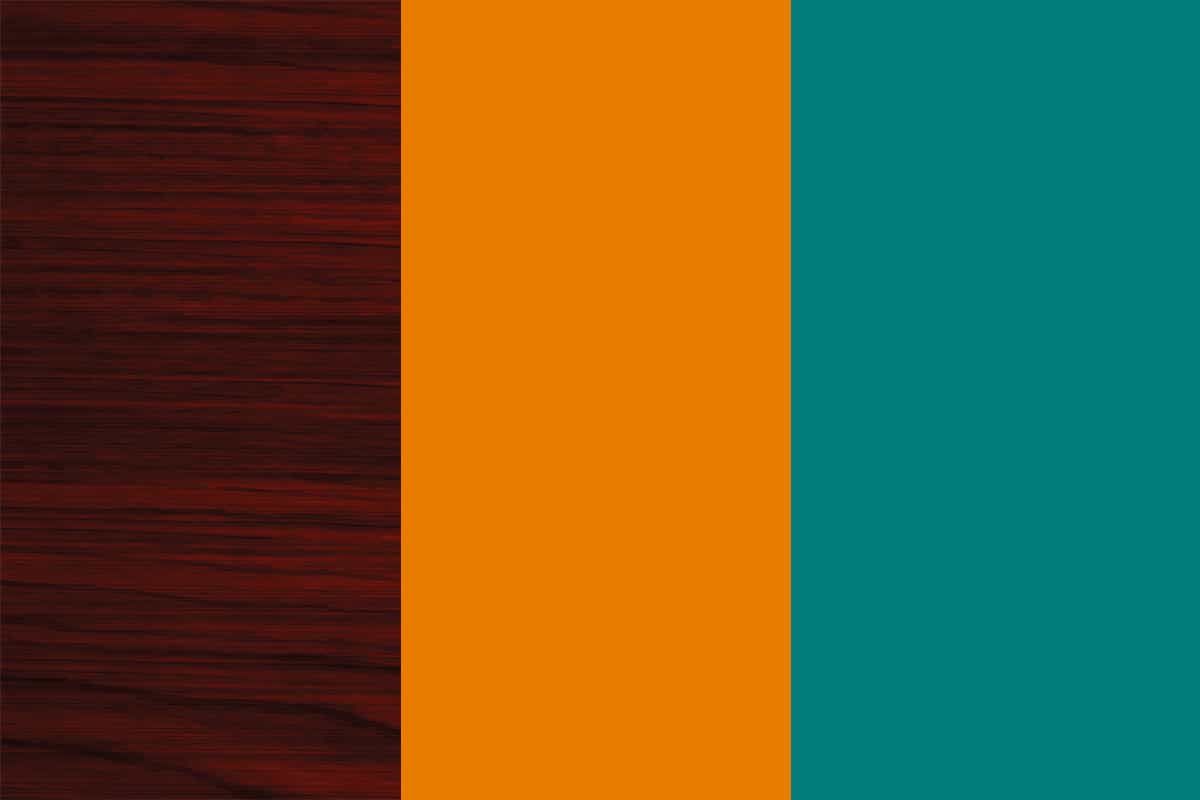 Use mahogany wainscotting in a formal dining room with teal-painted walls and tangerine accessories for an updated take on modern grandeur. This color scheme with mahogany will create a vintage French vibe that feels decadent and lively.
Tangerine and teal are both vivid shades that will be toned down with the dark and deep tones in mahogany to ensure they don't feel overstimulating.
Mahogany, lime green, and white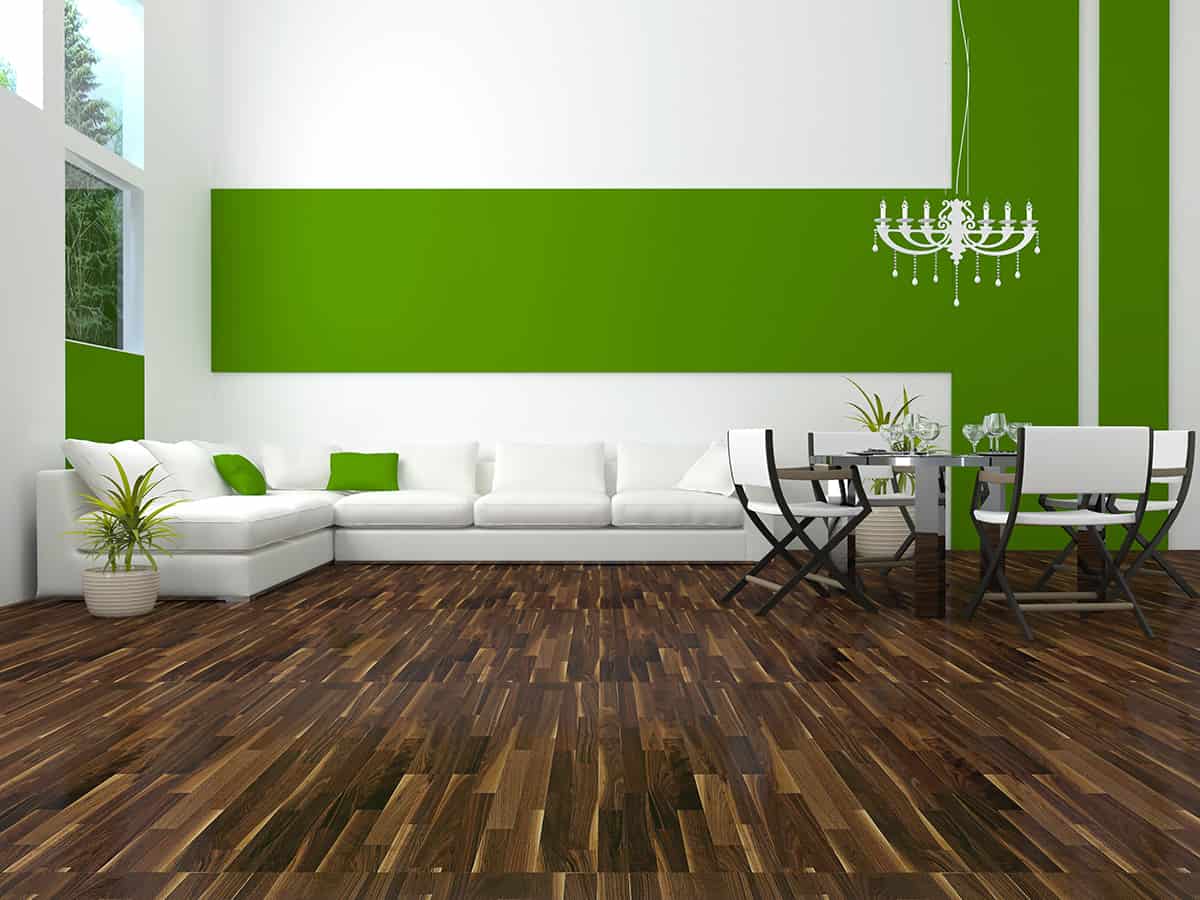 As red and green are contrasting shades, mahogany is a warm color choice to pair with lime green for a complementary look.
Lime green feels modern and fresh, while mahogany hints at a more subdued, historic feel, so the juxtaposition of these two colors can be really interesting.
The addition of white in this color scheme is important to create some distance between mahogany and lime because without a third neutral color, these shades can be too harsh together.
In a kitchen with mahogany cabinets, paint the walls white and choose lime green accessories such as lime green tea towels, lime green candles, and a white and lime green blind at the window.
Mahogany, navy blue, and gold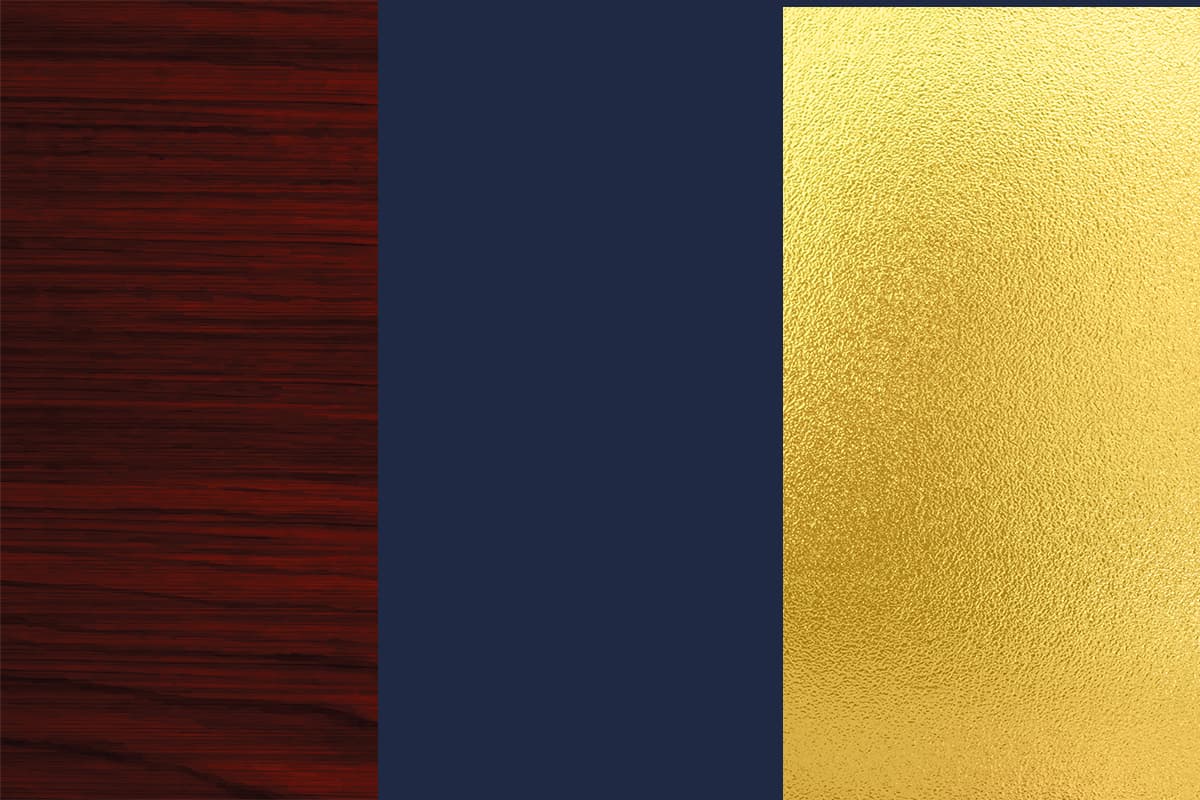 This is an upmarket color scheme that will make any space feel luxurious and classic. In a kitchen with mahogany cabinets, paint the walls in navy blue and choose gold cabinet handles and gold light fixtures.
In a formal and elegant dining room, opt for gold silk curtains set against navy blue walls with a mahogany hardwood floor.
This color scheme will also look great in a bedroom for a sophisticated masculine vibe, with chunky mahogany furniture polished to a glossy finish, with navy blue painted walls, navy bed linen, and gold accessories such as gold velvet lampshades and gold frames on the walls.
Bathrooms can also benefit from this color scheme, with mahogany vanity units, navy blue painted walls, and small gold mosaic tiles.