Green is a really versatile color in interior design that can be used as a neutral because it is so often a background color in our natural environments. However, lime green is the exception to this because it is a vibrant shade of green that can be used for a bright and shocking effect.
Like many other shades of green, lime green is a fresh and revitalizing color that can be used to create a refreshing atmosphere in a room.
Like a neon green color scheme, Lime green is a color often avoided by decorators and homeowners when choosing a color scheme for a home because it can appear too intense and stimulating; however, when it is used in the right way, it can make for a really elegant and stylish look.
Using Lime Green in Home Decor
Dominant color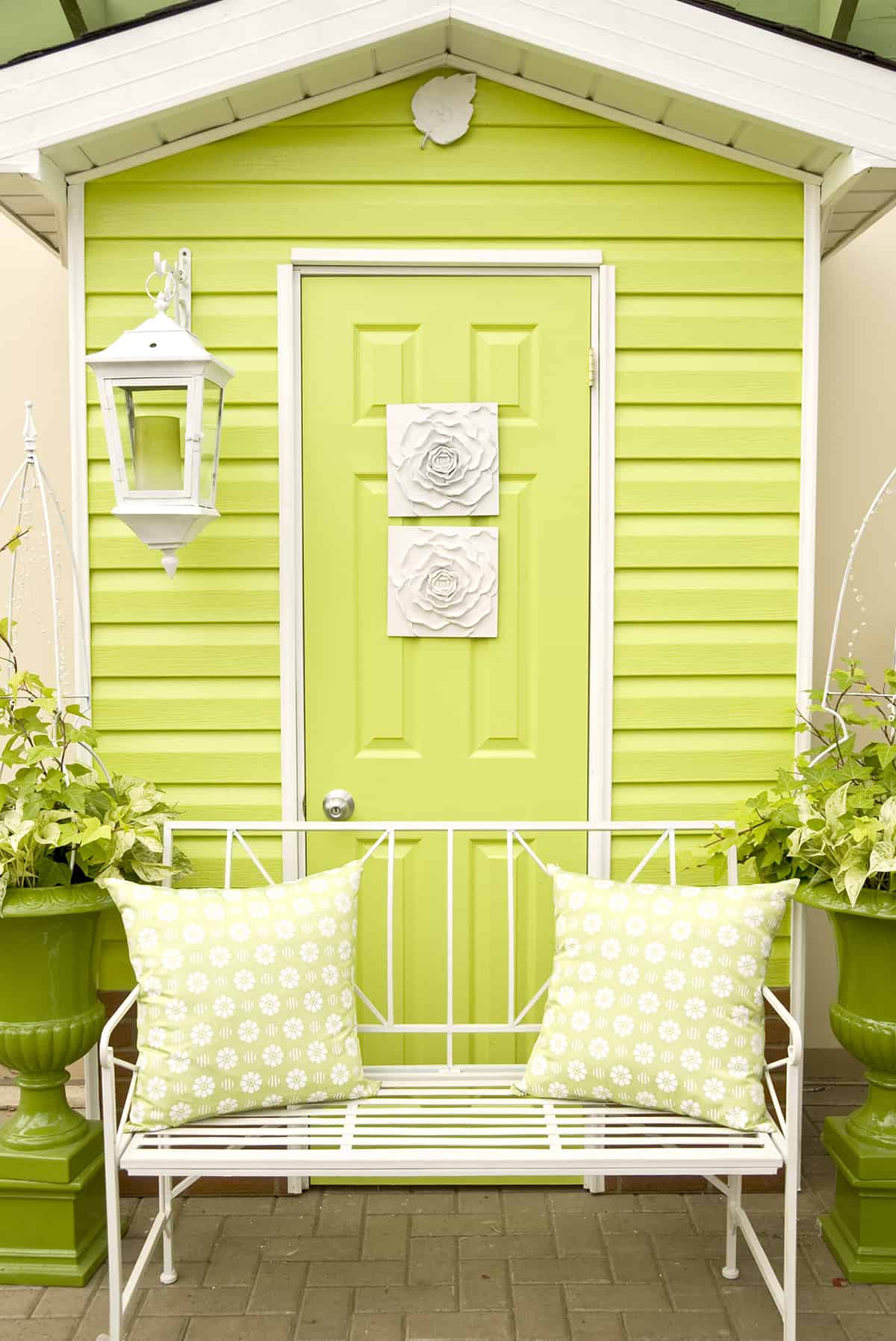 If lime green is the dominant color in your color scheme, then you are probably going to use it as a wall color. This could be with wallpaper or paint, though wallpaper is able to create a slightly more subtle look as it will feature other colors as well.
When your walls are lime green, it's important to balance out the vibrancy with a neutral shade so that the space doesn't feel too intense. To do this, choose neutral furniture and soft furnishings, for example, a beige sofa against lime green walls, with off-white curtains and cushions.
The odd touch of lime green will help to tie the wall color into the space, but be careful of using it too heavily. A few lime green candles and a lime green vase on the coffee table will be enough to create a sense of continuity without overwhelming the space.
Accent color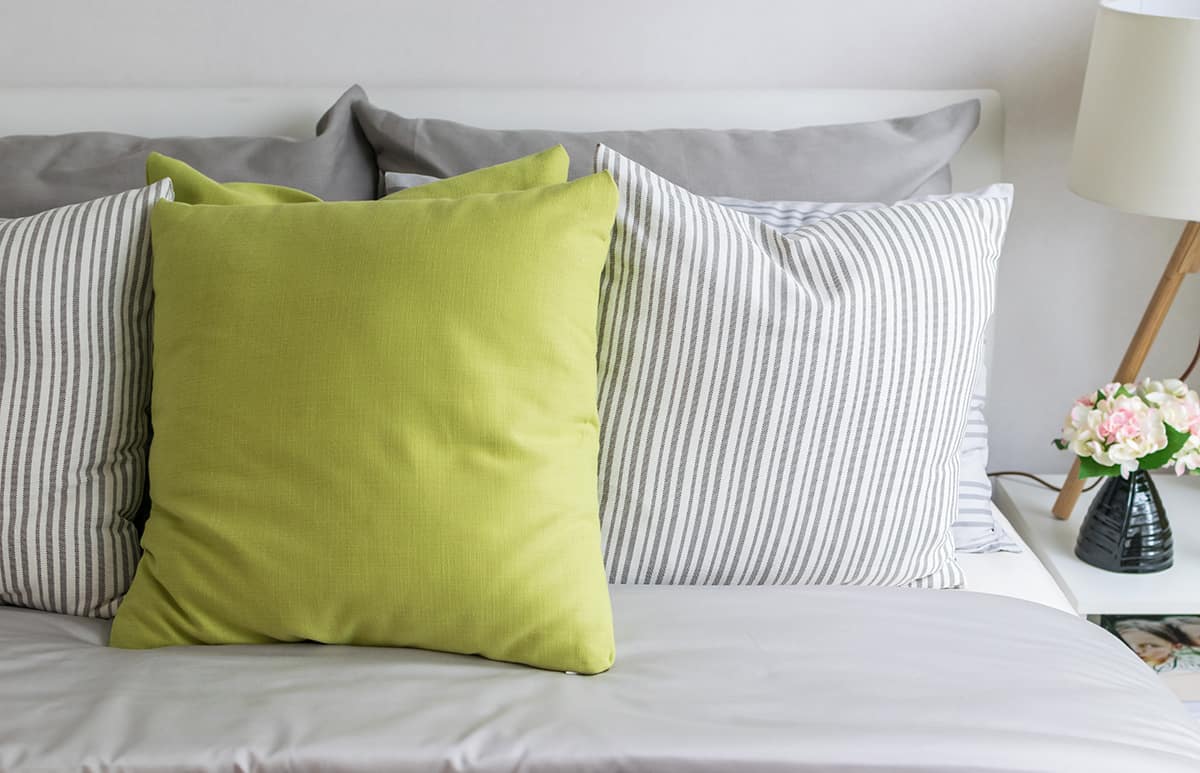 Lime green is a great choice for an accent color in a wide range of color schemes because it provides a bright and bold pop. You don't need to use very much lime green in a space to make a big impact, and in fact, this color is likely to have the biggest effect when you use it sparingly.
In a navy blue room, choose a single lime green accent chair, or opt for lime green lampshades and cushions in a pure white room to give it a splash of personality.
When you are choosing an accent color, you should consider the amount of space you want to cover with this color. The 60:30:10 rule can help with this; use your dominant color over 60% of the space, and then use your two accent colors across 30% and 10% of the space.
Lime green could work as either the 30% or 10% color, depending on how much of an impact you want to make with this color.
Wallpaper
Wallpaper can be a great way to add lime green to your room, and it really helps to define your color scheme. When you choose a wallpaper, you can use this as a basis for all of the other shades that you use in the space. For example, if you opt for a white wallpaper with lime green leaves and purple flowers on it, then your color scheme will be white, lime green, and purple.
The proportion of lime green on the wallpaper can also help you to decide if lime green will be your dominant color or an accenting shade. Use wallpaper featuring lime green on one wall to create an accent wall, or use it across all walls for a more immersive style.
Wallpapers that have very loud patterns and colors can feel too stimulating in an average-sized room, but they work brilliantly in small spaces such as bathrooms or home offices.
With lime green, you could find a wallpaper that predominantly features this color or a wallpaper in another color, such as pale pink, with lime green touches on it to help introduce the color to the room.
Furniture paint
If you have a neutral room and want to add a touch of lime green to spice the space up, then furniture paint can be a really fun way to do this, which will result in a stylish look. Old furniture can be transformed with a little furniture paint and some time and patience.
Choose lime green paint to make traditional wooden chairs take on a quirky look that can work in a farmhouse style or Scandinavian-themed space.
A matte paint finish will lend itself better to a rustic style, while glossy lime green paint will have a more contemporary and clean feeling. Furniture paint is easy to use and can be a really inexpensive and eco-friendly way to update furniture, and it also comes in spray paint versions if you don't have the time to paint by hand.
Other types of furniture that can benefit from a facelift with lime green furniture paint are nightstands, chest of drawers, dressing tables, coffee tables, side tables, and dining chairs. If you don't have any old furniture to paint, you can pick some up for a low price or even for free at a garage sale or online.
Patterned fabrics
Lime green is a color that can feel too intense when it is used in a solid block, whereas when it appears in a pattern, it looks more high-end and stylish. To introduce lime green into your decor, try to do so with patterned fabrics rather than solid lime green textiles.
For example, avoid plain lime green cushions, which can look a bit basic and dated, and instead choose a floral print that features lime green leaves or a geometric pattern with some lime green zig zags.
Colors to Use with Lime Green
Flamingo pink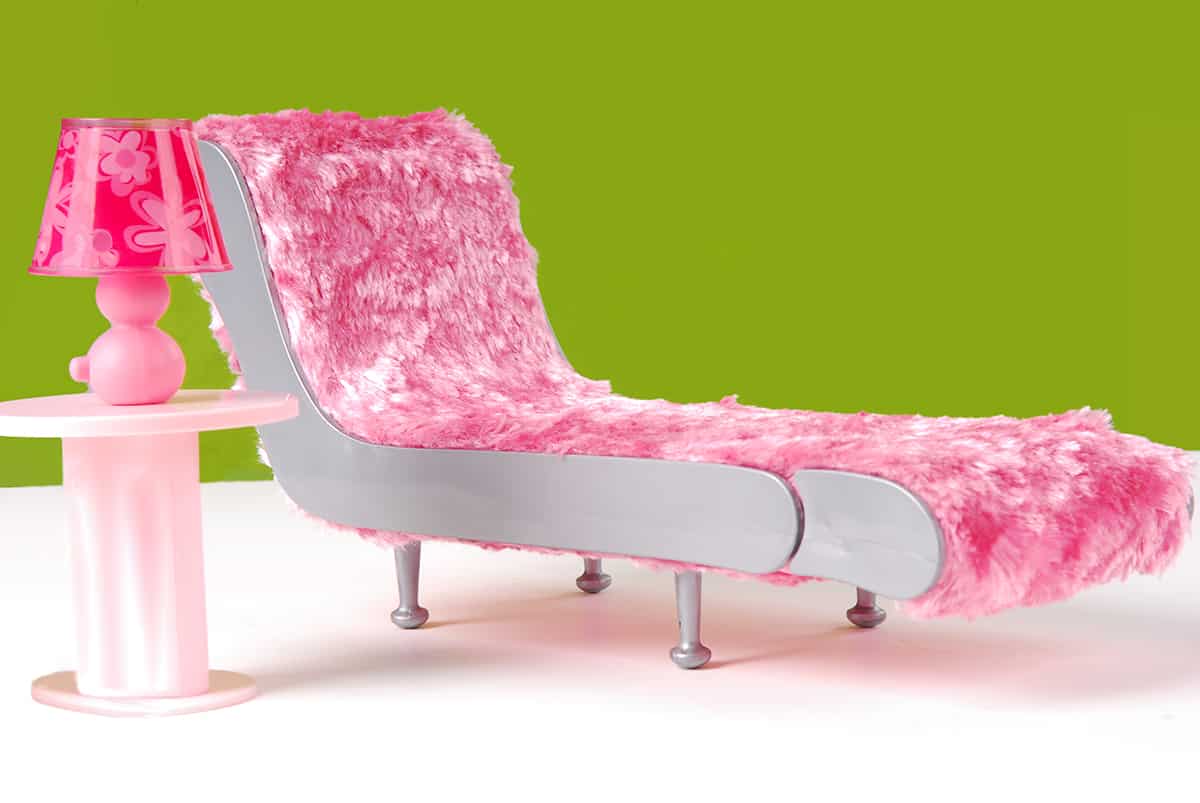 Flamingo pink is a sweet cotton candy shade of pink that has bright tones, but it is not as vibrant as hot pink or fuchsia pink. Pink and green are two colors that notoriously look striking together, and this is the case with lime green and flamingo pink.
The two shades create a contrast that is eye-catching without being too immense, which means they look visually interesting without causing stress on the eye or brain to process them.
Flamingo pink and lime green can be used to create a tropical theme in interior design. For example, use flamingo pink paint on the walls with curtains in a white and lime green foliage pattern, white bedsheets, and cushions in a fabric with flamingo pink and lime green print.
Use fruits, exotic flowers, birds, or leaves as a theme for a tropical-inspired space, and be sure to add in exotic house plants such as palms and cheese plants.
Lilac

Lilac sometimes gets a bad reputation in interior design as a color that is dated and sickly sweet; however, when used with lime green, it takes on a refreshing and effervescent personality. Purple and green make for a moderate contrast that is interesting without being over the top, and this includes lime green with lilac.
As lilac is a subdued version of purple, it doesn't try to dominate the vibrant lime green but instead creates a nice balance with it, offering a touch of femininity. Use this color scheme in a botanical-themed space, with lilac walls, lime green artwork, and fresh sprigs of lavender displayed in a glass.
Cobalt blue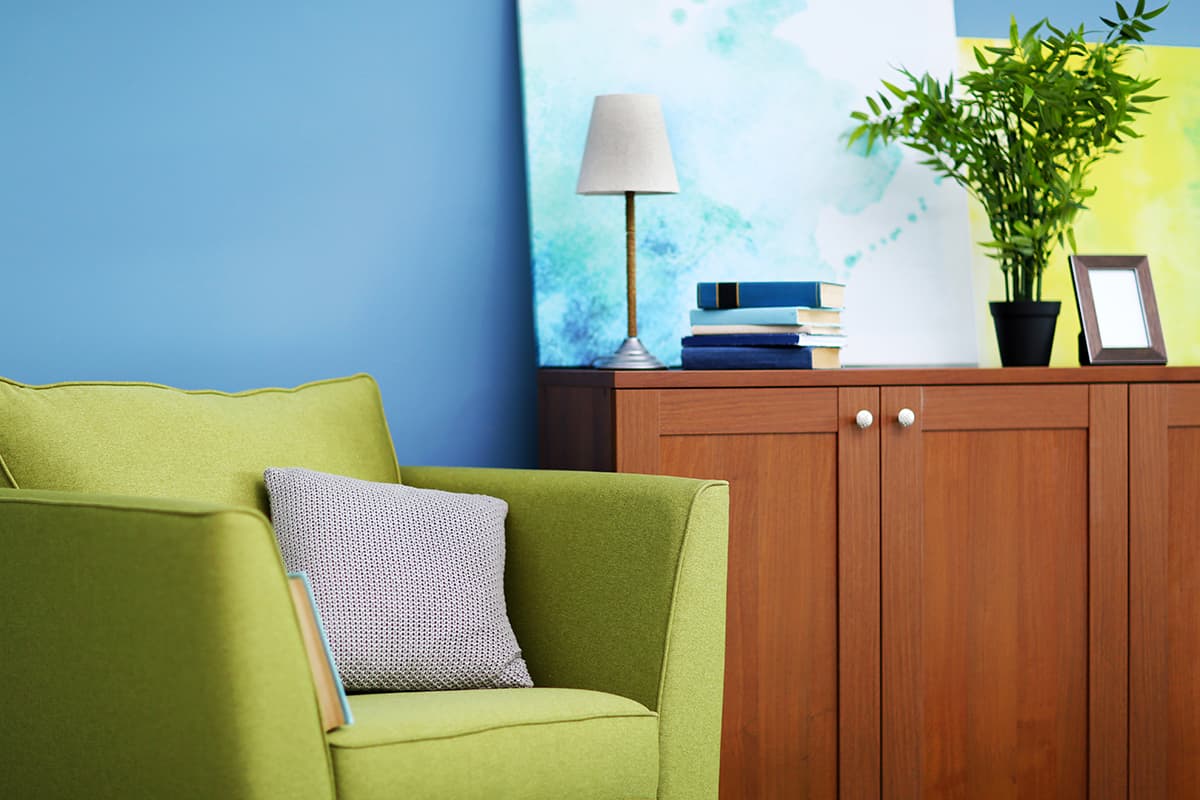 Lime green is among the great colors that complement cobalt blue. Cobalt blue is a very striking shade of blue that you might feel wary about using with lime green, as both colors are pretty intense. However, their intensity is matched, which means that they balance each other out.
Lime green and cobalt blue would have an effect that is too extreme on their own, but when coupled with a neutral shade such as white or cream, this color scheme will be very effective.
The result of a room in these colors will be calming and soothing while also being invigorating and revitalizing. It will work well in a kitchen or bathroom, as well as a common living space such as a living room or casual dining room.
Forest green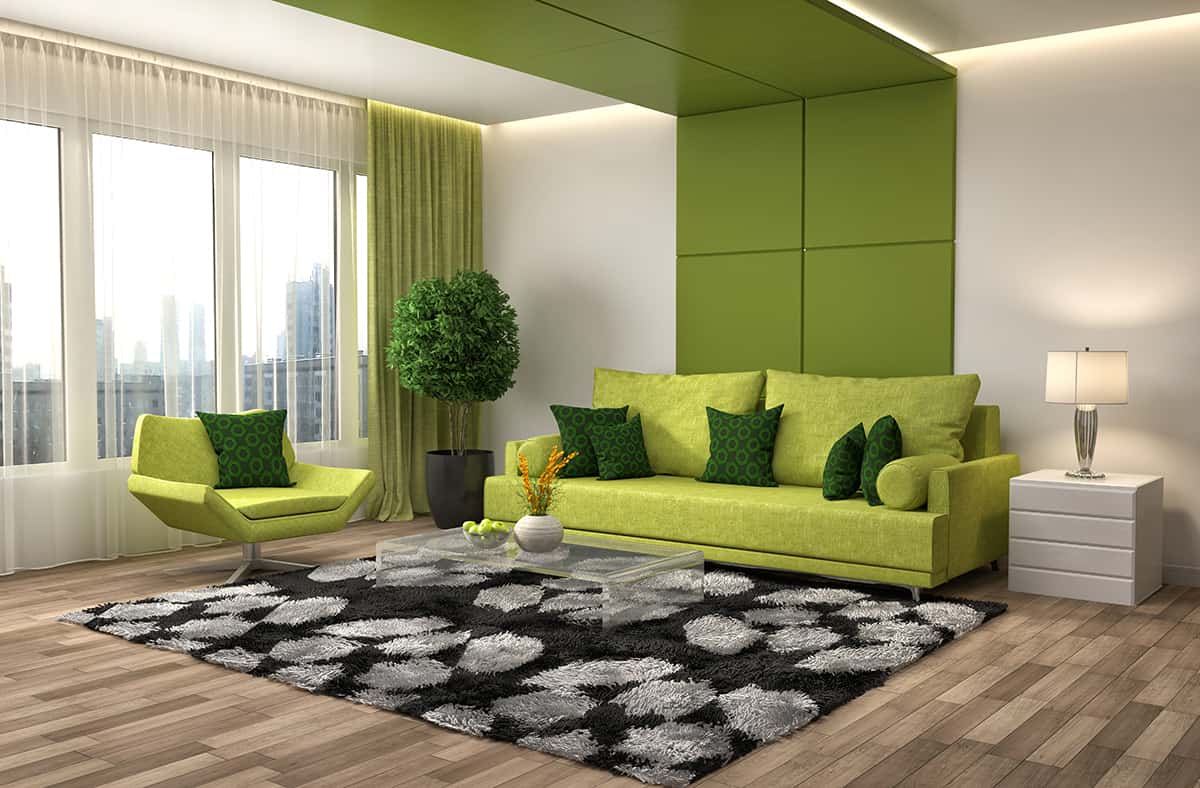 Using lime green and a darker shade of green together, such as forest green, will create a layered look that has depth and definition.
These lime green and forest green color combinations will work well in a botanical or natural-themed space, with one shade chosen as the dominant color. Try forest green walls accented with lime green patterned curtains.
Navy blue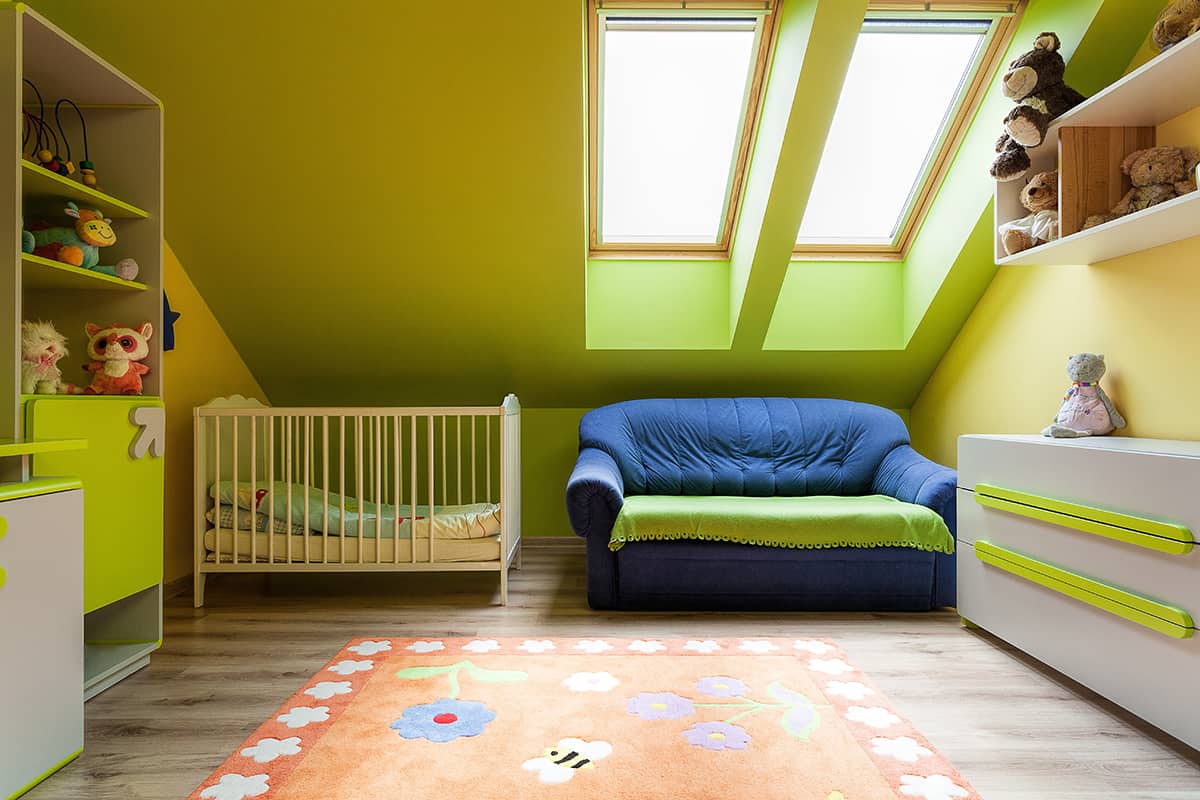 Navy blue and lime green can make for a color scheme that looks simultaneously regal and playful. Opt for navy blue walls in a conservatory or dining room, and choose cream linen curtains with lime green embroidery and lime green placemats set at the table.
The navy blue will feel enveloping and intimate, while the lime green provides a splash of vibrancy to contrast the depth of the navy blue.
As blue and green are analogous colors, navy blue, and lime green create a sense of harmony while also offering a slight contrast because of how opposite they are in terms of light and dark.