Olive green is a shade of green that sits between yellow and green on the color wheel. It is a dark shade of green which is achieved by adding a splash of red to green, though not too much as this will result in brown. The color is made up of blue, yellow, and red, which gives it complex energy.
As a color associated with nature, since it was named after the color of olives, it is thought of as a soothing and even uplifting shade.
When used in interior design, it can have the effect of calming anxiety and creating a feeling of harmony, though if used too heavily, it can feel heavy and depressing. Here we look at ways to incorporate olive green into your home and which colors it goes best with.
Shades of Olive Green
Olive green is a medium to dark shade of green with hints of brown. It can be refreshing and uplifting in home decor, but you could also use other shades of olive green to achieve a different feel.
Olive Drab Green
Olive drab green is a shade of olive, which is more dull than usual. It was widely used as the color for military uniforms prior to 1981, when it was replaced with camouflage.
Olive drab green fades easily into landscapes and therefore made sense as a military uniform. It is a very natural color, like a pale green mixed with a pale beige. It can work well in interiors to create a sense of calm and balance and may be used as a neutral shade with other accent colors.
Dark Olive Green
Dark olive green is, as you would expect, a darker shade of olive. This color can be achieved by adding purple to green. It works well as a paint color in rooms where you want to achieve a moody atmosphere. It has a modern vibe that is sleek with a masculine edge.
Colors to Use with Olive Green
Tan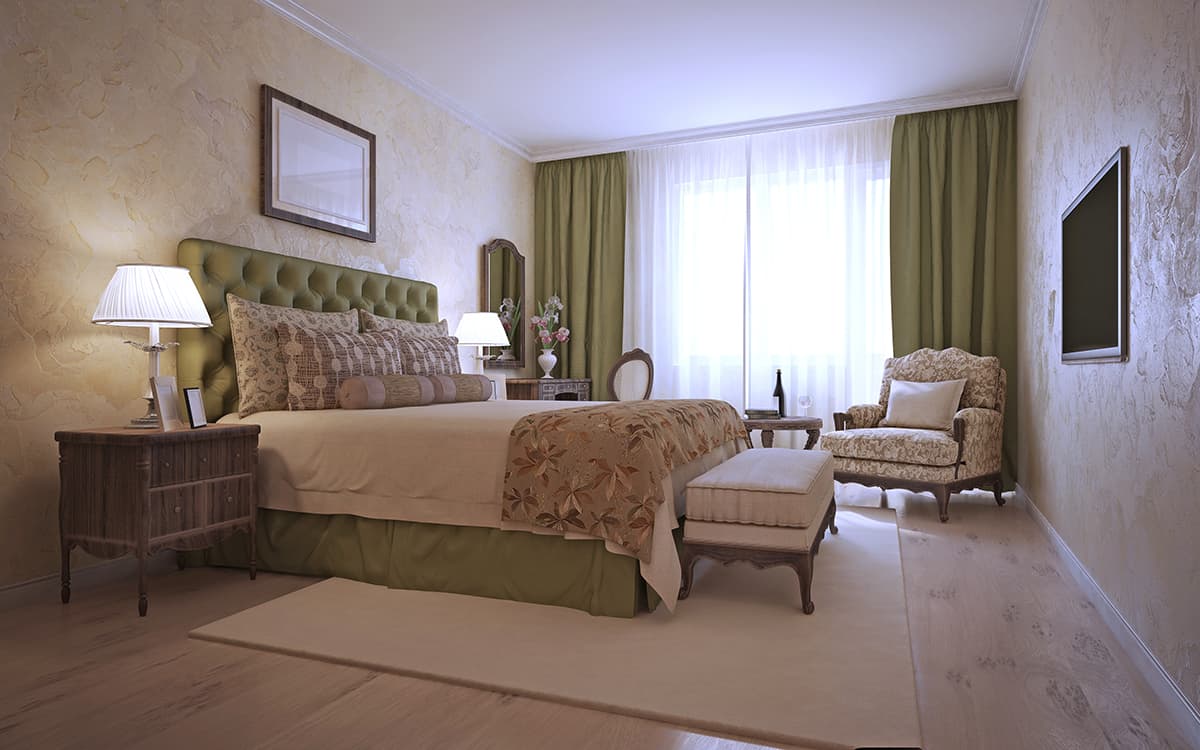 Tan is a gorgeous color to use alongside olive green to achieve a natural, earthy atmosphere. These colors could be used in a mid-century modern style space to create a garden-themed room or in a children's room with a safari theme.
Tan and olive green together make for a very relaxing, calming vibe, which can be used in any room in the home. These colors give off a casual and laid-back feeling, which can be emphasized with natural fabrics such as linen and cotton. Introduce tropical houseplants into the room to capitalize on the nature theme, and use wooden furniture.
You could use olive green as your principal shade for wall paint, with a tan leather sofa and dark olive green cushions and accessories. Tan will also work really well as a wall color, with velvet olive seating or olive green curtains and ornaments.
White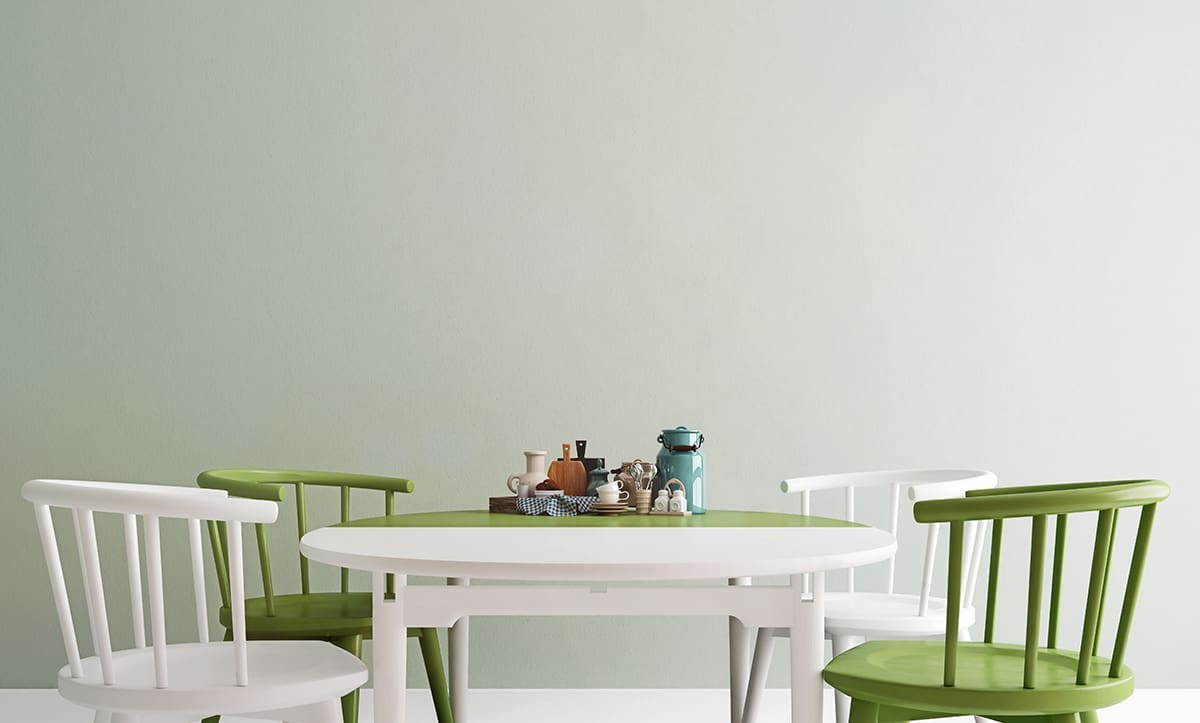 When olive green is used with white, it takes on a more refreshing, crisp feel. Use white as a base color in the room and add pops of olive green to keep the space fresh and uplifting.
Alternatively, you could paint the room in a dark olive green shade and break it up slightly with the use of white decor, for example, white picture frames and a white rug. For a modern twist on a traditional style, paint the walls in olive green and have elaborate white molding and wainscotting.
Check out our guide on colors that match well with white for more white color schemes.
Blue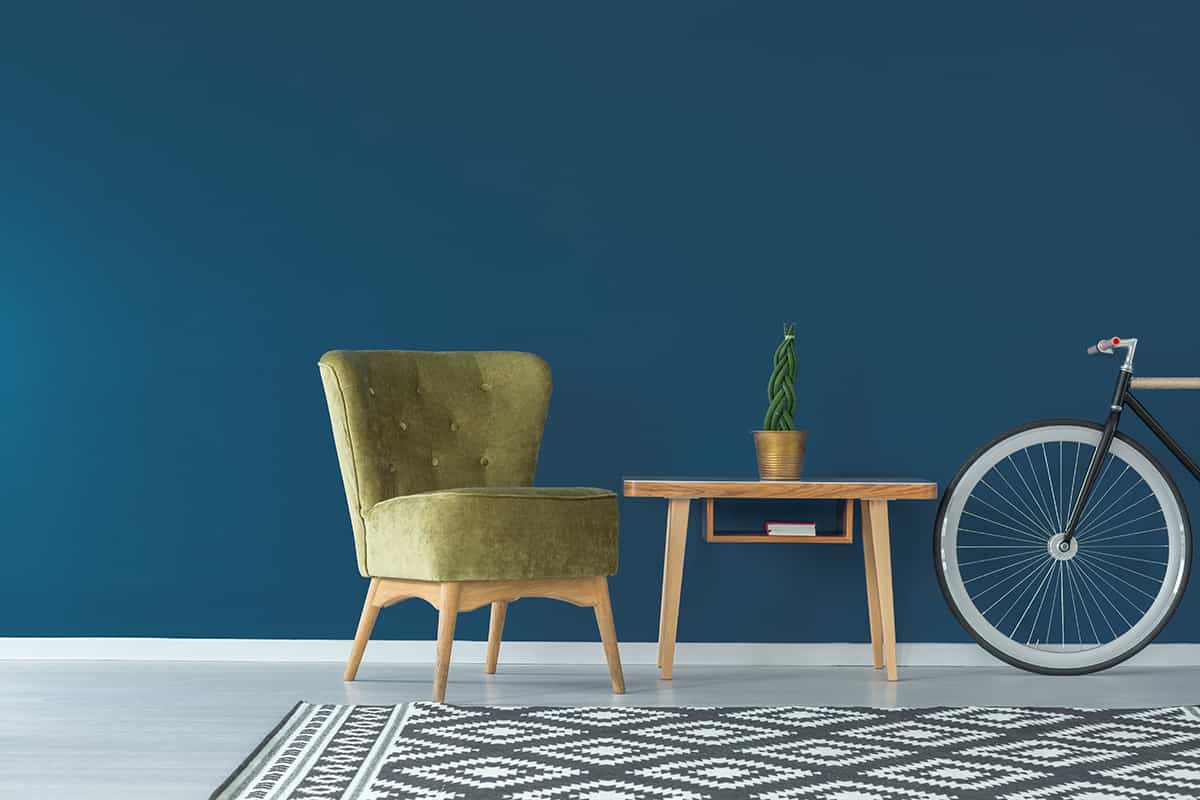 Olive green is a color that almost works with any shade of blue, so this is a safe option if you feel nervous about using several strong colors together. Olive green and navy blue work beautifully together, creating a harmonious atmosphere that is intimate without being too intense or overwhelming.
For a softer, more laidback feel, choose a pale shade of olive green and use it alongside pretty shades of blue, for example, cornflower blue and sky blue. Olive green and blue used together are a good color palette if you want to introduce floral patterns without taking on a strong feminine vibe. Use these colors in floral fabrics with shades of gray or beige.
Yellow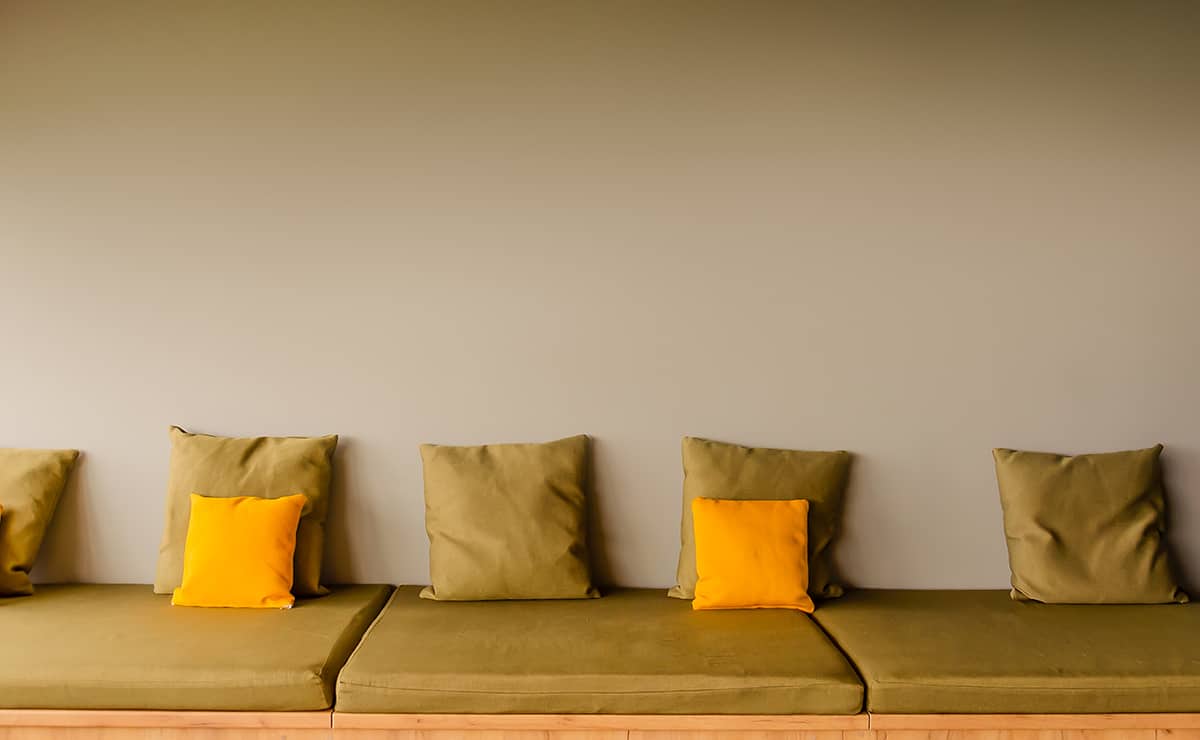 Yellow and olive green work nicely together, providing there is a further third color to help break them up a little. The two colors alone would feel jarring, so choose a neutral such as white or beige as a base color, adding accents of olive green and yellow.
Choose a vibrant yellow to highlight the yellow pigments in olive green and make for an uplifting space. Avoid pale butter yellows, as this can look sickly next to olive green.
Orange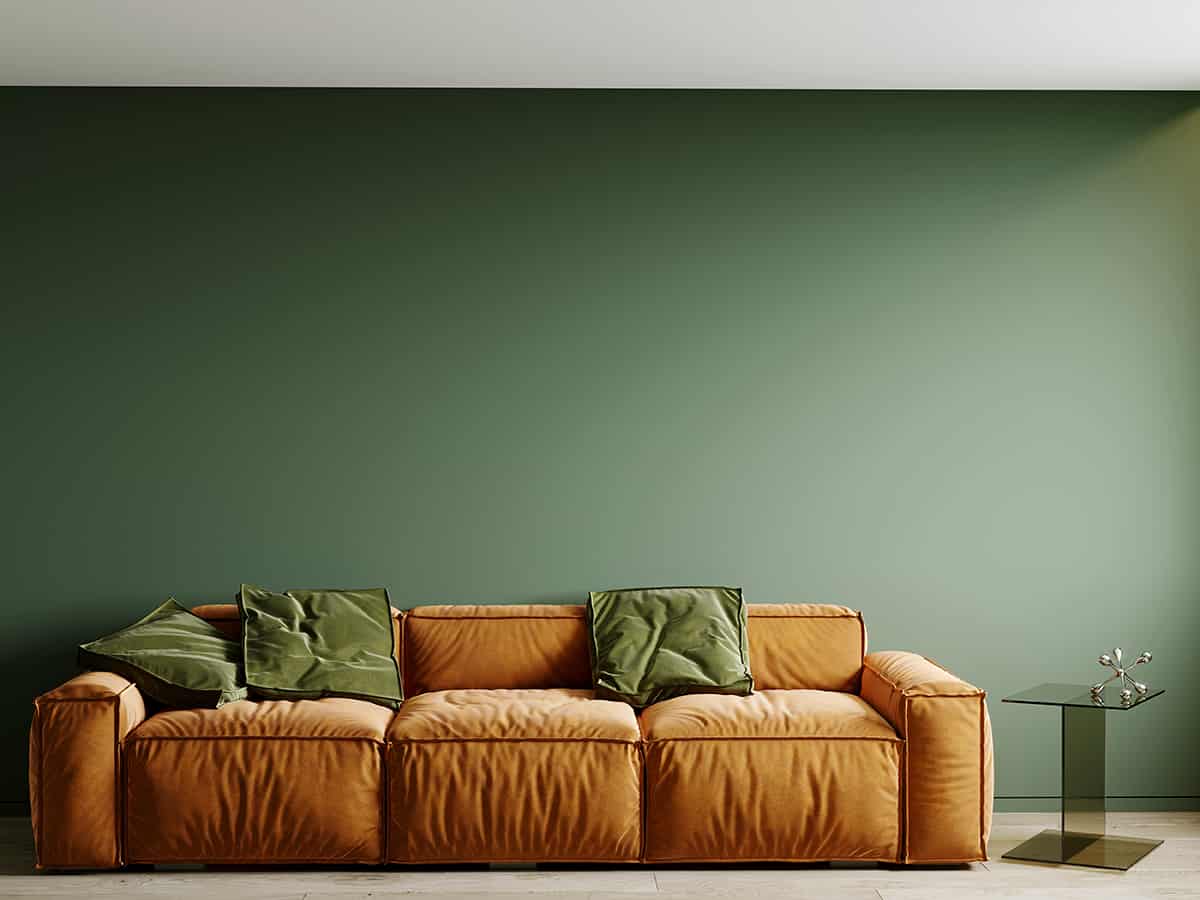 Orange provides contrast for olive green, which can be fun and playful. To use orange and olive green together, ensure your shade of olive is quite muted to create a nice balance, and use orange sparingly. Olive green could be your base color, with occasional orange accents.
You could also consider using a more subtle shade of orange, like a burnt orange that verges towards brown, to give the room a softer feel.
Orange and olive green together can be used to create a retro vibe using a bold patterned wallpaper on a feature wall, or you can achieve a modern fall-inspired dinner table set up with deep olive green wreaths and a pumpkin centerpiece.
Pink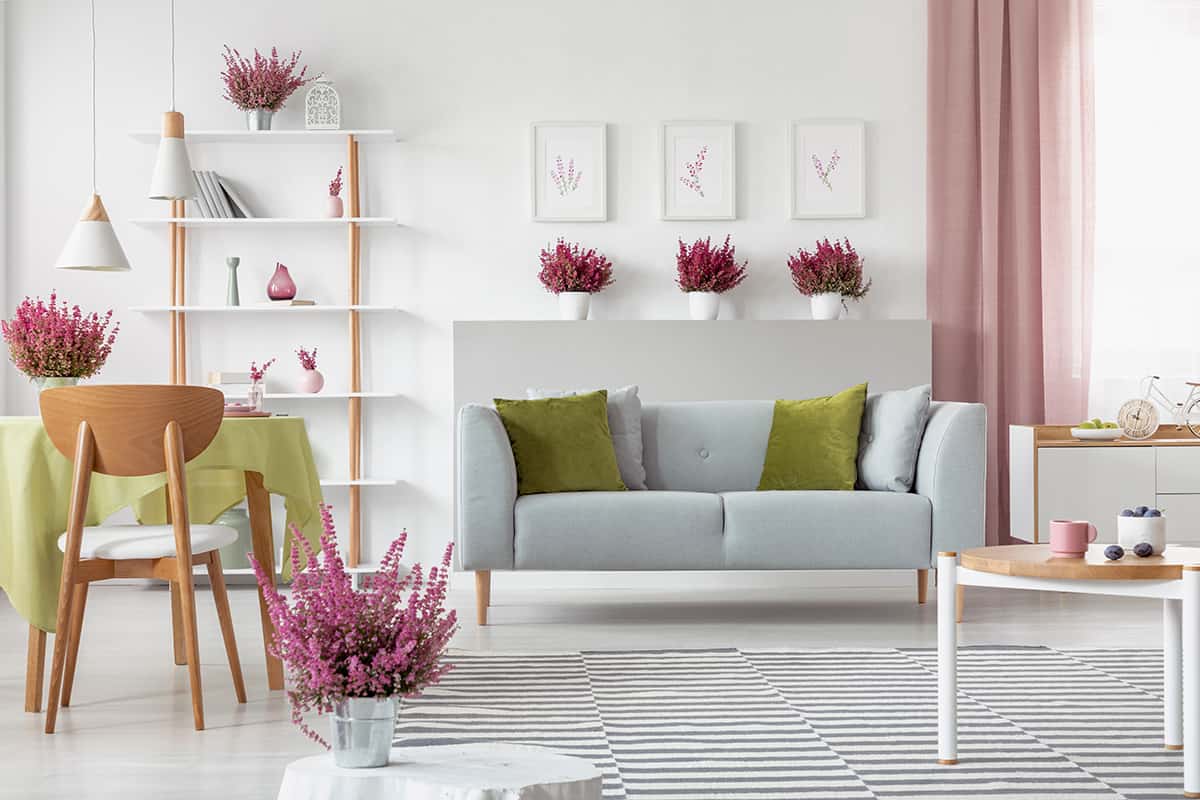 Green and pink are complementary colors, so it's no surprise that olive green is a good pairing with pink. Stick to softer shades of pink to bring out the rich tones in olive green and bring a feminine twist to this earthy color. Both darker and paler shades of olive green will look stunning alongside a dusky shade of rose pink.
These colors work so nicely together that they don't need a third accent color.
You could paint the room in olive green and use pink accents, or switch them around and accessorize a pink room with splashes of olive. This is a color combination that looks particularly great in a bedroom, and it offers a nice balance of prettiness and sophistication.
Black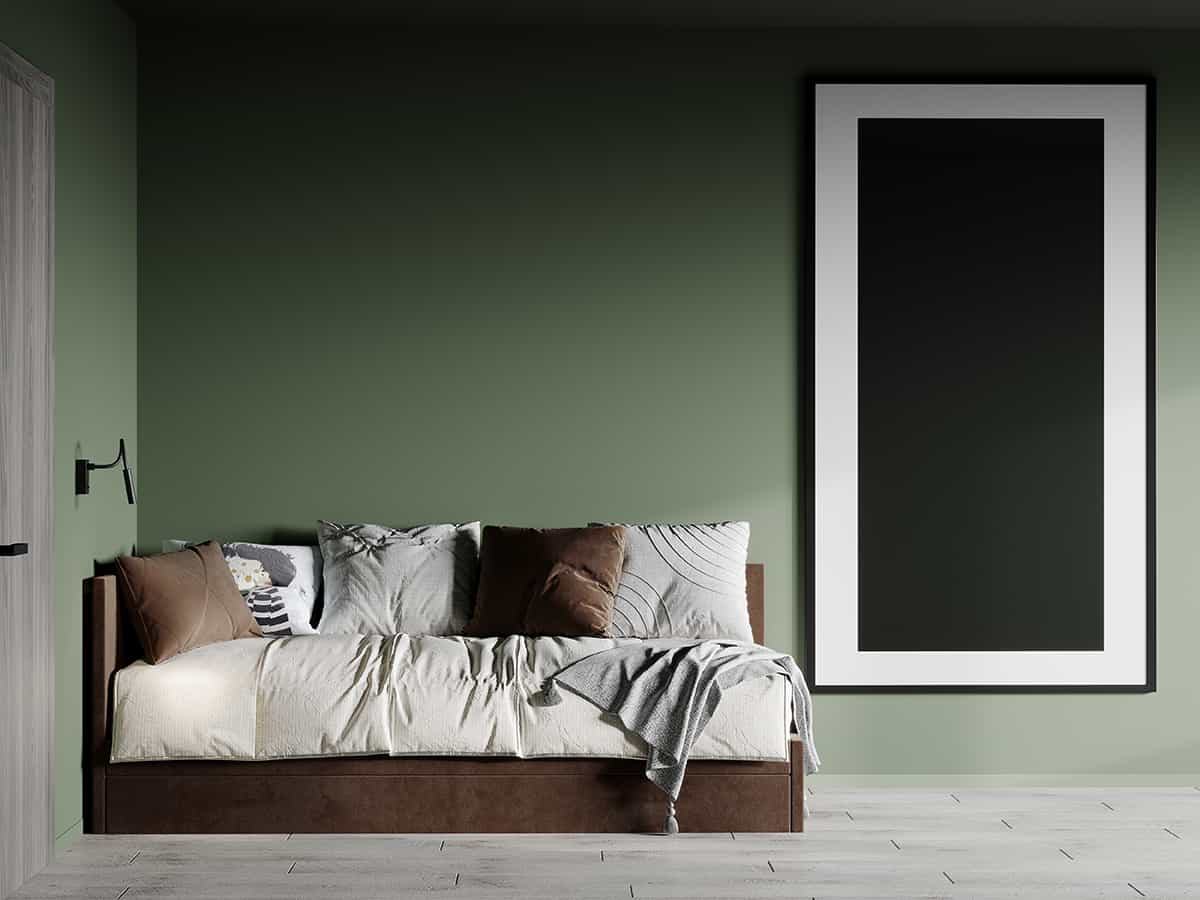 Olive green will look elegant in a room with some black touches, but you will also need to use a third color to help balance out these shades and prevent them from becoming overpowering.
Try a pale shade of gray or off-white as the base color for a room, and then incorporate olive green and black elements.
An olive green armchair with black-painted furniture or a black rug would look classy and striking. Olive green will work to bring some warmth to a room with black features and adds a modern feel.
Gold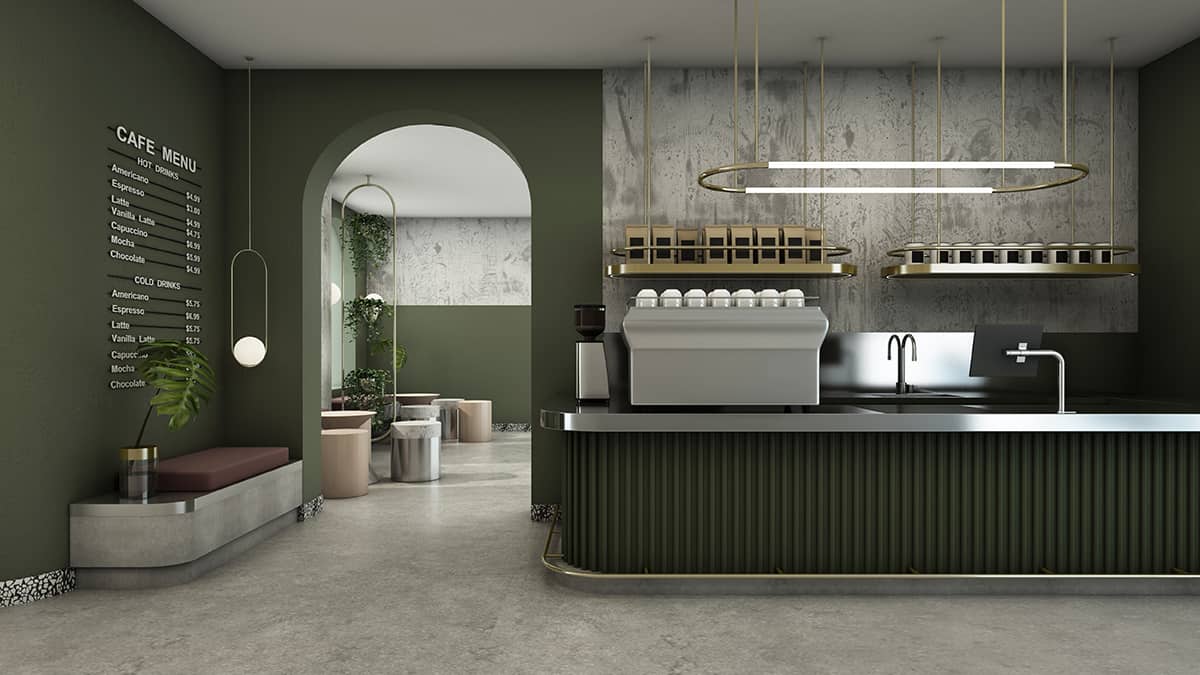 Pair olive green color schemes with gold accents with olive green if you are going for a high-end, refined look. With gold accents, less is more to achieve a fashionable yet tasteful style. Look for furniture with subtle flashes of gold, such as sofas with gold legs or gold button detailing. Invest in pieces of art with an olive green theme, and frame them in a gold picture frame.
You can also use smaller gold decor items to help catch the light, such as candle holders and coffee table books with gold writing on them.
As a warm color, gold works with olive green to create a rich and inviting space. This color combination would work well in a living room, dining room, bedroom, or kitchen.
You can choose a neutral base color, such as cream, with olive and gold accents, or use olive green as your focus and create a layered feel with accessories in various shades of olive and gold.
Brown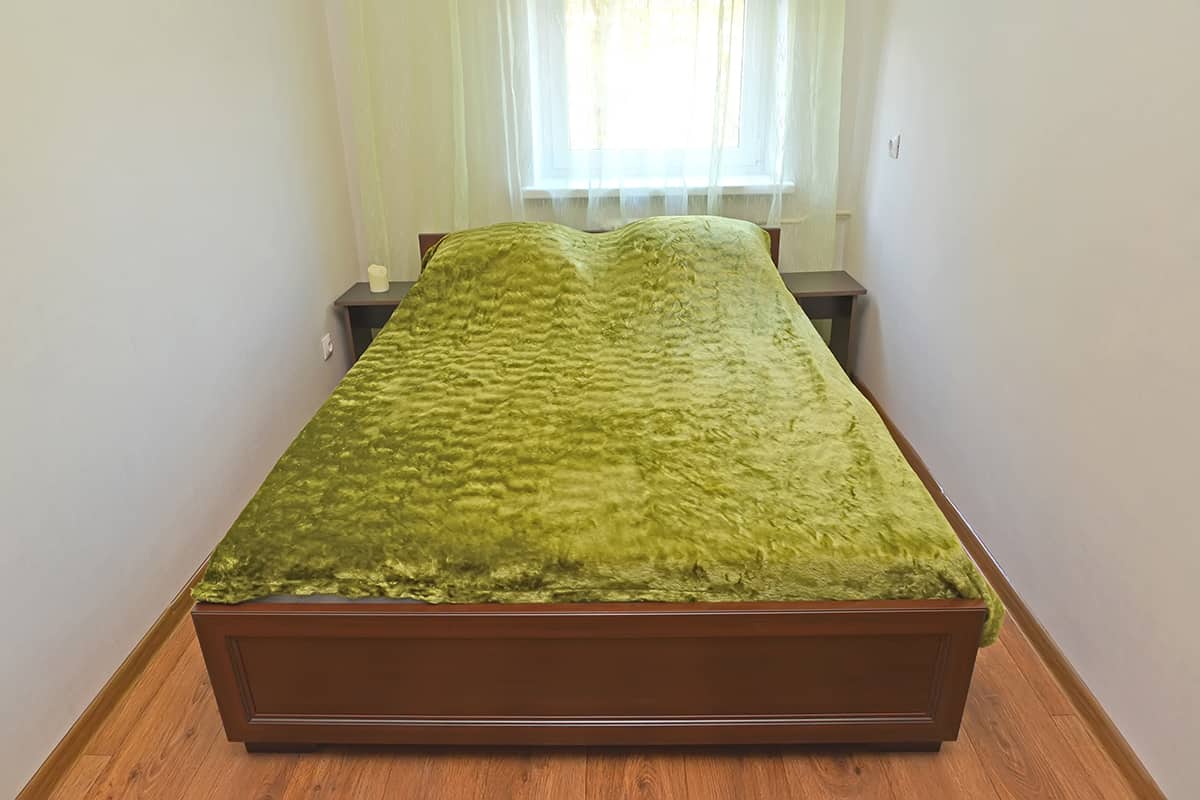 Brown and olive green go hand in hand, as they are frequently seen together in nature. Use a warm-toned brown for a comfortable and cozy atmosphere with olive green, or choose a cooler gray-based brown for a more sleek and modern look.
A good way to introduce brown into a space is with wood and leather. Choose deep brown wooden furniture and brown leather sofas to bring masculine energy to an olive green room. This combination can work really well in formal spaces, such as a home office or dining room.
Maroon
Maroon is a color that sits somewhere between brown and red. It is another color which you will find in nature, most notably in fall when the leaves on trees are changing color. It is a warm color that provides a lovely rich contrast with olive green.
This is a color combination that will create a cozy feel in a room, so use it for a snug or living room where you'll want to relax or cuddle up with a book.
Use olive green as your focus and accent it with soft textured maroon throw blankets and faux fur cushion covers. If you want to add a third color into the space, choose a dark tan or gray to keep the intimate and cozy feel, or use a light neutral color such as cream to open up the space and make it feel more casual and airy.