Outside of neutrals, blue is among the most popularly used colors in interior design, especially for wall colors. Blue generally has a calming presence that offers a welcome vibe in homes, but there are a wide variety of blue shades that can also be used to create different atmospheres.
Blue is associated with the ocean and clear skies, which is one of the reasons that it tends to have a relaxing effect on us. In this sense, you could also consider blue to be a natural color because it is widely seen in the natural world as part of our everyday landscape.
The contrasting color of blue is orange, as this is the color that it faces opposite on the color wheel. Blue and orange, when used together, will make each other appear bolder and more vibrant. Blue is the cool color of the two, while orange is warm, so their temperatures are also able to balance each other nicely for an even atmosphere.
Bright blue and bright orange together can look intense, although they will work in interior decor if you add a third neutral shade to the color scheme, such as white or gray.
However, for a contemporary look, you should use a muted tone for at least one of the colors when using contrasting shades, such as a soft baby blue with bright orange or a pastel peachy orange shade with royal blue.
Other colors that sit close to orange on the color wheel will also create a contrast, albeit slightly more subtle, with blue. These include yellow, pink, and red. Analogous colors of blue are green and purple, as these are the shades that are closest to blue on the color wheel. These will create a sense of harmony in a blue color scheme.
Blue also looks great with neutral shades because it is a color that appears prominently in nature. You can expect that any color that appears in nature with blue is going to work well with it in interior design.
Colors to Use with Navy Blue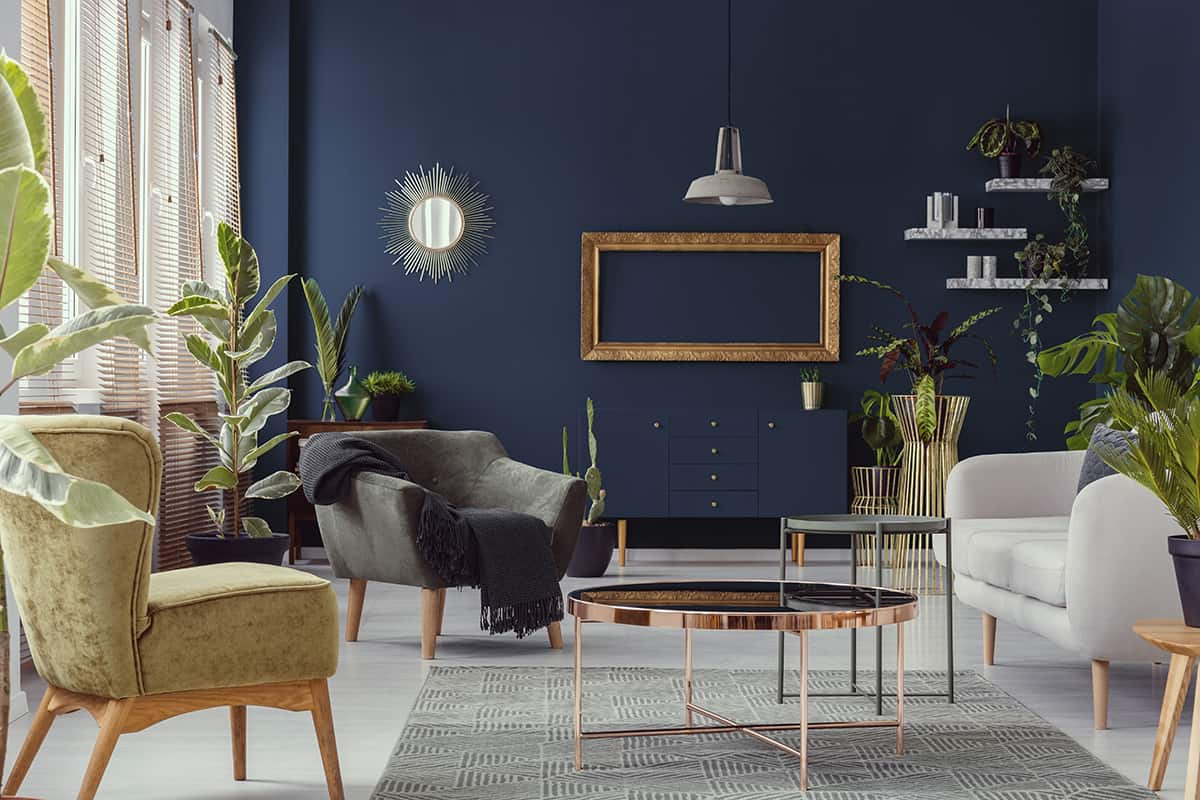 Navy blue is a deep and dark shade of blue that can read as a neutral in some spaces. It can be used to contrast against pale shades such as white and cream, or it can take on more vivid shades such as mustard yellow and emerald green to create a jewel-toned theme.
Navy blue works great as a wall color to create a sense of safety by surrounding you with a feeling of darkness, like being enveloped by night. Use navy blue walls in a small room to achieve a sheltered feeling, or try navy walls in a large and open space to create a cozy feel.
Navy can be used to achieve a formal style with browns and dark wooden surfaces, or it will take on a romantic and elegant style when used with millennial pink. Olive green and tan will make for a nice color scheme with navy if you are looking to achieve a natural or botanical-themed space.
If you want to choose a shade of blue that will work well with almost any other color, then navy is a safe bet because it is an incredibly versatile color.
Colors to Use with Teal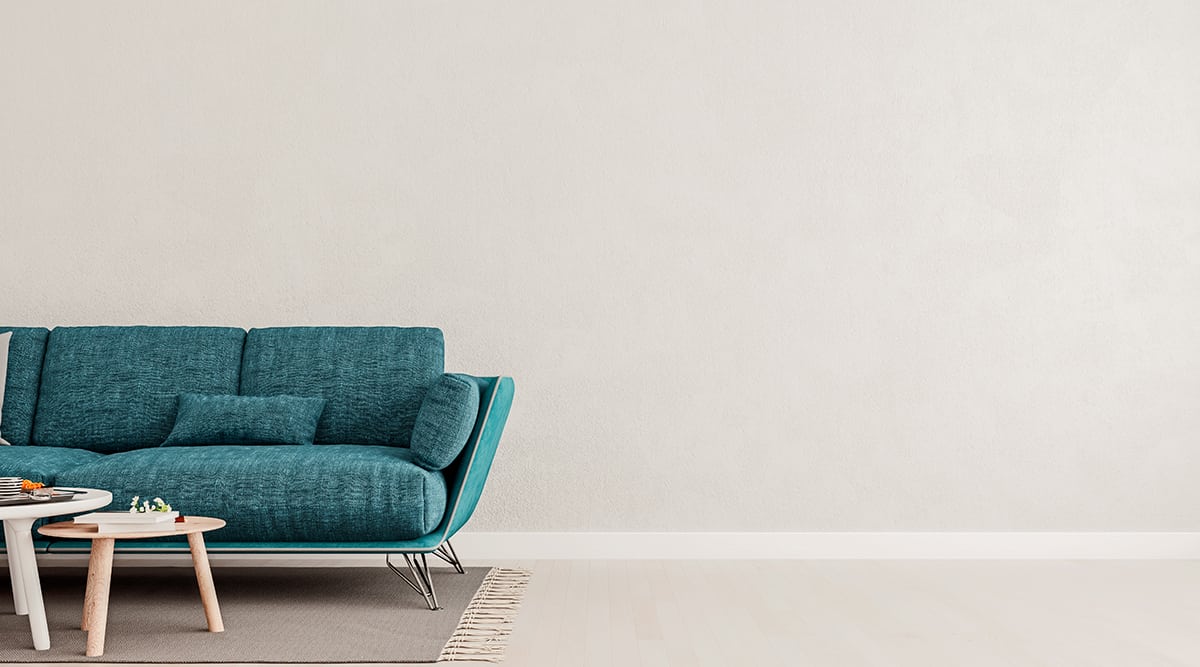 Teal is a shade of blue that is mixed with green, and as such, it creates a calming and cooling atmosphere. You can use teal with soft pastel shades for a modern look, such as apricot and blush pink, or choose more vibrant colors to use with it for a bolder style, such as burnt orange and mustard yellow.
Teal is a strong shade that can pack a punch in interior design when used in the right way. Teal walls will look rich and refreshing with white bedsheets and gold silk cushions, or use teal as your accent shade by introducing pops of color, for example, teal lamp shades or a teal rug.
Teal can also work well with warm neutrals such as beige and tan.
Colors to Use with Cobalt Blue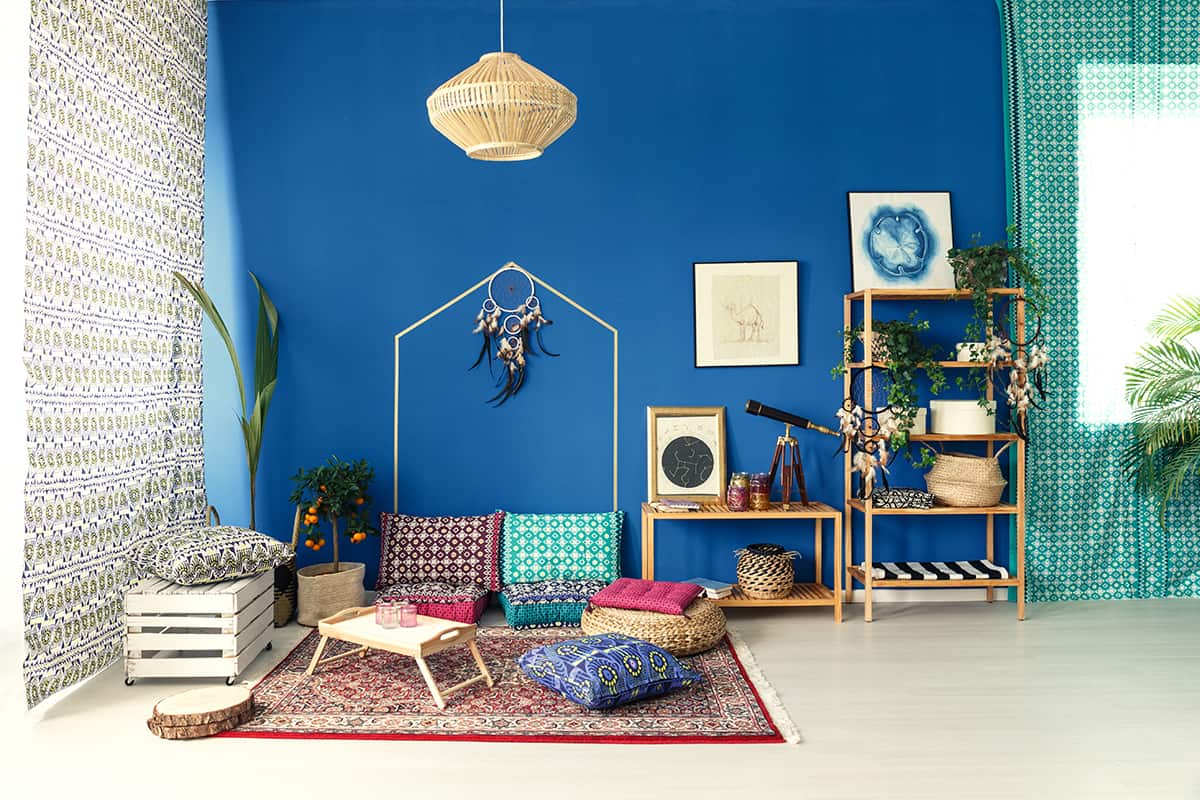 Cobalt blue is a striking and vivid shade of blue that creates a lively, summery look in a room. Use this color with other bright shades such as flamingo pink and lime green to achieve a fun tropical or exotic look in a room. These color schemes with cobalt blue work well set against a white background to really make it pop.
Colors to Use with Aqua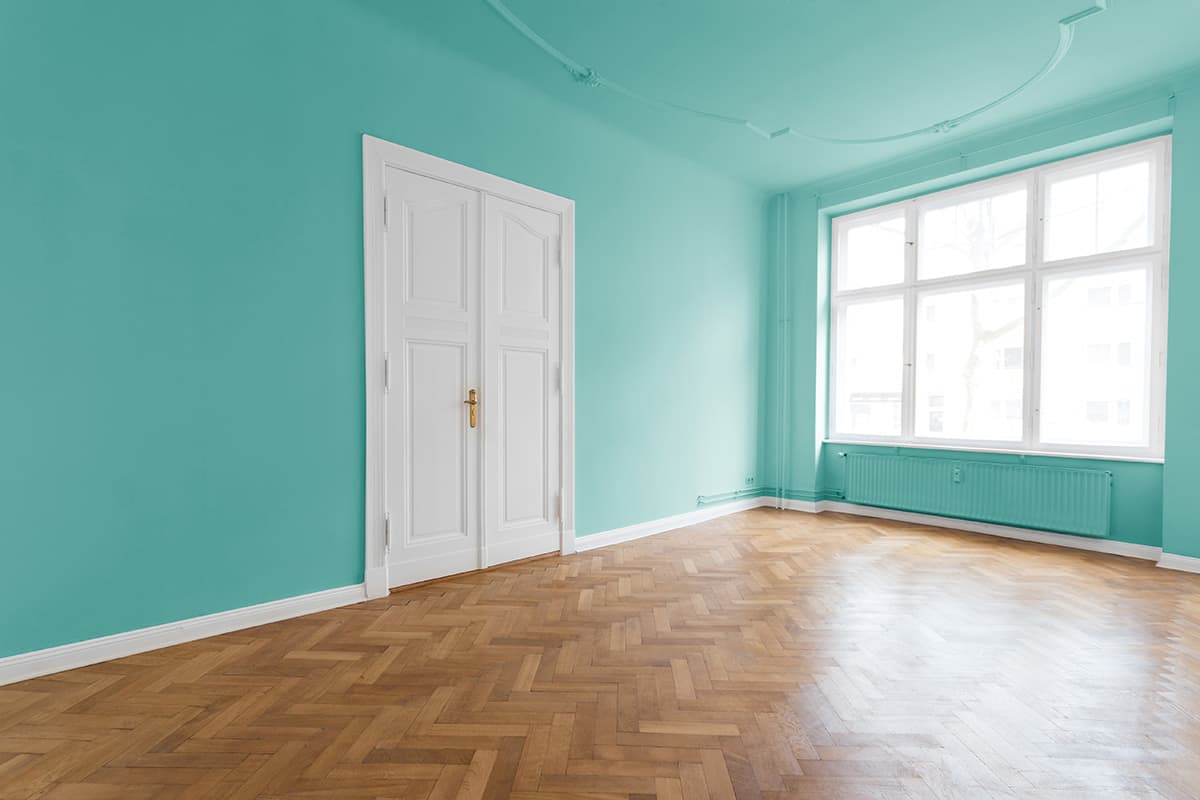 Aqua is a watery shade of blue that can have undertones of gray or green. It works well in coastal or beach-themed interiors with yellow and white or in bathrooms to achieve a refreshing and cooling feel. Paint walls in aqua, then opt for white sofas with aqua and yellow striped cushions.
You could also achieve a more low-key coastal look with aqua by pairing it with sand tones or adding gray shades into the color scheme for a crisp and contemporary beach theme. Pastel shades, such as peach, look good with aqua to create a muted contrast in playful decor styles.
Colors to Use with Baby Blue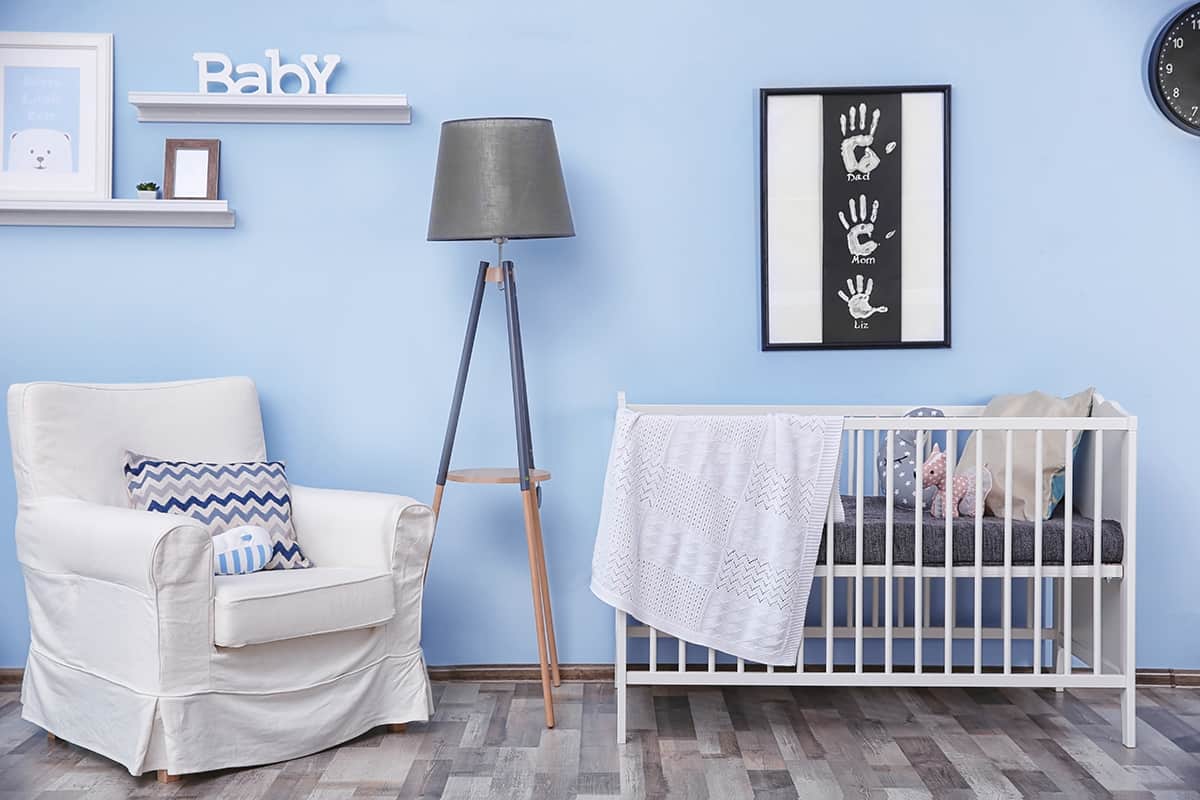 Baby blue is a pastel blue version of true blue. It works really well with blush pink and gray for a soft and hazy color scheme, but it can also take on bolder shades such as red and navy for a more dramatic look.
Baby blue can also be used in coastal-themed decor, and it will help to achieve a calming and serene atmosphere, especially when used with white or off-white shades. These color pairings with baby blue can be put to great use in bathrooms and kitchens with shades of gray or green for a look that feels clean and fresh.
Perfect Pairings
Blue is an easy color that can work with a wide variety of shades; however, there are some color pairings using blue that just seem like they are meant to be. These include:
Blue and blush pink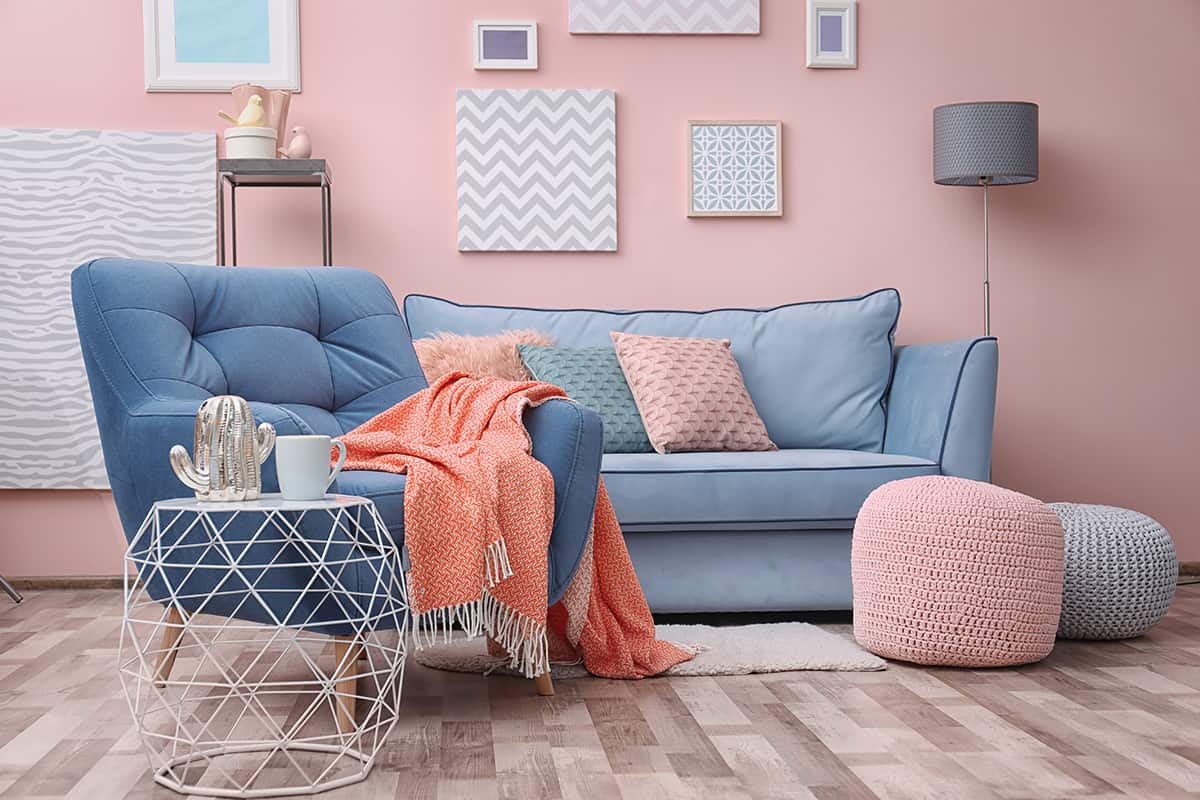 Blush pink, also known as millennial pink, has become a mainstay in interior design, and while it looks fabulous with a variety of colors, it simply looks at home with blue. Set blush pink velvet sofas against navy blue painted walls, or add peacock blue cushions to blush pink bedding.
Blush pink adds a touch of femininity to blue color schemes, balancing out any sharp edges and softening the atmosphere while maintaining a cool and contemporary style.
Blue and white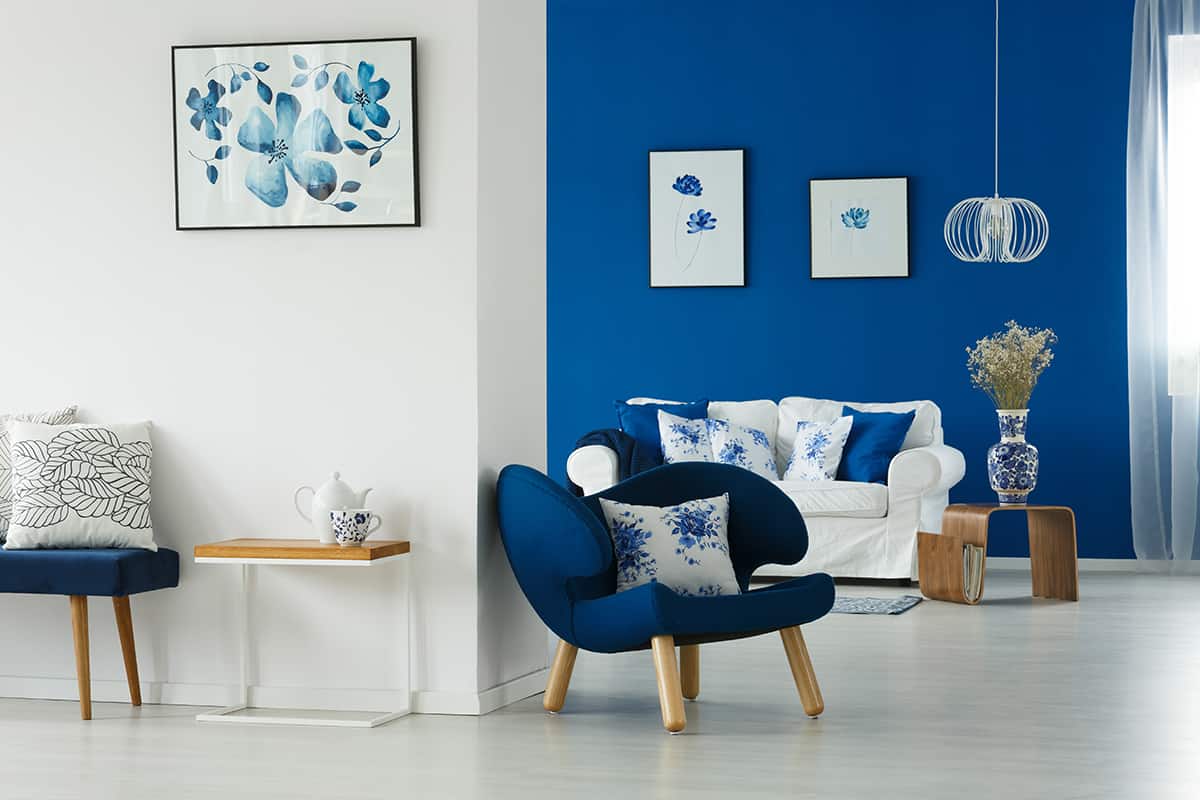 You cannot go wrong with a blue and white color scheme. This can be used to create a nautical look, for example, dark blue painted walls with stark white glossy trim and wainscotting, or it can be used to achieve a more casual coastal vibe with baby blue walls and white linen sofas.
Blue and white is a color scheme that can be used in formal and elegant styles just as well as it works in breezy and airy looks. In a bathroom, opt for shiny white marble tiles with royal blue walls or white walls with blue mosaic tiles and blue towels.
Blue and green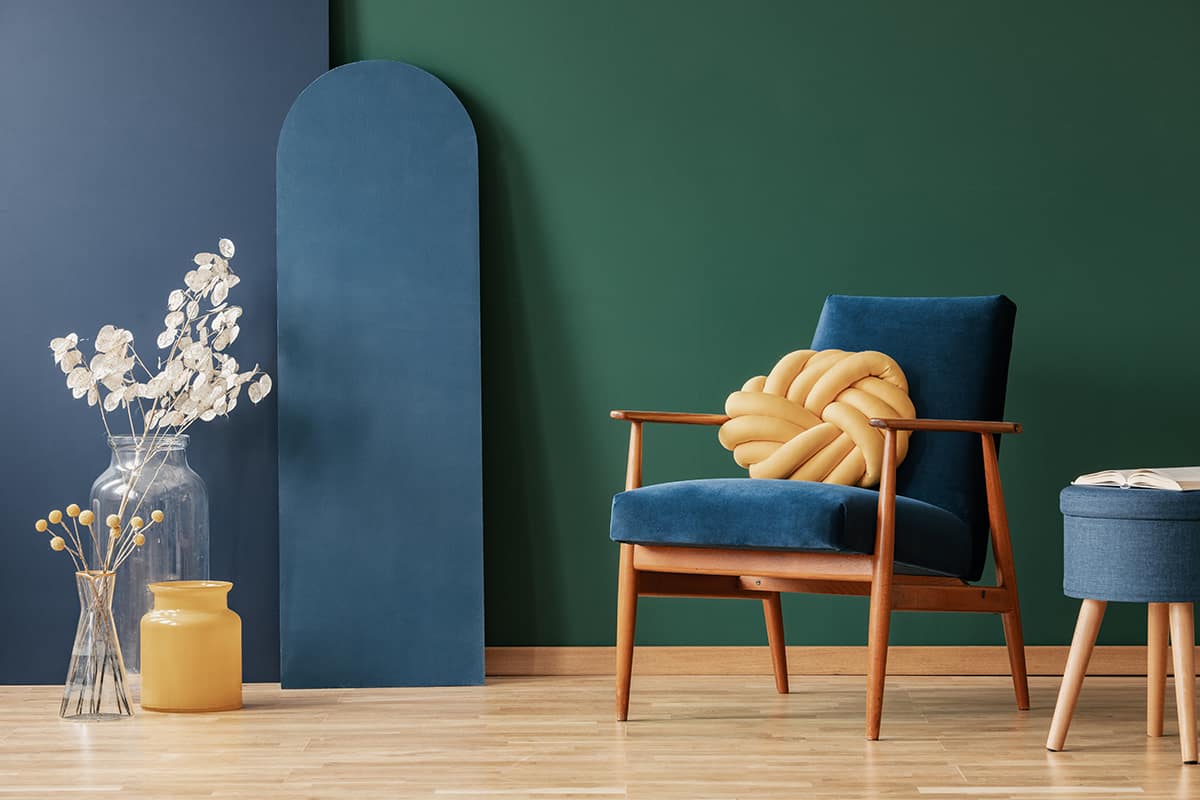 Blue and green work together in so many variations. Choose olive green and navy blue for an earthy, natural-inspired color scheme, with olive green walls, a navy sofa, and lots of wooden furnishings. Lime green and cobalt blue will look striking together set against a white background for a fresh and energizing space.
Emerald green and sapphire blue will look glamorous alongside each other for a rich and luxurious style featuring emerald velvet curtains hanging against sapphire-blue walls.
Mint green will look refreshing and tonal with aqua blue or baby blue and is ideally used in a child's room, an art deco-style living room, or a fresh and crisp bathroom.
Blue and orange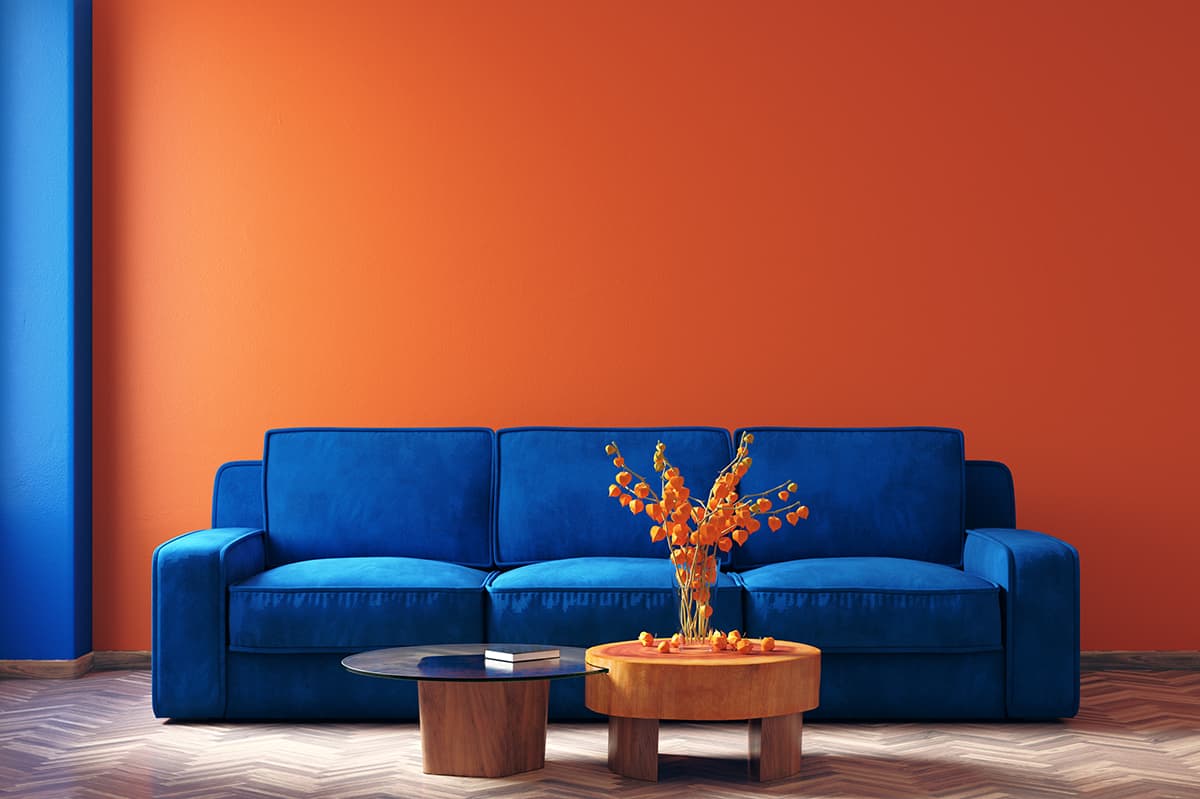 As the contrasting shade to blue, orange will always work in a pairing with this color. In a navy blue room, opt for a few bold hits of burnt orange for a warm and inviting look that won't be overstimulating. For example, paint walls in dark blue and select a burnt orange rug and some matching burnt orange suede lamp shades.
Baby blue will also look great with orange in a more quirky and playful decor, such as a Scandinavian or boho style space. With strong shades of blue such as peacock blue or cobalt blue, opt for more muted shades of orange such as apricot to avoid overwhelming the space.
Blue and lilac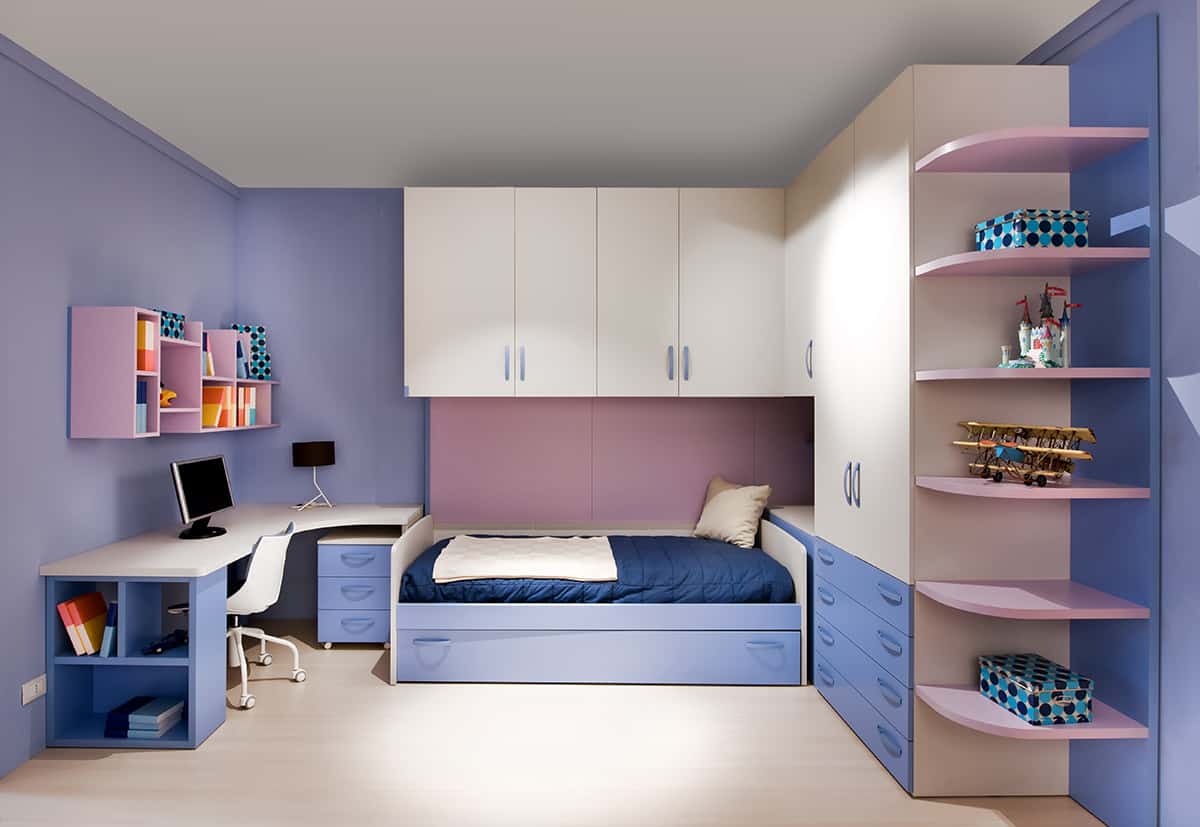 Blue and lilac is a sweet color pairing that works really well in a floral-themed space or in a luxury and intimate interior such as a bedroom. In an airy and refreshing room such as a large living room, paint walls in a soft shade of blue-gray, with curtains, cushions, and candles in lilac solid fabrics or floral patterns.
For a more glamorous feel, paint walls in navy blue in a bedroom, and set a lilac velvet armchair in one corner, along with lilac bed sheets and navy blue satin cushions.