Teal is a blue-green color and was actually named after the Eurasian Teal, a duck that has a blue-green stripe of feathers running down its back. Teal is a color that is easy on the eyes and therefore promotes a feeling of calm, which may be why it is a popular choice in interior design for bedrooms and bathrooms.
The green element of teal means that this shade also gives off a positive vibe, making it a good option for encouraging mental wellbeing. If you are thinking about incorporating teal into your color scheme at home, then consider pairing it with these colors that go with teal.
Teal + Orange
Teal is a good color pairing with orange because the teal helps to tone down the vibrancy of the orange, while the orange adds an element of fun to the fairly serious teal.
These are two heavily saturated colors that could become too intense when used together in large amounts, so if you want to use this color combination, use them as accent colors on a neutral background.
A room with white walls would look clean and minimalist with a few teal and orange accessories, or for a more casual vibe, choose a pale gray or cream color of paint. For a bolder look, opt for charcoal or black walls and contrast this with pops of teal and orange, for example, a teal armchair and orange plant pots.
You could also use a very pale shade of orange with a peach tone if you want to stick to solely orange and teal. This could look like a room with walls painted in a pale orange color, with the addition of teal accessories for a bold contrast.
Teal + Yellow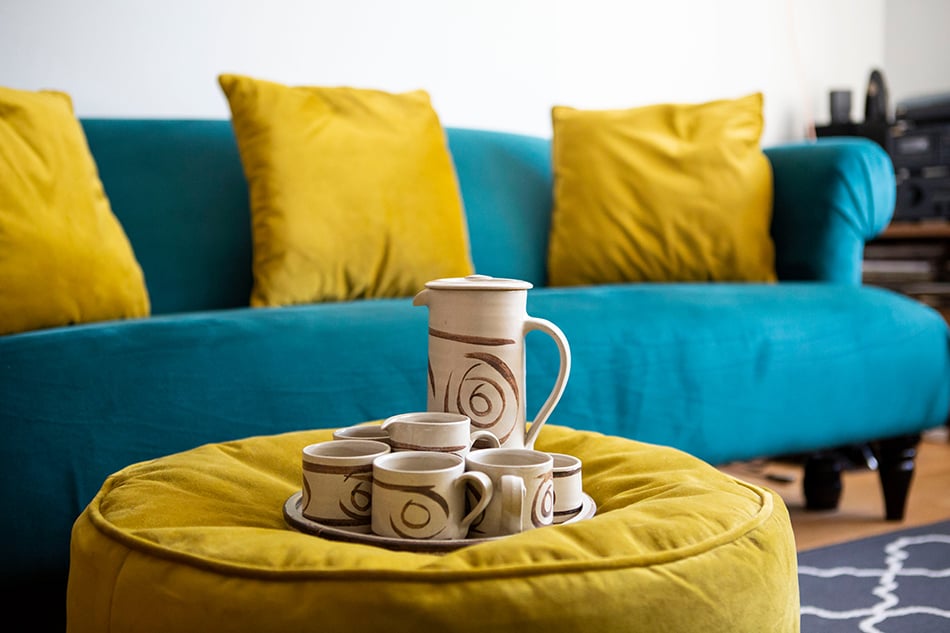 Blue is a classic color combination with yellow, so it makes sense that yellow would also work with teal as it has a blue base. Teal is quite a tranquil and restful color, so pairing it with yellow adds a vibrant energy to the space. This is a cheerful color combination that works well in bathrooms, bedrooms, and common living areas.
For use in the bedroom, choose teal as your primary color on the walls, and for large items like rugs and bed linen, then add flashes of yellow such as cushions with yellow embroidery and yellow table lamps.
For a Scandinavian style of interior design, paint a room in stark white and then add bold splashes of yellow and teal, for example, a bright yellow painted wooden chair and teal frames hanging on the wall. This is a common color scheme in Scandinavian decor, which feels playful and welcoming.
Teal + Red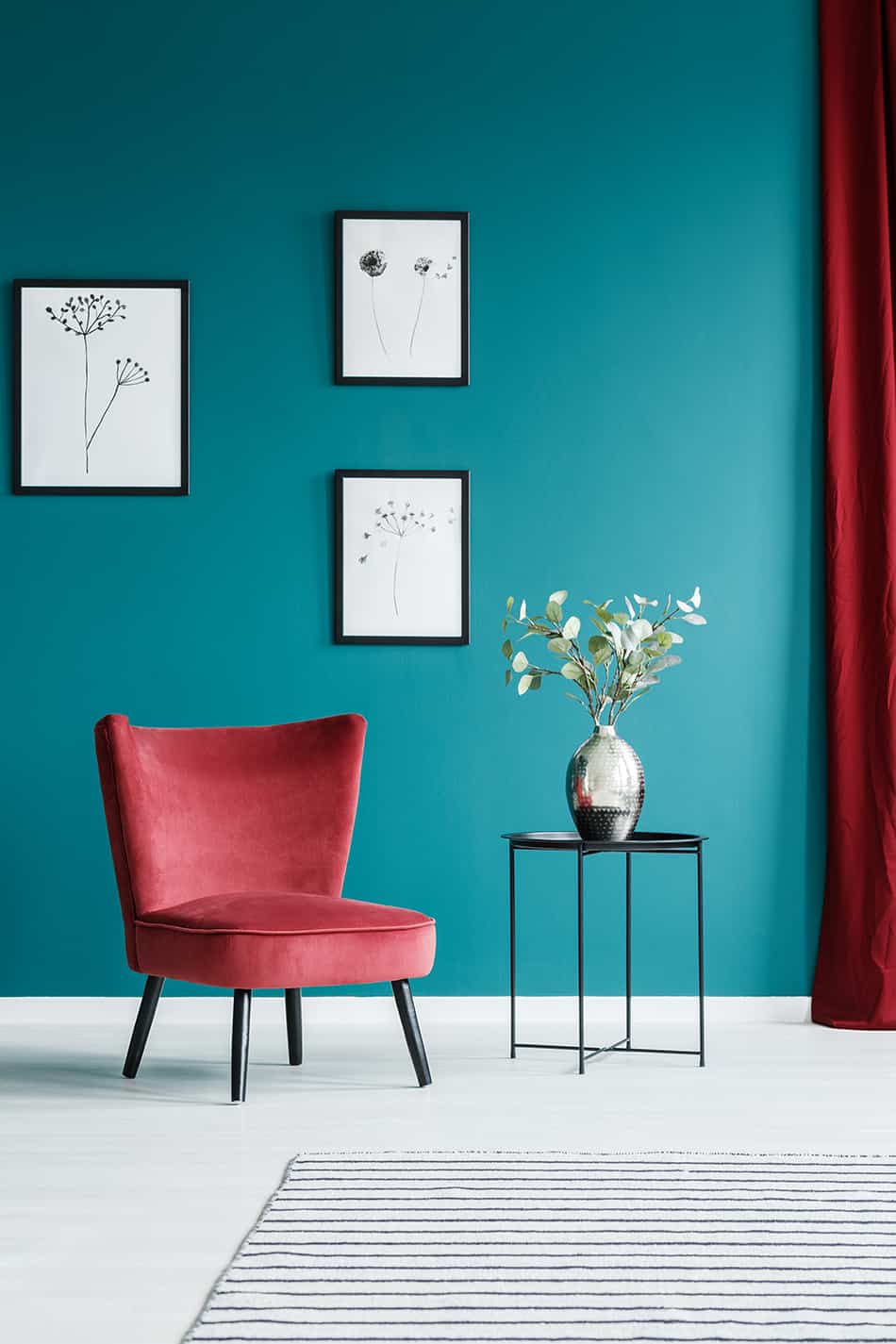 Teal and red are complementary colors and, as such, are commonly seen together in interior design. Teal helps to balance out the strong vibrancy of red, while red warms up the teal. Red and teal can work well in modern designs, but they are also a great option in country or traditional style decor.
If you have an heirloom rug with red and teal running through it, you could use this as a base for designing a room and pick out the colors to use in accessories around the rest of the room.
When using red and teal together, you should use red sparingly to ensure it accents the teal rather than competes against it or becomes overwhelming. As a strong color, red accessories should be kept small and to a minimum, such as red stitching on a throw and red ornamental objects.
Teal + Brown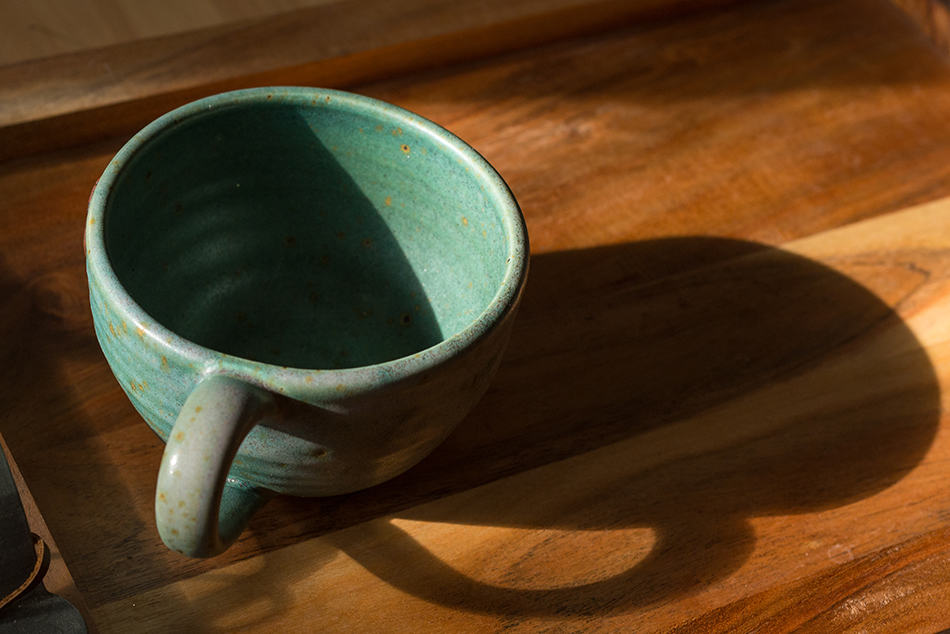 Teal is a great color choice in a room which feels weighed down with brown wooden furniture, as it adds interest without being too vibrant. Teal has a relaxing quality that works well against wooden furniture, nicely accenting its natural tone.
If you have brown leather sofas or dark wood office furniture, then you could use teal paint on the walls to lighten up the space and make it more welcoming.
Alternatively, paint the walls in a shade of beige or white and use teal accessories to liven up the room. If you have a room that is predominantly teal already and it feels too intense, then adding brown accessories is a good way to tone it down.
Add brown wood photo frames, and brown faux fur throws to bring about a natural vibe that is easy to spend time in.
Teal + Lime Green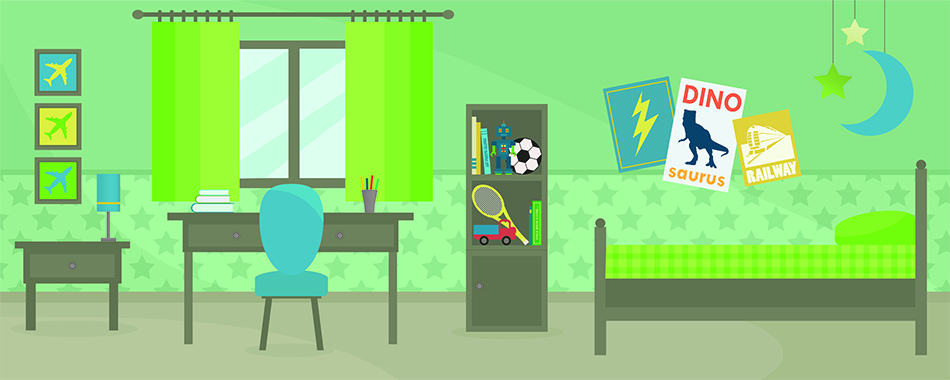 Teal a popular color combination with brown as both colors have similar tones that bounce well off each other. Lime green and teal together create a sense of vitality that is refreshing and energetic.
As these two colors are similar in terms of intensity and the emotions they evoke, it would be too much to use them alone without a neutral color as a base.
To incorporate lime green and teal into an interior room design, use a 60-30-10 balance. This means using a base color on 60% of the space, such as white, then adding teal and lime green at a ratio of 30% and 10%.
Teal + Gold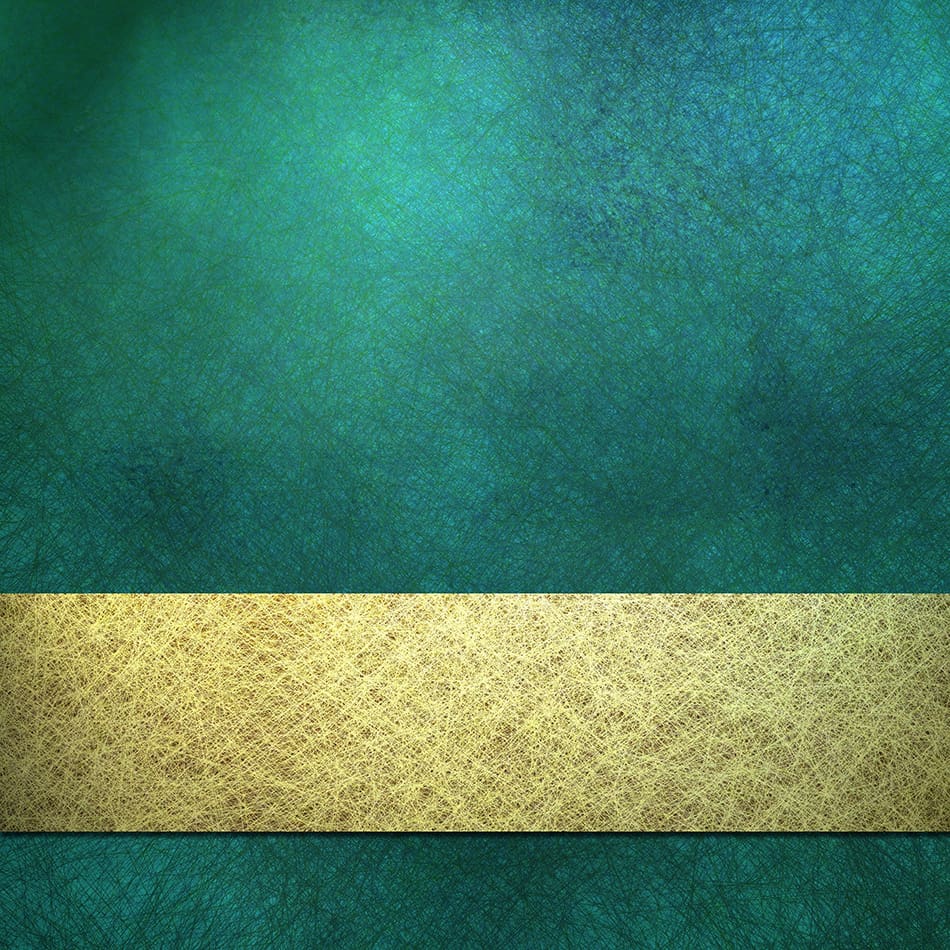 Teal and gold used together in interior design create an elegant and sophisticated feel. Both of these are warm colors, so they are great for making a space feel more comfortable and inviting.
As this is quite a mature color combination, it is often used in adult spaces such as a master bedroom and areas of the home where you would entertain guests.
This is also a great color combination for bathrooms; if you have gold metal accessories such as a gold faucet and gold framed mirror, then paint the walls teal for a luxury spa vibe.
You can also add in a neutral color with gold and teal in order to use them as accent shades. Black and white would both work well in this instance, as would a pale shade of pebble gray.
Teal + Purple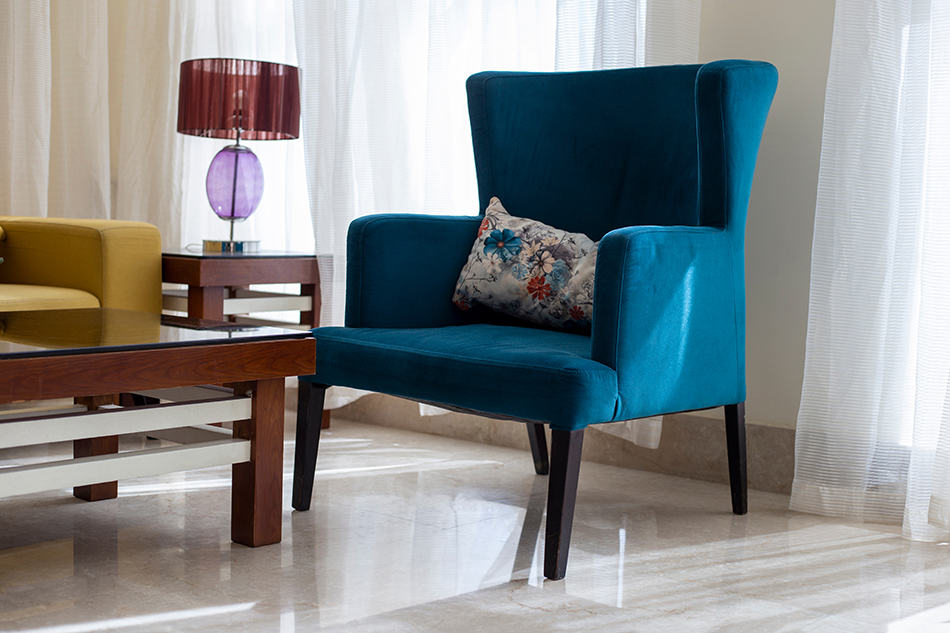 Purple and teal may not be colors that you immediately think would go together, but actually, when used alongside a neutral base, these two blue-based shades look very striking.
One way to use these colors together in a room would be to paint the walls in a pale cream shade, then add splashes of purple and blue to soft furnishings such as rugs, curtains, and cushions.
When pairing purple with teal, be sure to choose a strong and vibrant purple and avoid pale shades like lilac. As a strong and heavily pigmented color, teal needs its accenting purple to be able to hold its own and not be washed out by the teal.
Teal + Pink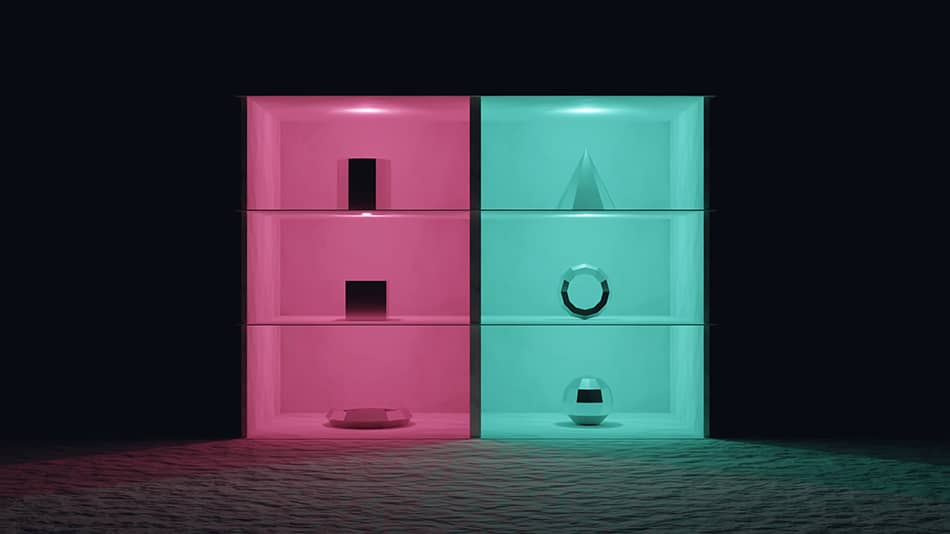 Pink and teal are a match made in heaven when it comes to colors that bring out the best in each other. Hot pink helps to add a fun element to the fairly serious teal, while the calm qualities of teal ensure that the pink does not become too overwhelmingly racy or loud. You can use these colors as a color pairing by themselves or use a neutral base if you prefer to play it safe.
Another good option is to choose a pastel shade of either teal or pink and use this as the base color for a room, for example, by painting the walls in it. You can then add bright shocks of pink and teal in accessories and furniture, such as a teal armchair and pink chandeliers.
As teal is a popular color combination with pink, it should be fairly easy to find soft furnishings containing both shades, for example, floral print cushions and bedsheets.
Teal + White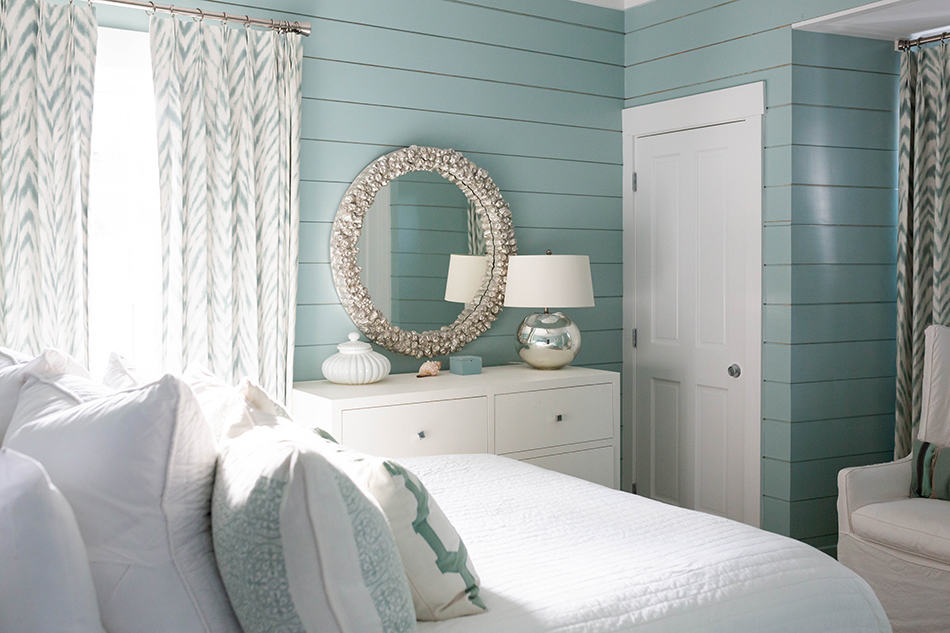 Teal and white are two colors that create a calming and almost therapeutic vibe when used together. Areas of the home which look particularly good in teal and white are kitchens and bathrooms.
A bathroom with a white vanity unit, a white bath, and a white toilet would feel chilled out and relaxing with the walls painted teal.
Add white accessories such as a white vase and white towels. Kitchens look clean and sophisticated when decorated in white and teal.
Select white countertops and white kitchen cabinets, then break them up with a teal tiled backsplash. If you really want to push teal as the centerpiece, then paint kitchen cabinets in teal and decorate the rest of the room in stark white.
Teal + Black
Teal and black is a sophisticated color combination that is often seen in modern apartments and bachelor pads. Black has a very grounding feel, which can be used to make spaces feel more intimate, and when paired with teal, it is soothing and elegant.
Teal and black are a good color pairing for a couple's bedroom because together, they feel neither too feminine nor too masculine and encourage a relaxing yet grown-up atmosphere.
Paint the walls in a rich shade of teal and balance this out with black wardrobe doors, black lamp fittings, and black cushions.
For a sleeker and cleaner feel, use white as a base color at a ratio of 60%, with teal as 30% and black as 10%. Used in this way, black and teal has a minimalist, calming vibe that is reminiscent of an art gallery.