Baby blue is a soft shade of light blue that has long been associated with the arrival of baby boys. It is commonly used as a paint color in nurseries, and you will also see it making plenty of appearances at baby showers and christenings for baby boys.
However, this is a color that can be a wonderful addition to many different styles of interior decor, so don't dismiss it as a color only associated with newborns.
Here we will look at ways you can incorporate baby blue into your home decor and the best colors to use with it.
Baby Blue in Home Decor
Floral theme
Floral-themed interior decor never fails to make a space feel homely and welcoming. If you want to use a floral motif in your room but want to ensure it won't feel too feminine, then using baby blue is a good way to balance out the pretty pattern with a more masculine shade.
Paint an adult bedroom in baby blue and then opt for a floral bedspread with cornflower blue blooms and sage green foliage. Pick out the green in the print by installing sage green lamp shades or a sage green rug. This look works especially well in a guest bedroom because it feels fresh, clean, and inviting.
You can also utilize this style in any room in the home, including the living room, dining room, bedroom, and kitchen. In a kitchen, choose baby blue walls with white cabinets, and hang framed fl
oral prints on the wall complimented by a fresh bouquet of flowers on the countertop.
Tranquil tone
Baby blue is very calming and tranquil, so it is a perfect color to choose in a space where you want to feel soothed and at peace. The best color to use with baby blue in a tranquil room is white or off-white because it allows the blue to take center stage and doesn't influence the way it is perceived.
Paint living room walls in baby blue and opt for white sofas and cushions layered in both baby blue and darker blue for a hit of contrasting shades.
Baby blue is a really popular color choice for bedrooms because it makes a space feel calm and relaxing, which is how most people want to feel in the room they sleep in. Waking up in a baby blue room can make you feel at ease and set you up for a positive and productive day.
Fresh feel
Baby blue can also bring a sense of freshness and vitality to a room. It is a color that looks clean and honest, and despite having a cool temperature, it doesn't feel stark or unwelcoming.
The invigorating feel of baby blue is put to best use in a kitchen or dining room where you want the atmosphere to be one that is fresh. Pair it with green to emphasize this look, for example, white walls, baby blue kitchen cabinets, and lime green accessories such as candles and vases.
Coastal style
When baby blue is not being used as the main color in a baby boy's bedroom, it is most commonly seen as part of a coastal-themed style. Baby blue works really well in this type of decor because it can be indicative of the sky or the ocean. It is a color most people associate with the beach, and it does a great job of creating a coastal vibe by offering a serene feel.
Use baby blue as a wall color in a coastal room with navy blue sofas and white curtains, or add a splash of color to it such as red or yellow for a more nautical vibe. Striped fabrics in baby blue and white look effortlessly coastal, so add cushions or curtains in these textiles to instantly turn a neutral room into a coastal paradise.
Colors to Use with Baby Blue
White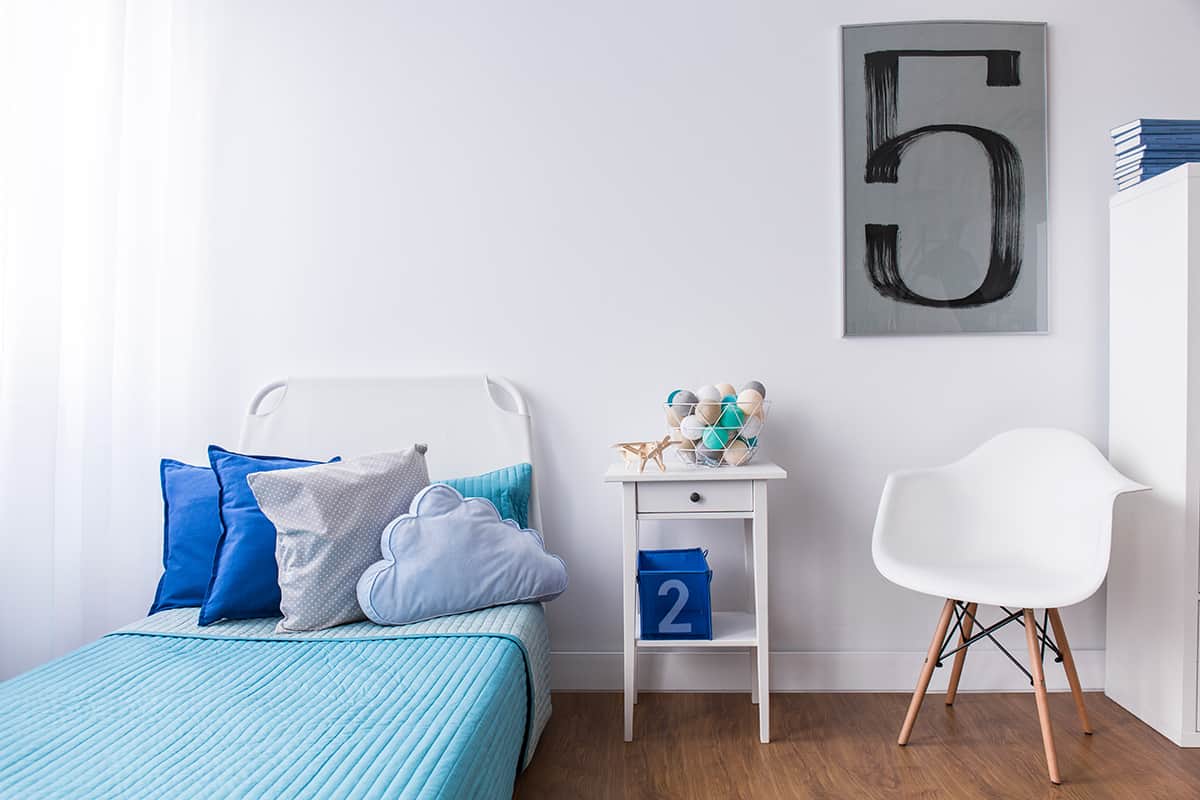 Baby blue is an excellent color to use with white in any type of interior decor style. It can be used as a base in a tranquil bedroom with baby blue curtains and bedsheets or as a color for upholstery in a baby blue painted room.
White alone feels stark and can even appear as clinical or hostile, but with baby blue, it feels fresh and natural. It also helps to punctuate a baby blue room, which can look too sickly without some neutral contrasts.
Gray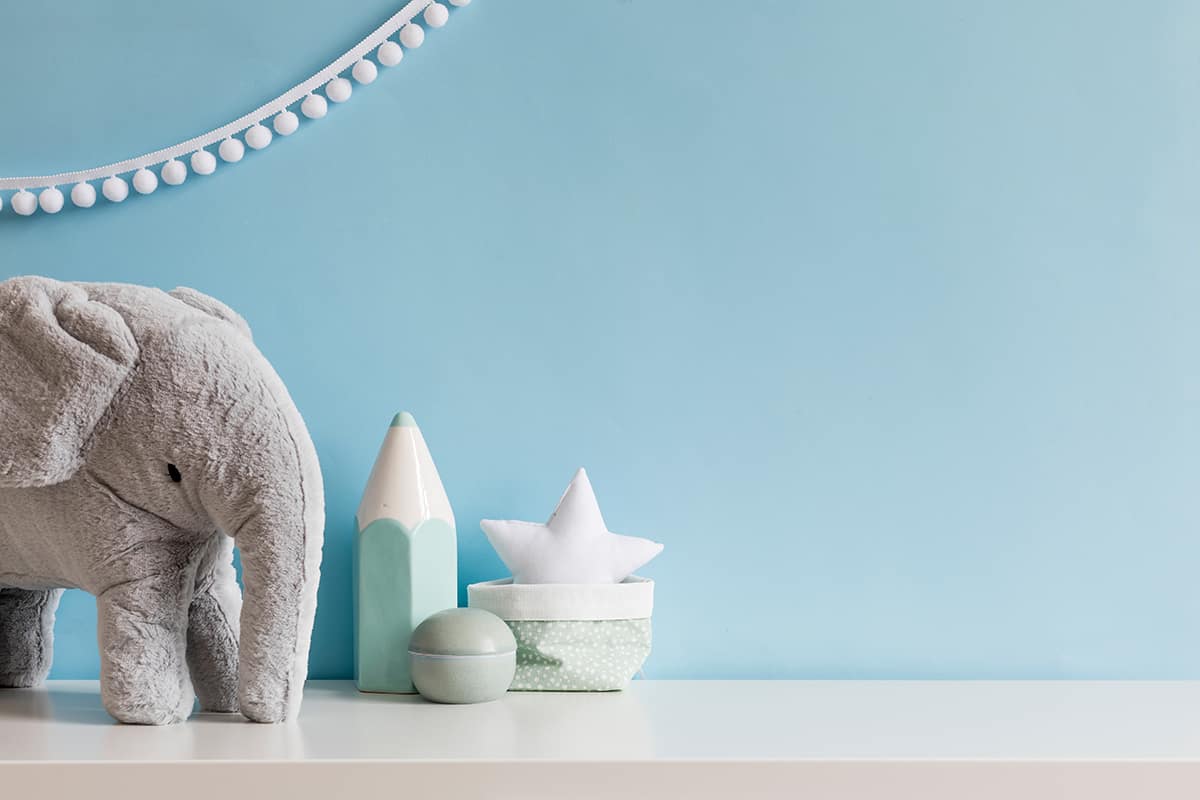 Gray often has blue undertones, so a gray color scheme is good to use with baby blue. It is ideal for creating a contemporary look with baby blue if you want to ensure you get away from the possibility of a space looking like a nursery.
Opt for baby blue walls and pale gray accessories or furniture to achieve a cool and airy space, or choose darker shades of gray for depth and contrast. Baby blue is an inherently lighthearted feel, so if you have a dark gray space that feels gloomy, add baby blue accents to liven it up while still maintaining a cool vibe.
Texture is important when you use baby blue and gray together because as these are both cool shades, you will need to add warmth in ways that don't include color. Texture is the easiest way to achieve this. Opt for soft, tactile fabrics that will make a room feel more comfortable and inviting, such as knitted blue throw blankets or velvet curtains.
In a room that is made up of cool shades, try to add more soft furnishings to the space to make it feel more homely. This could include adding sheer drapes behind your curtains, choosing a fabric bean bag instead of an ottoman, layering cushions on sofas and chairs, adding a rug to the room, and buying fabric storage baskets instead of wooden or metal ones.
Any soft furnishings will contribute to a softer feel so that a gray and baby blue decor doesn't feel cold or sparse.
Blush pink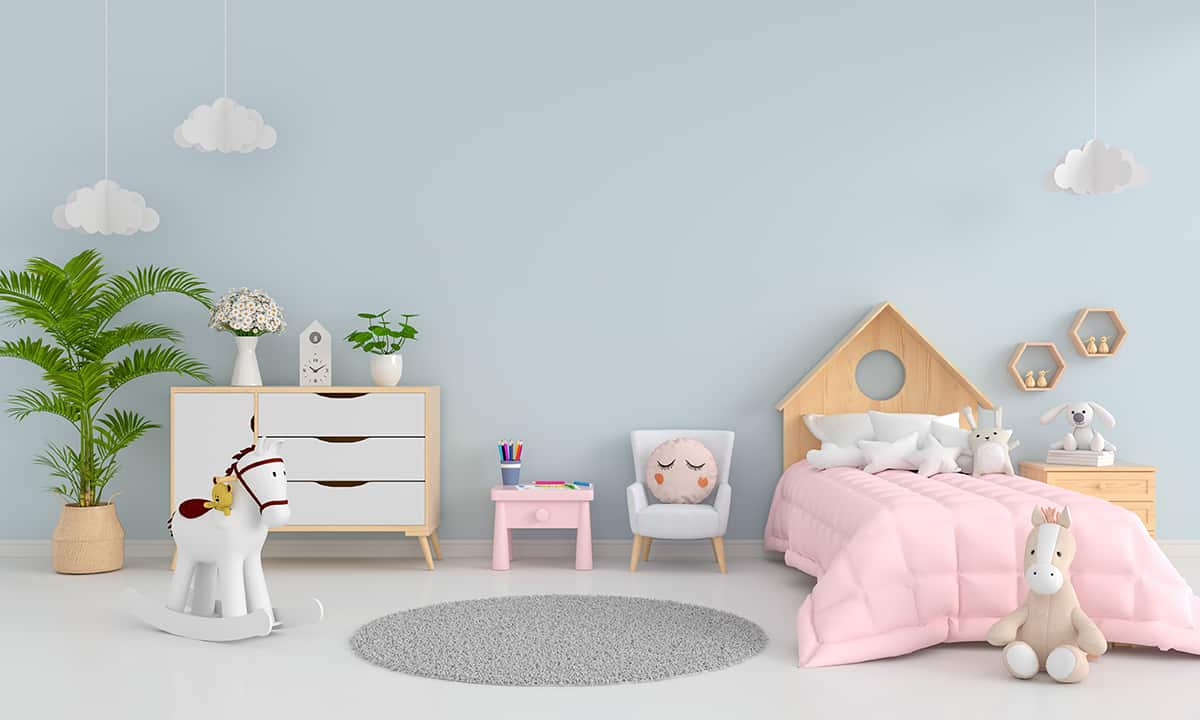 Blush pink is a soft and beautiful shade of pink that has a dusty feel. You can make a baby blue room feel updated and contemporary by adding velvet blush pink upholstery, such as a sofa or a set of dining chairs.
These two colors are very complementary to each other because they create a subtle contrast that isn't harsh for the eyes to process. Blush pink and baby blue will make for a space with a soft atmosphere that feels welcoming and accessible.
You can use the two colors together without a third color with great effect or add in a contrasting shade such as peach to make for a more interesting look.
Blush pink and baby blue can also work really well together to achieve a retro or art deco vibe. To accomplish this, choose pieces in these colors which are styled to a certain era, such as a baby blue scalloped chair.
Peach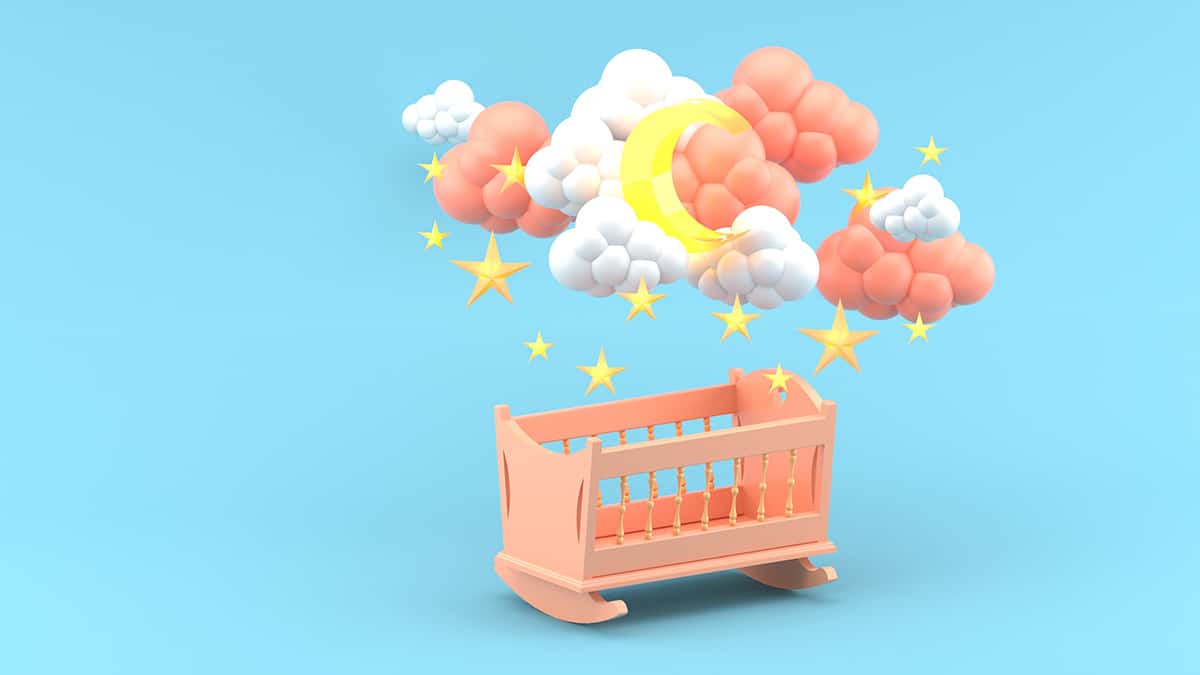 Peach is a color that is made up of orange and pink, but it has a slightly less vivid look than these colors, which gives it a softer and more muted appeal. As blue and orange are contrasting colors on the color wheel, peach and baby blue are also contrasting colors, but seeing as they are both subtle versions of their main colors, the resulting contrast will also be quite subtle.
Baby blue match well with peach in a bedroom to achieve a look that feels sumptuous yet fresh. Choose baby blue painted walls with a peach upholstered stool seated at a dressing table and bedsheets in a white and peach pattern.
This color scheme will work best with a third neutral shade added, such as pale gray or white, so that the contrasts do not become overwhelming.
Navy blue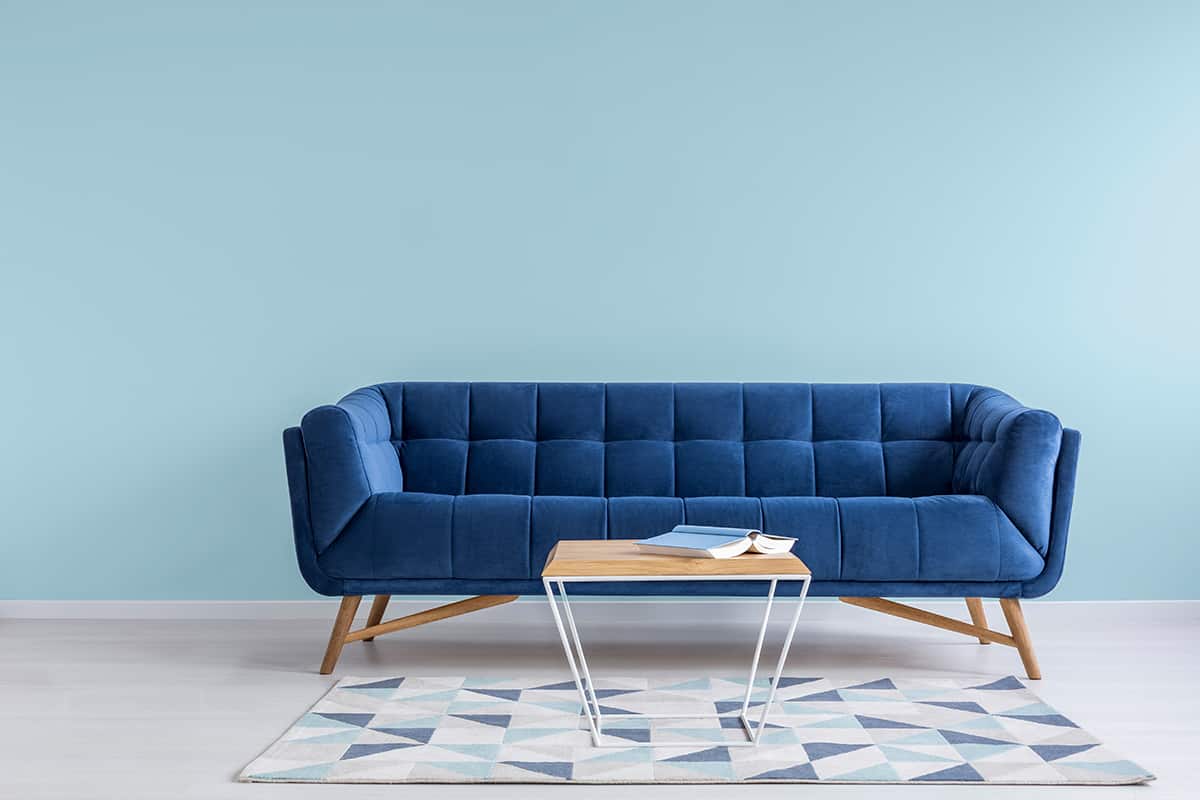 Navy blue is a dark blue that can work as a contrast against baby blue because of the shade difference; however, there will also be harmony because both colors share the same tone. Use baby blue fluffy cushions to lighten up a navy blue sofa, or add a more formal look to a baby blue painted room with a navy sofa or navy rug.
A striped baby blue and navy blue wallpaper will add a coastal feel to a room, or choose a floral print for a more neutral take on a floral pattern.
Mint green
Mint green is a really fresh shade of green, which looks more like mint ice cream rather than the leaves of the mint plant. Baby blue and mint green have a sweet and soft appeal that will feel lighthearted and uplifting in home decor. Choose mint green subway tiles in a bathroom with baby blue painted walls and mint green towels.
These colors are also ideal for a kitchen to create a country cottage look or a casual coastal style. Opt for baby blue kitchen cabinets with an oak wooden countertop and a mint green backsplash set against white walls, and add accessories in both baby blue and mint green shades.