Cobalt blue is an extremely intense shade of blue that borders on electric blue. It is neither dark nor light and sits somewhere in the middle of blue shades.
The vibrant and potent nature of this color can make it a difficult shade to pair with other colors, but when used alongside complementary shades, it can make a stunning statement in interior decor.
Here we look at ways to use cobalt blue in the home and which colors to use with it.
Colors to Use with Cobalt Blue
Red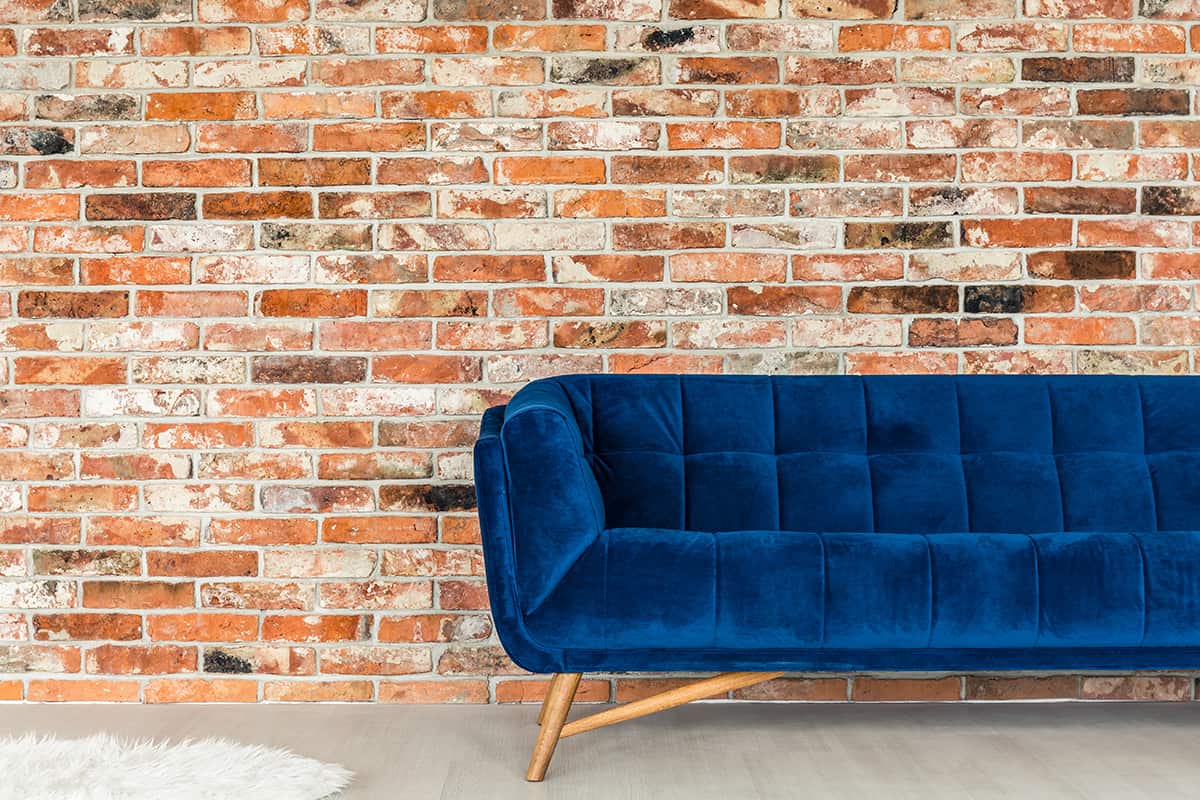 Red and blue contrast well against each other, especially warm orange-toned reds, because orange is the opposite color to blue on the color wheel.
Red and cobalt will look overstimulating if used together without a third color, so it's important to select a neutral color for your base to prevent these colors from feeling like they are giving you a headache.
A soft gray neutral will be a good main color to choose for this color scheme, and you can add touches of red and cobalt along with this, for example, a cobalt rug with a red trim or a red cushion on a cobalt chair.
Orange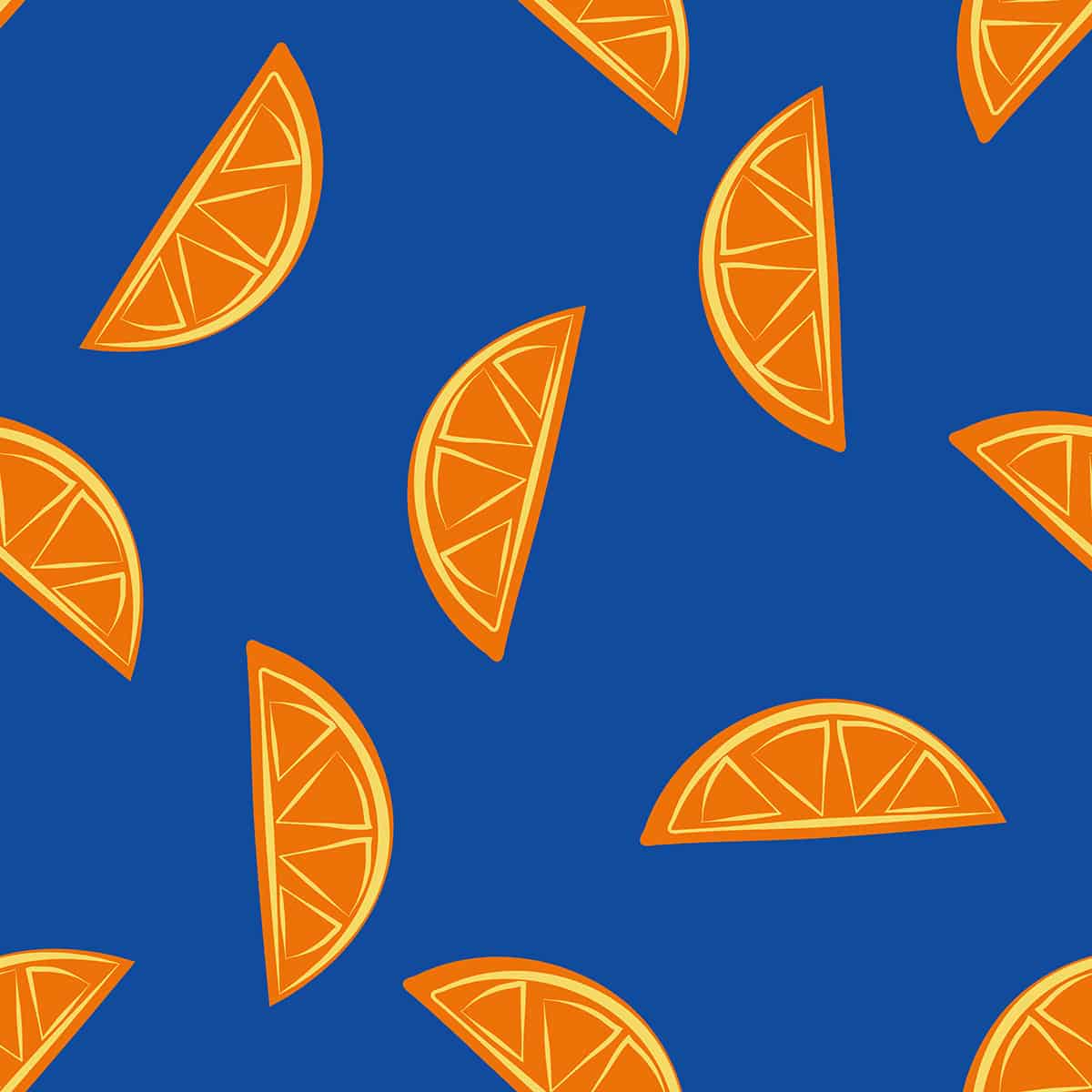 As the complementary and contrasting color for blue, it makes sense that cobalt is one of the colors that match well with orange. Choose a vivid orange for a bright and intense color combination, or opt for a softer orange such as peach to create a more subtle style.
Orange can look stark in some materials, but it offers a quirky modern vibe if used with luxury materials. Consider a peach suede upholstered armchair with a cobalt blue blanket draped over the back or peach silk curtains with cobalt blue tie-backs. This is a color scheme that also works well in a Moroccan-style kitchen by taking inspiration from Aztec prints and fabrics.
Choose cobalt blue painted kitchen cabinets with gold handles and white countertops for a modern take on this style, then incorporate orange textiles in natural textures such as a distressed Aztec style rug and some terracotta pottery.
Tan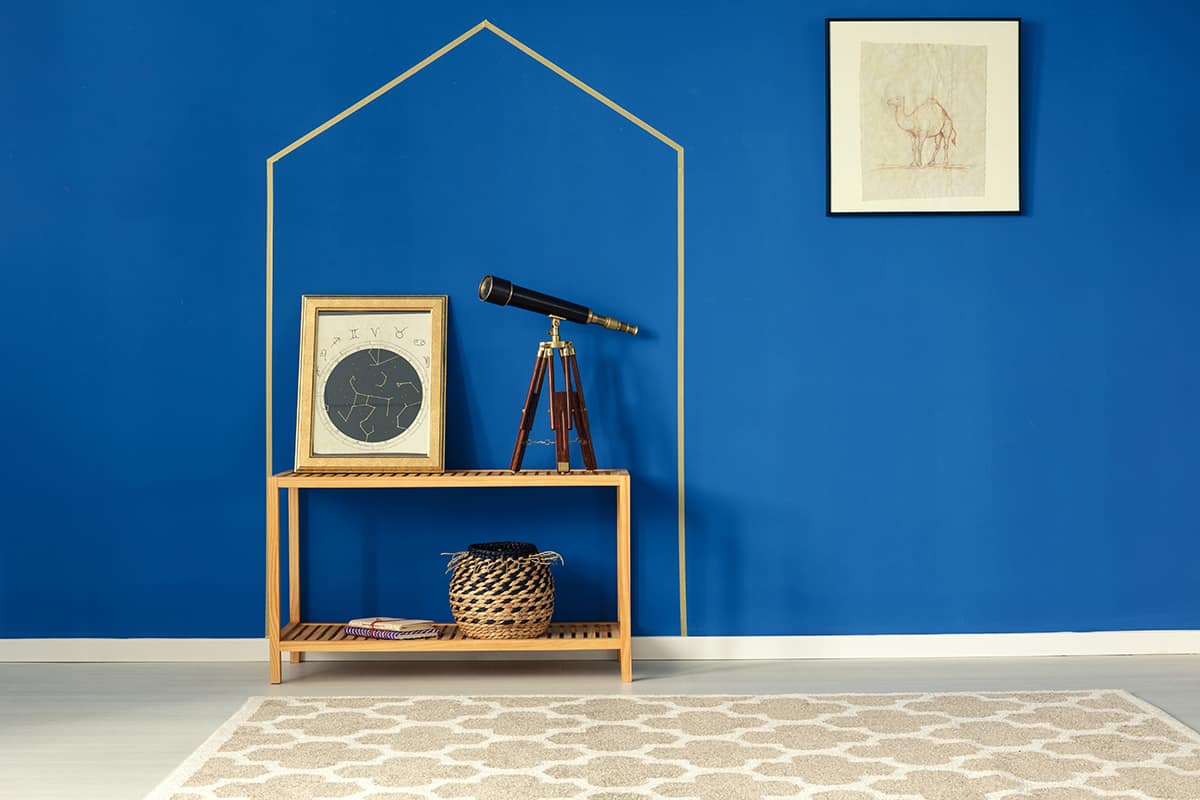 Tan is a color that hovers somewhere between a dark shade of beige and a light shade of brown, but it can also contain orange undertones that give it a slightly terracotta hue. As a warm color, tan contrasts against cobalt blue but also serves to help balance out the intensity of cobalt because tan has a very natural tone to it.
If you are using cobalt blue as an accent shade, then tan is a great color choice for a base color. Paint walls in tan or opt for tan leather sofas, and then add in hits of cobalt such as cobalt blue cushions or lampshades. This will result in a look that is striking without being overstimulating.
If you have opted for cobalt blue painted walls and want to help tone down the intensity, then choosing tan furniture and soft furnishings will allow you to accomplish this.
White
Cobalt blue is definitely a good complementary color that goes with white. When used together, they can create a very fresh feel. If you want to feel the true energy of cobalt blue, then use it with white.
In a predominantly white room, cobalt blue accents will make the atmosphere restful and calming, while a predominantly cobalt space with white accents will be energetic and creative.
You could opt for a twist on a traditional coastal decor by using white and cobalt for a more modern take on this style.
To do this, opt for stark white and cobalt blue striped fabric and a mix of natural and luxury textures, such as silk cobalt cushions and white linen lamp shades. This contrast of textures will help to create a quirky vibe that accentuates the contemporary version of coastal decor.
Gray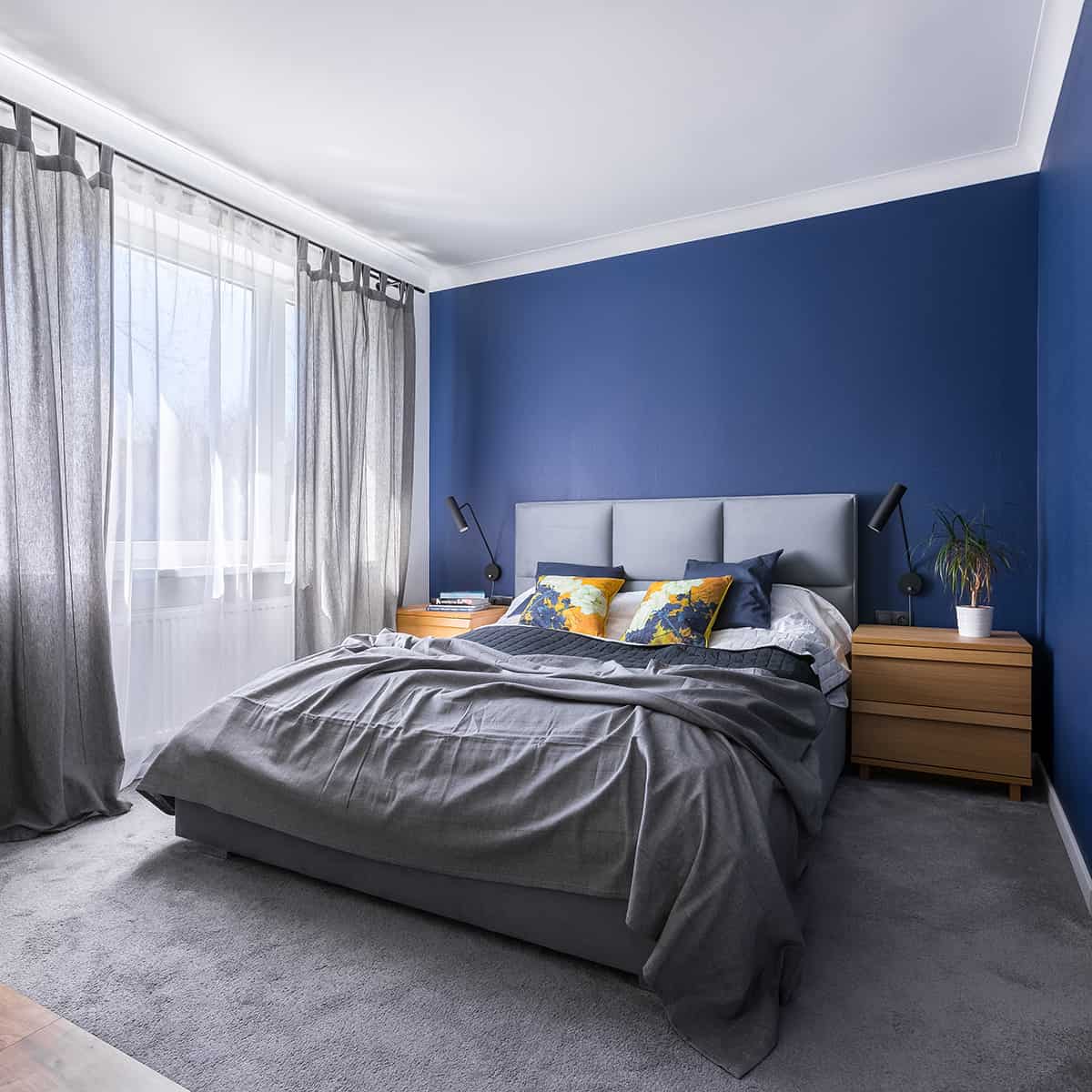 Gray is a modern neutral, so a cobalt blue and gray color combination can be great for toning down the intensity of cobalt blue. To do this, choose soft and subtle gray shades, such as dove gray walls with cobalt blue artwork.
On the other hand, dark gray colors can be used to add depth and drama to cobalt blue rooms.
Choose charcoal walls and cobalt blue velvet upholstered sofas for a decadent luxury look in a living room, or choose dark gray painted furniture in a dining room with cobalt blue walls. Gray is a foolproof color to use to ensure any room feels modern.
Using Cobalt Blue in Home Decor
Wall paint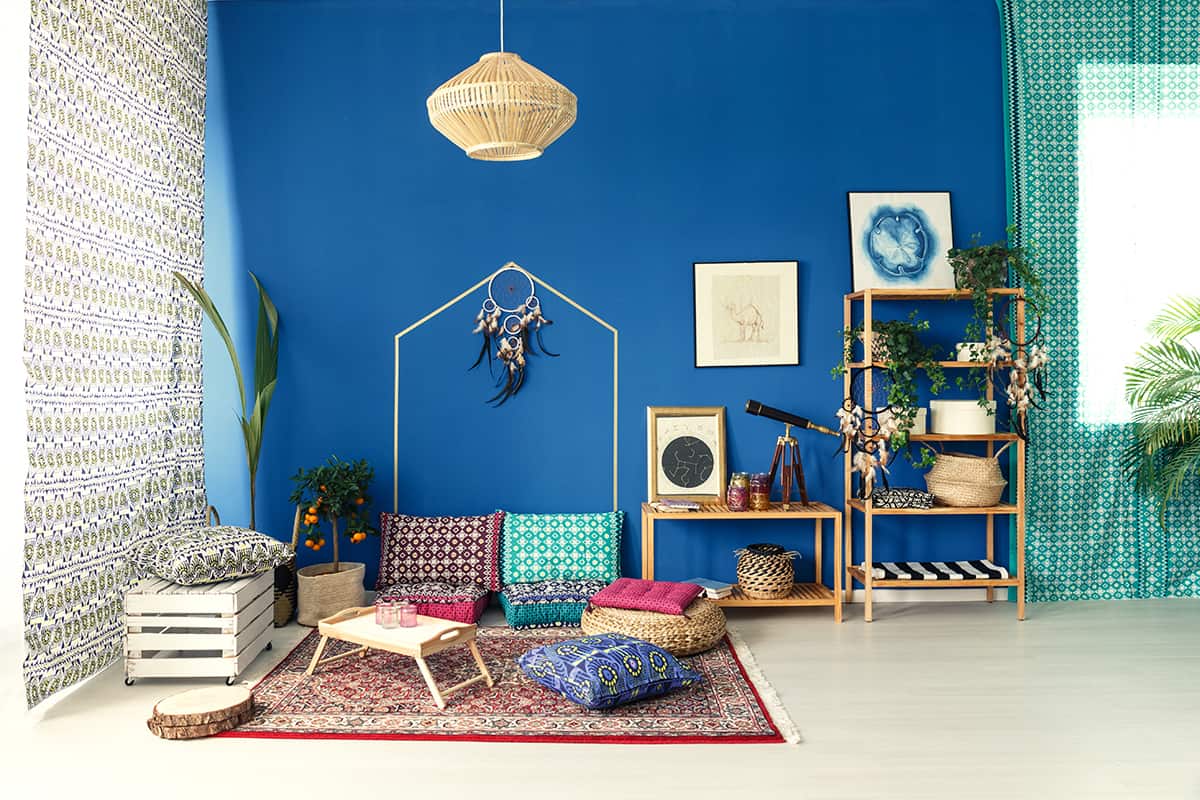 If you want to use cobalt blue as the main color in your room, then fully commit to it by painting your walls in this striking shade. As a very powerful and concentrated color, cobalt blue will be intense when used on all walls in a room, which is great if this is the effect you are going for, but it is not a good option if you want to achieve a muted look in a space.
The intensity of this color makes it a really interesting choice in small spaces such as bathrooms, where it can add depth and help to make the room feel bigger.
If you love cobalt blue but don't feel daring enough to use the paint color on all walls, then opt for a feature wall instead. You could paint your feature wall in cobalt blue or find a striking wallpaper using this color.
Furniture paint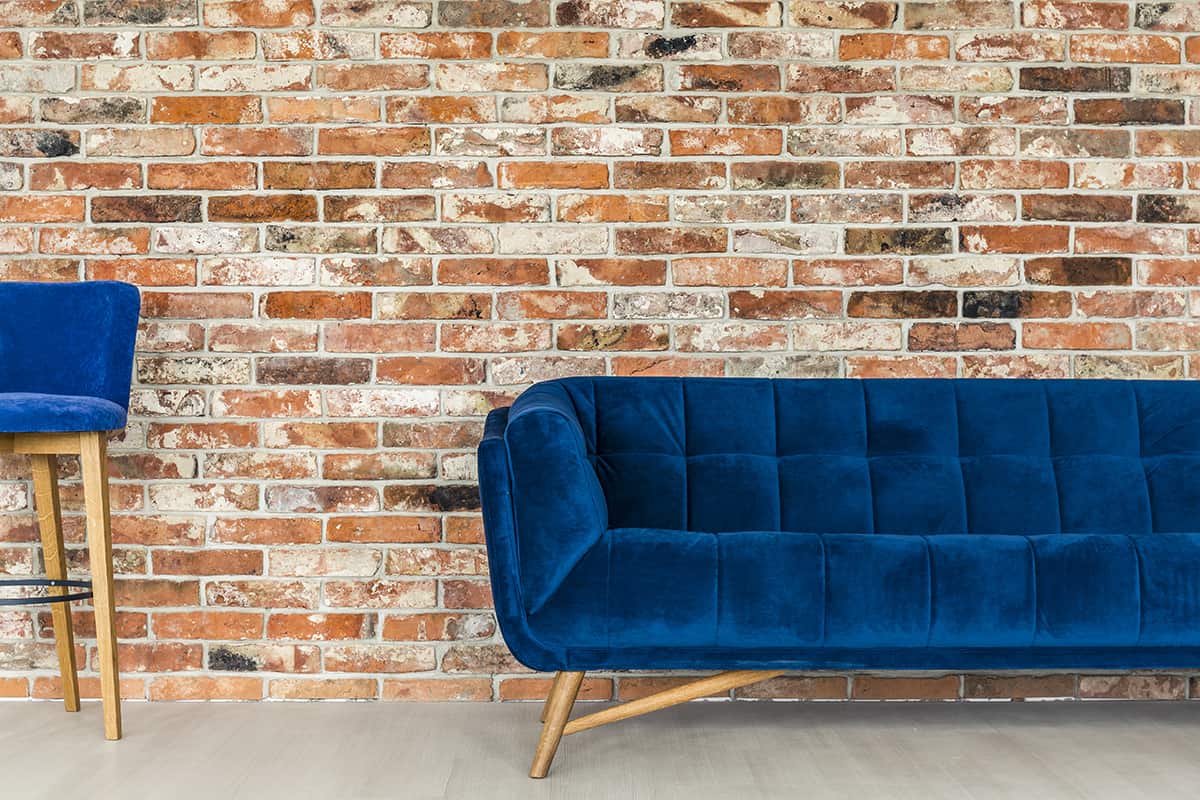 Furniture painted in cobalt blue will make for a really modern statement in a contemporary space. In a minimalist home, paint wooden dining chairs in cobalt blue furniture paint and set them against white walls for a striking look, or they will work in a more rustic interior space with brown hardwood floors to bring a hint of Scandinavian style to the room.
Furniture paint is a fun way to update the look of your home without spending very much money, and you can completely transform the look of old-fashioned furniture into something that is modern and stylish.
This is great for the environment because you will be upcycling old pieces rather than contributing to new things being made; it's great for the aesthetic of your home and also for your personal creativity.
Soft furnishings
Cobalt blue is a very bold color choice, so although you may love the idea of it right now, you might find that you get bored of it after a while because it is very intense and could be hard to live with.
If this sounds like a possibility, then update your interior style with soft furnishings in cobalt blue so that you can swap them out easily at a later date if you change your mind.
Painting over walls is much more of a commitment if you change your mind on paint color, and buying new key items to replace a cobalt blue sofa can be expensive, whereas soft furnishings such as curtains and cushions are relatively inexpensive and can be swapped out in a matter of minutes without much effort or cost. For a bold and intense look, choose soft furnishings in solid cobalt blue, such as plain cobalt blue cushions.
If you are looking for a more subtle style, choose patterned fabrics that contain cobalt blue. One nice idea might be a Moroccan-style patterned fabric for cushions with an off-white base and cobalt blue embroidery or a tan and cobalt blue zig-zag striped rug.
Upholstery
Upholstered furniture is always a really classy way to add color into a space, but it is also more of a commitment than soft furnishings because you will likely hold onto upholstered furniture for many years, so you need to be sure about the color choice.
Fortunately, despite cobalt blue being a very intense color, it does actually work well with a variety of other shades. This means you could buy a cobalt blue upholstered accent chair for your white living room, and if you change your mind about it later, it could be used as an accent chair in the corner of a dusky pink bedroom or an olive green dining room as an occasional chair.
If you are going to buy upholstered furniture in cobalt blue, then do so sparingly to ensure a modern look. This could mean having one cobalt blue sofa and one gray sofa or a cobalt blue upholstered headboard in the bedroom with very few other cobalt blue pieces. When striking colors are used for upholstery, they make the best statement when they aren't overused.
Accent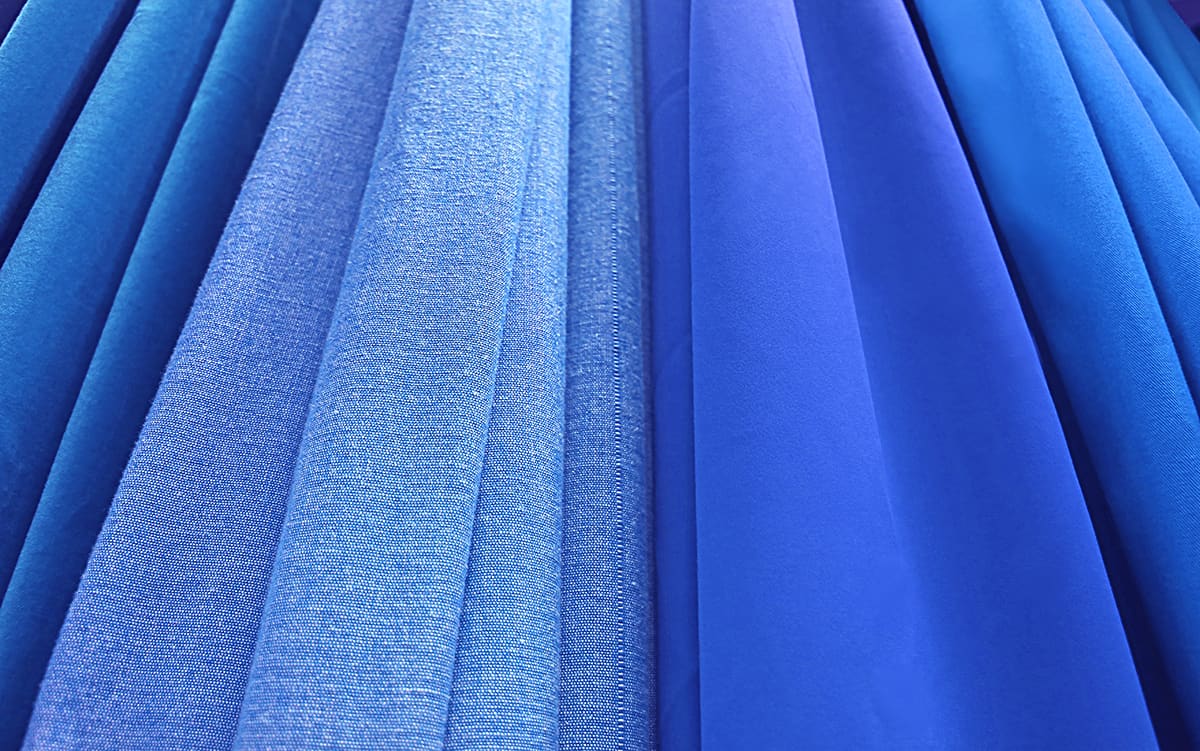 Because cobalt blue is such a distinctive color, it makes for a great accent shade in interior decor. In fact, using it as an accent shade can actually help it to have more of an impact than if you were to use it as the main color because, as an accent, it will stand out rather than saturating the space in it.
Choose a backdrop that cobalt blue will contrast against to make the most of this color, such as cobalt blue curtains against stark white walls or cobalt blue cushions on a rich tan sofa.