Hunter green is a dark forest shade of green that has a little yellow mixed into it. It is a rich and earthy color that can be used to add depth and drama to a room, but it can also work well alongside more muted colors for a fresh and soothing space.
Hunter green is a color that has really exploded onto the interior design scene over the last year or two and is now an enormously popular shade of green to use in any room in the home.
Here we will explore which colors go with hunter green to make it pop and how to incorporate this shade into your home decor.
Best Colors to Pair with Hunter Green
Deep Red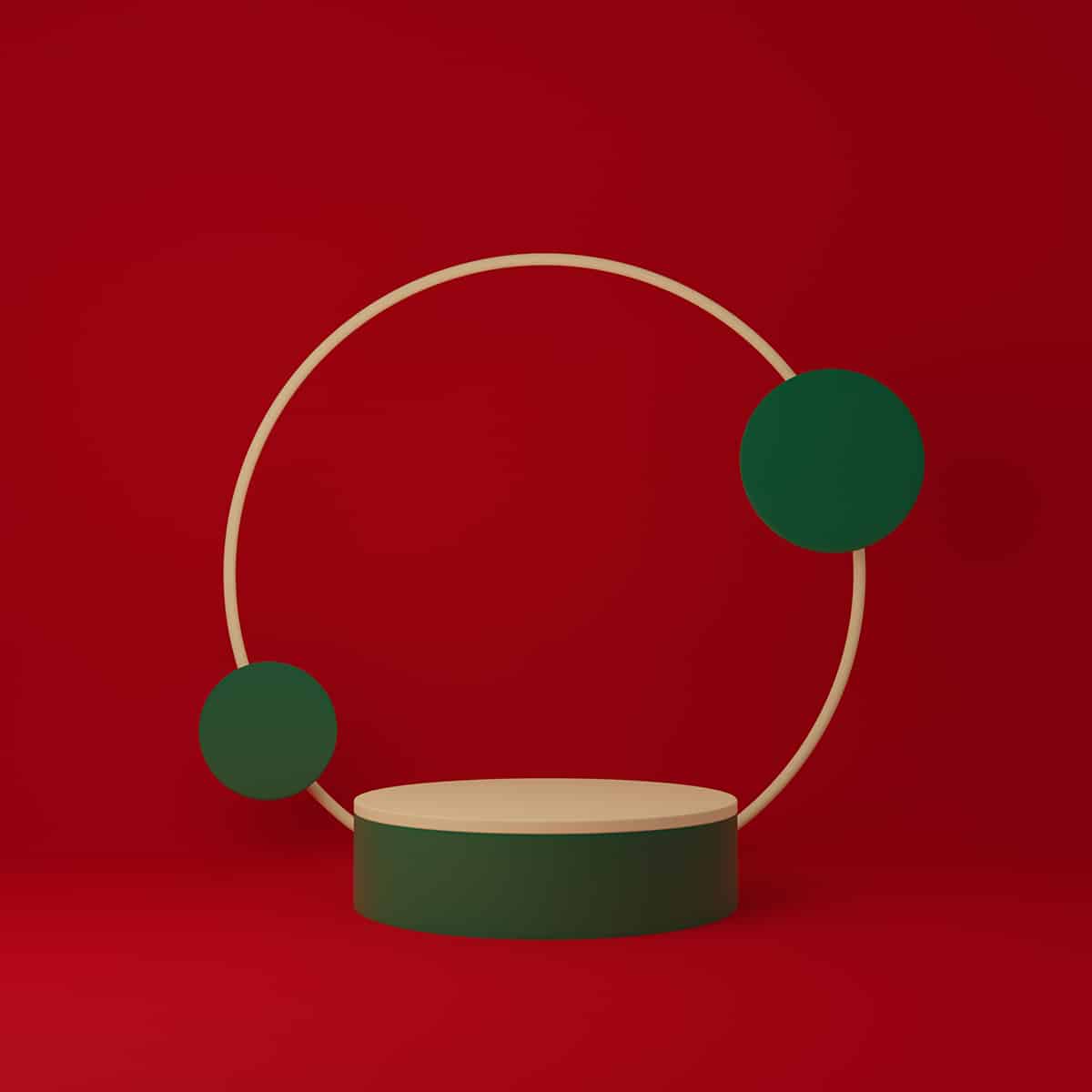 Some people say that red and green should never be seen, but this is a saying that has no basis in interior design or fashion. For a winter wedding, hunter green and deep red create a beautiful contrast that looks decadent alongside an ivory wedding dress. These colors can be used for bridesmaids' dresses, as well as for the interior decor at a wedding venue.
These colors also work really well when used in home decor to create a warming and almost festive atmosphere. Use these shades together in a cozy living room, with a deep red heavy knitted blanket draped over a velvet hunter green sofa, ready to snuggle up with in front of a crackling log burning fire.
Salmon
Salmon is a color combining both pink and orange, which is named after the color of the raw flesh of the salmon fish. It is a bright and cheerful color that is warming thanks to the presence of orange in the shade. This color provides a stark contrast against hunter green in terms of dark versus bright and warm versus cool.
Hunter green is a color that can go well with salmon but to avoid these shades from becoming too overstimulating, use one of them sparingly. For example, in a room that is predominantly hunter green, add a few small splashes of coral with a coral art print or some coral plant pots.
Alternatively, in a coral room, add some contrast with hunter green cushions or hunter green blankets. This color combination works best with a third neutral color, such as gray, white, or black.
Magenta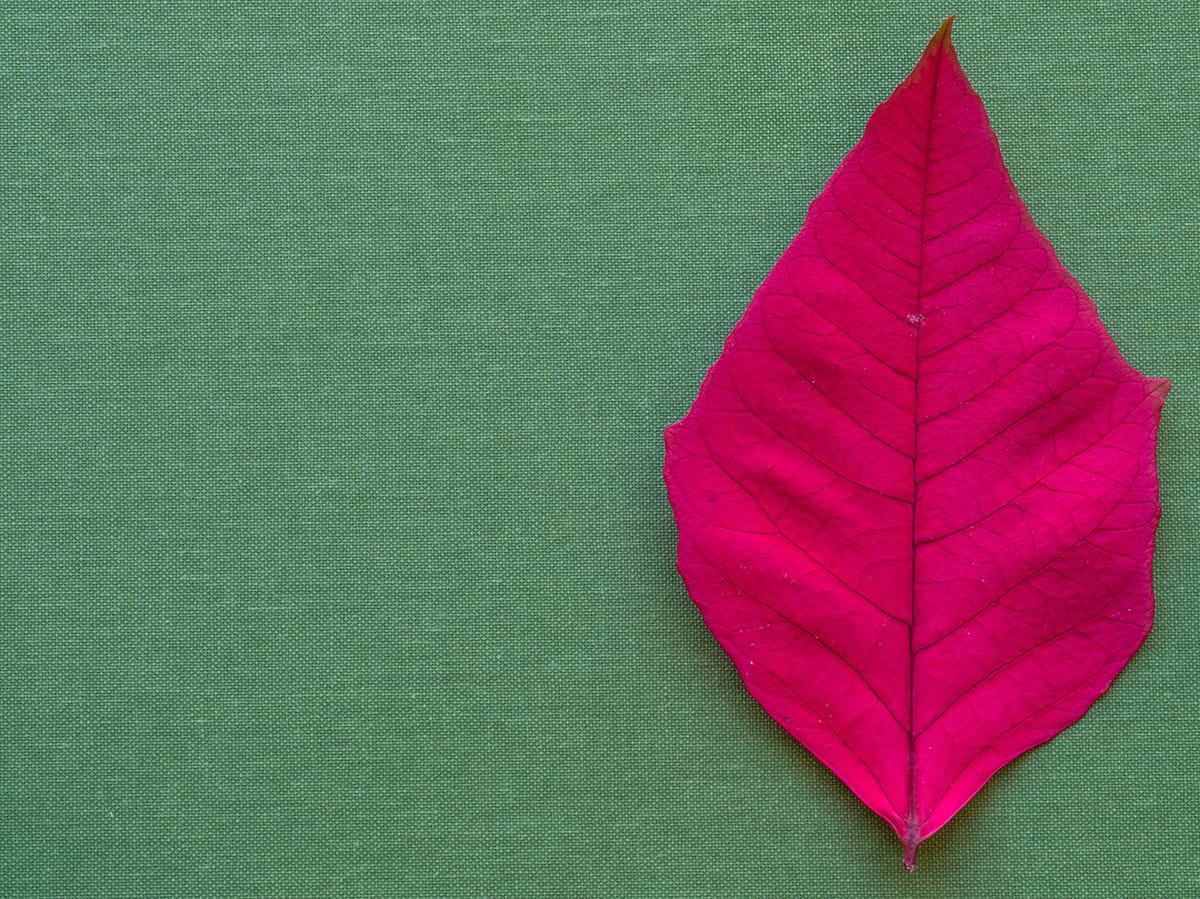 Magenta is a rich and vibrant pink-purple color. In a forest green room, magenta accessories can provide a shock of personality, and these two colors help each other to look even more intense.
For a quirky designer look, choose a vivid magenta accent chair in a room with hunter green walls.
Grape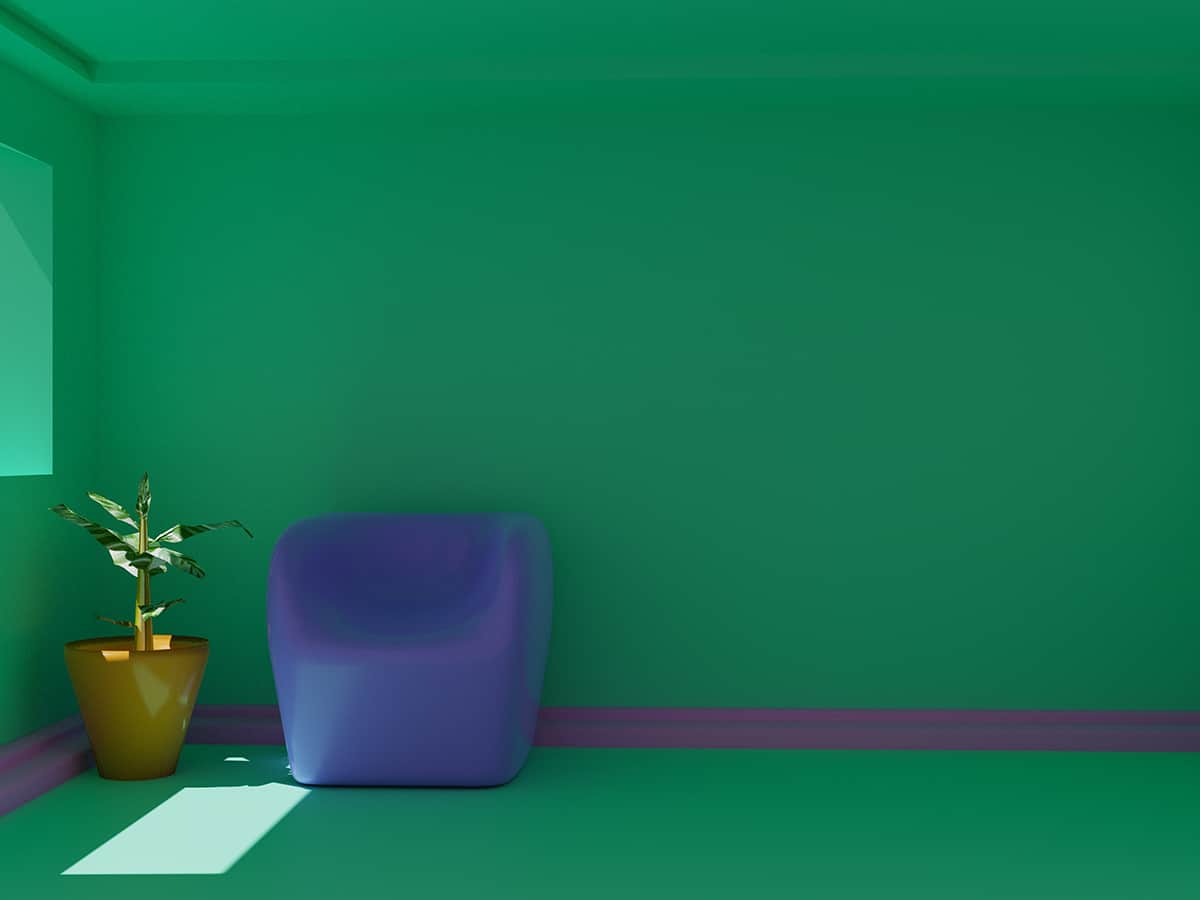 Grape is a deep shade of purple, which looks rich and luxurious with hunter green. These two colors can be used to achieve a grand and decadent style in a room, but they will also work well for more casual, rustic themes.
Choose a third neutral color to use with grape and forest green, such as black or even a metallic-like gold. This color palette would make for an intimate and sophisticated atmosphere in a dining room, and it could also look stylish in a small bathroom or washroom.
Teal

If you want to ensure a forest green room feels tranquil, then pair it with teal. Teal is a vibrant shade of blue-green that is heavily saturated and full of personality. It brings out a more playful side of forest green and can add a refreshing sense to a room.
These two colors are best used with white to help balance out the intensity and ensure a crisp feel. They could also be used with a pale shade of beige if you want to add warmth to the space. This is a color palette that will work well in any room but is especially nice in living rooms and bathrooms as they create a serene and fresh atmosphere similar to a spa retreat.
Gray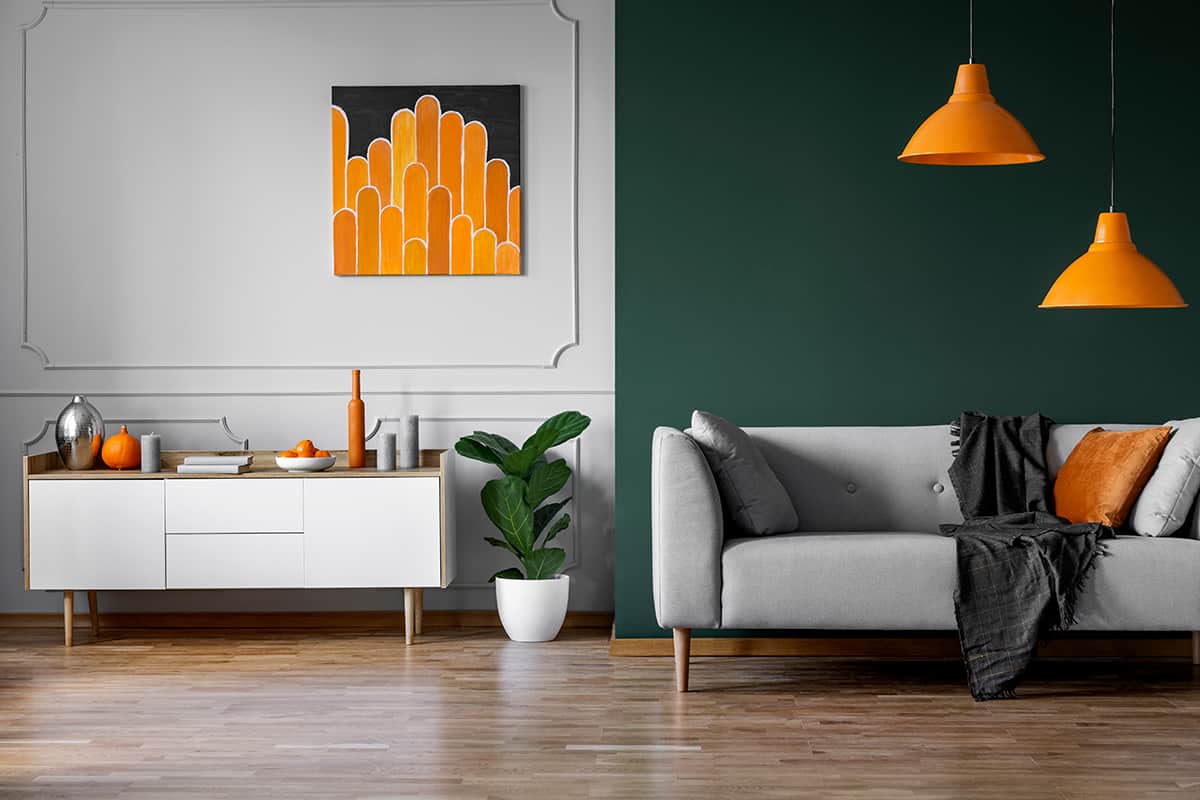 Although hunter green is a trendy modern shade, it is also a color that was used traditionally in English pubs and French royal estates, which can sometimes mean it looks like an aged antique color. If you want to ensure your forest green room doesn't look old-fashioned, you should add elements of gray to the space.
Gray is a quintessentially contemporary color in any of the many varied shades of gray available. Choose dove gray with hunter green for a soft and breezy style or slate gray for a deep and dark intensity.
In kitchens and bathrooms where hunter green is used for cabinetry, gray is often chosen for wall tiles or flooring for a combination of traditional and modern styling. This might look like a bathroom vanity unit painted in hunter green with a gray marble sink or hunter green kitchen cabinets with a gray tile backsplash.
Blush Pink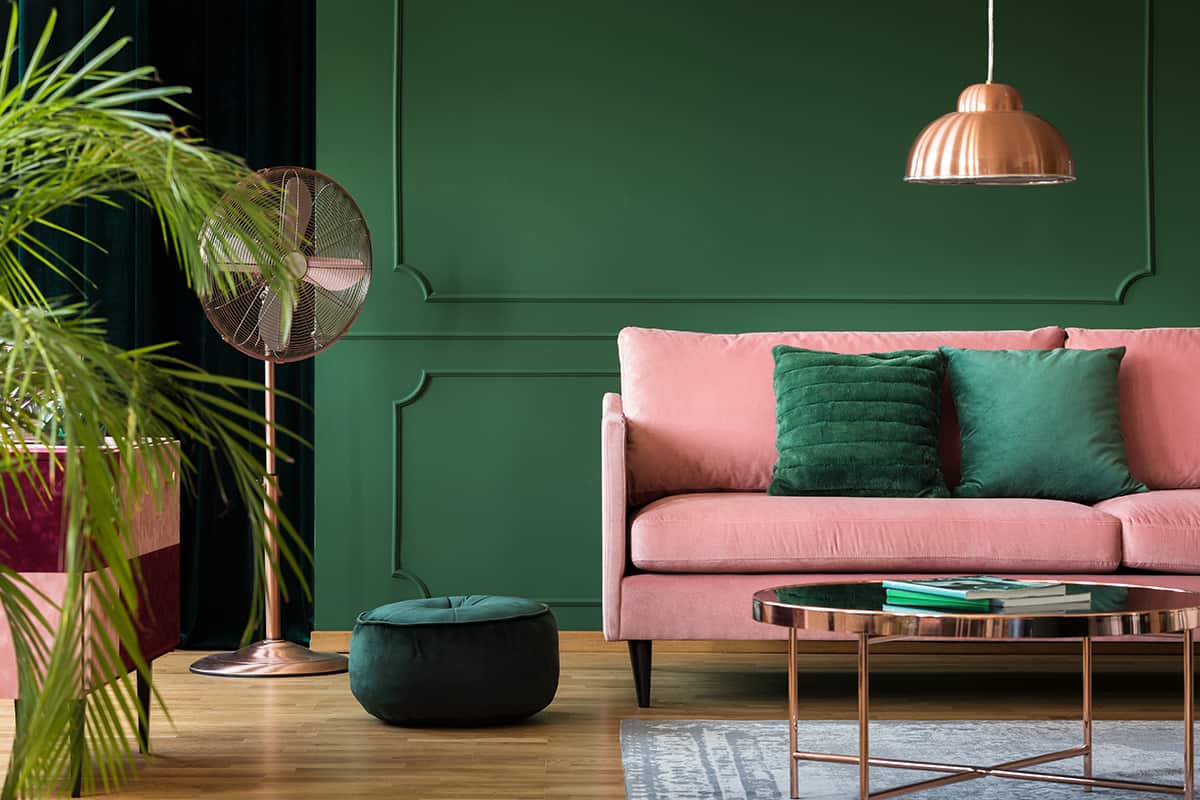 Hunter green is a strong and intense color, while blush pink is soft and understated. This makes these two colors such a beautiful pairing which are able to create balance and contrast in equal measure. In a bedroom with hunter green walls, opt for heavy suede curtains in blush pink, and team this with a few soft blush pink cushions layered on the bed.
Fabrics which feature hunter green and pink together are great for cementing this color palette together, and these are not hard to find as the two shades are extremely popular right now.
The hunter green and blush pink color pairing works well in reverse, with blush pink as the main color, which is offset by hunter green accessories; however, this will result in a more dainty and feminine style room.
Pale Olive Green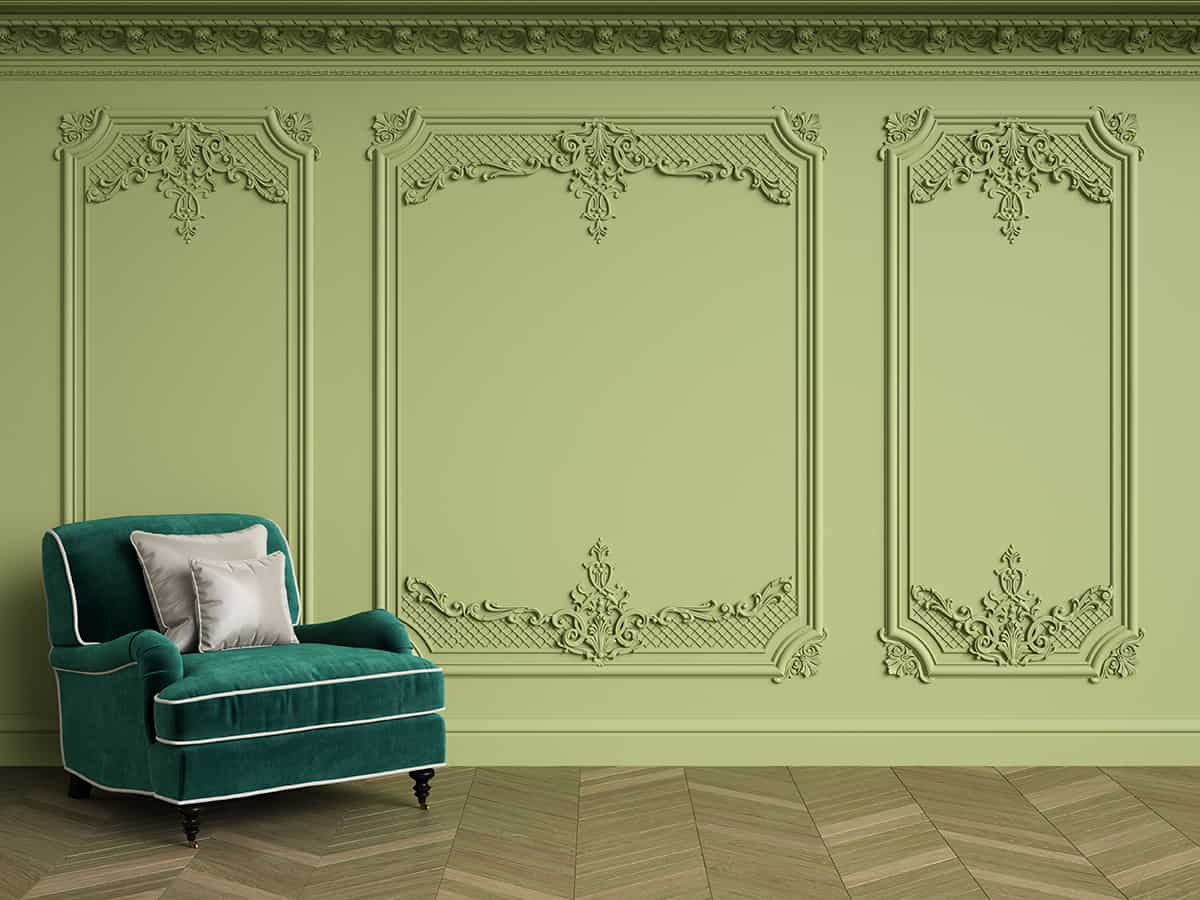 Pale olive green is a light and earthy shade of green that is similar to khaki. It can be used with hunter green to create a layered and tonal look, which is easily achieved and results in a high-end look with designer flair.
You can do this in a bedroom, for example, by choosing a selection of bed sheets and cushions in varying shades of hunter green and pale olive green, and then layer them up.
How to Use Hunter Green in Home Interiors
Wood Paint
A really strong look in a kitchen is to have hunter green cabinets. Rather than investing in entirely new cabinetry, you can update an old kitchen by painting wooden cabinet doors in hunter green furniture paint. This is a growing trend that we are seeing more and more of, as people become interested in upcycling furniture to save money while saving the planet.
Updating kitchen cabinets with paint is easier than you might think. You can do this by removing the cabinet doors and their hardware and sanding off the old layers of paint or varnish. You can then paint a few thin coats of hunter green paint before sealing them with a wax or varnish and fixing them back into place.
Hunter green kitchen cabinets are a really contemporary and stylish look that works well with marble countertops and white subway tiles. You could also upcycle other wooden or metal furniture in your home with hunter green paint, such as a bed frame, a dining table, or a closet.
Dark Walls
Dark walls are a huge trend that has taken off in a big way. Contrary to popular belief, dark walls do not make a space feel small, and in fact, can make it feel bigger by adding depth. Hunter green is a beautiful color for wall paint, which can be used on every wall in a room for a really immersive style or on an accent wall for a contrast.
Don't be afraid of using hunter green as your main wall color; as a rich and earthy shade, it won't feel too loud and overwhelming and instead can help to create a calm and soothing atmosphere.
Hunter Green Upholstery
If you want to incorporate hunter green into your decor without redecorating the whole room, then you could add upholstered furniture to make a statement and update the look of the space.
As hunter green is such a huge trend at the moment, there are a lot of stylish sofas and accent chairs available in this color which will instantly transform a room.
Foliage Motifs
For a more subtle way to add hunter green to your decor, choose a foliage motif and use this in dark green shades across the room. For example, find a fabric with a hunter green leaf print on it and have this made into cushion covers or curtains.
You could also find a vase that has a hunter green leaf painted onto it or a botanical art print to hang on the wall featuring dark green leaves.
Soft Furnishings
Changing your soft furnishings is one of the easiest and most inexpensive ways to transform the look of a room. Simply swap out your old cushion covers, throws, and curtains for new versions which feature hunter green. These could be solid hunter green fabrics or patterned fabrics with a touch of hunter green.