If you're looking for a special bold tone of blue that is mysterious, formal and evokes some sense of intelligence and security, midnight blue is an excellent option.
Let's discover what this color is, some similar colors, and some great colors that go well with midnight blue.
What is Midnight Blue?

Midnight blue is a color named after the color of the dark sky around a full moon. Though some people confuse midnight blue with navy, midnight blue is actually much, much darker than navy blue.
It is the darkest shade of blue you can get before you reach black territory, and in fact, you may often mistake midnight blue for black, especially in low lighting.
The color of midnight blue is achieved by mixing blue with black.
The Meaning of Midnight Blue
Midnight blue is said to represent security and intelligence, most likely because of the depth of this color and its associations with the night sky. When surrounded by midnight blue, we can feel enveloped by darkness, which can lead to feelings of safety and comfort.
Midnight blue is also said to be linked to mystery, which could have something to do with how we struggle to see clearly at night time without an artificial light source.
Most shades of blue have a calming and soothing effect as a result of being associated with the ocean and clear skies, which most people find relaxing. As a very dark shade of blue, midnight blue can be linked to deep ocean waters, and it does still retain a sense of calming that can be useful to help you unwind.
As midnight blue is so close to black, it can also be used to convey some similar feelings as black, such as power, authority, and formality. Black is also associated with grief and mourning, but midnight blue is rarely used to this effect.
Colors Similar to Midnight Blue
Navy blue

Navy blue often gets mistaken for midnight blue, but actually, these two colors are several shades apart. Navy blue, while it is a dark shade of blue, is considerably lighter than midnight blue.
These colors are both true shades of blue with some black added to the mix, but midnight blue will contain more black to achieve the darker shade.
Royal blue

Royal blue is a further shade lighter than navy blue, yet it remains among the group of dark blue colors. Royal blue is much more saturated than navy blue or midnight blue, and therefore royal blue reads as a brighter and bolder color.
This shade of blue was aptly named after a dress that was designed in this color for Queen Charlotte of England in the early 1800s.
Sapphire blue

Named after the gemstone of the same name, sapphire blue is a dark blue color that is considerably brighter than midnight blue. It is heavily pigmented and appears very similar to royal blue, though it is very slightly more muted.
How to Use Midnight Blue in Home Decor
Wall color
Midnight blue is a very dark color that can do wonders in a small space to make it feel bigger. This is contrary to everything we have previously been led to believe since, for many decades, we have been told that paler colors reflect light and therefore give the illusion of more space.
However, very dark colors on walls create depth and the impression that the walls are receding, which of course, will make the space feel larger than it really is.
In a small room such as a bathroom, use midnight blue as the wall color on all walls. The sense of being surrounded by midnight will create a feeling of safety and security, and it can also be used to make a space feel intimate.
In a midnight blue bathroom, create an elegant vibe with gold fixtures and fittings and pure white hand towels, or add a glamorous style with jewel tones such as emerald green tiles and ruby red accessories.
In a large room, midnight blue walls will make the space feel cozier, which is a good tactic to employ in a dining room, living room, or bedroom. In a sophisticated bedroom, paint walls in midnight blue and use pure white bedsheets and wooden furniture.
Accent color
Midnight blue works well as an accent color in a wide range of color schemes since it contains a lot of black and is therefore almost neutral. In pastel color schemes, use midnight blue to provide dark hits of drama, for example, midnight blue towels in a bathroom with white tiles and pale green walls or midnight blue lampshades in a beige room with tan sofas.
As midnight blue can read as a neutral, it can be used heavily as an accent shade without overwhelming the space. Use it as an alternative to black in modern monochromatic themes, with midnight blue frames for art and midnight blue kitchen cabinets.
Tile color
Midnight blue tiles will make a welcome change to black or dark gray in contemporary color schemes. Use midnight blue tiles against white or gray marble as a kitchen backsplash, or choose midnight blue tiles in a bathroom with soft pink walls for a chic easy-glam look.
Floor tiles in midnight blue will also be a good choice because they will be both stylish and practical since midnight blue will help to hide dirt and footprints.
Soft furnishings
Midnight blue soft furnishings will make a dramatic addition to any color scheme without creating a bold or intense contrast to any other shades. Choose midnight blue cushion covers for definition against a pale sofa or a midnight blue comforter against white bedsheets for a fresh and relaxing feel.
A midnight blue rug will be classy and elegant on a hardwood floor, while midnight blue velvet drapes will add a subtle glamor to a window frame.
Furniture paint
Use furniture paint in midnight blue to update the look of old pieces such as wooden dining chairs or side tables. As a very dark version of blue, furniture painted in midnight blue will look black in some lights, therefore having a neutral effect, yet in bright light, you will see the tones of blue coming through.
Midnight blue furniture paint will make pieces of furniture look contemporary and stylish, giving them a new lease of life on a budget. Opt for matte finishes to create a more rustic appeal, satin finishes for a mid-century modern look, and a glossy finish for a modern style.
Colors to use with Midnight Blue
Blush pink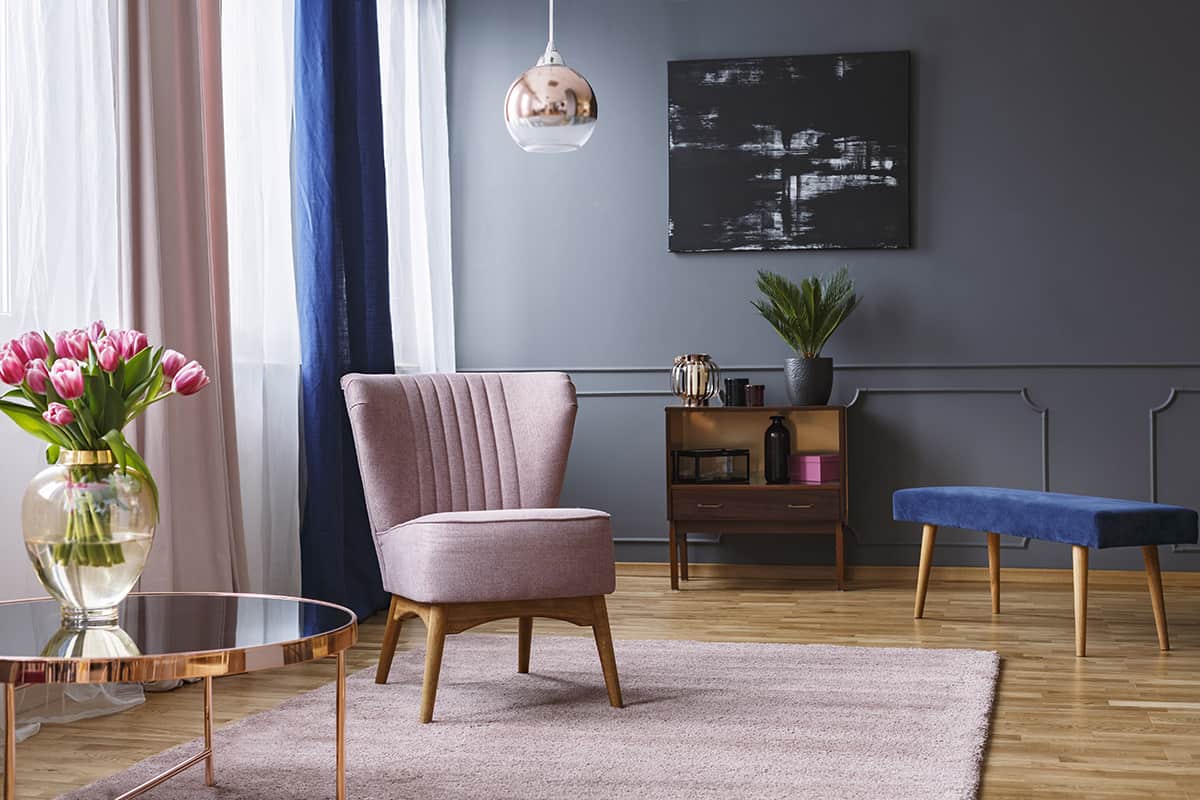 Blush pink provides a subtle contrast against midnight blue, bringing a feminine edge to an otherwise formal color scheme. In a room with midnight blue walls, use blush pink velvet curtains and dining chairs upholstered in blush pink for a glamorous and dramatic style.
You can also invert this color scheme and opt for blush pink walls with midnight blue soft furnishings. This will work especially well in a bedroom or living room.
Emerald green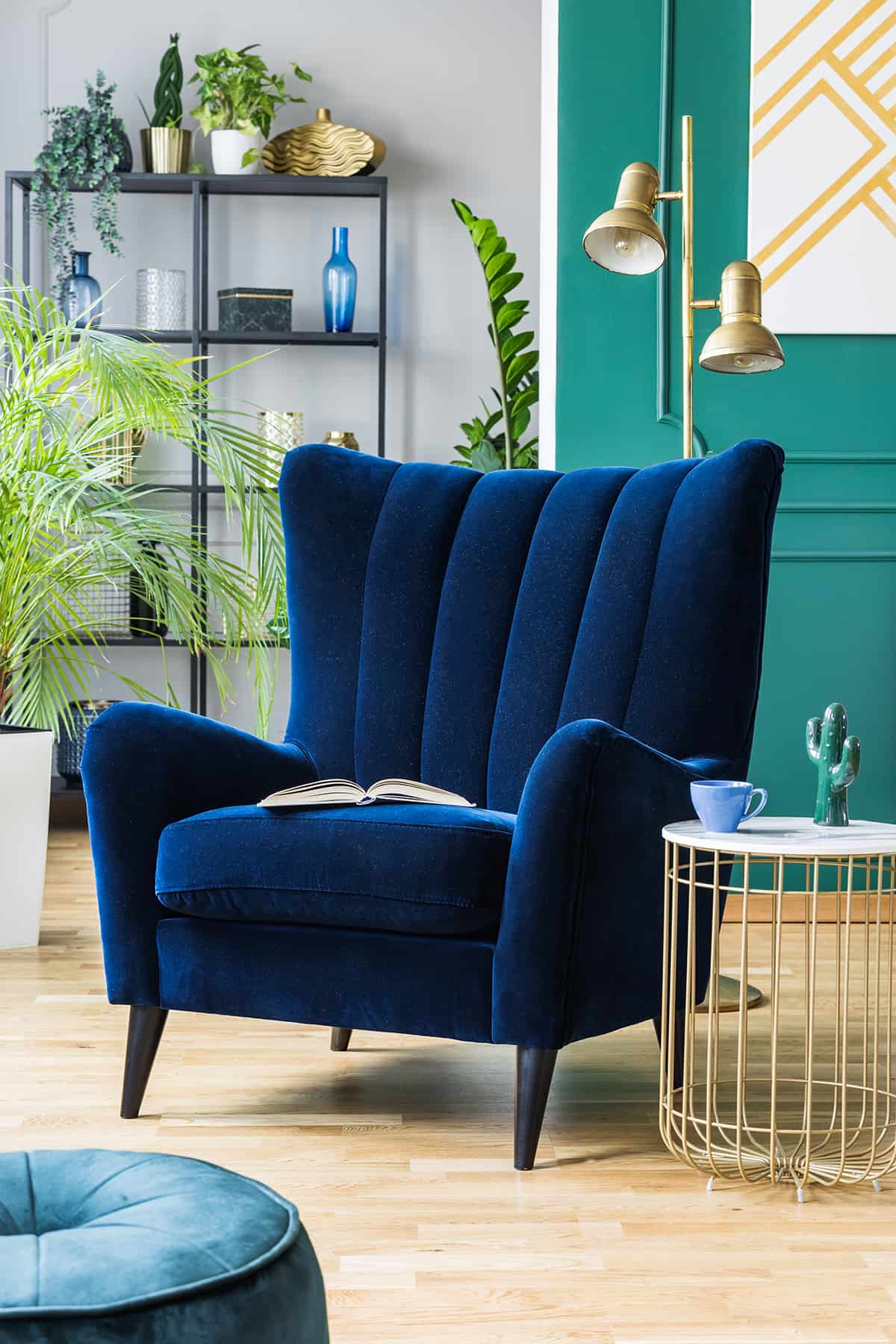 Emerald green is the color of the moment in interior design, providing a look that can be either luxurious or natural. As emerald green is quite a dark shade of green, you will also need to use a third paler color to help add definition to this color scheme.
In a bathroom, choose emerald green walls with white tiles and midnight blue towels, and a midnight blue bath mat.
White
Midnight blue is a perfect color to combine with white for a classic color scheme. It makes the blue stand out without creating a stark contrast. Use white trim against midnight blue walls or midnight blue sheets in a white bedroom.
Use midnight blue instead of black in a monochromatic color scheme to create a classy and sophisticated style in a white space. In bathrooms, choose midnight blue walls with white tiles or white towels set against a midnight blue background.
Pale gray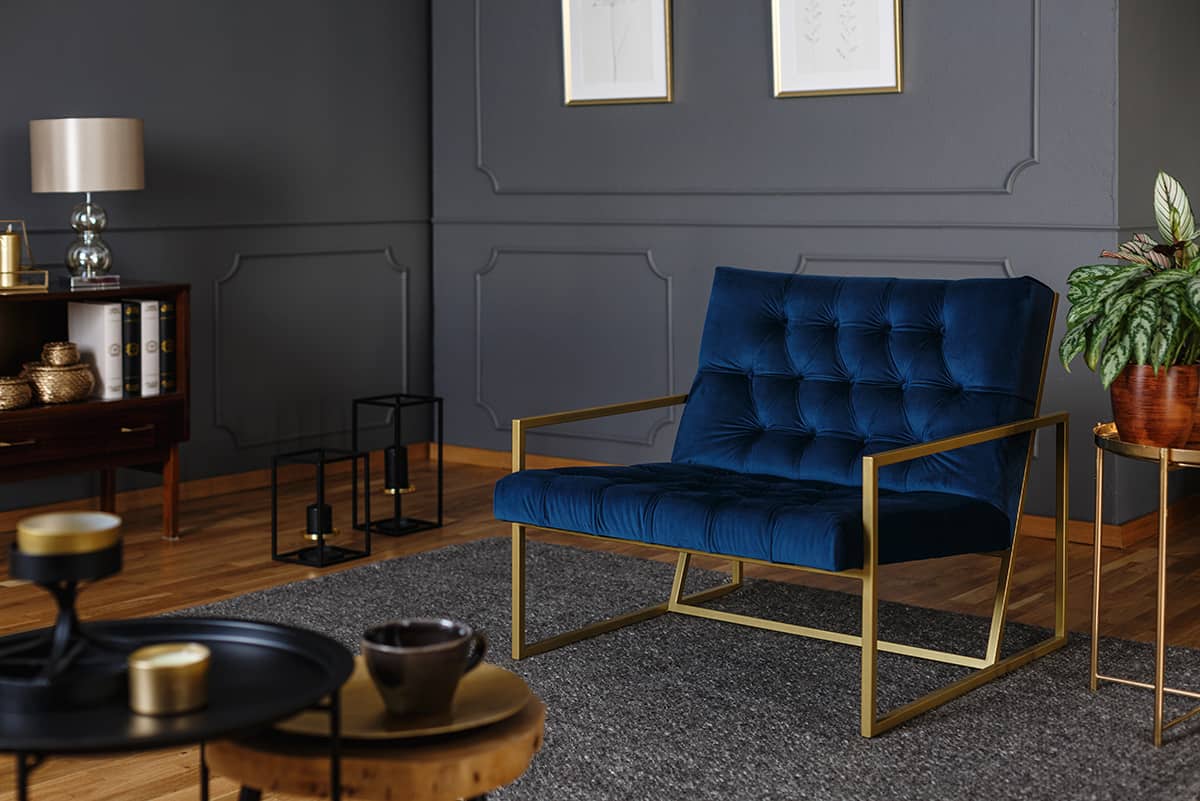 Pale gray painted walls will make for a cool and airy space with midnight blue accessories or furniture.
Consider soft dove gray walls in a dining room with wooden chairs painted in midnight blue furniture paint and yellow cushions for an easygoing Scandinavian style, or choose pale gray sheets in a bedroom painted midnight blue for a modern and relaxing style.
Tan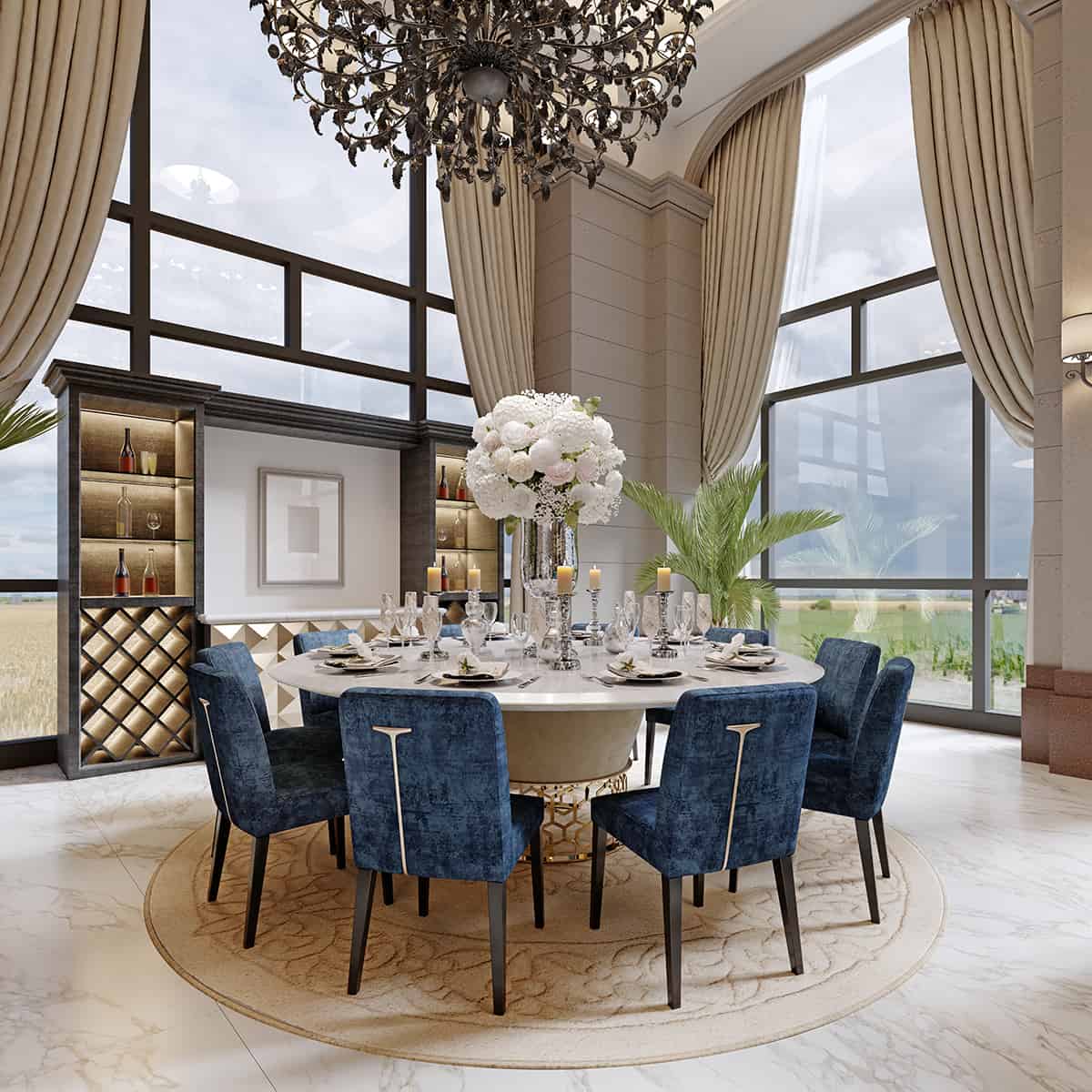 To make a room with midnight blue walls feel more inviting, opt for tan leather or faux leather sofas. Tan is a warm shade that is considered a light brown with a hint of orange and, therefore, can be perceived as a neutral color.
Use these two colors without any other shades, or add in a third color for added interest. As midnight blue is a cool color and tan is warm, the two work together to balance out the temperature and create comfortable energy.
Mustard yellow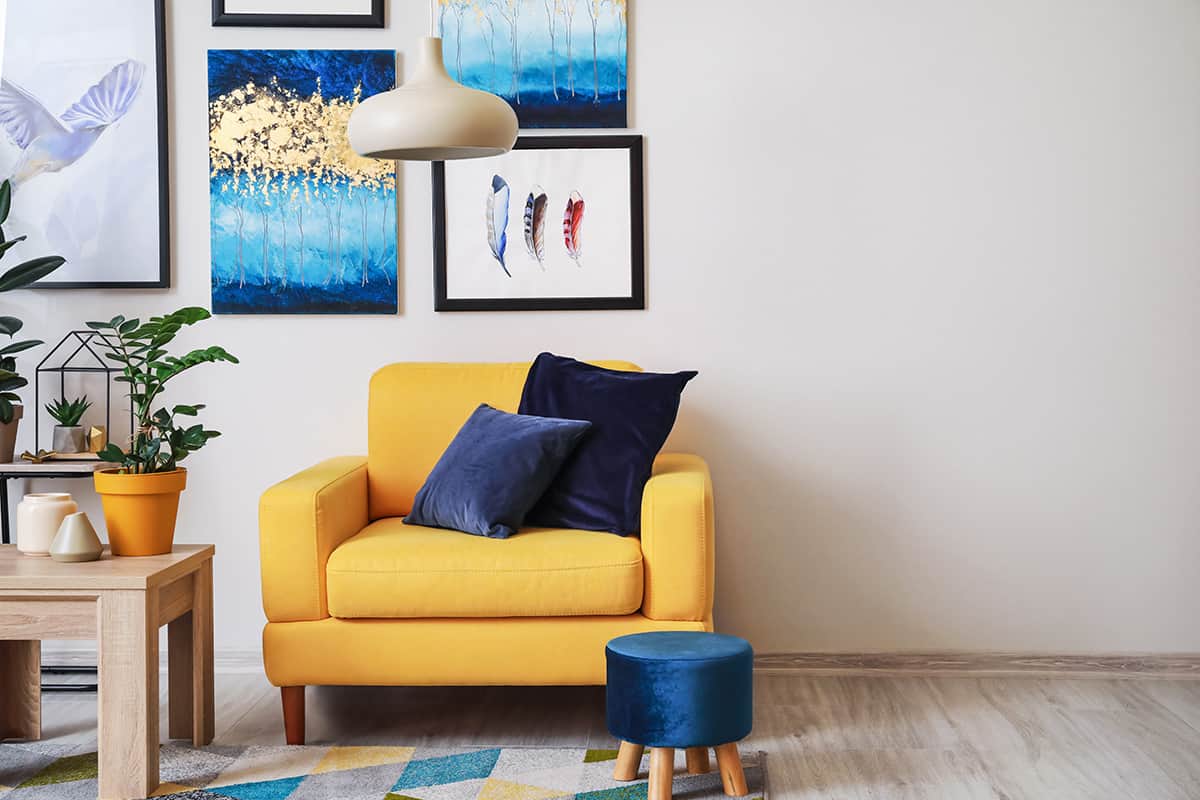 The deep warmth of mustard yellow provides a cozy feel in a midnight blue room. Opt for mustard cushions on a midnight blue sofa for a rich contrast or mustard yellow heavy suede curtains against a midnight blue painted wall.
As navy blue is a popular color duo with mustard yellow, midnight blue and mustard are an updated and deeper version of this color scheme.