Forest green, as you might expect from the name, is an earthy color found in natural environments. It is a mid-colored green with similar tones to hunter green, but not as deep or dark.
This is a color that can work well as the main wall color in a room, and it also works well as an accent shade.
For a long time, forest green has been considered a somewhat dated color that was popular in the 1990s, but it is now seeing a resurgence of popularity, probably as a result of houseplants making a comeback in interior design. Here we will look at ways to incorporate forest green into home interior design and consider which colors go best with forest green.
Colors to Make Forest Green Stand Out
If you love forest green and want to make it the star of the show in your interior space, then you should use colors that will make it pop. The best way to make any color stand out is to use a contrasting color alongside it, and this also applies to forest green.
Forest green is a cool color, so you'll want warm shades to make it stand out and feel really vibrant. On the color wheel, red sits opposite green, which means it is the contrasting color to green.
For forest green, any variation of red, orange, yellow, or pink will make it stand out, but to ensure a stylish design, you'll want to choose a color that goes with forest green as well.
If you prefer colors that won't provide such a strong contrast but still want to make your forest green items stand out, you can use warm neutrals such as tan and beige.
These will work particularly well in natural-themed rooms with forest green. Colors that will look gorgeous in a room while making forest green pop include:
Burnt orange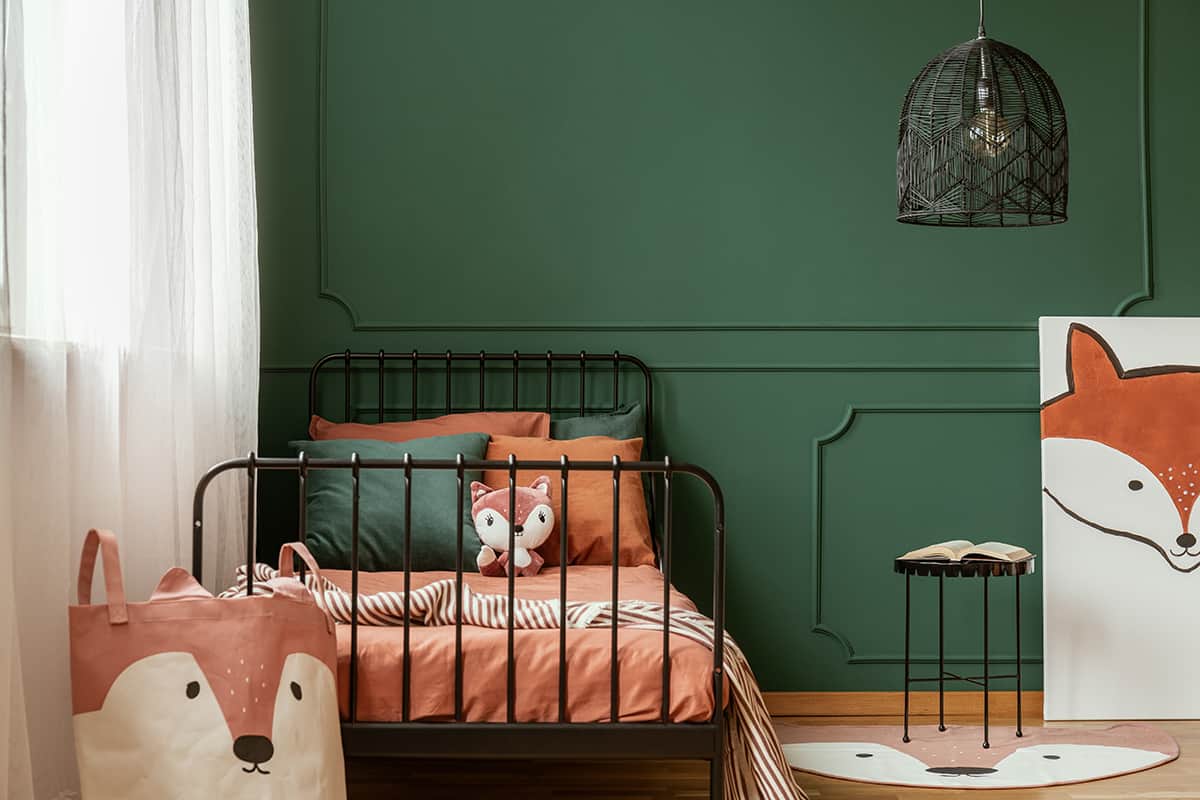 Burnt orange and forest green can work well to create a retro-style if that is the kind of look you want to achieve. If so, lean towards large geometric patterns or bold floral prints to embrace this style.
For a modern take on burnt orange and forest green, choose forest green as your main color for the wall paint and a neutral shade such as white or pale gray for the majority of other items such as sofas and curtains.
Then add small hits of burnt orange to contrast against the green, for example, with a burnt orange lamp shade or burnt orange cushions.
This is a deep and rich color that will really stand out against green and make the green shade feel more intense.
Berry red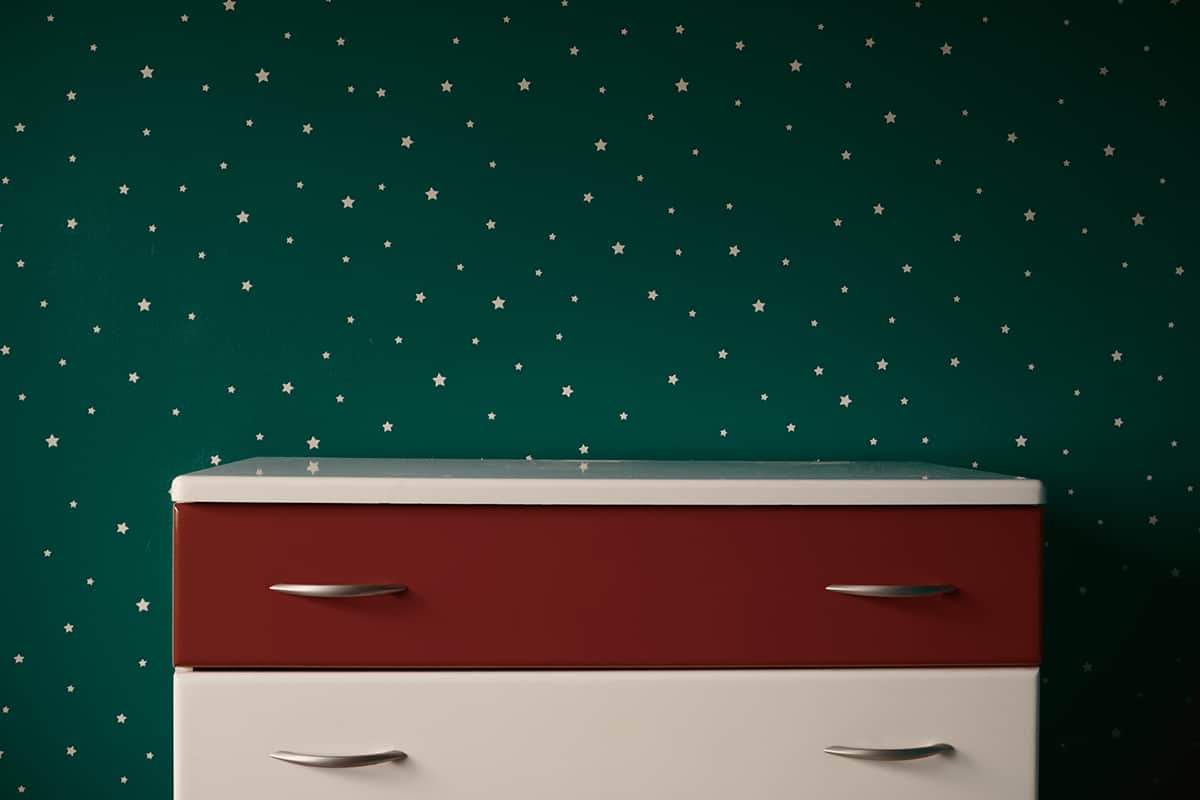 Berry red is a muted shade of red, which can appear like a red crossed with deep pink. It is a very warm color, but rather than being bold and harsh against green, it has an almost earthy hue to it, like the rusty red of autumnal leaves before they drop to the ground.
Berry red and forest green will work nicely together to create a cozy and comforting room. Use them alongside a third neutral color for a contemporary style or a darker shade for a more intimate space.
These colors, when used together, can also be nice for creating a festive or winter theme in a room.
Peach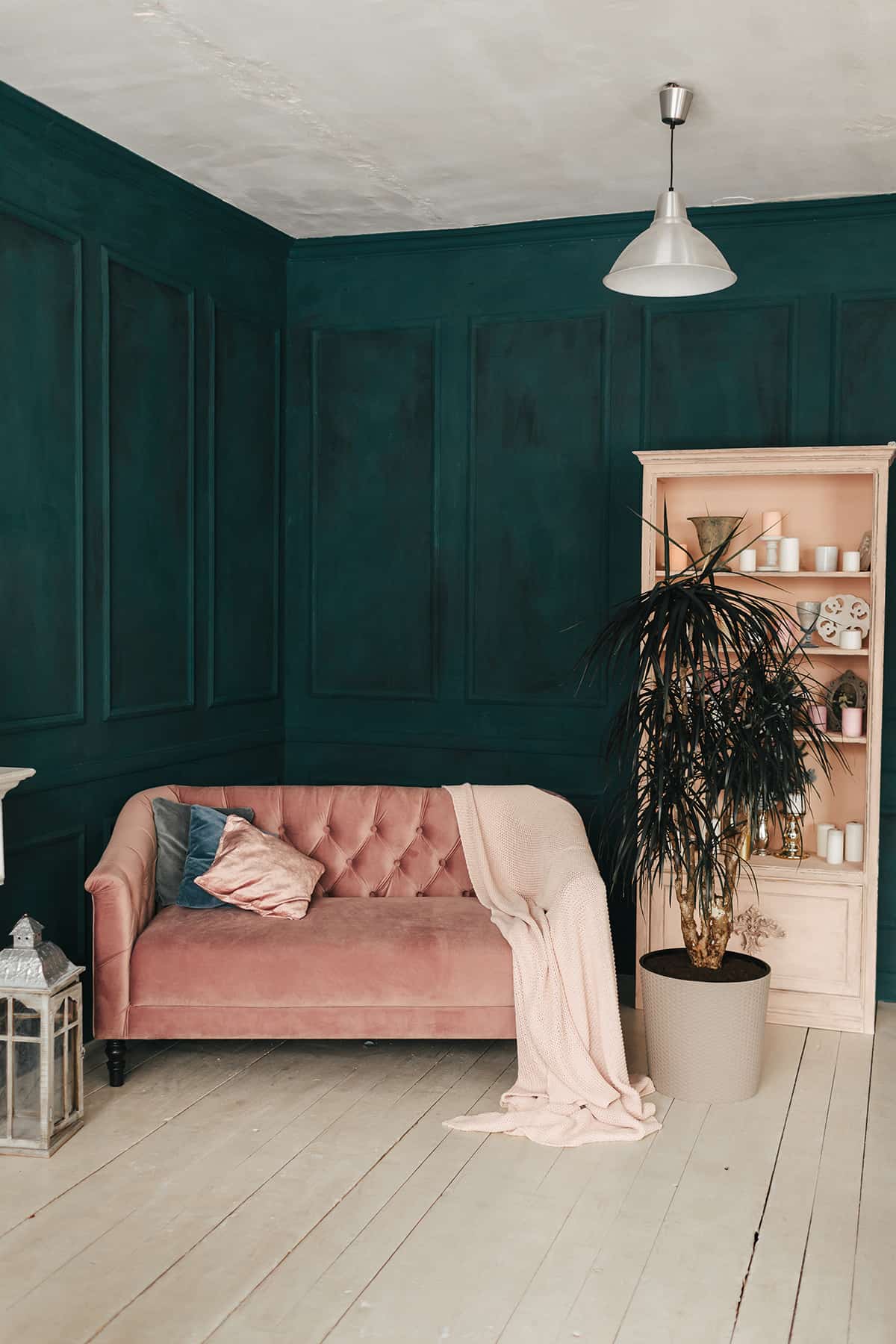 Peach is a color that is made up of orange, yellow, and pink. It is a warm and playful color that can be used to bring out the more fun side of forest green.
If you want to give a forest green room a trendy and modern update with a splash of bright color, then peach is a great choice.
Use it sparingly because it will make a bold impact even in small doses. Too much peach and forest green together can look sickly and overwhelming.
Blush pink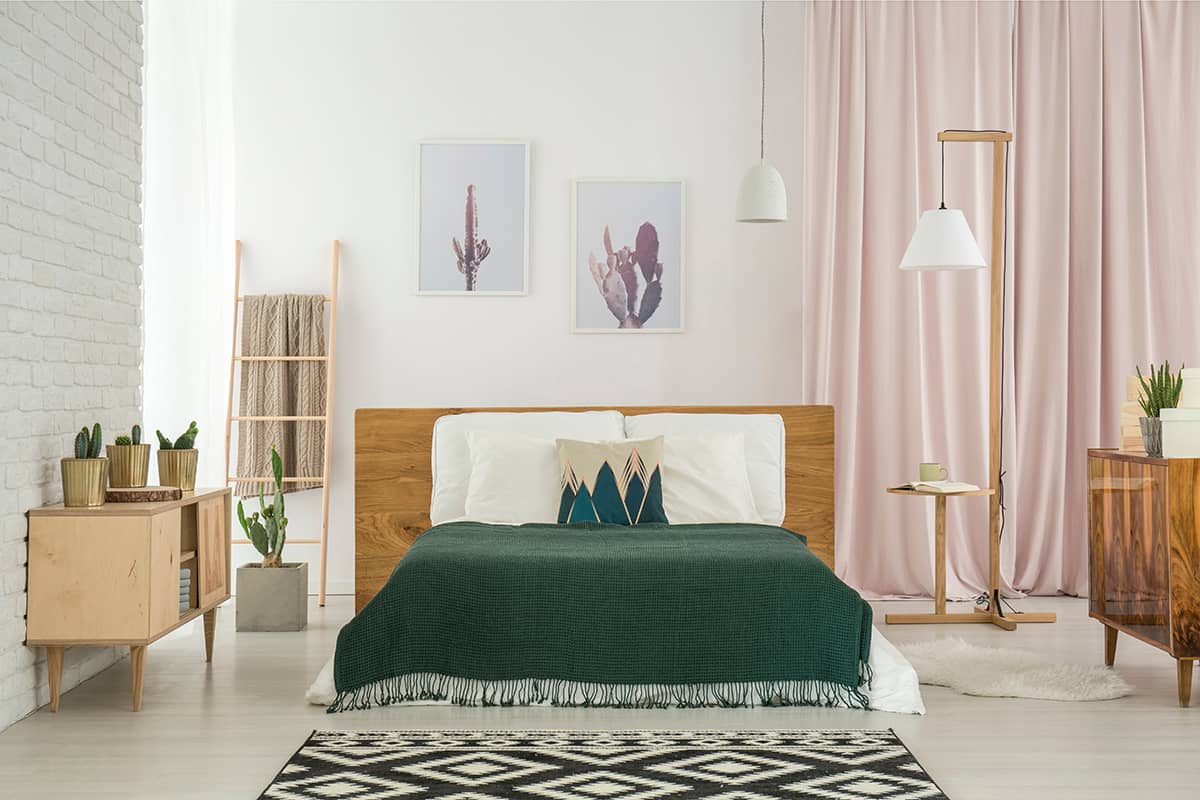 Blush pink and forest green are a color pairing that is very on-trend right now. The soft and romantic elements of blush pink provide a perfect contrast for the earthy forest green, allowing these colors to be used in any room of the home.
In a bedroom or dining room, you can afford to be bolder and darker, so consider using only blush pink and forest green with occasional metal accents in gold or copper.
For a lighter look, such as in a kitchen or living room, break up these two colors slightly with a third neutral color, for example, white marble countertops or pale gray walls.
Mustard yellow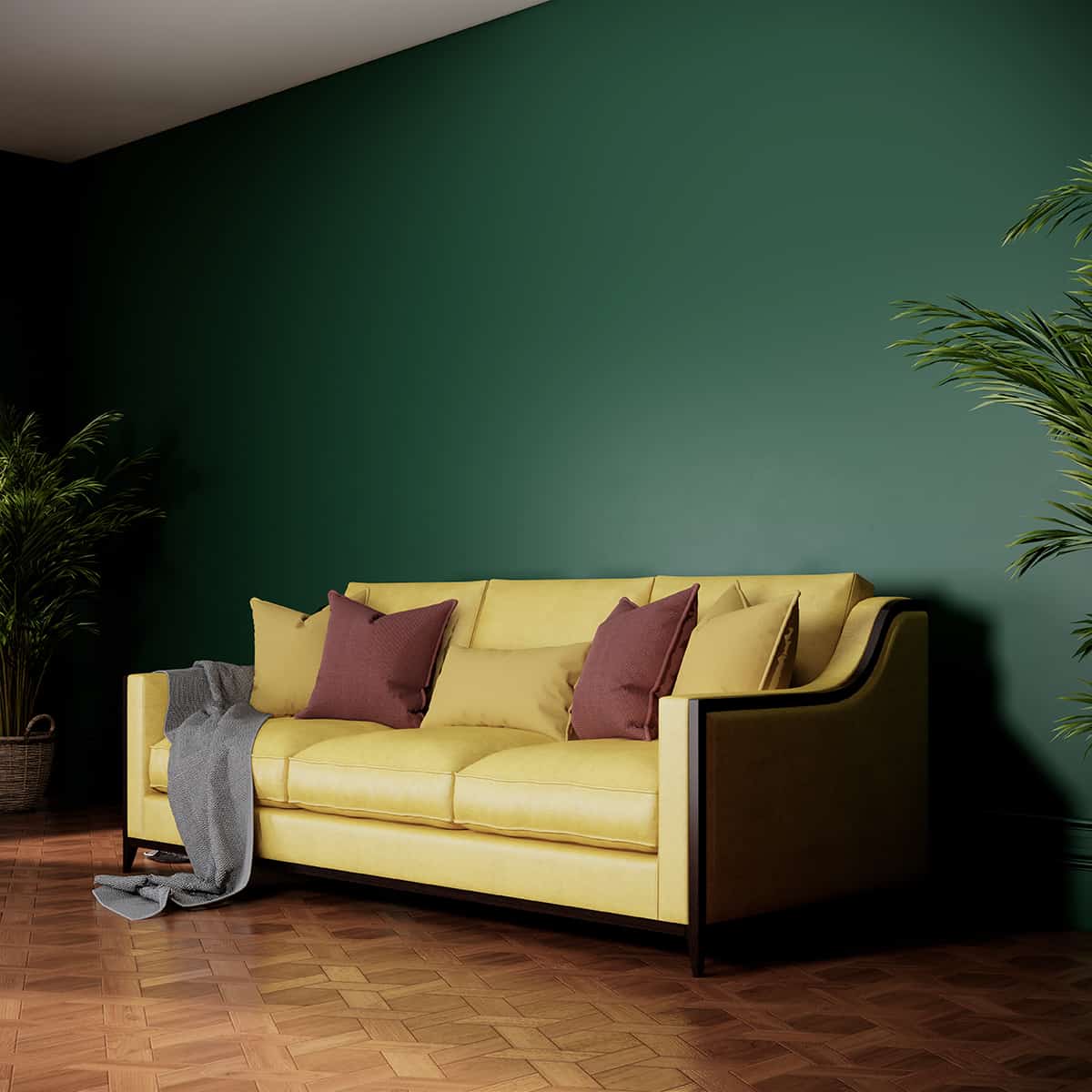 This color makes a stunning contrast with forest green. It is bold, deep, and rich, with an earthy vibrance that makes it warming and cozy. It looks modern and luxurious with forest green and is best utilized in simple styles such as mid-century modern.
Colors to Disguise Forest Green
There are some instances where you may want to play down forest green items in your home, for example, if you have forest green kitchen cabinets and you can't afford to replace them, or if you are living in a rented property with forest green walls and you haven't been given permission to paint over them.
Alternatively, you might enjoy the forest green color but want it to blend more seamlessly into an interior to give a relaxed and easy feel rather than making it stand out.
To draw attention away from forest green or make it seem subdued, you should use cool neutrals such as gray or off-white or use other cool colors with it such as blue or purple.
Avoid warm shades as these will make forest green appear more vibrant, and this includes warm wooden surfaces such as honey oak flooring or rich mahogany kitchen cabinets. Some trendy colors that work well with forest green include:
Pale gray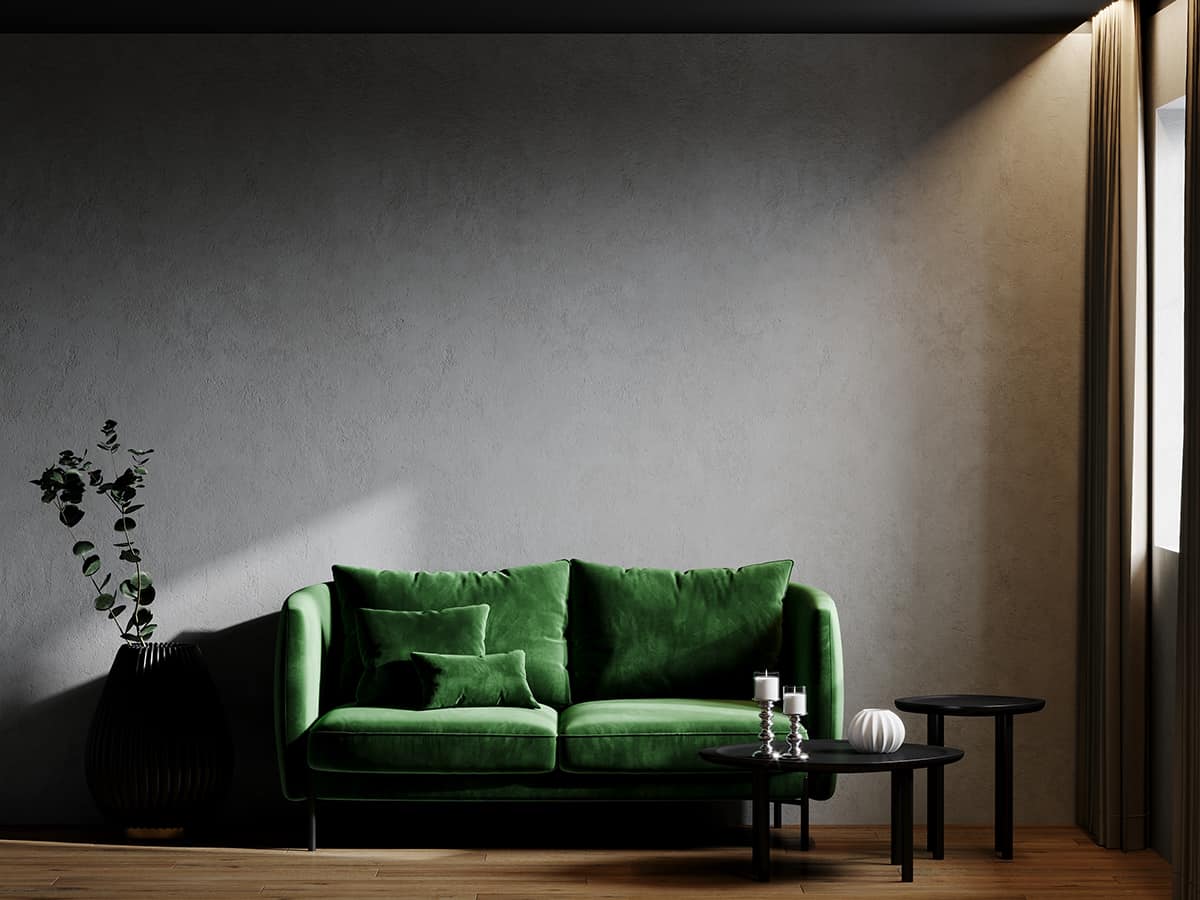 If you want to create a modern and tranquil look in a forest green room, then a pale shade of gray is guaranteed to give you the right results.
Choose a cool shade of gray with blue undertones rather than a beige gray, and accent the space with darker hits of gray such as charcoal cushions to provide some balance.
Dark gray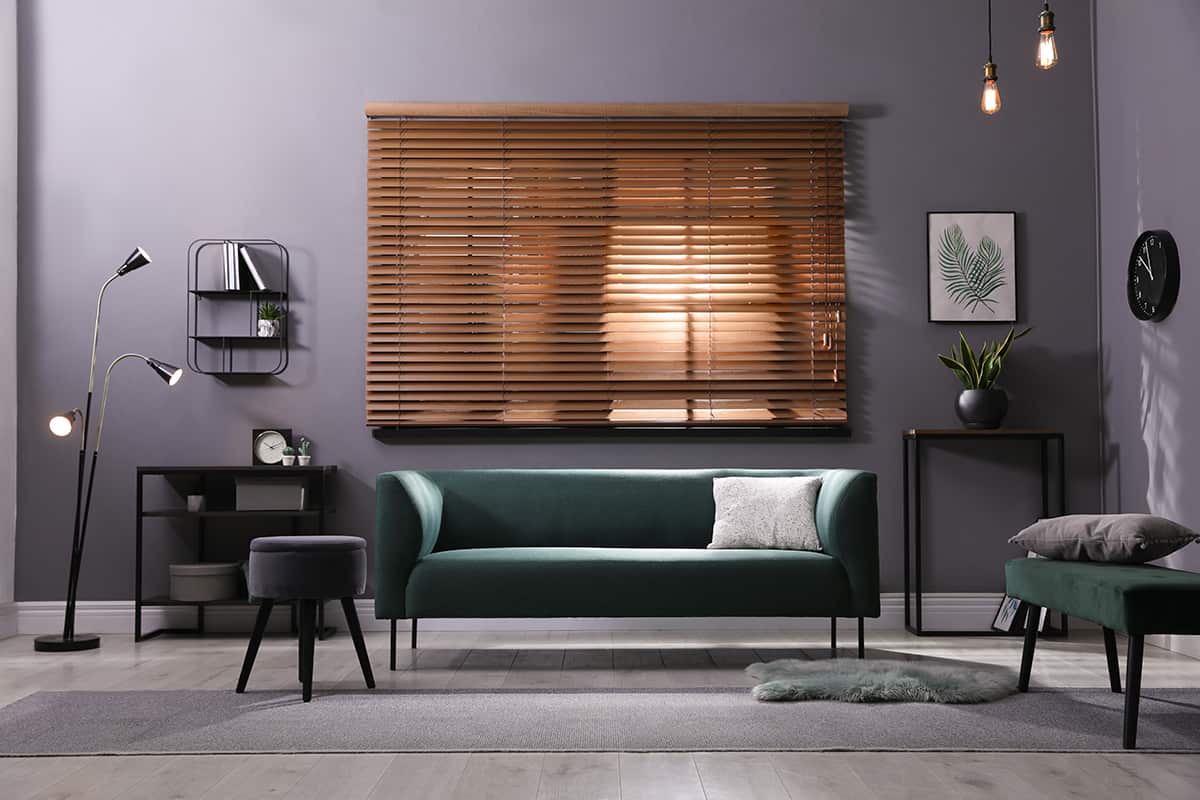 Dark gray, or mid to dark gray, is a color that gives an instant modern transformation to a room, and it works so well with forest green because it helps to balance it out.
Use a cool-toned shade of dark gray, for example, on the walls or in soft furnishings, to ensure your forest green decor looks stylish and contemporary.
This color palette will make for a fresh yet soothing feel, and it can be used alone or with the addition of a third color. Pale pink is a nice choice to team with dark gray and forest green if you are looking for an accent color to set off the decor.
Black
Black is considered to be a true neutral shade rather than a cool shade, but when it comes to painting, there are some variations within black that will give it a cool or warm tone. With forest green, choose a shade of black that has blue or green undertones, as this will avoid creating a contrast.
You could use black as an accent color in a pale room to draw attention away from forest green, for example, paint walls in white and then paint trim, doors, and the fireplace in black.
This bold contrast will distract away from a forest green sofa or forest green kitchen cabinets, and the darkness of black will make the green appear more subdued by comparison.
Navy blue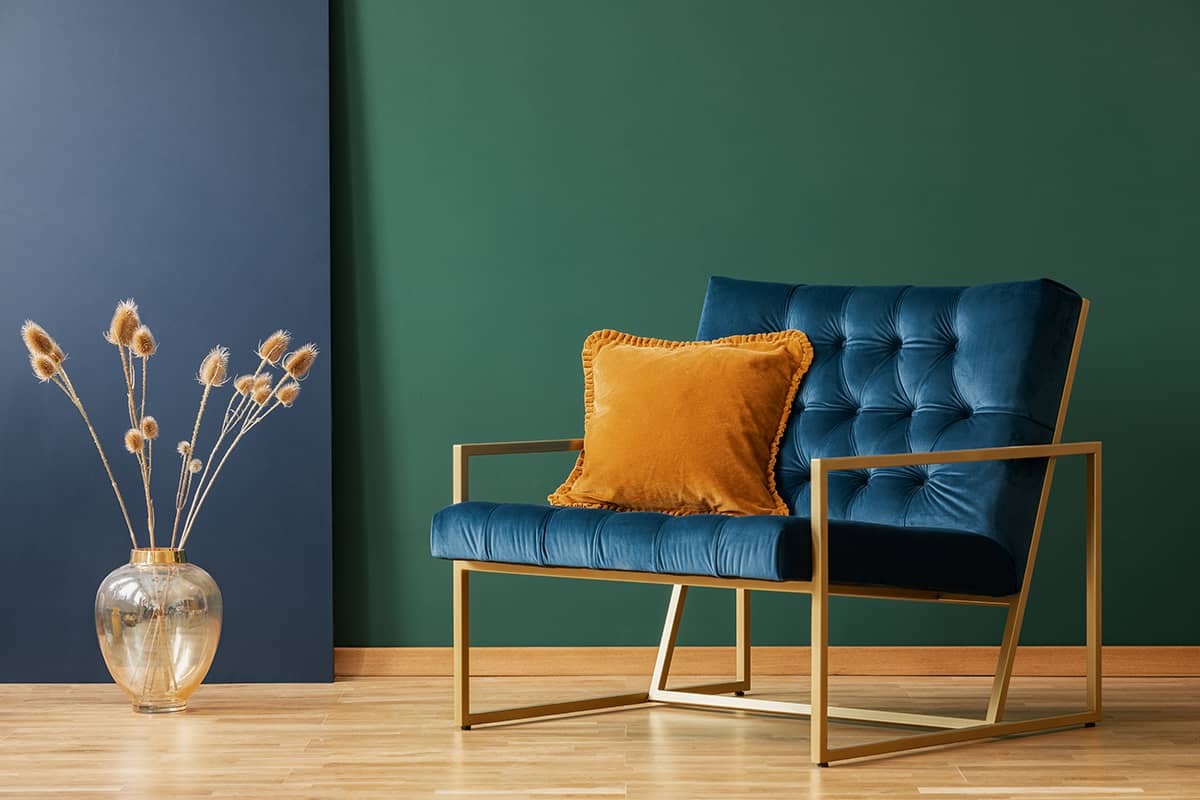 Navy blue and forest green, when used together, can be reminiscent of preppy tartan fabrics, but when used in the right way, they can create a sophisticated and luxury vibe. Choose forest green walls with navy velvet seating to ensure your room looks elegant and impressive.
These colors, despite being cool, can feel inviting and sumptuous when used in rich, heavy fabrics. These two shades have a lot of similarities, so if you want to avoid a space looking too samey-samey, you will need to incorporate a third accent color.
To balance the atmosphere, the navy blue and forest green color palette can be paired with gold or copper metals, You can also use dusty pink to bring soft feminity to this theme.
Gold or copper metals will work well to set off the navy blue and forest green palette, or dusky pink can bring soft femininity to this theme.
Sage green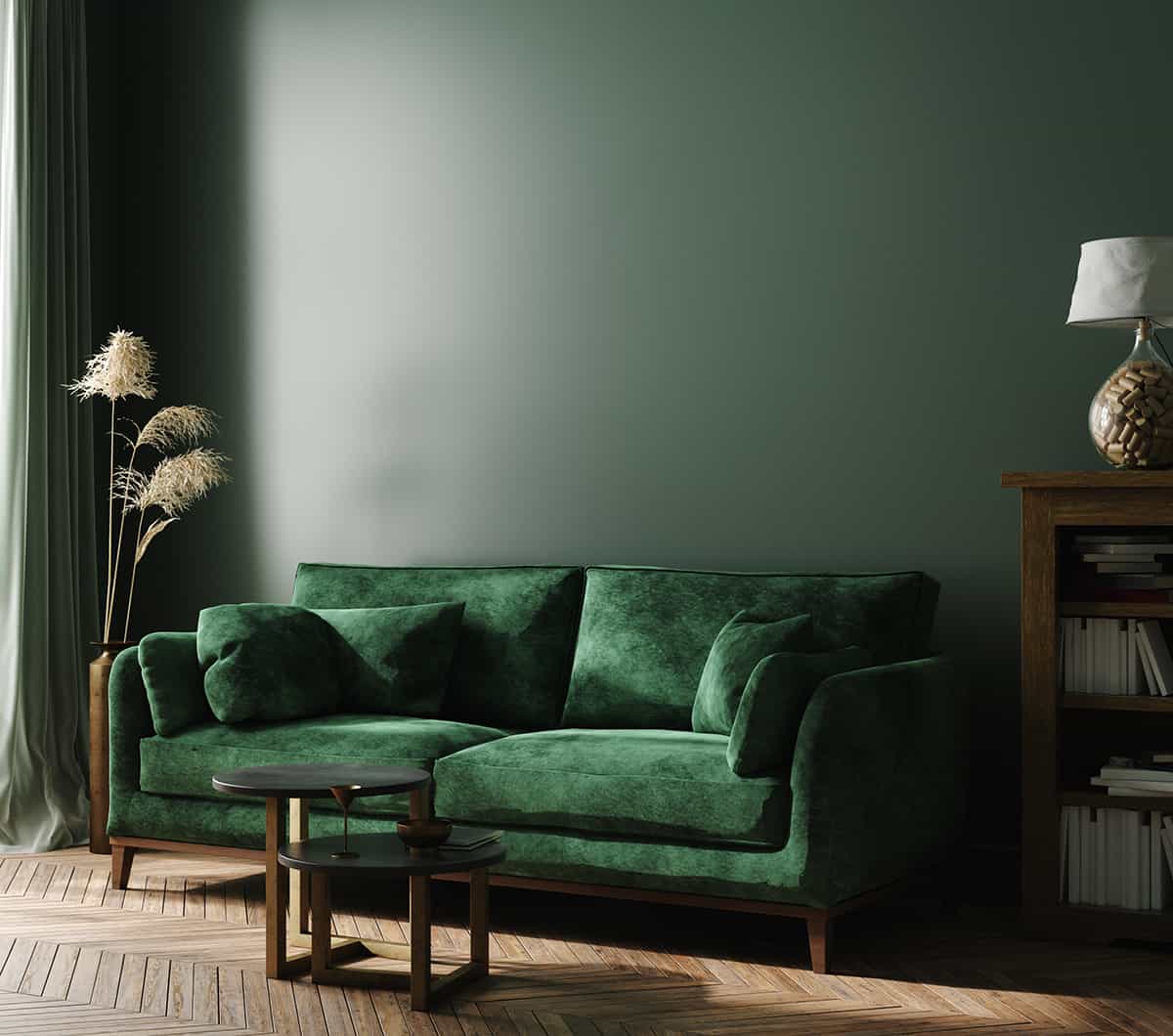 Forest green is a color that matches well with other shades of green that have similar tones, such as sage green and mint green. You can layer these colors in a space to create a high-end tonal feel. Opt for a forest green sofa and use an array of sage green and emerald green cushions and throws to create depth.
A warm or cool neutral can provide a nice background to this style, such as a greige, a cool off-white, or a pale tan. For an earthy room with a natural theme, a warm neutral will work best with a layered green look, while a crisp and contemporary style will be best achieved with a cool neutral.