The bed is such an integral part of our bedroom and our homes. There's no doubt that it is the most important component of our bedroom. After all, this is where we sleep after a long day at work.
It's been said that the average human spends at least a third of his or her day sleeping. Hence, it is only reasonable that you buy the right-sized bed for your home.
But the process of shopping for a bed begins with knowing the different bed dimensions and determining which one's right for you as well as your family members. Continue reading as this article tackles the different bed dimensions.
Small Single Bed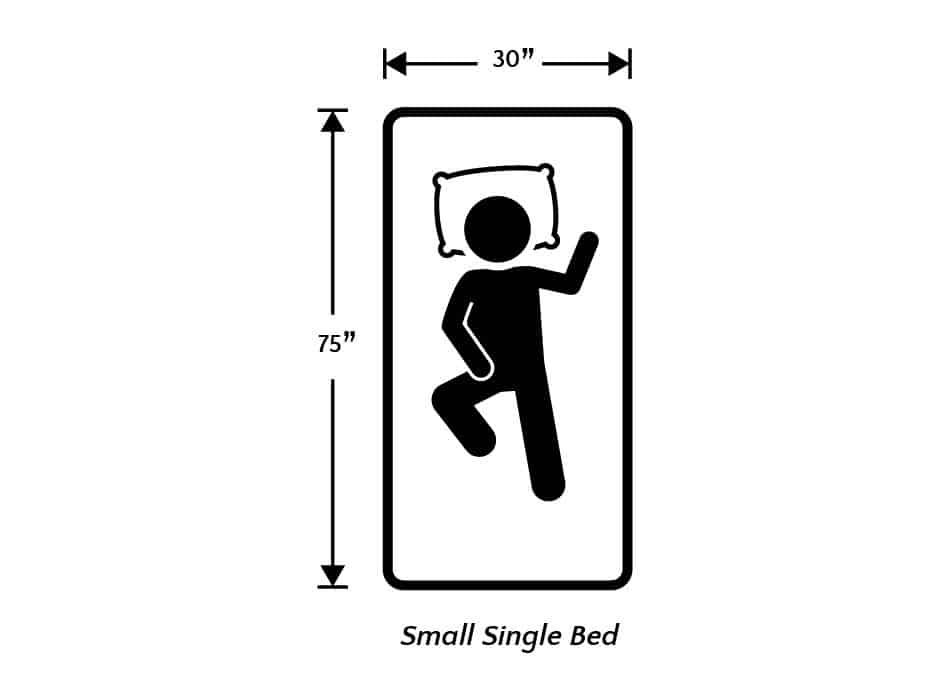 The small single bed is the smallest bed you've ever find – hence it is commonly used to accommodate children, single guests in hostels, or for adults in really limited space. The small single bed size at just 30″ in width, and 75″ in height (equivalent to 91 cm in length and 76 cm in width).
Crib Bed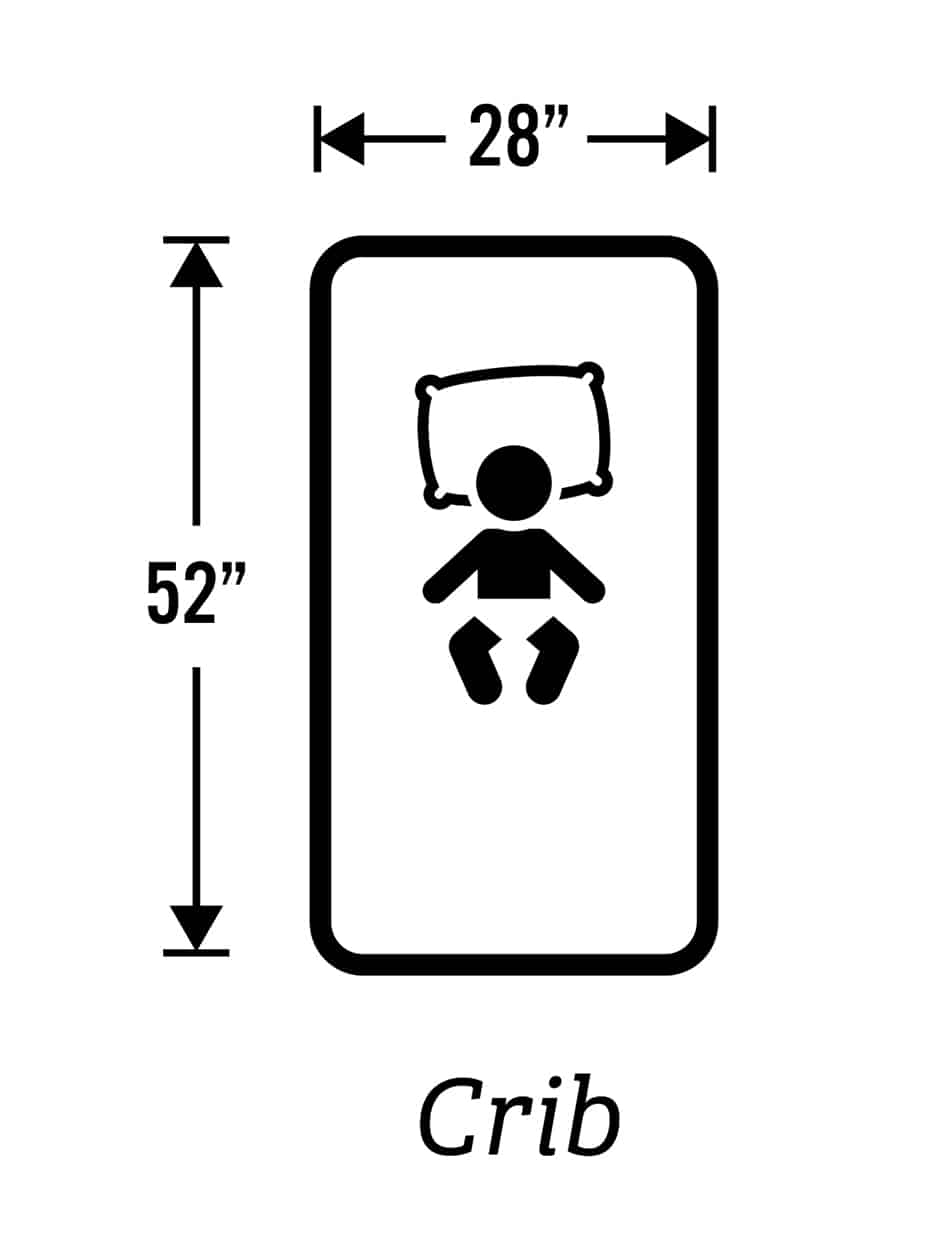 The crib bed is, as you guessed it, designed for infants and toddlers. If you have a baby in your family, then this is what you should buy for him or her.
The crib bed comes in two dimensions or varieties: the standard crib and the mini crib. The standard crib measures 28" x 52" while the mini crib is slightly smaller with a width of 24 inches and a length of 38 inches.
Regardless of the size that you're getting for your child, make sure that it is paired with the equivalent accessory to ensure his or her safety. In the United States, the Consumer Products Safety Commission recommends that the standard thickness for the mattress of a crib bed must not exceed 6 inches. Any mattress thicker than that can be risky for babies. Thicker mattresses are often taller, and there's the risk that babies may fall off the side of the crib if they lose their balance when standing.
It's also common for practical parents to opt for a crib bed instead of a mini-crib bed. You may also buy a crib bed that can be converted into a toddler bed, which has dimensions of 28 by 56 inches. As for the mattress, buy one that's firm as it is safer for young babies.
Twin Beds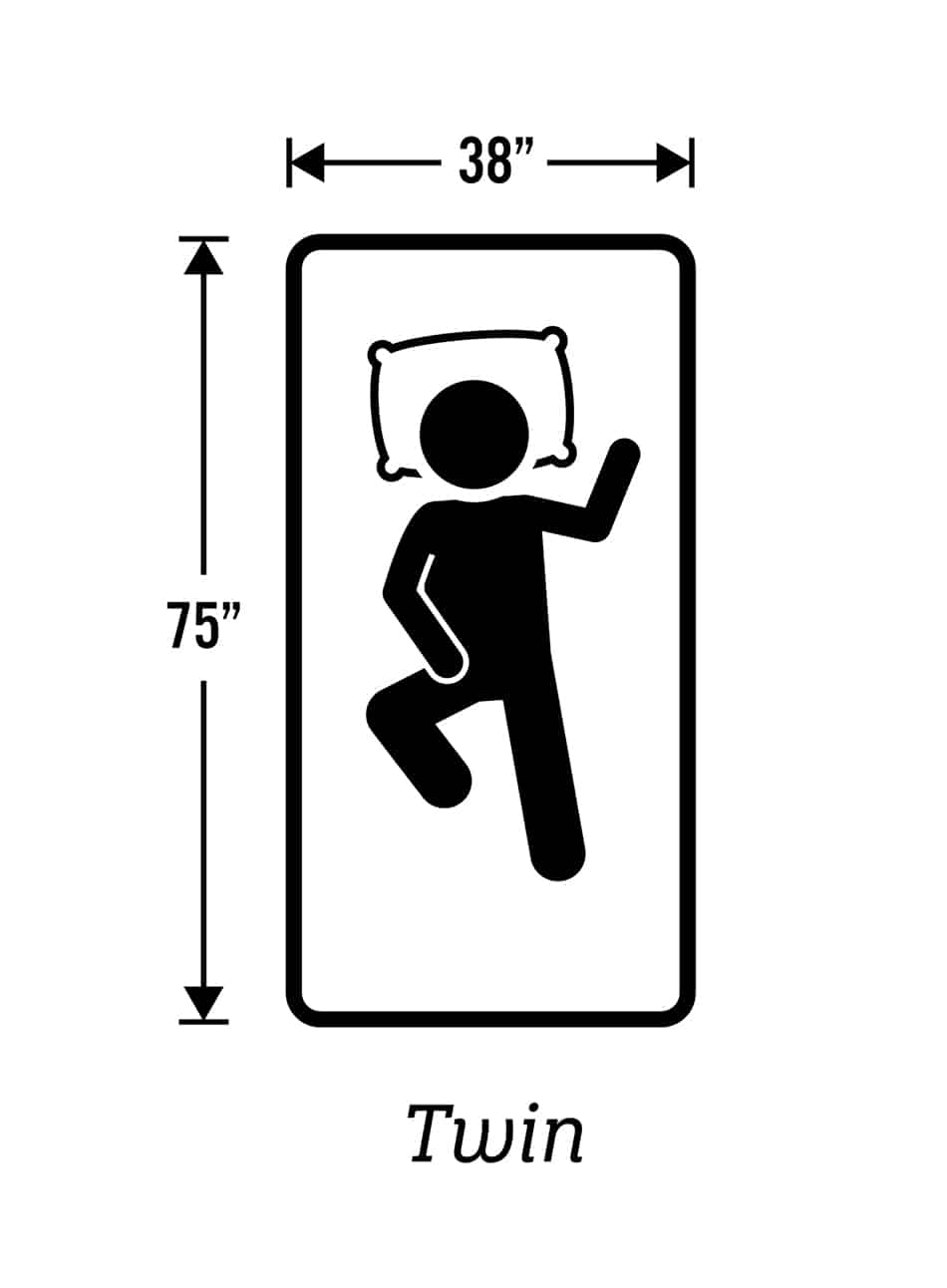 This is also called a single bed. It is supposedly paired with another single bed, hence the name twin beds. Measuring 38 inches wide and 75 inches long, twin bed dimensions are popular with kids and even adults, especially when the space is limited. As you may guess from the name alone, twin beds are commonly used by children sharing a room. It's designed to be slept on by one person. These are also commonly used in bunk beds, dorm rooms, and guest rooms.
This is the smallest-sized bed apart from a crib bed. Although it's small, a twin or single bed is a practical choice for optimizing space in the bedroom. This is a solid choice if you live in a small apartment or share a room with another person. It's also lightweight and easy to set up. Therefore, moving it from one room to another should not be a problem at all. Some models also come with wheels which make transport a breeze. Because of its size, it is also a lot cheaper than bigger beds like a queen or king-size bed.
Twin XL Bed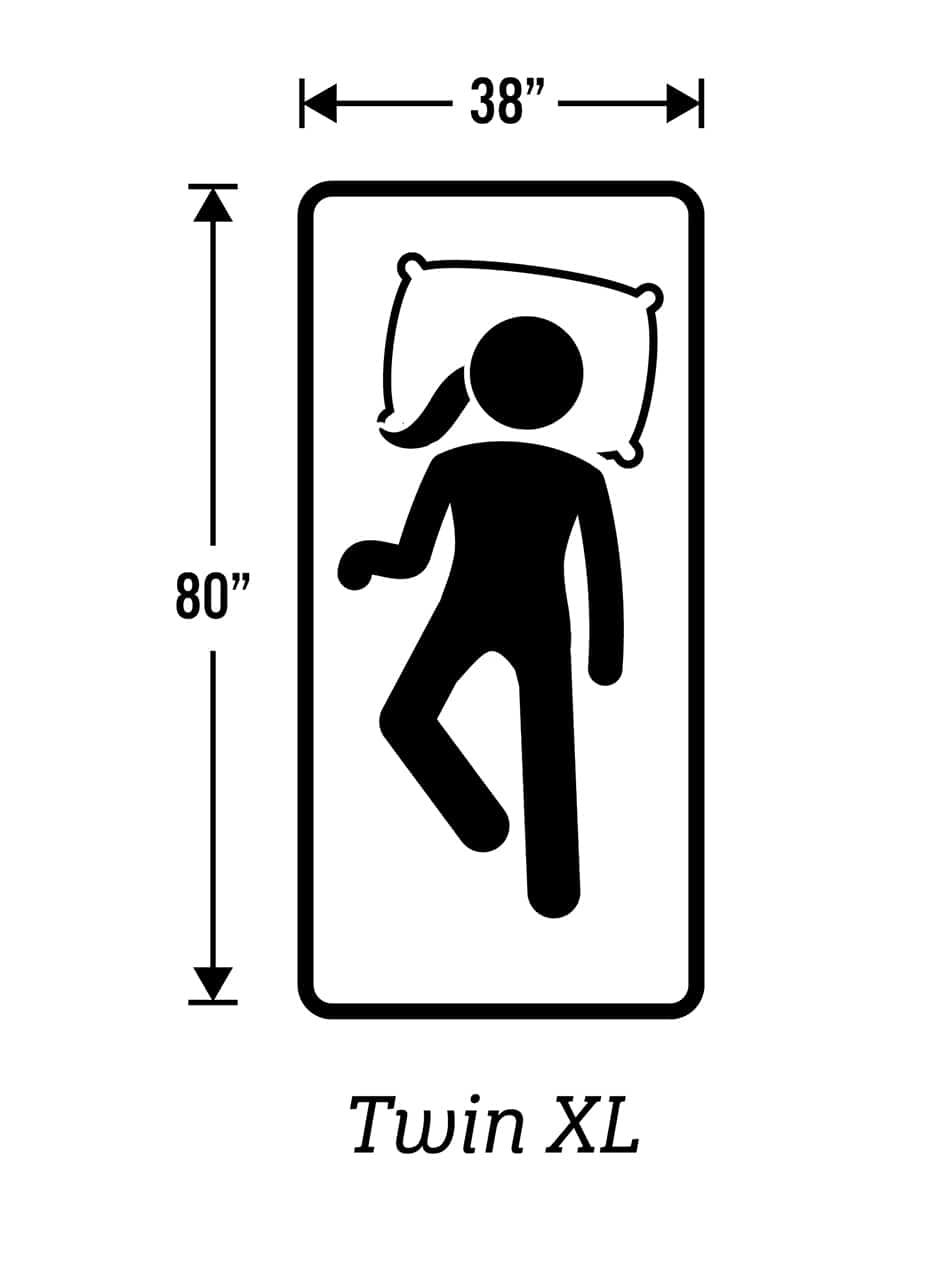 The twin XL bed measures 38 inches wide and 80 inches long. You'd note that it has the same width as the standard twin bed, but it's about 5 inches longer. Therefore, this bed is specifically designed for taller sleepers.
However, it should also be noted that the twin XL bed has the same width as the twin bed. It is, thus, designed to be occupied by a single person only. It's not recommended for the use of couples.
Twin XL beds are commonly used in dorms, targeting college students who are obviously taller than grade school and high school students. If you have a college student or teenager in your home, then this is the bed you'd want for him or her. It can also be a good addition to your guest room.
Some parents, though, opt to buy twin XL beds instead of a twin bed. The reason that they can get more out of their money if they buy a twin XL bed as their kids could use it for years.
They deem that it's the more practical choice compared to a twin bed which can be outgrown by their children. If you have a child who's tall for his age, then you might want to consider getting a twin XL bed instead of a twin bed.
The extra legroom afforded by a twin XL bed makes it also more expensive. It is typically about $100 more expensive than a twin bed. Aside from the price, another disadvantage of buying a twin XL bed is that it is harder to find accessories for this bed size. Finally, not all major mattress makers offer or manufacture twin XL mattresses.
Full Bed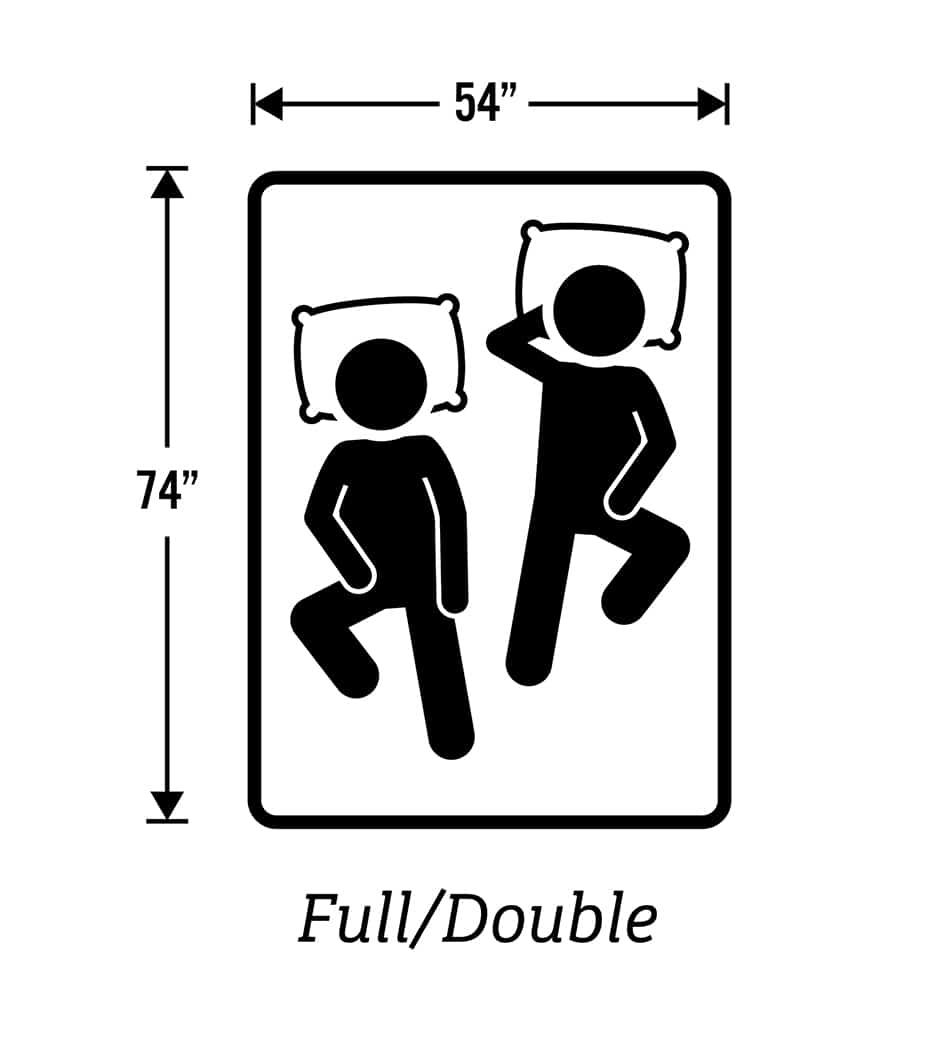 Also called the double bed, the full bed is designed to sleep two people. But it's also the most comfortable and practical choice for single sleepers who are looking for a bed that offers the most space.
The full bed sizes are 54 inches wide and 75 inches long. It's almost the same length as a twin bed but has a generous 16 inches advantage in terms of width. The extra width can be used for another companion like a pet or even a body pillow.
The full bed is a good option if you have a small bedroom. It can be easier to move it around than, say, a bigger bed like a queen-size or king-size bed. Generally, full beds are used by teenagers and young adults in dorms. But it can also be used by couples, especially those who are smaller than the average adult. This is also a smart choice for a guest room.
In terms of pricing, a full bed is slightly more expensive than a twin bed. But it's way cheaper than a queen-size bed. In terms of accessories like mattresses and sheets, you'll get more savings if you opt for a full bed instead of a queen bed.
Full XL Bed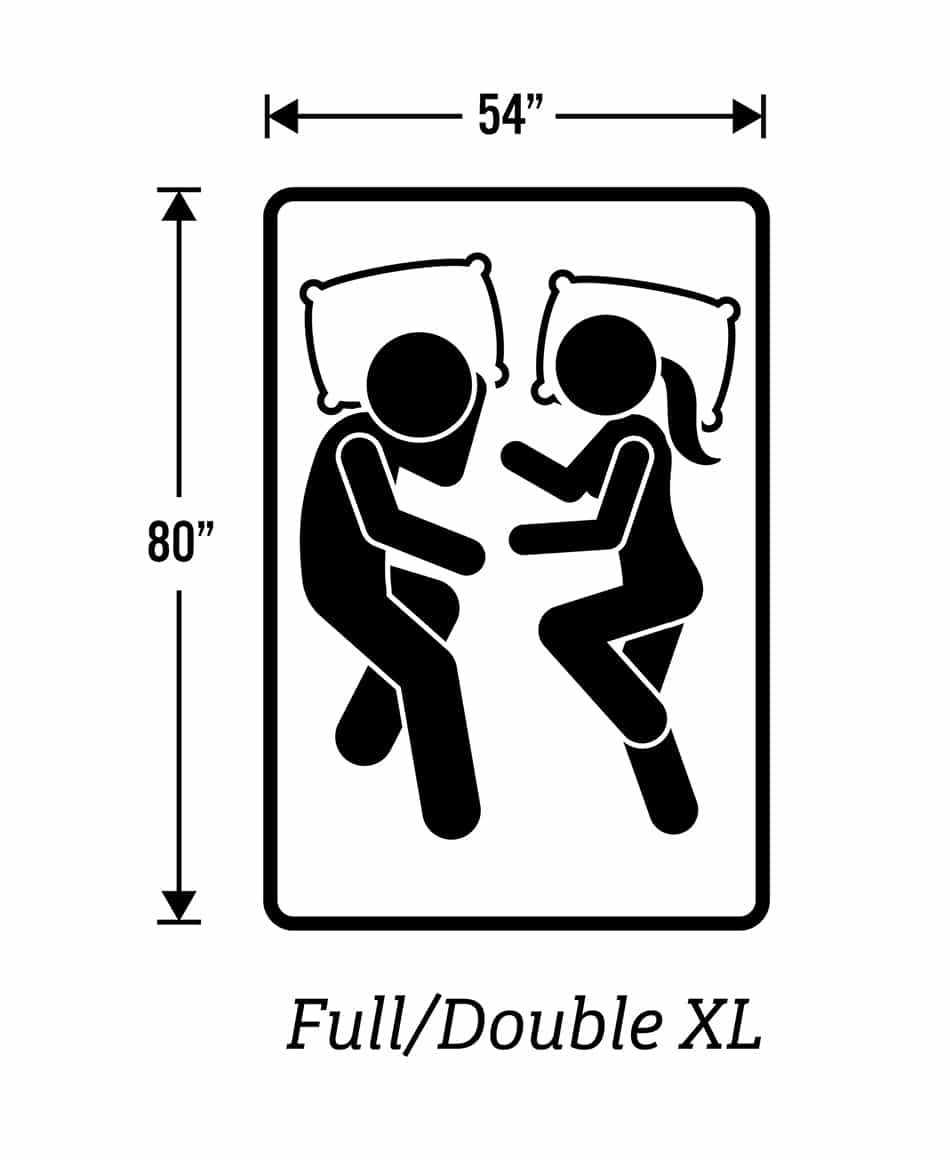 Sometimes called the double XL bed, the full XL-size bed is designed for a tall, active adult sleeper. With dimensions of 54 inches wide and 80 inches tall, it is as wide as a standard full bed but offers more leg space with extra five inches of length. It's thus the right bed for tall people who don't want to dangle their feet off the bed. It can comfortably be used by anyone up to 6 feet, 6 inches tall.
Compared to a queen bed, the full XL bed is six inches narrower, which makes it a more practical choice for people who don't have as much space in their bedrooms. It can also be a solution for couples in a small bedroom, but the width may pose a problem, especially if the two aren't of the average size or height.
Queen Bed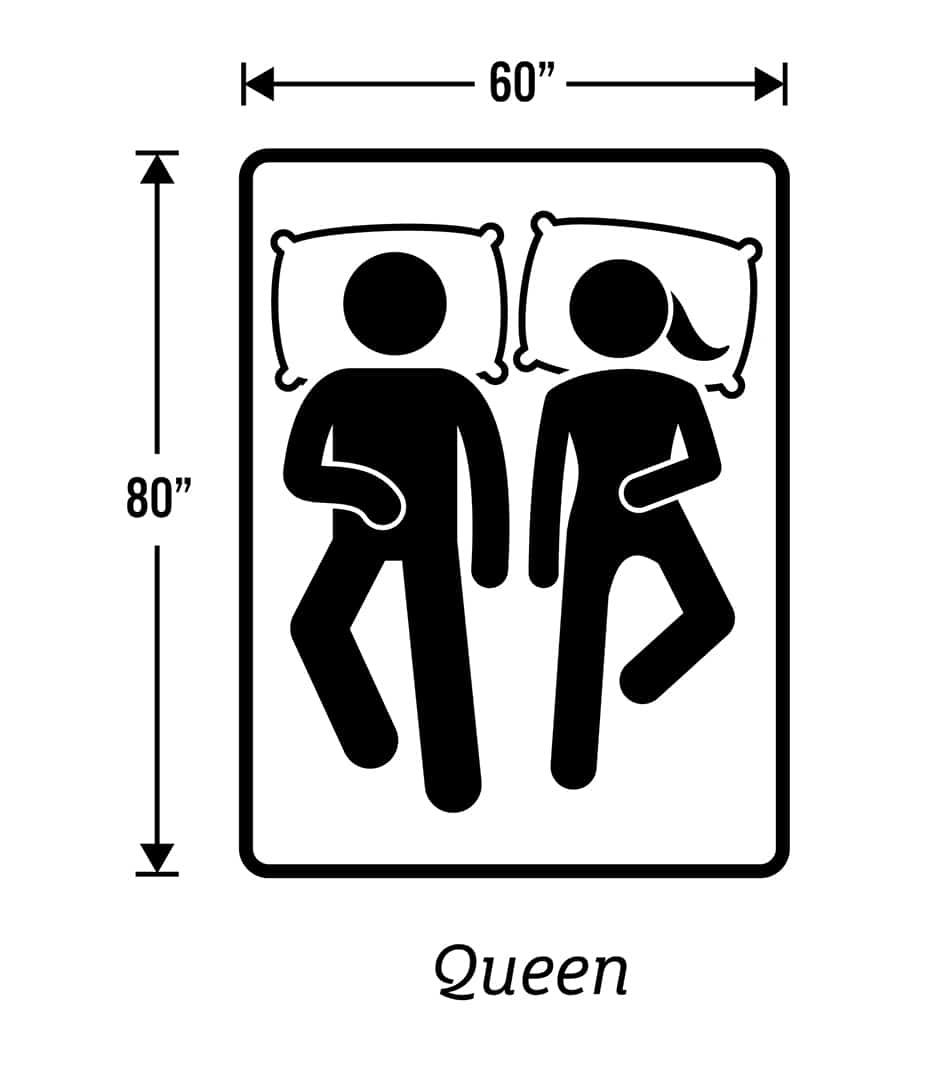 This is arguably the most popular choice for a master bedroom, offering enough space for two average-sized people to sleep on. The queen bed size is 60 inches wide and 80 inches long. In terms of width, it is 6 inches wider than a standard full-size bed. It also offers extra five inches of length than a full and twin bed. It's not difficult to see why the queen-size bed is a practical option for couples.
With a queen-size bed, you should surely get a good night's sleep even if your partner likes to toss and turn around when sleeping or even if you're taller than most folks. But, if you have kids who like to join you in sleep, then a queen-size bed may feel a bit cramped. Also, you'll need a spacious bedroom for this type of bed. The minimum recommended room size for a queen-size bed is 10 feet by 10 feet. If you have a spacious room, then why don't you go for this bed type? This is also a good addition to your guest room as it can accommodate a good number of sleepers for a few days.
Queen-sized beds are the most popular in the United States. Due to its popularity, it's easy to shop for accessories like mattresses and beddings. Prices of queen-sized beds are also attractive and competitive. In short, a queen size bed is the perfect mix of comfort, value, and versatility.
King Bed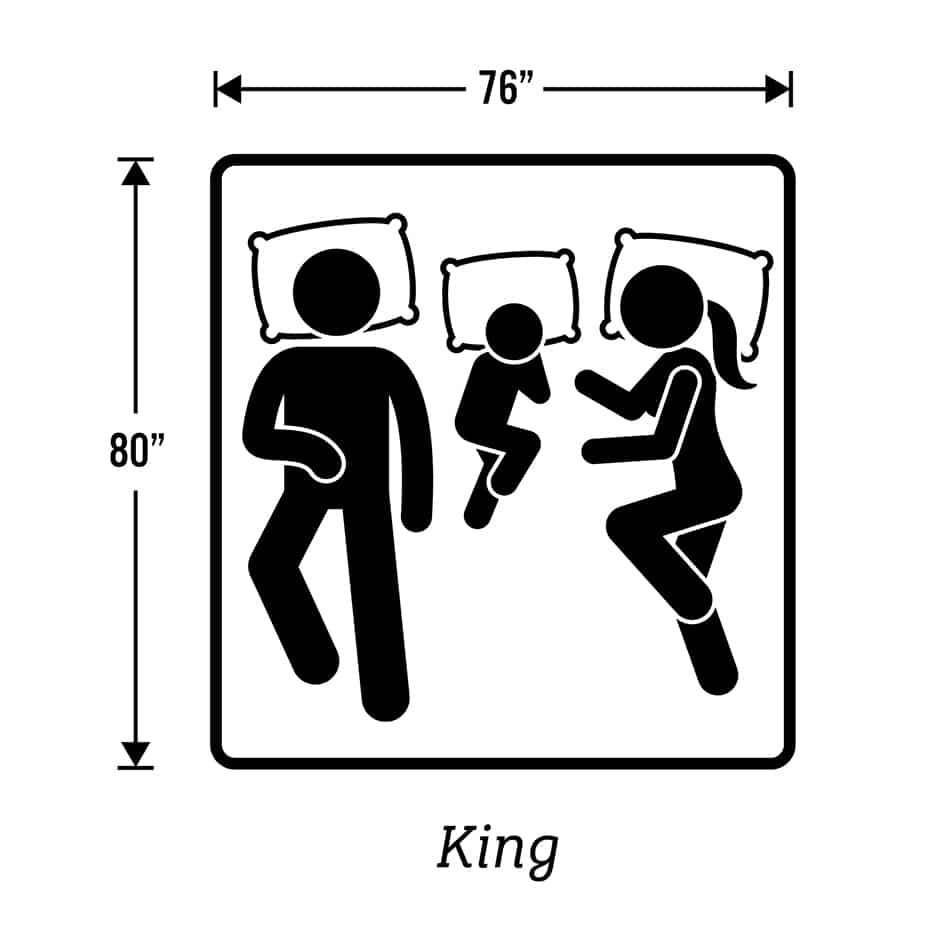 If you're looking for the widest bed on the market since you're the type of sleeper who frequently tosses and turns around, then the king bed is for you. With dimensions of 76 inches wide and 80 inches long, the king-size bed is ideal for couples. It's also highly recommended for people who are active sleepers.
In comparison to a queen-sized bed, a king bed offers an additional 16 inches of sleeping space. Because of its size, a king bed requires a spacious bedroom. You'll need to have a bedroom with minimum dimensions of 12 feet by 12 feet.
Yet, thanks to its size, you can sleep comfortably on a king bed. You can even get to sleep with someone who's an active sleeper on a king bed. If you're a light sleeper, fret not, as there should be enough space between you and your partner, who likes to toss and turn around when sleeping. It would also help to get a split-king mattress, one which combines two twin XL mattresses side by side, for this purpose.
Like the queen size bed, a king bed is a common size with many accessories. It should not be a problem to find a mattress or pillow that's designed for this type of bed. Due to the sufficient space that it offers, a king bed is ideal for families as kids and parents can sleep together comfortably on it.
California King Bed
The California king bed is often called the 'king XL.' It gives more leg space than a king bed with its length of 84 inches, 4 inches more than the king bed. Therefore, it is the longest bed that you can buy on the market. However, it is about 4 inches narrower.
If you're six feet tall, you'll find a lot of space for your feet when you sleep on a California king bed. Sure, you may also get that amount of space when you buy a king-sized bed.
However, the latter may be a little too wide for your room. Therefore, a California king bed size is the most practical choice for you. A California king bed also offers enough space for another partner or kids and pets to sleep with you. In terms of room dimensions, it is recommended that you have a bedroom that's 12 feet by 12 feet (width and length).
However, a California king bed has its cons, too. One downside is that it can be difficult to shop for a mattress and bedding. Bedsheets of California king beds are also expensive and selected, given that this isn't the most popular bed size in the market.
Wyoming King Bed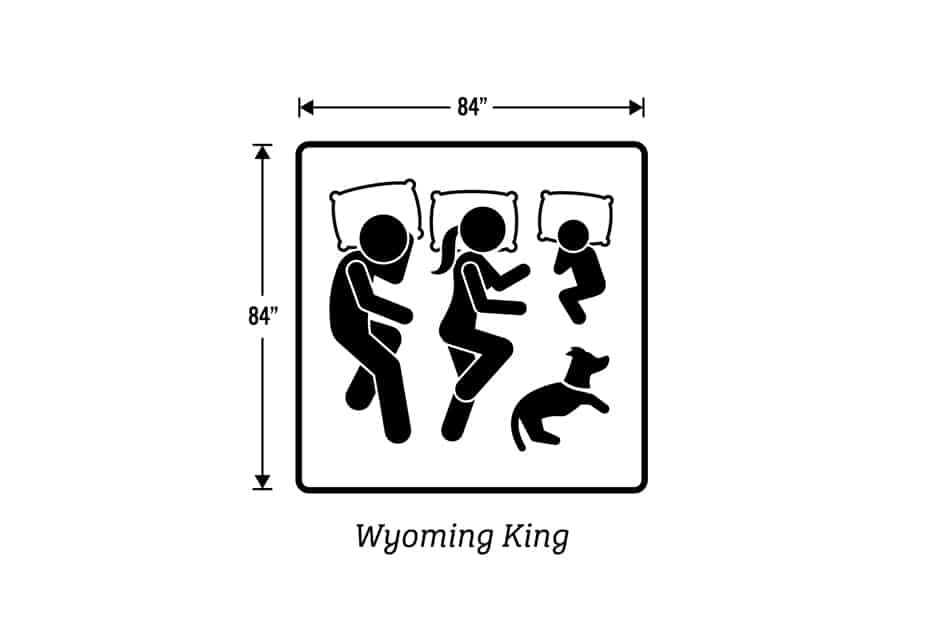 This is among the largest bed you can find. With the same height as the California King bed at 84″, the Wyoming King-size bed is wider at 84″. Those who love an expensive oversized bed will love the Wyoming King though it's not easily available to purchase.
Alaskan King-size Bed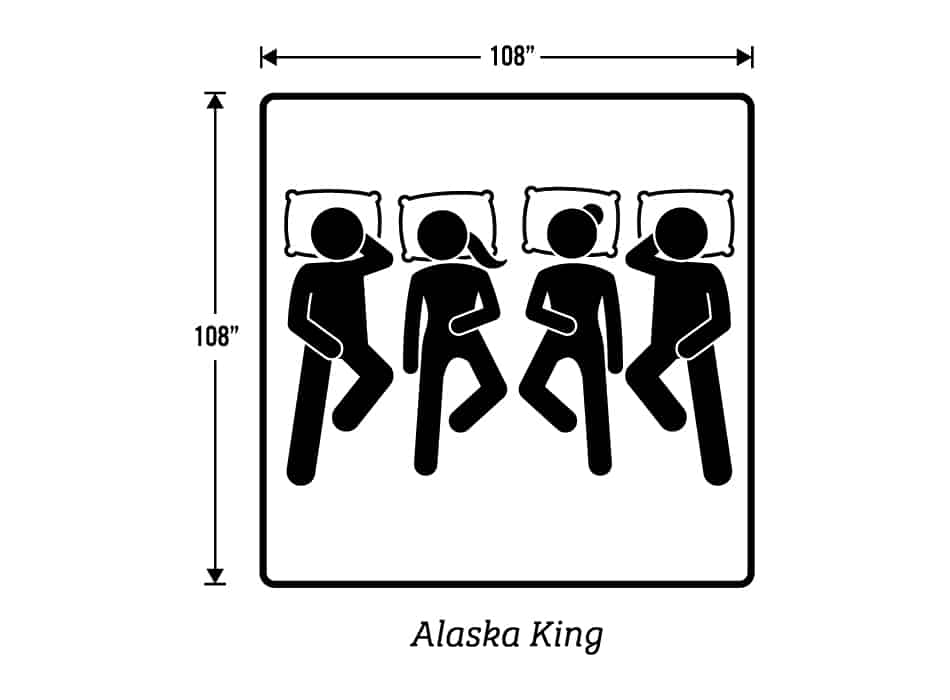 Another good option for a King bed is the Alaska King-size bed. With 108 inches (9 ft in width and length) on every side, this is probably the largest king bed you can choose. It can easily accommodate 4 people at one time. With this size, you'll expect that it does not come cheap, and so are their bedsheets.
How to Determine the Right Bed Size for You
Now that you know the different bed size options for you, the next question you may have in mind is: 'which bed size is the right one for me?'
Before buying a bed, there are several factors that you have to take into consideration. One of these is the mattress (if you already have one.) After all, if you already have a mattress, then you'd want to get a bed where it would fit. To determine this, check the label of the mattress so that you'd know its size in inches. You may also use a measuring tape for this purpose.
You should also consider your home. Some of the questions you need to answer are: "do you live in an apartment or a house?" and "how big is the bedroom?" The location of the bedroom in the house is also a factor. Can you imagine bringing in a queen or king-sized bed to a room that's located on the third floor?
Your family members and their sleeping habits will also affect your choice of bed size. If you're still single, then this may not be a factor at all. But if you're a family man or woman, then you would likely go for a queen or king-size bed, especially if your kids still sleep with you. Experts recommend allotting at least 30 inches of personal sleep space. This should be enough even for the most active of sleepers to make countless turns throughout the night.
You must also factor in your body in choosing a bed. Your height and weight would affect your choice of a bed. The same goes for the body of your sleeping companion. If you're on the heavy side, then a twin bed may not be the best choice for you. If you're as tall as a professional basketball player, then you may even go for a California king bed instead of a king-sized bed.
You should also take into consideration your sleep style. If you're an active sleeper, then you might have to go for a wider bed than a twin XL. The same goes for if you need more legroom. If you like to snuggle close with your partner, then a queen bed may suffice instead of a king bed.
Since buying a bed is a considerable investment, you must also consider your future needs. Wait until you've bought your own house before buying a queen or king-size bed. If you're still living on your own, then a twin bed may be the most practical choice for the time being.
Related to this is your budget. As mentioned earlier, a big bed like a queen or king-size bed can cost you a significant amount. While a queen-sized bed is widely considered the most economical bed size for couples, a quality one may not be in your price range. If you're still a single adult, then a full bed may be a wiser option.