The Alaskan king-size bed is a great upgrade from any standard-sized mattress. It offers excess space for you to share your bed with a partner, your kids, pets, or the entire family. Now you're probably wondering just how big the Alaskan king-size bed is. Its exact dimensions are discussed below.
What Are the Dimensions of the Alaskan King Mattress?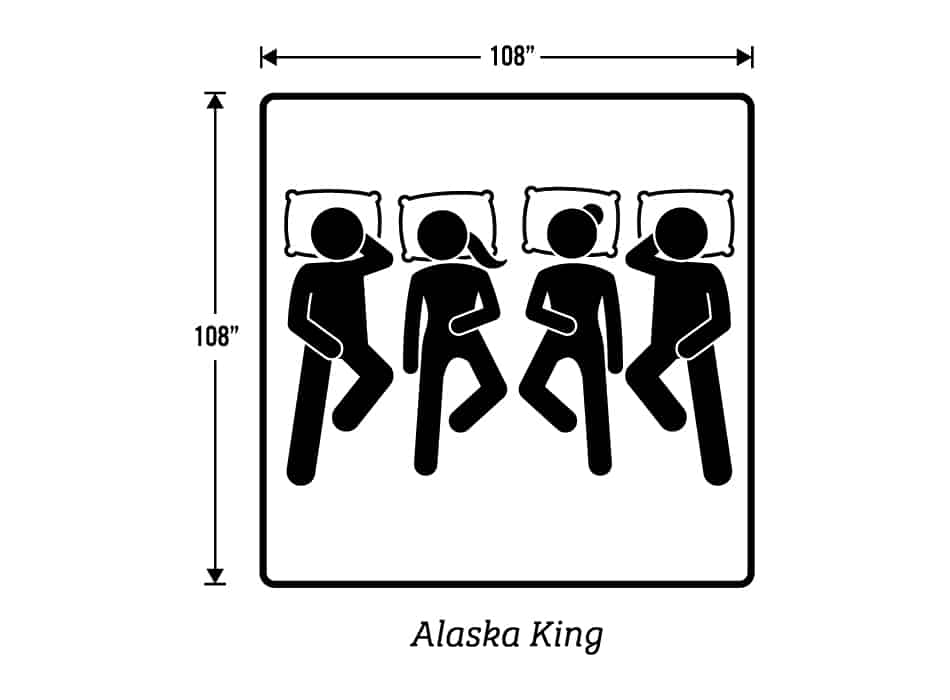 An Alaskan King-size bed measures 108 inches on every side. Its dimensions in feet are 9 ft in width and 9ft in length. A lot of people get confused about whether to buy the Alaskan king-size or a California King size bed. A California king-size bed measures 84" in length and 72" in width. This means it is a whole 24 inches smaller than the Alaskan king bed in length and 36 inches smaller in width.
The Wyoming king-size bed is also another consideration people make when looking for an oversized bed. It measures 84 inches in both length and width, which means it is 36 inches smaller than the Alaskan king-size bed. Long story short, the Alaskan king-size bed is the bed you choose when you're looking for the largest bed in the market.
Do You need an Alaskan King-Sized Bed?

When making large purchases such as the Alaskan king-size bed, it is okay to wonder if you are making the right choice. Questions like; 'do you need such a large bed?' would pop up in your mind, and you have to answer these questions before making the purchase.
One can never overstate how important it is to get a good night's rest every day. The associated health benefits are innumerable. Also, you spend a good portion of your time in bed daily, so you deserve to get any kind of bed that would offer you quality sleep at night.
If you have a partner that turns too many times in their sleep, an Alaskan king-sized bed might be what you need to sleep without disturbance from your partner. With a bed that big, you can lie beside your partner, limbs all stretched out and still not be touching them. If you have tried other king-size beds and found them to be too small, then you can never go wrong with an Alaskan king-size, provided there is enough space in your bedroom for the bed.
Where Can You Buy an Alaskan King-Size Bed?
Beds these big are not always readily available for sale in stores. If you need one, you might need to get in touch with a bed-maker to make one for you. They could cost anything from $3000-$5000 depending on your specifications.
How to Choose the Best Alaskan King Mattress
Not a lot of people have experience buying a bed this big, so before purchasing an Alaskan king-sized bed, you should lookout for a few things that no one else would tell you about. These considerations include:
The Brand Reputation: As already stated, these kinds of beds are often custom-made for customers, so when you need one, you have to reach out to a bed manufacturer. Look for one who's had some years of experience and built a reputation. This is the only way to ensure that your bed gets made the great quality materials and also gets delivered in good time.
Double Check the Bed Materials: Make sure that all materials used in making the bed are safe and meet federal flammability requirements.
Transparency: Some brands tell you that their manufacturing is done locally only to end up outsourcing manufacturing to a different country or continent. Make sure you research your bed maker carefully to ensure they are transparent.
Options Available: Since you are paying good money for it, you should be able to have your bed tailor-made to your exact specifications.
Pros of Buying an Alaskan King Bed
The following are perks you enjoy with the Alaskan king:
It's Great for Couples
It's no doubt that couples sleep better in a larger bed. You can roll around the bed without any restrictions from your partner, and if they're an active sleeper or a loud snorer, you can pretty much roll over to your end of the bed and shut out the disturbance.
It Gives Your Bedroom a Luxurious Look
The novelty of owning such a huge bed would pretty much never wear off. People would always go 'wow' when they see the size of your bed. These beds are also made for a lot of flexibility in terms of design styles. If you are a creative person who has great design plans for your room, then try an Alaska king-size bed if you have the space for it. It would always be the focus of the room, especially if you spruce it up with the right beddings and bed accessories. An Alaskan king-size bed supplements your bedroom design, whatever kind of design it is.
It Is Good for Your Health
Poor-quality sleep can cause many health complications. A bigger bed ensures that one gets better quality sleep which ultimately leads to improved health. These kinds of beds are also built to relieve pressure points all over your body as you sleep.
There's Enough Space for Family and Pets to Hop into Bed
For those mornings when you'll prefer to cuddle up in bed and watch a movie with the entire family, an Alaskan king-sized bed would be perfect because it offers enough space for everyone, even the family pet. If you have up to three children or a handful of big dogs, an Alaskan king-sized mattress would be the best place to relax and bond with your family and watch TV for a few hours on the weekends.
Cons of Buying an Alaskan King-Sized Bed
The following are the cons of purchasing an Alaskan king-sized bed:
They're Expensive
These beds always come with a much bigger price tag than standard size beds; this is because they take extra labor and material to make.
They're Too Large and Heavy to Move
Alaskan king-size beds are extra-heavy to move and take up a lot of space in a room.