It is difficult to overstate the perks of a good night's rest. Apart from providing the body with the benefit of an opportunity to recover from the hustle and bustle of everyday life, quality sleep strengthens the resilience of the body to infections. A lot of variables are correlated with having better sleep. How comfortable your bed is, the type of mattress, your state of mind and body, etc.
Queen beds were invented in 1958, but it wasn't until the 80s that these beds began to enjoy success. They are one of the most commonly purchased beds around the world. A queen-size bed provides more than enough space for two people to sleep comfortably. It also provides a lot of legroom for tall people. Therefore, it is not for no reason that queen-sized beds are known and loved all around the world. They may be a little more expensive than other bed options, but they're also totally worth their price.
As their name implies, queen beds are for royalty. These beds are a 1950s innovation by the Simmons bedding company; they thought the beds were most suited for queens, hence the name 'Queen Size Bed.' The company made queen size beds with dimensions of 50 inches by 70 inches though these dimensions have changed with time.
Queen-size beds are ideal for when you are sleeping alone or even sharing the bed with someone else. Queen-size bed frames and mattresses come in several variations, ranging from standard mattresses and simple bed frames to luxurious bed frames with storage. Having a queen size bed is always the best solution to never having to deal with limited space and discomfort on your bed. The up-to-date dimensions of a queen size bed are as follows:
Queen Bed Dimensions in Inches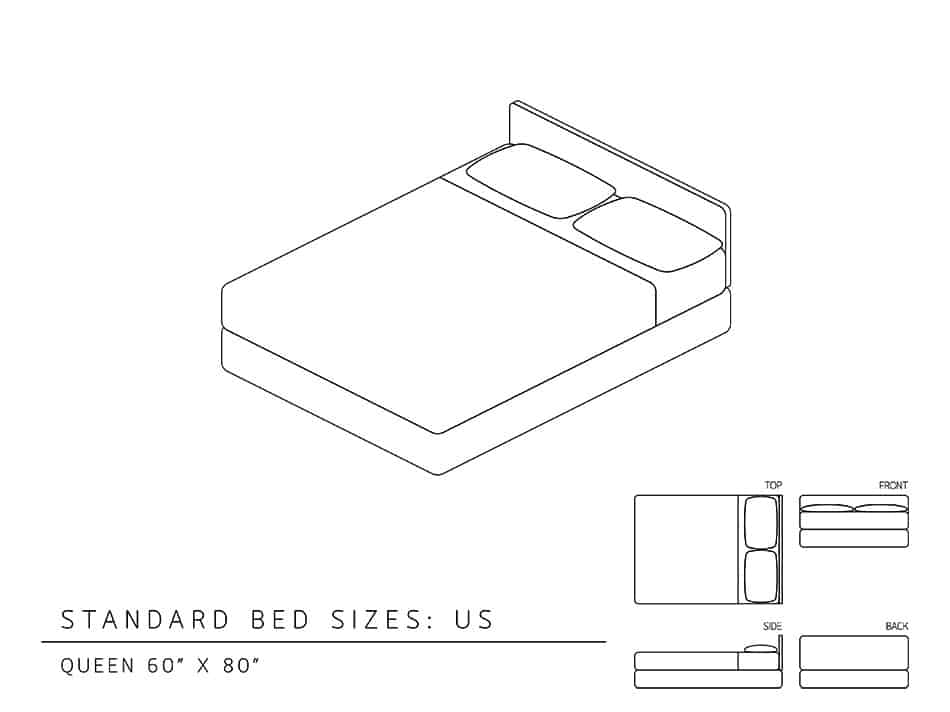 The standard dimensions of a queen size bed frame are 62 inches in width and 82 inches in length. The queen-size mattress dimensions are 60 inches in width and 80 inches in length. The bed frame is always built to be at least two inches bigger than the mattress.
Queen Bed Dimensions in Feet
In feet, the standard dimensions of a queen size mattress are 5 feet by 6 feet, eight inches. The minimum recommended room size for a queen-size bed is 10 feet by 10 feet.
Queen Size Bed Dimensions CM
The standard dimensions of a queen size bed in centimeters are 152 by 203.5 cm.
DIY a Queen Size Bed
If you've been planning to put together a queen-size bed frame for yourself, you can easily do it now. All you'll need for this project is about a hundred dollars, a weekend, and some beginner woodwork skill.
To start, if you have already bought a queen size mattress, measure the mattress to make sure that it fits on the bed you're about to build. If your mattress measures 60″ by 80, plan to build a bed that's at least 62″ by 82″ just so that the bed fits comfortably into the bed frame.
Next, head to the lumber yard or wherever you can procure wood, don't forget to bring along your tape measure. With most wood retailers, you'll find two classes of superior wood available. First are the select ones, which are usually very straight with no knots and requiring no sanding. The second class of wood is the quality wood, and these are not so straight; they have knots and require a lot more sanding. It is advised to choose from select and quality woods when embarking on your project. If you pick smoother woods, you wouldn't have to spend too many hours sanding them.
Afterward, you'll need to do loads of sanding, wood painting, gluing, waiting, and assembling. It may take a lot of hours and sweat, but with the right amount of research, it is possible to DIY your queen bed.
Which Bed Size Would Fit Your Room?
The market is inundated with so many sizes of beds and mattresses that it's often confusing to decide on which one should go in your room. Honestly, everyone should do a little research before picking a mattress, but this isn't always the case. Some people just pick out a mattress size because it looks good enough, without bothering to check if that's the size suited for their rooms and bed frames; needless to say, that this often backfires. Sometimes beds come in custom and extra-long sizes, and if you get a mattress for such beds without sufficient research, you might end up with one that's too small or too long for your bed frame. You'll be shocked to find how many people order a mattress before they even see the bed frame on which the mattress will be placed
Everyone has their unique preference when it comes to size, how much sleeping space is needed, how much space is left in the room after the bed's been set up etc. So before you choose a bed size, consider the size of your room. Better still, get a tape measure and measure the exact size of your room and then look at the measurements on your bed before you purchase one to make sure it will fit. If you'll be sharing the room, also make sure your partner agrees with the bed and that it's one that best suits your sleeping habits.
Queen versus Full-Size Bed
People sometimes get confused about whether to purchase a queen or full-size bed. This decision would be a lot easier if one knew the difference between both beds. A full-size bed measures 53″ by 75″ as opposed to the 60″x 80″ dimensions of a queen bed. This means that not only is the queen bed a lot more spacious than a full-size bed. It is also more suited for couples. Also, the queen bed offers sufficient space for tall people to stretch their legs.
Benefits of Owning a Queen Size Bed
The pros of having a queen bed are as follows:
Provides more than enough space for one person
Even though they're a little smaller than a king, queen beds provide sufficient space for active sleepers to roll around in their sleep without falling off the bed. The bed can also fit two people comfortably and could even fit more if need be. It provides a space where people can get a good night's rest without having to keep falling off the bed.
It offers great storage space
The under-bed of a queen is a great place to hide anything from plastic storage boxes to bags of old books, blankets, shoe boxes, etc. The frames are high enough to allow you to push a good amount of clutter under the bed. Asides from providing storage space under the bed, a queen also provides space in your room by not swallowing up the entire extra space in your room. Some beds are so big that they take up all the space in the room, but a queen bed leaves you the additional space that can be used for many other things.
It comes with a variety of options
Queen-size beds are now made to be as luxurious or as simple as you'd prefer. You can customize them to look exactly how you wish. The options are endless for those who want to take advantage of this perk.
They're just the perfect size
Queen beds are just the perfect size for almost everyone. They're not too small or too big. You can also buy them for pre-teens and teenagers and watch them grow into them. People spend several hours of the day in bed, which is the reason every bed needs to be as comfortable as it could get. A queen bed is a way to go to get this comfort. Everyone expects their bed to last years, so when making this purchase, everyone wants to make a good choice; this is the reason queens are so popular. Queen beds may not be everyone's cup of tea, but a lot of people do love them.
Cons of Having a Queen Bed
The cons of having a queen bed are as follows
They may look small in a larger room
A lot of people whose rooms are extra-large in size might find the queen bed to be a bit small for their space. Many master bedrooms are designed to have ample space, not just for the bed but for other furniture and accessories. If your master bedroom is very large, you made need to get something bigger than a queen.
A queen might be small for couples who need extra space.
Plus, size couples might find a queen bed a little uncomfortable. And not just plus size couples but for anyone who needs a lot of personal space when sharing a bed. While a queen bed is 60″ wide, which offers 31″ per person, some people might still find this space to be a bit stifling. These kinds of people may prefer a king bed as it offers ample space for three or more individuals to spread out and sleep.