A king-size bed is a perfect upgrade from a single or double bed. They could sometimes cost an arm and a leg, but the benefits of owning one far outweigh the cost in the long run. A king-size mattress provides more comfort for the sleeper than any of the smaller bed options.
Just as the name implies, King-beds offer a kind of luxury fit for a king. Patients who suffer from arthritis or any form of joint pain would usually choose a king-size mattress as it offers optimum comfort by easing pressure points in the body. If you have enough space in your room to fit a king-size bed, then you should go for it. This begs the question: what are king-size bed dimensions?
Dimensions of a King-Size Bed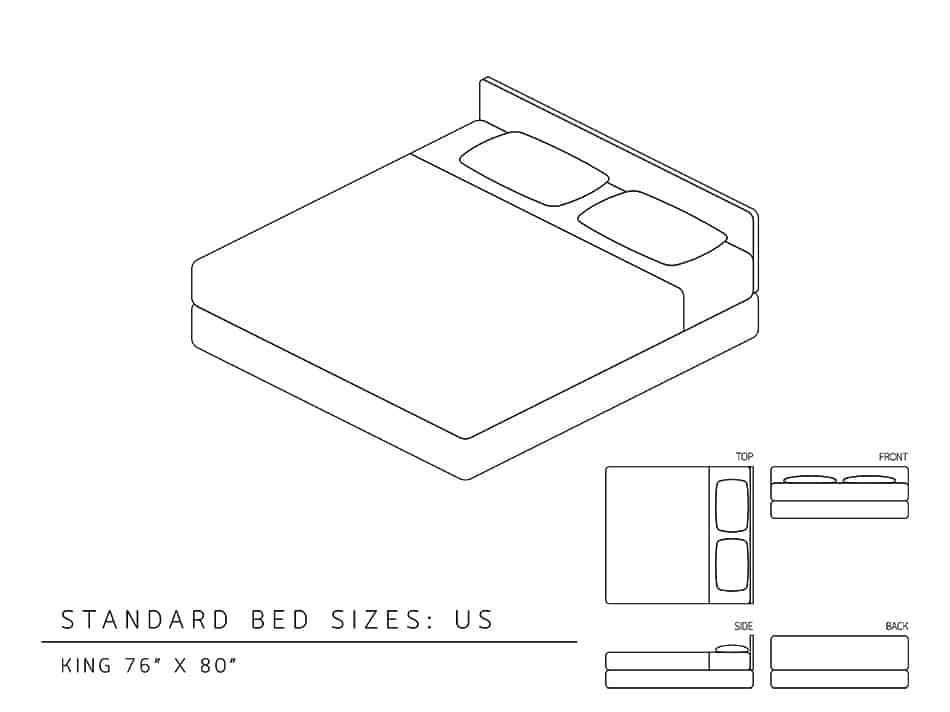 A standard king mattress is 76 inches in width and 80 inches in length. A king-size bed frame would usually have a few more inches than the mattress to allow the mattress to fit comfortably.
The bed frame dimensions could be anything from 78" to 80" in length and 82" in width. This offers about 38" of space for each person sharing the bed. The generous space it provides for each sleeper is the reason king beds are a popular option among bed buyers.
What to Consider Before Buying a King-Size Mattress
The following are things to consider before buying a king-size bed:
Budget
A lot of people believe budget to be one of the important factors to consider when buying a bed. If you are shopping for several beds for different rooms at the same time, then it's better to make a list of what kind of bed would fit in which room and how much this would cost.
Considering their price, among other factors, it may not be a smart choice to put a king bed in every room of the house. If working with budgetary limits, there is a wide range of bed styles and designs that may be better suited for your budget.
Room Size
It would be a bad idea to buy a bed without first measuring the size of the room. As already discussed, the king bed frame is going to take up about 80" on each side. So make sure you consider the full length of your room and how much space would be left after the bed is installed.
The space left in the bedroom after the bed is installed should be enough for you and any other people sharing the room to move about freely. It should also be enough to accommodate other bedroom furniture.
You can determine this while the room is still empty by using a tape measure and a marker. Measure out the space for the bed and mark out the area, then consider if the area left would fit the additional furniture. If not, you might need to pick a smaller bed option.
Who Would Use the Bed?
Buying a king bed for a kid's bedroom is overkill. King beds are better suited for Master bedrooms or any other big bedrooms in the house, especially those that would be used by more than one person.