Colors play a vital part to determine the ambiance of the space in any interior design. In a kitchen, a simple neutral color palette is often the preferred choice as it can easily blend with other accents. After all, neutral elements can be updated without having to change the entire fixture or furniture.
When we mention neutral tones, white is the first color that comes to mind. This is the most preferred color for the kitchen cabinets as it provides a clean and airy look. Black is another popular color for the kitchen and it's often used for countertops.
When you pair white kitchen cabinets with black countertops, you can be sure of creating a timeless and stylish design.
In this article, we'll show you some great examples of black countertops paired with white cabinets and other colors and accents to spruce up your cooking space. Let's delve right into it now!
White Cabinet And Black Countertop Ideas
Go for a Retro Design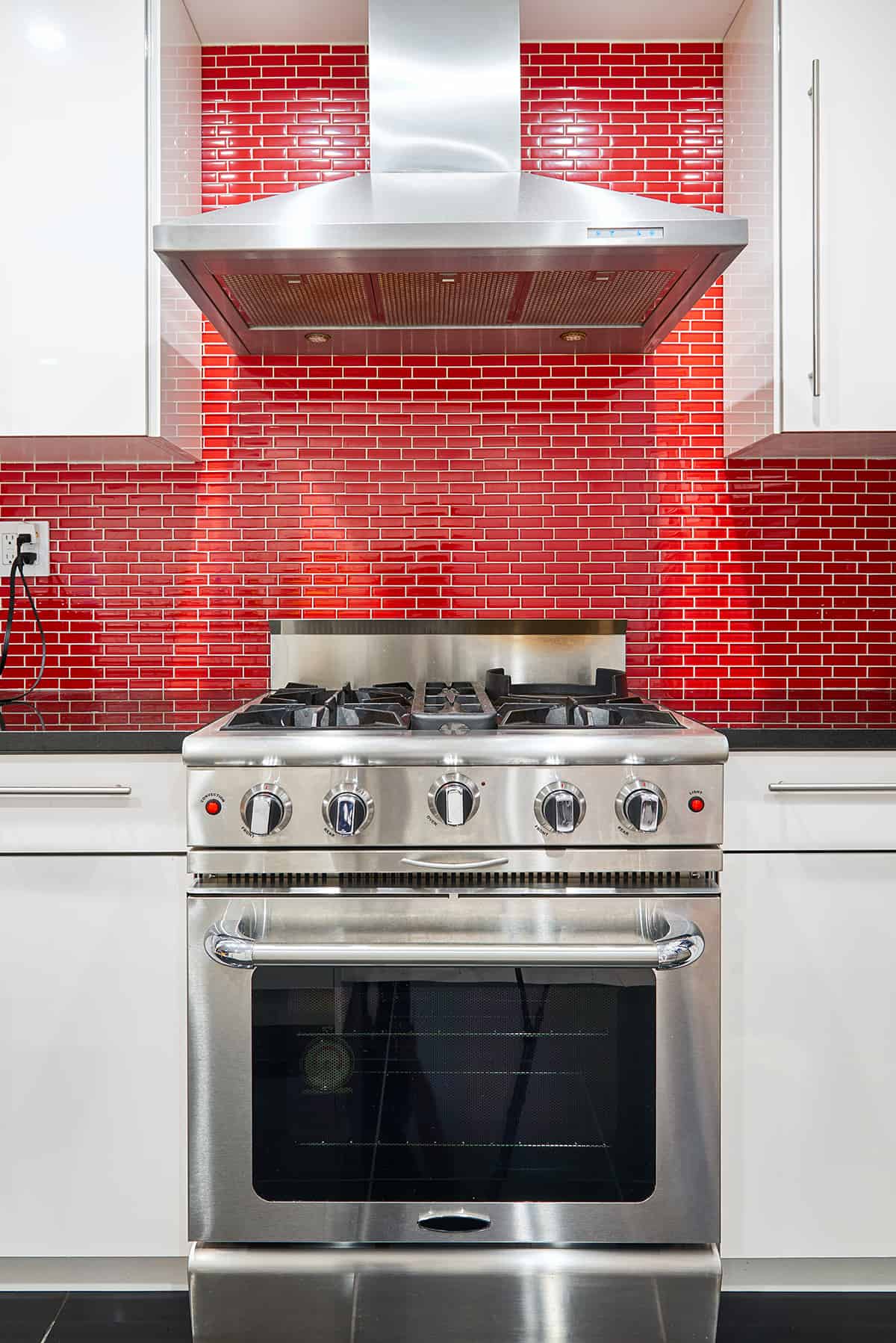 A kitchen with white cabinets and black countertops need not feel bland or boring. To create a warmer look in a more traditional kitchen design, opt for matte white paint for the wooden cabinets. When paired with shiny black countertops, you'll create a clean, bright finish. This will give your kitchen a retro design that's not too old or too new.
Now the trick to a retro design kitchen with white cabinets and black countertops is to introduce a third color to the palette. You can spice up your kitchen by adding a red backsplash for a bold and dynamic feel.
A red backsplash together with stainless steel appliances can bring a retro style to the white cabinets and black countertop.
Just like you can see in this example, modern meets vintage in the form of red-tiled backsplash as the feature of this retro kitchen. This is a beautiful design element that stands out thanks to the warmth of the red tiles, which tie the whole kitchen together.
Keep it Contemporary and Sleek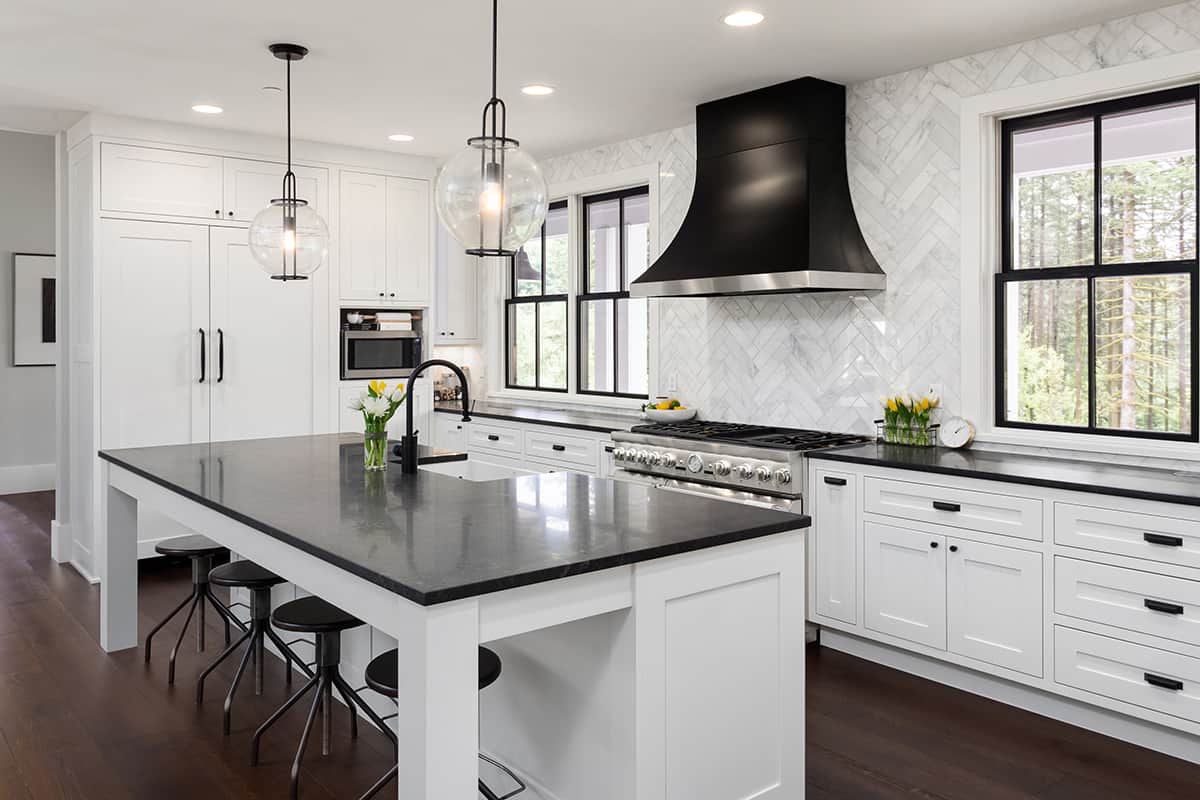 If retro isn't to your taste, then how about a sleek and contemporary design with glossy black countertops and bright white cabinets with black hardware. This idea helps reflect light and make the kitchen appear larger.
Kitchens with shiny black countertops and white cabinets are ideal for an ultra modern space. When you add black modern style lighting to your kitchen, you'll blend the perfect color palette: black and white.
Here the modern black and white design has softened the overall look of this beautiful kitchen. The black furniture, lighting, appliances, and countertops go with the bright white cabinets and walls. This design adds profound depth and texture to a contemporary-style kitchen.
Create an Industrial Look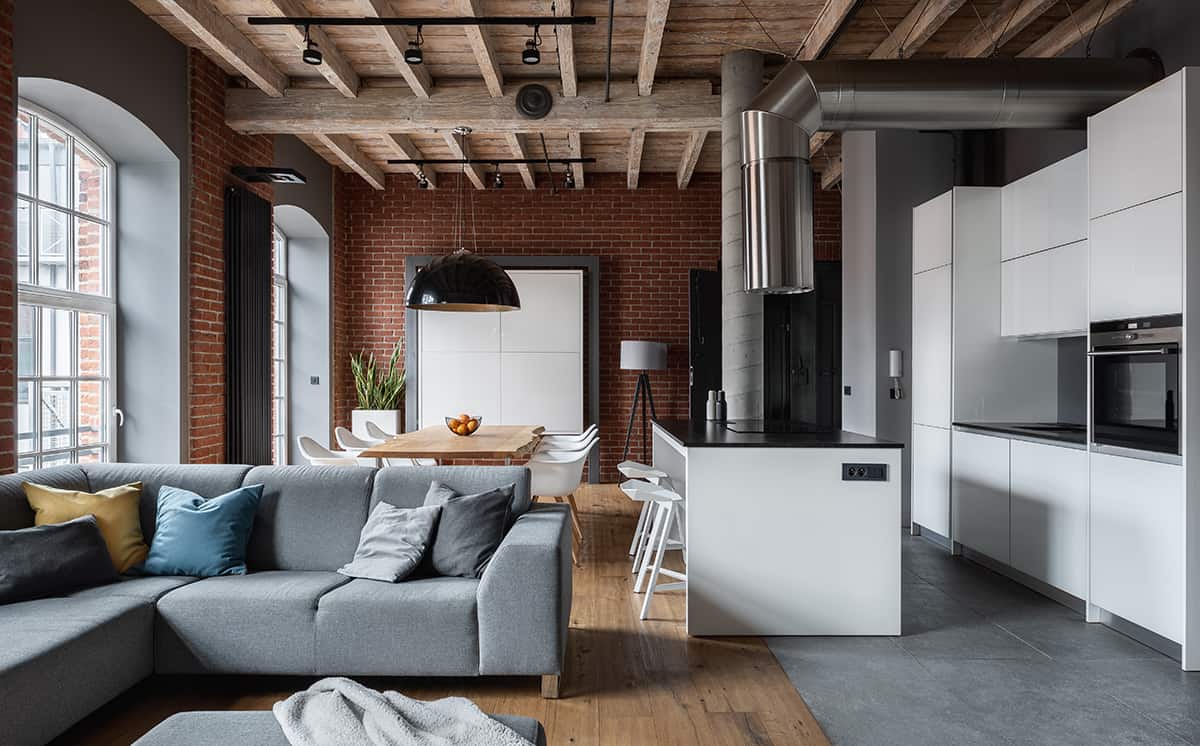 Industrial style kitchens are fast becoming a hot trend. Think exposed beams, pipes, metals, and neutral colors to make up this design. In such kitchens, the lines must be clean and the elements interesting yet simple.
In this industrial-style kitchen, the white cabinets with black countertops stand out. We also especially like the exposed brick wall and prominent-looking extractor hood in the typical Industrial design.
Here, the grey flooring in the kitchen gives the black and white color combination a sleek look.
Pair Antique Wooden Cabinets with Hardwood Flooring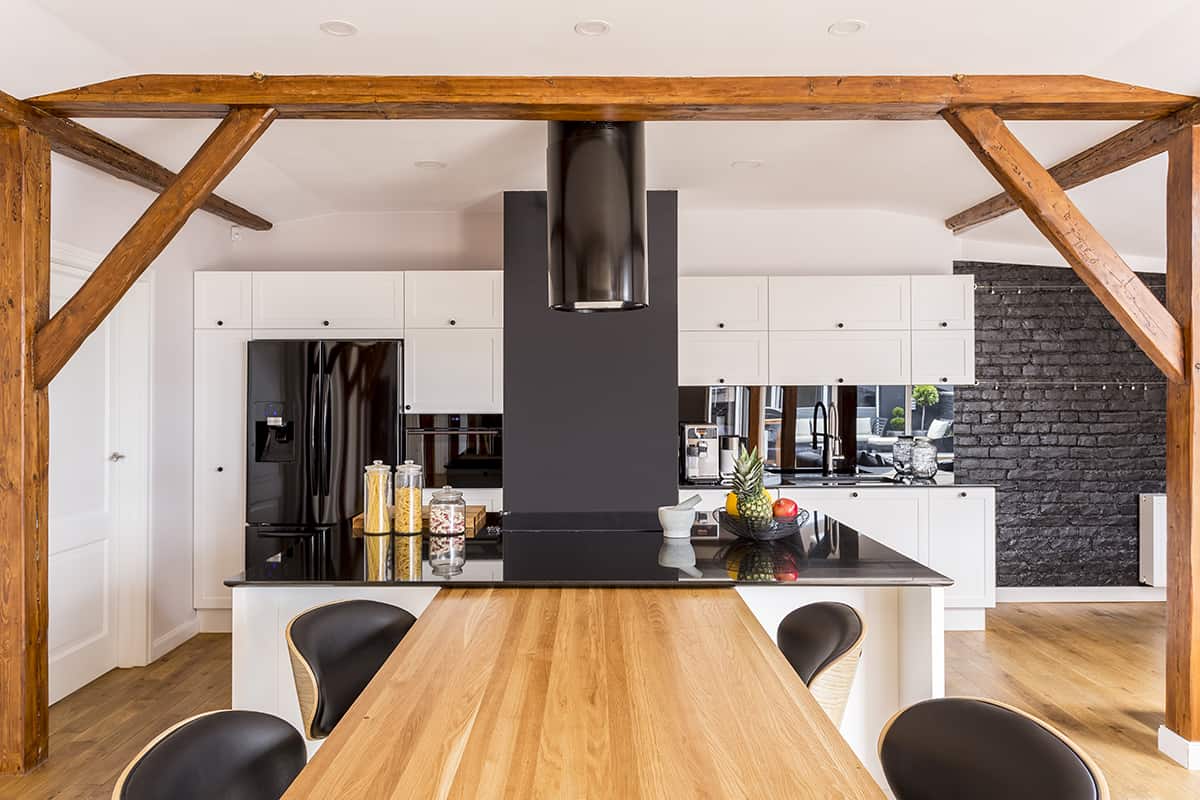 Antique wooden cabinets in white are an excellent pairing with black countertops. This style blends well with a variety of rustic themes.
To make your bright white kitchen cabinets feel warmer, consider adding pine hardwood flooring for a farmhouse or cottage feel. Antique white cabinets allow you to create a welcoming cooking space and they can be incorporated with shiny black countertops as well as wooden beams.
In this example, wooden beams clearly play a dominating role to provide the black and white kitchen a more traditional feel. Although the design of this kitchen leans more towards modern rather than rustic, the wooden framing and flooring bring a more inviting and natural feel.
This idea works particularly well in small kitchens as the use of white wooden cabinets and flooring make the room feel larger and brighter.
Add Stainless Steel Appliances for Extra Shine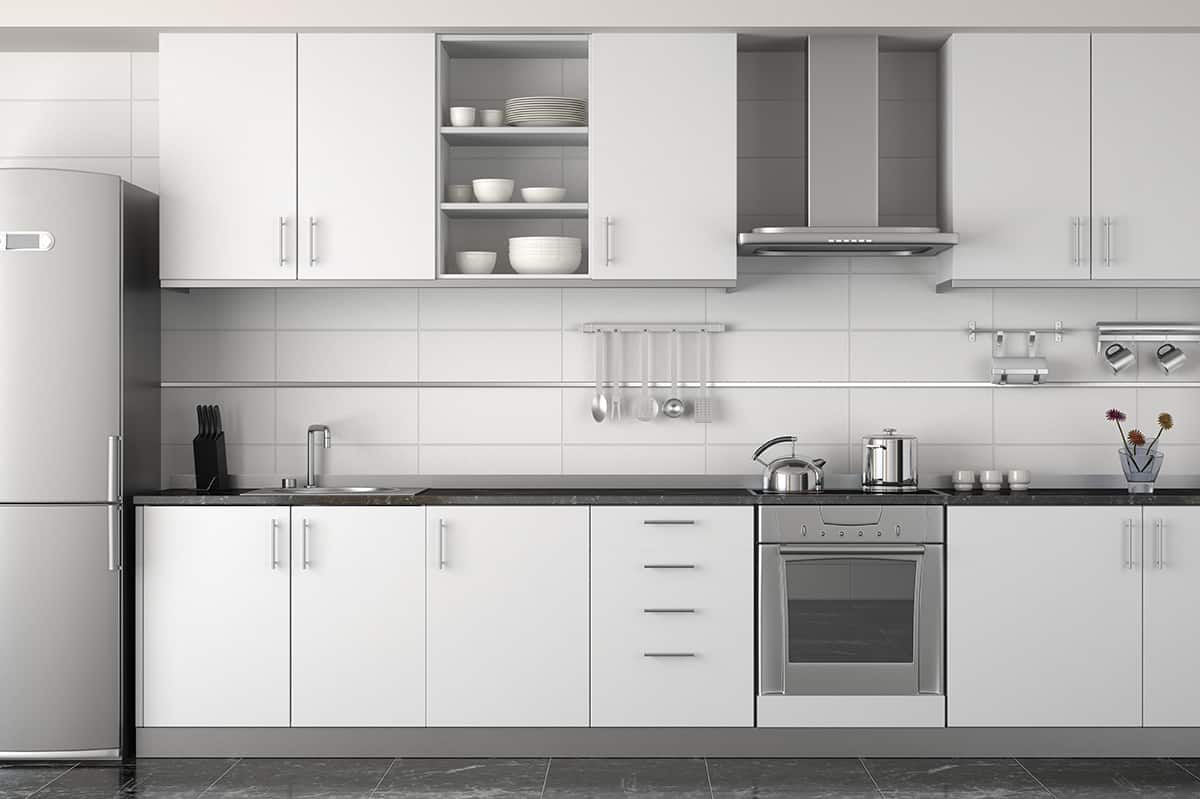 Stainless steel appliances have long been a homeowner's favorite over plain white appliances. This is because stainless steel repels bacteria, is much easier to clean and provides a shiny feel to a black and white kitchen.
In this modern kitchen with white cabinets and black countertops, we see the different textures of the grey stainless steel appliances playing in harmony with the rest of the kitchen space. The stainless steel appliances provide a clean, sleek line to the white cabinets.
Any other color you wish to add to the backsplash will make your kitchen even more eye-catching.
Include Subtle Hints of Color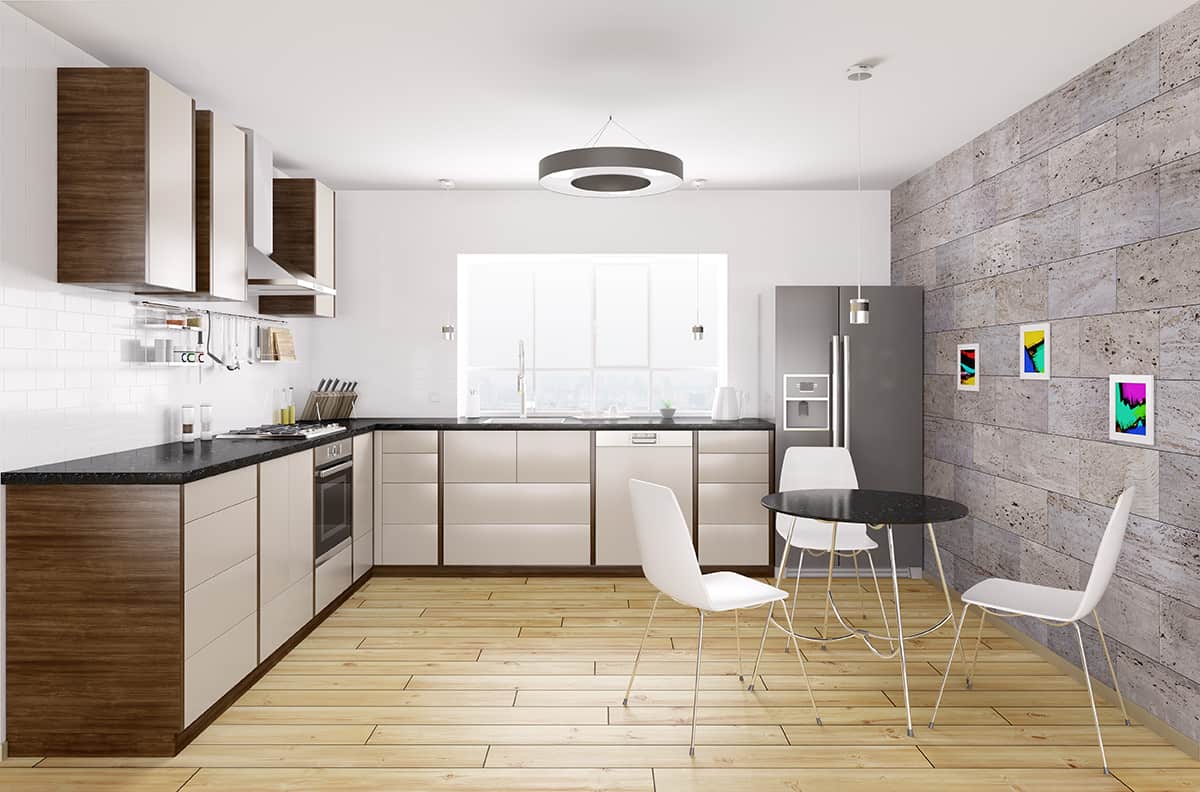 In a black and white kitchen scheme, you are free to experiment with other bright colors. White cabinets and black countertops are like blank canvas that can be paired with other bold hues. While a monochromatic design is stylish and timeless, it doesn't mean you can't introduce other finishes and colors.
Some ideas include warm yellows and oranges as well as different wood colors to pair with your white cabinetry and black countertops. Generally, any warm, bright shade works well with crisp white cabinetry and stark black countertops.
In this example, the small hints of color can be seen in the artwork on the concrete grey wall as well as the brown wooden siding on the cabinets. The beige wooden flooring puts the finishing touches on this modern kitchen.
Add More Neutral Tones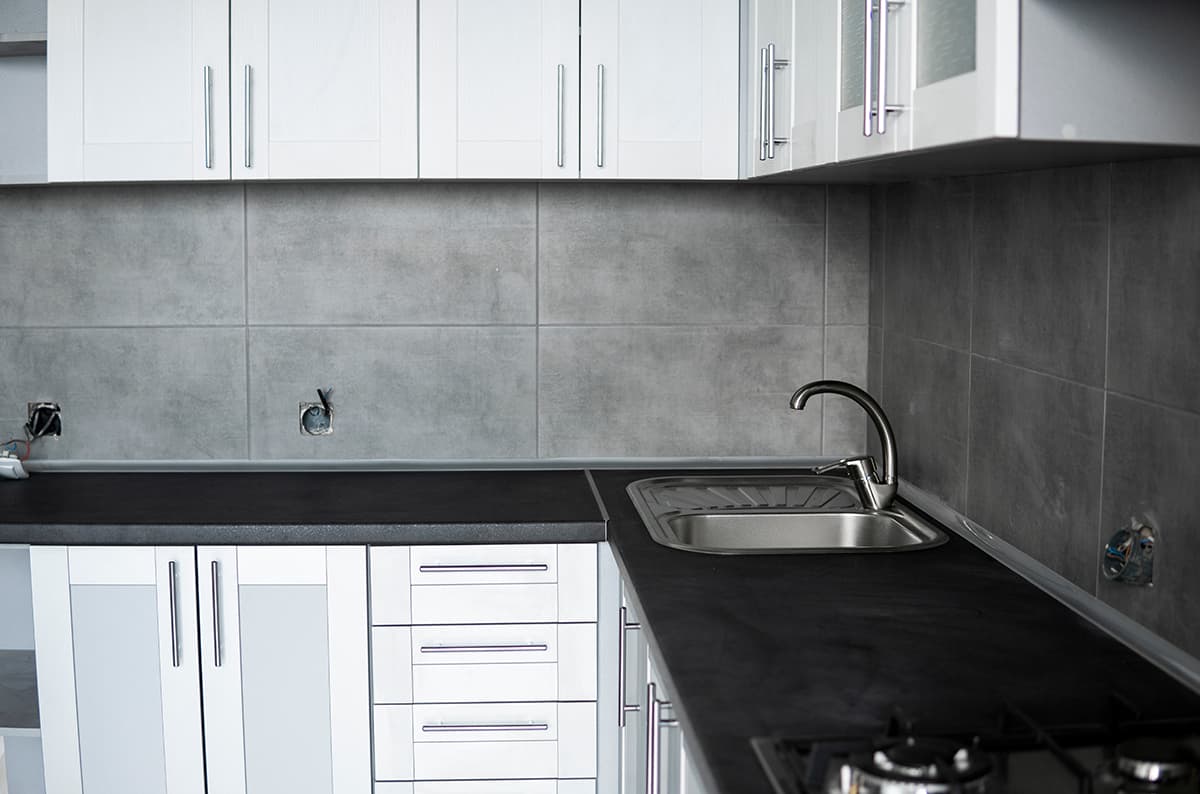 A neutral color palette doesn't have to be limited to just black and white. A kitchen with tiled grey walls adds an interesting look to the white cabinets and black countertops.
This idea works especially well in minimalist kitchens, and since grey is softer than stark black, it provides a space-enhancing feel next to white cabinetry. Grey can be used as the wall color or tiled backsplashes in a modern kitchen with black countertops and white cabinets.
Best Synthetic and Natural Materials for Black Countertops
When it comes to choosing the best quality kitchen countertops for your white kitchen, you'll have a number of great options. Whether your kitchen style is contemporary or rustic, there are synthetic and natural materials that will go well with white cabinets. Some of these materials include:
Marble
Marble is made of natural stone that's used to construct the toughest structures. This highly durable material has long been a favorite of home buyers who prefer marble countertops in their dream kitchens. Black marble is a particularly attractive countertop that goes perfectly with white cabinets.
This design features white veiny lines on an onyx black surface, which adds great beauty to a modern or traditional kitchen. The only downside to marble countertops is their premium cost, so if you have a tight budget, you may just opt for this material for your kitchen island.
Granite
Granite is another natural stone material mined from quarries. This beautifully designed stone comes in many patterns and variations. When chosen for countertops, black granite makes a great choice. It is highly durable as well as resistant to stains, scratches and heat.
Quartz
Highly popular countertop material is quartz, which is incredibly durable and resistant to stains and scratches. This virtually maintenance-free material comes in many different designs and colors including black. Unlike granite and marble that are natural materials, quartz is a man-made stone and more affordable than natural stone.
Slate
As a stunning material, slate consists of stone textures with rich colors including red, brown and black. These countertops are rarely seen as they are mostly used for roofs and flooring.
However, if you want your white kitchen cabinets to stand out, consider black slate countertops as they are highly strong and sturdy.
Soapstone
Soapstone is a mineral stone that's rather limited in color options. It is typically found in black, grey or blue, with less veins than marble countertops. Once the surface of soapstone comes in contact with air, it oxidizes and darkens over time.
Unlike marble or granite, this low-maintenance countertop is non-porous, thus it doesn't require any sealing. This makes soapstone highly resistant to stains and bacteria. What's more, soapstone doesn't crack or chip easily, although it can still get dented.
That said, you can easily buff the dented areas of the countertop to regain its original condition and natural beauty. This material isn't as costly as marble or granite and very suitable for both modern and traditional kitchens.