Maple kitchen cabinets were a popular choice for several decades due to their warm honey tones and medium shade that meant they felt inoffensive and easy to live with.
They have since fallen out of fashion, and most homeowners who buy a property with a maple kitchen will choose to replace the maple cabinets with new, more modern cabinetry, or those on a budget may decide to give maple cabinets a lick of paint to freshen up the look.
However, if you are in a rented property, or you're happy with the appearance of your maple cabinets, then you could paint the walls to improve the kitchen and leave the cabinets as they are.
Here we will look at some of the most stylish paint colors to use in a kitchen with maple cabinets.
Maple cabinets have warm honey tones running through them, which can make for a cozy and inviting kitchen; however, if you want to tone down the warmth in your maple cabinets, then choose subtle contrasts with cool shades such as pale gray, pale lilac, and pale green.
If you like the look of maple cabinets and want them to be the star of the show in your kitchen, then choose a strongly contrasting color and shade, such as charcoal gray and midnight blue.
The style you are trying to achieve will also be instrumental in choosing a color scheme, with cool colors helping to create a more modern feel in a maple kitchen and warm colors providing a more traditional look.
Best Paint Colors with Maple Kitchen Cabinets
Olive Green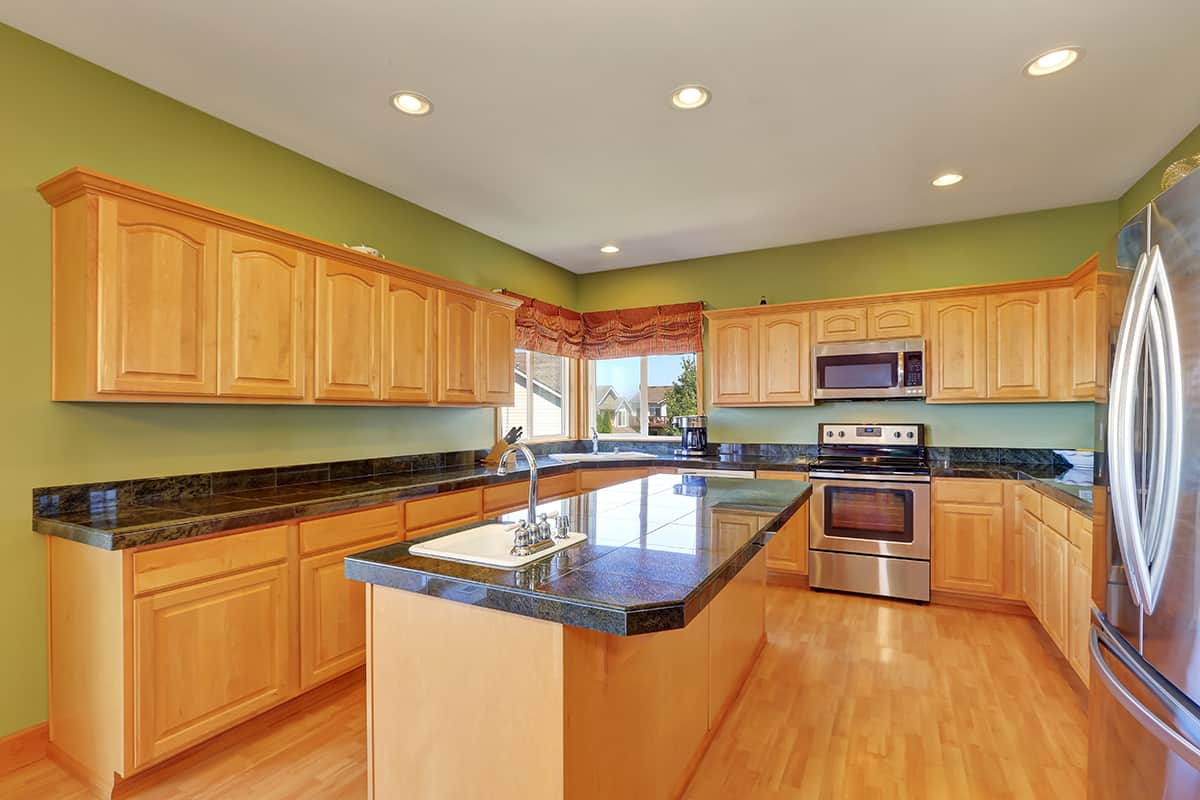 Olive green is a murky green color that is synonymous with nature and the outdoors. Olive green wall paint will contrast against maple cabinets because maple is a warm color, while olive green has cool tones. You can use these two colors to create a natural theme in your kitchen, as both are shades that would be found in the natural world.
The earthy tones in olive green will help to balance out any rich tones in maple wood and make for a fresh and relaxing room.
Encourage the natural theme by introducing houseplants into the space or have a herb garden growing on your windowsill. Brown or gray shades will work well with this color scheme, so consider a hardwood floor or gray tile floor.
Pale Sky Blue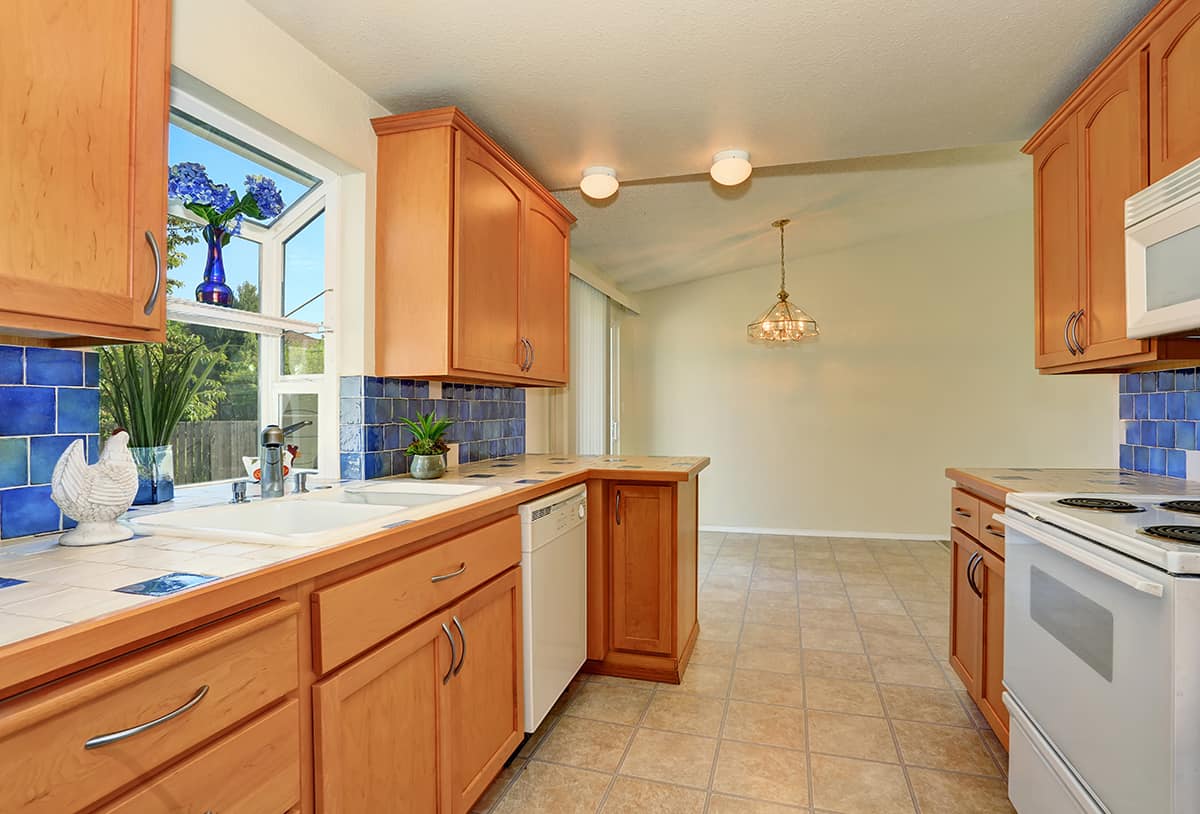 Pale sky blue is a cool and refreshing color that will help to contrast the warm and cozy energy found in the maple cabinets. If you are trying to make your kitchen look less old-fashioned, then sky blue is a good color choice because it feels revitalizing without being loud and overwhelming.
Use dark blue or dark gray accents with this color scheme to build on the cool tones and ensure the theme remains modern.
With a pale color on the walls, you can afford to use dark shades elsewhere in the space, so look for dark countertops and dark floor surfaces for a kitchen with this color scheme, such as black granite countertops or slate gray floor tiles.
Alternatively, with pale sky blue walls, you could create a coastal vibe in a maple kitchen. To do this, opt for light neutral shades, such as a white solid surface countertop and whitewashed wooden floors, as this will result in an easy-breezy look that helps to define a casual, beachy look in a room. Visit our article on what color countertops go with maple cabinets for more color choices.
Slate Gray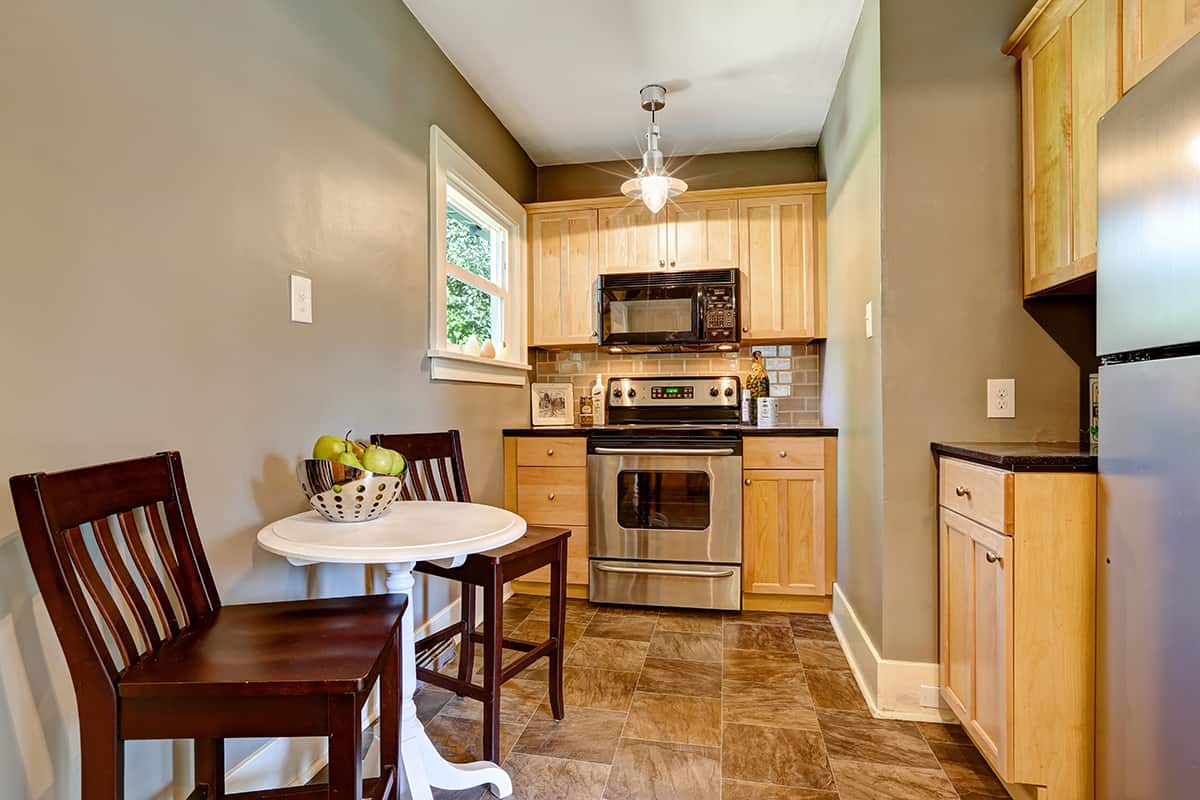 Dark shades of gray such as slate and charcoal are very contemporary, and painting walls in these colors gives a room an instant transformation and brings it up to date.
The dark wall color will help to distract from the maple cabinets and draw the eye away from them, but the depth of it can also make the maple cabinets stand out more and define them as the focus, so consider this when choosing your paint shade.
With dark gray walls, add splashes of color to draw attention away from the cabinets, such as blush pink or emerald green in the form of fruit bowls, salt and pepper grinders, or window blinds.
You could also use this color scheme to create a modern version of monochrome, using dark gray walls and off-white accents such as an off-white countertop or an off-white backsplash. To ensure the maple kitchen feels modern, opt for contemporary materials and designs such as subway tiles and Corian or quartz countertops.
Ivory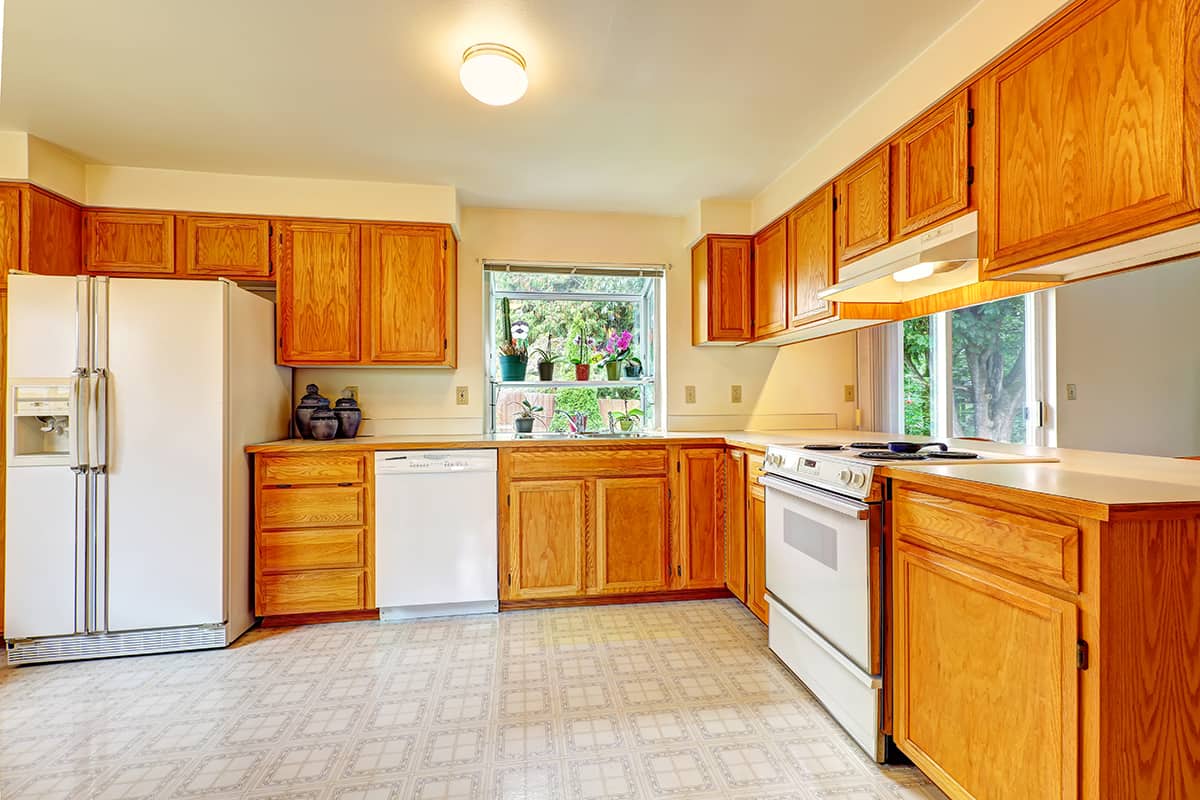 Ivory is a warm version of off-white that can make for a really soft and subtle blank canvas in a room. Paint the walls of your kitchen in ivory for a neutral color palette on that you can add accents in any color you like.
Although ivory is a warm shade of off-white, it will still be considerably cooler than the maple cabinets, and so the two colors together create a gentle contrast that can work well for contemporary styles. Make the room bright and fresh by adding yellow accents or create a more boho look with a variety of accessories in several colors.
Pale Blush Pink
Blush pink is a really popular color in interior design right now, and it can be used all over the home, not just in girls' bedrooms, as we were once led to believe. Pale blush pink in a kitchen with maple cabinets will come across as almost neutral because of the contrast between the two shades.
This is a soft color with a subtle hint of femininity that you can choose to bring out with blush pink accessories or offset it with accents in more masculine shades such as navy blue and dark gray.
Green shades such as mint, sage, and moss green can work really nicely with blush pink, and they will also complement the maple cabinets, so consider green as your third and final shade in a pink and maple kitchen.
Terracotta
Terracotta is a color that sits somewhere between tan, orange, and brown. It is a rich and earthy shade that can be used to help maple cabinets blend into the background while also making the kitchen feel contemporary.
While bright shades of orange can be loud and inspire creativity, the terracotta earthy vibe gives it a grounded feel. Use gray or eggplant purple as contrasting shades with terracotta and maple to balance out the warmth and intensify the depth of the colors.
Soft Lavender Gray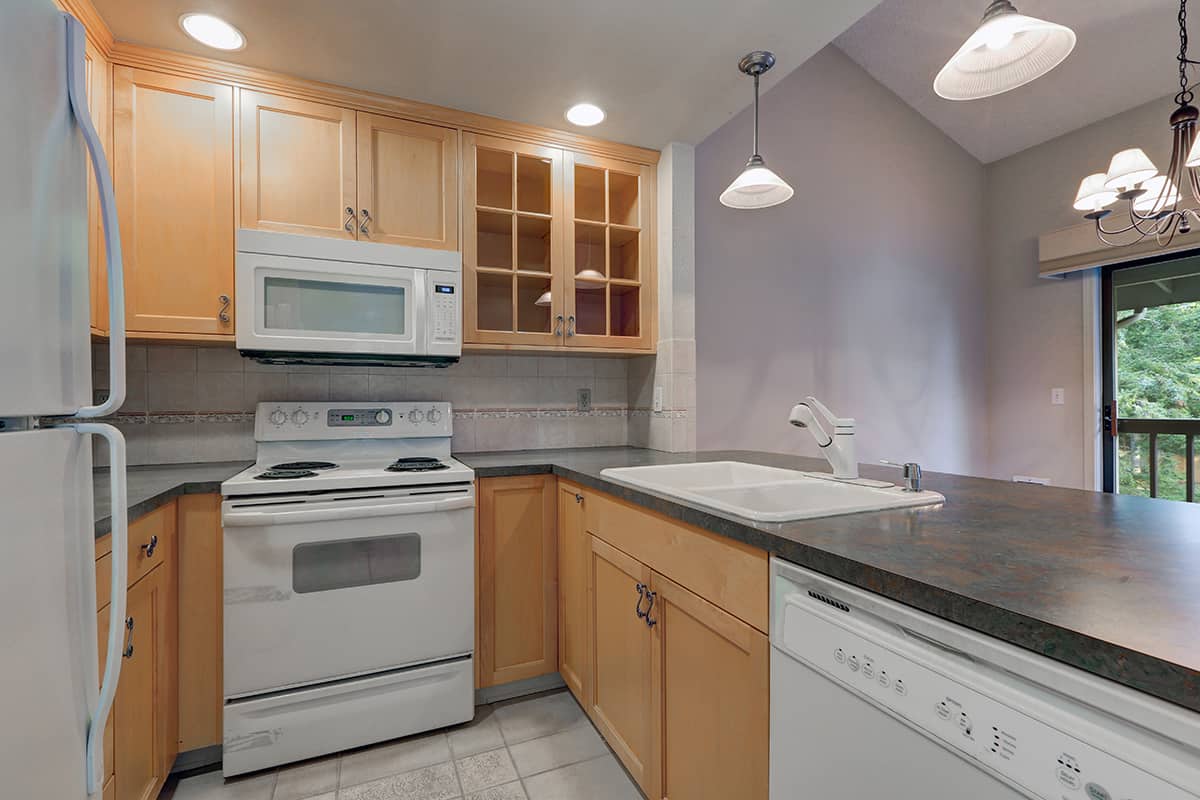 Maple cabinets have orange and yellow tones, and as orange and yellow sit almost opposite purple on the color wheel, this makes purple a contrasting and complementary shade for maple; however, dark or bright purple walls in a maple kitchen would be overstimulating, so instead opt for a gray shade that has a hint of lavender coming through.
This will provide a gentle contrast while still ensuring the kitchen feels fresh and modern. Lavender gray paint will have a coolness to it that can balance out the warmth in maple cabinets, and it can also add a delicate and pretty vibe.
Choose blue accents to bring out more gray tones in this wall color or mustard yellow accents to highlight the purple tones in it.
Mid Blue-Gray
A medium shade of blue-gray wall paint will work well alongside maple cabinetry because it is bold enough to attract attention while subtle enough not to create a stark contrast with the orange tones in the wood.
Blue with gray tones makes for a more modern option than a plain blue, and the coolness of it will be welcome and refreshing amongst the warm tones of the maple wood. Nice accent colors for this color scheme would be dark slate gray, blush pink, forest green, or white.
Sage Green
Sage green is a fresh shade of green that makes for an upbeat, cheerful feel in a space. It will work well with maple cabinetry because it offers a gentle contrast, with the cool tones in sage green balancing out the warm honey tones in maple wood.
White or gray countertops would work well in a sage green and maple kitchen, with dark flooring to ground the room, such as charcoal gray tiles or a dark hardwood floor. Sky blue accents will work well to create a country cottage style or opt for gray and black accents to achieve a more contemporary look.
Denim Blue
This dark and dusty shade of blue will go perfectly with maple kitchen cabinets to create a cozy yet modern theme. The blue will contrast the orange elements of maple cabinetry, making the cabinets stand out.
A pale gray countertop will offset the warmth in the cabinets and create a nice tone with the denim blue walls. With walls in such a dark shade, you may want to opt for a pale floor to help balance out the space; this could be with a light wood flooring surface or off-white tiles.
Beige can be a nice color to use with this color scheme to tie in the maple cabinetry while subduing the honey tones.