Oak cabinetry has been a longstanding popular choice in kitchens because it is very durable and adds warmth and character to a room. Some people find that deep honey oak kitchens look outdated, while some enjoy the more traditional look.
Typically you can expect that oak cabinet are made from solid wood, so they tend to be quite expensive, which may deter you from removing and replacing oak cabinets if you move into a property with a solid oak kitchen.
Whether you want to update the look of your oak kitchen or are having new oak cabinets installed, you'll need to consider the handles and hinges that you are going to use with them. Here we look at which color hardware works best with oak cabinets.
Should You Update Your Hardware?
If you have an existing oak kitchen, then you may be feeling that it is starting to look a little outdated. Oak kitchens were at peak popularity in the 1990s, so if your kitchen dates back as far as this, then it's fair to say you should probably consider updating the style.
As oak cabinets tend to be such a high-quality product, you may be reluctant to replace them if they are still in good condition and function as they are supposed to, even if you're not keen on the style.
Or you might despise the look of your oak cabinets and are desperate to get rid of them but can't yet afford to renovate the whole kitchen. If this sounds like you, a very easy and inexpensive way to update the look of oak cabinets is with new hardware.
Modern hardware can make all the difference on outdated cabinets, but you'll need to understand how to make the best choice to help bring your old oak kitchen into the 21st century. If the current hardware on your oak cabinets is showing its age, this is a sure sign that you need to replace your handles and possibly the hinges to match.
Dated handles on oak cabinets include those which are made from plastic, wooden pulls, highly ornate handles, and ceramic handles with decorative paintings on them, such as flowers or produce. If you have any of these types of hardware on your oak cabinets, you should definitely consider upgrading.
Hardware Colors for Oak Cabinets
Black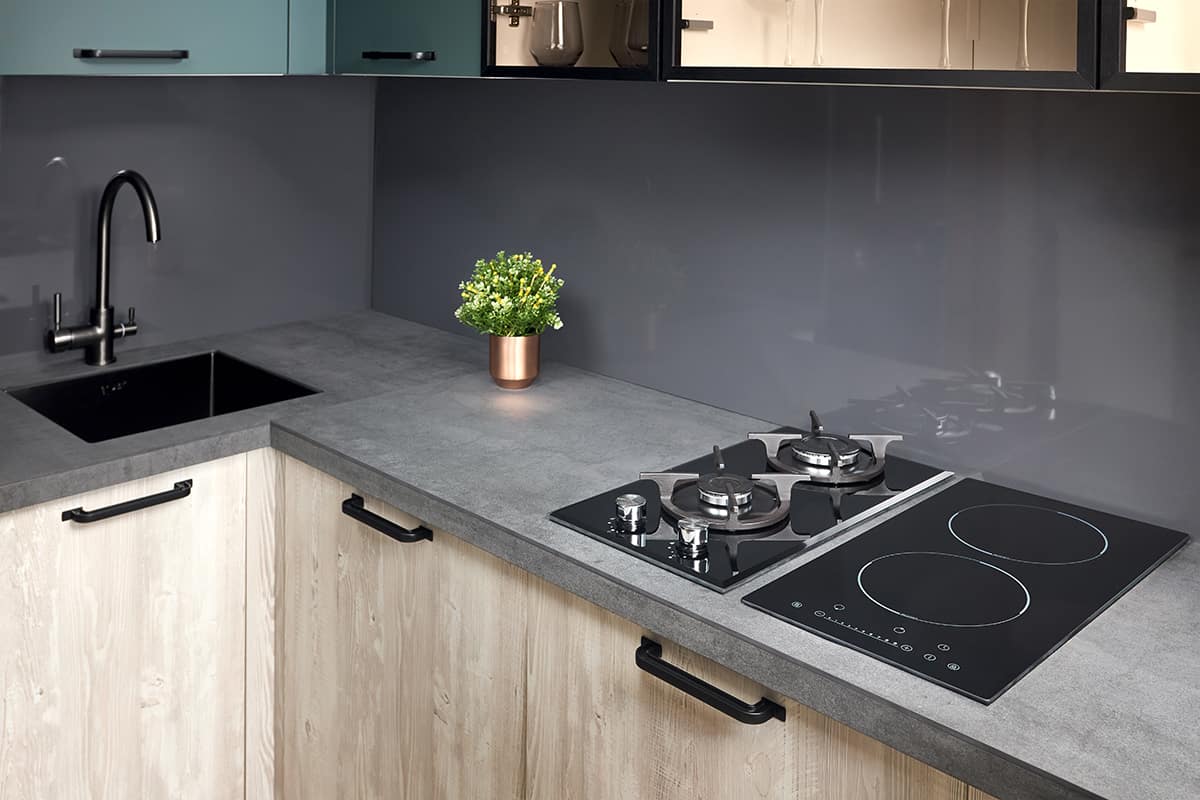 Black is a nice neutral choice of hardware color for oak cabinets. It is neither warm nor cool but is a bold shade that will stand out well against an oak background.
The starkness of black hardware can draw attention to the handles and distract from the oak cabinets. Choose a matte black finish for a modern style or a high gloss finish for a more luxurious vibe.
Neutral colors, such as black, white, or gray, are also among the safest options for floor colors to pair with oak cabinets.
Silver or Nickel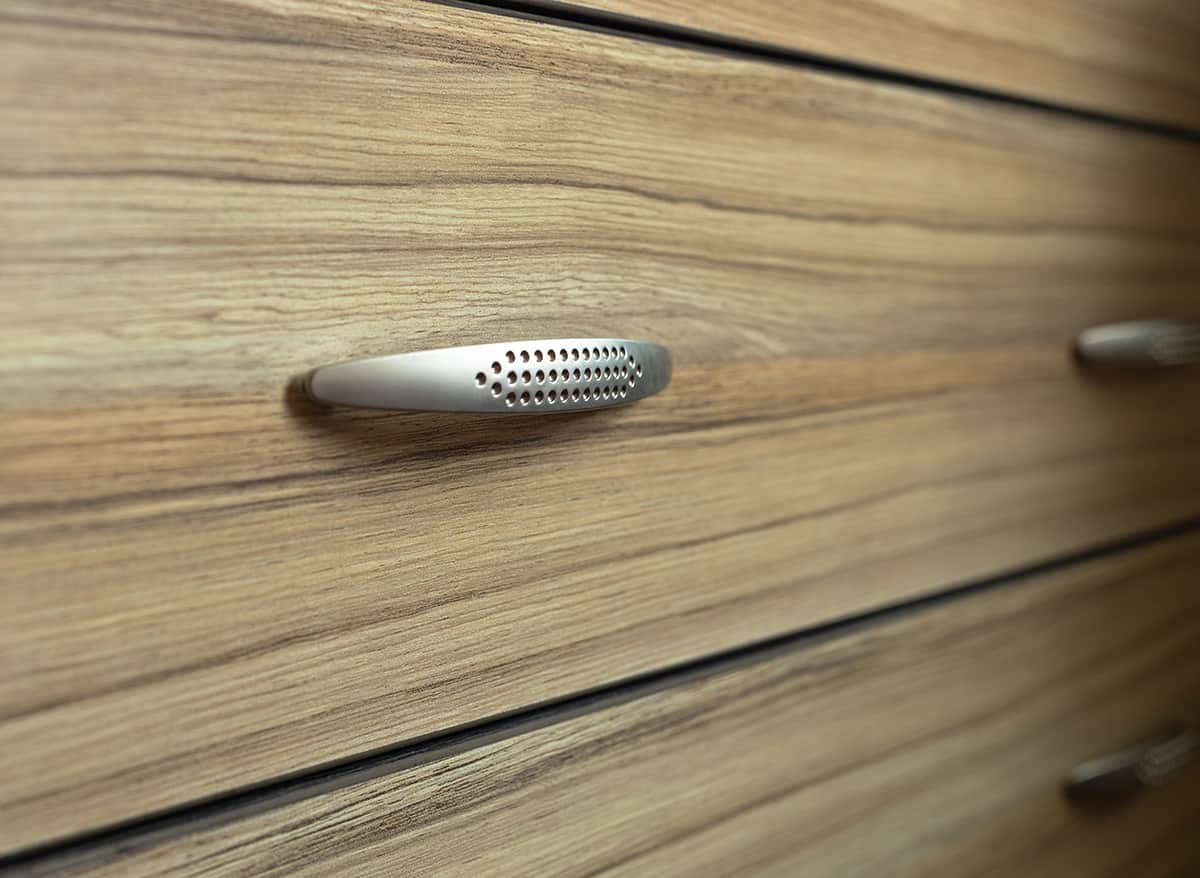 Silver is a good choice of hardware for oak cabinets because it is a cool color that offers a nice contrast without being too bold or obvious. This is a nice option if you want a modern yet classic look because the silver hardware won't stand out too much and instead will add a subtle highlight to the room.
Nickel also works well as this is a similar color of the hardware. If you do want to make a statement with silver or nickel handles, choose long T-bar handles, which are larger in size and therefore are more visually obvious, and they also have a distinct modern industrial look.
Oil-Rubbed Bronze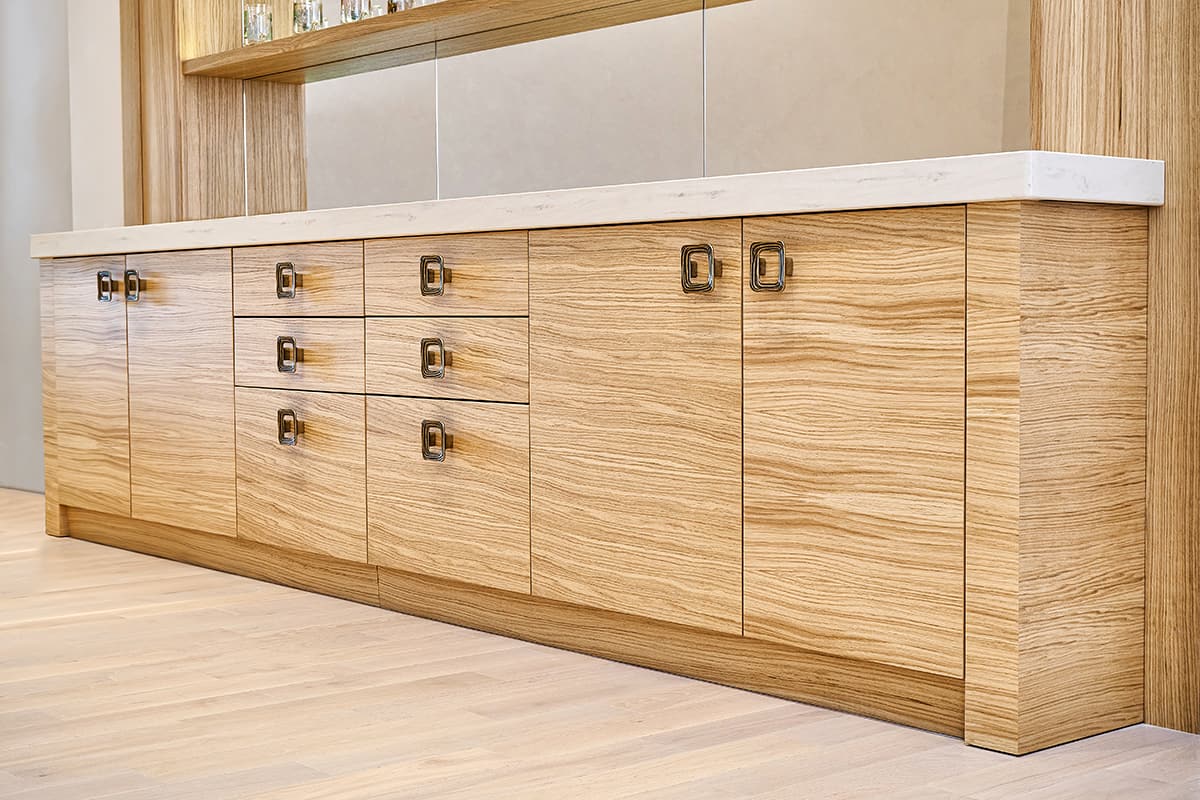 Oil-rubbed bronze hardware is a softer choice than black, but it will achieve a similar look. In dark lighting, oil-rubbed bronze handles can look black, but when light is shined on them, they reveal a shimmering golden look.
This is a nice compromise between black and brown because it can appear as both colors depending on the light and the time of day.
Oil-rubbed bronze offers a warm hue that you don't get with black hardware, and this is one of the few instances where warm hardware will work with oak cabinets.
The reason it works is that it is so subtle and does not draw attention, instead helping to highlight the warmth in oak. This type of hardware offers a more traditional look which can work well in a rustic-style kitchen.
Handles in oil-rubbed bronze can look heavy and solid, which can help to make an oak kitchen look more substantial and expensive.
Gold or Brass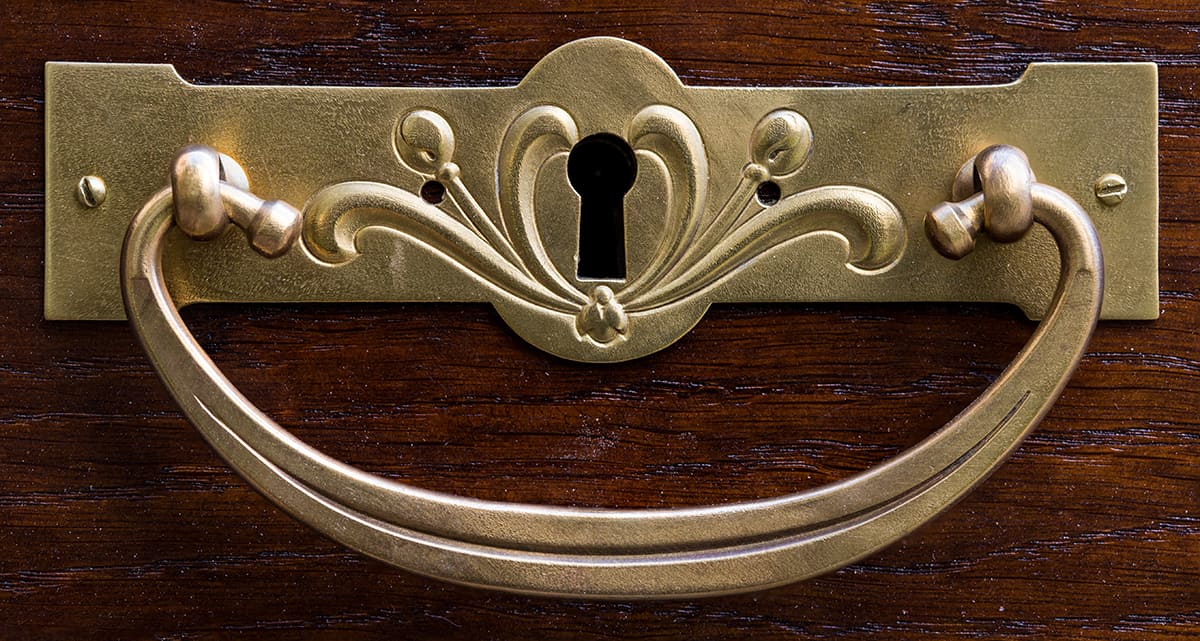 Gold and brass are unusual colors of hardware to use on oak cabinets because they do not offer a contrast, and some hardware in these colors can look very dated. However, there are ways to achieve a modern style with gold and brass hardware.
Avoid high-shine gold or brass finishes and instead opt for hardware that has a matte or brushed finish. This will ensure the result is modern and chic.
For a mid-century modern look, pair brown oak cabinets with flat gold hardware. The warm tones of matte gold and brass handles are subtle and help to pick out the golden hues running through brown-colored oak.
Continue the softer look with the use of contemporary and natural style touches, such as simple art prints on the walls and houseplants dotted around the space.
Oak Cabinetry Hardware Tips
There are many things to consider when buying new cabinet hardware which can help you make the right choice for your space and your style.
Contrast
The key way to make an oak kitchen look more stylish is to find a color of hardware that contrasts or stands out against the cabinets.
The contrast will draw the eye to the hardware and can distract from the oak cabinets themselves if this is something you are keen to achieve. Oak cabinets that have a brown tone will work well with silver or nickel hardware because the contrasting color to brown is a blue-toned gray.
For oak cabinets that have more of an orange honey tone, black hardware can work really well as it looks bold and striking against the warm honey hues.
Style
The style of your new hardware should be in keeping with the whole look of your kitchen to ensure a cohesive design.
If you are updating your kitchen, then choose new handles for your cabinets that will reflect the style you are trying to achieve. For a new kitchen installation, think about what you want the final results to look like and base your style around this.
If you are trying to achieve a modern look, then go for hardware that is sleek or simple in its design, and avoid handles that are overly ornate.
For a more traditional look, you might want to select handles that nod to a more classic styling. When considering handle style and shape, think about other elements in your kitchen such as faucets, appliances, and fixtures, and fittings such as lighting.
If you have a very modern and minimalist faucet, then dainty or delicate-looking cabinet hardware will not look in keeping with the overall room design. You should also try to match the color of your hardware to other elements in the room. For example, if you have a black refrigerator and a black ceiling fan, then black cabinet hardware will help to ensure your style is well coordinated.
The great thing about oak cabinets is that although they can be a dominant feature in a kitchen, they are actually a good blank canvas on which you can create your own style. Even more, old-fashioned style oak cabinets can look modern with the addition of some industrial style hardware and the right color walls.
Match Hinges
If the hinges on your cabinets are visible when they are closed, then they will need to match the handles. The hinges and handles should match in both color and style, but the color is the most important component to get right because it will be very obvious and off-putting if your hardware is in two different colors.
If your hinges cannot be seen when the cabinets are closed, then this is not an issue, unless it will bother you to see mismatching hardware when you open your cabinets.
Refinish
If you want to save money, or you like to repurpose old items to reduce the number of products going into landfills, then refinishing your existing handles could be a good option.
If your current handles are wooden pulls, then these can be easily updated. Simply remove them from the cabinets and paint them in a color of your choosing.
Remember to choose a shade that contrasts the oak cabinets. Gray could be a good option as this will help to subdue the warm tones in oak and also add an instant modern vibe to any design.
Metal handles can also be painted but bear in mind that if the pain scratches off, this can make the kitchen look unkempt. As kitchen handles tend to get very regular use, new handles might be a better choice in this instance.