A dark grey sofa is a classic seating choice for any modern or contemporary design living room. A deep shade of grey like charcoal is an ideal modern color that can harmonize the living space. If you want to know what colors go with a charcoal grey couch, a blend of soft neutrals or colorful accessories will provide a clean and contemporary look. But the trick is knowing which colors work and which don't next to a deep charcoal grey couch.
From repainting your living room walls to adding colorful throw pillows and indoor plants to refresh your space, here we have put together some excellent interior styling ideas to make the most of your charcoal grey couch.
Best Color Pairings with a Charcoal Grey Couch
Pair Charcoal Gray With Blue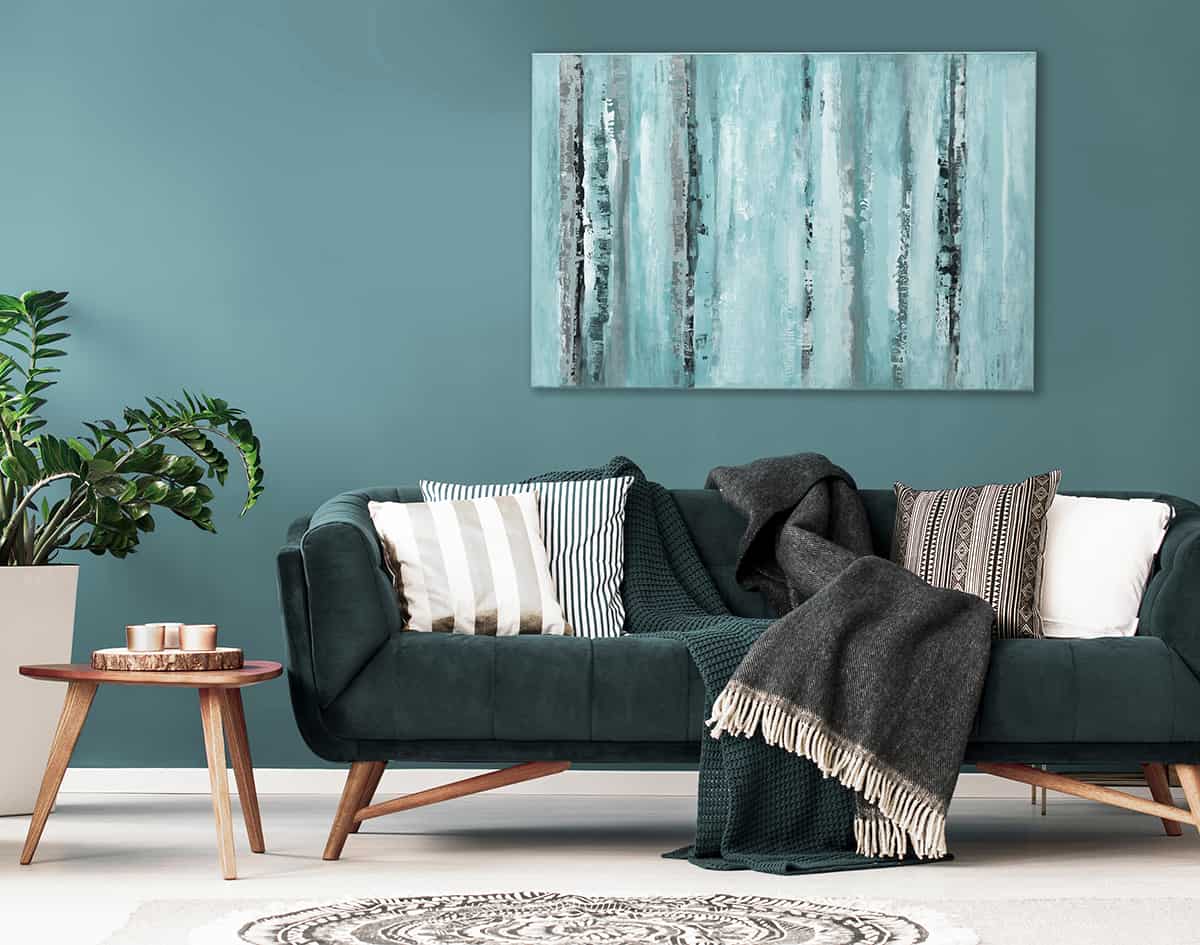 While it's true that the options for creating a color scheme around a charcoal grey couch are endless, there is no doubt how this rich color goes beautifully with any shade of blue. This is thanks to the blue undertone of charcoal, which can guide you to pair it with the blue wall color, accessories, or furnishings.
Blue is most people's favorite color and where better to use it than next to your charcoal grey sofa. Greyish blue, teal, navy, and even sky blue all go well with a charcoal couch.
If you are using light blue, it will help make your living room feel larger, while a darker shade of blue draws the eye towards the couch. Look for cooler shades of blue such as navy or teal as they work very well with dark grey hues.
Use Neutral Color Tones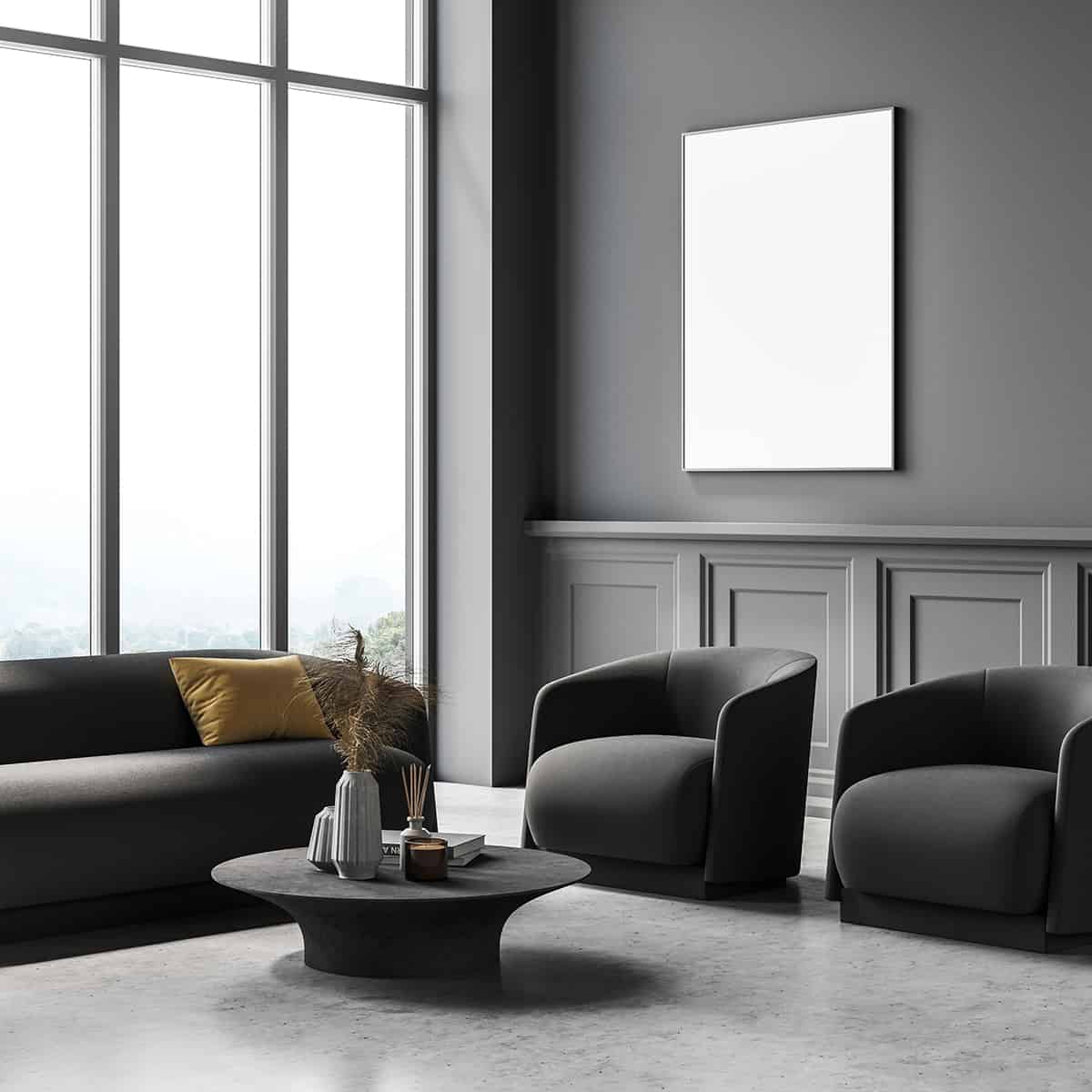 Dark grey seating provides a beautiful base for neutral color schemes. Subtle, neutral colors such as beige, light grey, or off-white can help soften the charcoal grey and create a welcoming living space. Neutral colors go beyond white and feel cozier.
They can make a living room feel brighter thanks to their warming effects. So whether you choose to paint your walls in neutral colors or pair your charcoal grey couch with combinations of wood tones, beige, sepia, or even black, your living room will have more depth and dimension.
Upon pairing your couch with neutral tones, make sure you vary the neutral colors' brightness around the room.
For example, a light grey wall behind the charcoal grey sofa can serve as the perfect backdrop to an assortment of other neutral tones around the couch in order to add further interest and draw the eye to the sofa. After all, in a neutral setting, you'll want your charcoal grey couch to be the center of attention, right?
Pair the Charcoal Gray Couch with Orange Wall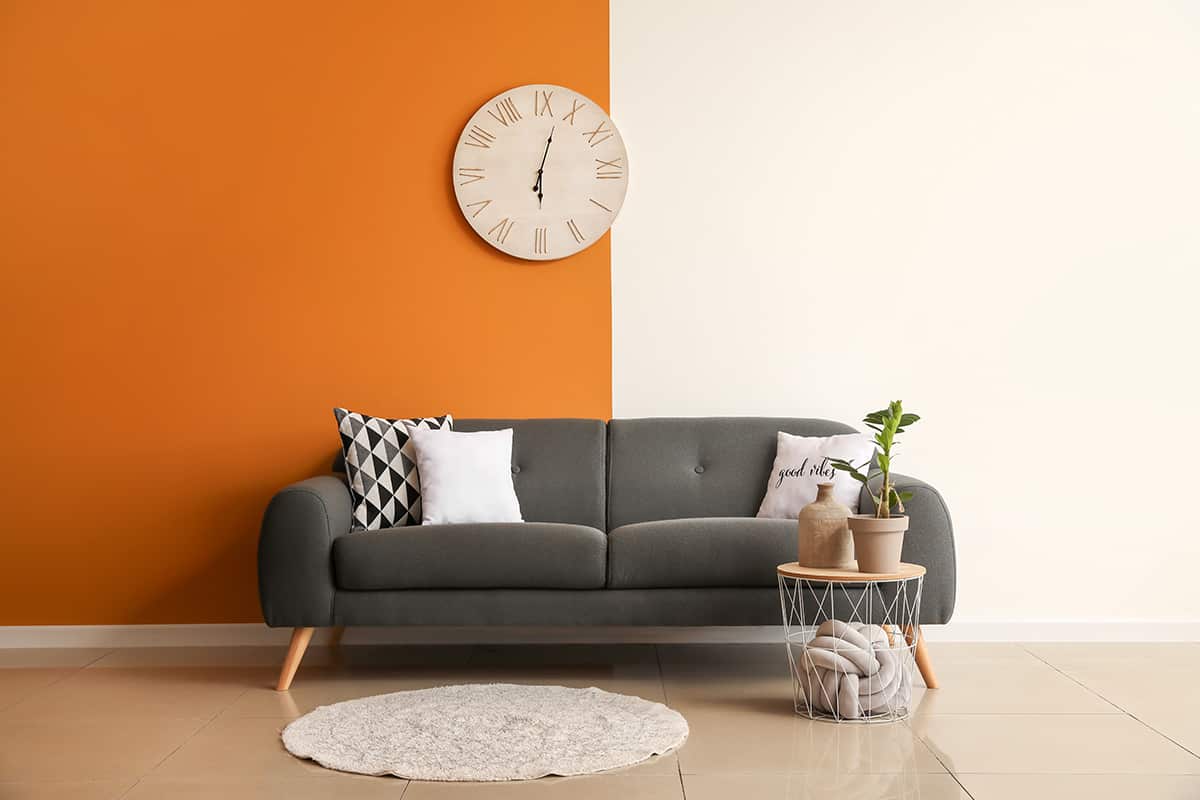 Charcoal grey is such a classic color that it can easily be styled in any way you like. This daring grey shade on a couch will look even more dramatic next to a bold wall color like orange. The bold and bright wall color will still work as a focal point thanks to the sharp contrast. When paired with accent pillows or an area rug in similar colors, the overall look will make a more polished statement.
We all know grey is a neutral color, so in fact, you can coordinate your couch with any bold color. But our top choice is orange thanks to its heartwarming effect. An orange wall can really make the living room pop without taking the focus away from the charcoal grey couch.
Accent Your Charcoal Grey Couch with Soft Pink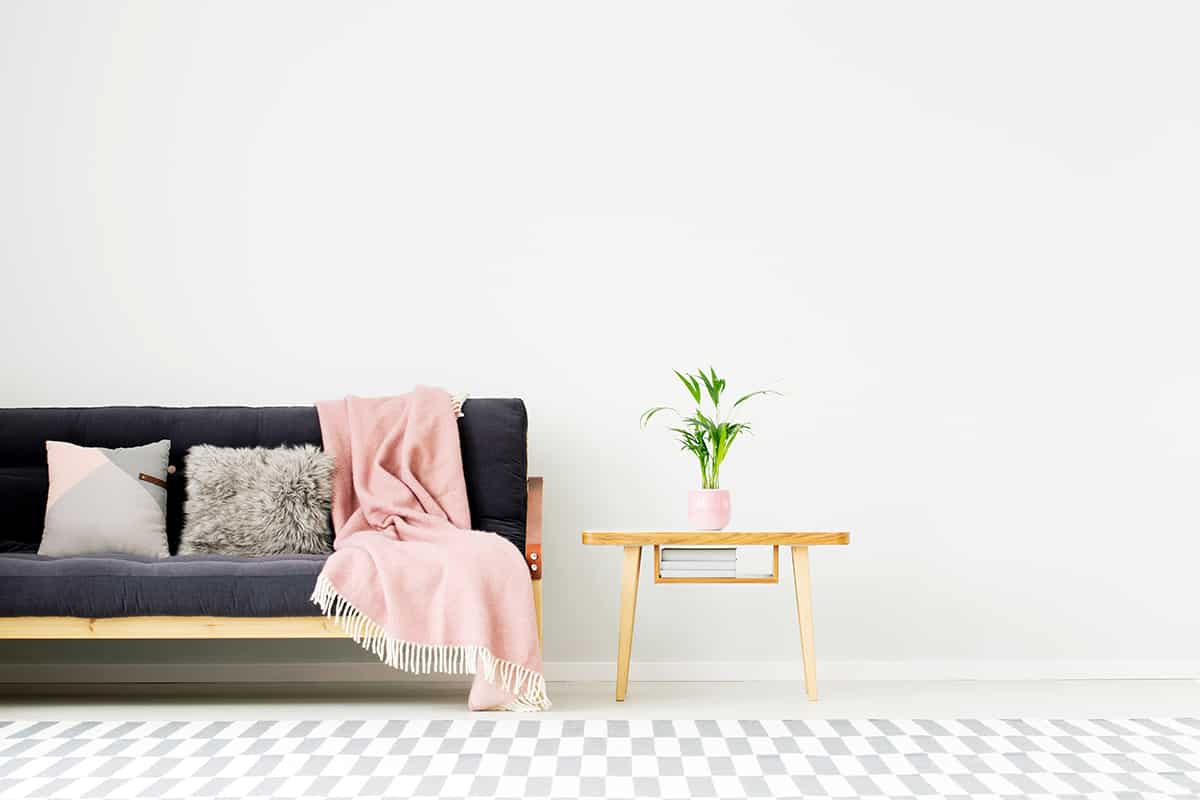 Since your sofa already has a lovely soft blue tone to it, incorporating softer colors into the design will work very well. Soft pink isn't just for a feminine room. A pastel shade in the form of a throw blanket adds just enough contrast without appearing overwhelming.
In this example, the pink throw blanket and vase add a nice soft touch to the charcoal grey sofa as contrasting colors that actually complement one another.
Go with a Fiery Red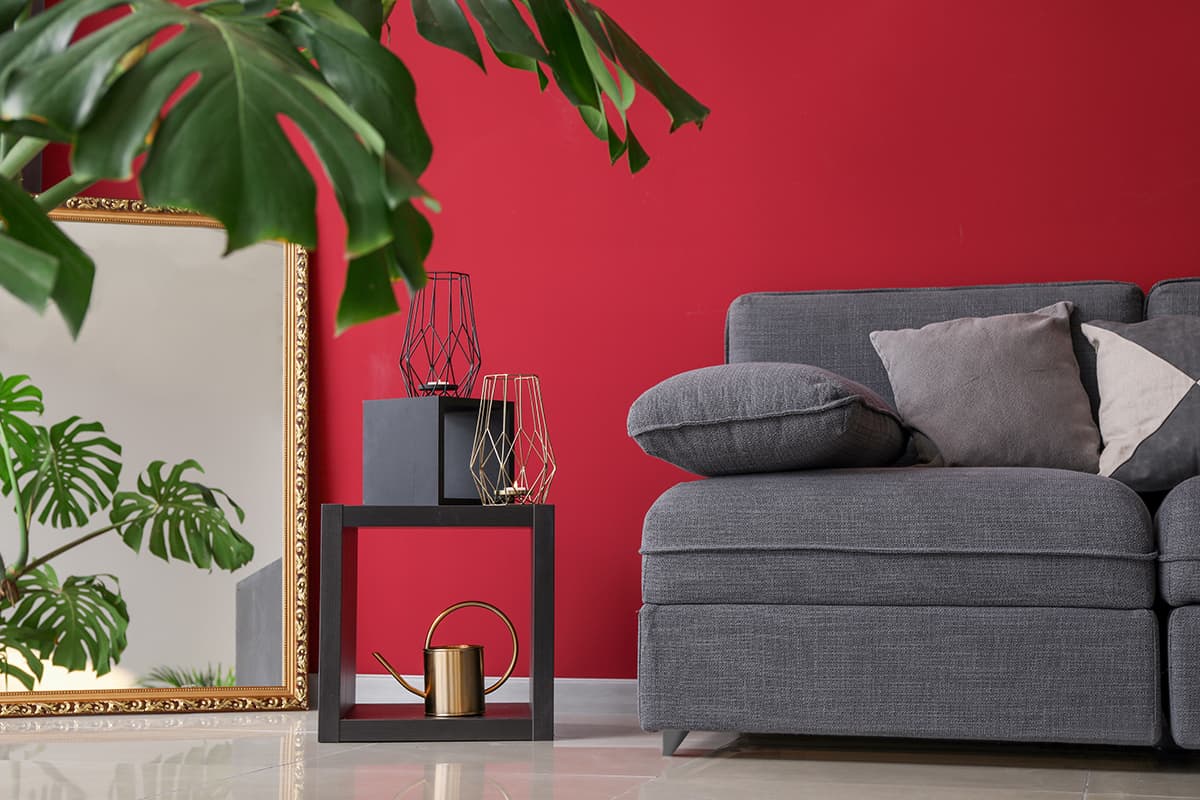 A fiery shade of red serves as a bold companion next to charcoal grey. To make a dramatic statement with this color scheme, paint your wall burgundy red and add some decorative gold accessories to your living room like a gold-framed mirror.
The combination of fiery red and charcoal grey color scheme is certainly eye-catching in this example. Red is a vibrant color that's completely the opposite of neutral grey, thus providing a bold backdrop for the seating furniture.
Combine Charcoal Grey with Black and White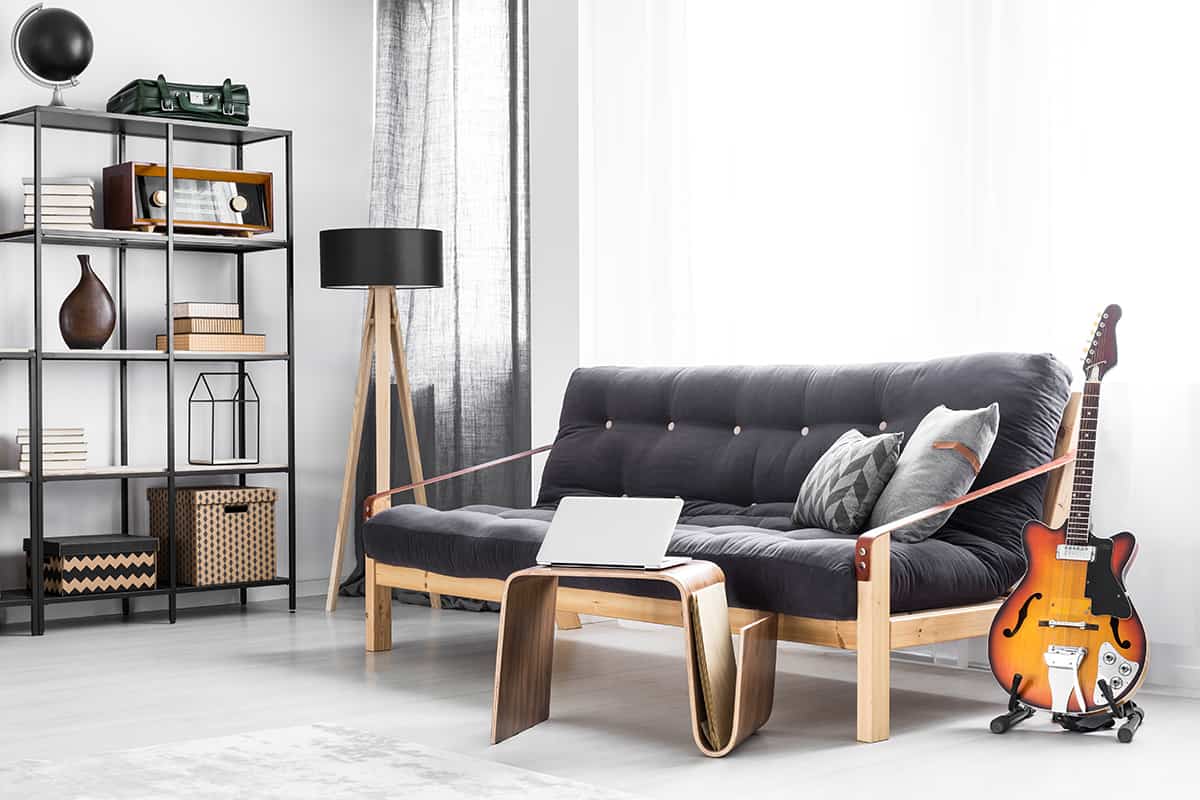 A charcoal grey sofa has black, white, and grey undertones so what better way to combine your seating furniture with black and white colors as a nice balance. Black and white are visually stimulating and let you incorporate other patterns in the design. This futon is perfectly paired with black and white decor, which all blend very well together.
Add Colorful Pillows and Throw Blankets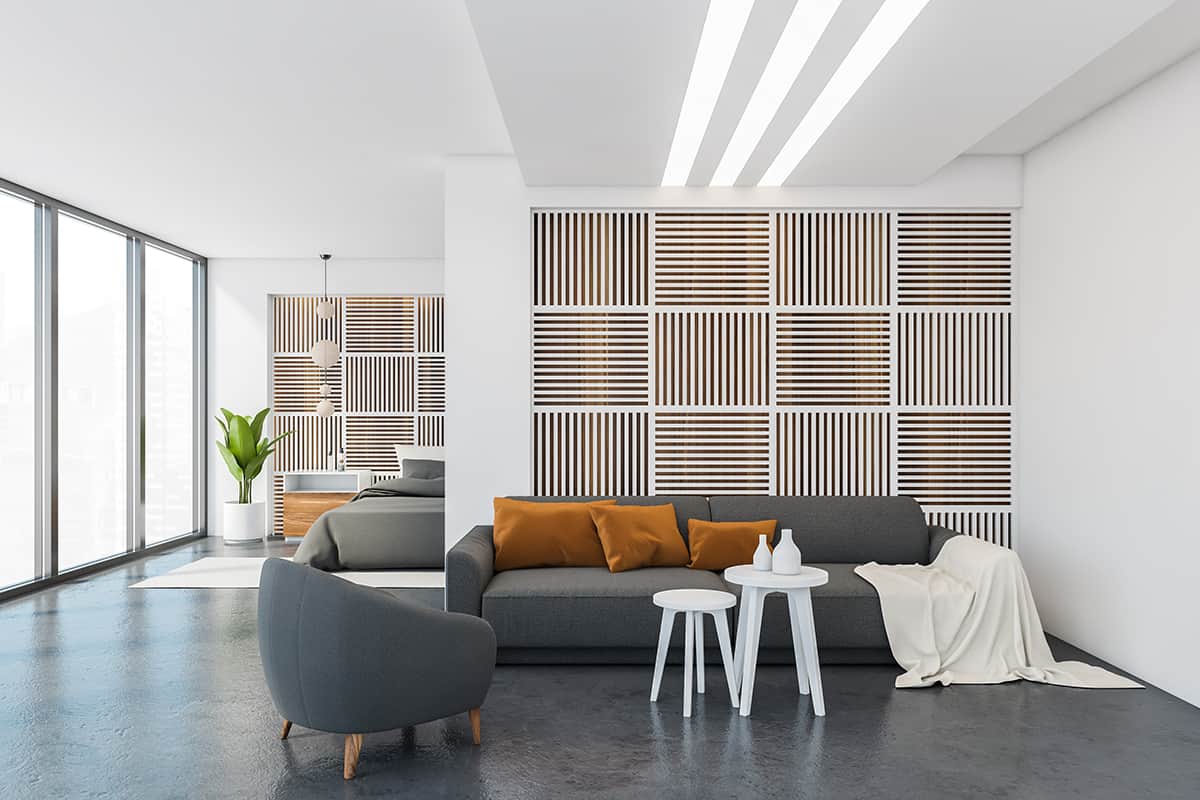 Decorating a charcoal grey couch with some throw blankets or pillows is a must if you want to add some color to the living room. With a charcoal grey couch, it's best to add a layer of high-sheen throw pillows with the accompaniment of a matte throw blanket.
Just like in this bright living room, the high-sheen brown pillows and white throw blanket on the charcoal grey couch have given the space a luxurious and transitional look. The furniture design is the focal point of this room thanks to the addition of white tables.
Pillows and blankets are the most inexpensive way to decorate your charcoal grey couch and to keep up with the latest interior design trends. Just pick a pillow color or material that contrasts against your sofa like the one shown here.
Keep it Stylish with Plenty of Greenery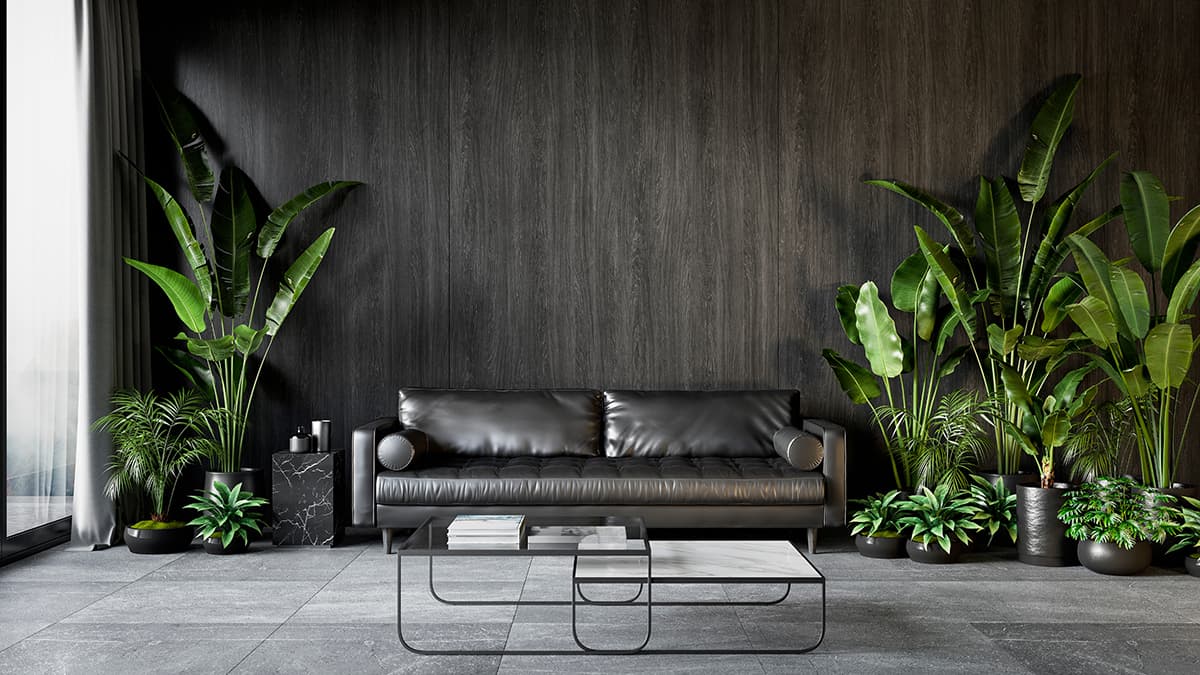 When decorating your charcoal grey couch, remember to add plenty of indoor plants to style the couch. Vertical greenery is a great way of contrasting the horizontal layout of the sofa. This means add tall plants to flank your couch.
A tastefully arranged row of plants on both sides of the couch brings much charm to the seating furniture. And if you're not blessed with green fingers, go for low-maintenance plants or succulents to define your living room with some botanical artworks as shown here.
The living room wall, floor, and furniture are all in dark colors. However, the generous addition of green plants has transformed this neutral space into a warm and welcoming room.
Add Wooden Furniture for a Rustic Feel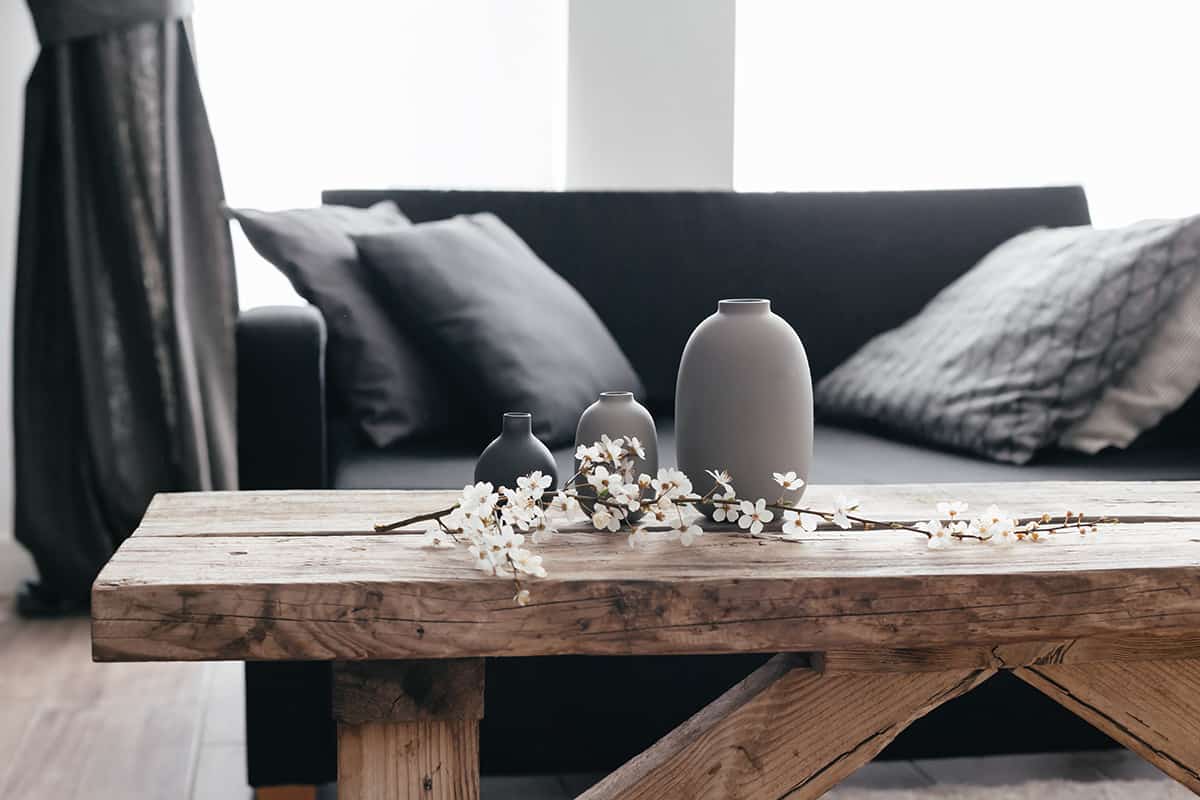 There is no doubt that a charcoal grey couch pairs wonderfully with natural wood. A rustic wooden coffee table, for example, together with metallic finishes like gold or silver will give a glam effect. It is easy to play around with natural elements to find what's best for your charcoal grey couch pairing.
Paint the Walls 3 Shades of Grey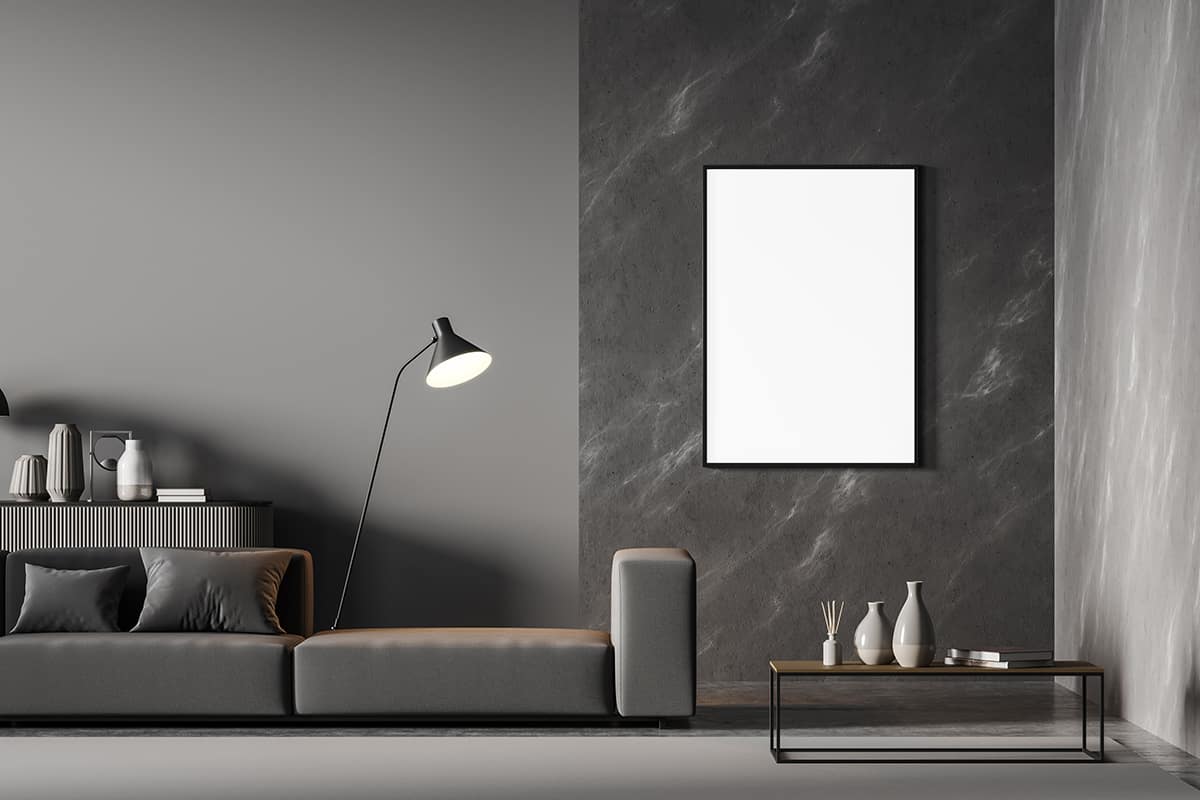 Lighter shades of greys for wall paint can make your charcoal grey couch stand out while still looking totally flawless. Even if you're not keen on repainting your walls in 3 shades of grey, adding the 3 shades by choosing marble walls will work beautifully.
These combos bring a modern and inviting vibe to the living space. Pairing your charcoal grey couch with 3 shades of greys is perfect for any minimalist or modern style decor. This monochromatic look provides a relaxing and comfortable living room as you can see here.
Pair Brown with Charcoal Grey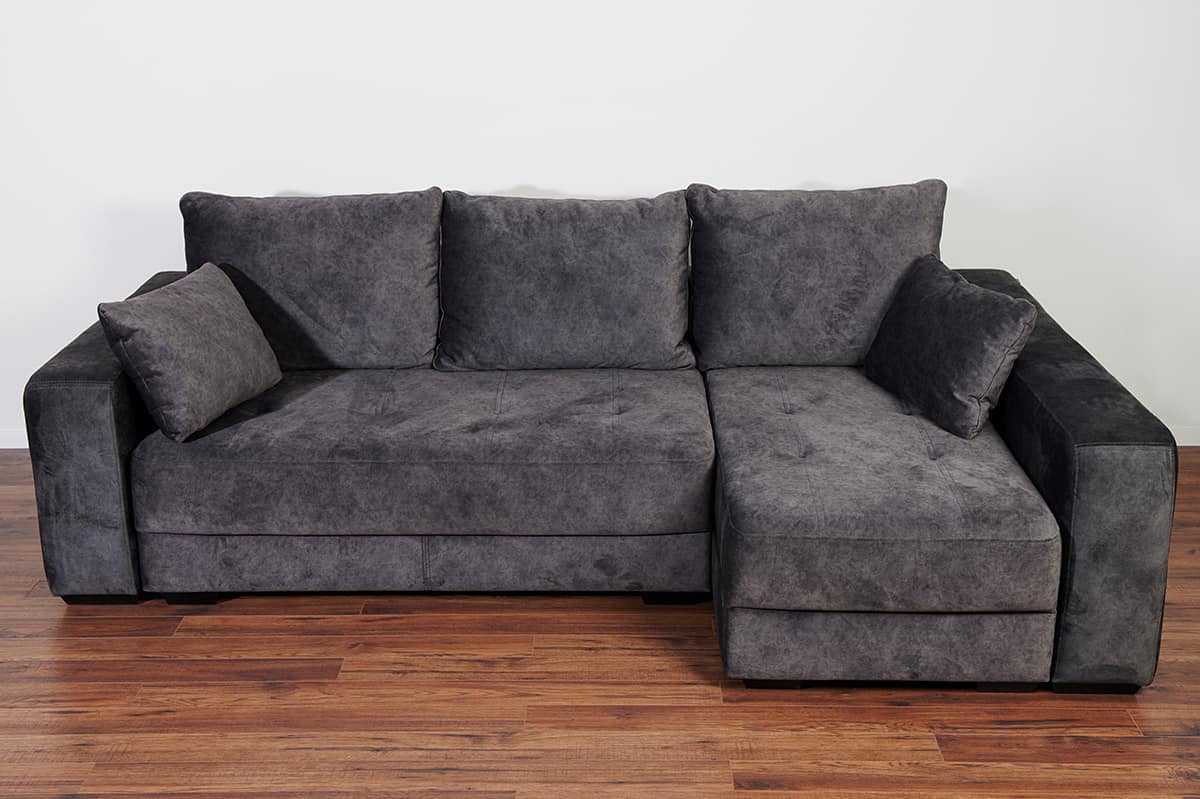 Since grey has a cool tone, you should add more warmth to your living space by mixing your charcoal grey couch with earthy tone colors like brown. By using this warm shade, you can keep the focus on your couch. But rather than painting your walls brown or decorating around your charcoal grey couch, why not opt for brown wooden flooring instead as shown here.
Is There a Difference Between Charcoal Grey and Black?
Charcoal grey is actually a combination of black and grey tones. Some hues are more grey than black while others appear black. Charcoal, however, has a small hint of white. This results in a deep, rich shade of grey that's more dramatic than black, but with more depth.
The versatile color also has a hint of blue added to the white and black mix to make it even more interesting. So the next time you ask yourself whether charcoal grey and black are the same, the answer is no, charcoal grey consists of 4 different shades; white, black, grey, and blue.