Grey is a highly versatile color that can be used in any room. When a dark shade like charcoal is used in the living room, it can bring out the elegance of the interior and transform the space into the living room of your dreams.
If you want to revamp your living room but are not sure which color to use for the walls, furniture, or accessories, consider charcoal. This understated shade of grey will make your living space contemporary without feeling overwhelming.
Need some inspiring charcoal living room ideas? You've come to the right place! From stylish furniture to dark grey walls and accents, we have rounded up a list of great examples with pictures for you to introduce this shade of grey into your living space.
Charcoal Living Room Ideas
Introduce Jewel Accents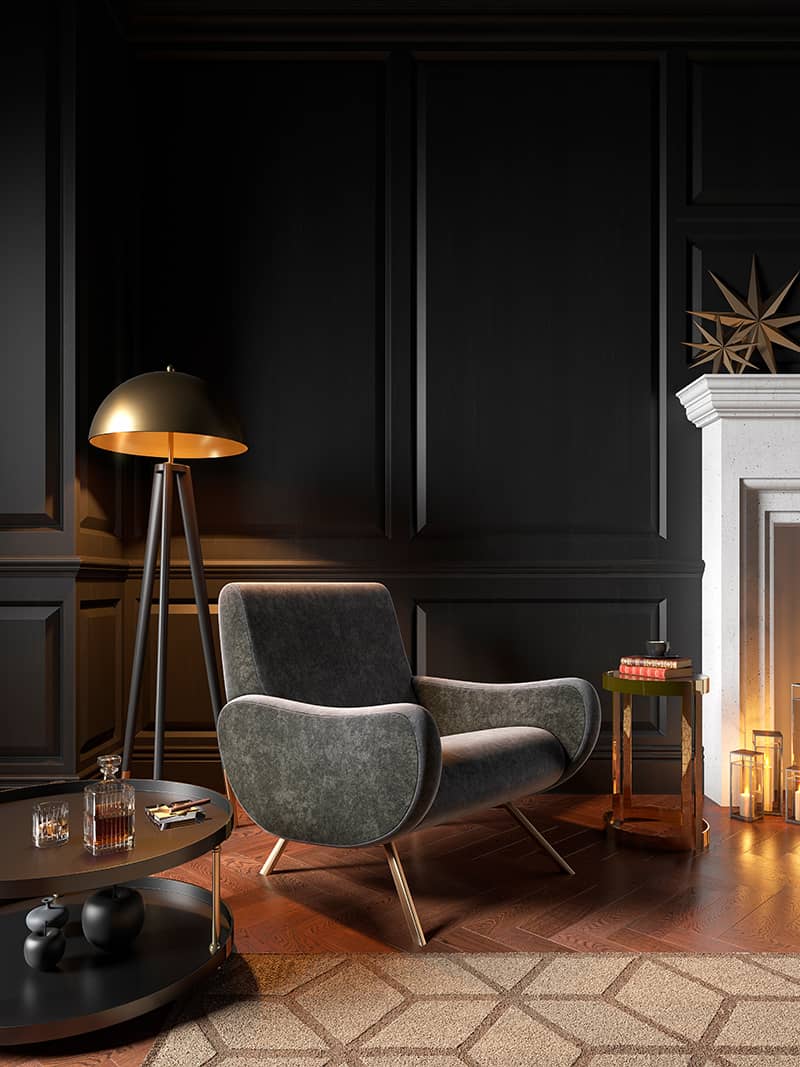 A classic living room must be an inviting and sociable space. By choosing a deep shade of grey like charcoal for the walls or floor, you will showcase this rich hue. Add some gold accents like a lampshade, side table, and jewel lighting for a sensational interior design.
Add Plenty of Metal Shelves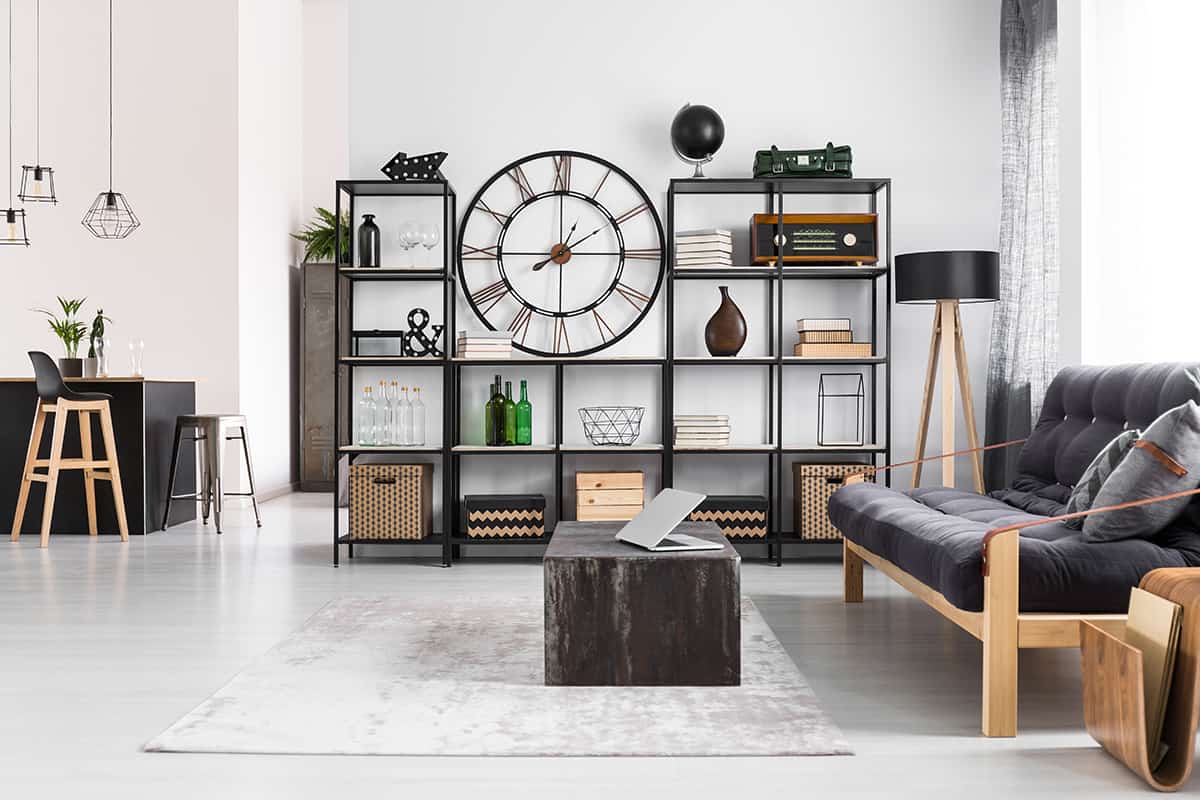 In a smart and sophisticated charcoal living room, it would be wise to add plenty of metal shelves for added depth. Whether you go for floating or freestanding shelving, the timeless chic design of metal shelves creates a polished look to your charcoal living space.
Even built-in metal shelves can look expensive as a smart feature wall idea. Just be sure to stick to a palette of black, white, and dark grey to reflect the elegant aesthetic of the room.
Use Charcoal Purely as an Accent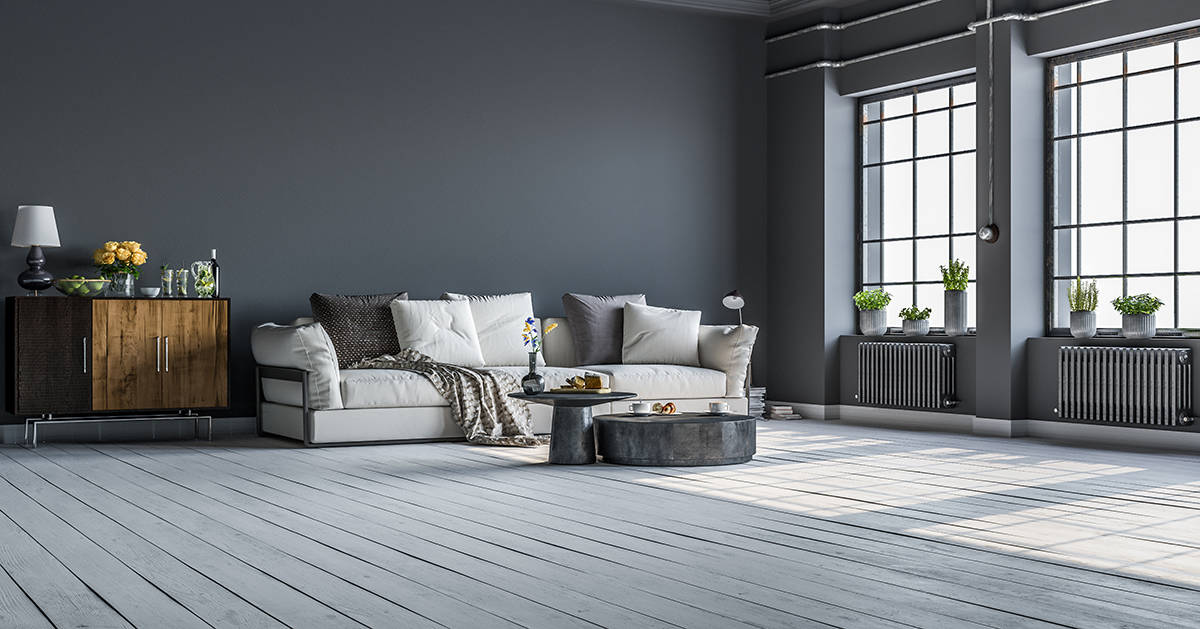 If lots of shelving isn't for you, inject some modern charcoal into your living space as accents. For example, a charcoal wall or sofa is a fail-safe choice. Tie in other charcoal accents around the room like floor to ceiling charcoal-framed windows for a striking finish. The idea is to pick out the dark grey tone from neutral detailing. If you don't have framed windows, then simply paint your large PVC windows in charcoal as accent features of your living room.
Go with Pops of Color for a Rustic Look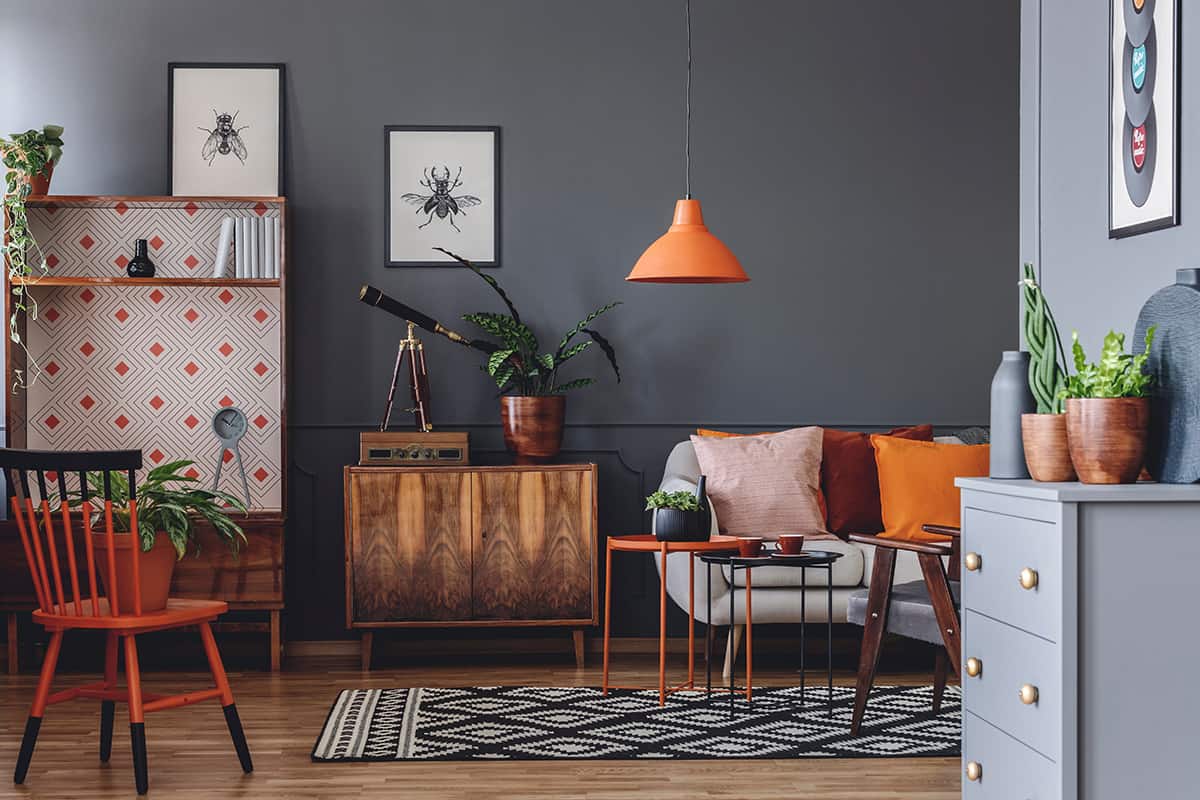 If you have a small living room and want to make it even cozier, consider adding lots of bright colors to bring out the rustic look of charcoal. We love how cheery and bright this rustic living room looks thanks to its orange, brown, wooden, and yellow pops of color on top of dark grey.
Tip: make sure the colors you use in your charcoal living room create enough contrast against each other. While charcoal is fabulous on its own, it can transform the space next to other bright and vibrant colors. A multi-colored couch with a mix of bright throw pillows will enhance the decor element. To add texture, choose a patterned rug and other accessories as shown in this image.
Combine Silvery Tones with Charcoal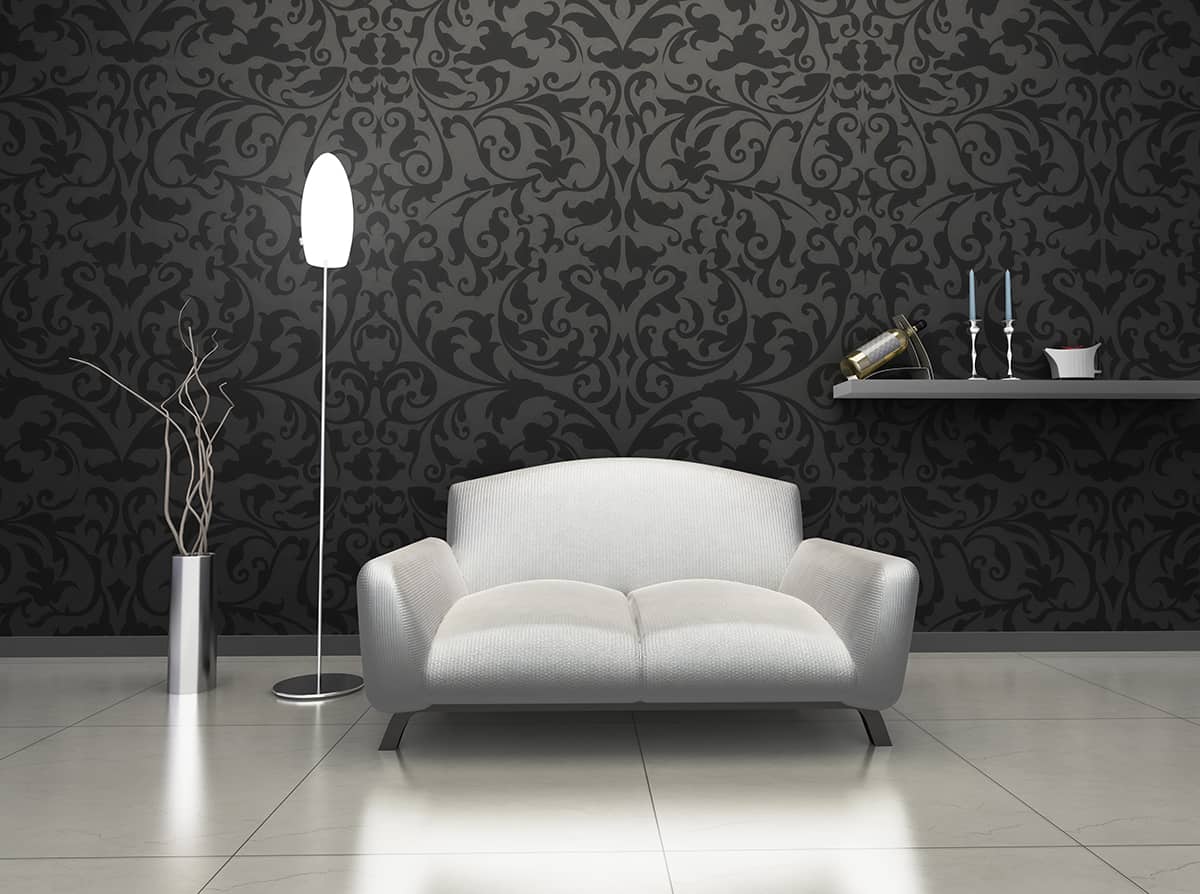 Silver is a light, metallic shade of grey that goes perfectly with charcoal. To create a striking design, add a silver lamp, side table, and any other subtle silvery tone you like to your charcoal living room. The metallic highlights of silver reflect the light and are sure to give your space a glamourous uplift.
A plush grey sofa will punctuate the space even more and make your living room appear ultra-stylish. For a grown-up sophistication, combine touches of cool grey with your charcoal and silver accents to create an expensive-looking yet simple interior as shown in this image.
Use Two-Tone Greys as a Light and Dark Blend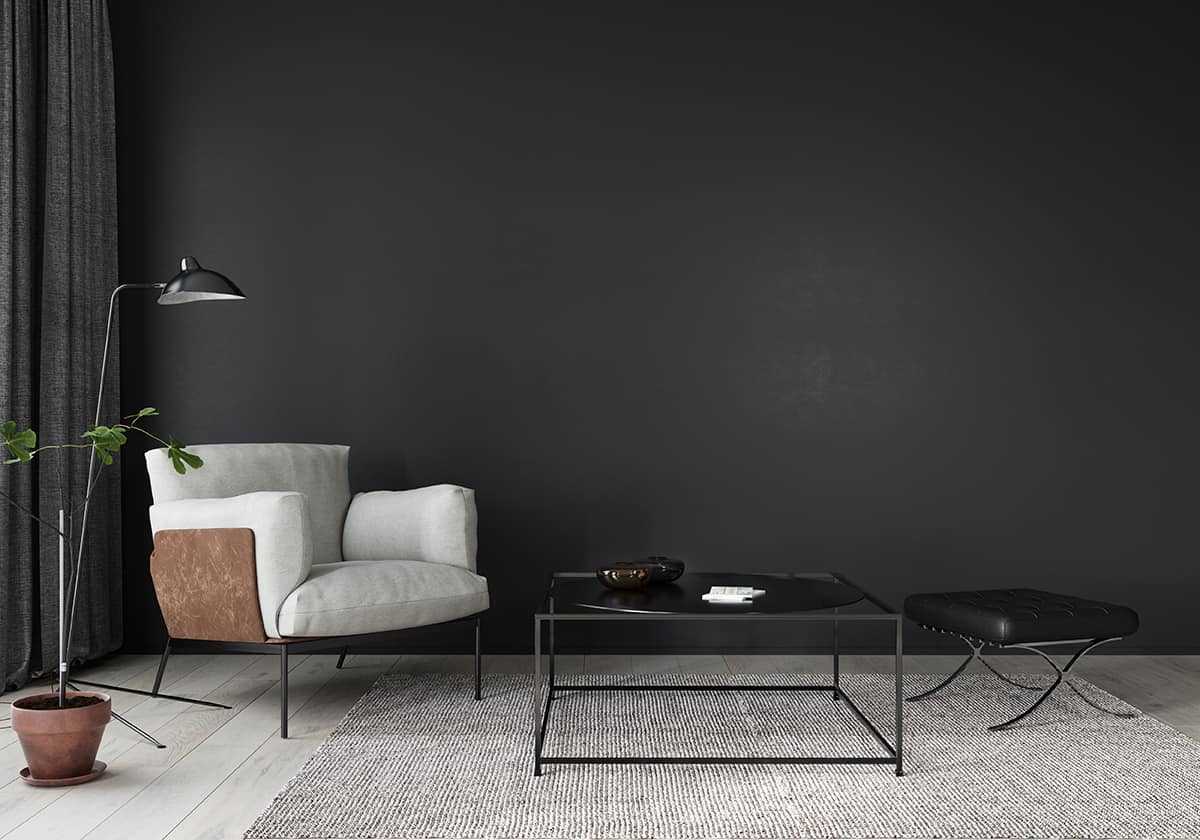 If you're not keen on too much color in your living room, then simply blend charcoal with a lighter shade of grey to create a neutral scheme. To make sure the charcoal doesn't dominate the space, use it modestly and add plenty of white to make the room feel more spacious. The combination of light grey, charcoal, and white in this example draws the eye to the furniture and flooring.
Modernize the Space with Charcoal Furniture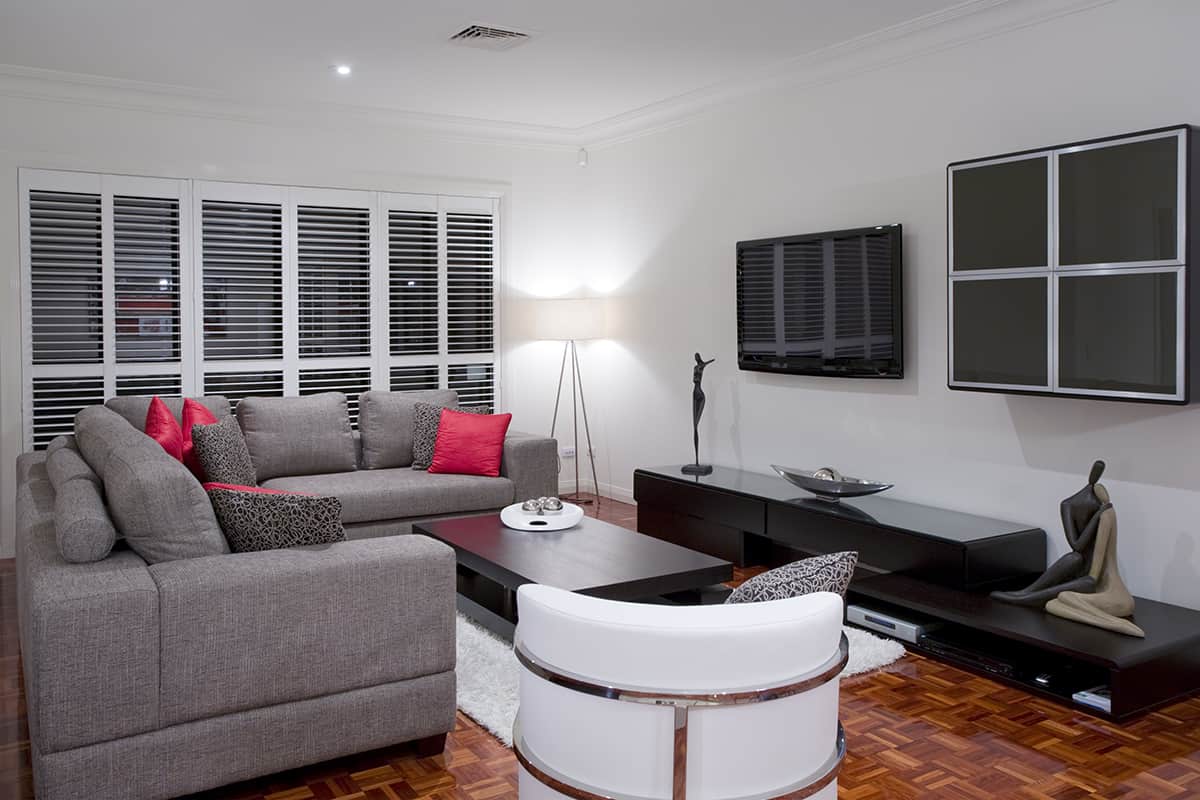 You don't have to redecorate or repaint your entire living room to incorporate charcoal into the design. Try investing in a charcoal couch as an easier and less expensive solution. A charcoal sofa is a smart way of making your living room look more modern and chic.
See how this charcoal sofa is the focal point of the room and it works very well indeed. Add some warm wooden furniture pieces, such as a coffee table or shelving unit to increase interest. A few indoor plants here and there around the charcoal sofa will also add texture and keep your indoor air clean.
Pair Charcoal Grey With Yellow for Contrast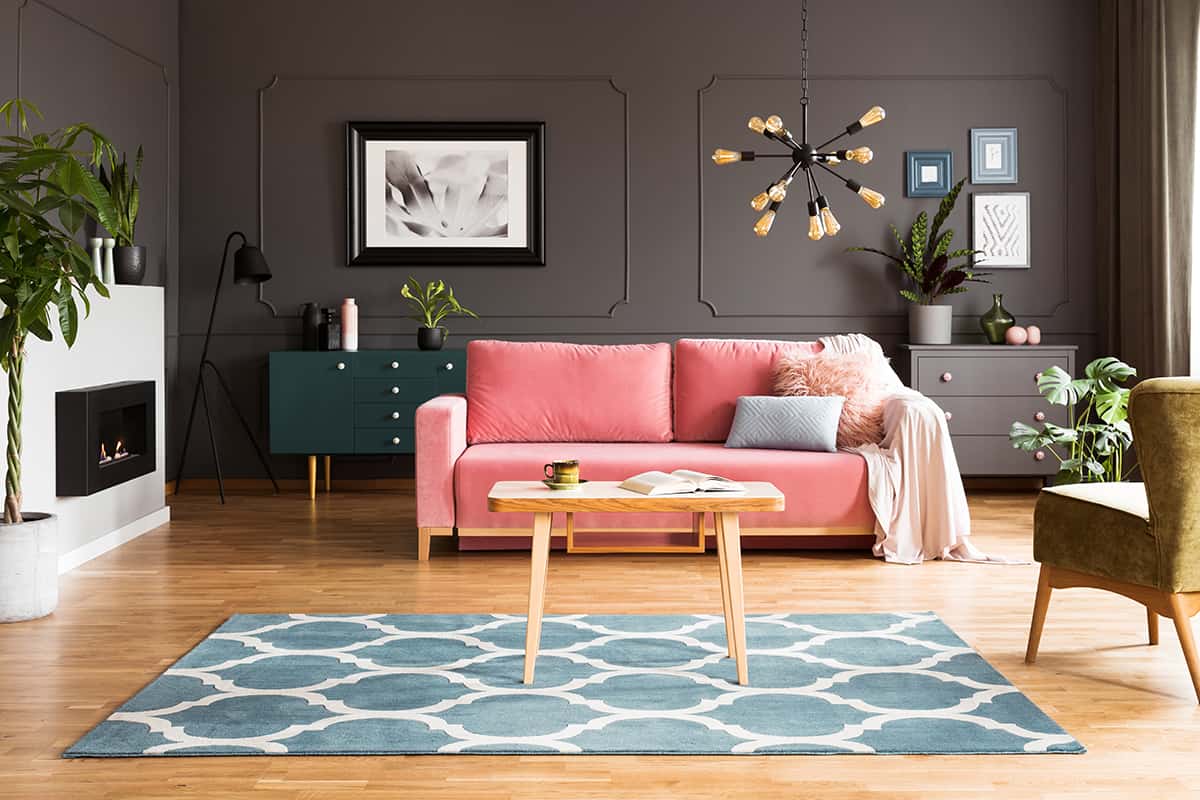 Charcoal and yellow are a great combo. Instead of having all your furniture or walls in charcoal, introduce some yellow furnishings to bring the grey scheme together.
Yellow is a warm color that goes perfectly with deep greys. A charcoal and yellow living room design like the one shown here is inspired by a mid-century modern style, which encourages the use of warm and cool colors, such as yellow sofa and grey curtains.
Experiment with a Pastel Color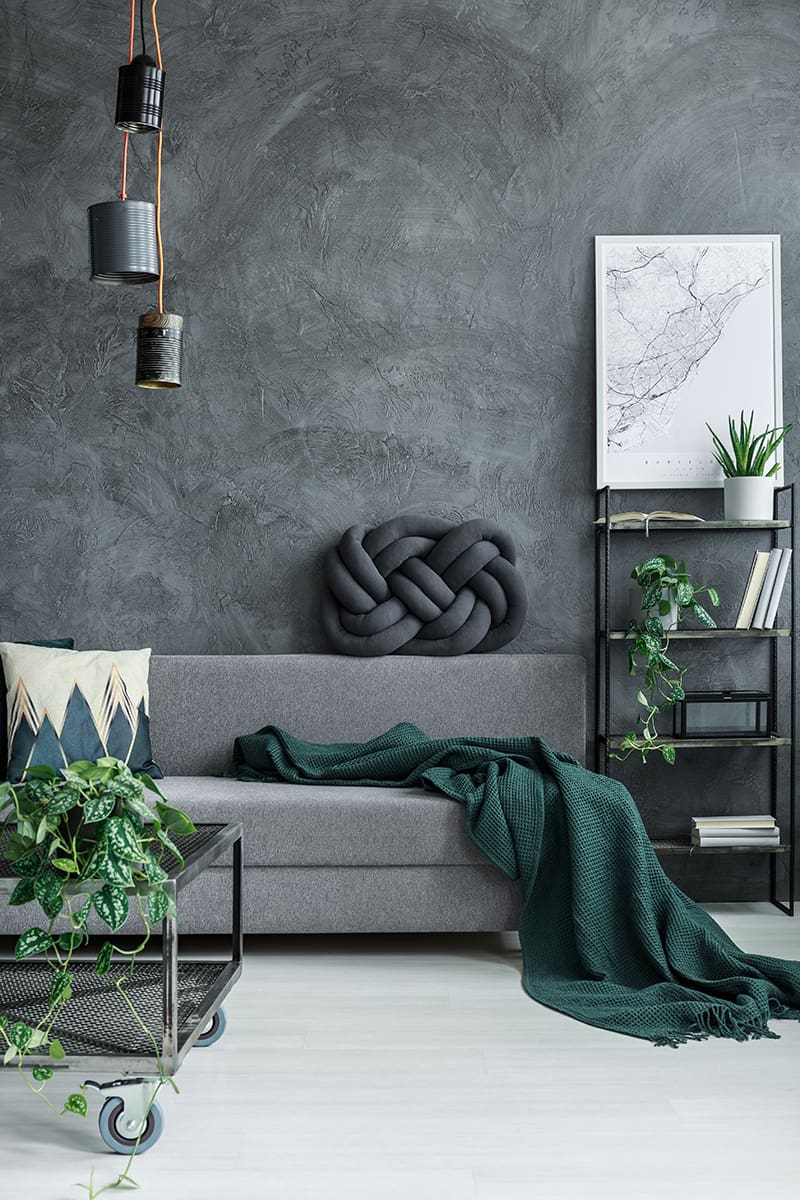 Since grey is such a versatile color that goes with anything, why not pair it with another warm color like a deep shade of green. A throw blanket in green with some subtle accents in the same color will bring the scheme together.
You can stick to just one shade of green or experiment with other shades. For example, the throw blanket can be in sage while the cushions in grey and the decor in other shades of green and grey. Because green and grey have the same tone, they look great together in any charcoal-dominated living room.
Bring Nature Indoors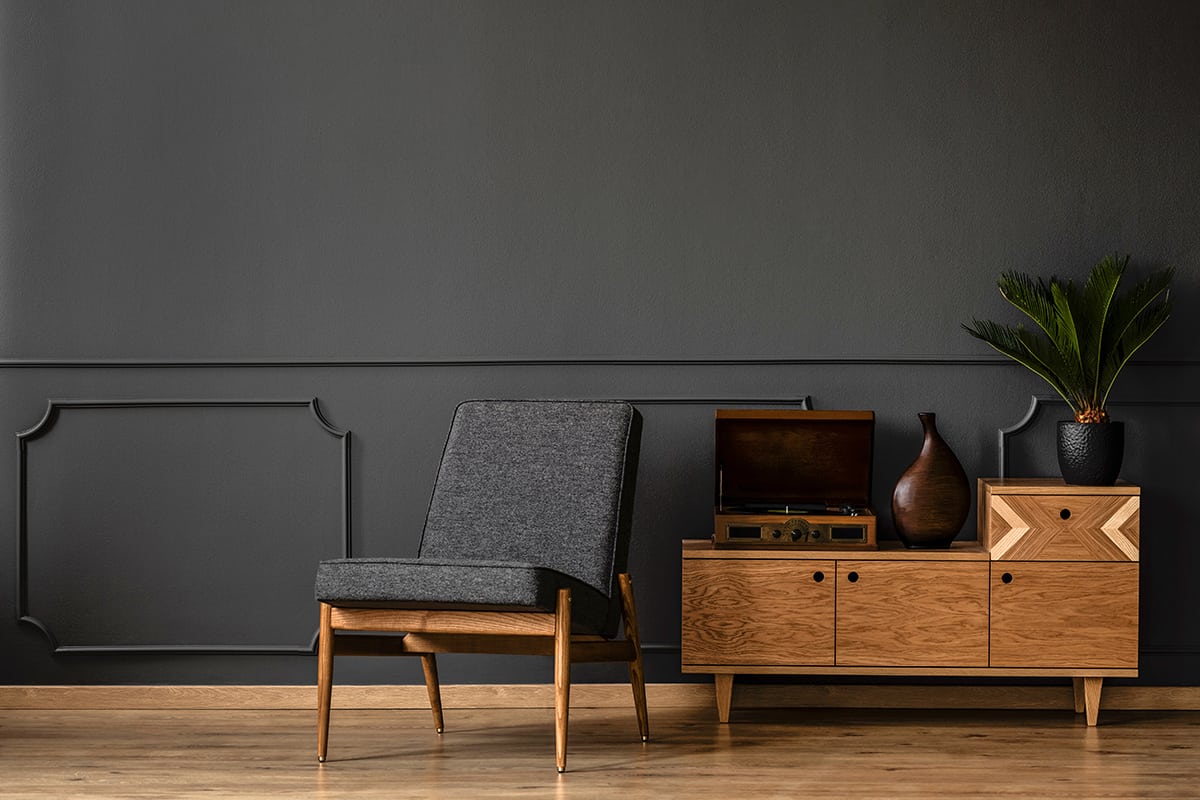 Using charcoal on the walls and seating furniture gives depth to a traditional or modern living room. If you want to make your living space even cozier, bring unstained wooden furniture and indoor plants to make a statement.
Layering the deep shade of grey with nature-related tones creates a calming atmosphere that feels balanced at the same time. The flourish of greenery and wood connect the space nicely with a sense of nature as shown here.
Keep the Charcoal Sophisticated Yet Underrated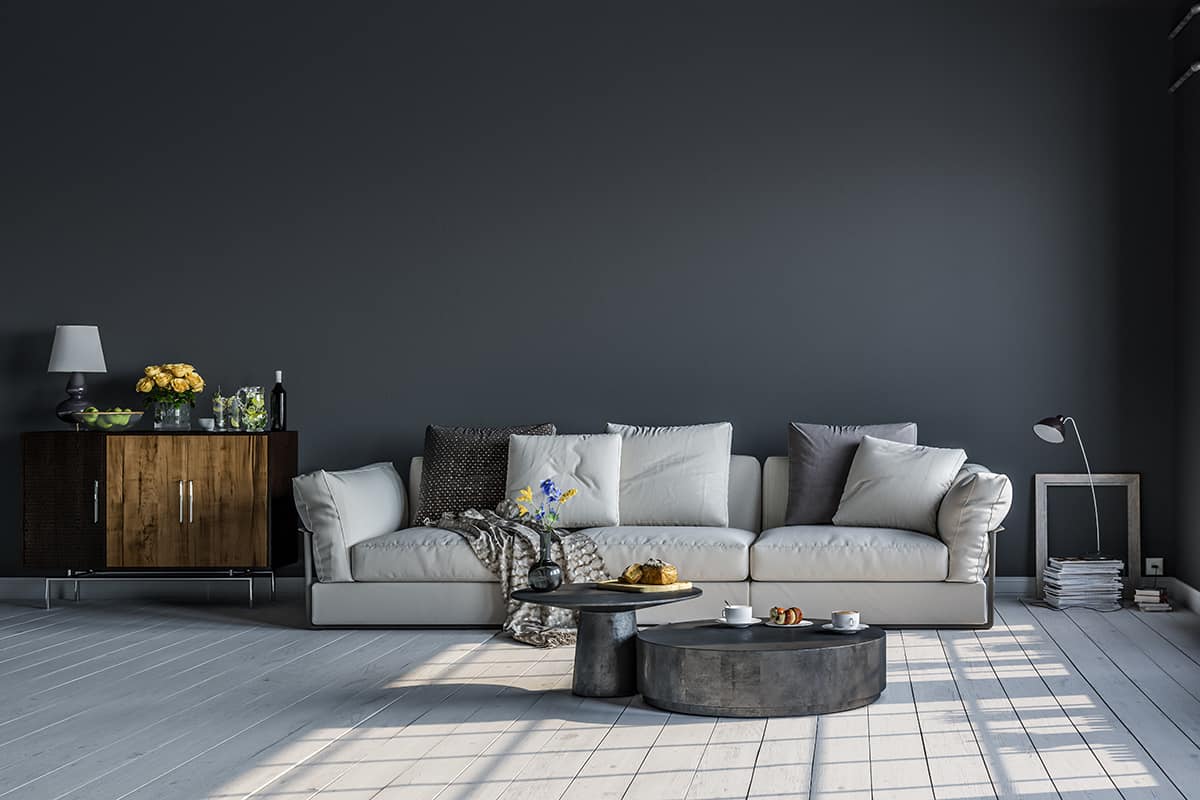 Sometimes less is more as understated can make the biggest impact in a living room. Your furnishing choices can make all the difference in a charcoal-painted living room.
The dark grey wall in this image acts as a backdrop to the light grey furniture and flooring without looking overwhelming. The idea is to create a barely-there design with charcoal as a subtle yet sophisticated color.
Warm Up the Charcoal Interior With Soft Lighting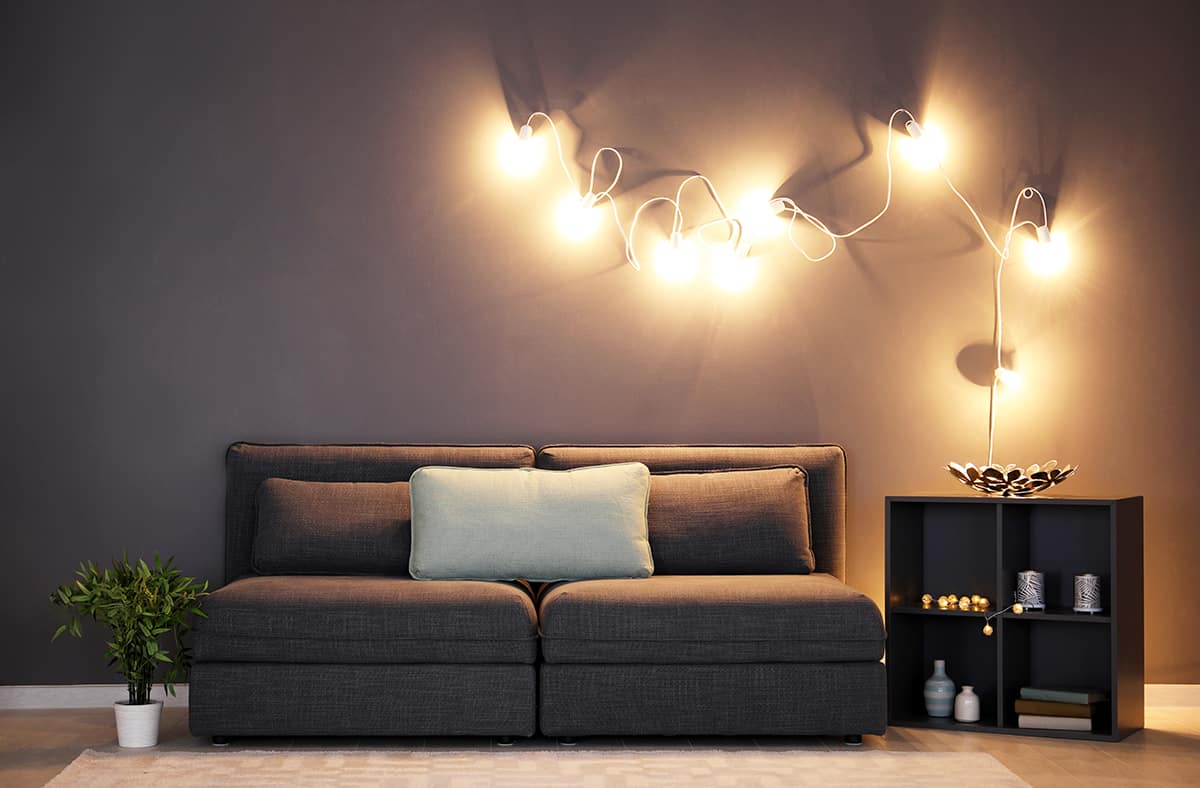 Unique lighting on the walls brings a sense of warmth to a charcoal living room. Use a soft, yellow tone from sconces to help create a welcoming vibe as shown in this example.
You can also place a standing lamp next to your charcoal sofa for added coziness. When it comes to choosing soft lighting, the options are endless!
Design a Masculine Charcoal Living Room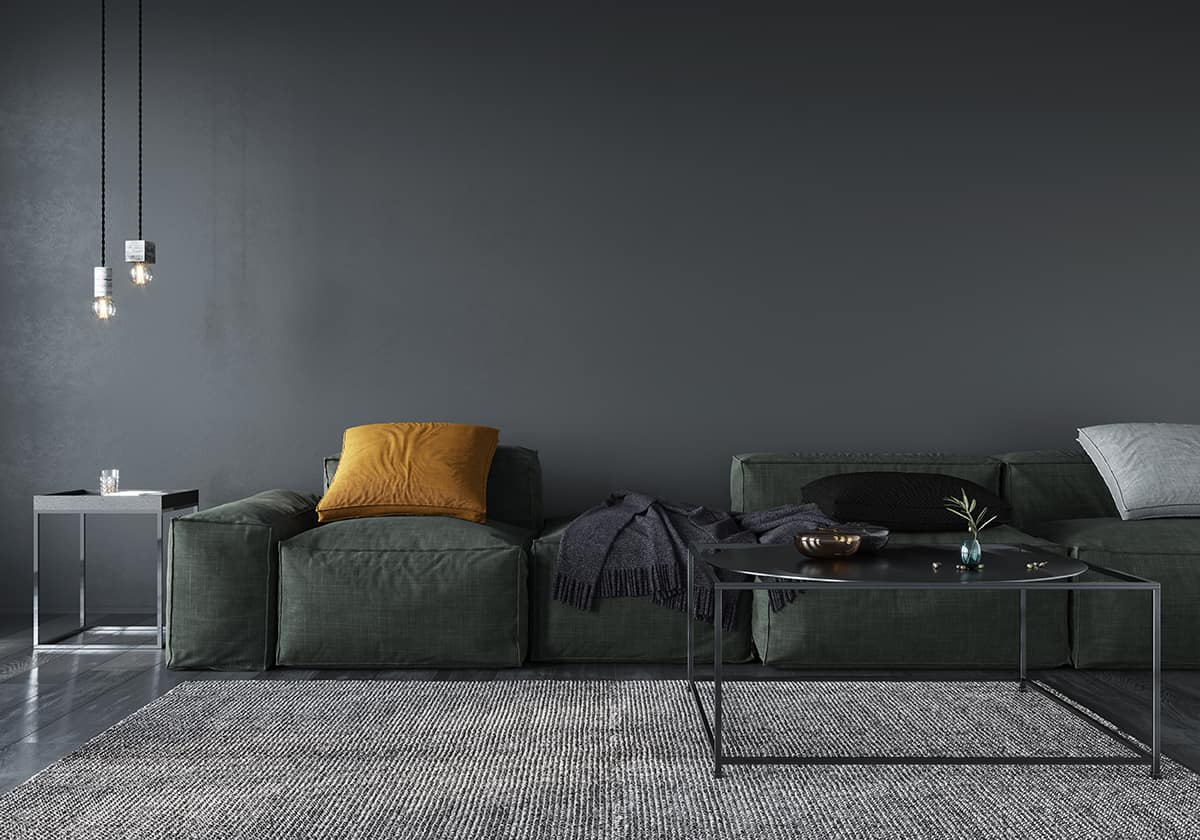 Industrial-style living rooms have always been associated with a masculine feel. In charcoal living spaces, the dark grey walls and floor work well with sleek furniture in the same color.
In this living room example, the focus of the space is the green sofa against the charcoal wall and black metal lighting with ultra-thin metal-framed tables. There is certainly something masculine that oozes out of this charcoal room, don't you think? If you like the vibe, keep the space clutter-free with industrial-style furniture to complete the look.
Pair Charcoal With Pink for a Feminine Touch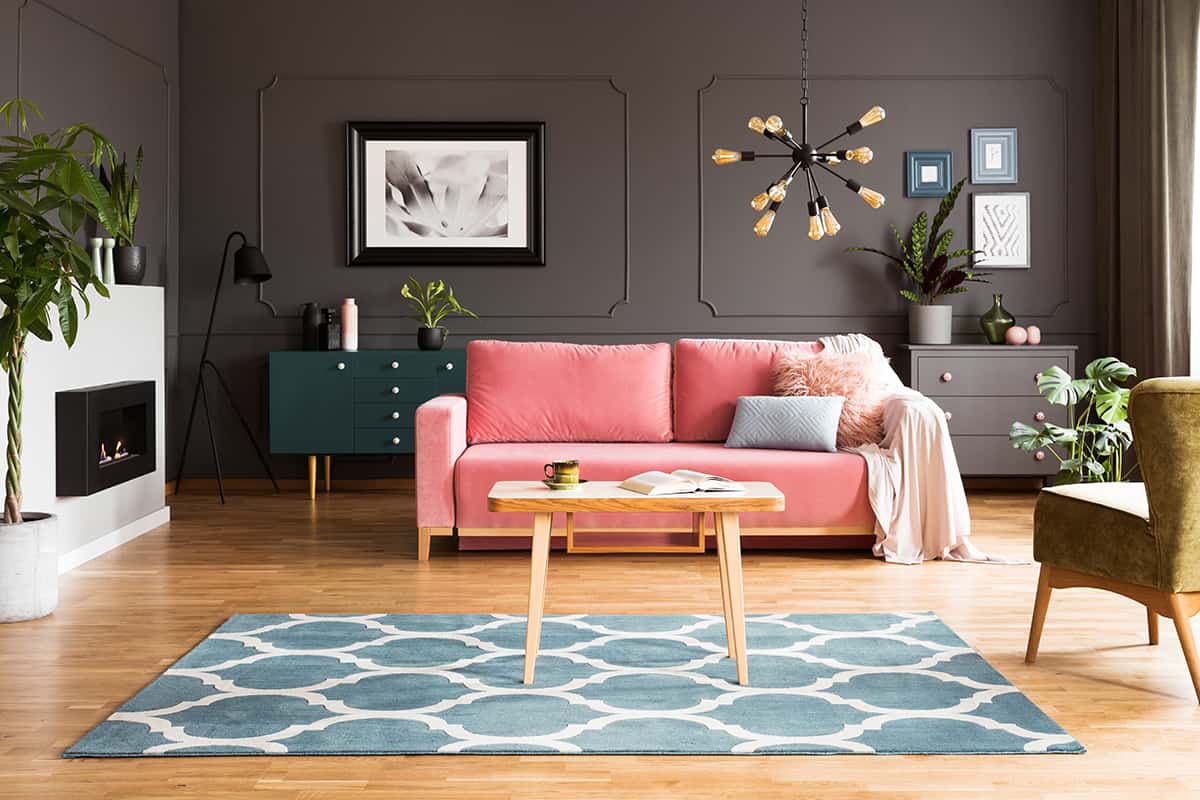 A charcoal living room can also look feminine if you add some bright colors like pink. Warm grey itself has a feminine nature in a stylish way. Add a large pink sofa to brighten up the room and add your own personality to the space. Some leafy plants around the room will also make it come to life with freshness.
Go for a Minimalist Look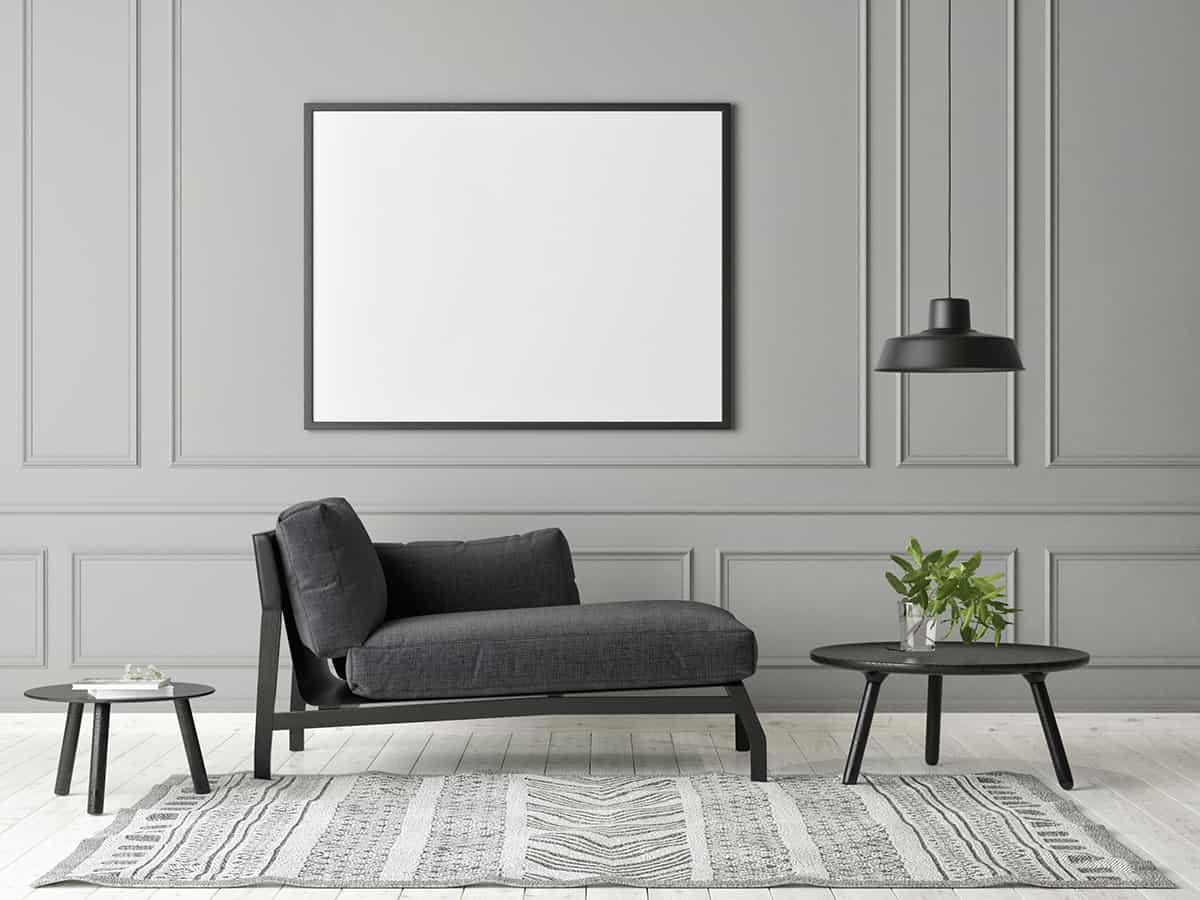 A minimalist charcoal living room need not lack elegance. Dark grey is a go-to color for such interior styles so to keep it totally clean and in line with a minimalist design, add small furniture like the ones shown here. This Scandinavian-style living room features charcoal furniture and lighting with natural elements like an indoor plant and a soft rug to create a relaxing space.