As a neutral color, beige can work with a wide range of other colors.
Here we look at which colors are best suited to particular shades of beige, as well as the effect that different color palettes can have on a space when used alongside beige. This will serve as a useful guide when trying to identify what color to paint your living room walls if you have a beige couch.
Shades of Beige Couches
To understand which wall colors will work best with your beige couch and sofa, you first need to identify which shade of beige your couch is. This is because there are a wide variety of beige shades, and the tone and intensity of the beige color can affect which colors it will match best with. Common shades of beige used in interiors are:
Tan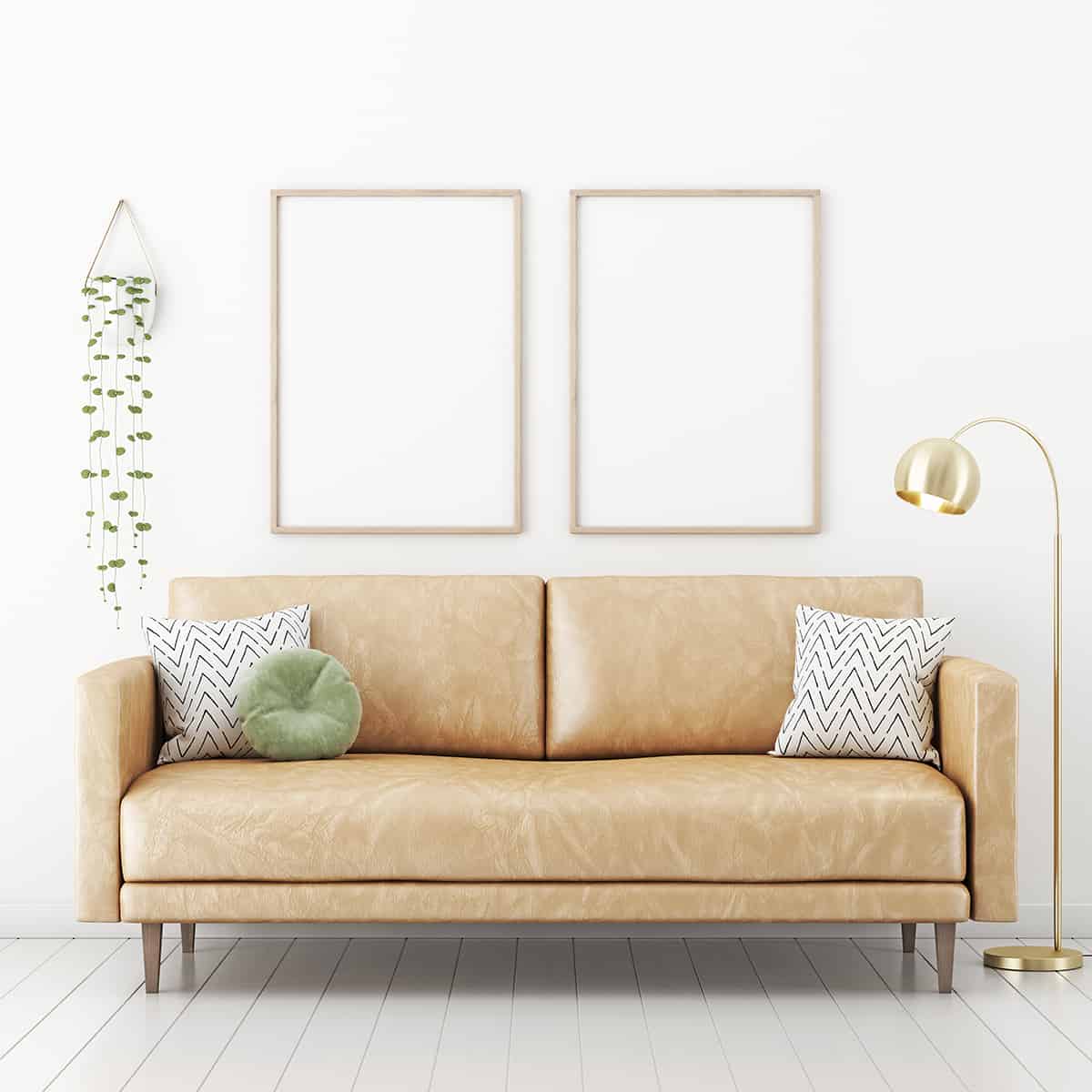 This is a light shade of beige, which has brown undertones. It is a very warm shade that looks great next to cool colors such as navy blue and emerald green. It also looks striking next to white or darker beige tones like caramel or fawn.
Oat
This color has yellow undertones, and so it works especially well with purple shades as yellow and purple are complementary colors on the color wheel. Choose pretty lavender walls with an oat beige couch or deep aubergine for a more dramatic edge.
Sand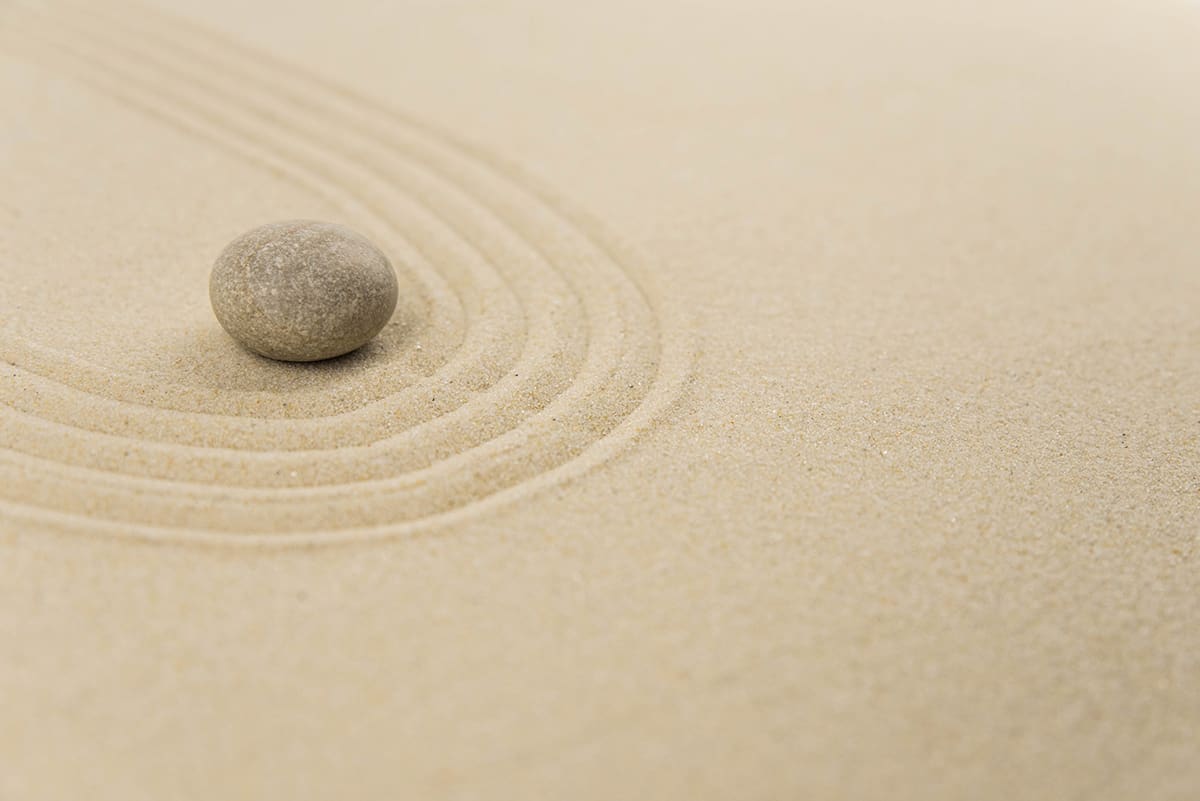 This is a golden shade of beige, and therefore it looks particularly striking alongside shades of blue.
Oyster

This is a gray shade of beige, which is very pale. It could be described as a shade of off-white as it has very little pigment. This is one of the most neutral shades of beige, and as a result, it works beautifully next to any color.
Biscotti

This beige color has elements of brown and orange. It is heavily pigmented and has a very warm feel, so it pairs well with paler and more neutral tones such as off-white, which will allow it to stand out.
Sepia

Sepia is a shade that has brown and red undertones. This is a very earthy color, similar to red clay, that looks great alongside the green. As opposite colors on the color wheel, red and green are very complementary and help to set each other off. The combination of sepia with green shades also imitates the colors found in nature, which you can further emphasize with the addition of houseplants.
Hazelnut

This is a rich caramel shade that would be contrasted with cool gray colors. With a hazelnut couch, consider painting walls in a dark pebble gray or light silver gray.
Granola

This is a yellow-brown shade of beige, which contrasts extremely well against bright shades of blue, green, and purple. As a very warm and rich tone, granola beige truly pops when positioned alongside cool but intense colors, such as violet, sapphire blue, and fern green.
Types of Wall Colors to Go with Beige Couches
Warm Wall Colors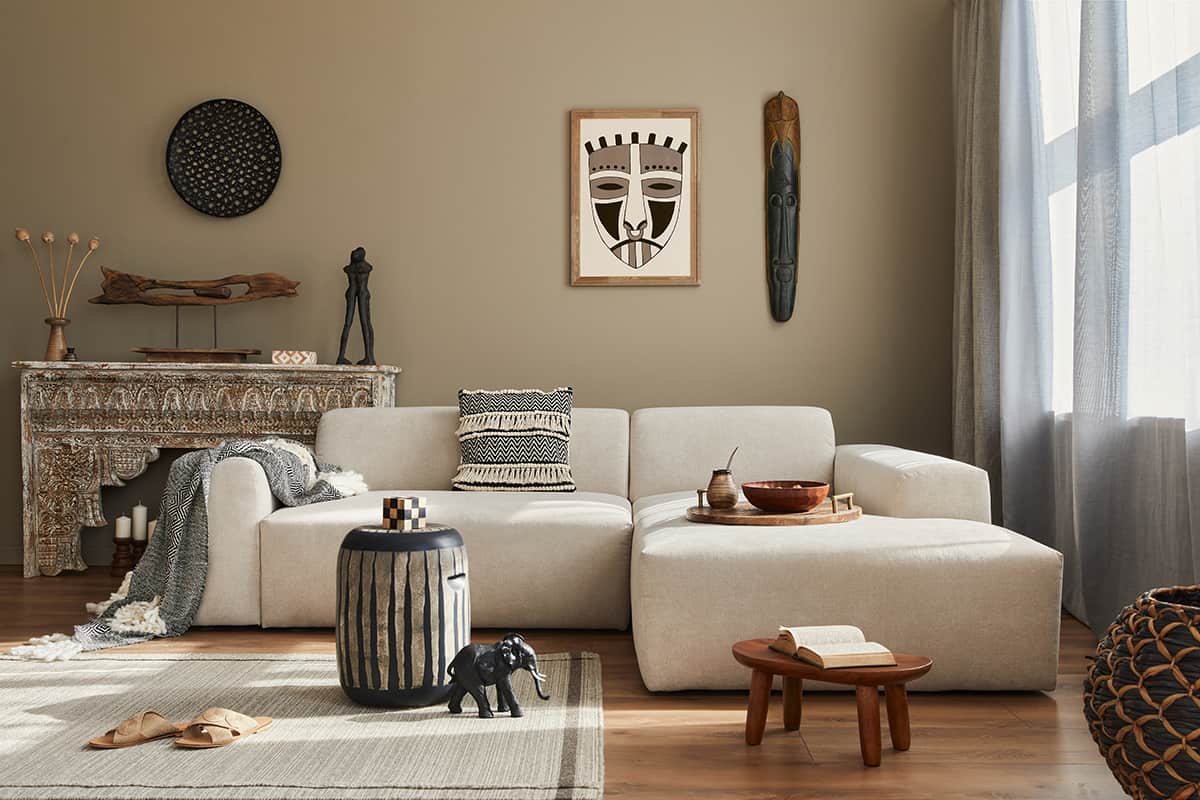 Beige is a warm color because it has brown or yellow undertones, so it pairs nicely with other warm colors. Warm colors, when used on the walls of a room, create a warm and comforting space that envelopes you in a cozy environment. This type of atmosphere works well in a living room, making it a haven for relaxation where you can unwind at the end of a day or snuggle under a blanket on a cold winter's afternoon.
Warm colors that would look appealing on walls next to a beige couch include burnt orange, rich amber, butterscotch yellow, cinnamon, and coffee brown. Match couch throw cushions with the wall paint color to ensure harmony and cohesion in the space.
If you would prefer a more subtle color palette, you can use shades that are slightly lighter or slightly darker than your beige couch. Popular shades of beige you could consider are sand, buttermilk, and tan. Avoid using a beige on the walls, which is too similar to the couch because this will make for a flat and bland-looking room, but coordinating several different shades of beige can give a layered, high-end look.
Cool Wall Colors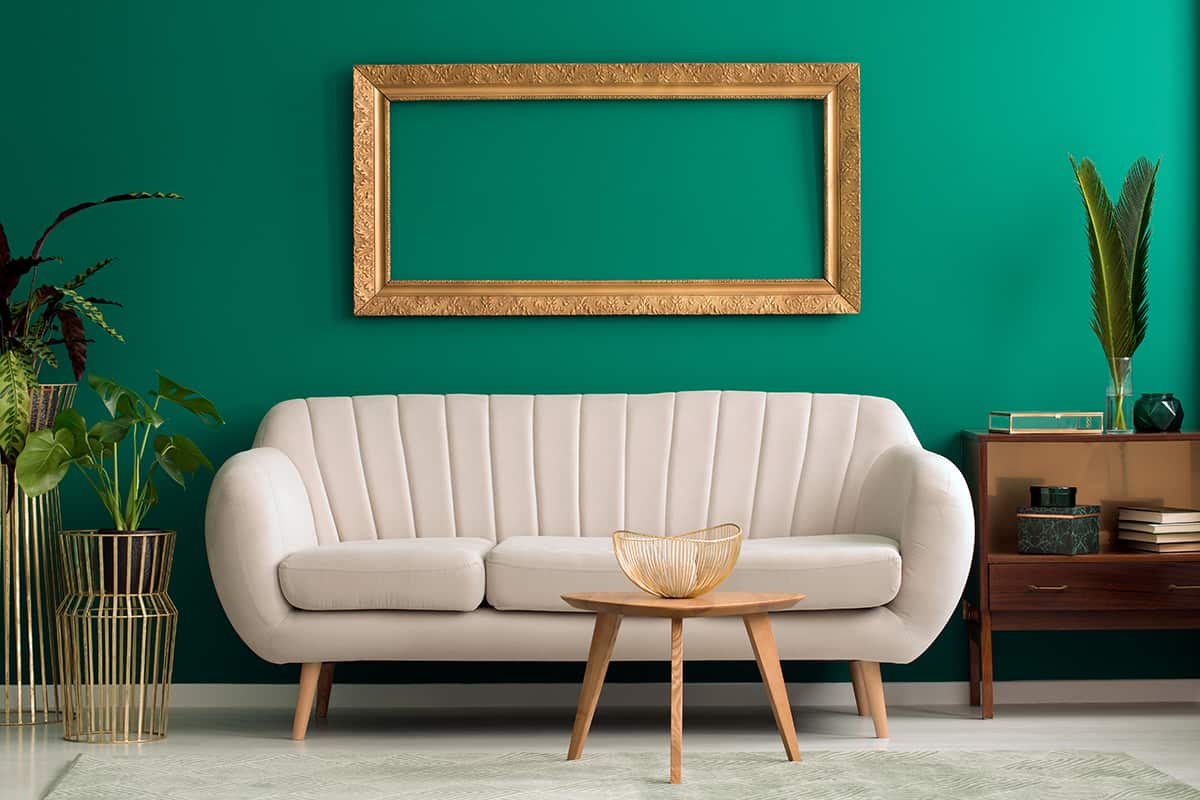 A cooler color palette can be used with beige to achieve a casual and airy look or a more formal and sophisticated atmosphere. Cool colors, in general, give off a serene or refreshing vibe, so they can be utilized when creating a calming and relaxing room.
For a bright and breezy feel, paint your walls in a pale shade of sky blue; alongside beige couches, this color will evoke thoughts of a coastal retreat. Mint green walls would look appealing next to a beige couch if you want to create an invigorating and restorative living room.
Deeper colors from a cool palette can also work nicely with beige. For example, emerald green or mulberry purple will achieve a more mature and luxurious setting when painted on the walls.
Bright Wall Colors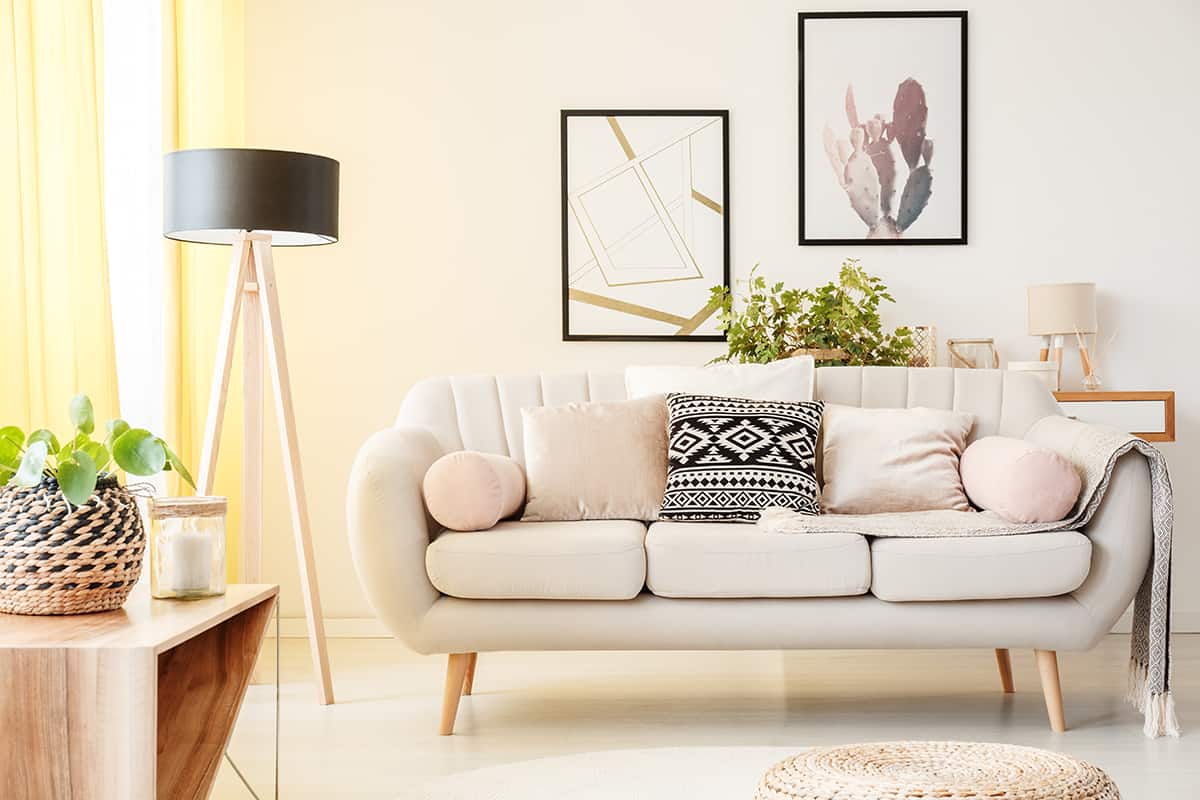 You can consider using bright and cheerful colors on your walls if your beige sofa is a very light shade of beige, such as oyster or off-white. Bright colors will contrast nicely with very light shades of beige and result in a fun, modern style of a room.
Darker shades of beige, such as hazelnut, tend not to work as well with bright colors, as they are less neutral and may compete with the brighter shades to cause a jarring effect. Bright wall colors that would look good behind a pale beige couch include cobalt blue, magenta, candy red, and carrot orange.
Feature Wall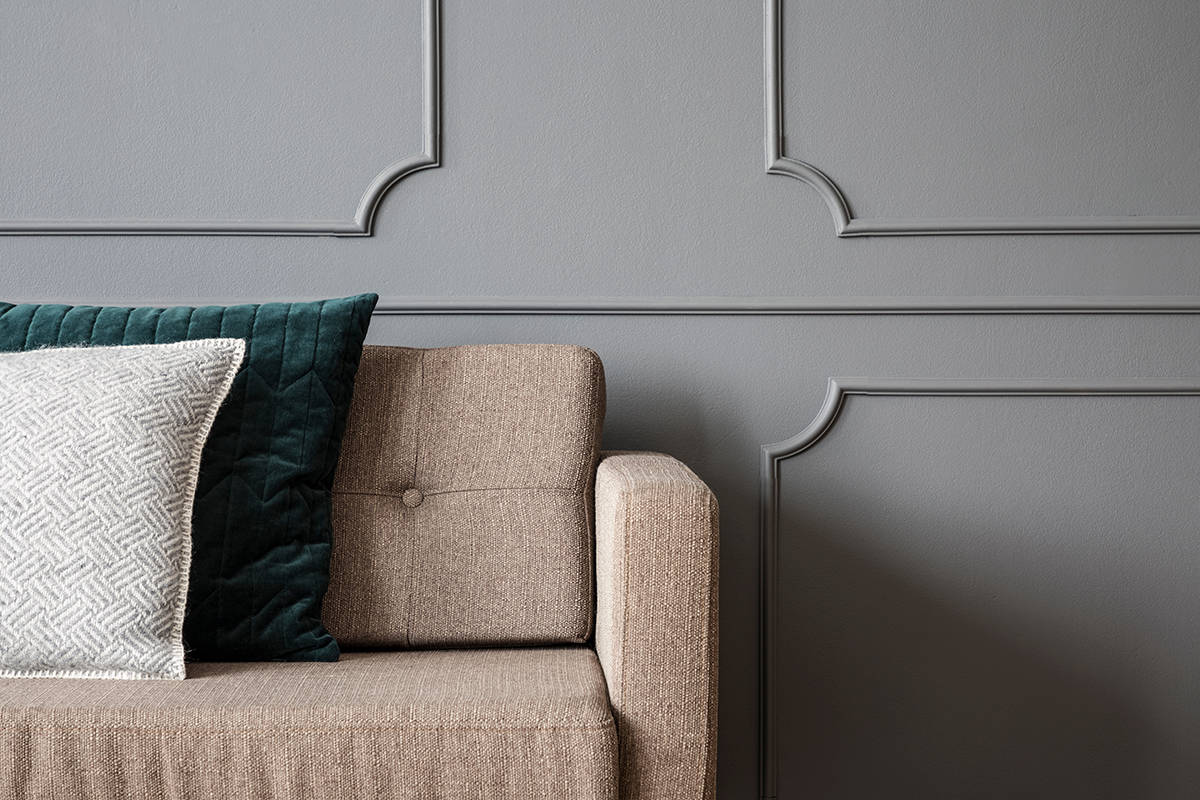 If you want to use a bold or dark color to contrast against your beige sofa but are unsure about painting the entire room with it, you could try out a feature wall instead. This allows you to inject some color into the room without the concern that it will be too intense.
Ideally, you would paint the wall, which is directly behind the beige sofa, in order to make the biggest impact in terms of contrast, and then paint the remaining walls in white or a neutral shade of beige.
Wallpaper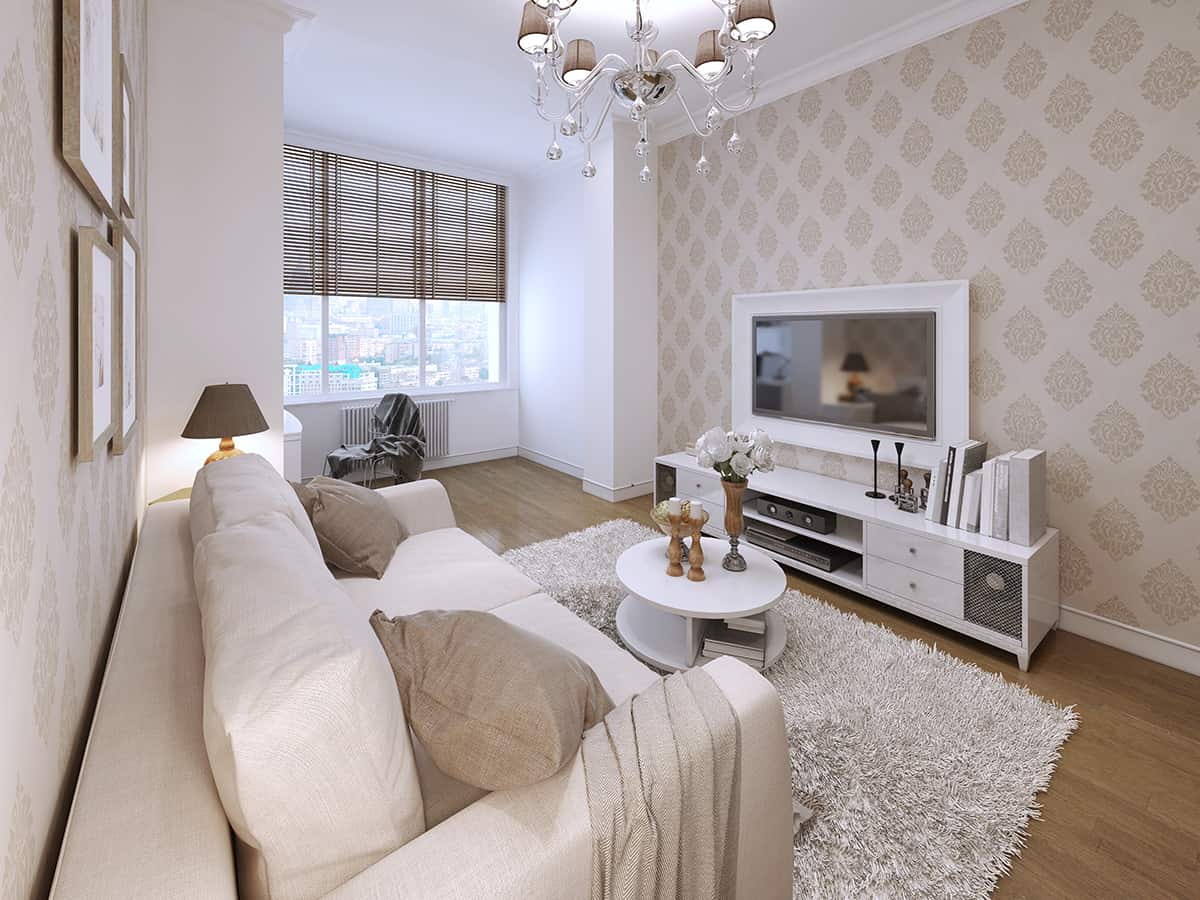 If you want to liven up your living room but still want to keep your much loved beige couch, you can add some interest to the space by choosing a patterned wallpaper. Animal prints make a bold statement, while florals add a soft femininity to a room.
If you choose a striking modern wallpaper, you could consider using it on just one wall rather than papering the whole room and pick a color out of it to paint the remainder of the room. To tie your beige couches into the space and prevent them from seeming out of place, choose a wallpaper that has splashes of beige in it. For example, you might opt for a gray and beige striped wallpaper or a pink-based floral wallpaper with subtle touches of beige on the petals.
The introduction of wallpaper also gives you the opportunity to add texture to the walls, for example, in the form of flocking or foil. If you feel that your beige sofas are too bland, you can add drama and depth to the room with textured wallpapers.