Gray walls are a neutral, and highly popular option for kitchens. This clean, modern color works with many other shades to bring a flawless look. But when it comes to deciding what color cabinets go with gray walls, you need to think carefully about color coordination.
Whether you are after a rustic, minimalist, or contemporary look, gray is a versatile color that brings visual interest to your kitchen. By using cool and warm cabinet colors with your light or dark gray walls, you can achieve the desired result.
For example, dark gray walls paired with pastel cabinet colors can make a bold statement, but as long as you go easy on the gray tone so as not to overwhelm the space.
To give you more ideas on how to choose the best kitchen cabinet color for your gray walls, let's take a closer look at the following examples with images:
Cabinet Color Ideas that Work with Gray Kitchen Walls
White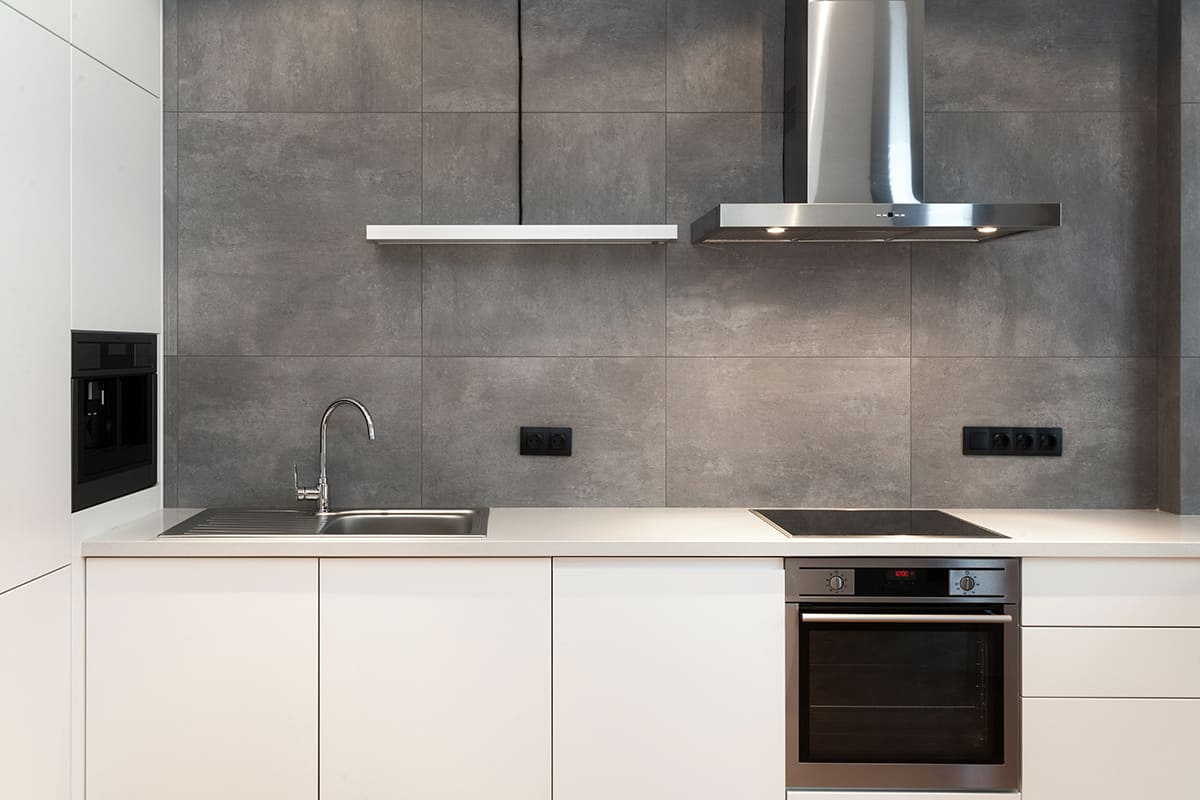 One of the most popular and safest options that is sure to bring a contemporary look to your kitchen is white cabinets with mid-toned gray walls.
You can also add black countertops as a nice contrast to white cabinets. White is an easy, clean color to work with as it goes with any neutral or bold color.
This blank canvas provides a nice contrast with darker gray walls as it helps the cabinets stand out and brighten up the room.
The bright white cabinetry and matching countertops are without doubt the highlight of this modern kitchen with dark-toned gray walls.
All-Gray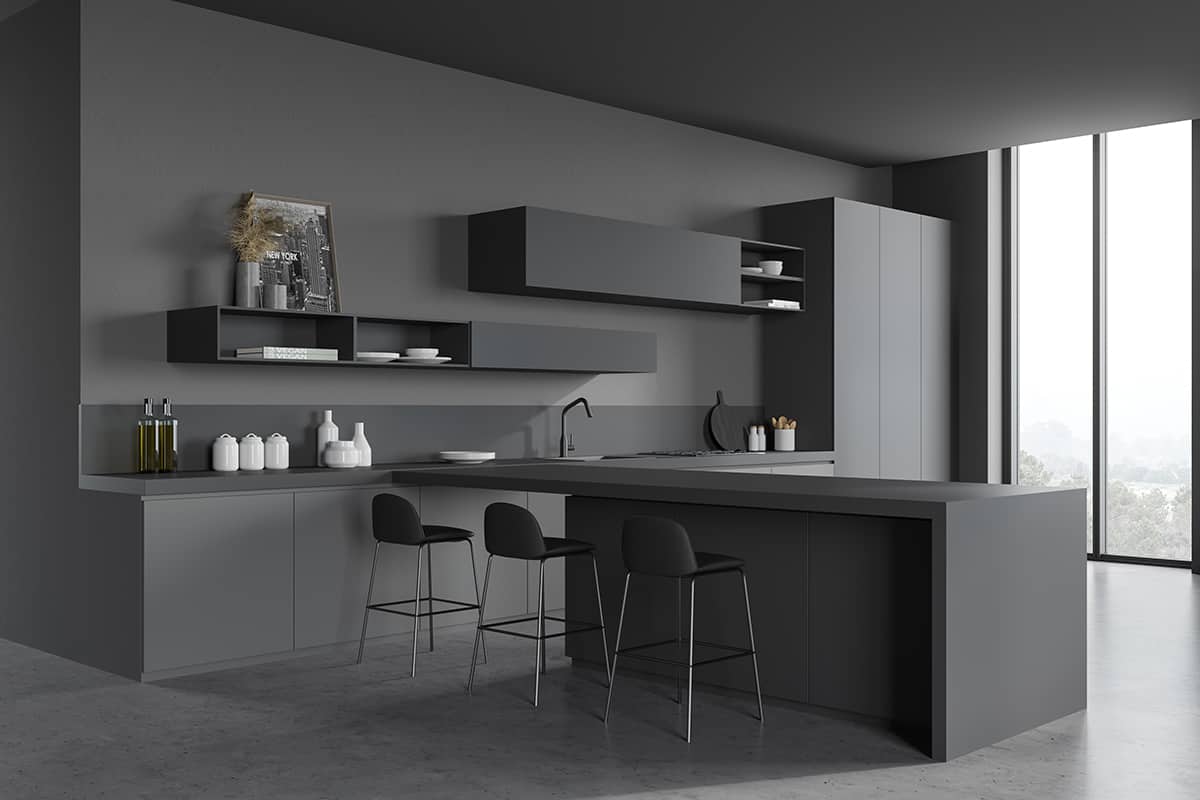 While many homeowners fear that an all-gray kitchen can appear too monotonous, this is not always the case, especially in larger kitchens with tall windows.
Gray, is after all, a unique color and provides a stylish look to any kitchen. There are many shades you can choose for your walls and cabinets to fill up the space with an industrial-themed color scheme.
In this example, the all-gray kitchen with concrete walls oozes elegance. The floor-to-ceiling window plays a big role in the brightness of the room, which means you can go with darker shades of gray for the cabinets and the walls if you wish to inject a mysterious vibe to your space.
Having said that, it's always nice to create a little contrast by using a lighter or darker shade of gray for the cabinets.
Black and Yellow Combination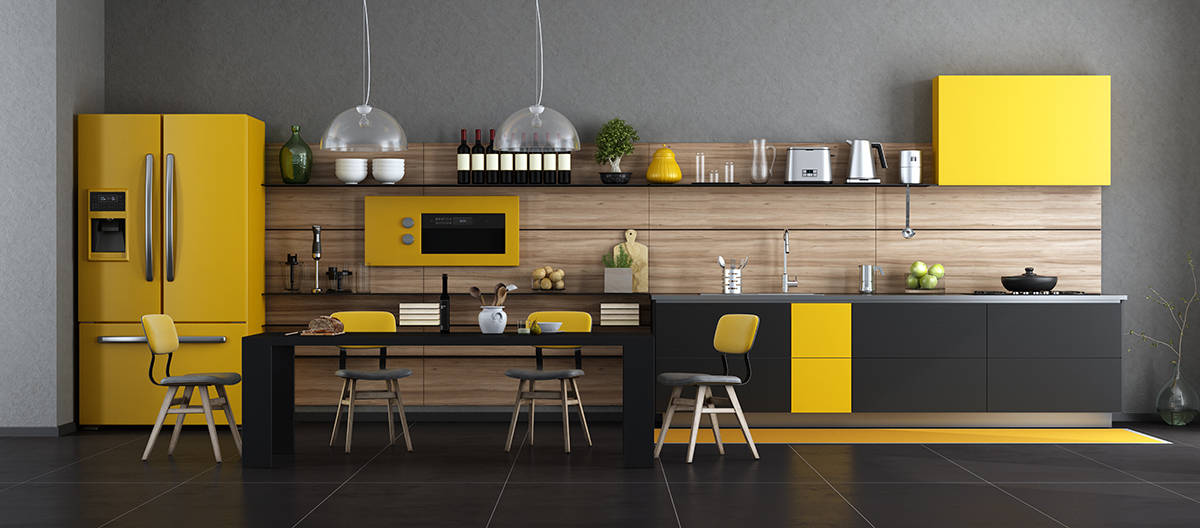 In a kitchen with gray walls, black cabinets may darken the space or make it look too stark. However, you can balance the color scheme by adding yellow to the mix.
Black and yellow cabinets are a sophisticated option for kitchens with dark gray walls. Unlike white, the striking black and yellow can successfully hide any grease or finger marks and makes your modern kitchen look ultra pristine. In fact, for those who don't have the time to clean their kitchens every day, black and yellow cabinets can be more forgiving.
Add silver details or metallic cabinet hardware to this combination to make your fixtures stand out even more. Silver or black metal knobs and pulls tend to be more prominent against yellow and black backgrounds. And as for your appliances, stainless steel is the best option.
In this example, the bright yellow furniture, appliances, and cabinetry blend well with the black cabinets and dark gray walls. The silver lighting adds further visual interest together with the white accessories.
Wood Tones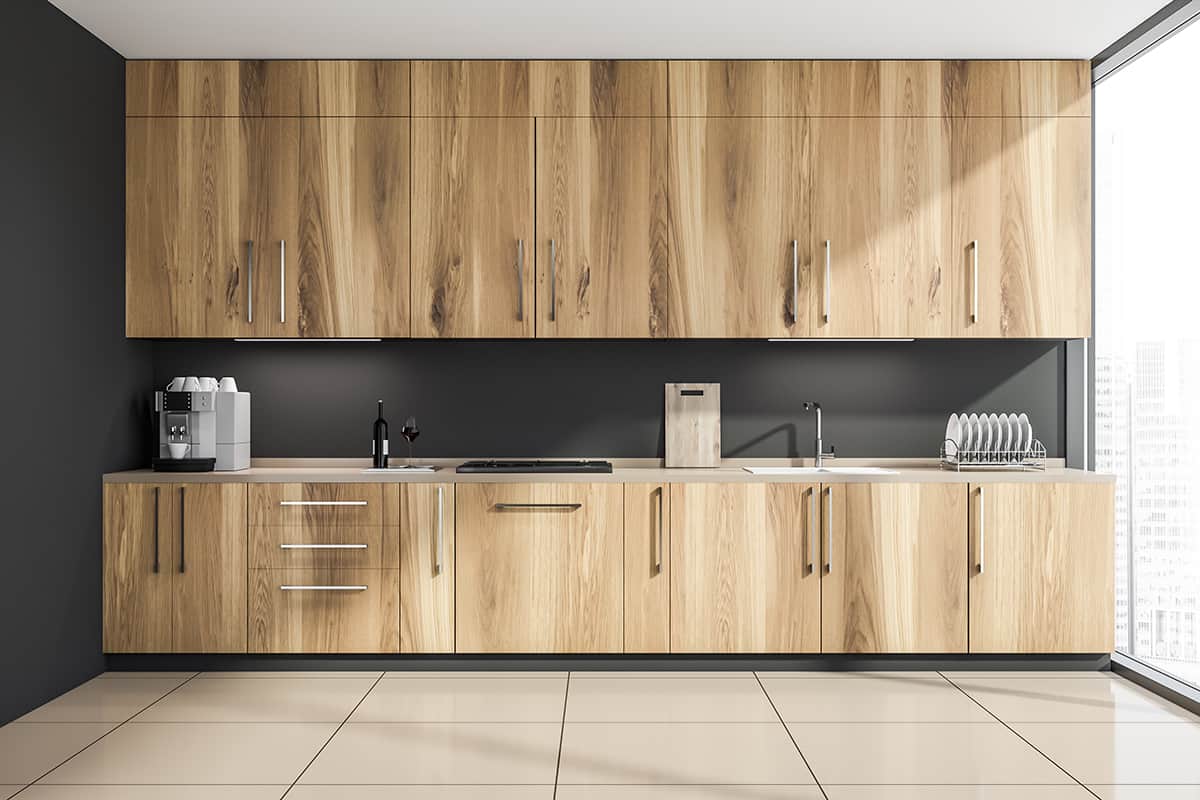 Combining cool shades with warm, earthy tones is an ideal way to make your kitchen more inviting. Wood cabinets, for example, provide a beautiful contrast to the gray walls. Consider beige or tan wood tones as a lighter hue next to dark gray walls.
See how warm and welcoming this minimalist-style kitchen looks thanks to the light wood-toned cabinets. The room feels bright and airy, thanks to the white tile flooring and the tall window.
You can paint your walls any shade of gray as they all work well with light wood tones.
Orange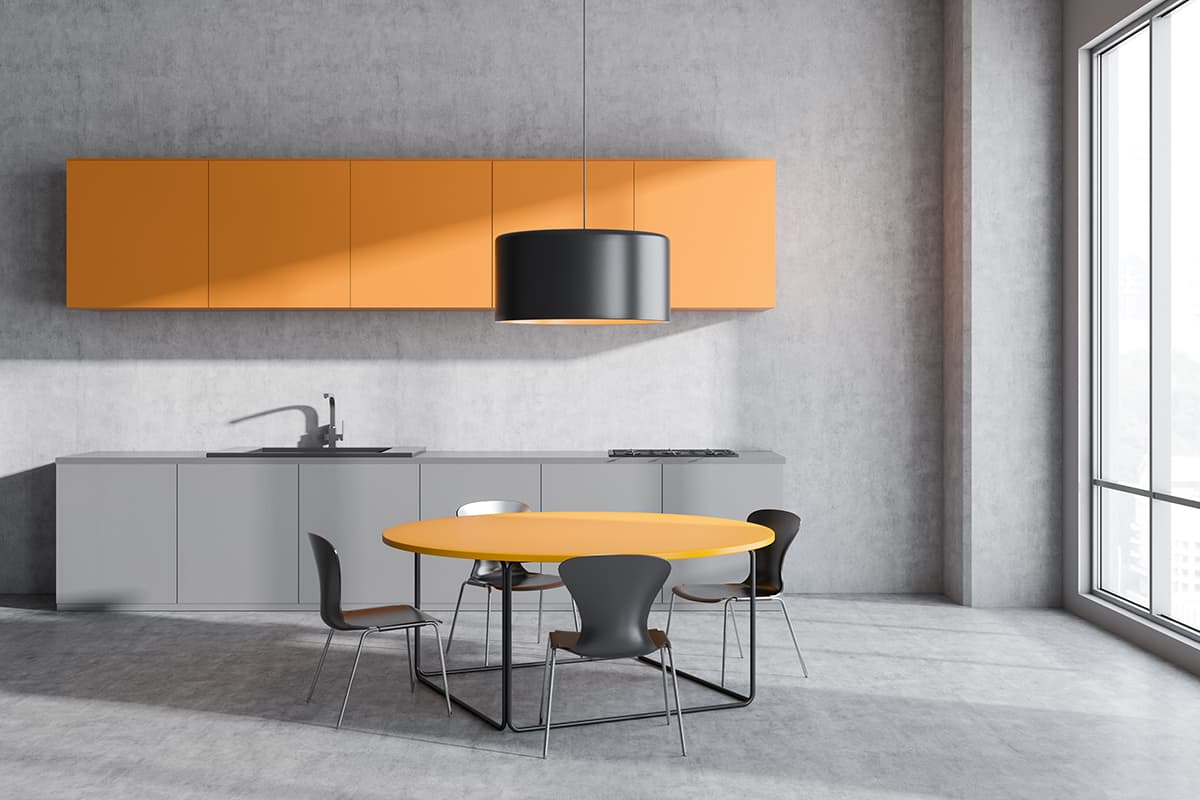 Creating a unique contrast can be a real eye-catcher. Matte gray walls in a light shade with the upper cabinets a bright orange color can be an excellent pairing in minimalist kitchens.
To keep the style modern, you may choose a light gray shade for the lower cabinets. The neutral blend of gray walls with the matching lower cabinets serves as the backdrop to the upper orange cabinets. Include black lighting with orange and gray furniture for a balanced look as shown in this example.
Apple Green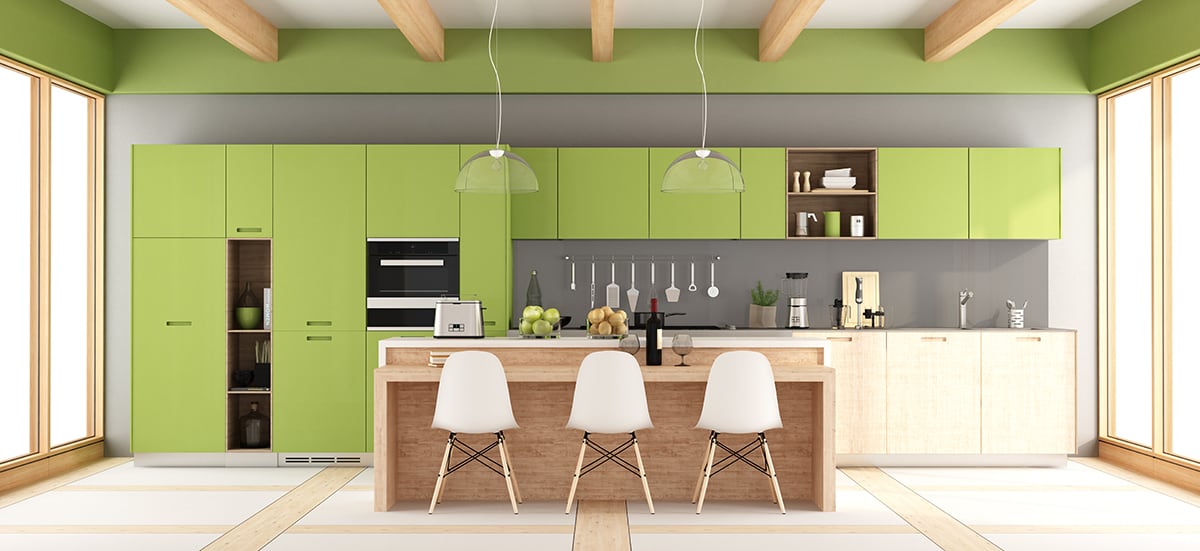 To keep your kitchen atmosphere refreshed, get some inspiration from earthy green tones, such as apple green. This gentle hue elevates the aesthetic of your modern kitchen, plus it keeps the visual harmony firmly in place next to a light or mid-toned gray wall.
We love the subdued look of this modern kitchen with its blend of white furniture, apple green cabinetry, and gray walls. The bright white lower cabinets provide a beautiful contrast to the gray and green.
Bold Blue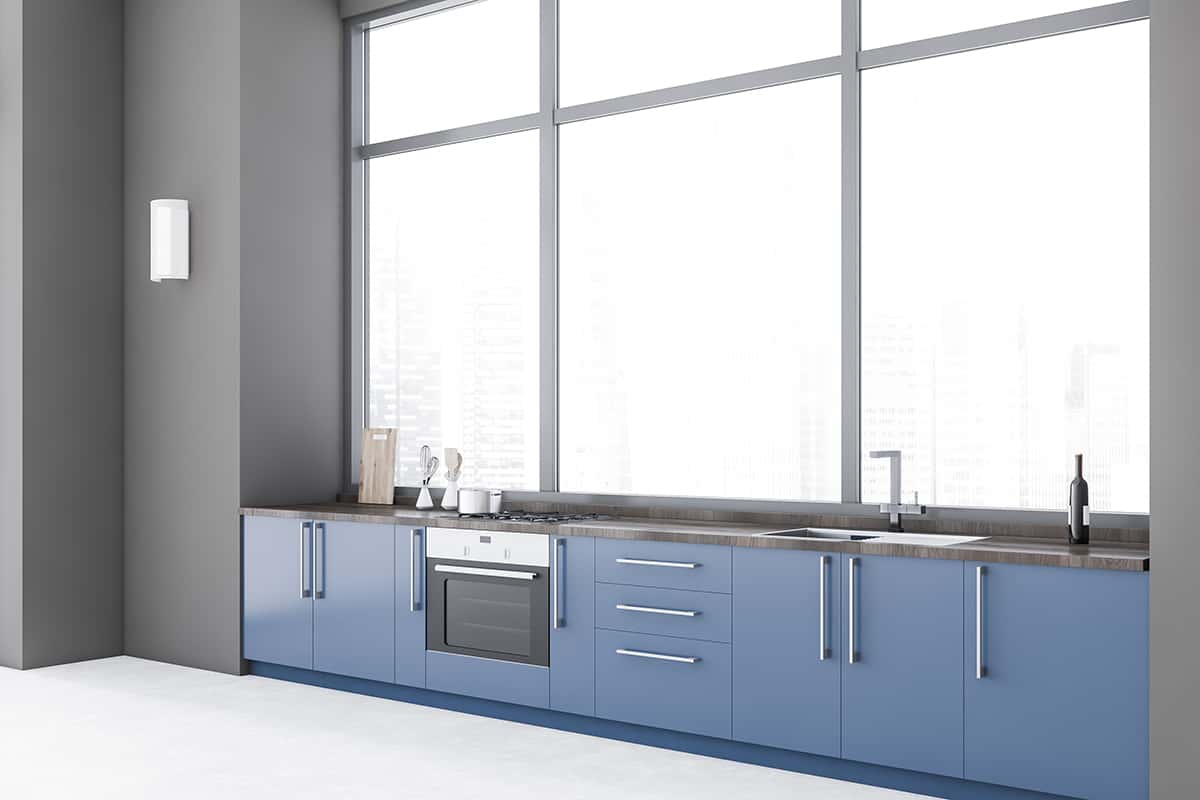 Bold blue can range from navy and teal to turquoise and admiral. When paired with dark gray walls, the cabinets will stand out in a contemporary or minimalist style kitchen. Deep shades of blue are highly desirable with silver hardware, as shown in this example.
See how chic this spacious kitchen design looks with its concrete floor, dark gray walls, and blue cabinets.
Burgundy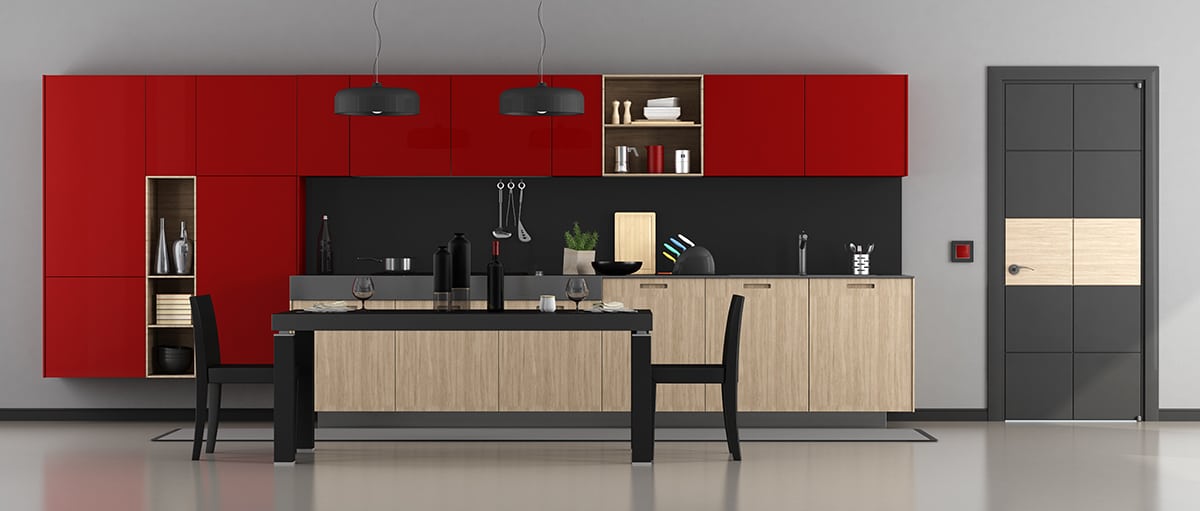 Our final cabinet color that goes well with gray walls is a rich shade of red. Burgundy emits the warmth of fire and autumn, so why not introduce this warm color with the cool gray walls? This color can pop against dark gray walls and provide visual interest.
As you can see in this example of a modern kitchen, the smart-looking black furniture blends in with the burgundy cabinets and dark gray walls. However, if you think burgundy is too strong, opt for rose or candy as an alternative.
Do's and Don'ts of Coordinating Cabinet Colors with Gray Walls
Gray is one of those colors we just can't get enough of! This widely appealing color can be coordinated with many cabinet colors to bring a flawless look to your kitchen.
But when deciding on the best cabinet colors that go with your gray walls, here are some do's and don'ts to take note of:
Do Paint the Walls a Matte Finish Instead of Gloss
You might be tempted to paint your gray walls a high gloss finish, but you might end up with an industrial-looking kitchen. For a safer look, opt for a matte finish instead.
Don't Overlook the Natural Lighting
Before you paint your walls gray, the amount of natural lighting that enters the room will influence the shade you choose. If there is adequate natural lighting in the room, you can opt for a bold gray shade.
By contrast, in north-facing kitchens with a lack of direct sunlight, you might want to consider a subtler gray shade so as to prevent the kitchen from looking too dark.
Do Consider Using Different Gray Shades
Your kitchen walls don't have to be painted the same shade of gray to complement the cabinets. Consider combining darker and lighter gray shades to bring dimension to your kitchen. This ensures your room doesn't look bland or monotonous.
Don't be Afraid to Pair Gray Walls with Bold Cabinet Colors
While it is important not to go overboard with gray shades, bold or dark cabinet colors shouldn't be overlooked when it comes to pairing them with your gray floors or walls.
To spruce up your kitchen, you can use any bright, bold cabinet color, such as orange, blue, or yellow for a striking color scheme. Just as you've seen with our above examples, bold cabinet colors provide a unique and stylish look to a gray walled kitchen.
Do Consider the Size of Your Kitchen
Darker cabinet colors can make a kitchen with gray walls feel closed in. If your kitchen is compact or narrow, choose a light cabinet color for a more open feel.
Don't Make Hasty Decisions
Just because you've painted your kitchen wall gray, it doesn't mean you should pick just any cabinet color. Pick the wrong color and it can break the style of your kitchen.
Take your time when making such decisions as you'll have to live with your choice for many years. The safest option is to select two or three cabinet color samples to see which works best with your gray walls.