Natural wood kitchen cabinets add a kind of charm and character that you just can't get with any other cabinet material. The texture and natural wood feel add depth to any modern and traditional kitchen to create a welcoming space.
While some people may prefer painted cabinets for their kitchen, others embrace the natural wood finish for a cleaner and more classic look.
If you've decided on choosing light wood cabinets for your kitchen, then you'll want to know which other materials and designs match your cabinets. Here we will show you some beautiful kitchen designs that go with light wood cabinets in order to create a more sophisticated and welcoming feel.
Kitchens with Light Wood Cabinets
Rich Grey Walls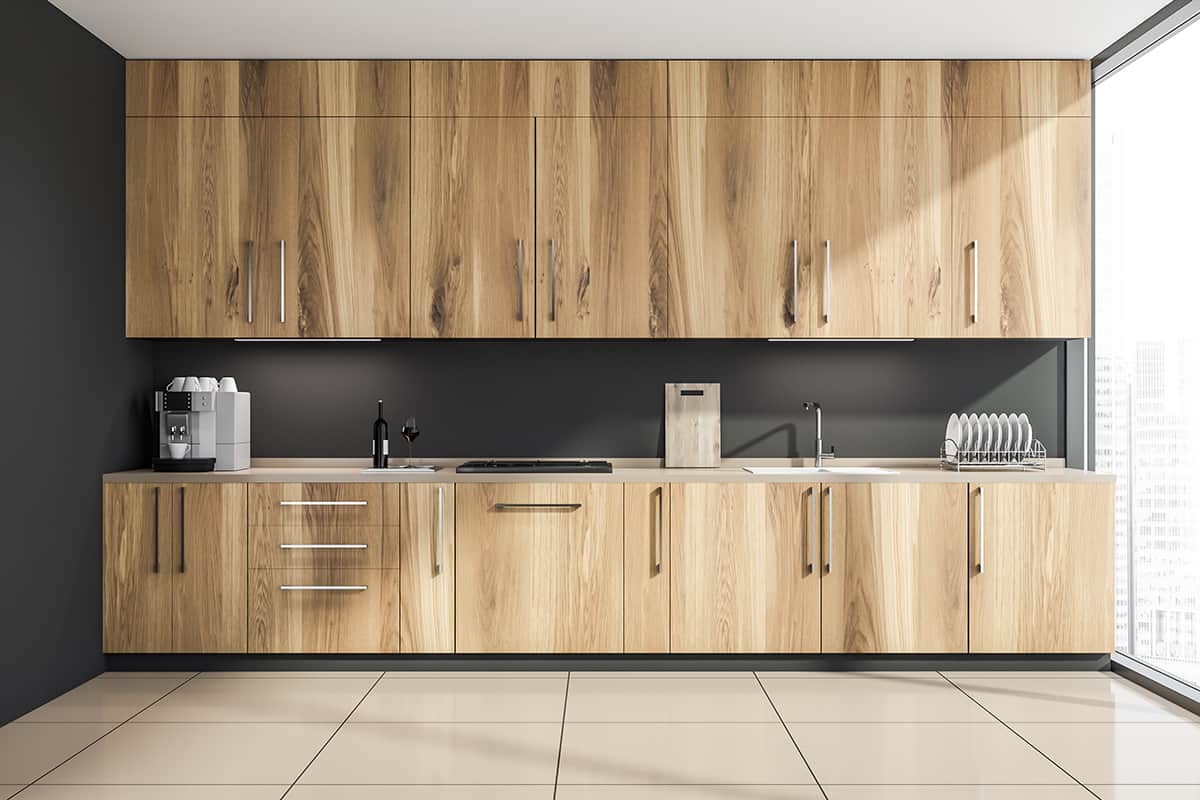 Dark grey is a lovely combination with light wood cabinets as it mixes the cool shades of grey with warm hues of wood. Grey is a highly popular color for kitchen walls with light cabinets as it makes the rest of the decor stand out.
You might want to consider adding light color countertops and flooring to enhance the appeal of your kitchen. Since grey comes in many different shades, you can even paint one wall in dark grey and the other in a lighter shade.
In this minimalist kitchen, the dark grey walls haven't made the room dark thanks to the floor to ceiling windows and light wooden cabinets. This design is ideal in kitchens with ample natural lighting.
An All-White Design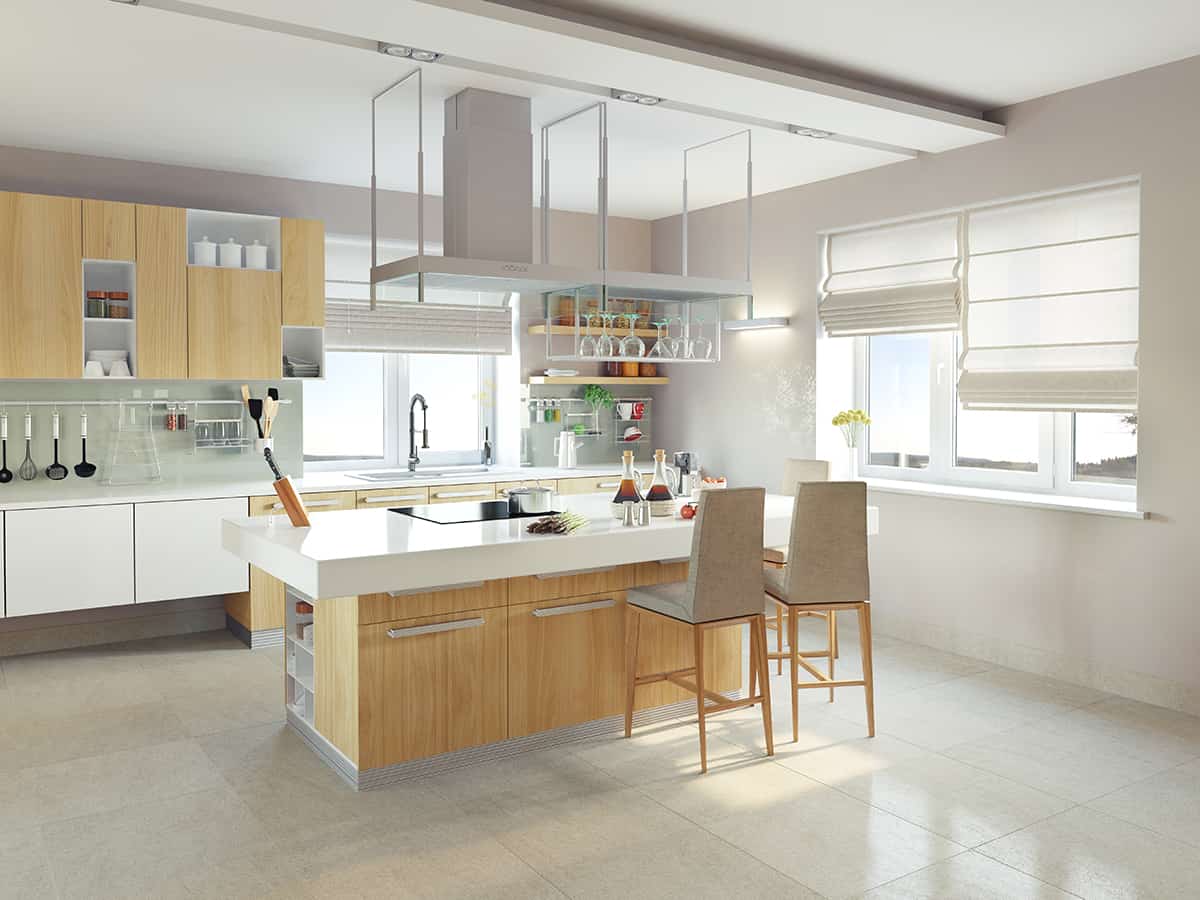 You can't go wrong with a mix of light wood cabinets and an all-white design. When we say white, we mean for the walls, floor, ceiling, appliances, and countertops.
White is a clean and bright color, which opens up the kitchen and makes it feel more spacious. Due to the warm feel of natural wood cabinets, it makes sense to pair them with white in order to create contrast. There is no need to add any third colors to make your cooking space more uniform.
As you can see in this example, an all-white kitchen helps the subtle hue of light wood cabinets to stand out beautifully.
Marble Flooring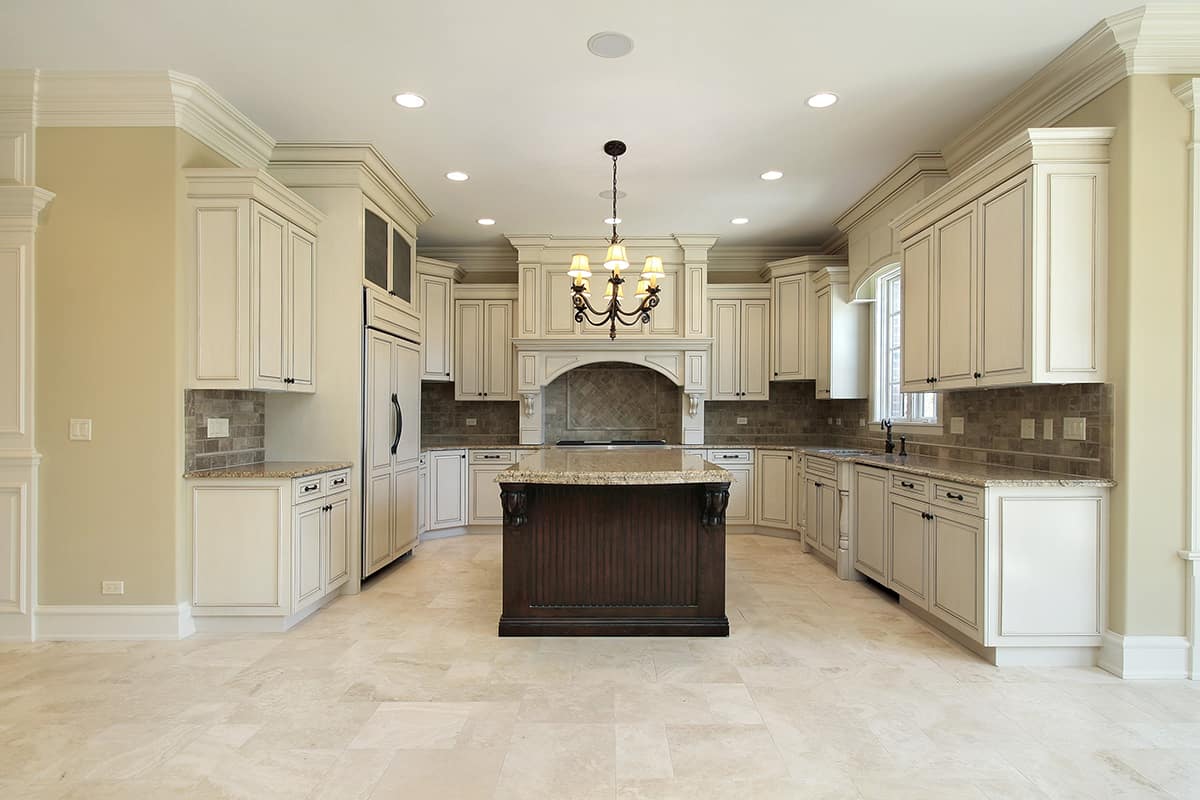 Light wood cabinets are subtle backdrops to other focal features of the kitchen. If you want to add a luxurious touch to your cooking space, consider marble floors as an elegant accent that goes with any design scheme.
White marble works with any neutral color as shown in the example here. This kitchen with light wood cabinets is accentuated with a black island and white marble flooring, which evoke a sleek ambiance in this space.
For those who are on a limited budget, white ceramic flooring will work just as nicely paired with light wood cabinets and white walls.
Muted Green Walls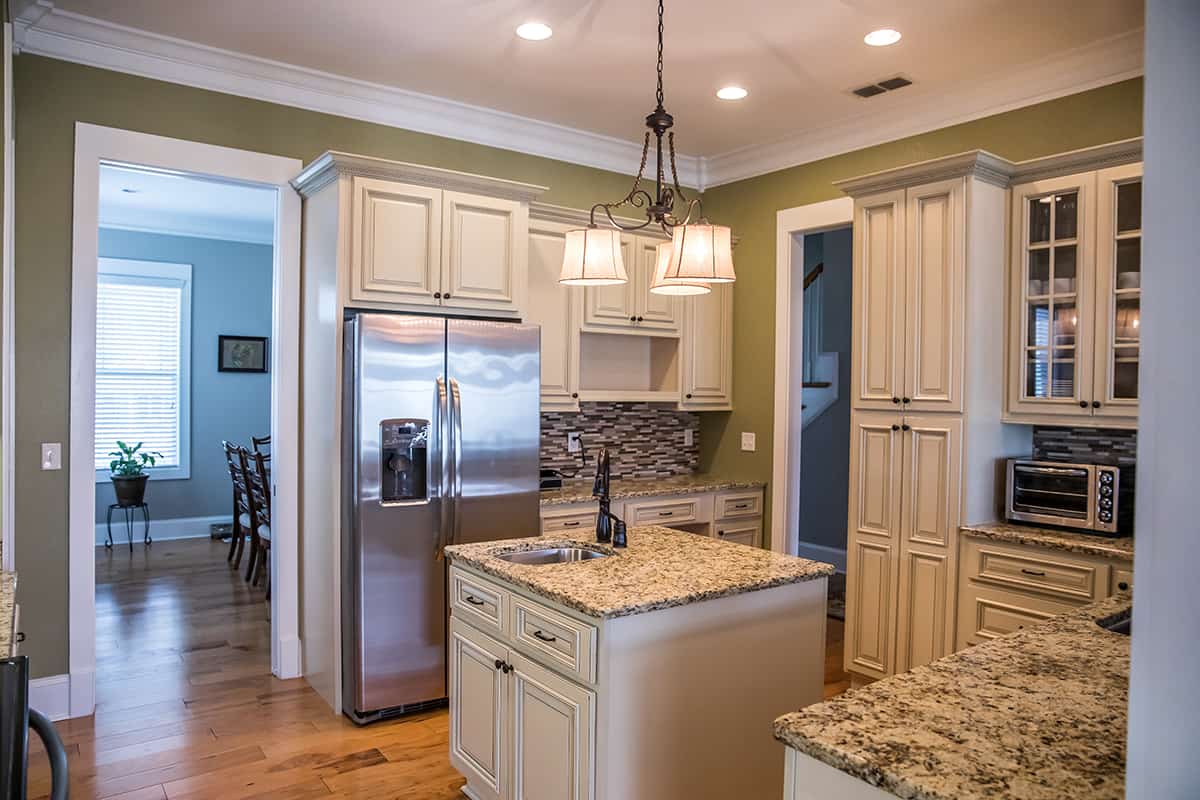 Since light wood cabinets have an earthy tone to them, why not use muted green for the walls to coordinate with your natural, earth-inspired hue.
Any soft shade of green like sage, hunter green, olive, moss, or sea green will work for the walls. This appealing color also goes with light granite countertops and light wood flooring as shown in this cozy kitchen example.
Note: avoid using bright green paint colors for the walls as this may appear too harsh next to light wood cabinetry.
Red Appliances and Countertops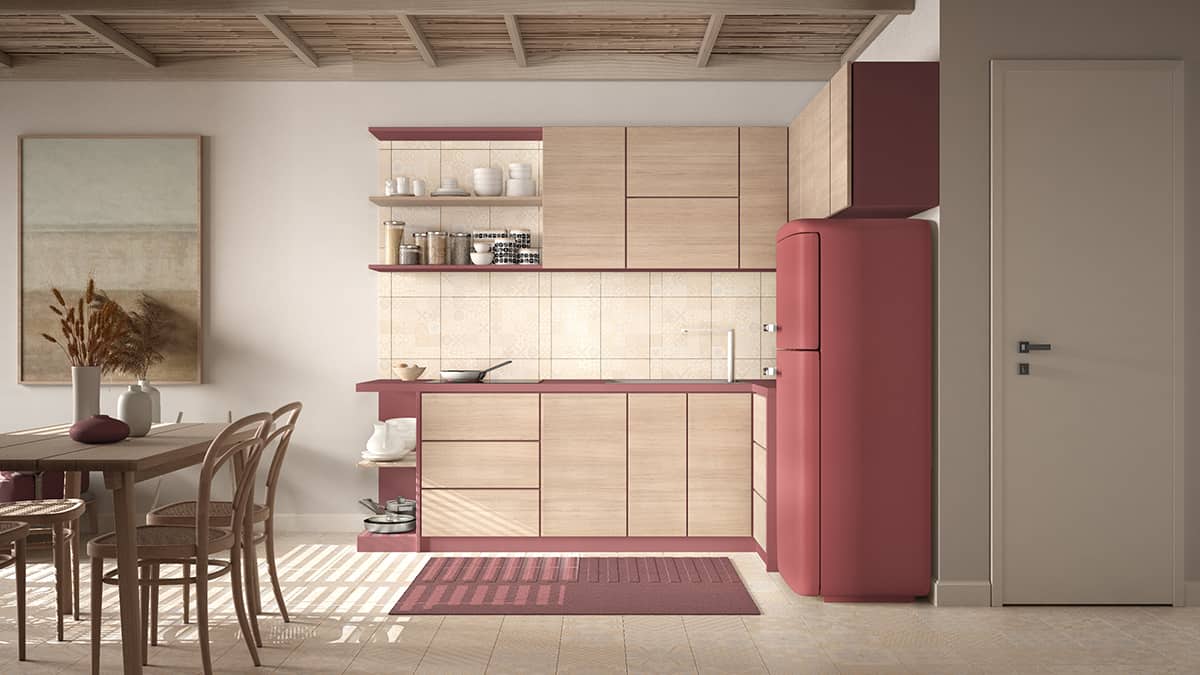 Red is a warm and energetic color that creates a solid visual impact when paired with light wood cabinets. A deep shade of red like burgundy or cherry is ideal for appliances and countertops.
This bold color won't clash with your wooden cabinets, but you might want to add redder than wood to your kitchen design.
Red toaster, blender, rug, and fridge freezer will all look appealing in a traditional setting. While red isn't the type of color one would think of for pairing with their wooden cabinetry, it is, nevertheless, a striking hue that offers a lovely contrast against natural wood stain.
That said, make sure you don't go overboard with too much red in your kitchen, especially if your space is small as this bold color can make the kitchen feel cramped.
Blue Tiles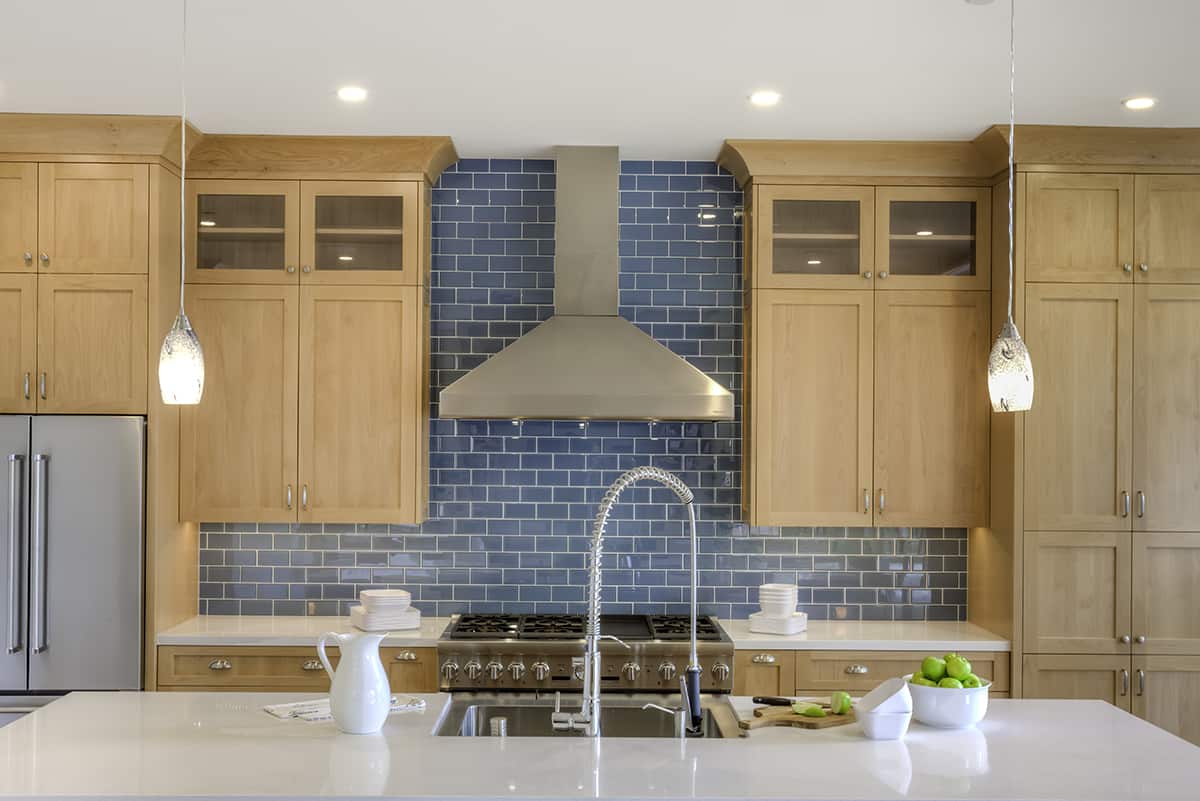 Because light wood cabinets have an earthy, warm cottage appeal, using blue tiles will provide a cheerful contrast. A bright shade of blue like soft aqua next to light wood cabinets is a refreshing combination. You should choose white countertops to keep your kitchen light and airy while maintaining the country cottage motif.
Here, the blue-tiled wall serves as a beautiful backdrop to the light wood cabinetry and white kitchen island. Other accessories that can be included in this space are white appliances and black-lighting.
Beige Furniture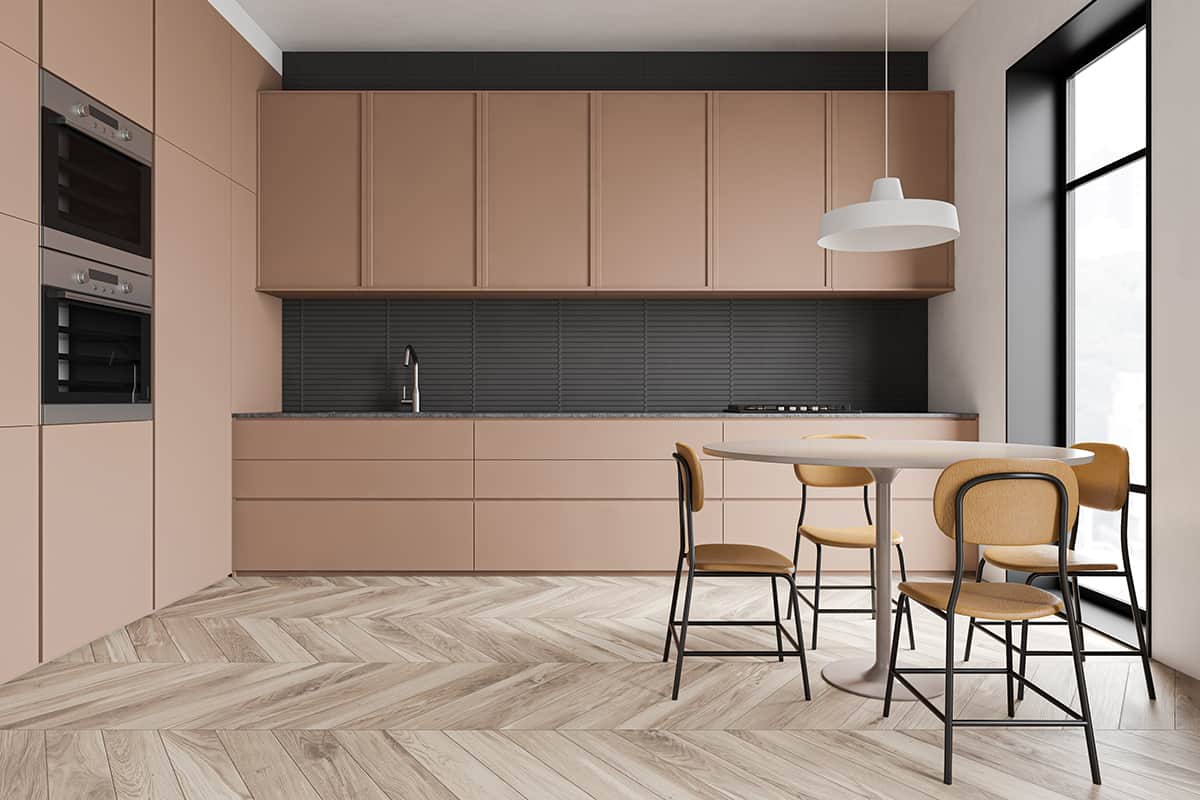 Beige is a neutral color that goes hand in hand with light wood. This popular color is often picked for the kitchen walls, flooring, and backsplashes as a warm, complementary hue to the wooden cabinets. But how about furniture?
There is something inviting about beige, which makes it a perfect match for a kitchen with light wood cabinets. Whether your kitchen design is contemporary, rustic, or mid-century modern, you can make your cooking space ultra-elegant by incorporating beige furniture into the design scheme.
Just like in this beautiful modern kitchen, beige is seen throughout the room in the form of dining furniture, wooden flooring, and cabinets.
Black and White Fixtures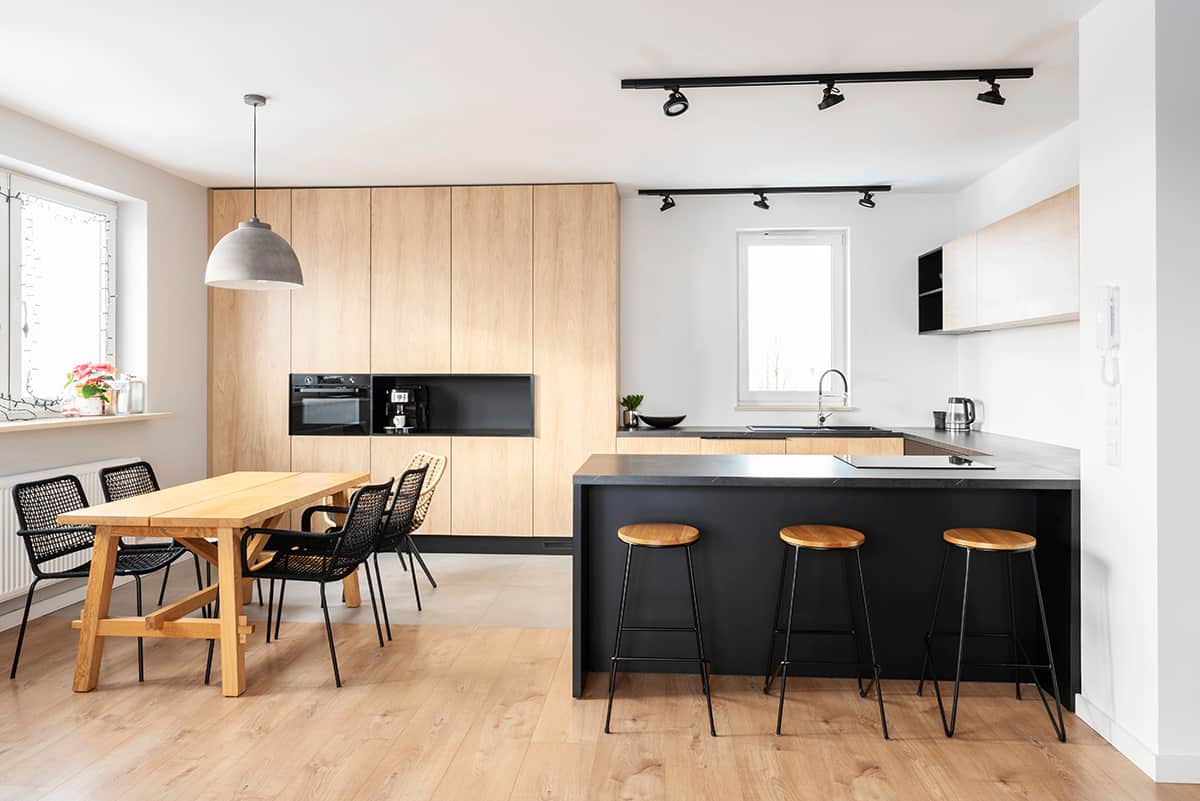 For a super modern look in a kitchen with light wood cabinetry, try blending black and white fixtures and fittings into your design. Black and white lighting, countertops, and other relevant accessories for the kitchen can work as a contrast to natural wood.
The idea of a black and white combination with light wood is a unique way of modernizing your kitchen without having to stain your wooden cabinets. Since black and white are both neutral colors, they work very well with wooden fixtures in the kitchen as proven in this example.
Black Countertops and Stainless Steel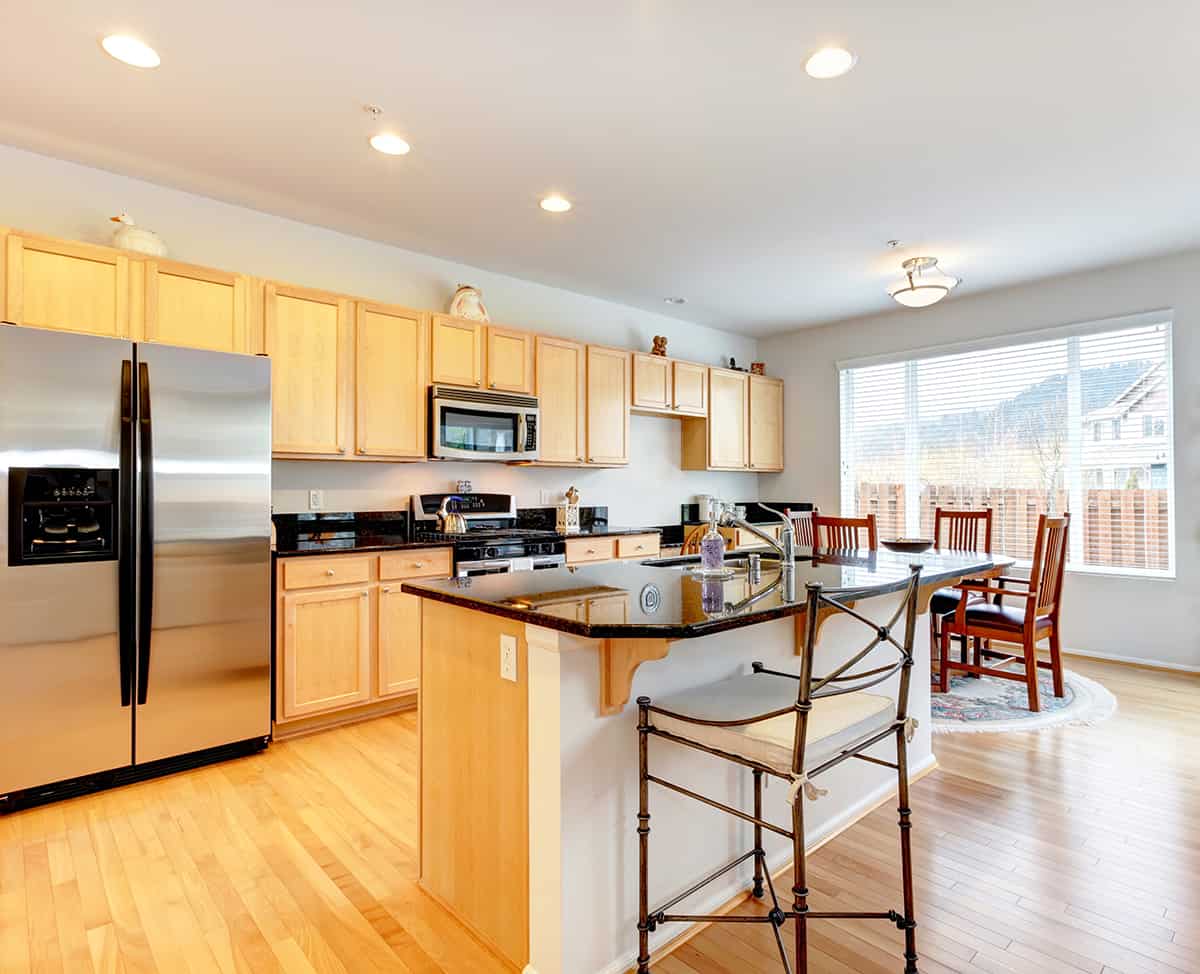 We are yet again mentioning black here because it's such a versatile color for kitchen countertops. This is especially true if you have light yellow wooden cabinets. The lightness of the cabinets helps keep the kitchen bright, while the sophisticated black countertops add a warmer appearance.
Add stainless steel appliances for an ultra-modern touch to complete the look. The combination of black for the countertops, stainless steel, and light wooden cabinets will perfectly go with light hardwood flooring and white walls as shown in this example.
Granite Countertops and Light Wood Island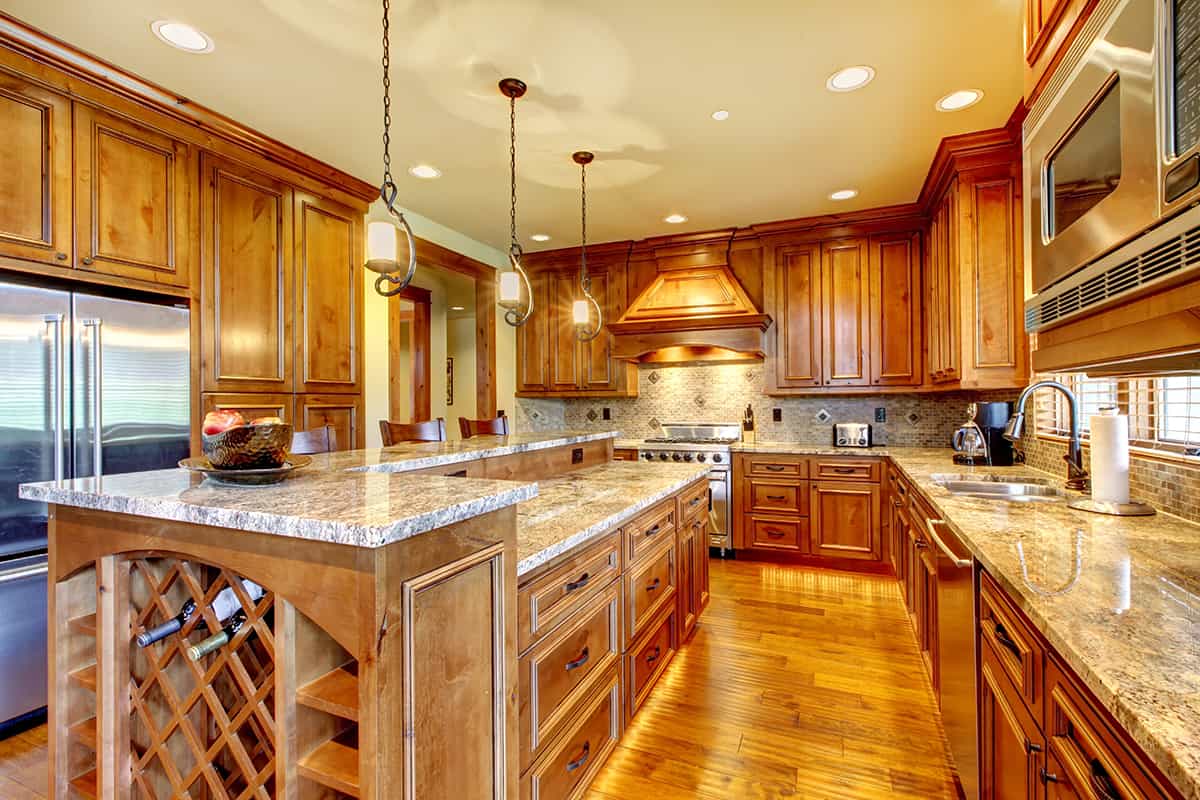 Granite kitchen countertops with cool grey undertones have a modern appeal in a traditionally designed kitchen. To create a warm ambiance in your kitchen with light wood cabinetry, incorporate gray granite countertops with a silvery hue. Include stainless steel appliances to keep the space modern and inviting.
Just like in this example, the luxurious kitchen features light wooden oak cabinets with matching floors and islands. The countertops are in gray granite, and the lighting is in country cottage style. This kitchen design concept has a mix of old-world meets modern, which we must say works very well!
Are Light Wood Cabinets Still in Trend?
Light wooden cabinets have always been popular in traditional kitchens. But they are fast becoming trendy in modern kitchens thanks to the authentic and warm ambiance of natural wood. Unlike brighter color tones that often go in and out of fashion, a well-designed light wooden cabinetry for the kitchen will always remain in style thanks to its subdued and subtle appearance.
Light wood cabinets are incredibly practical as they are easier to maintain than dark cabinets. In fact, neutral-toned cabinets require less frequent cleaning than their dark countertops, which is the main reason why so many homeowners prefer light wood over dark wood for their kitchen cabinetry.
So whether you have a modern or traditional kitchen design in mind, consider picking light wood cabinets as the natural appearance of unstained wood never goes out of style.
Conclusion
Based on our examples of kitchens with light wood cabinets, it is safe to say that most color combinations can be used to transform your kitchen into a warm and inviting space.
All you need to do is pay attention to the size of your kitchen before picking the best color schemes for the fixtures and fittings. In smaller spaces, it is best not to choose bold or vivid colors like red or orange, as these can make your light wooden cabinets disappear in the background and make the room feel cramped.
Light wood works best with light, neutral hues, so if you want to create an open and airy room, opt for beige or white. On the other hand, if your kitchen space is large and open already, then you may incorporate black and other striking colors into your overall design scheme.