Choosing a corner cabinet in a kitchen can be a complicated task because there are a variety of options available, and each has benefits and drawbacks.
If you are planning your kitchen remodel, then it will be helpful to know the standard dimensions of corner cabinets, as well as how they operate and what sort of situations they work best for.
Types of Corner Cabinets and Their Dimensions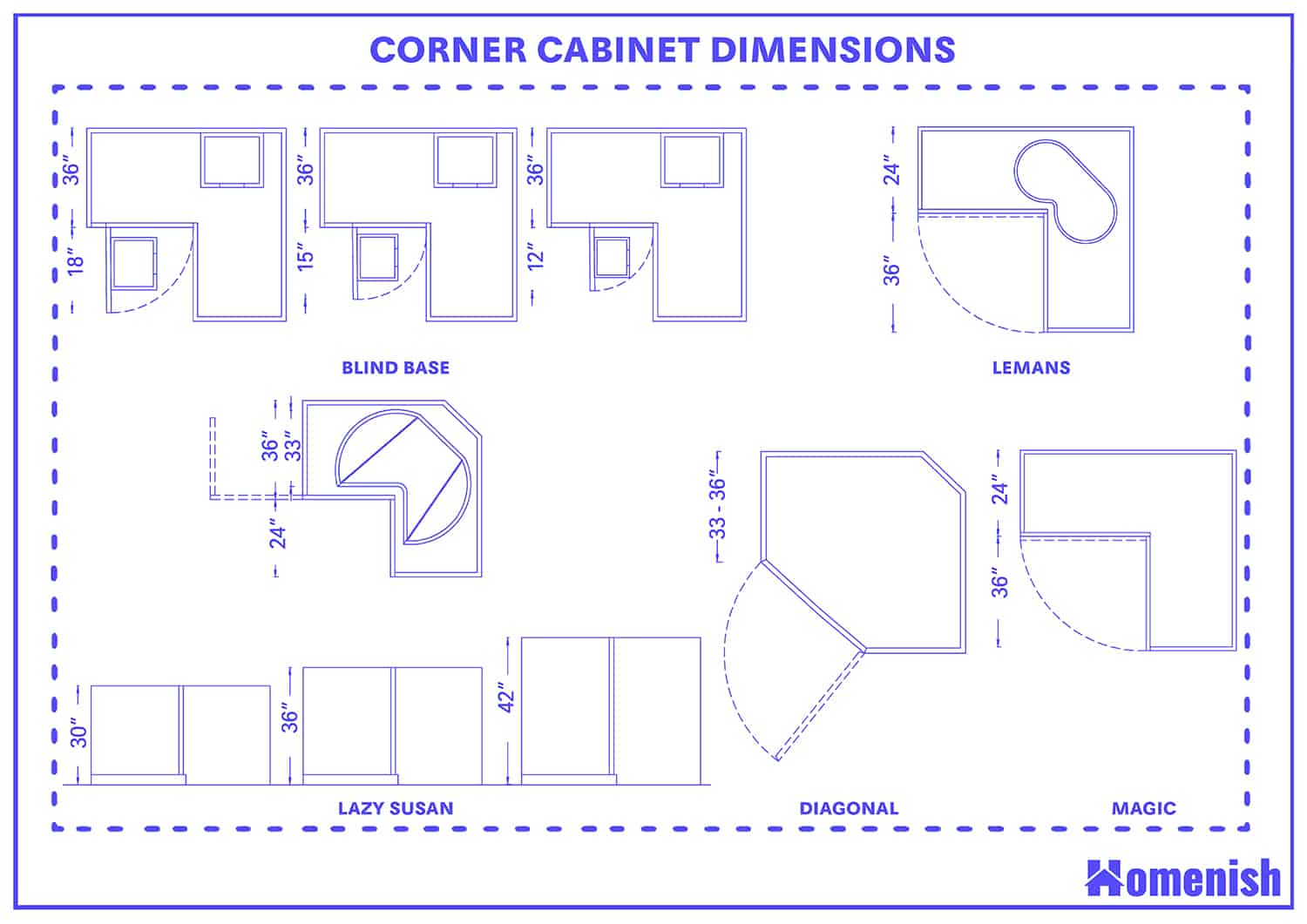 Blind base cabinets
A blind base cabinet is aptly named because when you reach into the back of this cabinet, you can't see where your arm is going, so you are effectively rendered blind. These cabinets are the most basic style of corner cabinet you can get, and as such, they are usually the least expensive option.
Although there are a range of other designs available which will make better use of your corner space, these come with a higher price tag, so if your focus is on completing your kitchen renovation on a tight budget, then a blind base cabinet may be your own option.
With a blind base cabinet, you only have a small opening of typically 12, 15, or 18 inches to access the whole of the cabinet's contents which can go as far back as 36 inches.
Most commonly, the standard blind base cabinet will measure 36 inches wide and 24 inches deep. These cabinets are compatible with pull-out racks and shelves, which make better use of the space, so you could always start out with a blind base cabinet with shelves and add in pull-out racks at a later date when you have a bigger budget.
Since you can't see what is at the back of the cabinet in this kind of unit, most people use blind base cabinets to store items they don't frequently need access to. This might include an ice cream maker you only use on special occasions or a set of old bowls that you don't use, but you're reluctant to get rid of for sentimental reasons.
Avoid storing commonly used items in these cabinets, such as dinner plates and saucepans, because it will be frustrating trying to get them out from the depths of the cabinet when you can't actually see them.
LeMans corner cabinets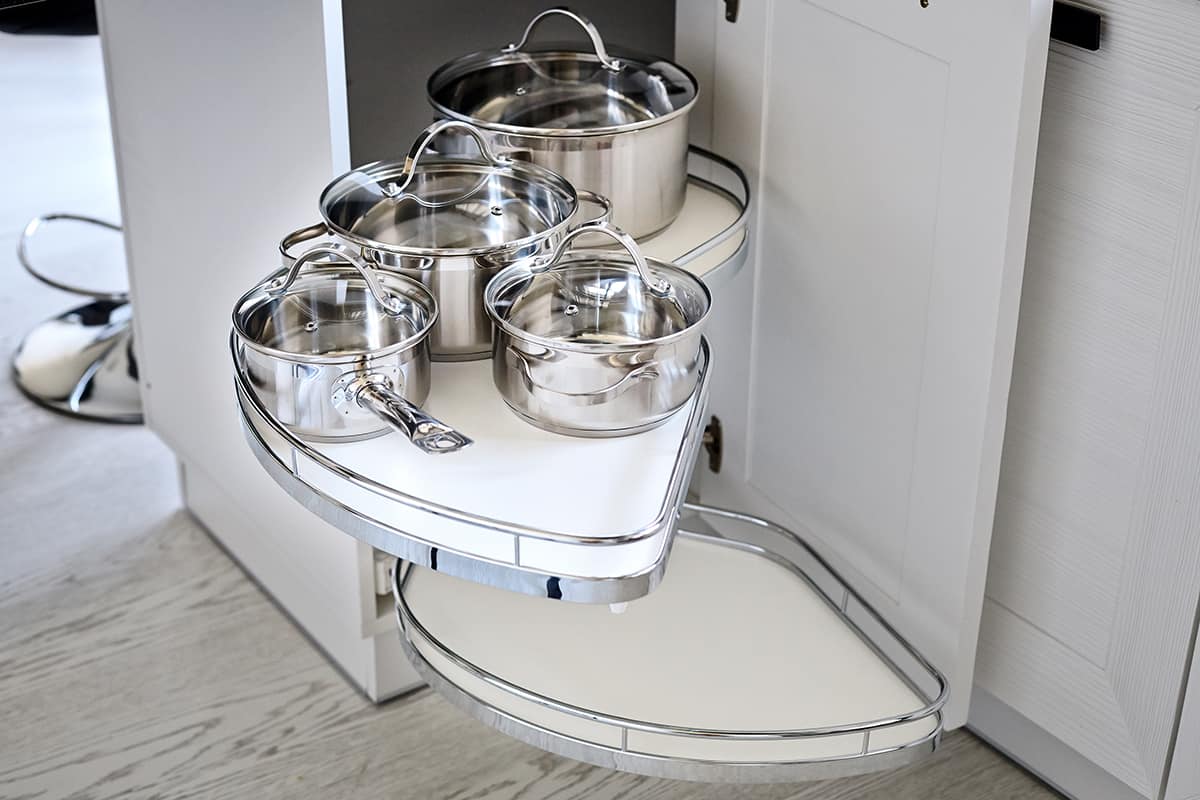 A LeMans kitchen corner cabinet is an update to the Lazy Susan. It features pull-out shelves that swing around much like the Lazy Susan, but they are kidney bean-shaped, so they lose less space compared with Lazy Susan shelves.
Rather than swinging around in full laps, the LeMans kitchen cabinet shelves rotate to a certain point forward and then need to be pushed back into the cabinet. They don't complete a full rotation.
These cabinets are ideal for making the most of the storage space in your kitchen while also making it easier to access your stored items. A LeMans pull-out shelf is compatible with standard blind base corner cabinets, which measure 36 inches wide and 24 inches deep. The shelves come in a range of sizes to suit different door opening widths.
Lazy Susan cabinets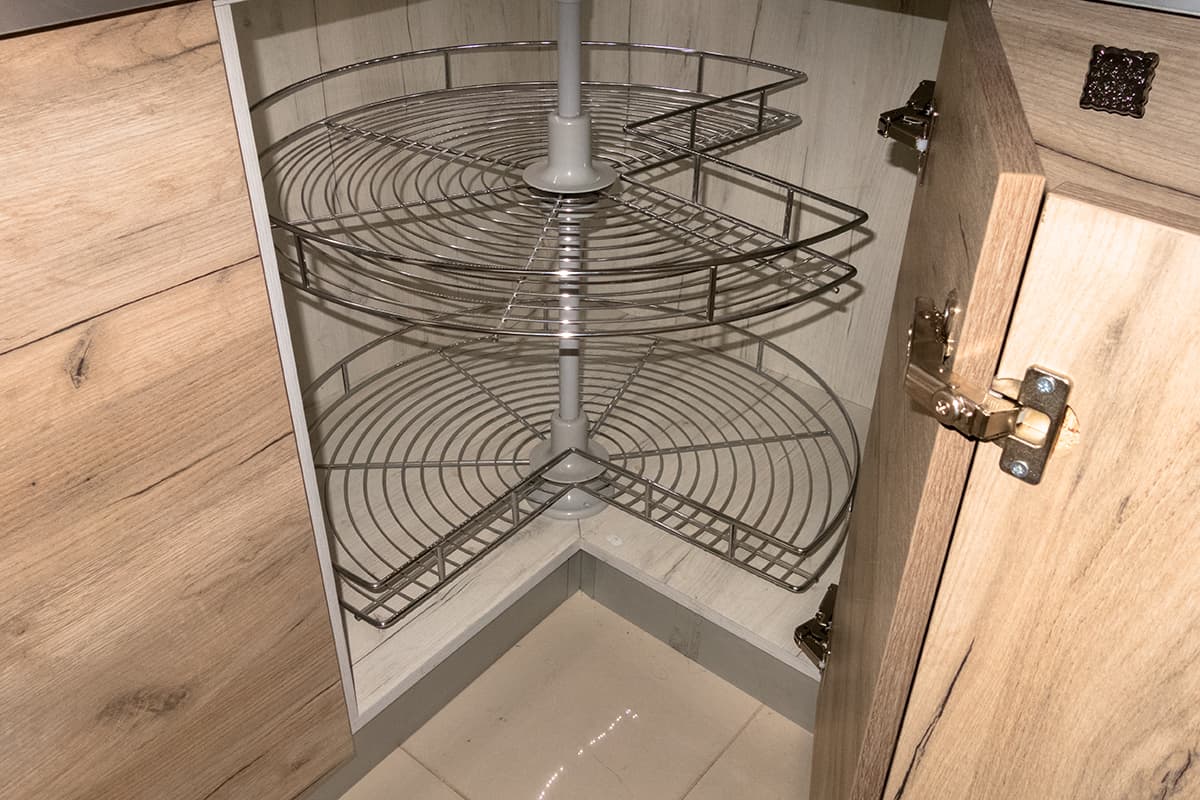 A Lazy Susan design features a number of circular shelves that are fixed to a central carousel, and they each have a wedge cut out of them so that the corner cabinet doors can close. These are a type of corner cabinet that many people remember from their childhood, but they aren't that popular anymore since new inventions which lose less space have come to the market.
The premise of the Lazy Susan is that less space is wasted compared with a blind base cabinet because the shelves rotate, giving you easy access to the items that were stored at the back of the cupboard.
The problem with this design, though, is that Lazy Susans are circle-shaped, while corner cabinets are square or rectangular. It is quite literally a case of fitting a round peg into a square hole. These two shapes do not play well together, and it means that you still have plenty of wasted or 'dead' space in the far corners of the cabinet.
The standard size for Lazy Susan cabinets is 33 inches or 36 inches. This means that each wall will have 33 inches of 36 inches of space occupied by the cabinet.
These cabinets are typically seen as base cabinets (the lower cabinets in a kitchen) with a height of 34.5 inches. If you want a Lazy Susan as a wall cabinet on the upper portion of your kitchen, it will be 24 inches square, with a height of either 30, 36, or 42 inches to coordinate with your other wall cabinets.
Diagonal corner cabinets
A diagonal corner unit will be square-shaped, with the front corner sliced off to create a diagonal line where a cabinet door will go. These units occupy the same amount of space as a Lazy Susan cabinet, but instead of having the rotating internal shelves, they have standard fixed shelves which can be easily accessed thanks to the diagonal cabinet door.
These cabinets have a traditional look to them which works well in classic or traditional style kitchens, but they can look outdated in a modern space. Although these make better use of a space compared to blind base units, they can still make it hard to access items at the very back corner of the cabinet. These cabinets come in standard sizes of 33 or 36-inch depths.
Magic corner cabinets
A magic corner cabinet is a multi-layer metal rack system that fits into a standard blind base cabinet of 36 inches wide and 24 inches deep. It features pull-out wire baskets which swing out from inside the unit at various angles, making the absolute most of the space inside a corner cabinet and reducing any dead space.
These can be purchased to replace the standard existing shelving in a blind base unit to increase your storage space and make finding your kitchen items much easier and less stressful.