Knobs and handles are a small yet essential part of a kitchen cabinet design. In fact, no exterior cabinet design is complete without hardware.
But if you are thinking of replacing your black cabinet's hardware, or you like the idea of fitting black cabinets in your new kitchen, you'll need to think about the hardware colors and finishes that work best with this striking cabinet color.
The best hardware finishes and colors that work with black kitchen cabinets include silver, brass, and bronze. These colors stand out on the black cabinets and create a beautiful customized look that you can enjoy for many years.
Here we have the most complimenting and contrasting hardware colors for black kitchen cabinets:
Hardware Colors and Finishes for Black Kitchen Cabinets
Silver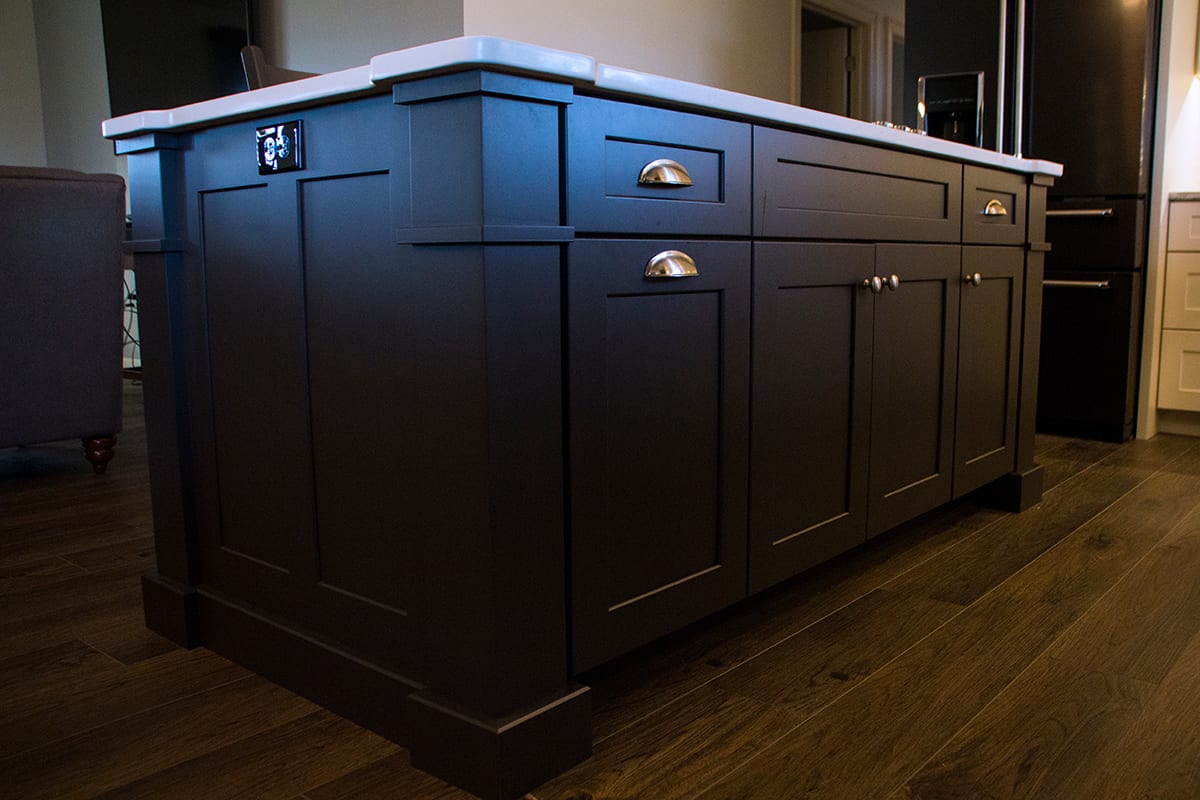 Silver knobs and handles are a timeless option for black kitchen cabinets. This chic color combination can fit any modern or traditional kitchen design.
Just make sure your selected silver hardware doesn't stand out too much against the black cabinets as the idea is to keep the focus on the cabinets rather than the hardware.
For a sharp and intense combination, go for either polished or brushed silver. This option will give your kitchen an instantly modern vibe as silver is a neutral color that goes beautifully with black.
Brass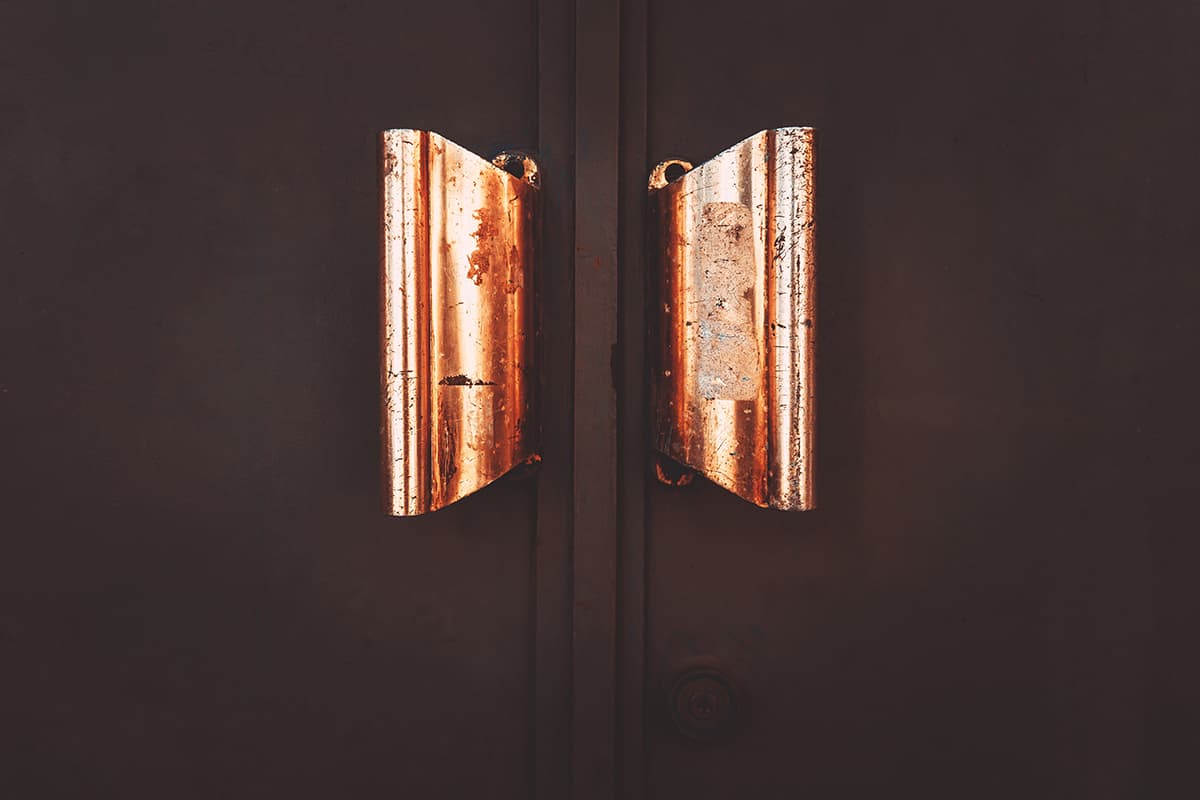 Brass consists of copper and zinc blended with other trace metals. When choosing a brass finish to pair with your black cabinets, make sure it is solid brass, i.e. not hollow.
This charming hardware option is ideal for rustic or farmhouse style kitchens. Brass hardware boasts as an excellent accent color that emits elegance. To make your kitchen with black cabinets look classy, consider brass knobs as the focal point of the room.
Brass is a versatile metal that brings warmth in a kitchen with dark cabinets. But aside from being used in traditional style kitchens, brass is also embraced for its industrial charm, thus making it a top favorite in such trendy kitchens.
Bronze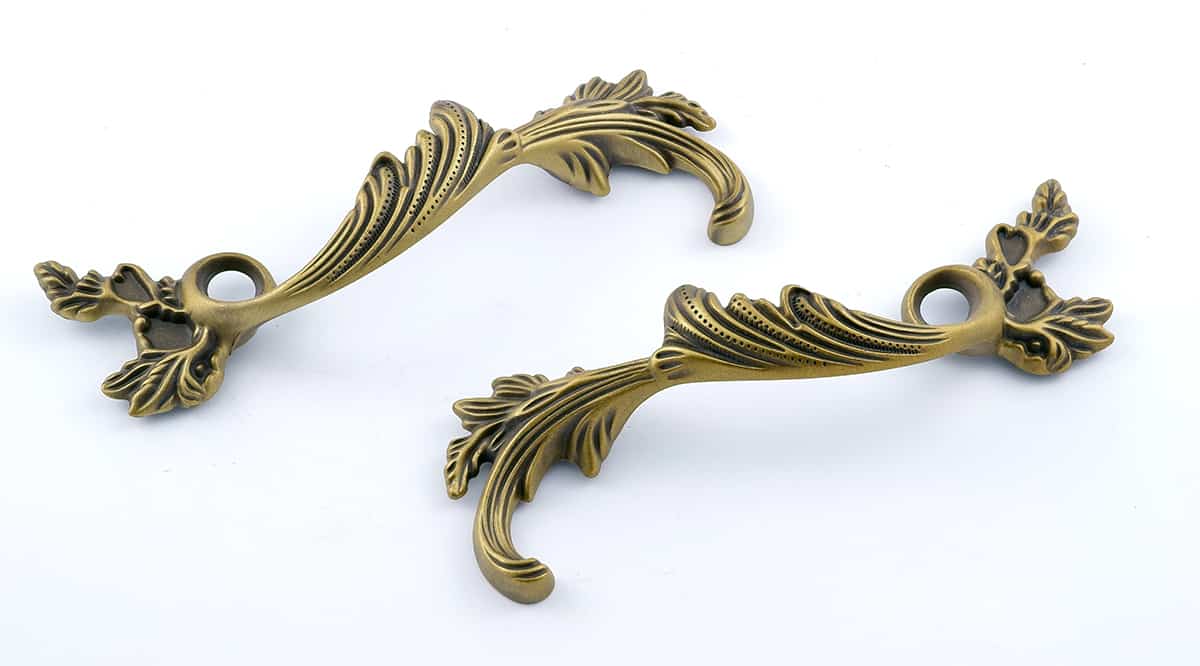 Just like brass, bronze is also a blend of two or more metals. The main ingredients for making bronze are tin and copper, which can clearly be seen on the color depth and hardness of the metal.
This popular hardware choice for black cabinets comes in many shapes and designs for added visual appeal. In fact, you can find many different shades of bronze hardware to create a rustic or modern vibe in your kitchen.
Polished Nickel or Chrome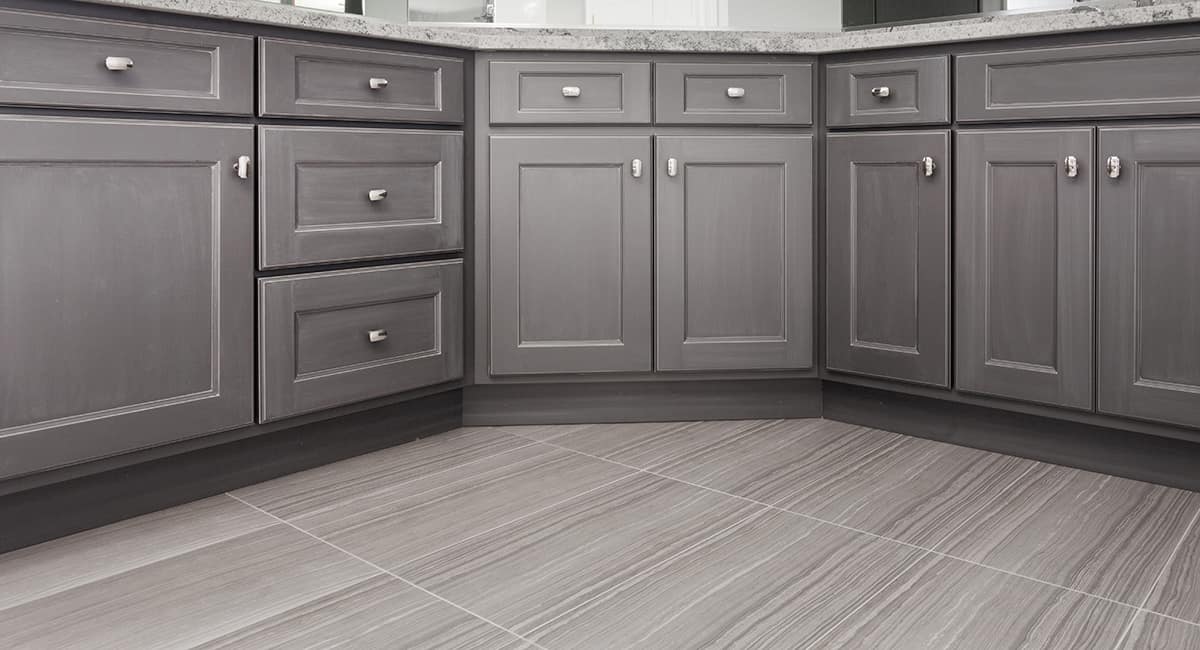 As a softer contrast to brass and silver, polished nickel goes with practically any kitchen cabinet color. This neutral hardware finish may appear cold next to neutral cabinet colors, but it does boast a silvery shine that balances out the matte black undertone.
Polished nickel hardware is ideal in both modern and traditional style kitchens, but if you are after a rustic design, go for weathered nickel hardware instead of the polished variety.
This hardware finish tends to have more dimension and a perfect choice for country style kitchens. It also goes well with shaker black cabinets.
Matte Black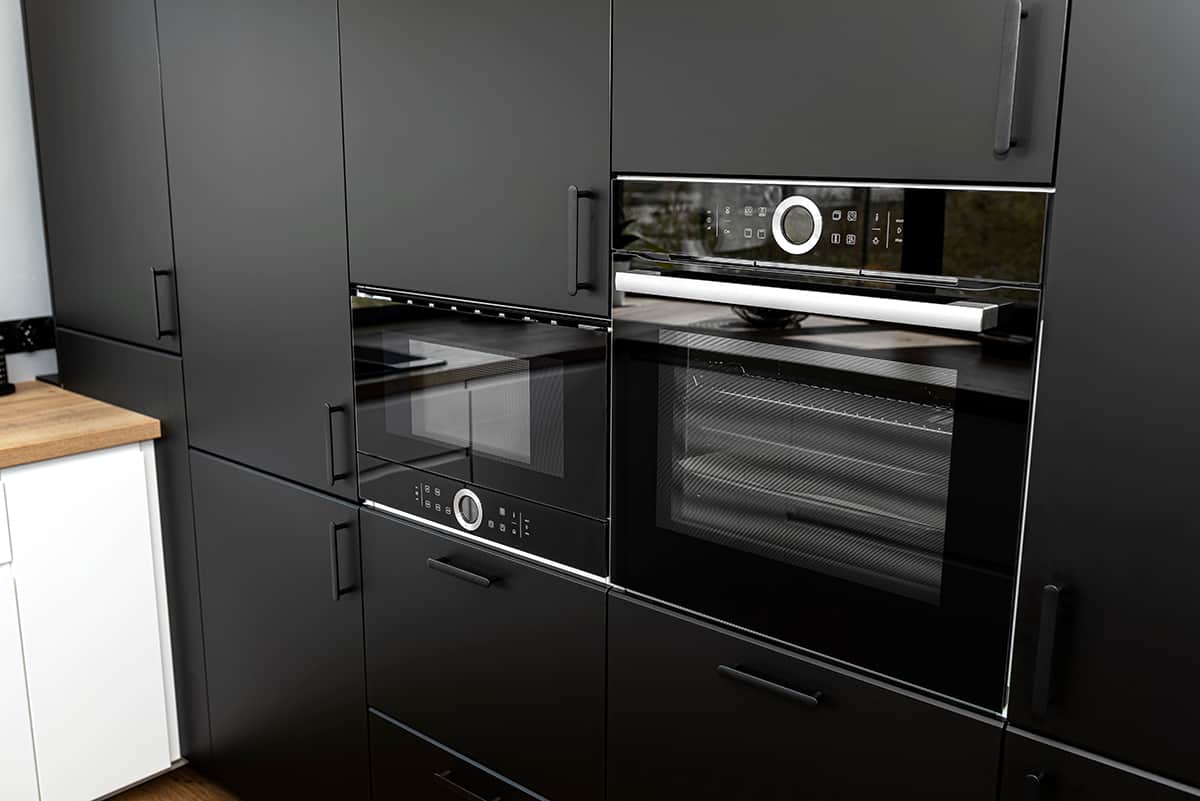 While some people may be hesitant to pair their black cabinets with black hardware finishes, this combination can surprisingly bring a rich look to a modern kitchen.
If your black cabinets are shiny, go for matte black hardware in order to keep the cabinets the center of attention. Matching your cabinets with the hardware is the right choice if you want an understated design as you get the benefit of having hardware that doesn't stand out too much.
Wood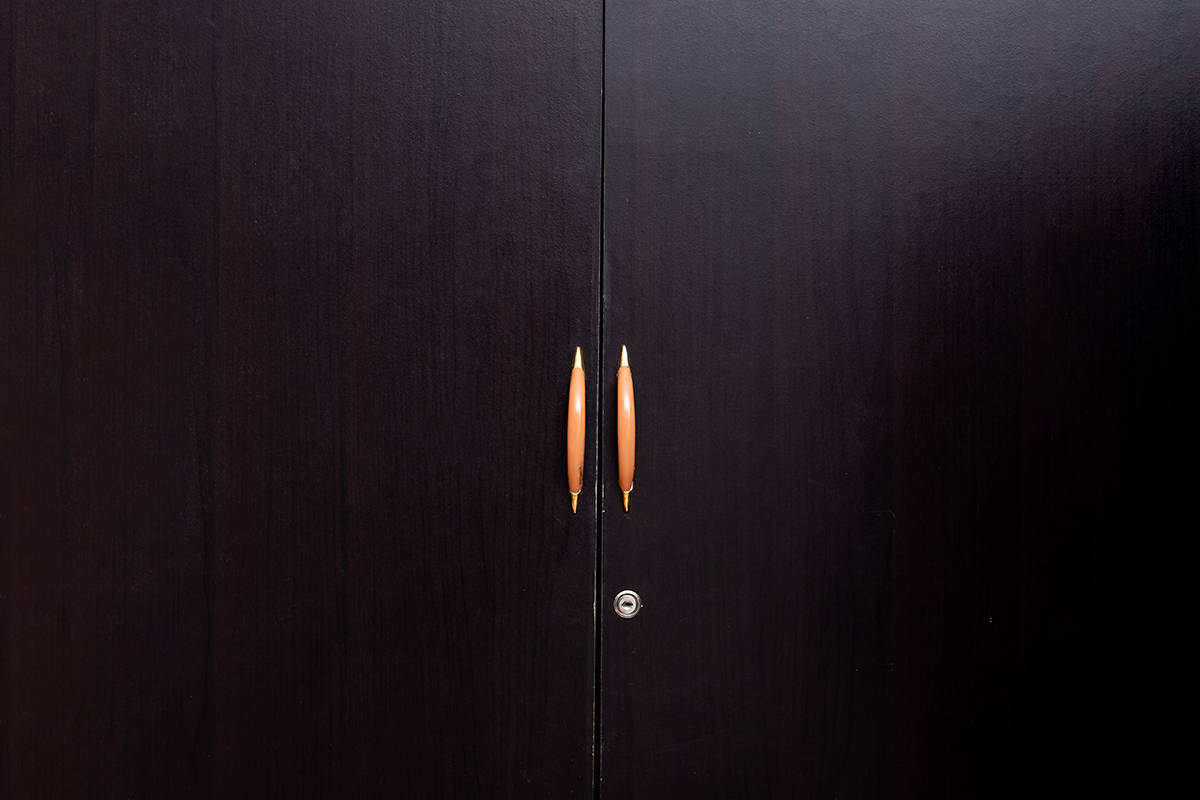 Those looking for a more charming and sophisticated look should consider stained wooden handles and knobs for their black cabinets. This option is more casual and brings a characterful look to your kitchen.
Whether you pick wooden handles in dark brown or white stain, they are sure to elevate your kitchen's style.
Gold
Gold hardware adds a warm, rich tone to black cabinets. This compelling combination is the latest trend in both modern and traditional kitchens.
There are many different gold finishes to choose, including a deep and rich brushed finish. Gold hardware is ideal for adding a formal touch to a kitchen with black cabinets.
Copper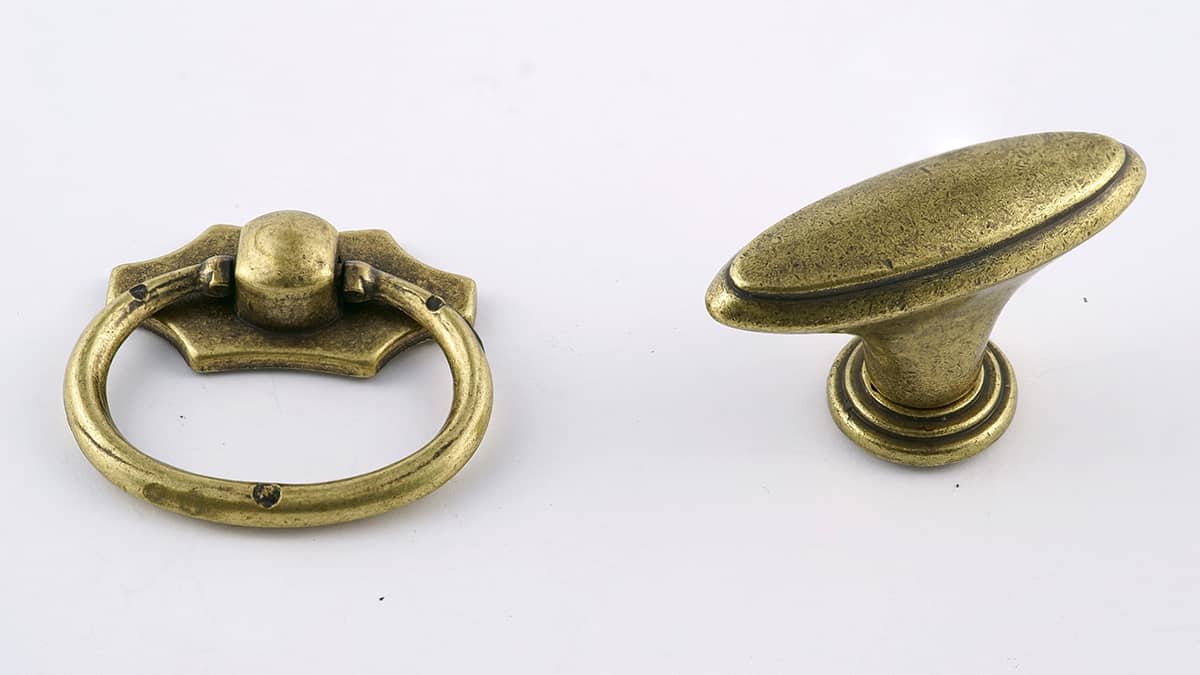 Copper is a type of metal that's long been used for kitchen cabinet hardware. Just like gold, this metal also boasts a rich finish, but in a more informal way. This makes copper the ideal hardware finish for more traditional interiors like farmhouse style kitchens.
A Blend of Different Colors
If you're after an eclectic vibe, opt for a blend of colors for your black kitchen cabinets' hardware. Since black is a neutral color, it can serve as a canvas for a number of colors to be combined with it.
Multi-colored handles and knobs allow you to express your personal style in a casual kitchen interior. This idea is very versatile as you get to choose any metal finish you like in bold or bright colors.
Are Black Kitchen Cabinets in Style?
While an all-white kitchen was the only interior design trend that defined the 90s due to its cohesive and clean look, times have changed now and more homebuyers are turning their attention to darker cabinet colors. In fact, there is a new color that's trending and fast becoming the interior designer's favorite: black.
This striking and chic color is easier to pull off than you think. Whether you want an all-black kitchen or just the lower cabinets in this color, have no doubt that high contrast black cabinets are very much in style and aren't likely to become untrendy any time soon.
What Are the Most Popular Types of Handles for Cabinets?
The following handle types are most commonly seen on kitchen cabinets:
Tubular bar: this simple designed tube type of handle comes in a variety of lengths and is mostly seen on contemporary and shaker style kitchen cabinets.
Flat bar: the sleek flat bar pulls are designed at angular variation that are just as simple as the tubular bars. These flat, square-shaped handles are ideal for minimalist style kitchens.
Bin pulls: the practical bin or cup handles are very popular for rustic or country style kitchens thanks to their flush, low-profile design.
Vintage pulls with exposed screws: another traditional type of handle for kitchen cabinets is the vintage pull with exposed screws. This type of hardware is mostly seen in farmhouse and industrial style kitchens and associated with the Victorian era. So if you want to increase the character of your kitchen, consider this authentic-looking handle.
Should All Knobs and Handles Match In Color?
No. The hardware in your kitchen doesn't necessarily have to match in color as long as it complements the room's textures and style. In a kitchen with a uniform aesthetic, for example, using too many brightly colored hardware will detract attention.
To keep it consistent, it is best to coordinate the color of your knobs and handles with the rest of your kitchen's features, without necessarily having to match them in color.
Can You Mix Brass and Bronze Hardware with Black Cabinets?
Yes. Black goes perfectly with brass and bronze hardware so there is no reason why you couldn't mix them. We've already shown you some excellent brass and bronze hardware that work with black, but as a duo, they can boost the elegance of your dark kitchen cabinets.
This no-fail hardware combo goes especially well in kitchens with matching light fixtures and accessories. Bronze is typically a dark metal, which has a similar tone to black. When mixed with brass, they can really pop against the cabinets.
Can I Put Black Knobs and Handles on My Black Cabinets?
When you have black cabinets, using the same color for the hardware may contribute to a monotonous look. That said, matching hardware with the cabinets helps reduce visual clutter, but there is a trick that helps prevent the black hardware from visually disappearing on the black cabinets; a shiny metallic knob or handle in black will stand out on matte black cabinets.
This is often a decorative design that's seen in eclectic or rustic style kitchens. Choosing the same color handle or knob for your cabinets adds warmth to your kitchen, but you must remember to select the right finish.
For example, brushed nickel handles in black can look modern on black cabinets, the same way as vintage black chrome can bring warmth to a black kitchen. So if you're still wondering whether you can pair black hardware with your black cabinets, the answer is: yes!