In a smartly designed modern or traditional style kitchen, the cabinetry and flooring represent the key elements within this room's overall design.
If you want to create a balanced and cohesive feel in a kitchen with dark cabinet colors, you must pay attention to the color of your wood flooring. When chosen effectively, savvy color palettes will transform your culinary space and become a huge selling point.
To find out what color wood floor goes with dark cabinets in the kitchen, here are some color ideas with images.
Best Wood Floor Colors that Go with Dark Kitchen Cabinets
White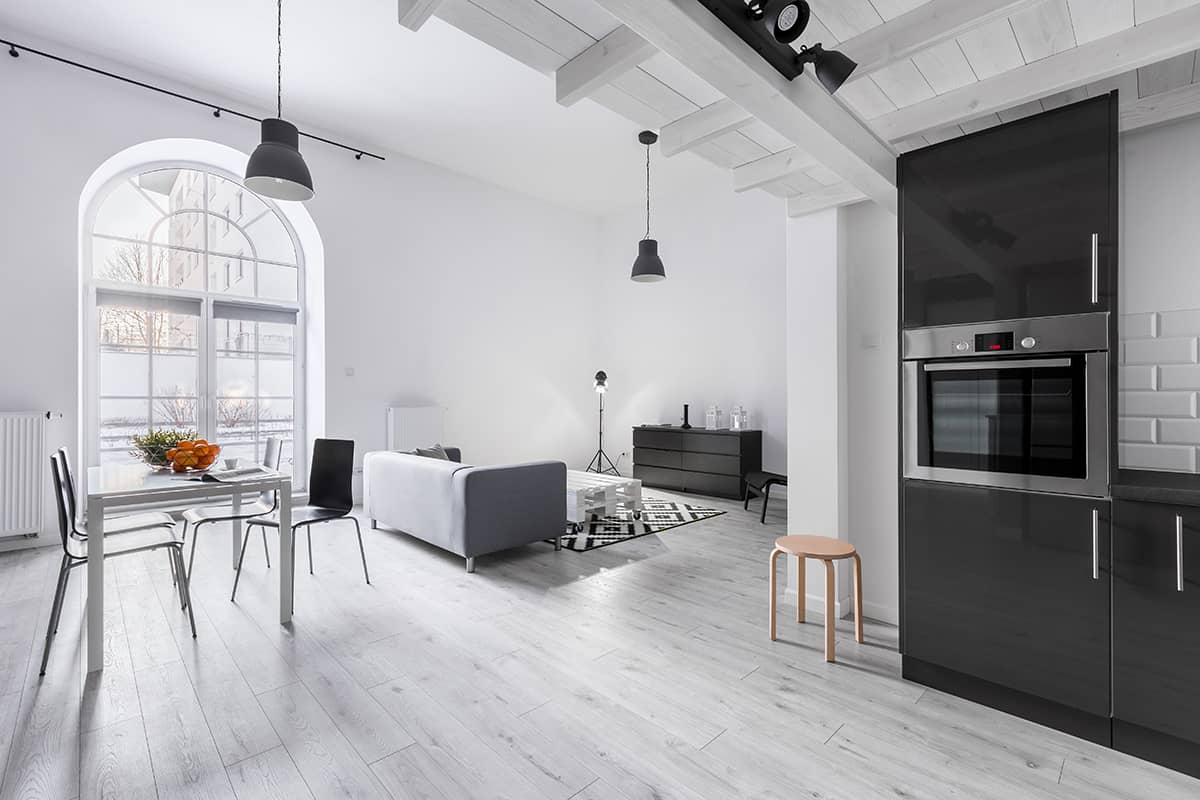 One of the best wood colors for a kitchen floor with dark cabinets is a bright shade of white. This neutral color reflects light and brightens up the kitchen.
Although white is a cool color, it warms up the room without overwhelming it. This makes it very popular for kitchens with dark cabinets.
Here, the open-plan kitchen and living room has a cohesive design with its white wood flooring and dark cabinets. This room looks bright, spacious, and inviting.
Grey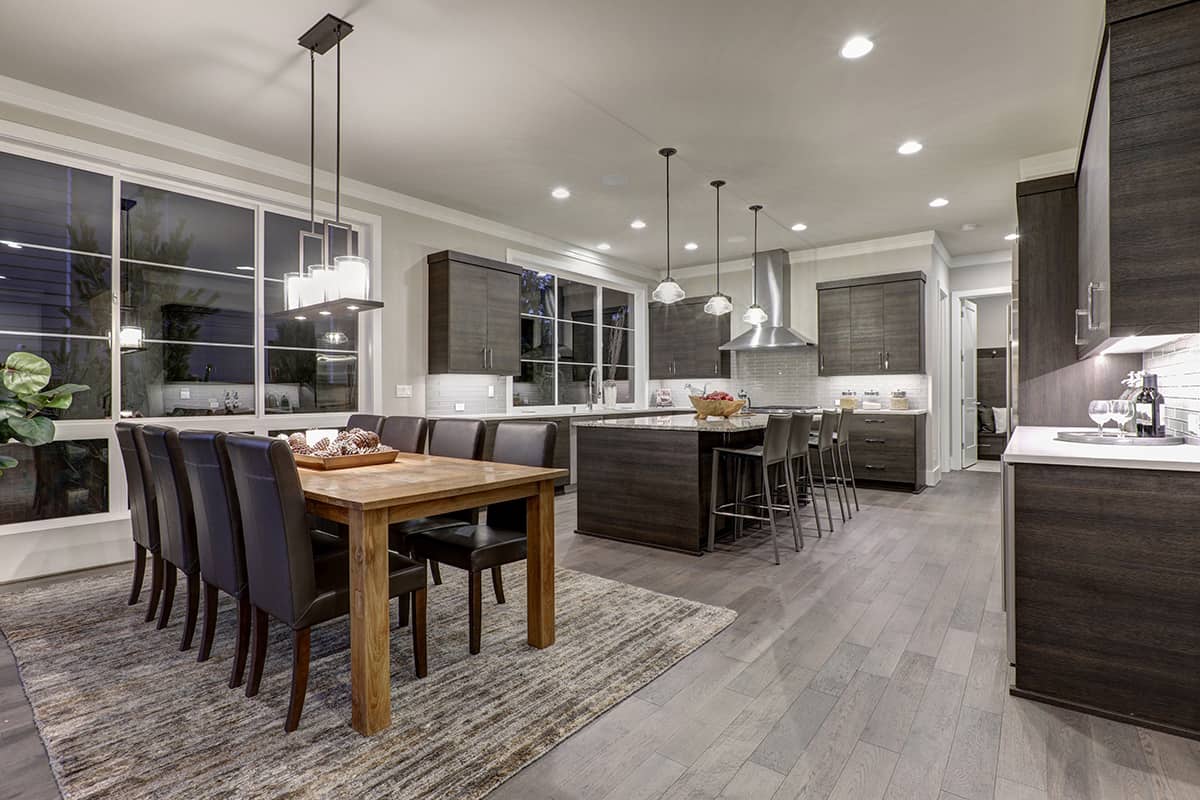 Another cool neutral wood floor color is grey. This alternative color to white can work with any dark cabinet color.
While some people may perceive grey as a bland or dull color, in an industrial style or open-plan kitchen, it makes a great choice as it doesn't make the kitchen with dark cabinetry feel dark.
Grey can also be incorporated into other fixtures and furnishings to create a cottage-style kitchen. This wood floor and cabinetry color combo feel snug and vintage as shown in this example of a luxury, rustic style kitchen with dark wood cabinetry and light grey wood flooring.
Natural Wood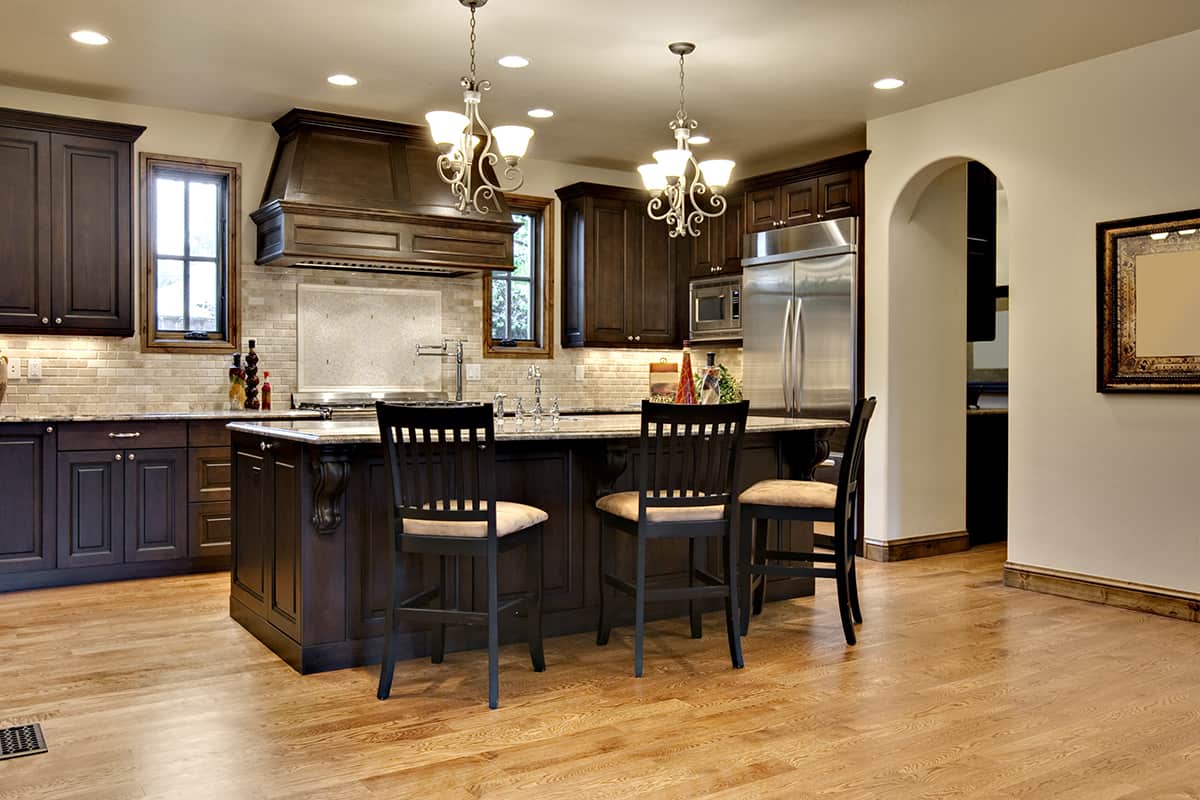 Natural wood seems to be the most obvious flooring choice for a kitchen with dark cabinetry. Light wood like pine, hickory, and maple work very well with dark brown cabinetry.
By choosing light wood floors, your kitchen will enjoy a nice contrast as too much dark wood can make the space too overwhelming while too much light wood for the floors can be a little bland.
Mixing the light with the dark helps draw attention to the texture and tone of the cabinet and wood colors as long as the color combo is well coordinated.
Dark Brown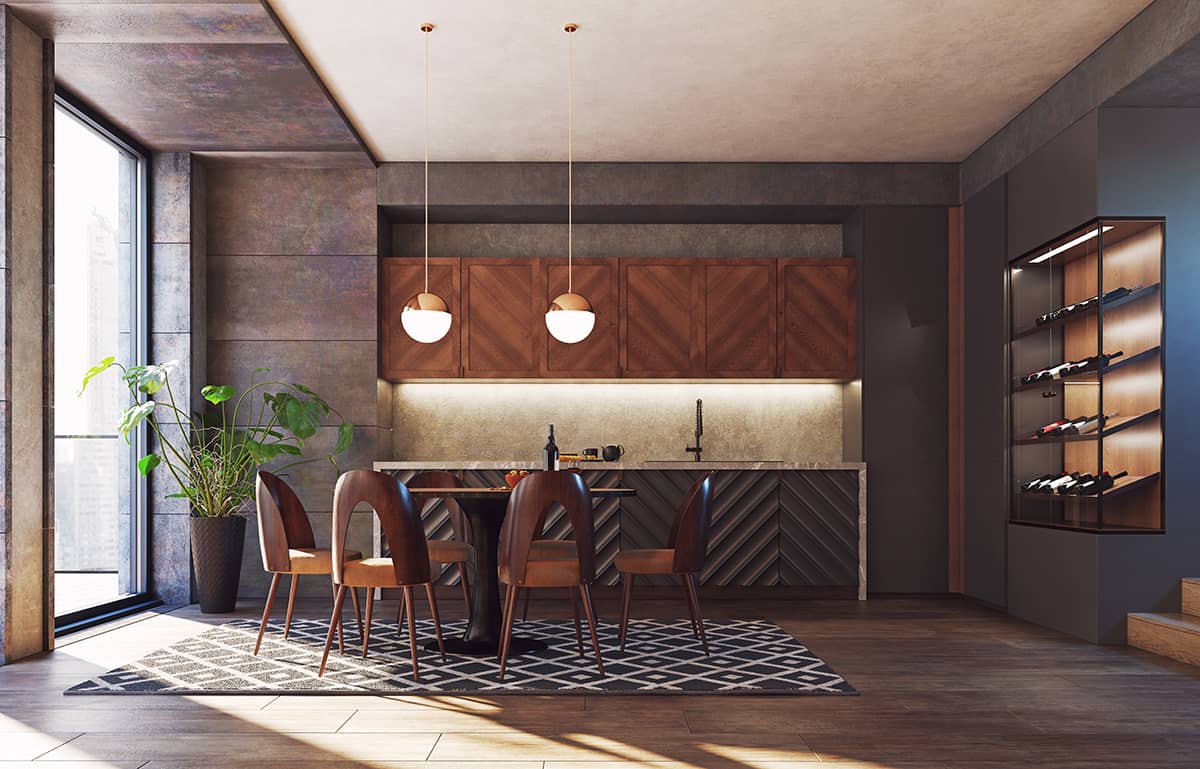 Dark wood flooring such as oak is an excellent match with dark cabinets, especially if the countertops and backsplash match the surrounding colors. When you combine your oak trim with dark brown wood flooring, it can bring out the rich hue of dark cabinets.
One idea is to go for a cabinet shade darker than the floor in order to highlight the overall decor. And as for the flooring, oak, birch or walnut are most suitable in dark brown hues. Dark brown wood flooring doesn't show stains as easily as white or grey floors, thus making it the safest option.
What Color Wood Floor for the Kitchen is in Style?
When it comes to deciding on the best wood floor colors that are in style, the lighter and more natural-looking variety, such as maple or pine pop to mind.
These timeless wood floors are a brighter option in kitchens with dark cabinetry. Oak is another classic wood flooring that is also available in light brown and dark brown stain colors.
All these wood types in light colors create an upscale feel that most home buyers still love today. You can never go wrong with grey or light brown wood flooring paired with dark cabinetry.
Should the Kitchen Countertops Match Wood Floor Or Cabinets?
Ideally, the countertops need to match your cabinetry color, while also working with the wood flooring. If you've chosen a light wood flooring color, you can be sure that it goes with dark cabinets and dark countertops. Earth-toned wood flooring is another complementary pairing with dark countertops and cabinets.
So the answer to the question of whether kitchen countertops match wood floors or cabinets, we must say no necessarily! If you've chosen the same color for the wood flooring and countertops, your kitchen will look cohesive with the contrasting color of your cabinetry. But if you wish to break up the monochromatic color scheme, then choose a different color for the countertops.
Should Wood Floors Be Lighter Or Darker Than Kitchen Cabinets?
The kitchen wood floor doesn't necessarily have to be lighter or darker than the cabinets. But to create a proper balance between the floor and cabinetry colors, it is best to keep the colors within one or two shades lighter or darker than each other.
By selecting one or two shades lighter or darker, you can achieve the best of both worlds by enjoying a brighter and airier environment. Lighter wood flooring will make more of an impact next to dark cabinet colors.
That said, darker wood flooring allows you to get creative with other lighter textures within the culinary space. Thus, we recommend light wood flooring for dark cabinets as it's a complementary design that won't make your kitchen look like a dark cave. To put the finishing touches to this color scheme, choose stainless steel appliances as their glossy, light appearance is sure to wow your guests.
How Can I Brighten Up My Kitchen with Dark Cabinets?
Add Lots of Recessed Lighting
Adding recessed lighting throughout the kitchen will transform a kitchen with dark cabinets. Recessed lights are installed into the ceiling so they provide adequate lighting without protruding from the ceiling and detracting from the eye line.
As long as you add the recessed lights in strategic areas above the cabinets, you can brighten up the entire kitchen area.
Install Under-Cabinet Lighting
You don't have to limit your kitchen lighting to recessed light fixtures only. Why not include some under-cabinet lights to brighten up the dark cabinets and glow all around the cooking space. Add some reflective tiles for the backsplashes and your kitchen will glow even more!
The right amount of lighting can highlight any features in the kitchen, especially when you have dark cabinets and colorful backsplash to pair with your wood flooring.
Take Advantage of Natural Light
The easiest and least expensive way to brighten up a kitchen with dark cabinets is not to close the curtains! Windows that are not blocked by curtains or blinds will allow natural light to pour into the kitchen and brighten up the room. But if you're worried about privacy, go for sheer white curtains as they still allow natural light to enter the room.
Use Stainless Steel Appliances to Reflect Light
Since the idea is to bounce light around your kitchen, you won't have to install mirrors to achieve this. Opt for stainless steel appliances as they will have the same effect as mirrors.
But rather than going for black stainless steel, choose glossy grey to compliment your dark cabinets without making the space darker. You may also add glossy tiles as a backsplash to make your culinary space feel brighter and airier.
Avoid Patterned Wood Flooring and Countertops
To help brighten up your kitchen with dark cabinets, your goal should be to draw the eye towards the lighter features. Avoid busy or intricate patterns for the backsplash or countertops as they will draw the eye instantly towards them.
While there is nothing wrong with having a focal feature in your kitchen, you must think carefully about the overall feel of the room. In a kitchen with dark cabinetry, it is safer to create a streamlined, simple look by avoiding busy patterned countertops and accessories.
Conclusion
When it comes to finding the right wood flooring color to complement your dark cabinets, comfort should always come to mind first. While the wood flooring color should coordinate with the dark cabinets, you must take into account the overall design of your kitchen including the color of the countertops, appliances, and backsplash.
If you are a fan of modern kitchen designs, then go with light wood flooring, such as light brown or grey. If, on the other hand, you're after a traditional design, then dark brown wood flooring such as oak or mahogany will work perfectly.
But to avoid making your kitchen look dark or dingy, add light color backsplash tiles and countertops to brighten up the space.
As you can see from our above examples of wood floor colors, the lighter shades are ideal for modern or contemporary kitchens with dark cabinets.
Oak and pine are most compatible with dark cabinet colors as the contrast between the light and dark colors is eye-catching and cohesive. The darker color wood flooring ideas are more suited for the rustic style of farmhouse kitchens as the flooring serves as a focal point in the room.