If you plan to paint your front door or get a completely new front door, you'll want to ensure it is going to fit in with the style and color scheme for the rest of the exterior of your property.
There are many factors that can affect which color of door will work well, including the color of your existing window frames, your siding, and any other features on the outside of your home, such as shutters or a wrap-around deck. Here we will look at the best door colors that will work with brown window frames.
Should Your Door Color Match the Windows?
The answer to this question is completely dependent on personal preference. If you enjoy a uniform look, then absolutely your front door can match your window frames. Using the same color for your door and windows gives the home a cohesive look that is neat and understated.
For people who would prefer to make a statement with their front door, choosing a color that is different from the door frames is the easiest way to achieve this. You can opt for a front door color that does not match any other component on the exterior of the home so that the front door really stands out alone.
Or you can match the front door color with different elements of the property, for example, having a matching garage door and front door or matching shutters and front door. This creates a coordinated look that ties in different parts of the home. It is a look which appeals to some people but may feel too 'matchy' to others.
Should Your Front Door Match Your Back Door?
The front and back doors of your home can be the same color to give the property a feeling of cohesion, but they don't have to match to achieve a stylish look.
If the front and back doors are different types of doors, then it may be a step too far to have them matching. For example, if your front door is a wooden door and your back doors are uPVC french doors.
Best Front Door Colors for Brown Windows
If you have brown window frames, then you're fortunate in that you can paint your front door almost any color you like. This is because brown is a neutral color, and so it pairs well with a wide range of other colors. Brown is most commonly a color with warm undertones of red or orange, so if you want a front door in a color which is different from the window frames but with similar qualities, then a warm color would be a good choice.
If you prefer the look of contrasting colors, then a cool shade will look striking with brown window frames. The most popular color choices for front doors on homes with brown windows include:
Brown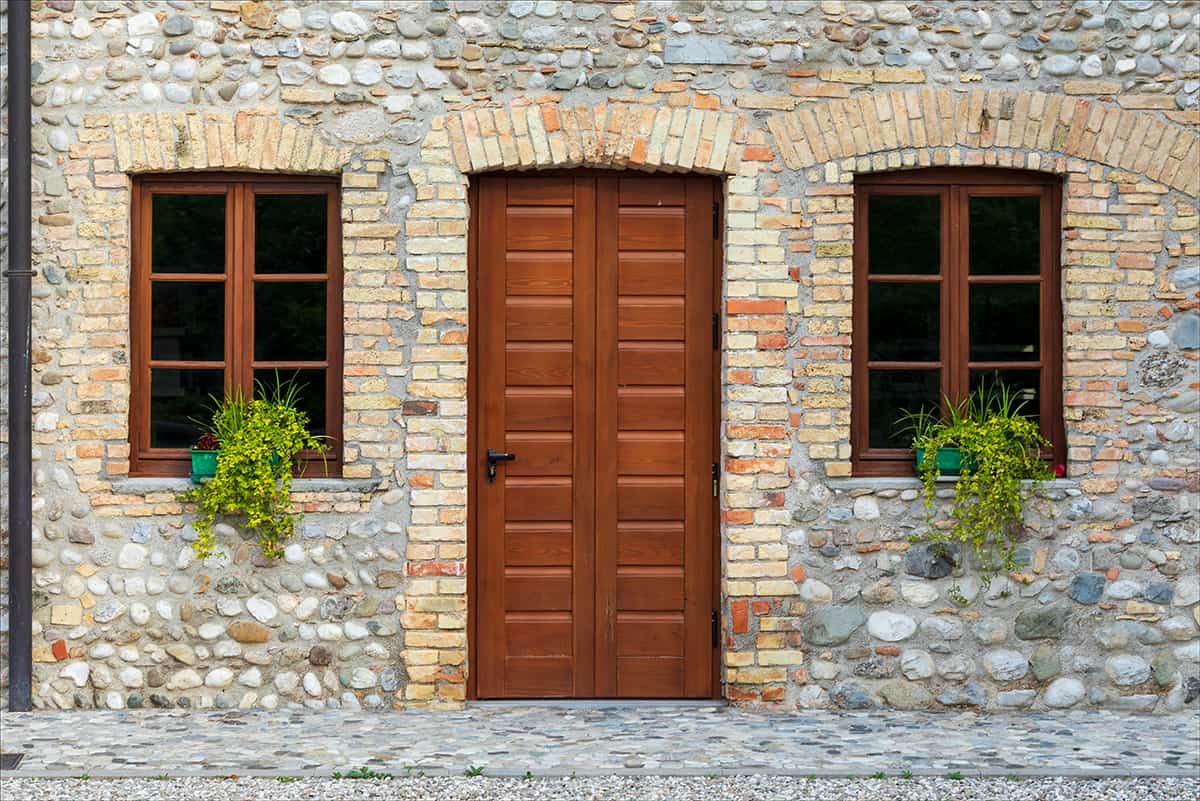 A brown door is the most obvious choice to go with brown window frames, but there are more ways to incorporate a brown door in your home than simply painting it in the same shade as brown.
Trying to find a perfect paint color match with the color of your brown windows is one option you can choose if you want a neat, uniform look for the front of your property, or you can choose a different shade of brown to create a tonal look.
If your window frames are dark brown, then opt for a tan color for your front door, or for pale brown window frames, choose a rich chocolate brown for your front door, which will create a slight contrast while keeping in the same color scheme.
Another option for brown front doors is to have a wooden front door that is stained rather than painted. This gives real character to the front of a house and adds warmth and personality.
Stained wooden doors look particularly attractive on older or traditional homes, but they can also provide a nice earthy contrast against more modern and sleek materials used on new construction properties.
To stain your door brown, choose a color that will complement the brown windows. Do this by picking a stain with a similar hue as the window frames, but in a different shade. For example, if your brown windows have red undertones, then choose a wood stain that has hints of red in it.
Beige
Beige is a color in its own right, but it is often seen as simply a paler shade of brown. This is a neutral color, so if you want to keep the windows and doors of your property in a neutral color scheme, then beige is a good choice to use with brown.
Beige is a warm and soothing color that can make your home appear inviting and welcoming to new guests. A beige front door will create a nice tonal effect alongside the brown windows. If you want to create a contrast, then choose an ivory beige with dark brown windows, or veer more towards camel beige for a subtler effect.
Black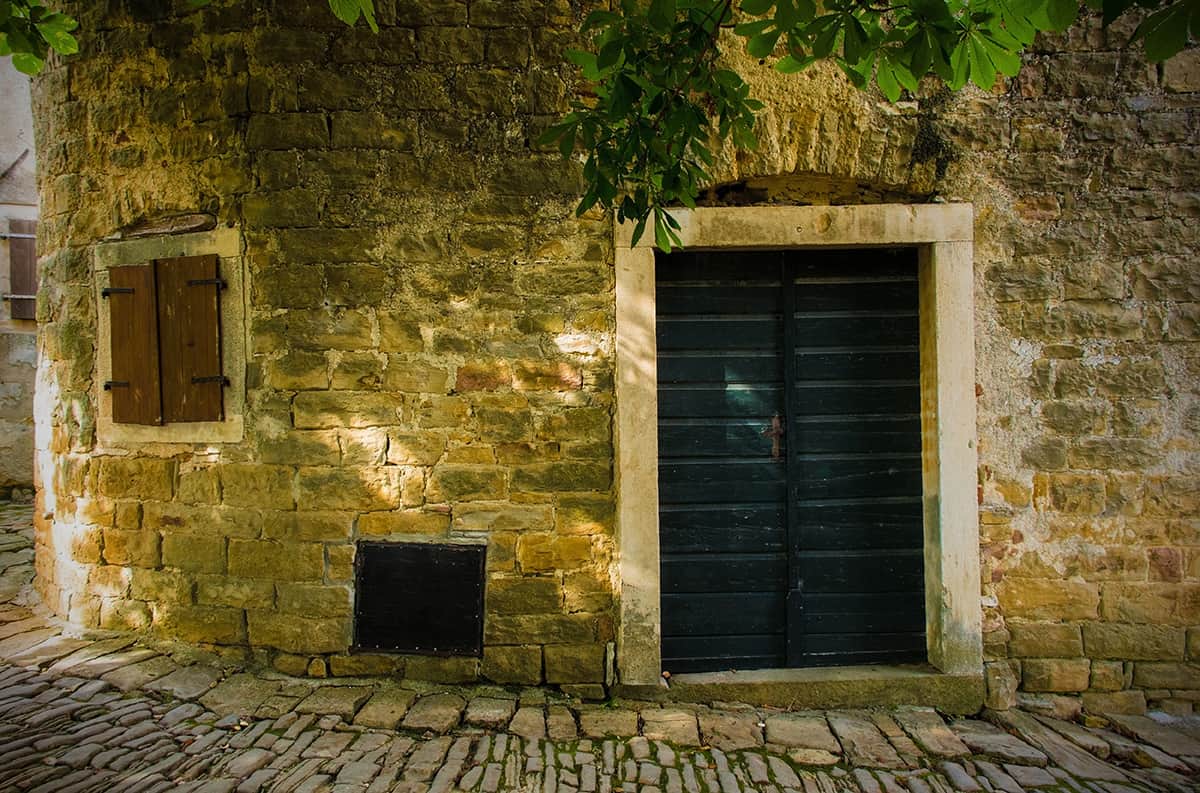 Black is a strong color, but it is also neutral, so it works well with brown to create a straightforward and unfussy visual exterior on a home. As quite a serious color, properties with black front doors can look formal and imposing, and this effect is heightened with the addition of dark brown window frames.
Pale brown windows with a black door would create a more subdued style, which is elegant and sophisticated. Black is a very practical choice for a front door because it won't show dirt as easily as other colors, and therefore, it is easier to keep it looking clean.
White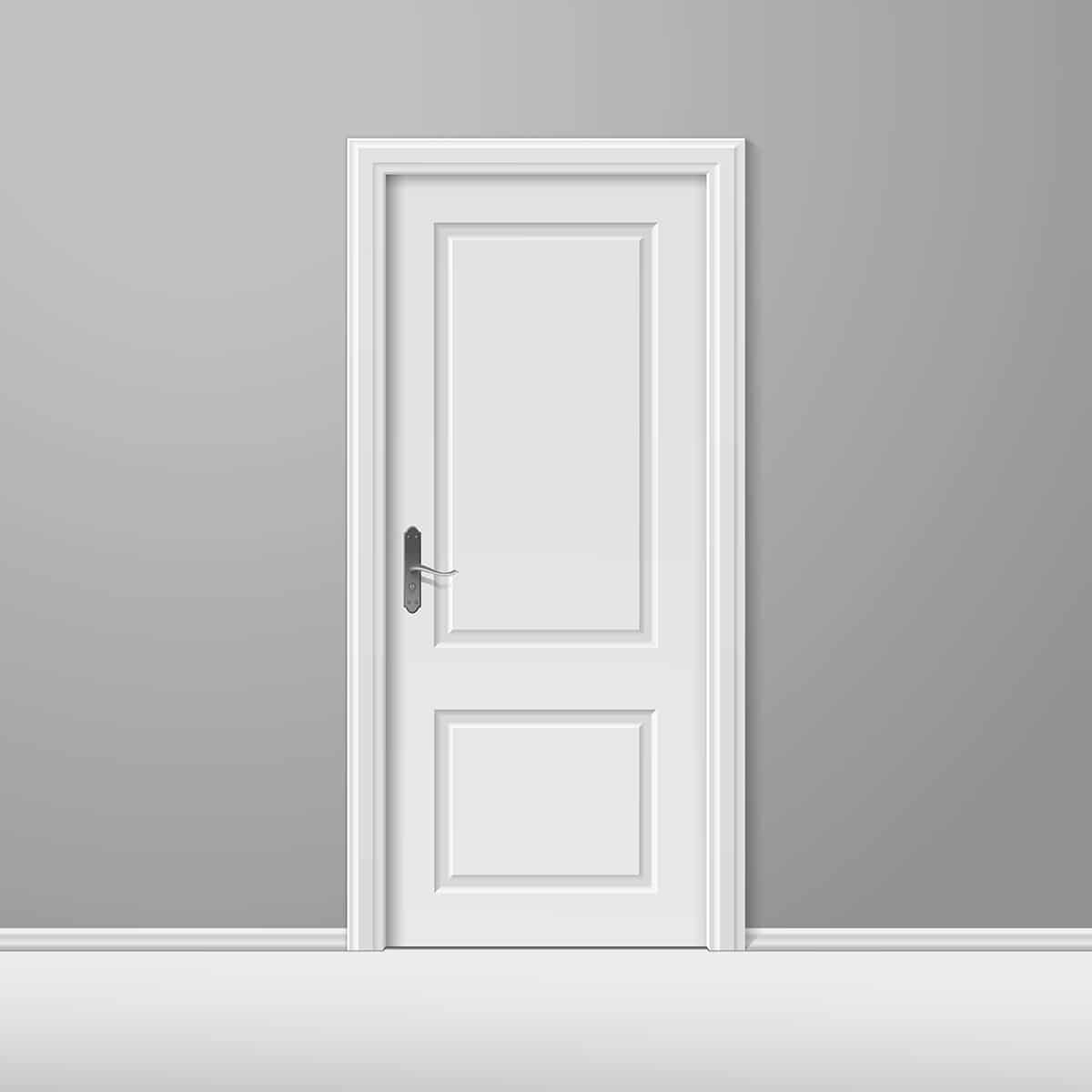 A white front door looks classy and elegant and works well on properties with brown windows because both colors are neutral shades. If you feel like your brown window frames are giving your home a dark or dull appearance, then a white front door can really brighten up the look of it.
White front doors can work on any style of home, making them a safe bet for modern or traditional homes.
They can involve a higher level of maintenance compared to other door colors because white doors will show dirt more easily and therefore require regular cleaning to look in good condition. However, when a white door is clean, it gives a polished and pristine look to a home.
Red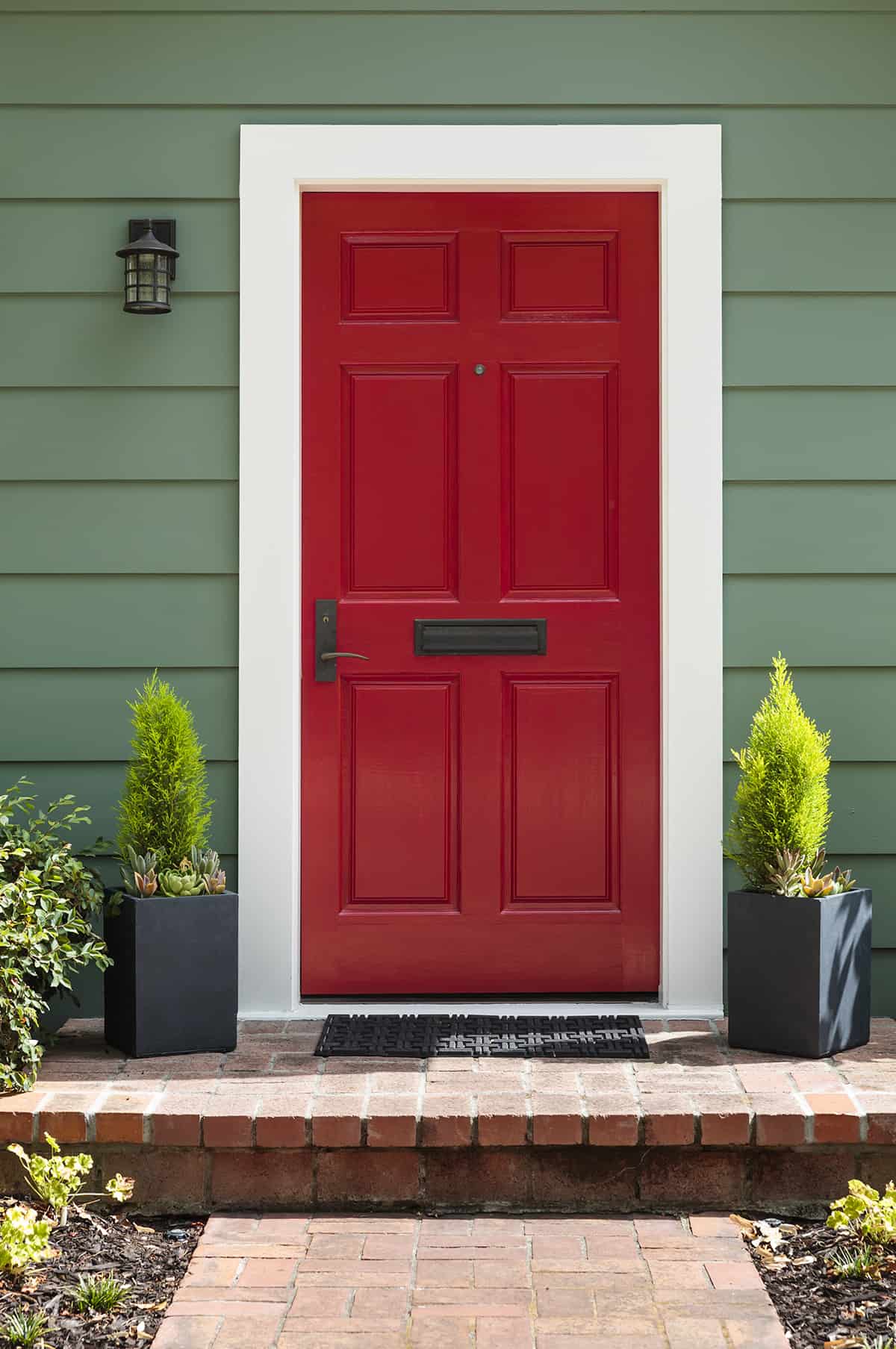 If you want to get away from neutral shades and make an impact with your front door, then red is a really striking color to use with brown windows.
Red, like brown, is a warm color, so it creates a welcoming and charming feel when used on a front door. It is bold and full of character, which can help a family to display their personality in their home decor choices.
Orange shades of red will make for a more cheerful and positive energy on a front door, while darker shades of red with blue undertones will have a more dramatic and powerful energy.
Green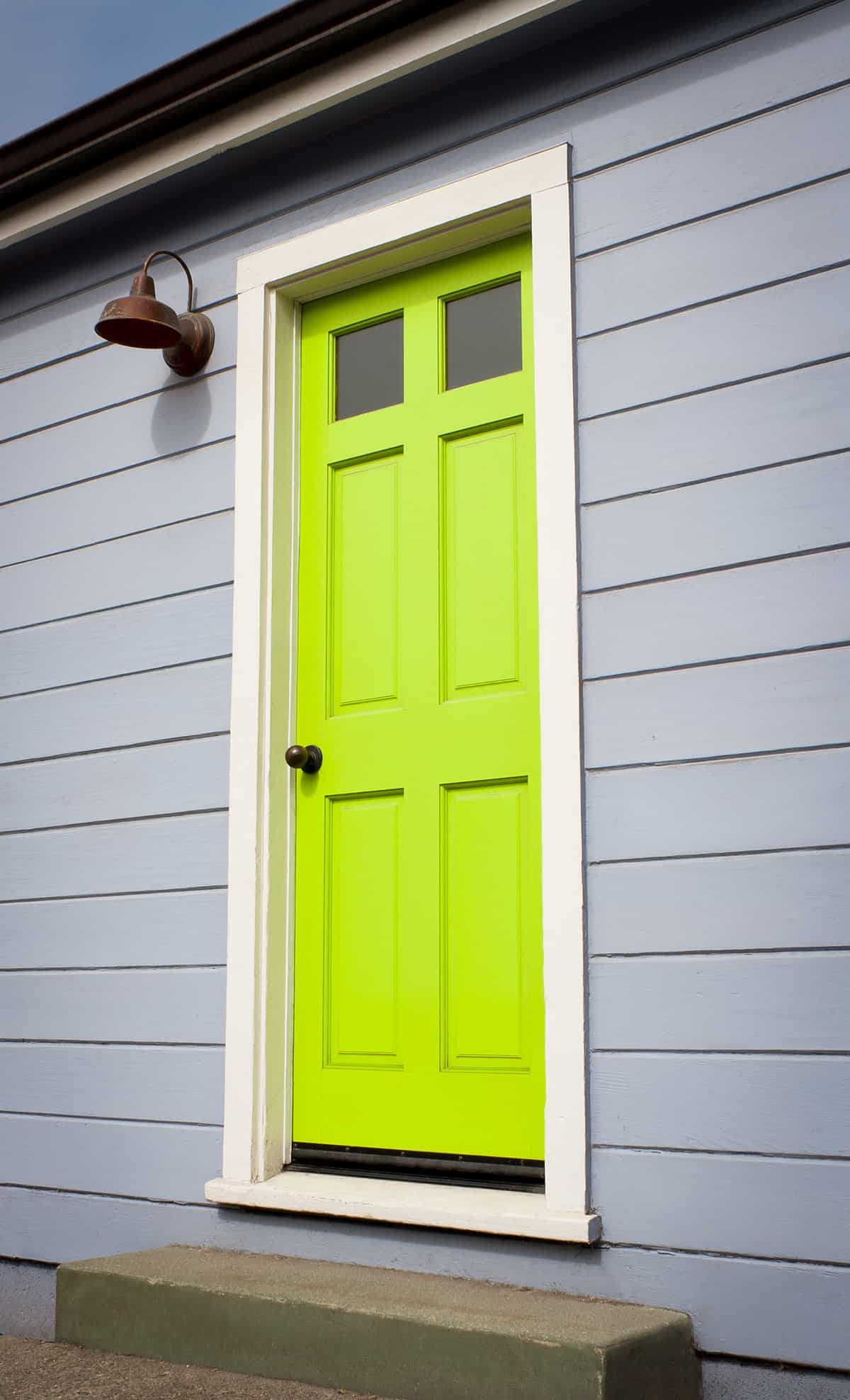 A green door is a lovely color choice to pair with brown windows because although green is not a neutral, it blends in seamlessly due to the fact that it is such a common color in nature.
A green front door can bring out the greens of your lawn, surrounding trees or plants, and make the home feel at one with the garden. Brown and green always work well together for home color schemes because they work so well together in nature. Most plants and trees will have elements of both brown and green.
Choose a dark mountain green for your front door color if you want a more formal look or a soft sage green for a cute country look. Brighter shades of green like lime can make for a fun feel, while olive will look modern and high-end.
Any shade of green on a front door will work with brown, so choose your favorite and the one which you feel most accurately depicts your personal style.
Blue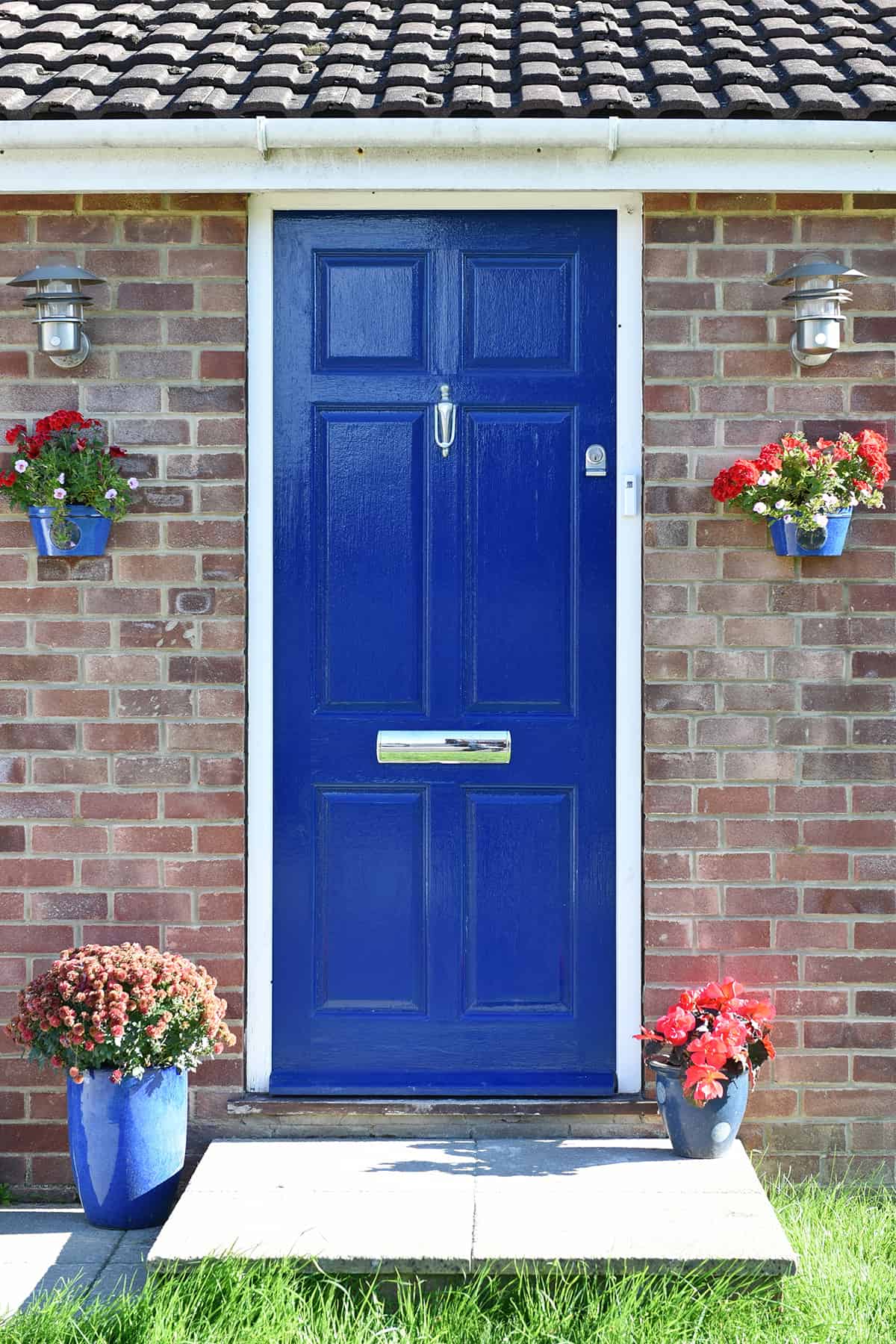 Blue is a cool color and therefore creates a nice contrast with warm brown. Use dark blue paint on your front door alongside brown window frames for a respectable and dignified look. Lighter shades of blue suggest a more casual vibe.
These two colors are popularly used together on home exteriors in coastal regions because they have a distinctly 'beachy' feel to them when used together. Pair brown windows and a blue front door with white siding for a nautical look or natural wooden siding for more of a rustic style.
Gray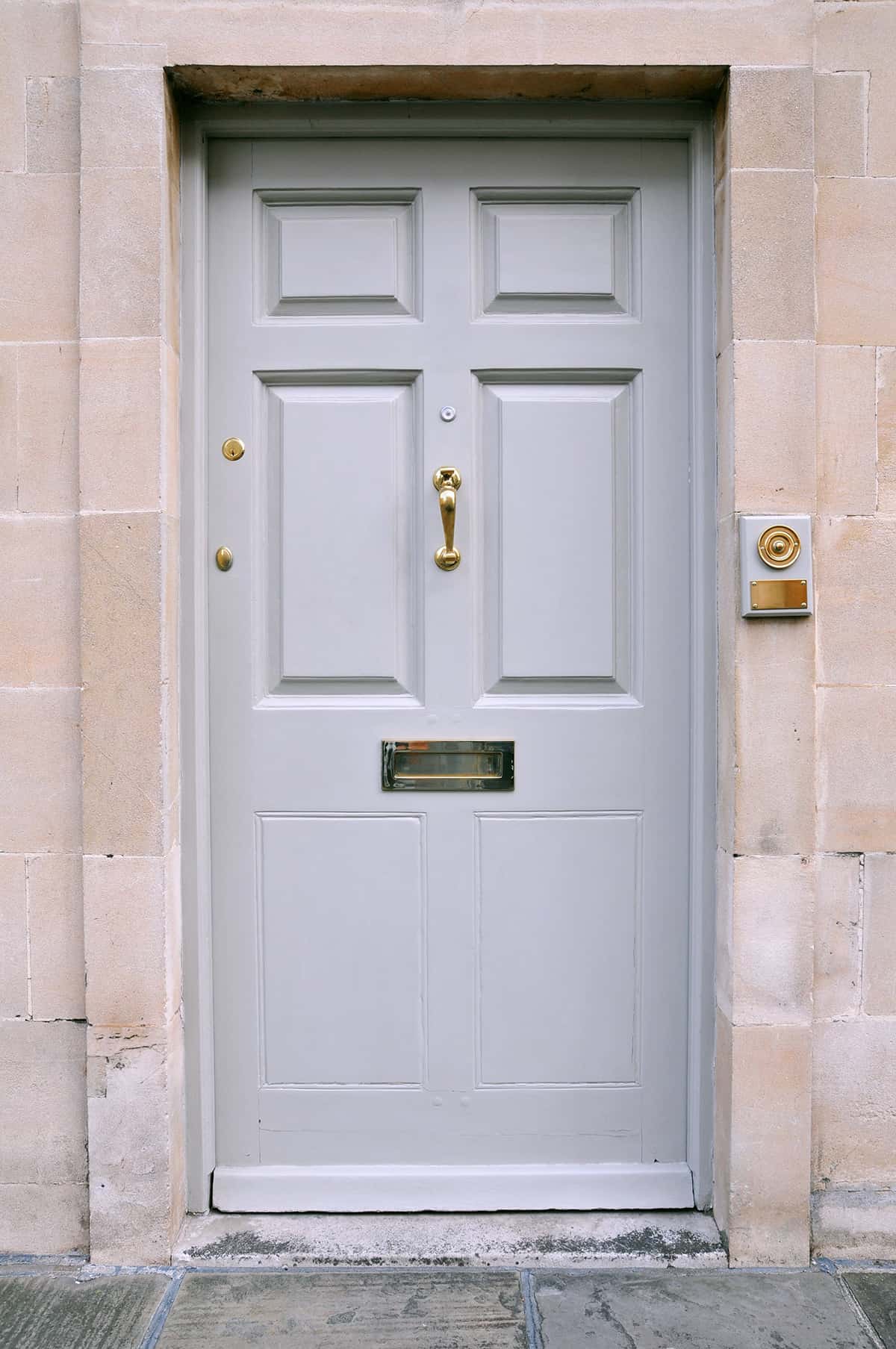 Gray works well with brown when the two colors have similar hues. As neutral colors, both brown and gray can work well together on the exterior of a home.
The coolness of gray balances out the warmth of brown, and having a gray front door can bring a modern edge to brown windows, which can look dated or old-fashioned.