Screen doors are fitted externally on a house, outside of the main front door of the home. They will be key in forming the first impression that visitors get when approaching the home and can make or break your property's curb appeal. This is why choosing the right color for your front door is an important decision.
Screen doors are traditionally white, and this is the color that will come to mind when most people think of screen doors. However, there's no reason why your screen door has to conform to the standard color, and you can branch out and choose a color that more accurately reflects your personality and your home decor style.
When shopping for a screen door, you will notice that most of the color options are neutrals. This is so that the screen door blends in with the rest of the home's exterior and doesn't steal the limelight from the main front door, which should be the star of the show.
Popular Screen Door Colors
White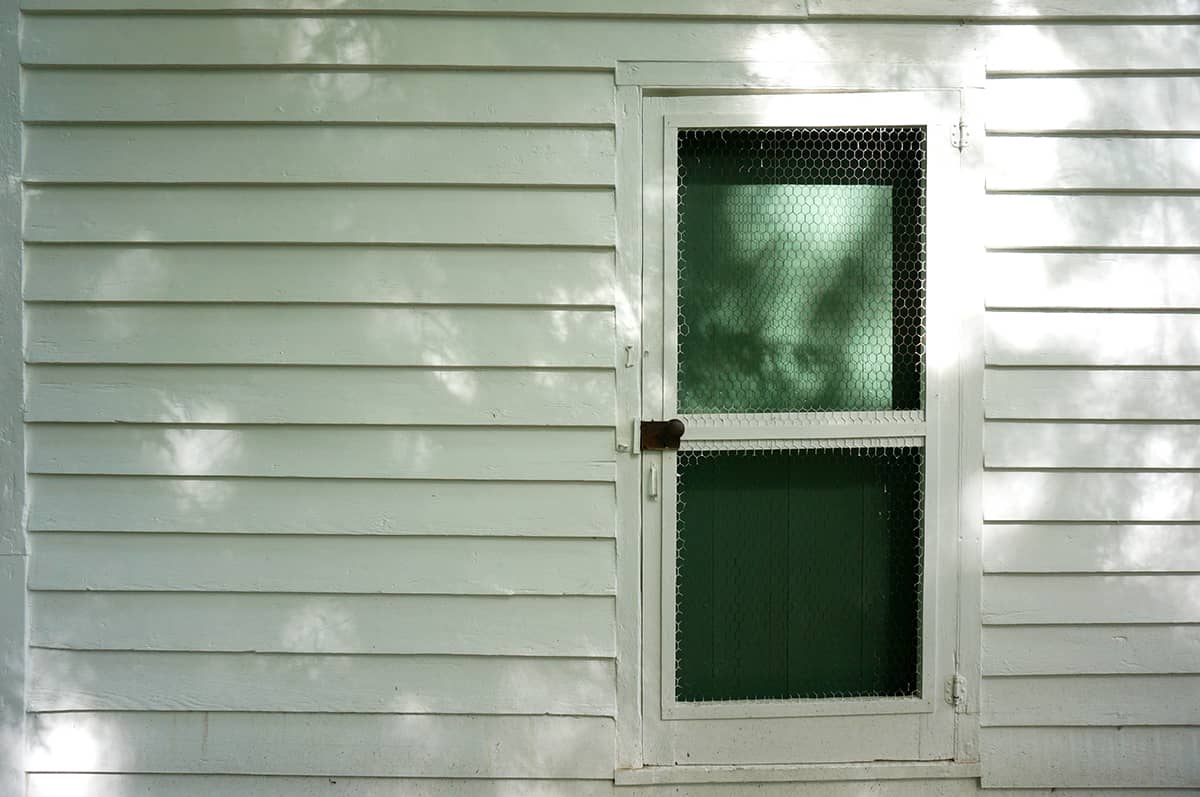 White is the most popular color choice for screen doors. If you are looking for a low-cost screen door, then white screen doors represent the best option because these are available in the widest array of designs from most door manufacturers, and therefore you will be able to find one which suits your taste and budget.
One of the reasons many people choose a white screen door is simply because it is the easiest option, as this will be the color most manufacturers offer as standard. White screen doors look clean and crisp when they are new, and if looked after properly, will continue to look pristine for many years ahead.
The drawback of white screen doors is that they do show dirt more easily than other colors, so you will need to clean the door frequently. If you have white window frames on your house, then a white screen door will coordinate nicely and can easily be color-matched.
White is also a nice choice for a screen door if you have white trim on your home, as it will blend in and look like it was custom-made for the home. If you have a brick-built house or dark siding on your property, then a clean white screen door will provide a nice contrast on the front of your property.
Beige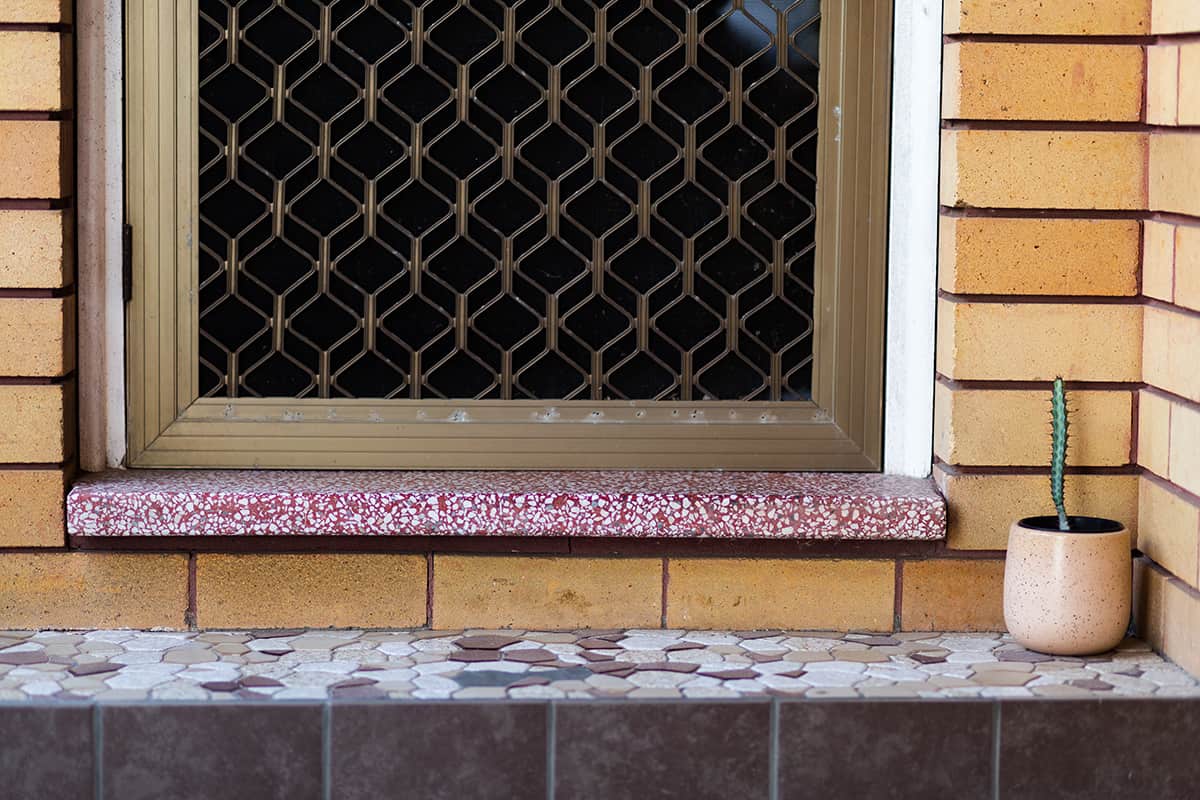 Beige is a good neutral color for a screen door if you want to break away from the typical white option without being too bold. Beige is an earthy color that will blend in easily with the environment.
It has a warm tone which makes the exterior of a home look welcoming, and it comes in various shades from oatmeal to tan.
A beige screen door presents a light option that won't look as stark as white, and it can look stylish and classy. If you want a beige screen door, then there will be fewer options available compared to white screen doors, but there are several manufacturers who produce beige screen doors.
You can expect to pay slightly more for a beige screen door, but it can add value to your property by improving curb appeal and making your home stand out from the crows.
Brown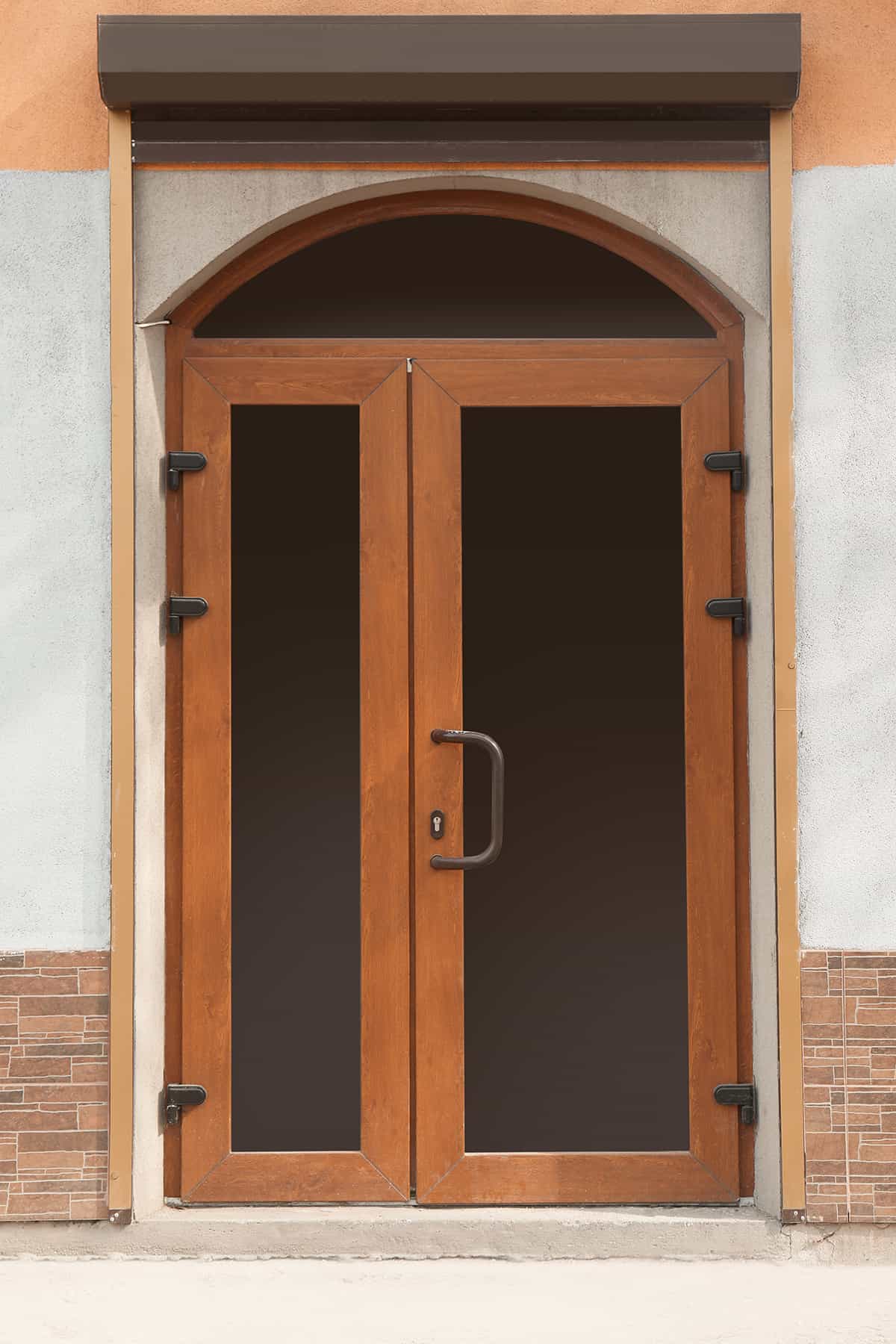 Brown screen doors are a great choice for log cabins, rustic cottages, and ski lodges. They blend in seamlessly with properties that have brown wood exteriors and help homes to fit into their natural environment with the use of earthy shades.
If you have a brown front door, for example, a stained wood door, then a brown screen door will make a nice addition that blends in without detracting from the front door itself.
Brown doors have the advantage of not showing dirt as easily as paler colors, which is good news if you are too busy to be frequently cleaning your screen door.
Black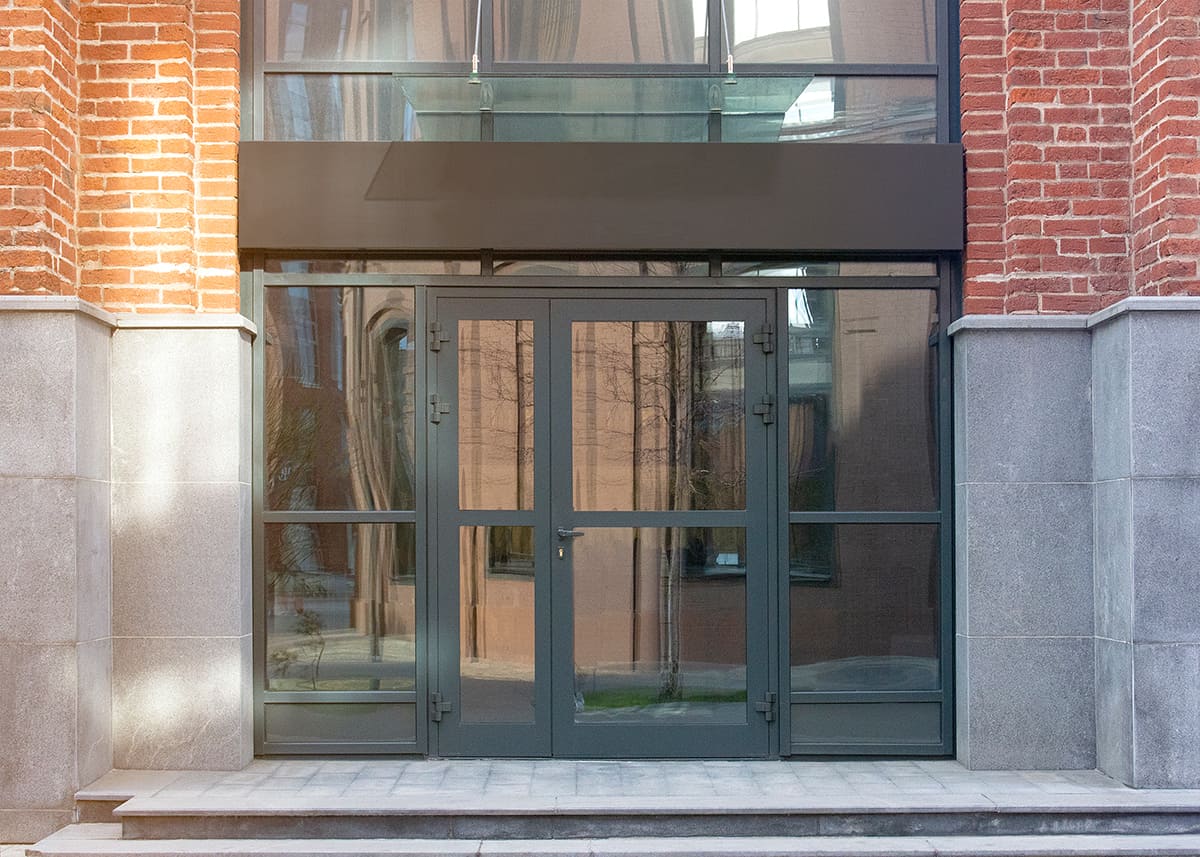 If you have a white front door and white trim, then a black screen door can look very striking and stylish. Monochrome color schemes are very sophisticated and can work on any type of home. Like brown screen doors, black doors won't show up dirt as easily and will stay looking cleaner for longer between maintenance.
A black screen door can also be a good choice to go with a black front door if you don't want to make a statement and would prefer for it to blend in. At first thought, you may expect a black screen door to look gothic, but they can actually look very modern when styled in the right way.
Gray
Gray is now an incredibly trendy color in interior and exterior home design. It can be considered neutral because it pairs so well with almost any other color, which makes it a great choice no matter what color your siding or brickwork is.
There are also such a wide variety of gray shades available that you can choose one which stands out or blends in, depending on what type of look you are trying to achieve.
If you have gray siding, then a gray screen door in a different shade will look tonal and elegant, for example, pale gray siding with a dark charcoal gray screen door. Due to the rising popularity of gray as a door color for both front doors and screen doors, more manufacturers are offering gray doors for sale.
Blue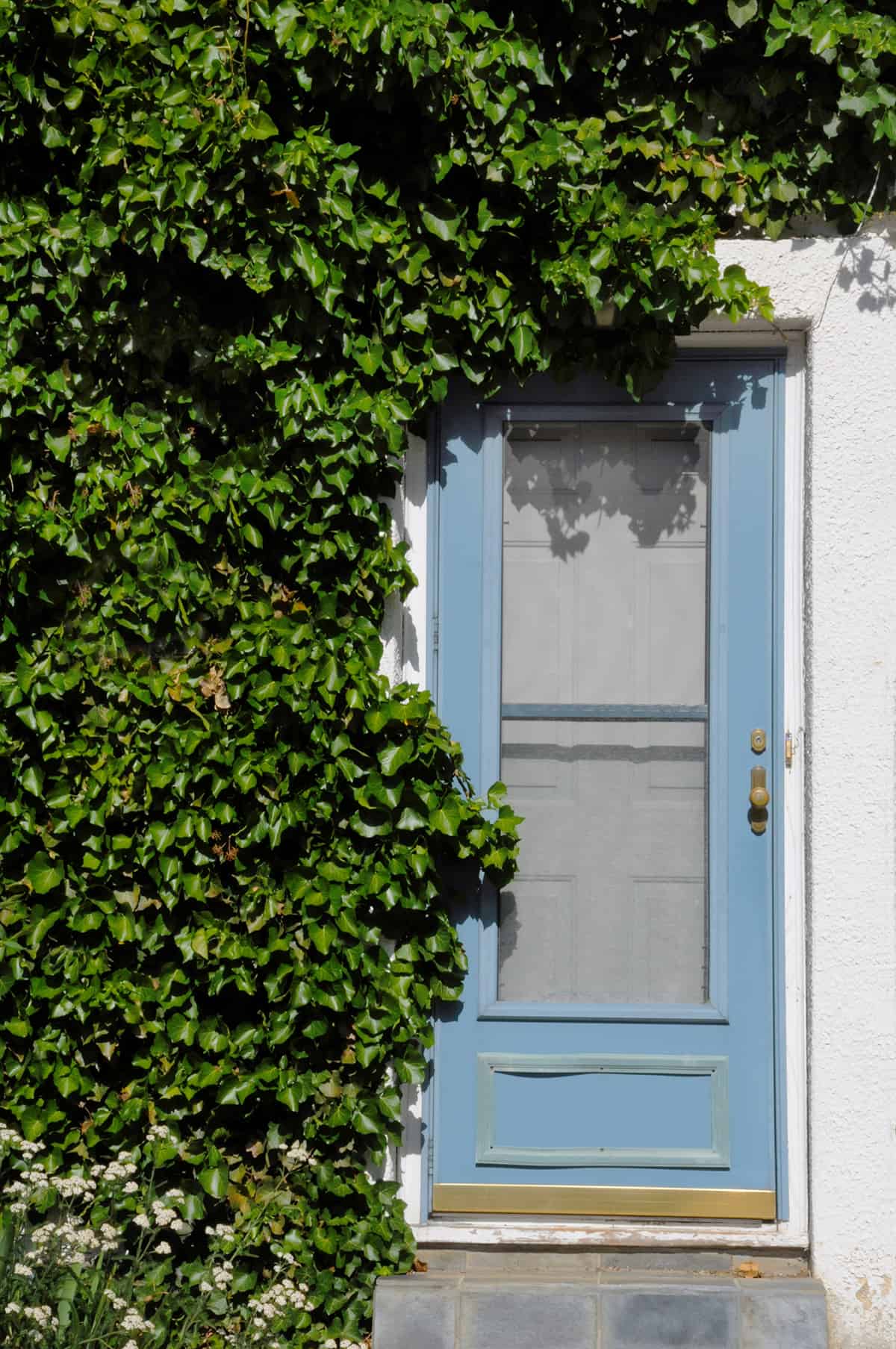 When you are shopping for screen doors, you may notice that a neutral color palette is more widely available than brighter colors; however, if you have your heart set on a different color, there are ways you can achieve this. Blue is a popular color for home exteriors, especially in coastal regions.
This is a color that stands out from the environment but works well with natural colors like brown and green. It is also a color that offers mass appeal, so you are unlikely to offend anyone with a blue door or have trouble selling the property based on this color choice.
Pale blue screen doors will add character to a home and help to achieve a casual, beachy feel, while a dark blue screen door can add a sophisticated New England style appeal.
Can You Paint a Screen Door?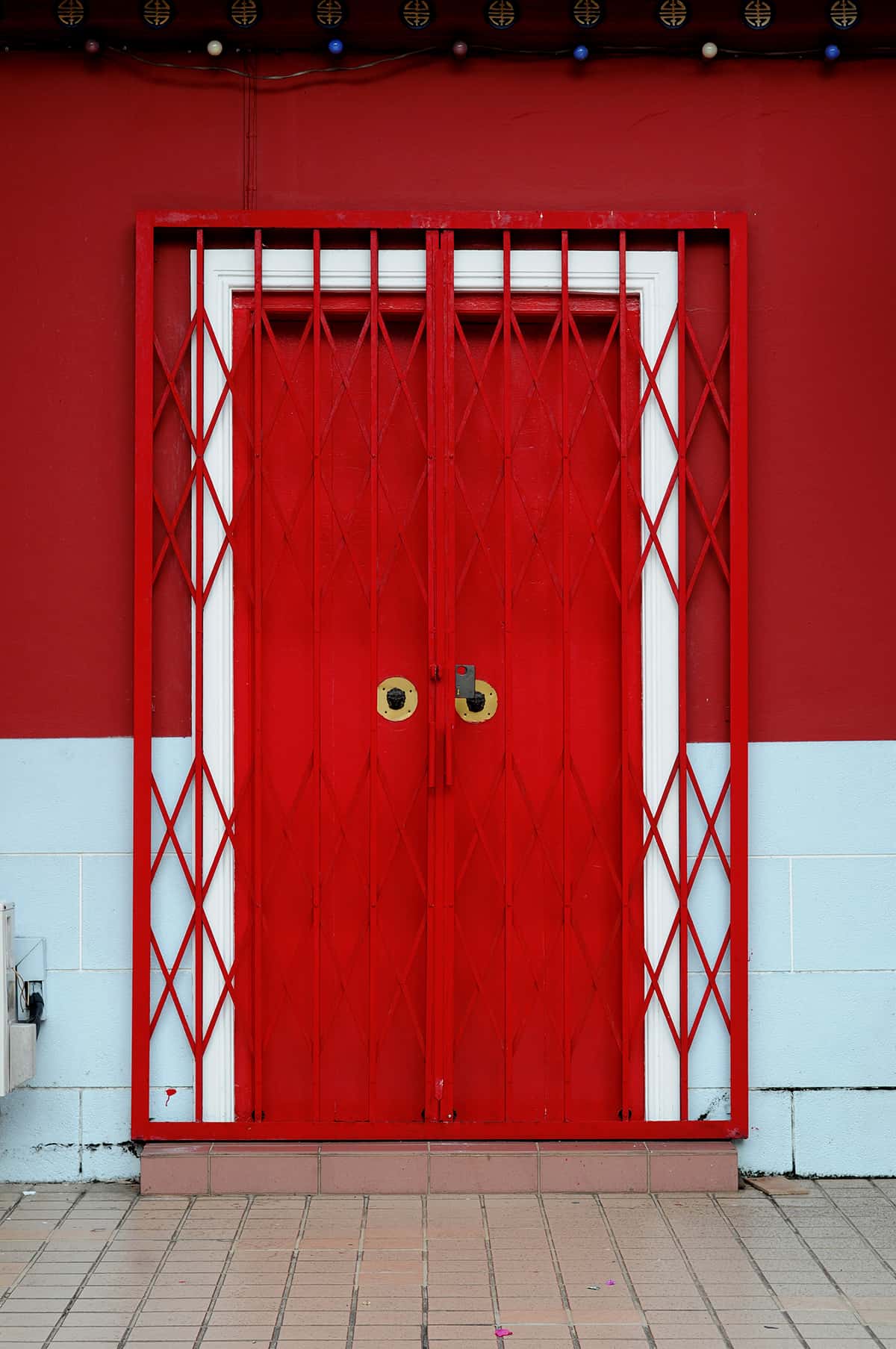 Once you have settled on a color for your screen door, you have the option of buying a new door or upcycling the one you already have. If your screen door has seen better days, but you don't want to spend too much money on a new one, then painting it is a good way to update the look of your property on a small budget.
This is also a good route to take if you want to have a screen door in an unusual color because you may struggle to find a manufacturer who supplies screen doors in your chosen shade. However, there are a huge variety of exterior paint colors available, giving you a much broader choice for updating your screen door.
The type of screen door you have will impact the type of paint you need. Metal screen doors will need paint specially formulated to adhere to metal, while wooden screen doors should be painted with exterior wood paint.
Another option to update a wooden screen door is to stain it to highlight its natural beauty. This will result in a charming screen door but can be more work to complete as you will need to sand down the screen door first to remove any previous layers of paint or stain, as well as lightly sanding it between coats of stain.
Painting a screen door will add many years more onto its lifespan and can revitalize the look of the front of your property.
Tips for Painting a Screen Door
Sand
The key to a professional-looking paint job on a screen door is in the preparation. If the door is made from wood, then you will need to use coarse sandpaper to remove previous layers of stain or paint. A metal door may benefit from light sanding, but this will depend on the paint you are going to use.
Consult the instructions on your paint can for guidance. In most cases, you won't need to sand a metal door, which makes it a less time-consuming job compared with renovating a wooden screen door.
Mask
To ensure you don't get paint where you don't want it, use decorators tape to carefully mask your screen door.
You'll especially want to pay close attention to the glass and mesh on a screen door and avoid getting paint on these parts. It may be easier to remove the screen door from its hinges to paint it.
Paint
Use a small to medium type of paintbrush to paint your screen door. Apply multiple thin layers as opposed to fewer thick layers, as this will help you avoid drips and give the door a more professional result.
If advised by the paint or stain manufacturers, you may need to apply a final coat of sealant or varnish.