When designing an attractive entrance, the selection of the trim is as important as the front door. Choosing the right trim can transform the home's entry and draw attention from potential buyers or neighbors.
To decide on the best front door trim designs, you must take two things into consideration: the decorative and functional purposes of the trim. The first will enhance the look of your entrance, while the latter will hide any flaws between the wall and the door.
A front door without a trim will look less attractive, so when you are considering the best design for your entrance, we can make it easier for you with the following ideas:
Best Front Door Trim Ideas
Make it Curvy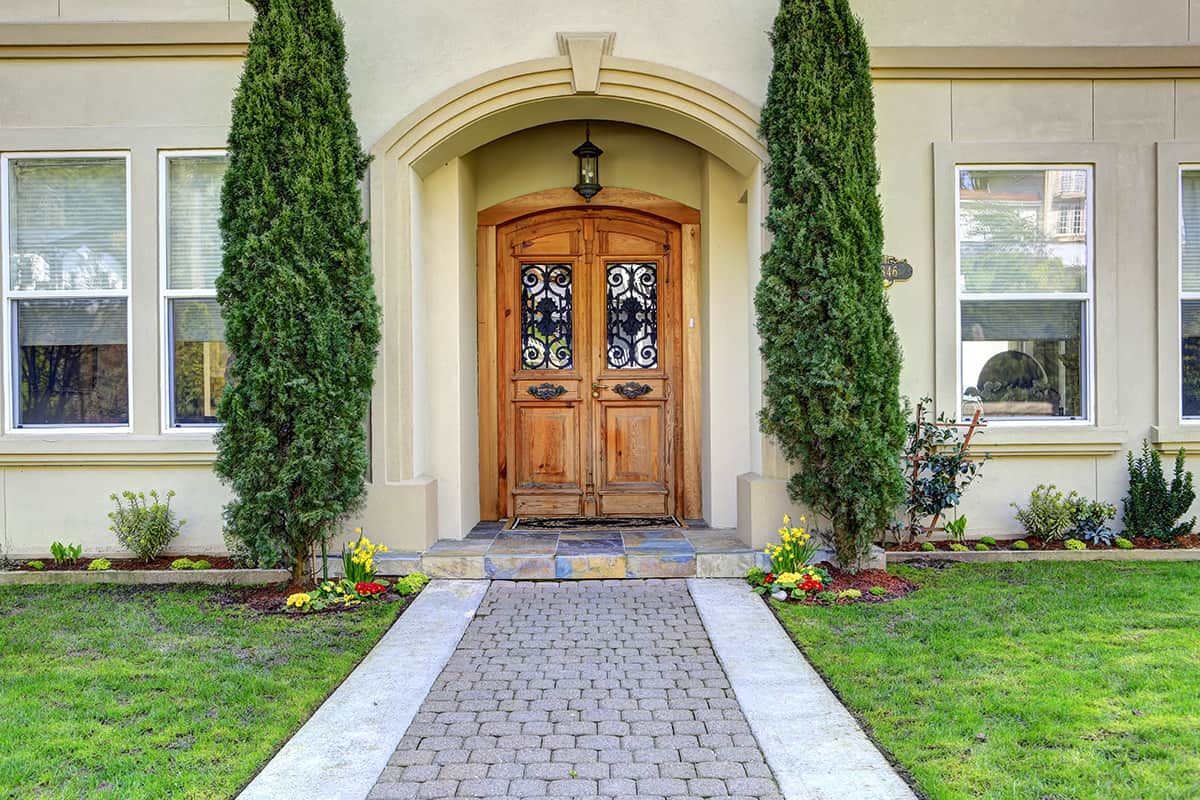 For a curvy door trim, consider choosing an arched header for your front door. Keep in mind you will need an expert builder to install an arch feature on top of your exterior door. The space between the door and the lintel needs to be filled with plaster or wood for a clean look. The trim's pilasters can either be channeled or smooth, depending on how elaborate you want the design to be.
Arches are extremely popular exterior door trim designs. These are timeless features that look great with any front door color and size.
This luxury house entrance features a double wooden door with an arched wooden frame and an ornately designed channeled curve that makes the exterior ultra classy.
Extended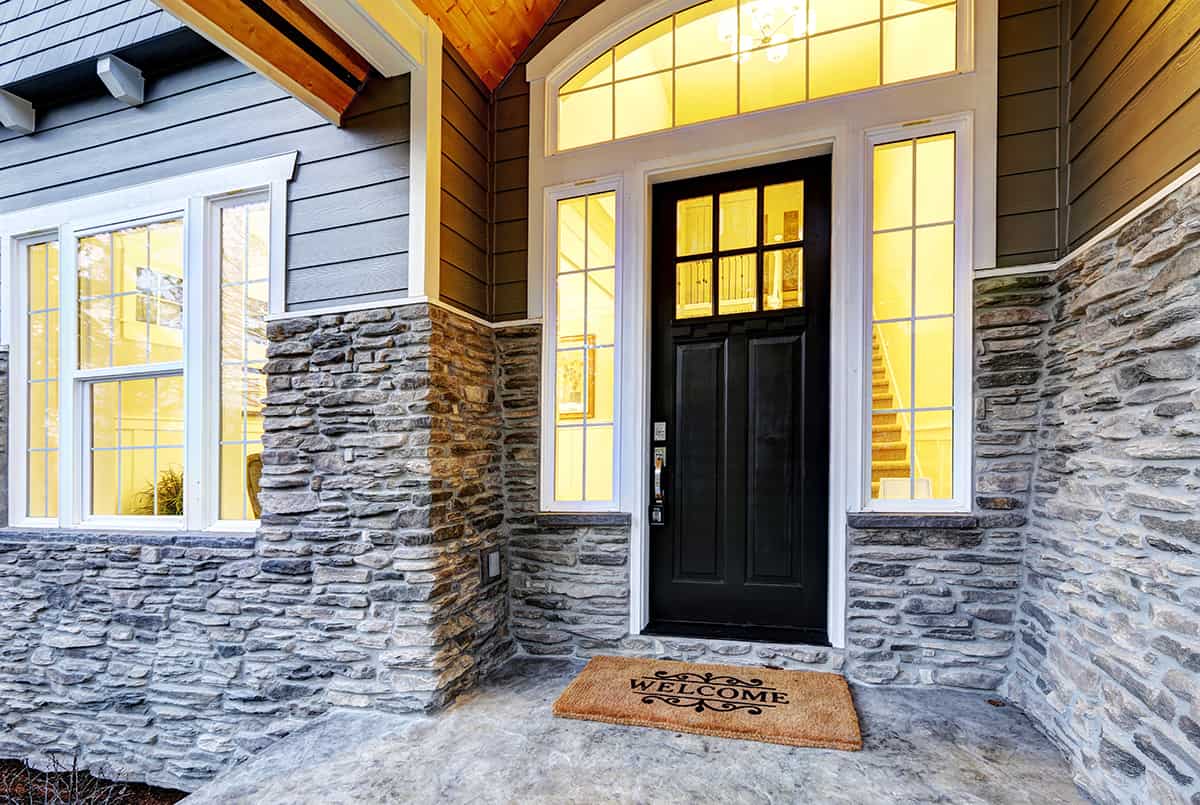 If you want to make your front entry look bigger, consider extending the trim with glass or transoms. This idea will give your entryway more natural light while making the space appear larger.
Here, the front door's trim has an extended casing with paned glass for a more detailed appearance.
Flat Mitered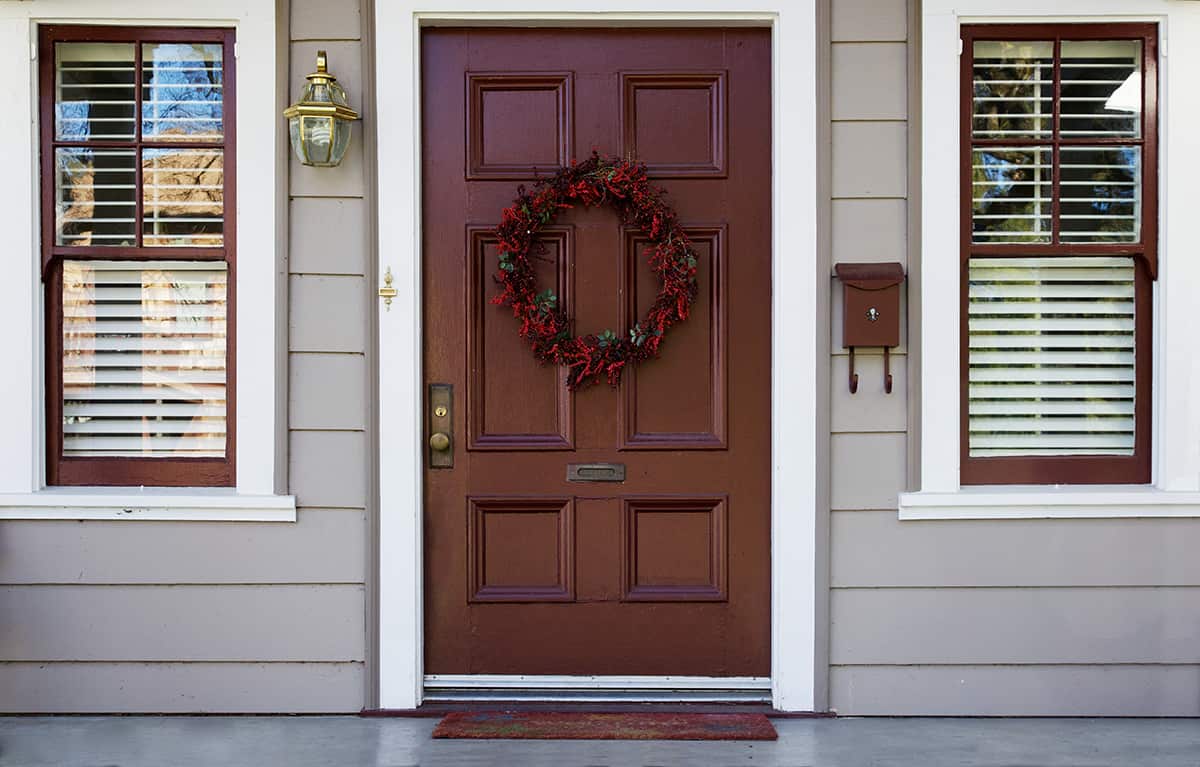 For a more minimalist appearance for your front door's trim, go for a flat mitered casing. This option refers to trims that are made of simple materials like wood, PVC, or laminate without any decorative detailing. The lintel is connected to the pilasters using mitered joints.
Flat Butted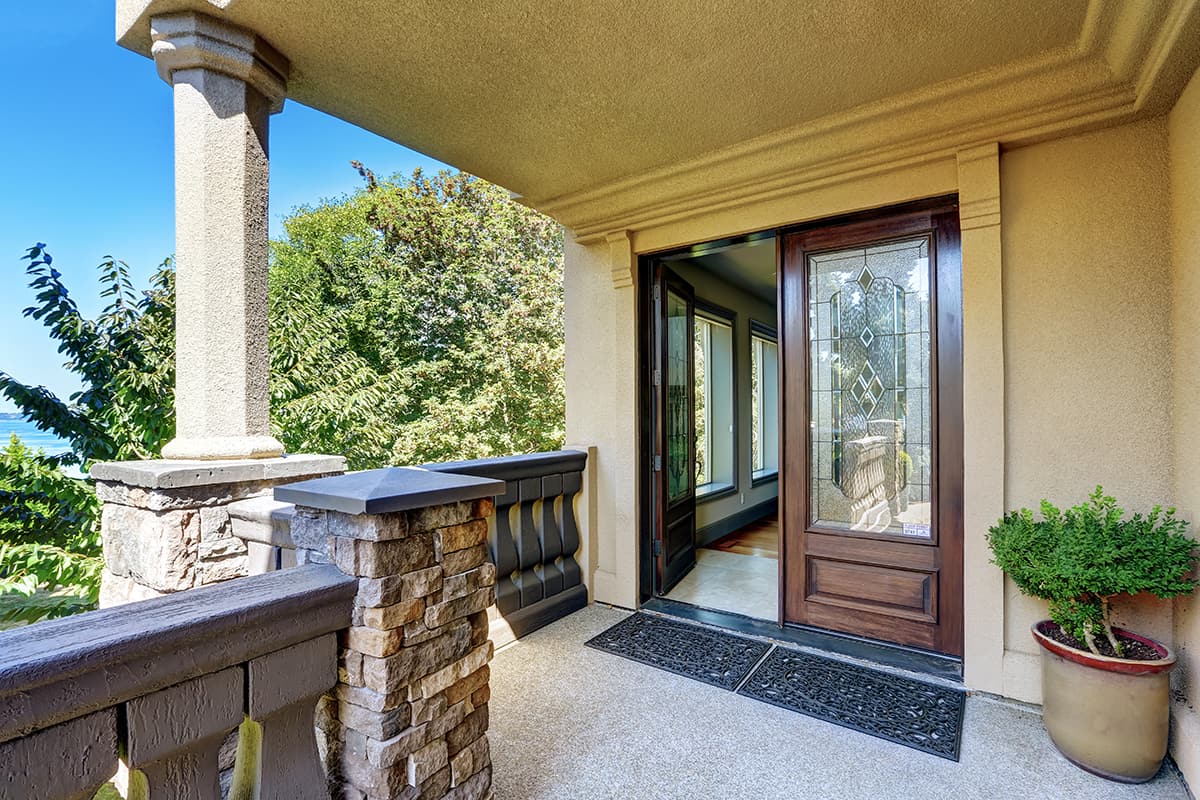 A slightly more elaborate take to mitered trim is a butted option. This is where you have the pilasters butted directly into the lintel without the need to miter the edges. A flat butted trim is a more modern approach to the mitered casing, which can make your front entry more substantial than it might otherwise be.
Craftsman Style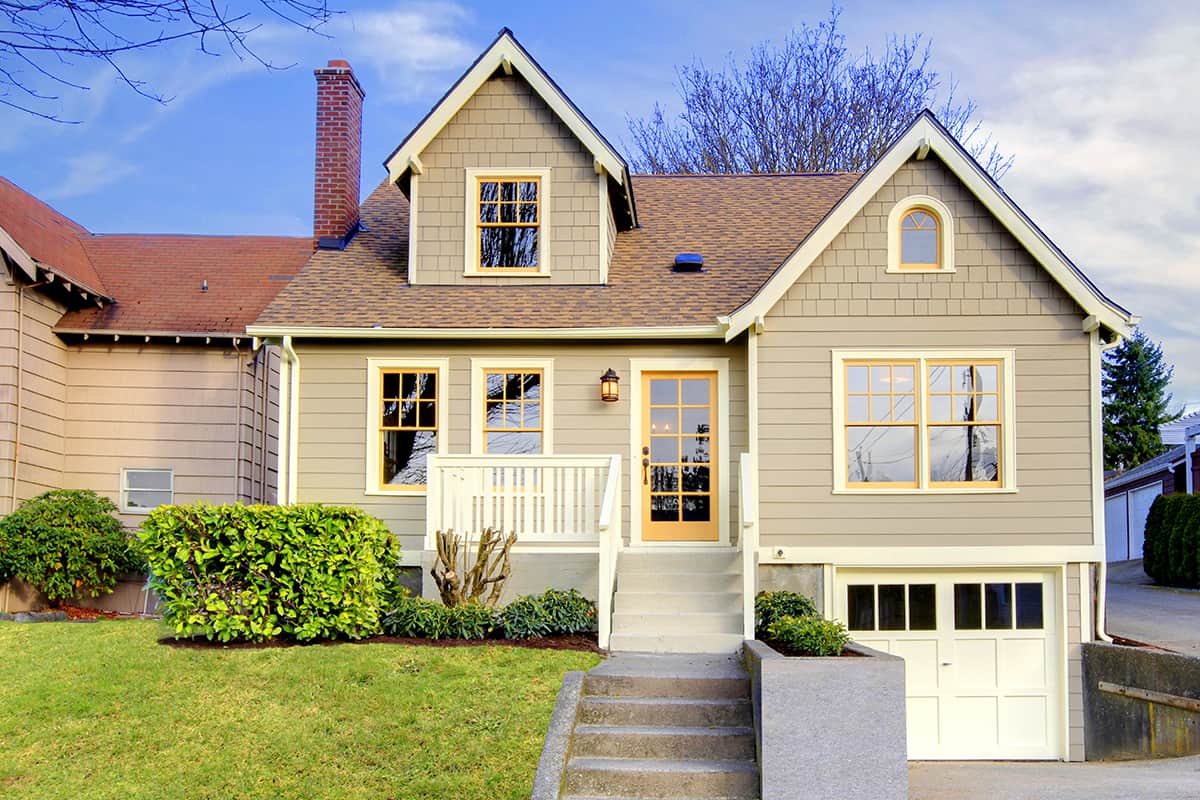 A front door trim on a Craftsman-style home is typically made of flat stock. The simple trim is a little larger than the pilasters' width. There is no detailing on the trim, and the flat material can be made from PVC, fiber cement, MDF, or wood.
In this example, the Craftsman-style house features a simple front door casing that goes well with the rest of the window frames and details.
Keep the Door Trim Simple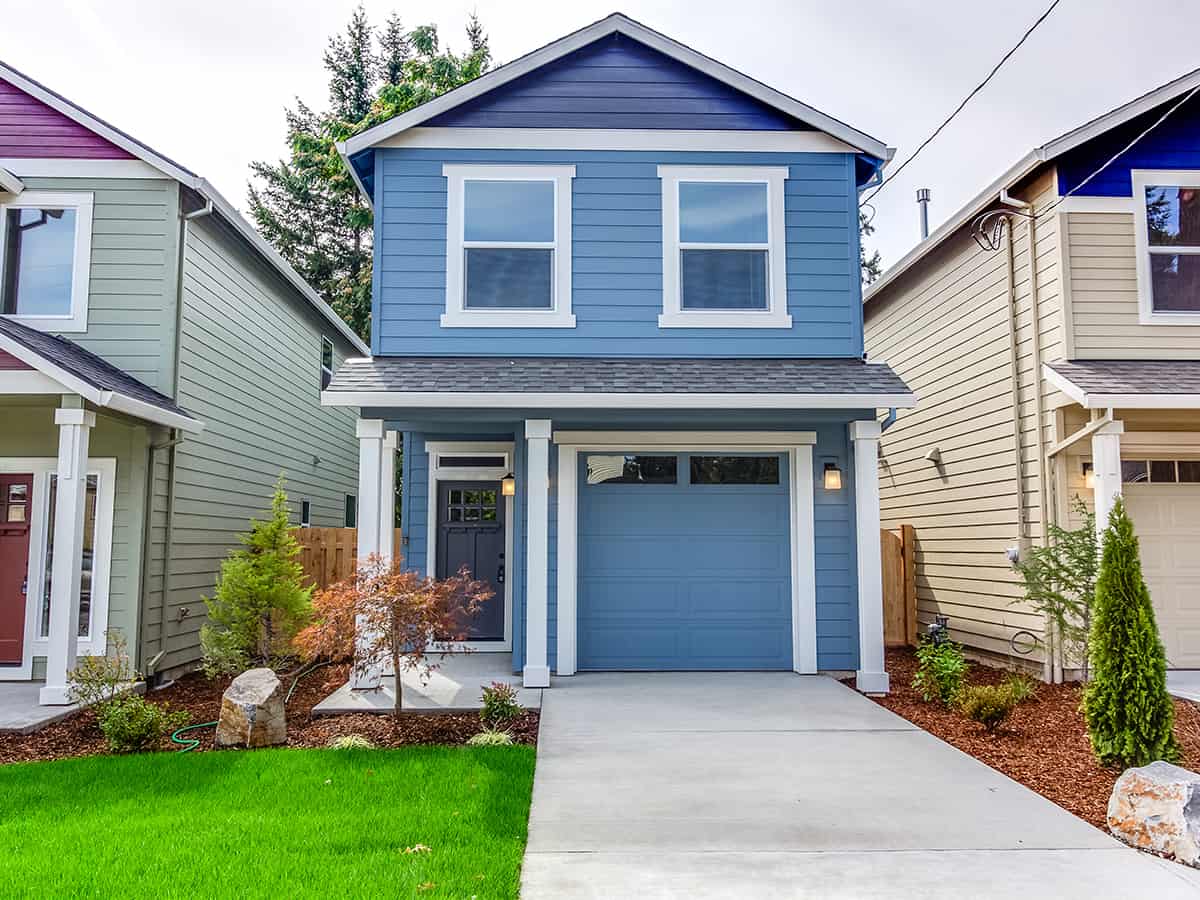 There is no need to go all out and spend a lot of money on an elaborately designed exterior trim, especially if you have a tight budget.
With a simple trim like the one shown here, you can still put your entrance into focus using a white trim on a blue siding in order to create a coastal vibe. The simple color combo makes a statement without looking dramatic.
Opt for a Thick Trim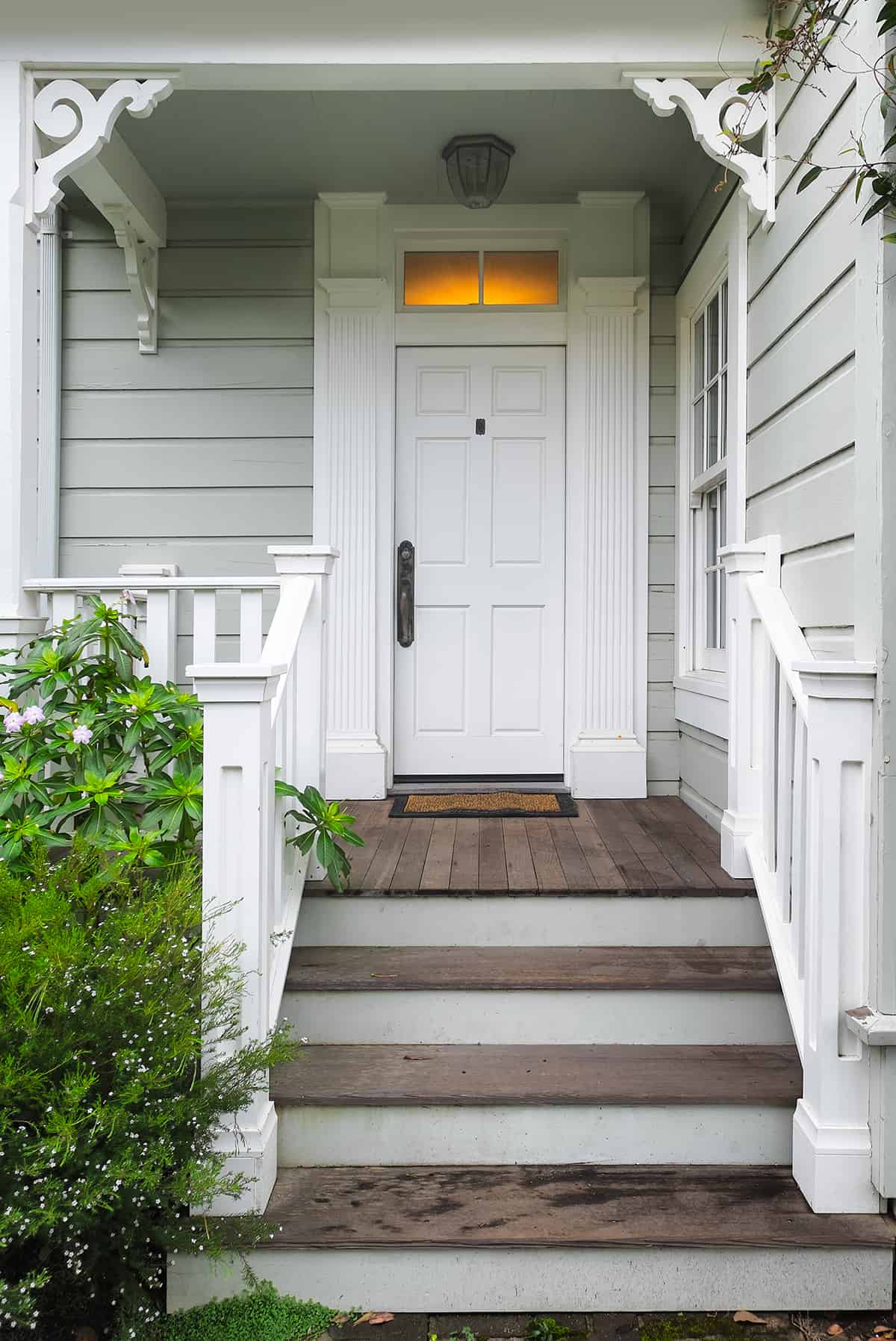 While a simple, thin door trim can look modern and sophisticated, a thicker one will frame your exterior door nicely and make it stand out.
You may opt for a crisp white trim to create a perfect contrast with your siding, or use the same color for both the trim and the siding.
Add Ornate Details for Drama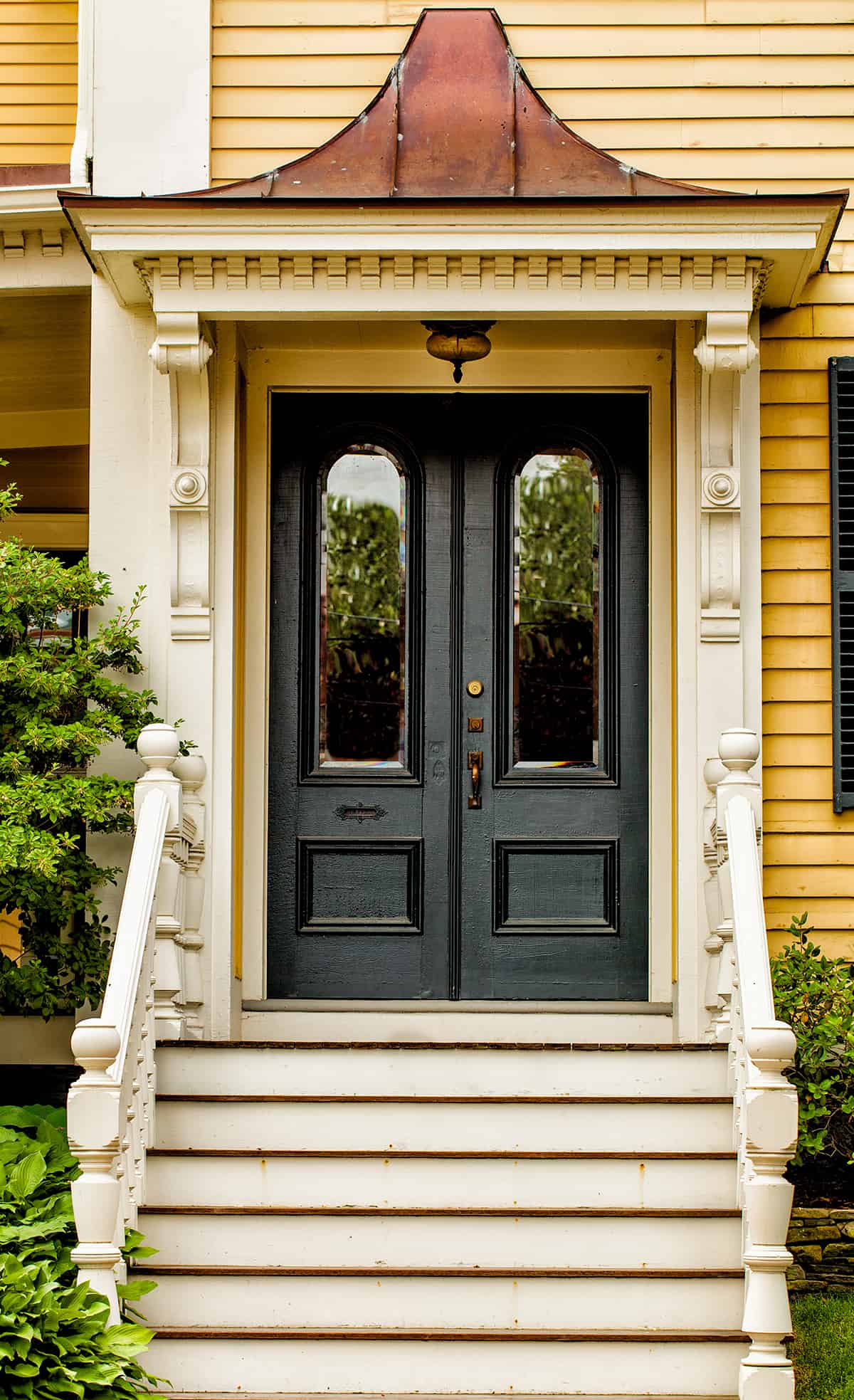 Not all front door trims have to be plain and simple. If you have a Colonial, Victorian, or any other luxury style home with architectural details, you can match your front door trim to the style of your house. An ornately designed trim will complement both vintage and contemporary front doors. After all, you want to make a great first impression so why not go big?
Take a look at this black double front door with its sophisticated trim that makes a striking entrance. We love the blend of colors with the Oriental-style door casing for a dramatic statement.
Natural Wood for a Flawless Look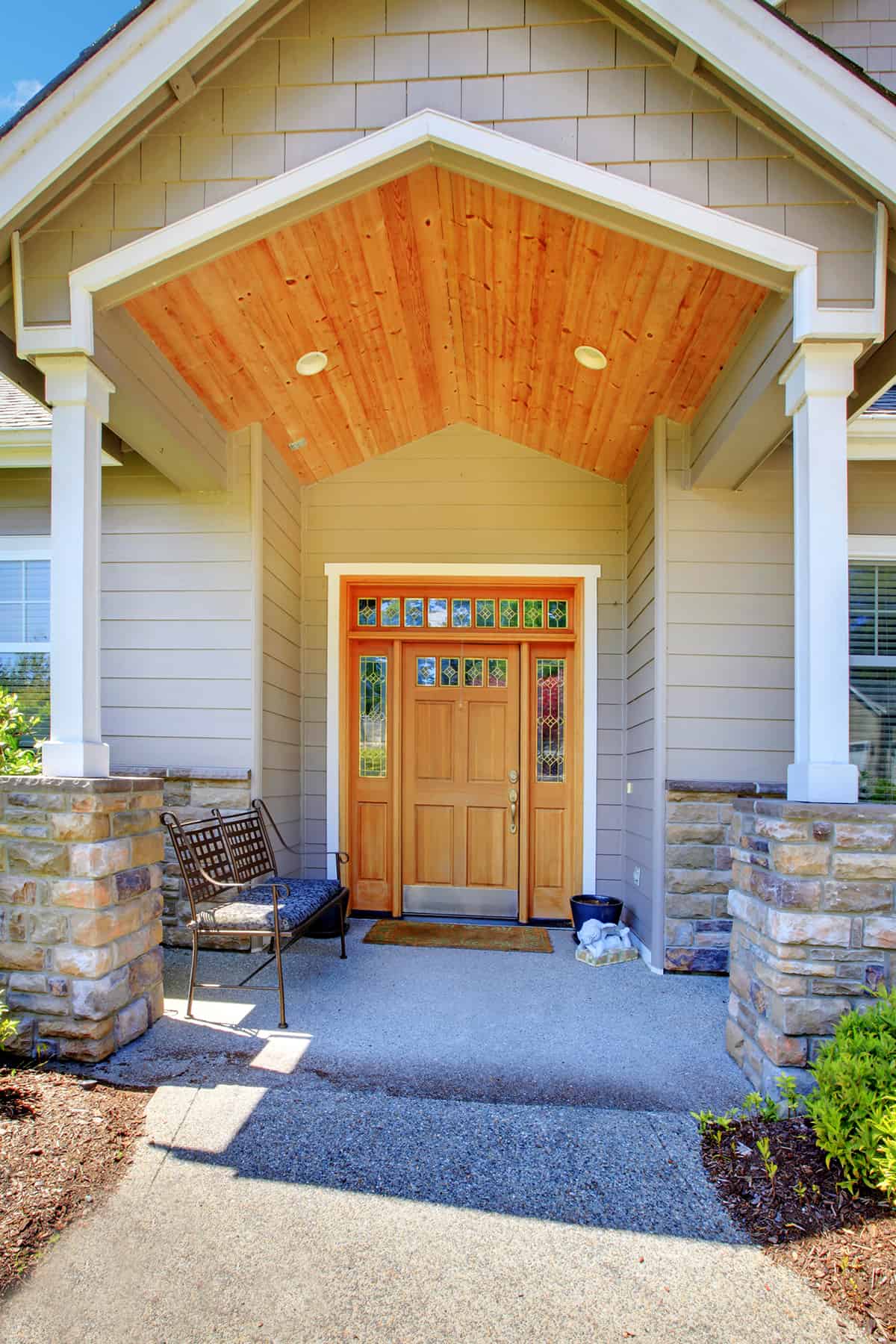 The way your exterior door's trim looks shouldn't be the only concern of the homeowner. The material used for the trim will also play an important role in the aesthetic appearance of your trim.
While materials like PVC or vinyl are durable and low maintenance, they are less appealing than natural wood. If your budget can stretch to such a material, it can be a better-looking option than vinyl or PVC.
Steel or aluminum trims are just as durable as wood, however, they often develop rust over time, which can detract their appearance. You may use a combination of both metal and wood for your exterior door's trim.
Natural wood is a beautiful material that's versatile and works well with any door material. That said, you must pick a wood that's resistant to rot and mold. In this case, we recommend cedar or oak. Remember to stain the wood trim before installation.
In this example, wood plays a dominating role as the trim material as well as the front door.
Use a Neutral Color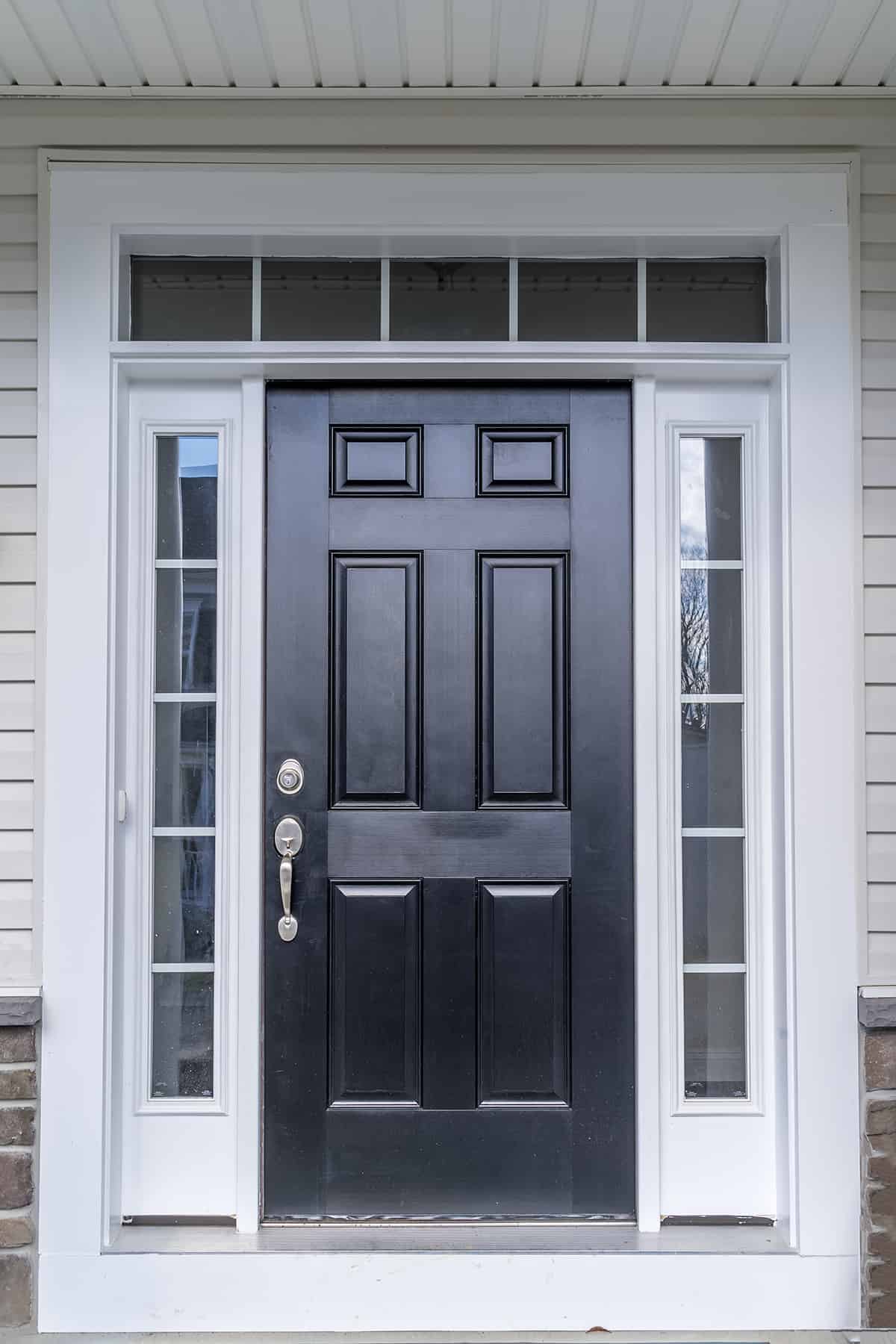 Any neutral trim color such as grey, white or beige will work well with a front door. These colors align perfectly with almost any front door color including black as an excellent way to add a clean, crisp look to your entrance.
On modern homes, white or beige trims tend to be popular, while on traditional farmhouse style exteriors, brown or grey are the preferred choice.
Here is a beautiful example of a black front door with white trim and transom windows on the side and upper section of the raised panel, which are separated by narrow while grilles.
Match Trim Color to the Siding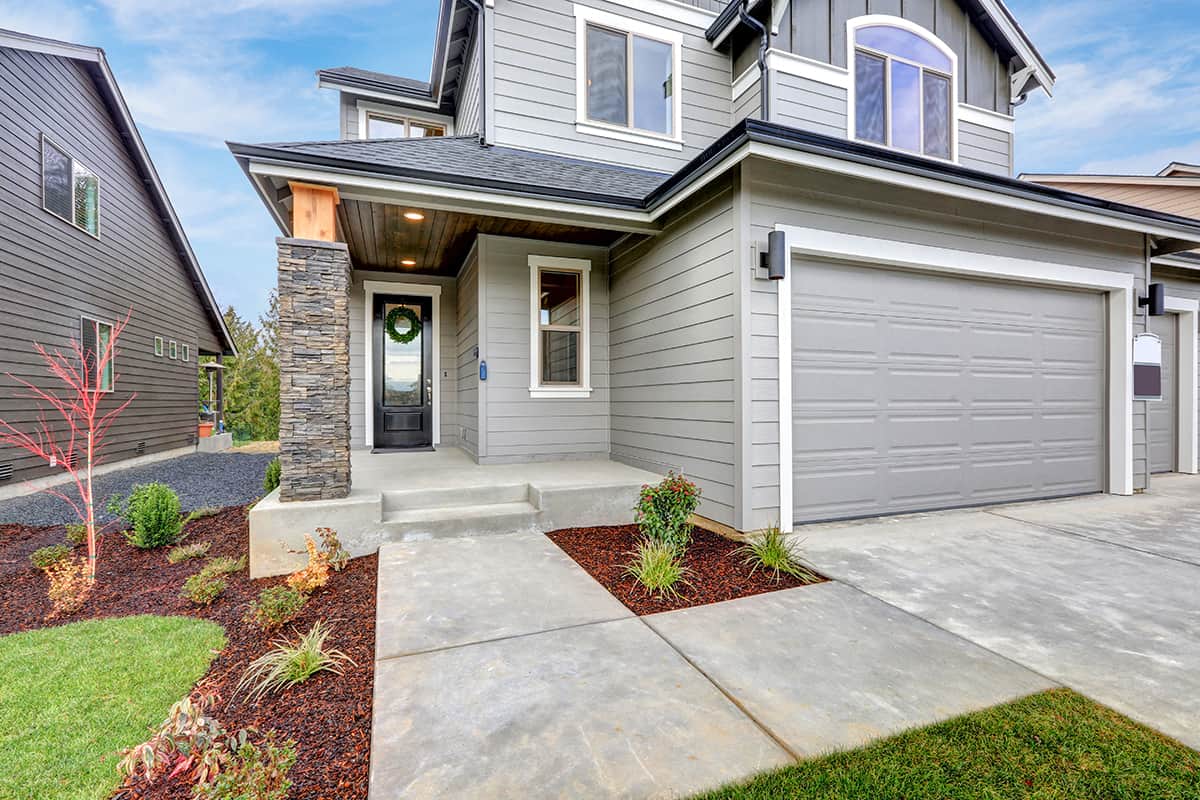 The front door's trim doesn't have to be a different color to your siding. To create a monochromatic design, match the trim color to the rest of your property like the one shown here. Aside from matching the trim to the siding, consider the other details of your exterior as they must all coordinate with your entryway.
In this example, the siding color is grey while the trim is white, which matches the rest of the window frames and garage trim. You may either use grey trim to continue the design or keep it neutral to match the rest of your home's exterior.
What is the Trim Around the Front Door Called?
The trim around the front door is often called a doorway casing. An exterior door's trim consists of several parts. The casing refers to the interior trim, while the brickmold is the removable exterior trim. This is for decorative purposes based on the homeowner's preference.
The trim detail on the top of the exterior door is referred to as a header. This is the structural component of the door's framing.
Other components that can be added to an exterior door's trim include pilasters, which are usually extra wide with fluted parts that are installed together using crossheads. The pilasters also come with upper pediments, which take the trim design to the next level in order to achieve a custom look for the entrance.
Butted Vs. Mitered, Which is a Better Trim Choice?
Builders or DIYers can install the front door's trim using the butted or mitered casing. This usually involves connecting the wooden or vinyl board's thinner edge to the inner frame.
The short upper casing can then be placed to the top of the two-sided casing using the mitered or butted joints. To determine which trim is the best choice for your particular project, get to know more about these joints right here:
Mitered Trim Joints
This trim option involves cutting the two sides of the upper head casing at a 45-degree angle before installing them together in order to make a 90-degree angle. The end result is a clean and neat wood joint.
Butted Trim Joints
This trim joint connects 2 flat surfaces at a 90-degree angle. It is typically done using nails and adhesive. The butted joints connect the flat board casing on top of the side trim.
This option is normally seen on homes with high ceilings as the butted joint allows for ornately designed head casings. This decorative trim adds more interest and character than mitered joints, thus a better option for front doors of Colonial, Georgian and Victorian-style houses.