Installing carpet flooring in your living room not only brings more comfort, but it also adds an eye-catching visual interest if you pick the right color.
A blue carpet, for example, can be combined with many furnishing colors for aesthetic appeal. But when it comes to deciding what color couch goes with blue carpet, you may not know where to start.
Using the wrong furniture color will instantly be noticed by your visitors and can even make your living space look unappealing. So to help you decide on the best couch color to pair with your blue carpet, here are some attractive ideas:
Best Couch Colors that Complement Blue Carpet
White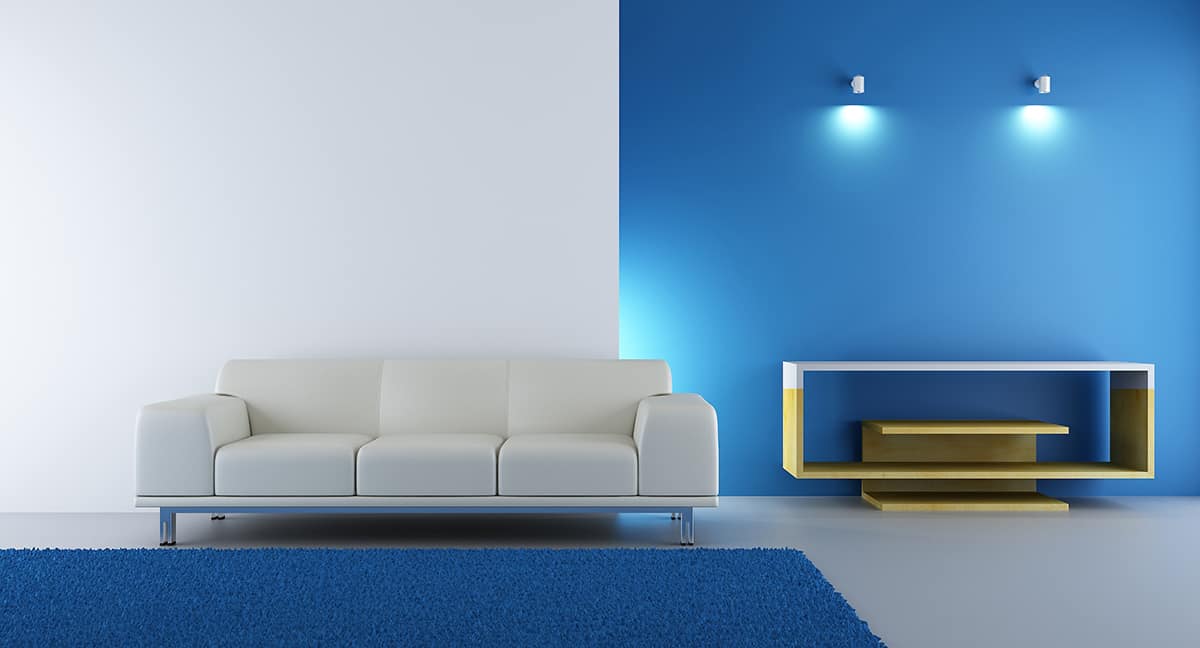 Let us start with the easiest couch color you can pair with your blue carpet: white. This neutral color fits with any other color scheme and creates an airy atmosphere in small and large living rooms.
The only downside to a white couch is its high maintenance needs as white shows dirt easily. But if you love the idea of a bright white couch with your blue carpet, then we recommend a leather one as it's easier to maintain and keep clean.
Light Gray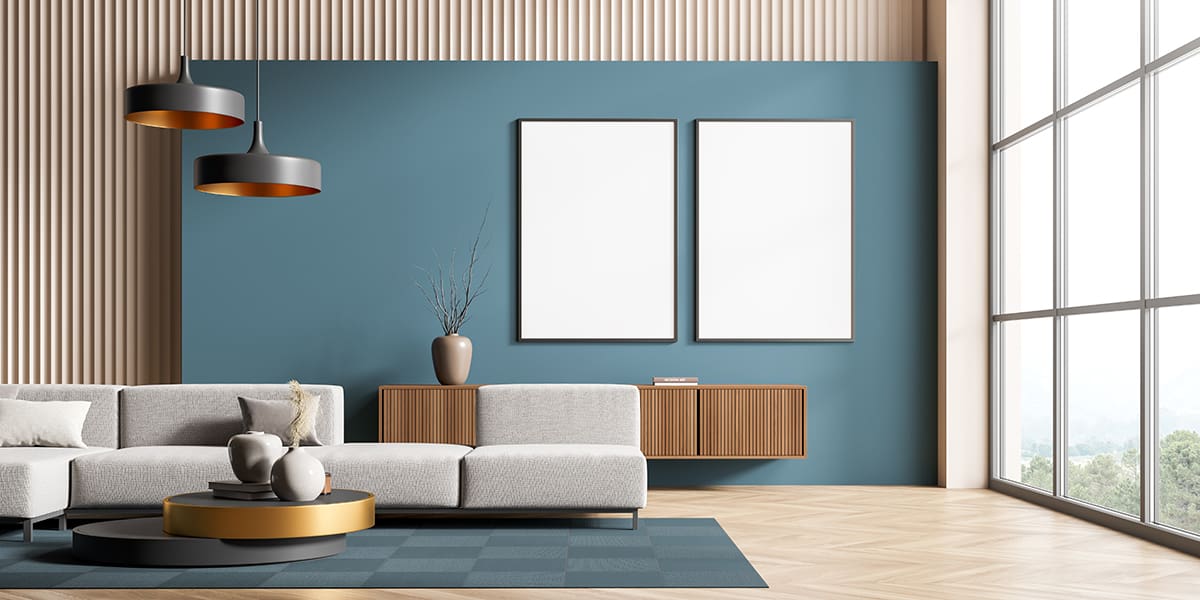 For an easier-to-care-for couch color choice than white, pair with light gray. This is a great choice to pair with a blue carpet as gray brings a touch of elegance to the living room.
The best thing about light gray is that it can blend with all shades of blue; from navy and admiral to turquoise and sapphire. And to complete the look, consider painting a feature wall blue as shown in this example.
Dark Gray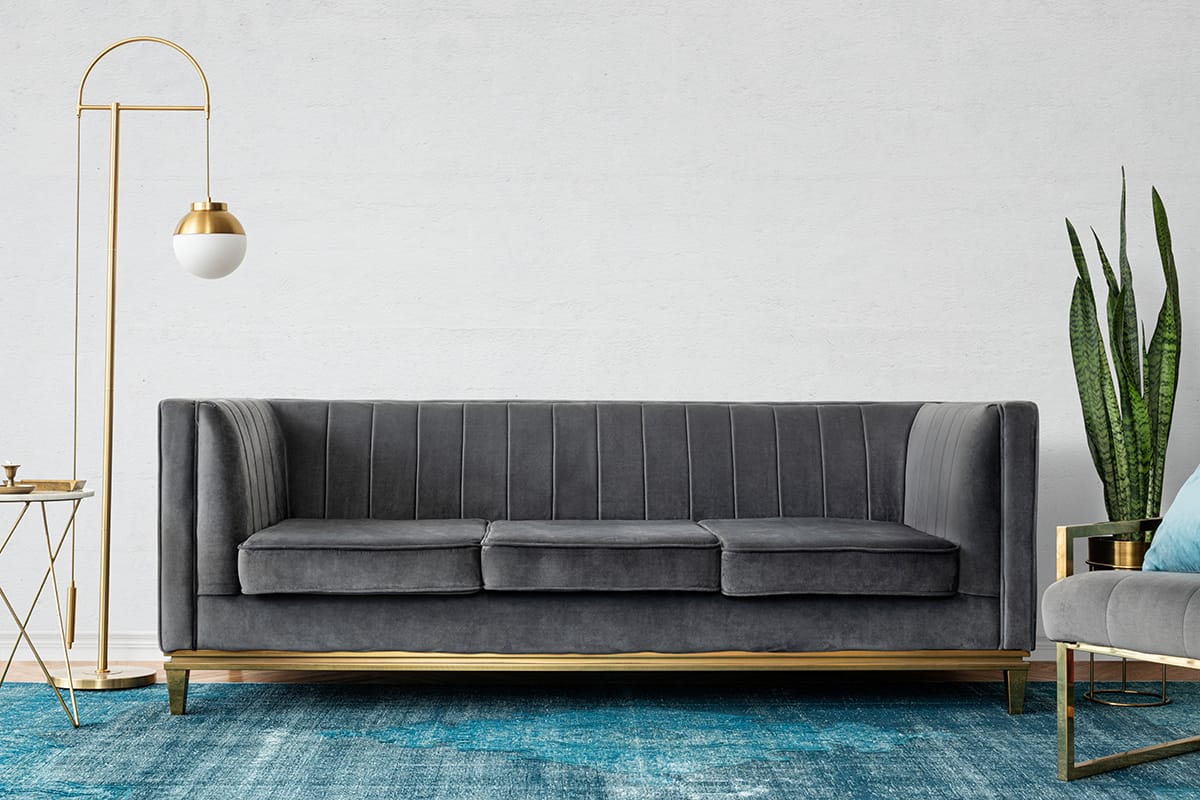 Another modern, cool-toned couch color that goes with blue carpet is charcoal gray. This bold color blends nicely with any shade of blue, but to make a bigger impact, keep the other furnishings and wall colors neutral.
A dark-gray couch has a special elegance like no other, and in terms of maintenance, this color fares better than its lighter counterparts.
Brown Leather
A warm, down-to-earth hue like brown is a dazzling choice to pair with a cool blue-toned patterned carpet. To bring a stylish and sophisticated vibe to your living room, get a leather couch in light brown.
This color adds warmth and visual value to the room with a blue carpet. You can also add natural wood furniture to match your brown sofa and to keep the overall design exciting.
Green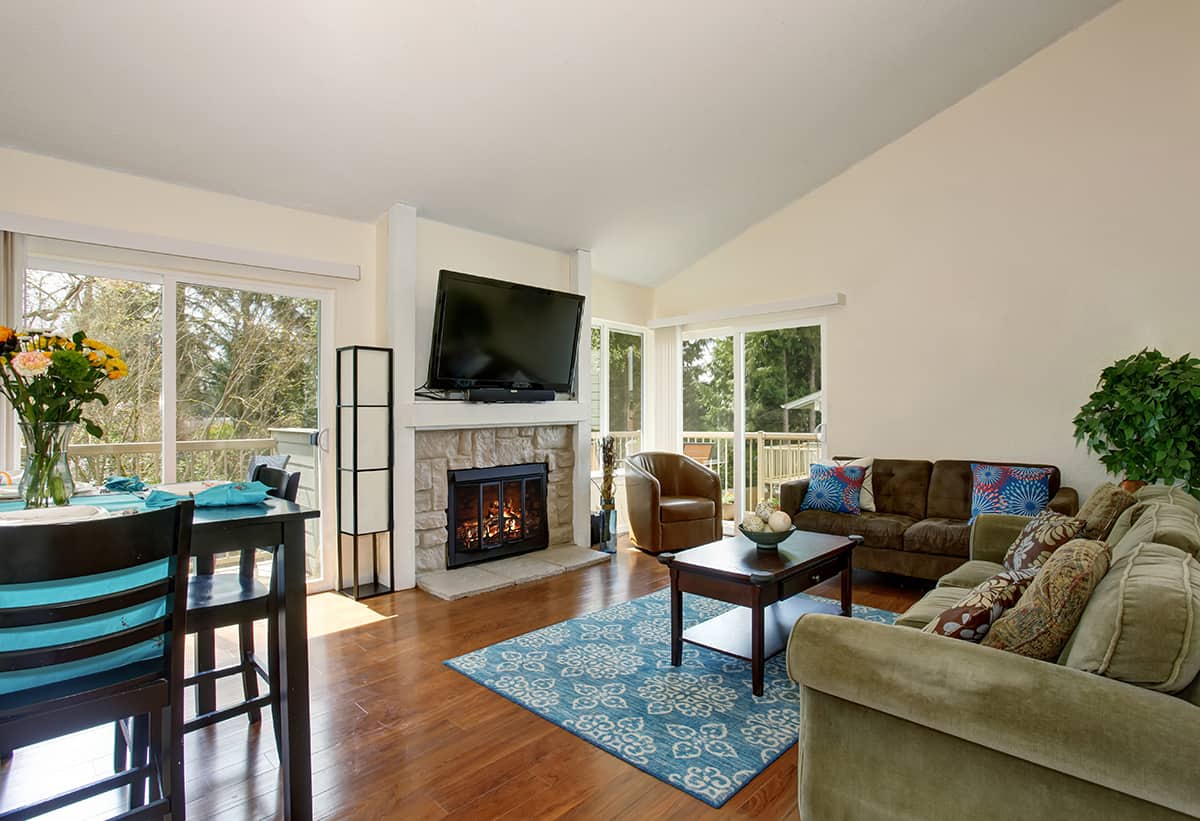 A rich green upholstered couch paired with a deep blue carpet brings much luxury to a traditional style interior. Add some metal accents to this combination, and you'll have a living room that's the envy of your visitors!
In traditional settings, you'll often find that bright blue flooring blends beautifully with green furniture as the mix of warm and cool tones blend beautifully without making the space feel smaller.
A Shade of Blue Lighter or Darker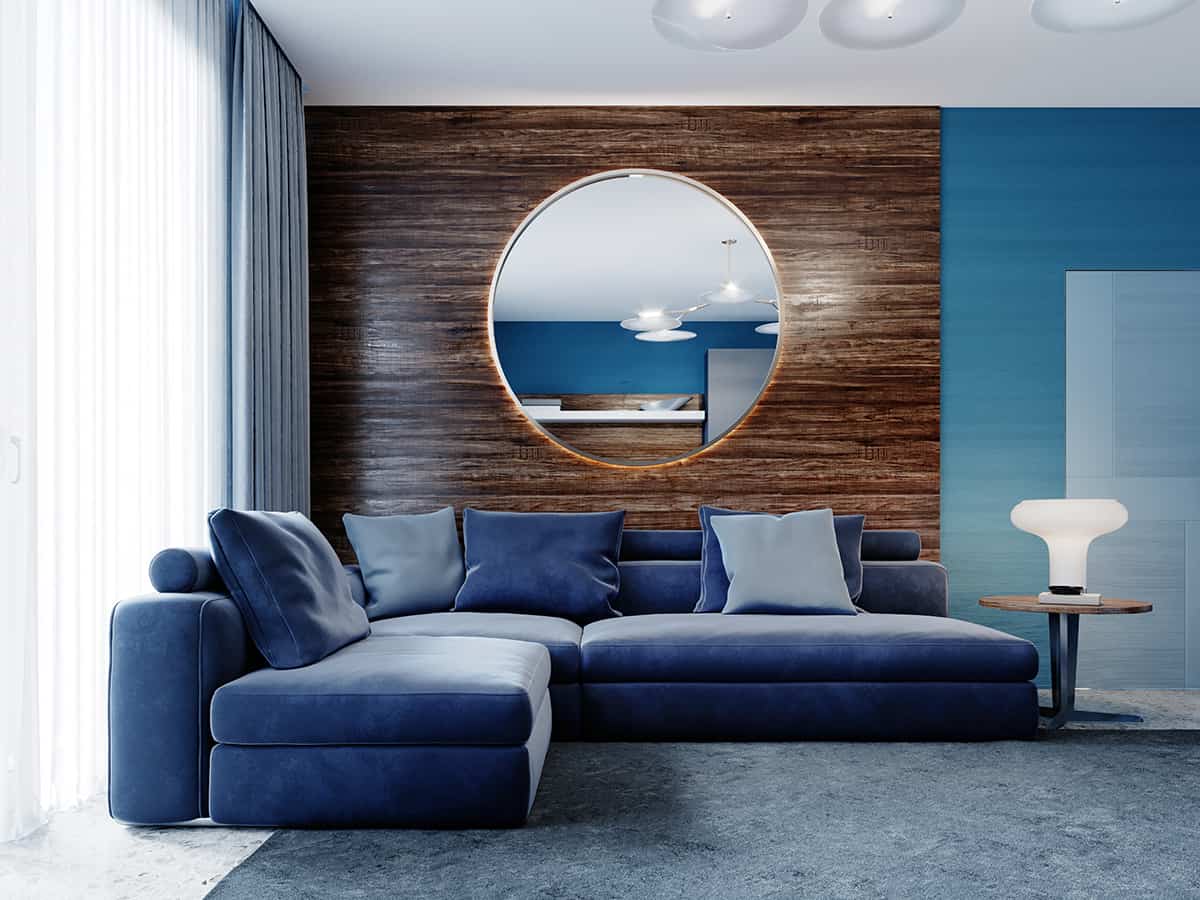 To create a seamless and flawless aesthetic design, consider pairing your blue carpet with a couch in a shade lighter or darker. This kind of approach is sure to bring a fashionable appearance to any modern living room.
For example, if you have a dark blue carpet, pair it with a turquoise couch or vice versa. To prevent monotony, create a feature wall in wood paneling, as shown here. Although the designer has gone all-blue with the color scheme, there are two shades of blue used to break the monotony.
Mustard Yellow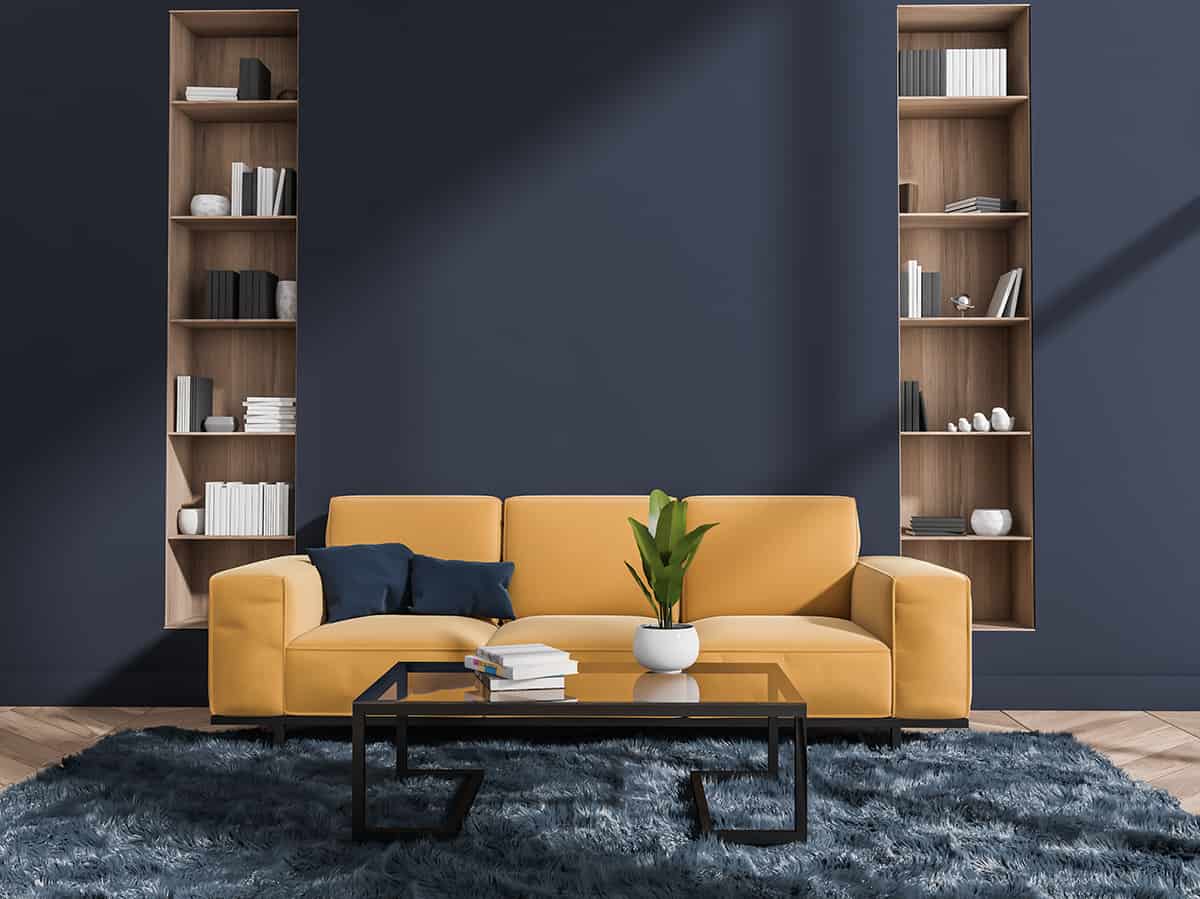 If you want to add a burst of warm-toned color to your living room with blue carpet flooring, then how about going with a contrasting couch color: mustard yellow?
This joyous color is sure to lift the mood of your living room. Mustard yellow is a subtle and soft color that serves as a focal point of the room. A blue dominant living room with such a couch color can definitely attract everyone's attention towards the yellow couch as you can see in this example.
Dusty Pink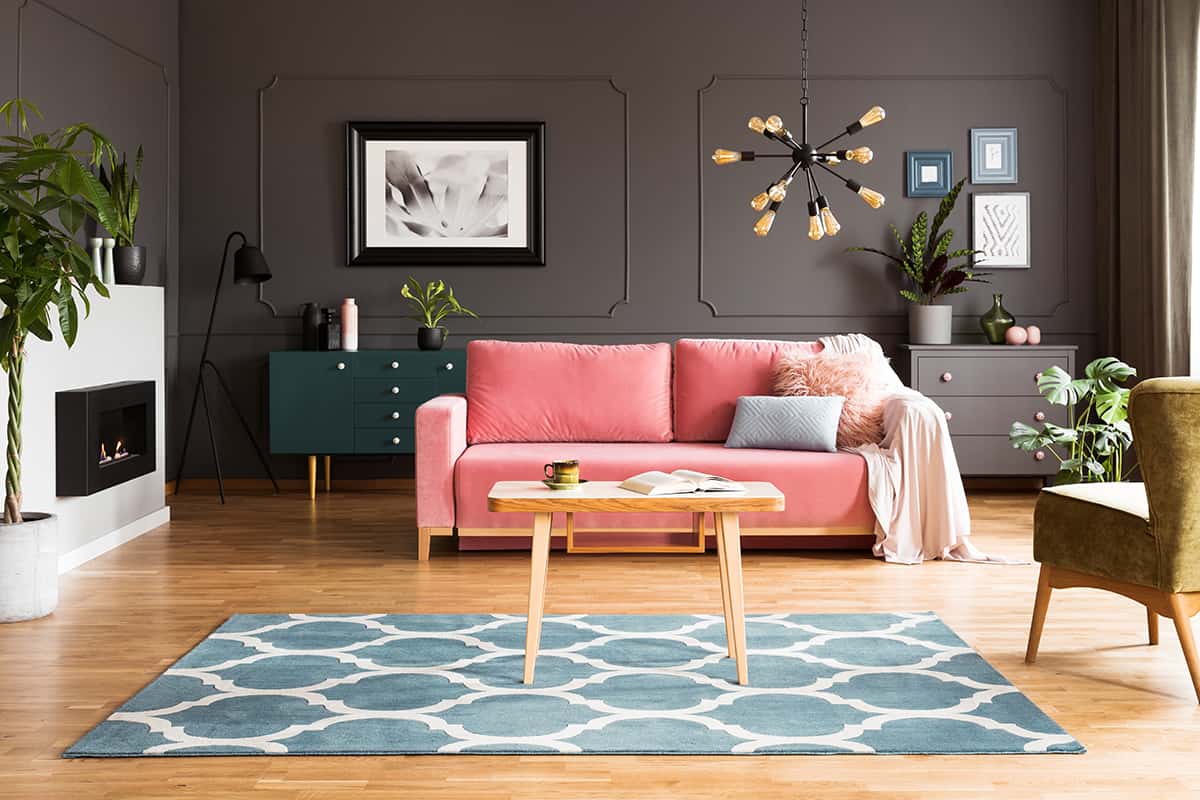 Another desirable (and somewhat feminine) color to pair with your blue carpet is dusty pink. This is a soft, pastel shade that works great with all shades of blue.
See how calm and inviting this blue living room looks thanks to the highlighted pink couch. We think this room oozes sophistication and tranquility.
Beige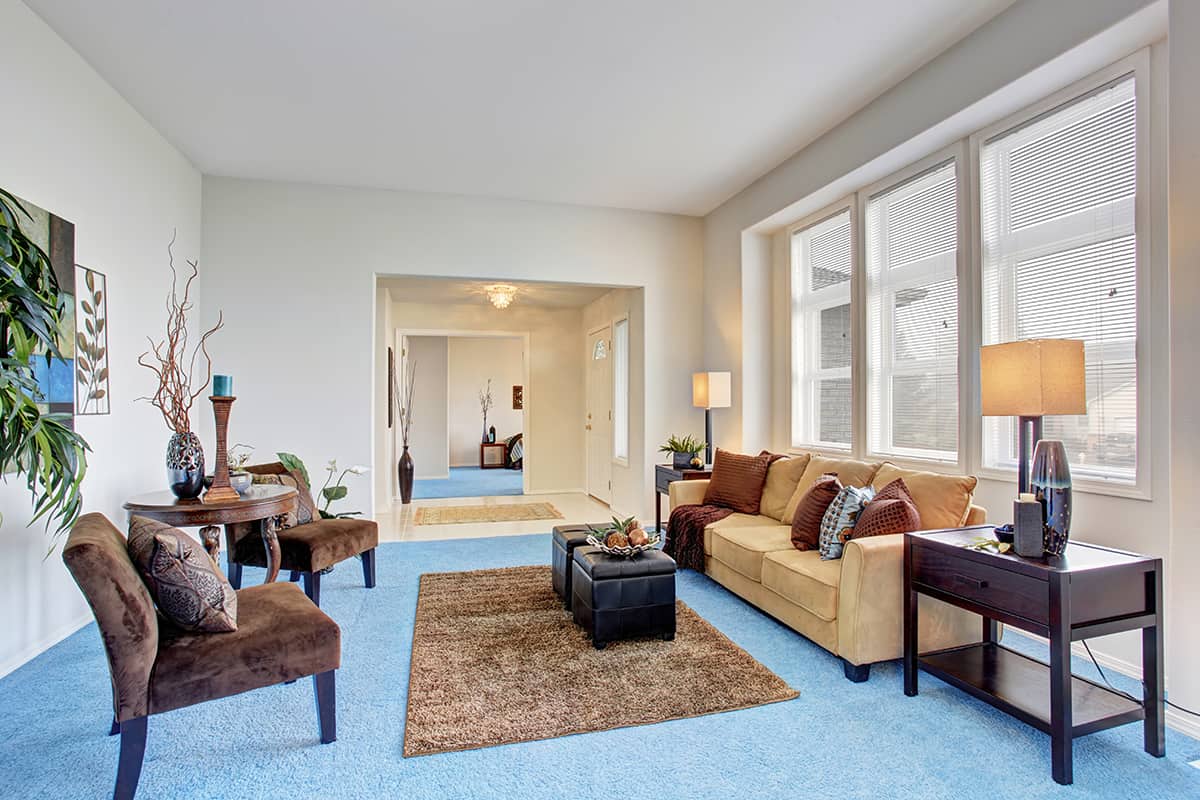 Beige furnishing can easily fit with blue carpet as it's a warm, neutral finish that makes any room feel more inviting. In a cozy, modern living space, having a beige couch can be a great way to evoke a natural and earthy vibe.
As you can see here, the blue carpet stands out in the neutral setting, with the beige couch creating a welcoming atmosphere.
Cream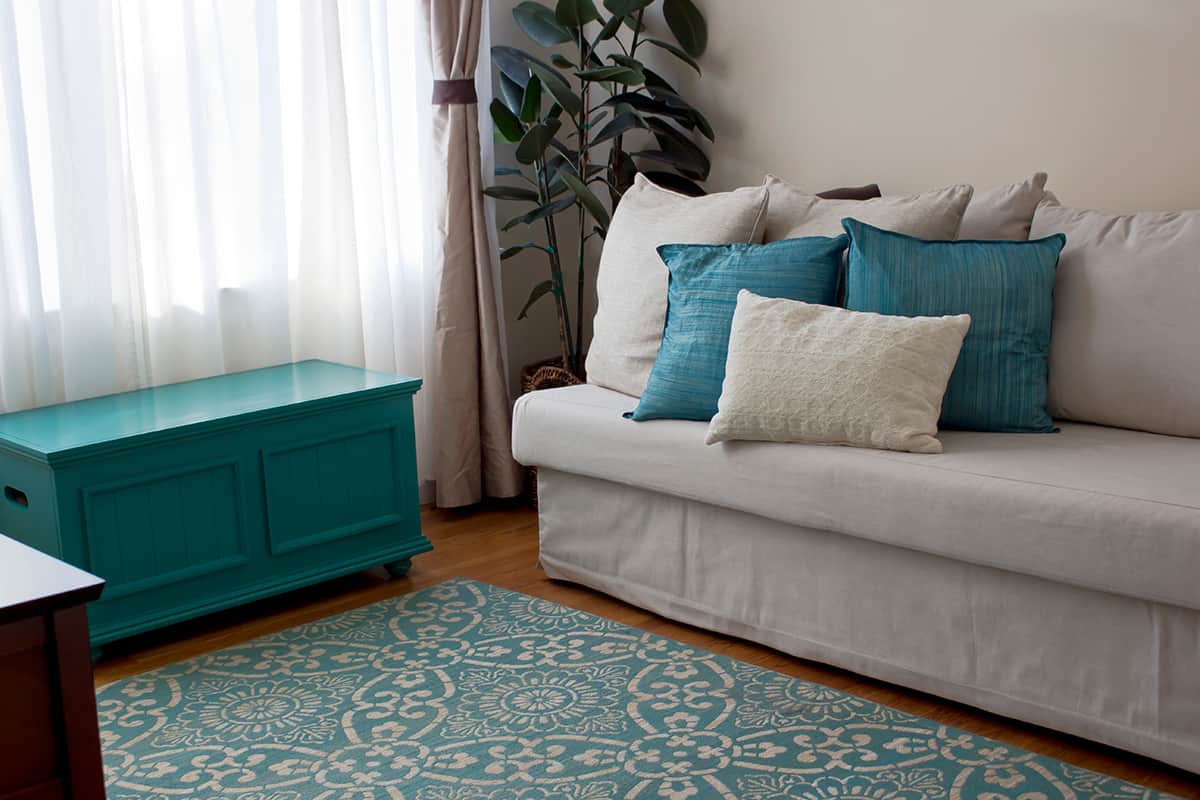 Similar to beige but with a lighter tone, the warm-toned cream as the couch color can work well with a blue carpet. This color scheme helps keep the balance between the bold blue and neutral cream. With a cream, upholstered couch, your living space will feel brighter and airier, so it's especially recommended for small or dark living rooms that lack natural light.
If you're wondering what accessory colors to pair with your cream couch and blue carpet, look no further than brown for the window treatments and accent pillows. This color combination is sure to bring a warm and welcoming feel to your living room!
Does Blue Carpet Hide Dirt?
Generally, any carpet color can show dirt, especially if it's a lighter shade. If your carpet receives a lot of foot traffic, it's best to choose a medium to dark-toned blue.
Navy, royal blue, denim, or admiral, for example, hide dirt well and are more stain-resistant than lighter blue shades. The only downside to darker blue carpets is their tendency to show light-colored hair. Otherwise, they make a better option in high-traffic areas.
Textured blue carpets are even better for hiding dirt than low pile ones, so that's worth considering for living rooms. There are also patterned carpets in dark blue shades that are just as effective for hiding stains or dirt.
We recommend floral patterns for living rooms with children or pets as the detailed artwork allows the dirt to blend in with the patterned design.
How Do I Brighten a Room With a Dark Blue Carpet?
When you have a blue carpet, it risks diminishing the feel of lightness in the living room or bedroom. But there are ways to brighten up your space, even if you have a dark blue carpet.
Aside from choosing sheer curtains that allow lots of sunlight to enter the room, here are some more tips on how you can brighten up your room with a blue carpet:
Choose Neutrals
If you have a particularly bold blue carpet, consider decorating your bedroom, dining room, or living room with neutral colors in order to balance the space.
Neutrals like beige, gray, cream, and white work well with a bold blue. These shades can be used for the walls and furniture to reflect light and make the space feel larger. But if you feel your room is going to look a little bland, add depth by using deeper shades like chocolate brown and burgundy.
These can be used for accent pillows, curtains, and other accessories. A bold blue carpet combined with neutral shades and browns can give a room a stylish look.
Create Contrast
On the other hand, if you wish to go for a bolder color scheme in a living or dining room, pair your blue carpet with contrasting colors that grab attention.
We recommend colors on the opposite color wheel, like orange. This contrasting shade can be incorporated into decorative pillows or curtains to make your blue carpet pop and your space brighter.
When selecting a specific orange shade to pair with your dark blue carpet, go for light, soft shades, such as tangerine or pumpkin. This way, your dark blue carpet and orange accessories will be the main focus of the room, while the rest of the color palette remains neutral.
Embrace Monochromatic
Since blue is a soothing, cool-toned color, having an all-blue room can bring a calming vibe to the space. For example, an all-blue bedroom with a blue carpet can be the basis of relaxation thanks to this monochromatic color scheme.
Light blue shades for the walls, window treatments, and furniture, together with your dark blue carpet, can brighten up the room and keep the design cohesive. But if you're not keen on a monochromatic color scheme, you may incorporate striped white and blue accessories to tie the room together.