When it comes to furnishing your living room with an elegant and bold color couch, blue often becomes a top choice. Using a blue couch can transform a dull room into an impressive and attractive living space as it's the central focus of any decor.
However, when you're thinking of pairing your blue couch with curtains, what color goes best with blue can be a challenge.
Whether you're planning on placing your blue couch near the windows or right in front of them, it's important to pick the right curtain color to serve as a backdrop.
In this post, we've put together some beautiful curtain ideas that complement a blue couch. Let's browse through them now!
Curtain Color Ideas that Work with a Blue Couch
White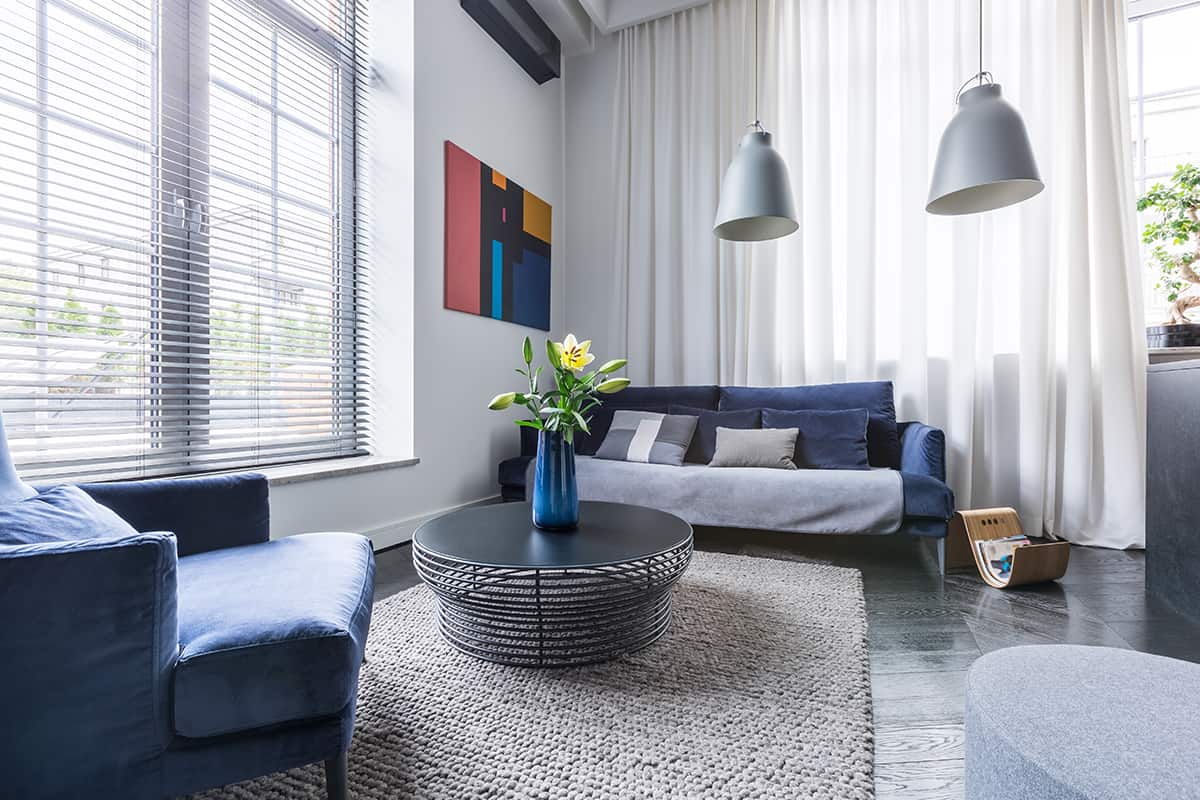 White may be an obvious and risk-free option, but there is more to it than that. White curtains serve as a crisp background to a bold blue couch and they can really make the couch stand out. So if you want to keep your blue couch as the focal point of the room, a white curtain is a great choice.
Blue and white are exquisite colors that bring a modern touch to any living room. Sheer curtains offer a bright and subtle backdrop that draws the attention to your blue couch. If you want your living space to feel bright and open, sheer draperies are the perfect choice as they lighten up the room and let the blue couch shine.
When picking white sheer curtains, go for a heavy, full-length fabric as it adds a warm ambiance to the room. Just like the example here, the blue couch is adorned with neutral throw pillows that work nicely with the sheer white curtains in the background.
Check out our post ' What Color Throw Pillows For a Blue Couch? ' for more throw pillows and blue couch combinations.
A Blue Shade Lighter or Darker than the Couch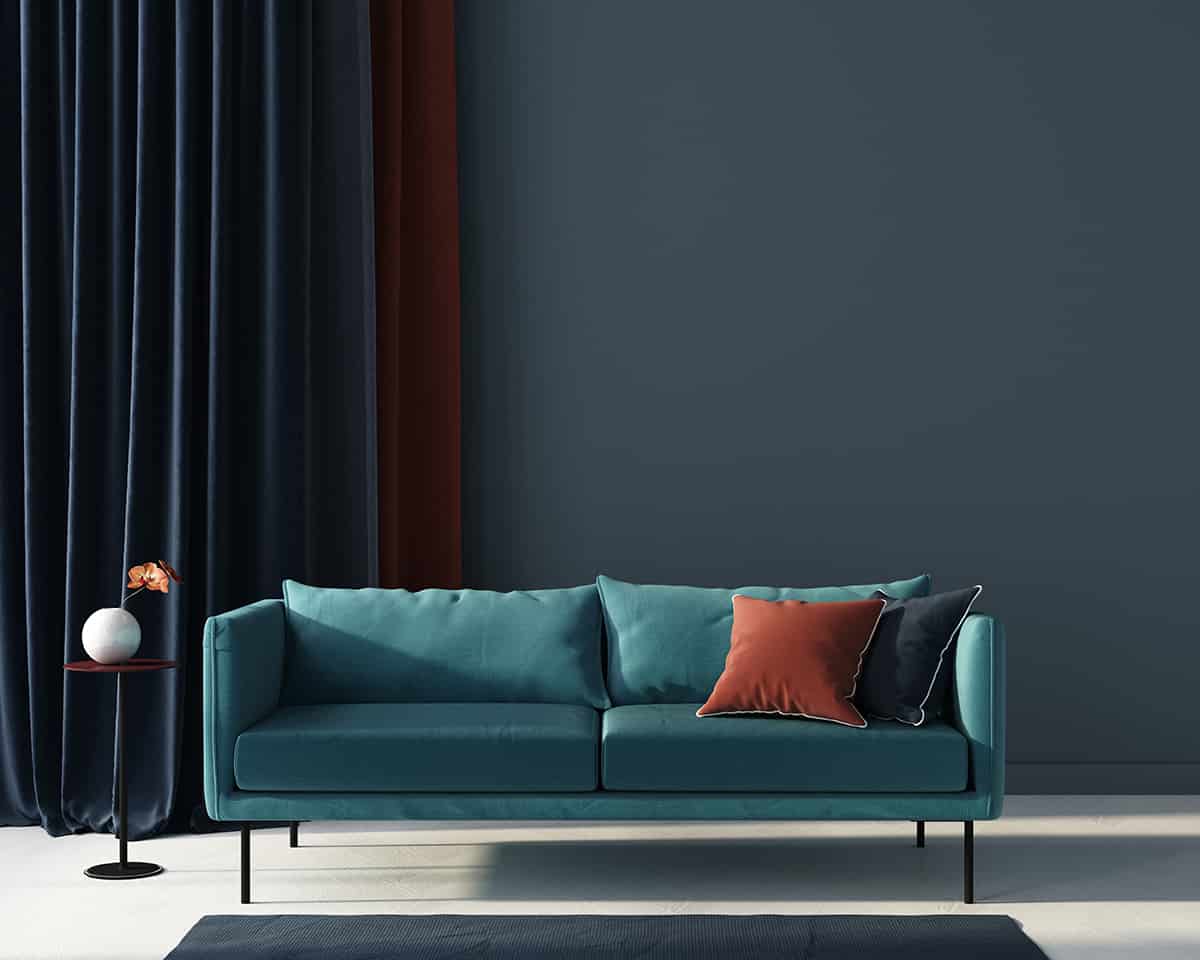 To keep a harmonious balance between the curtain and the couch, consider using the same color but in a different shade. This helps avoid a monotonous look as you're creating enough contrast between the blue curtain and the blue couch.
As you can see in this image, the navy couch is highlighted by the dark blue curtains. You can use a light or medium-tone shade of blue for your curtains when your couch is of a darker shade.
Light or Dark Gray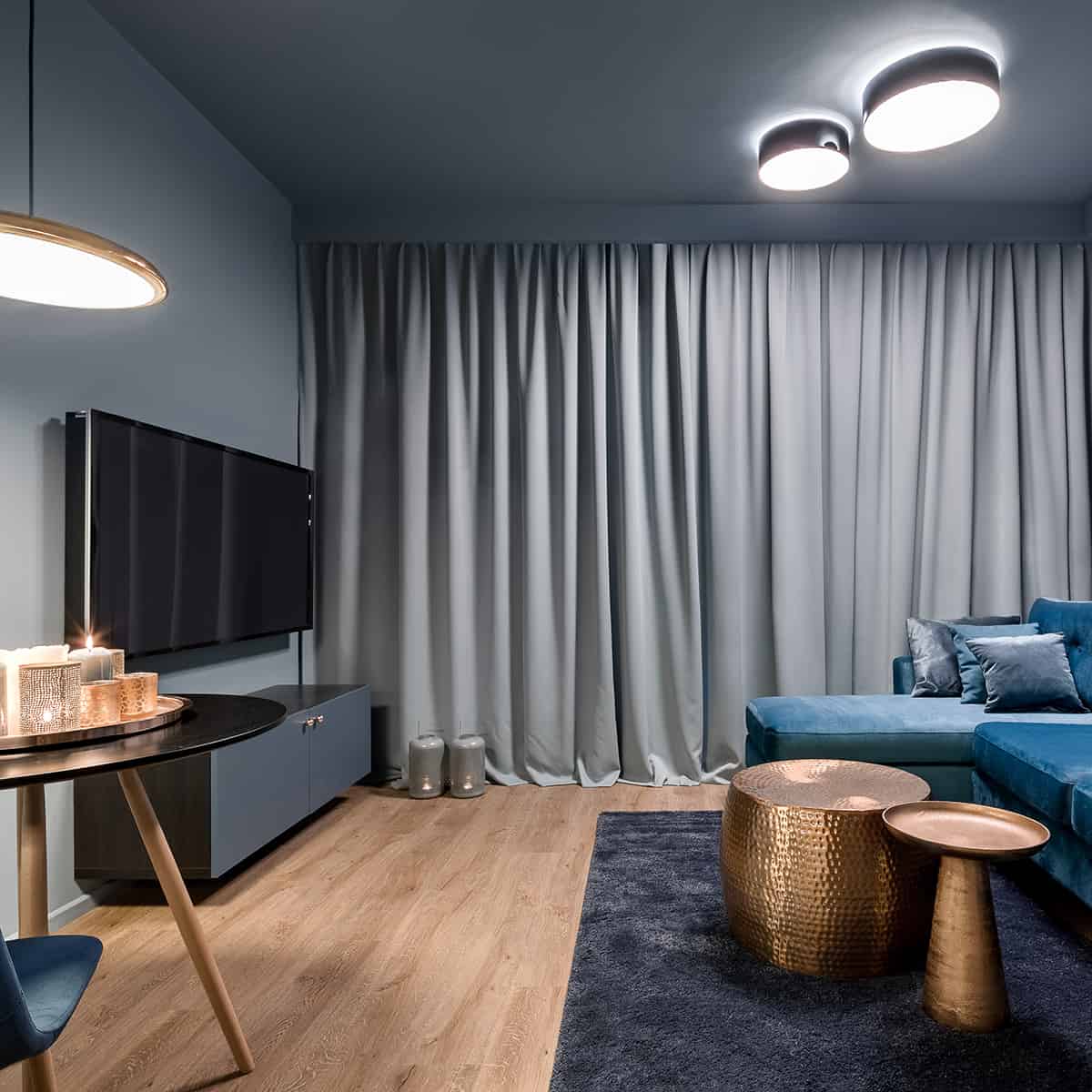 Any shade of gray can complement a blue couch as there are similarities between these cool tones. A blue couch paired with light or dark gray curtains brings a contemporary and elegant feel to the living room. So if you want to brighten up your living space, then opt for your favorite shade of gray.
The combination of blue and gray are a classy choice, especially in rooms with large windows. In fact, full-length, heavy drapes can give an exquisite and trendy look to an open living room.
In smaller rooms, you can still bring depth to your space while keeping it simple by opting for light gray curtains. Use a gray shade with blue undertones to complement your blue couch. To make your space feel warmer, add natural wood furniture as shown here.
Soft Pastel Pink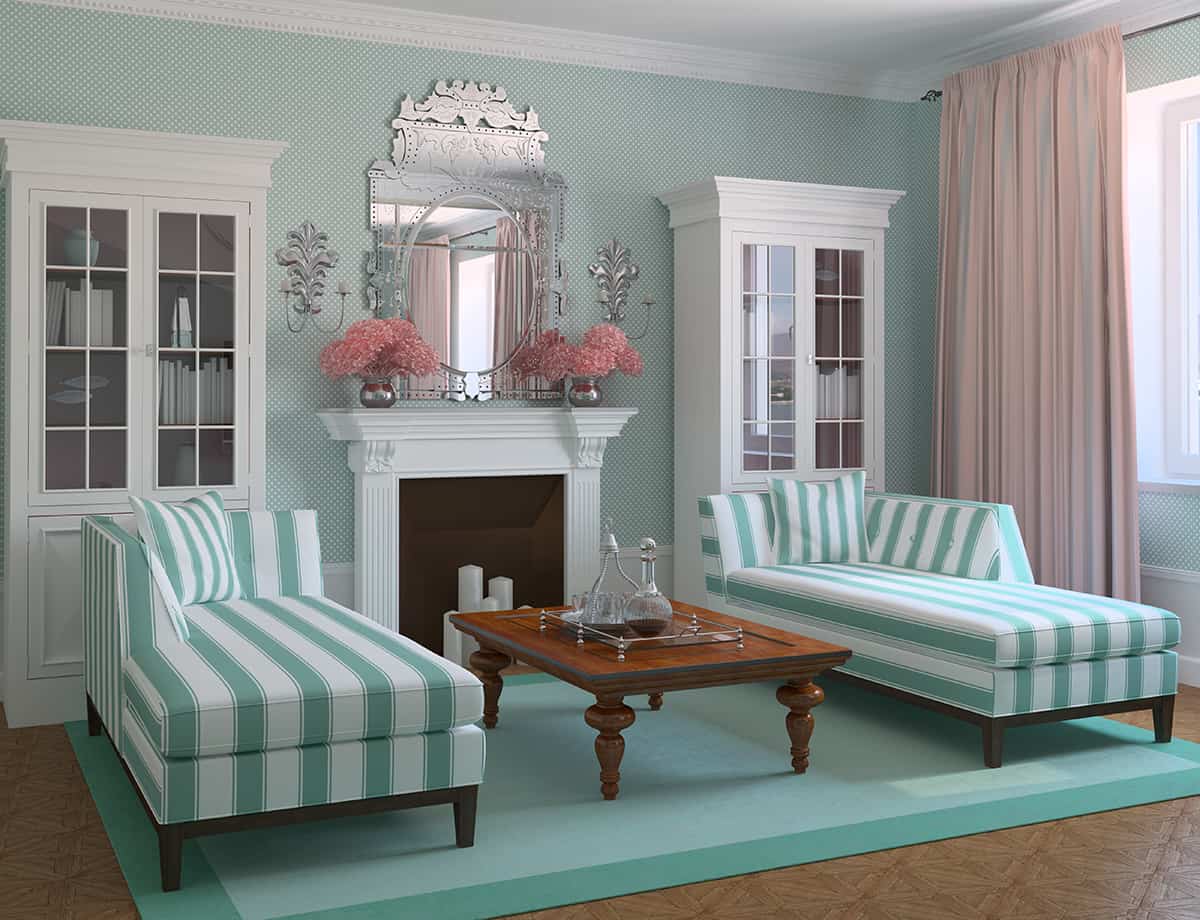 Pastel pinks and blue are an eye-pleasing combination in modern living spaces. But there is more to this color pairing than meets the eye. When used together, the feminine pastel pink gives the masculine blue a softer feel. Since blue emits maturity, you can create a deep, rich look by pairing the couch with pink curtains.
Pink shades such as rose or dusty pink achieve a more pastel look against light blue furnishing. So if you want to give your living room a modern twist, opt for light pink curtains. To complete the look, pair the light blue couch with a matching wall color and neutral trim as shown in this image.
Burgundy
Red is a daring color with a warm tone that is sure to sparkle next to a rich blue couch. To add a stunning contrast between the cool and warm tones, consider a rich burgundy color for the curtains. This striking color goes well with both light and dark blue. For example, burgundy velvet curtains in full length offer a lovely balance with a dark blue couch.
If, on the other hand, you have a light blue couch and you still like the idea of red curtains, we recommend ruby or maroon as a fashionable combination.
Black
Black curtains can easily work in any interior style, from boho to mid-century modern and more. When you pair your deep blue couch with black curtains, you are making a dramatic statement, which works particularly well in formal living rooms. Add neutral accessory colors to this mix to brighten up the space and keep the black curtains as the striking backdrop.
If you are after a more casual look, you can still use black sheer or blackout curtains depending on how much privacy you need. White accent pillows on the blue couch are a good choice to give the living room with black curtains a fresh, airy feel.
Brown
For anyone who wants to add more depth to their living space with a blue couch, we recommend brown curtains as the perfect choice. Using this warm color with a deep shade of blue can bring a stunning balance between the warm and cool tones. A medium-tone brown, for example, is a smart pairing with a navy couch. Shades like espresso, tan or ash are excellent for combining with a dark blue couch.
In large, formal living rooms, brown draperies can work especially well with large blue fabric sofas. You can add wooden elements to this combination to enhance the appeal of your brown curtains.
Yellow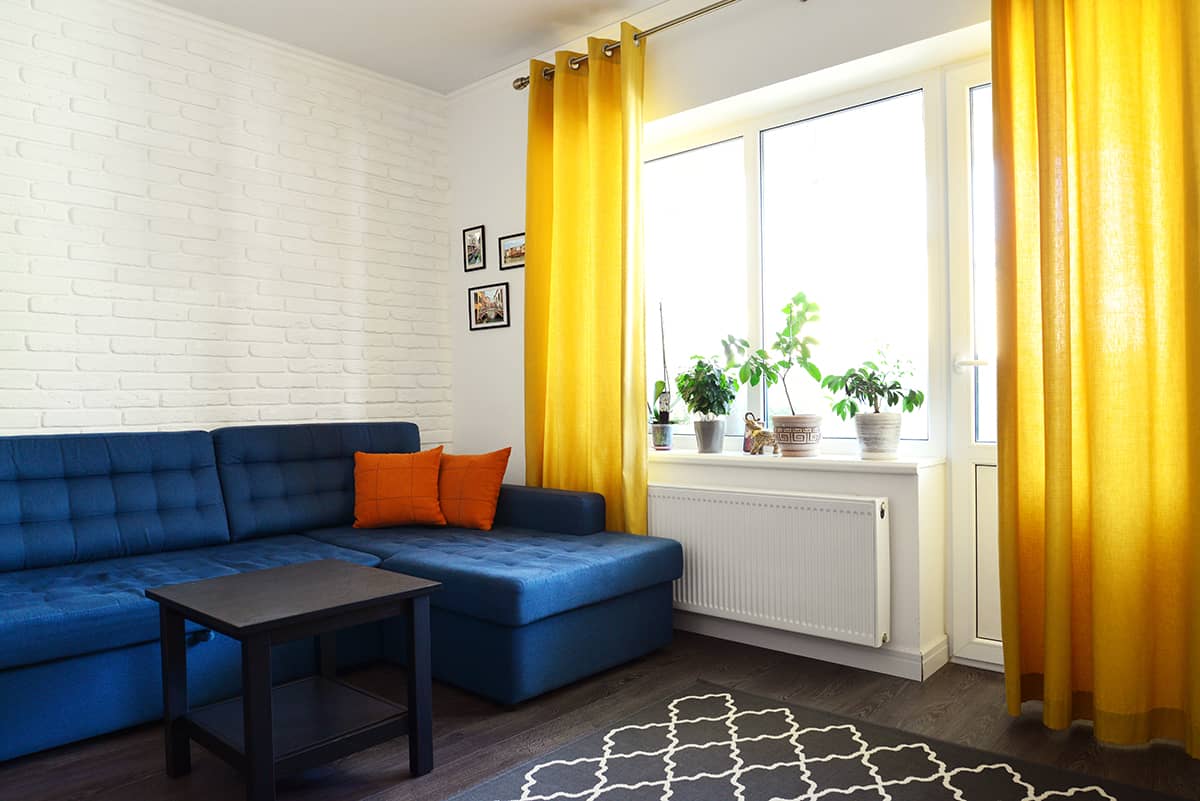 Another classic curtain color that's the opposite of the color wheel is yellow. A combination of blue and yellow creates a soft contrast in a casual living room.
For best results, match the tone of the yellow with the blue by keeping both shades either mute or loud depending on your taste. For example, a rich blue couch can work very well with sunny yellow curtains as shown in this image.
Striped Curtains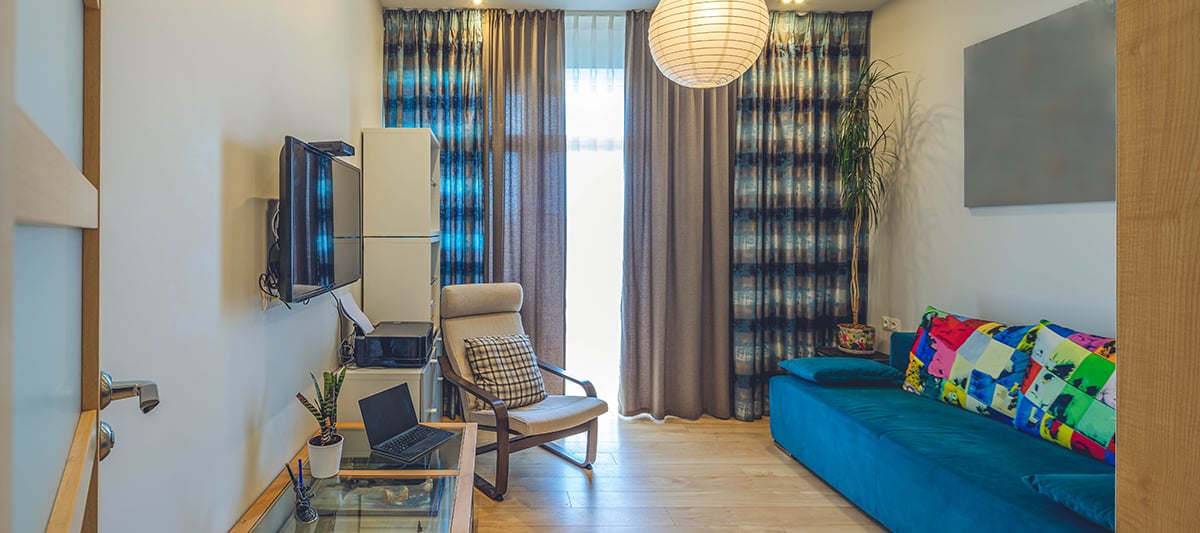 Those who want a more distinctive option for their curtain color should consider striped draperies. Such curtains provide more visual interest than solid curtain colors. You can pick any striped color curtain to complement your blue couch. For example, blue and white or black and white striped curtains will work just fine with light color walls and any shade of blue couch.
If you prefer a neutral yet impactful curtain color, go with gray and black stripes. This option will bring a more coordinated look in the background whilst still allowing the blue couch to stand out.
Floral or Patterned Curtains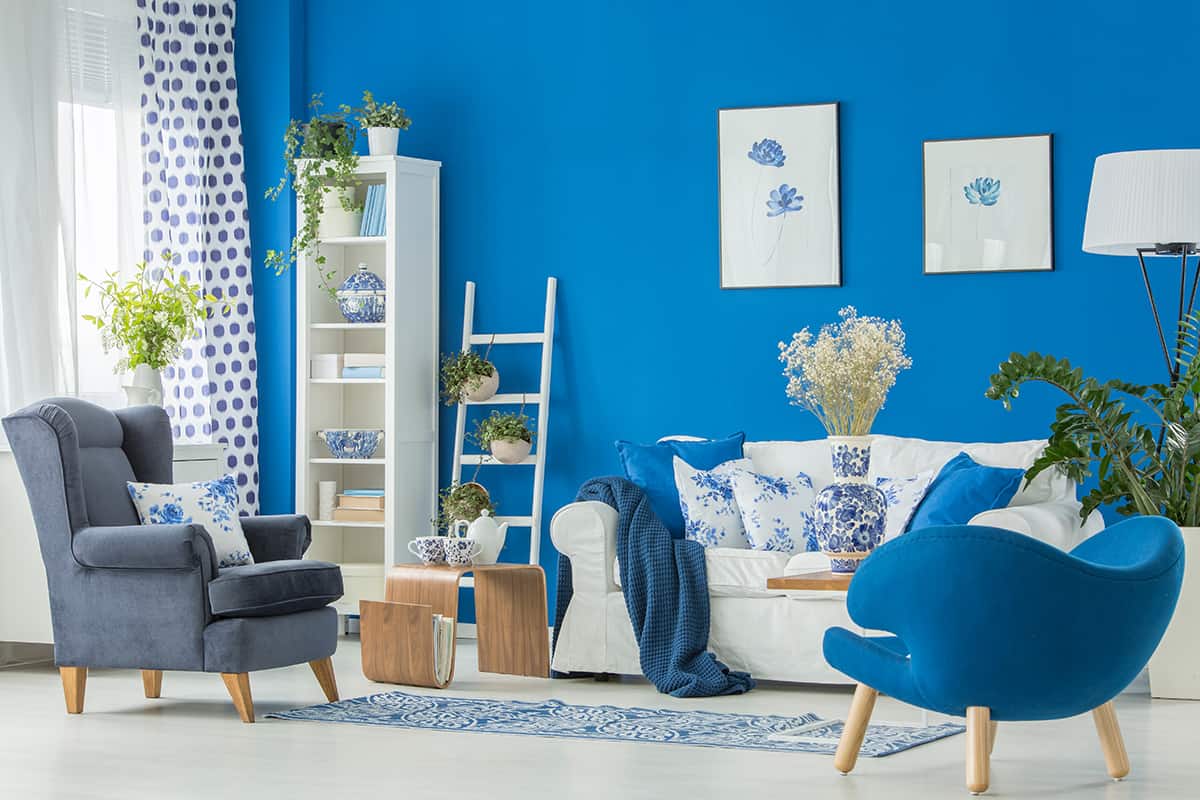 Aside from striped curtains, you can also enhance the look of your living room with a blue couch by going for floral or patterned curtains. There are many fashionable options, including geometric designs, black polka dots on white background, multi-colored florals and zig zags.
Whether you pick a neutral or bold-colored patterned curtain to pair with your blue couch, it is sure to bring a fresh look to your living room. Floral curtains not only look homely, but they also create a pleasant ambiance in a room with a blue couch. Feel free to choose vibrant colors – if your space isn't compact. Otherwise, stick to less busy floral prints for a retro interior.
Green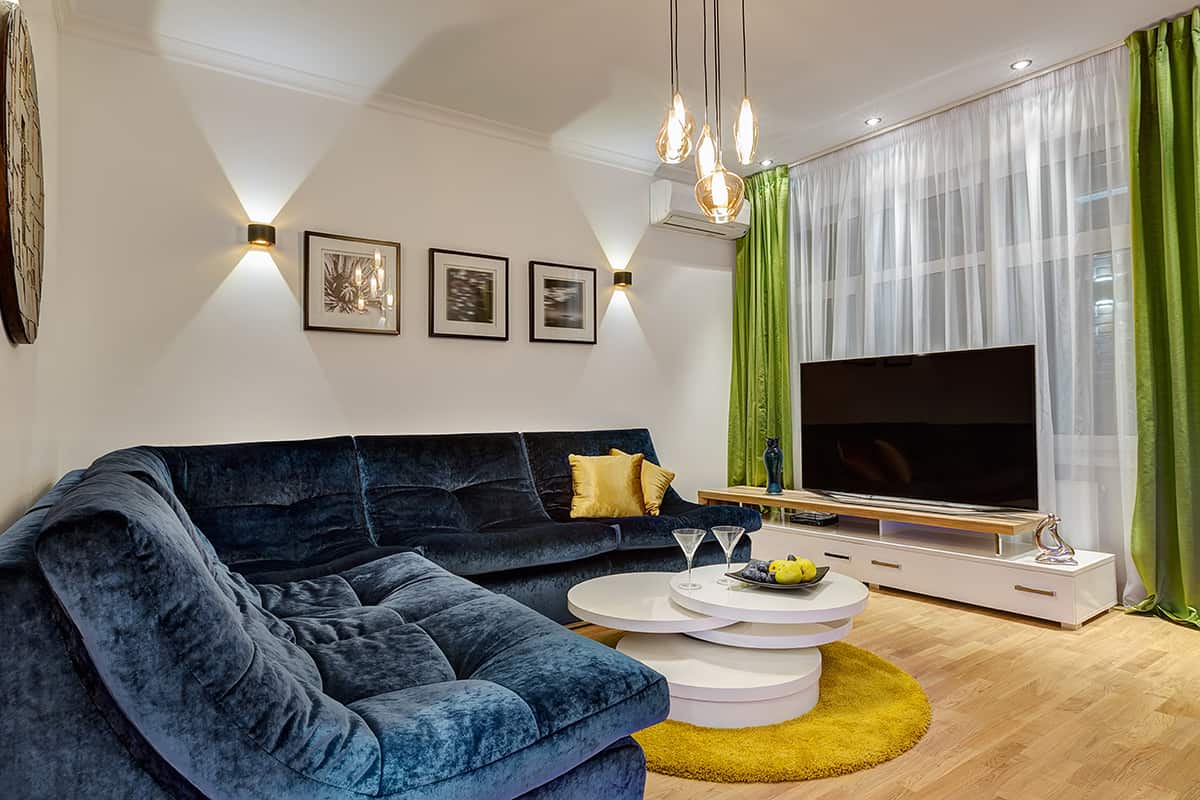 Our last curtain color suggestion that works well with a blue couch is a bright shade of green. This earthy color gives a warm vibe to your living space, and as it's so versatile, you can choose any shade you like, from lime and apple to bold mint or emerald greens.
If you go for a deep shade of green, add some sheers in the center of the window to brighten up the space as shown here. This modern living room with dark blue couch feels bright and airy thanks to the light curtain colors.
Conclusion
When you have a blue couch and want to know what curtain colors complement it most, you'll be pleased to know that most warm and cool-toned colors look great with the blue couch as per our above ideas.
Whether you go for heavy or sheer draperies, plain or patterned designs, or short or full-length curtains, your blue couch can still remain the focal point of the living room while the curtain color of your choice serves as the backdrop.