Tan is a neutral shade that makes a wise choice for seating furniture, thanks to its versatile color matching options. When you are looking for the best wall paint colors for a tan couch, you'll be pleased to know that there are many cool and warm color tones that work with this neutral shade.
But what exactly is tan? This warm color has a subtle brown and orange tone to it, so it's considered a neutral pale shade of brown.
When choosing the right wall color to complement your tan couch, you must first consider how light or dark you want your room to appear. With this in mind, let's now take a look at our pick of the wall paint colors that work with a tan couch:
Best Wall Paint Colors that Complement a Tan Couch
Red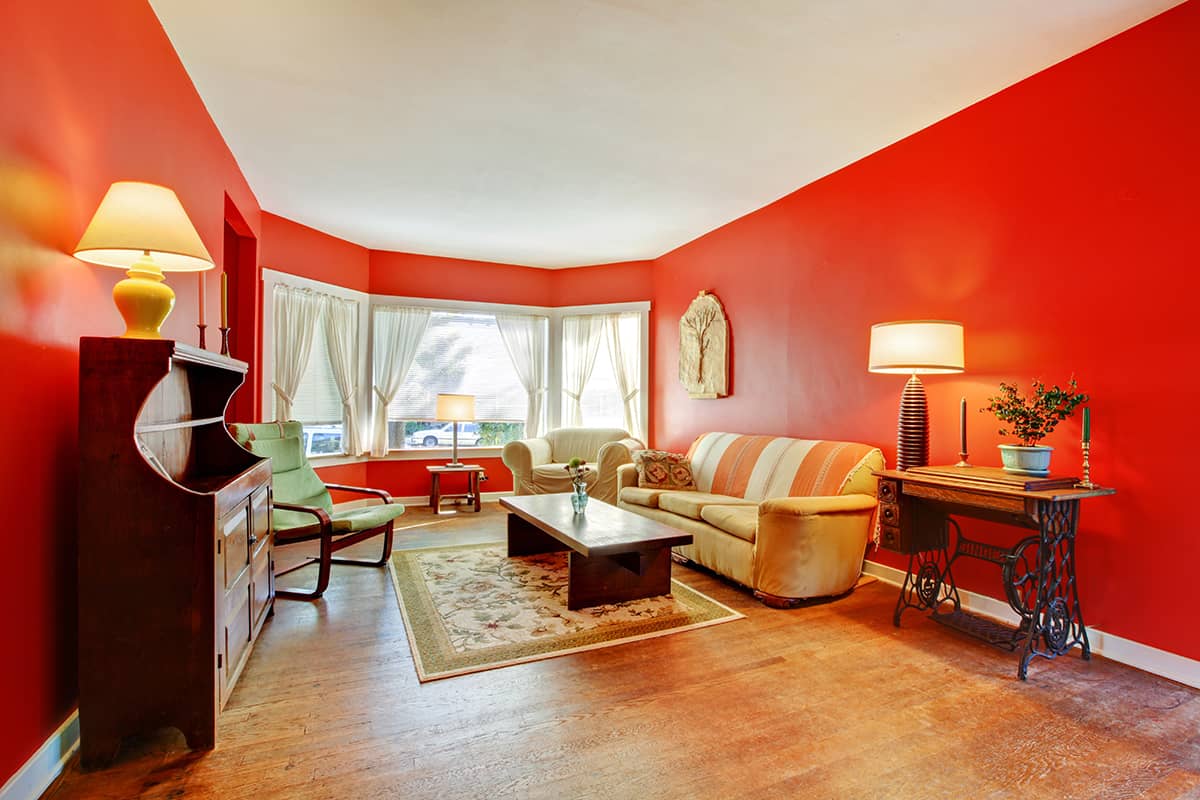 Red is such a bold and daring paint color that it's almost impossible to resist. When you combine red walls with your tan couch, you will create a beautiful contrast – as long as the red is used in moderation.
Don't paint all the walls red as it may overwhelm your space. Add some accent pieces like throw pillows or chairs in lighter colors to tone down the deep red hue. A large and airy living room with red walls and a tan couch can be an elegant design as long as you don't go overboard.
Soft Pink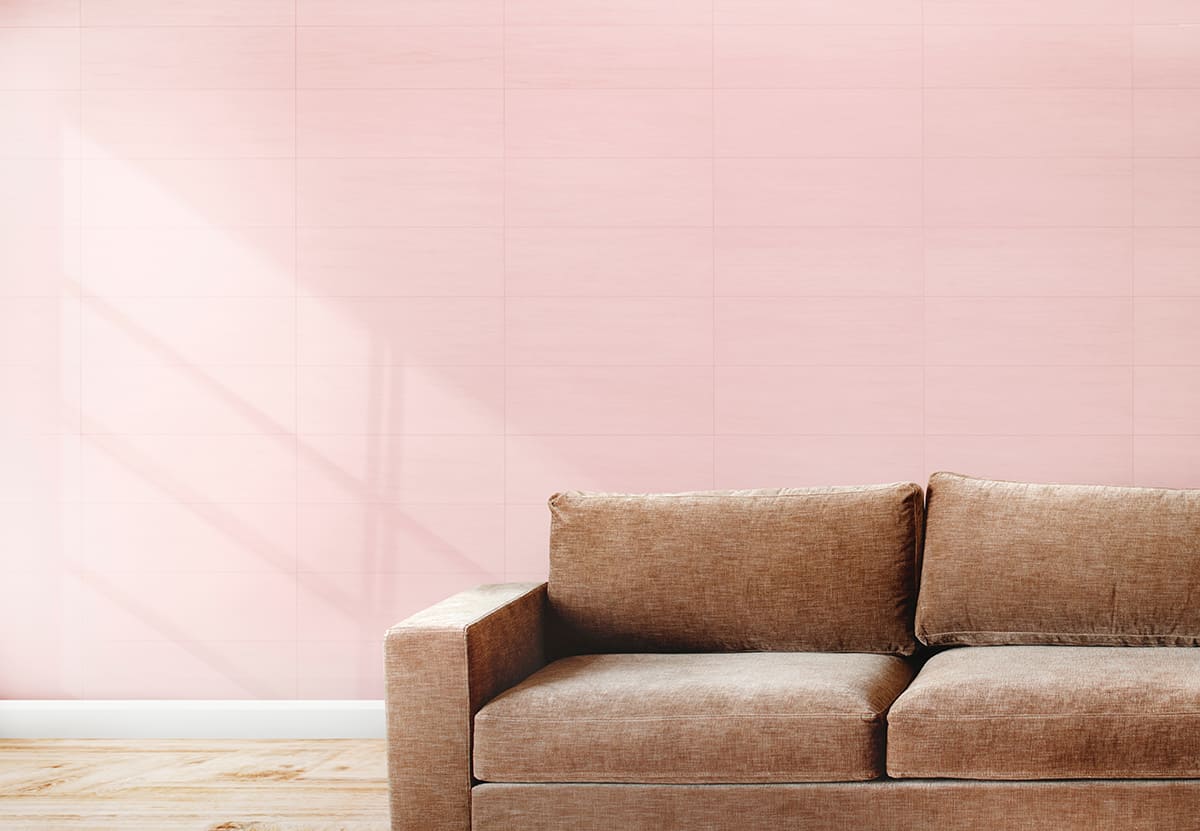 Pale pink is a chic wall paint option that oozes feminine appeal. The softness of this color has a similar nature to the neutral tan, so if you want to make your furniture pop, paint the wall behind a soft pink shade like coral or salmon.
Bright Yellow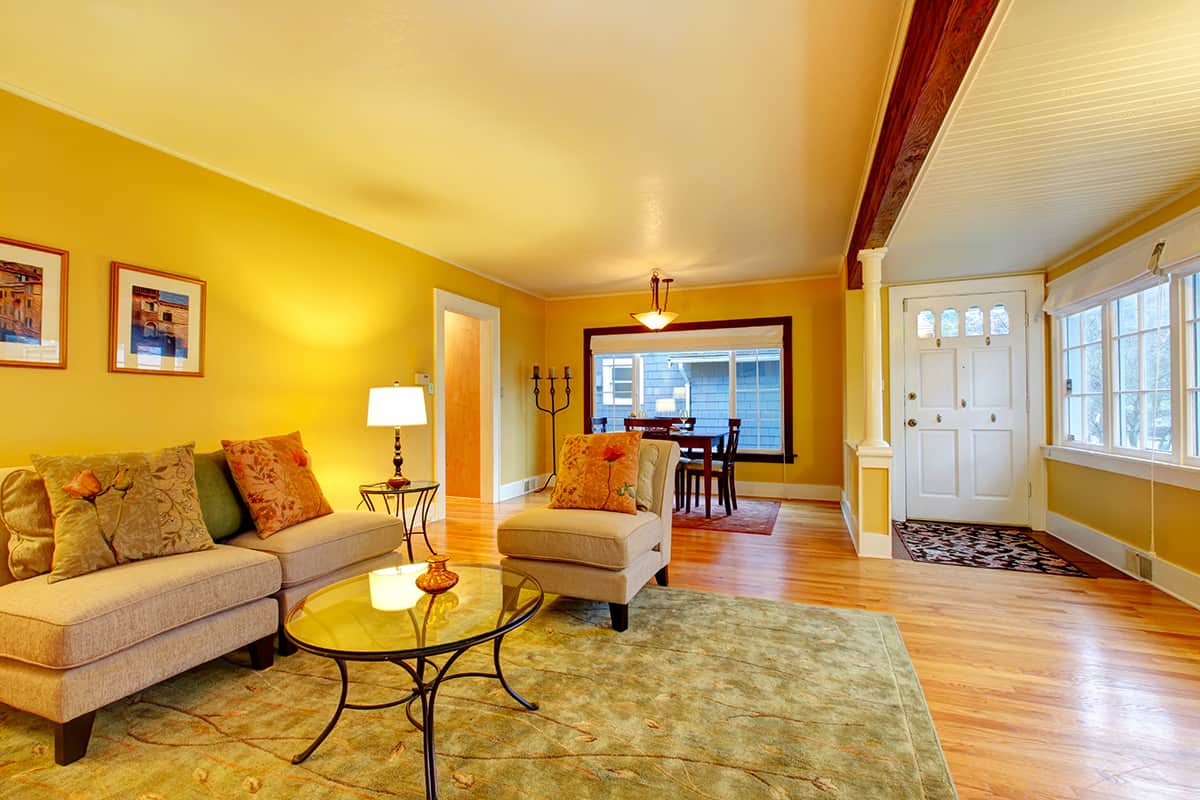 A bright, sunny shade of yellow for the walls can lighten up any living space, especially in a living room with a tan couch.
This vibrant color can be the perfect companion to your tan sofa as both shades are warm and earthy. Both tan and yellow emit positive energy and joy, and when used with other neutral elements, the yellow walls can quickly take the lead and dominate the room.
For a more toned-down alternative to sunny yellow, opt for mustard. Add a mix of muted yellow and orange throw pillows to this color scheme and what you'll have is a bright and welcoming living space as shown here.
Light Gray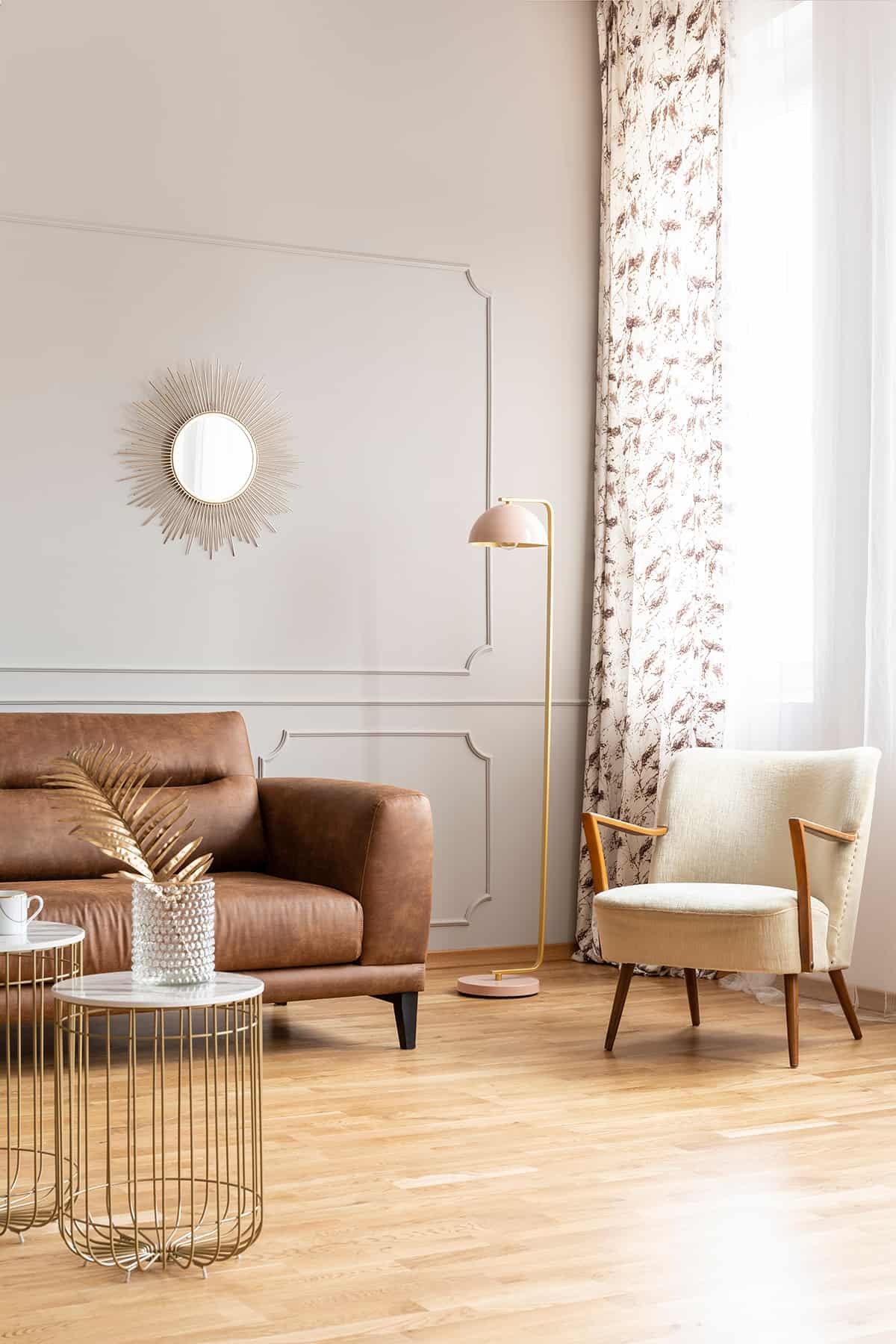 Pairing two neutral colors next to one another can appear a little bland, but let's assess this from another angle.
It is possible to have two neutral colors that look amazing by picking the right shade. Light gray walls, for example, can work perfectly with a tan couch in terms of highlighting the furniture as a soft and subtle backdrop.
In this example, the tan couch is combined with a cream accent chair and light gray walls as a modern touch to the room. But the icing on the cake has to be the gold accessories, which instantly draw the eye to the tan couch! This is a harmonious color combination of both warm and cold tones in a balanced form. Light gray walls are also the easiest wall colors that work best with cream furniture or any furniture colors.
White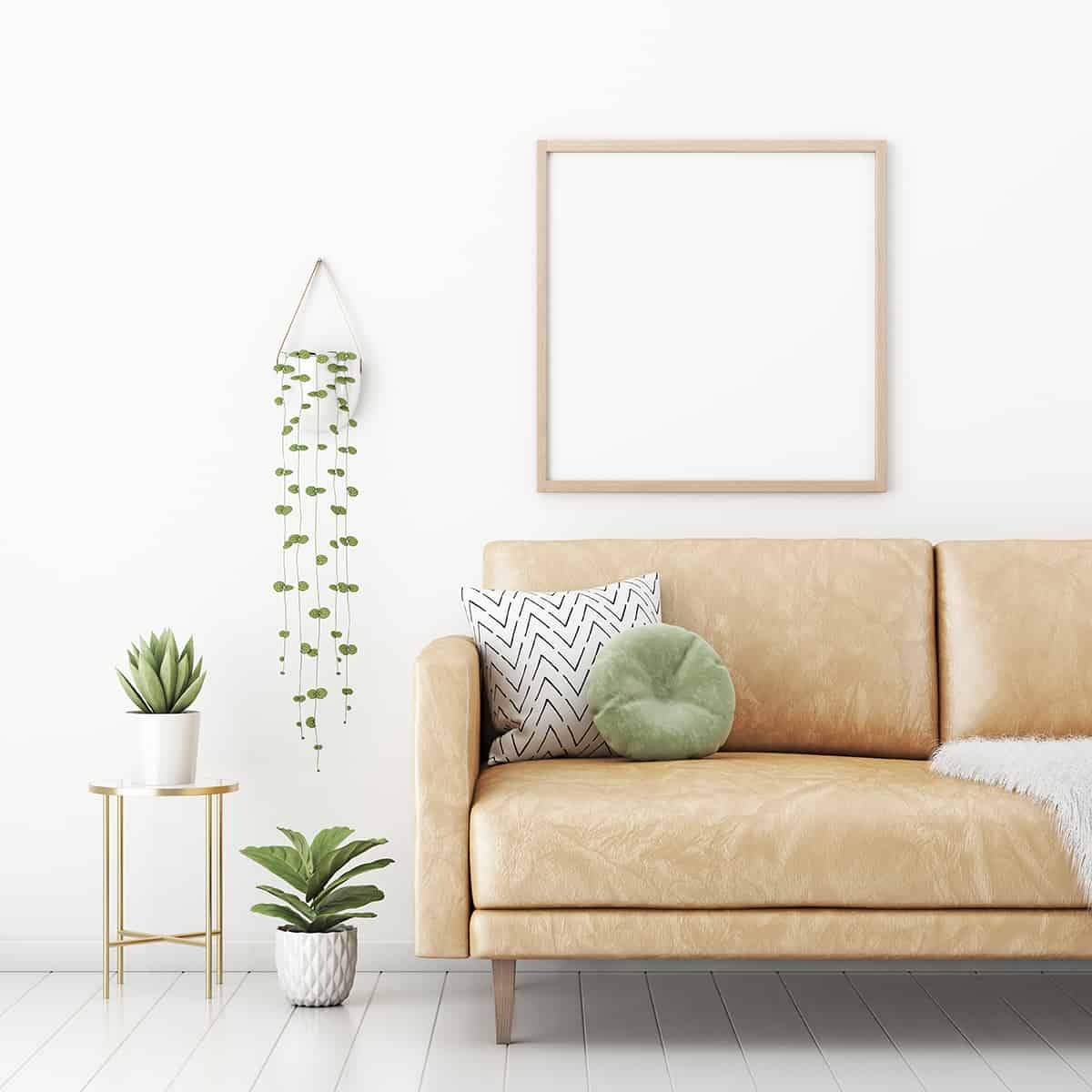 The ultimate light neutral as the wall paint color is a crisp white shade. This popular wall color is an ideal pairing with your tan couch as it helps create a soft, contrasting look.
In a living room with a lack of natural lighting, white walls give the space an expansive and airy feel. Incorporate accent pieces in bright colors to give your tan couch a personalized touch.
The white walls paired with tan seating furniture here add a sophisticated look to the minimalist or Scandinavian style living room.
This neutral color complements any shade of brown as it brightens up the furniture and offers visual impact. In fact, if we picture a living room without white walls, the tan couch can appear rather dark or dingy.
Blue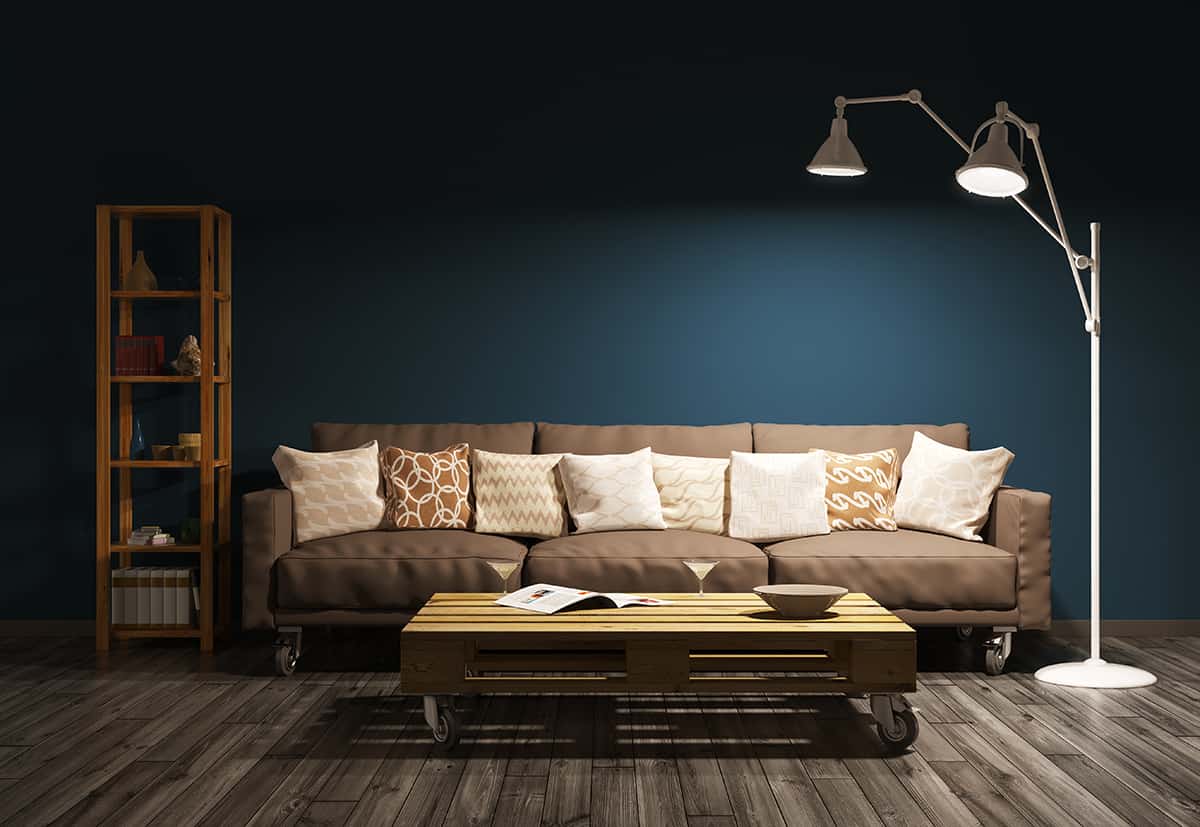 For those who are looking to add some color to their living room with a tan couch, blue is worth considering. This is because any shade of blue brings a fresh and tranquil feel to a living space.
When paired with a tan couch, blue walls can be a stunning backdrop as shown in this example. Feel free to experiment with different shades of blues for an interesting appearance.
In a modern living room, a dark shade of blue for the walls can add a mysterious and cozy feel to the space. Decorate the tan couch with cream and brown throw pillows in order to tone down the dark blue background. This allows the blue color to take a back seat without overpowering the space.
A cool shade of blue for the wall in a well-designed living room is visually refreshing when paired with a leather or upholstered tan couch. Tip: use glossy paint for the wall to highlight the undertone of your chosen blue shade.
Orange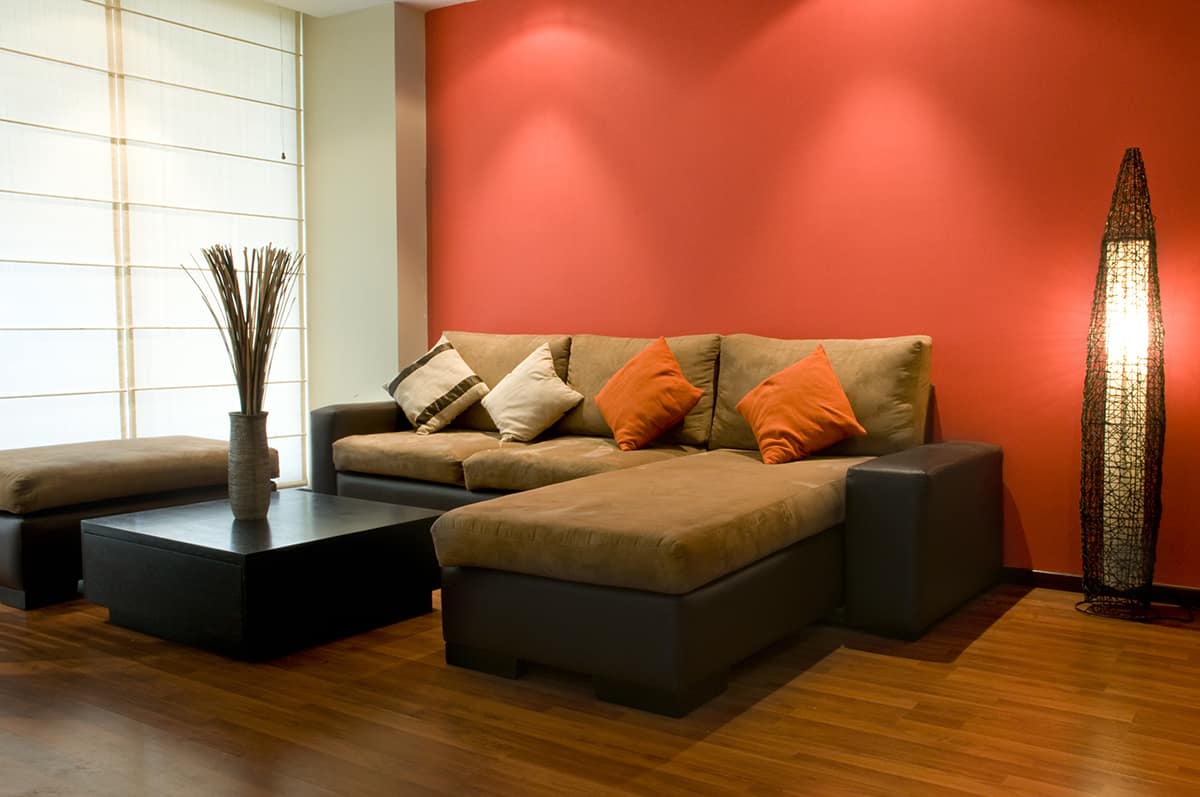 In case you're after an even bolder and more daring look for your living room with a tan couch, orange walls make a vibrant and stunning choice.
Orange walls can enhance the ambiance of a room thanks to the warm tone of this autumn color. When paired with warm tan, you can ensure the perfect combination for a small or large living room.
See how inviting this living room with an orange wall feels together with a tan couch and light wood flooring. Both the tan couch and orange wall are the focal features of this room without one overpowering the other. The throw pillows are in matching colors for a cohesive design scheme.
Light Brown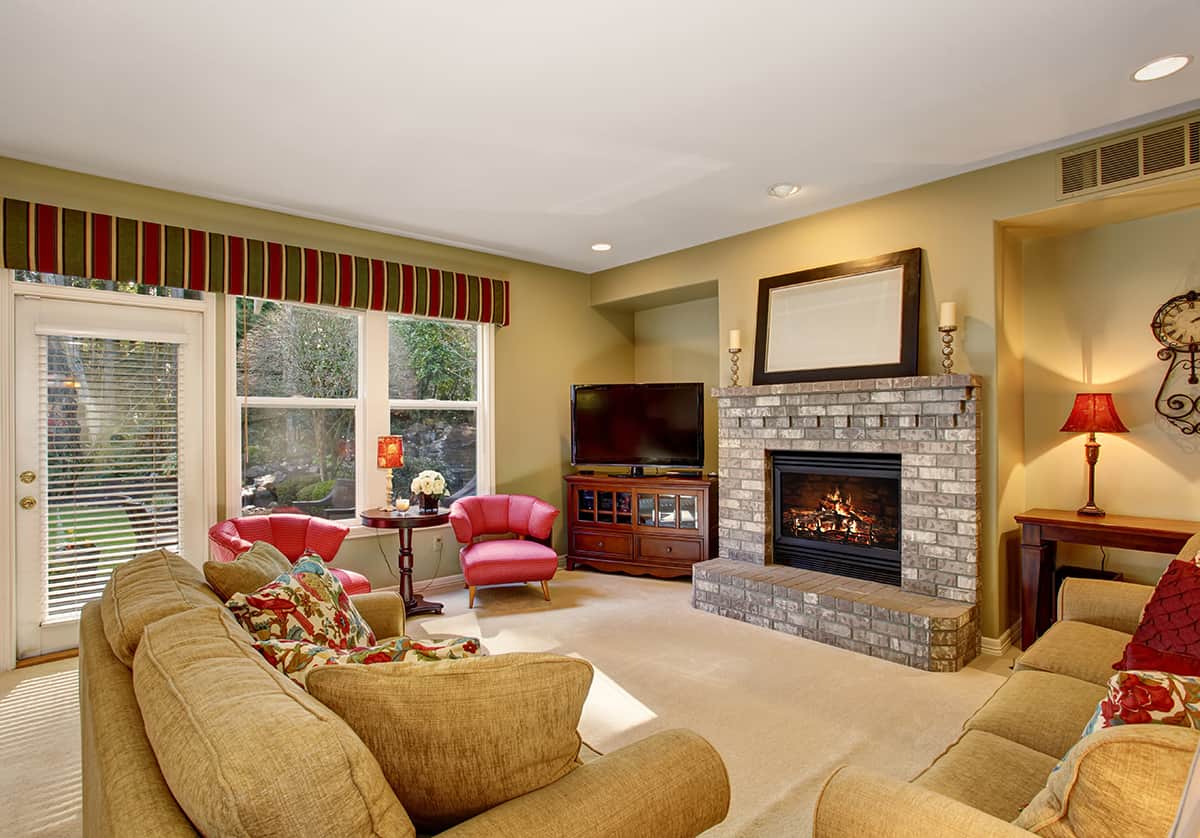 A matching wall color with your tan couch can add a warm ambiance to your living space. Whether you choose the exact shade or a lighter brown version, it will be the ideal pairing with your tan couch.
Any shade of light brown can be used in your space, but the idea is to create some depth. This can be done by adding bold color accent chairs and throw pillows, as shown in this image.
The tan walls match the couch, with bright red armchairs as accent and pop of color. The cafe-style curtain in colorful stripes also brings visual interest to this cozy living room.
Tips on Decorating Around a Tan Couch
Add Accent Chairs
The biggest advantage of opting for a tan couch is that it lets you add bold colors without overwhelming your space. Accent chairs in interesting colors or patterns can easily highlight your neutral furniture.
But if you are unable to find colorful or patterned accent chairs, then an alternative is a patterned ottoman. This is one of the most popular ways to decorate around your tan couch using any pattern or color.
Hang Woven Baskets on the Wall Above the Couch
To bring texture to your living room with a tan couch, consider hanging woven or wicker baskets on the wall above the seating furniture.
Since these types of baskets are the same color as the tan couch, they make a great option for rustic or boho-style interiors. You can display two or three baskets on the wall in any arrangement you prefer.
Display a Large Painting on the Wall Above the Couch
A unique painting in a large frame can create a beautiful focal point. Hang the painting on the wall above the couch for maximum effect. Alternatively, you may choose a large family photo or abstract art prints to get this look.
Decorate with Colorful Throw Pillows
To spruce up your neutral couch and instantly make it look glamorous, use throw pillows in bold colors or embellishments. Alternatively, you may add embroidered accent pillows for a rustic look. This idea is the easiest way to decorate your tan couch without blowing your budget.
Make the Neutral Couch Pop with Wallpaper
When you have furnished your living room with a tan couch, you might want to add a pop of color to the walls to highlight your couch.
In this case, use patterned wallpaper in bright colors, or if that's too bold for you, go for delicate patterns instead. The alternative to wallpaper is peel and stick wall decals, with which you can make a bold statement.
Place an Area Rug Underneath the Couch
Another quick and easy way to add style to your living room with a tan couch is to place a brightly colored area rug underneath the couch. Alternatively, you may consider a bamboo rug if you prefer the boho look.