Blue is a very versatile color that comes in a wide variety of shades. It is a calming and relaxing color which makes it a popular choice for bedrooms where we predominantly want to sleep and relax, but the color of bedding you choose to go with your blue bedroom can really impact the energy in the space.
There is a wide selection of bedding colors that would work well with a blue bedroom, but you need to decide on an interior style before choosing a color, as this will impact the type of shade you should lean towards for bedding.
Here we look at the types of styles that are easily achievable with a blue bedroom and which colors of bedding would work best with this.
Coastal Calm
Blue walls are an obvious color choice in a coastal-themed bedroom as they are synonymous with beach blue skies and deep turquoise ocean water. If you are going for a breezy coastal effect in your bedroom, then choose mid to light blue walls and pair this with bedding in pure white cotton or in a blue and white striped pattern.
Chunky white and blue striped bedding will create a style that is most typical of coastal decor, while slim blue and white striped bedding will offer a more contemporary take on this theme.
If you want to bring some warmth into your coastal theme, then you could also consider some very pale beige shades for your bedding. Beige bedding in coastal decor will create a more casual vibe compared with bright white sheets, which offer a more fresh and clean vibe.
You can get this seawave blue ocean bedding on Amazon
Nautical Sophistication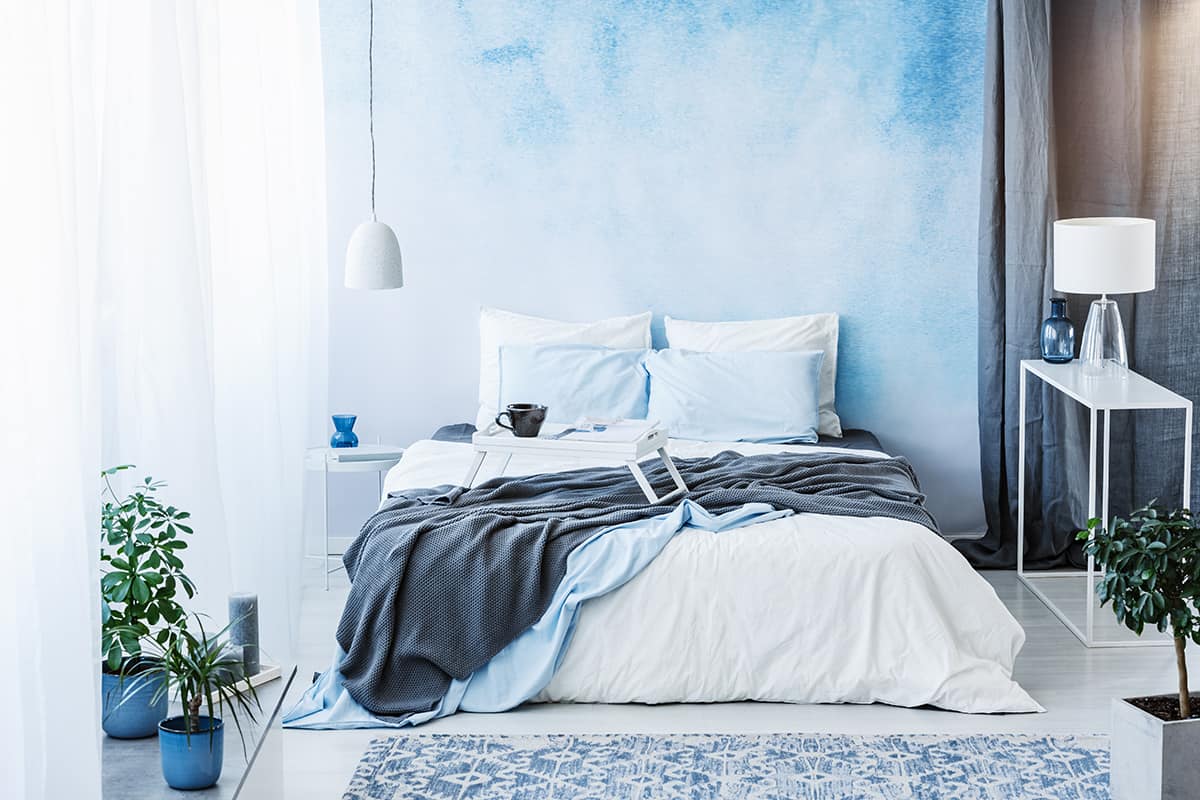 Some people mistakenly think that coastal themes and nautical themes are one and the same, but actually, nautical themes tend to be more sleek and elegant compared to casual coastal. In a nautical room, you may have painted the walls in navy blue, in which case you should contrast this with sleek white sheets.
Gold bedding is also a really nice option in a navy nautical bedroom, as it hints toward sophistication. Tie in gold bedding with other gold accents in the space, such as a gold anchor ornament on the wall or gold light fittings.
Cottage Chic
To create a chic cottage style in your blue bedroom, the easiest option is to invest in some pretty floral bedding and patchwork quilts or comforters.
Choose a fabric for your bedding that has blue elements in it to ensure that it coordinates with your walls, but you can include several other colors in the print, such as pink, yellow, and green.
A delicate floral print will work best for a country-style rather than a bold floral pattern. Accessorize your floral bedding with solid blue cushions in the same shade as your wall paint or a plain blue throw.
This floral bedding set is available on Amazon.
Romance and Drama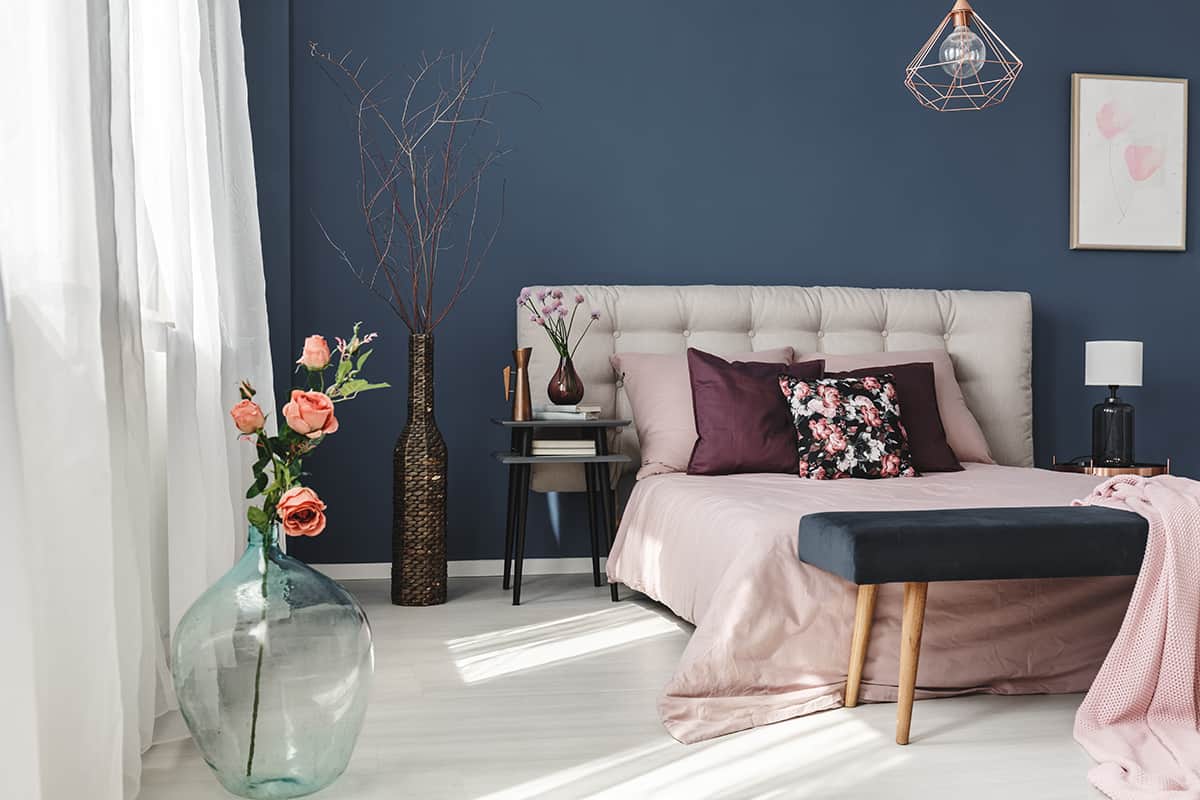 For a romantic and sensual atmosphere in a room, choose dusky pink bedding with deep and dark blue walls. Paint your bedroom in midnight blue for a serene yet dramatic look, and balance this out with touches of pink and gold.
The texture of your dusky pink bedding should be soft and luxurious, for example, satin, velvet, or silk. Add golden cushions to the bed to accessorize it, as well as gold picture frames and gold candles around the rest of the bedroom.
Dark blue and pale pink look beautiful together because they provide a shade contrast, while the tones help to balance each other out and provide a base to let the other color shine.
Don't limit dusky pink to just the bedding, and instead continue the color theme elsewhere in the room with accents such as dusky pink art prints or dusky pink lamp shades.
Jewel Luxe
This interior style encompasses rich jewel colors to create a dramatic and luxurious effect. With sapphire-colored walls, choose deep plum purple tones for bedding or striking magenta.
Patterned bedding is great to introduce further jewel tones into the room, for example, a large floral print or a tropical rainforest print. Silk or satin fabrics are ideal for jewel-toned bedding to highlight the luxe effect.
Other jewel tones which would work great in a blue room with this theme include emerald and citrine. Choose a metallic color to operate as a neutral in the space, such as bronze, copper, or gold.
This will further define the room as a luxurious and elegant space and will help to set off the jewel tones for a dramatic effect.
This tropical Plant Patterned Bedding is available on Amazon.
Glamorous Gold
Blue and gold are contrasting and complementary shades because gold is a metallic version of yellow-gold, which sits opposite blue on the color wheel.
For a glamorous look in a blue bedroom, choose your blue paint wisely. Rich and heavily saturated shades will work well, such as peacock blue, teal, or navy, for a classy and dazzling room.
Choose bedding that is made from a golden-colored fabric or bedding that has gold highlights on it, such as gold embroidery. If you choose the latter, the base color of the bedding should be a cool gray, white, or green.
If you have a pale blue room, you can also achieve a glamorous gold style, but your shade of gold bedding will need to be more subtle so that it doesn't clash and look like an odd match.
For a light blue room, choose softer shades of gold that are more like a metallic version of tan or camel.
This Geometric Metallic Print Bedding is available on Amazon
Hotel Elegance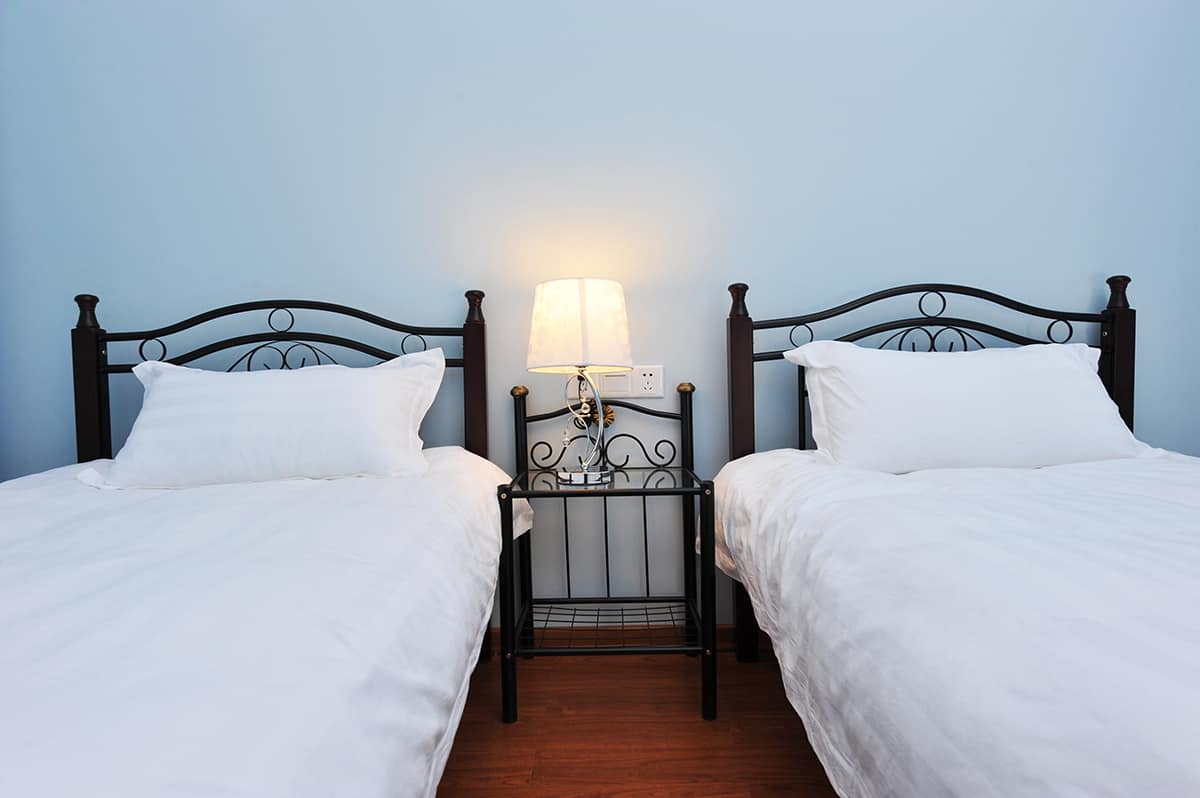 For a hotel bedroom vibe in any shade of the blue room, opt for pure white sheets. High-end hotels most commonly fit their rooms out with white sheets, which can be plain or have sateen stripes running through them for a subtle hint of luxury.
In most home decor scenarios, white is a color that is avoided because it can become dirty easily and is difficult to clean, for example, white carpets, white rugs, white sofas, and even white walls show scuffs and handprints very obviously.
However, white sheets are the exception because they can be washed at a high temperature with baking soda added to remove tough stains and keep them a bright white.
For really heavy stains, you can even bleach them to get them back to their original white color, though this should be done with caution because it can degrade the fabric and cause it to lose its softness and strength.
Spa Retreat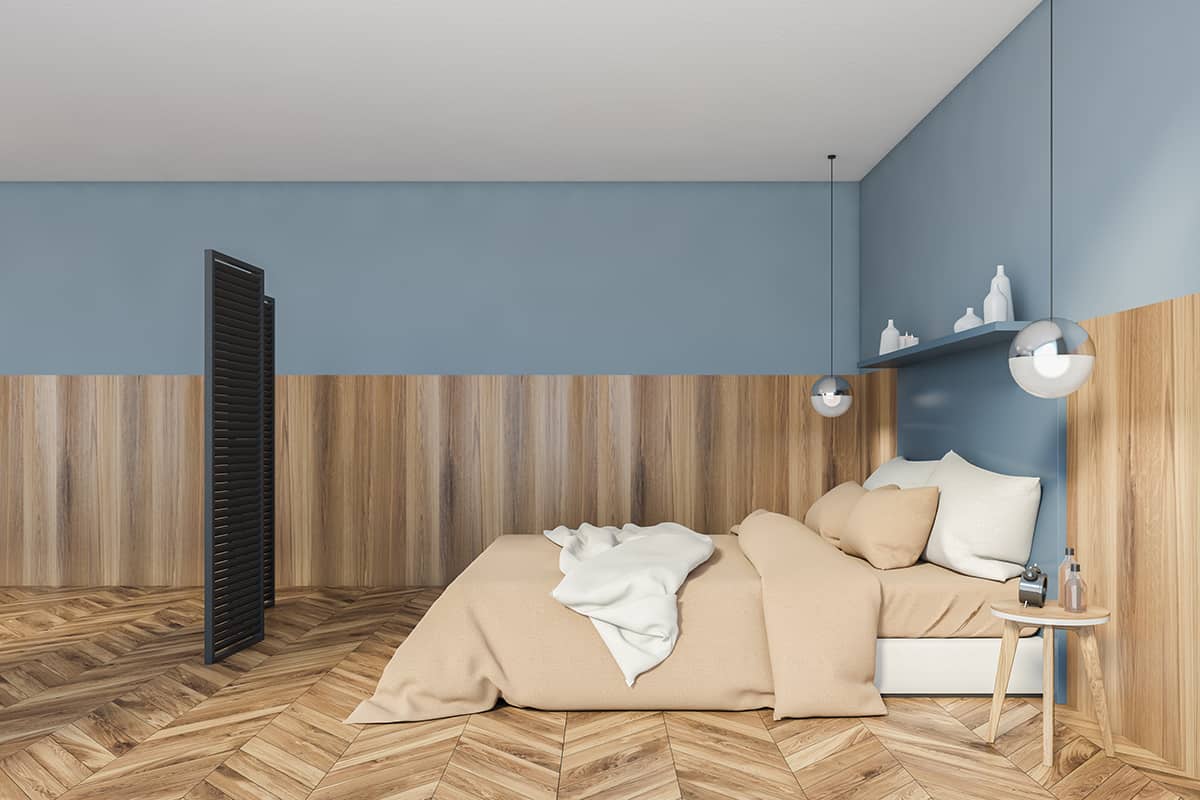 As a soothing and calming color, blue is a color frequently used in spas and relaxing retreats. To achieve a similar vibe in your bedroom, choose a pale and soft shade of blue for your walls, and accent this with warm shades of beige such as oatmeal and tan.
Beige bedding will help to create a warm and comforting environment to balance out the cool tones on the blue walls, resulting in a space that is tranquil, peaceful, and inviting.
Country Casual
For a modern take on a classic country style, choose mid to pale gray sheets for a blue bedroom. Layer the bed with additional comforters and pillows to create a truly inviting space, and add wooden furniture or flooring to forge a natural look that is reminiscent of old country cottages or farms.
Light blue walls work best for this look, with bed sheets in various shades of gray. Wooden accents should be light brown or tan colored to contrast the blue and add much-needed warmth to the atmosphere.
You can get this comfortable country style bedding set on Amazon.
See some bedding colors that match with gray headboard in our article on what color bedding goes with a gray headboard.
Feminine Floral
Blue bedrooms are not necessarily thought of as a pretty space, but this doesn't need to be the case. In a sky blue room, choose bedding with a lilac floral print to add a feminine vibe to the space.
A delicate pattern will be best for a subtle look, with further lilac accents to coordinate with the print, such as lilac satin throw cushions or lilac curtains.
This lilac floral bedding set can be got on Amazon.
Traditional Tartan
Blue is a color that is often used alongside white and red for an Americana interior style, and this is a look that can make for a heritage-inspired, comfortable bedroom.
Most colors of blue can work with this theme, as long as they are true blues without any obvious hints of green. For bedding, opt for a checked or tartan print which can include shades of white, beige, blue, red, or dark racing green.
Comforting textures are ideal for this type of interior style, such as high-quality cotton or soft flannel. Striped bedding will also work well for this theme, as will bold star prints.
Alternatively, choose bedding in a solid color such as navy, red, or white, and add patterned cushions to create a sense of heritage.
This could be a good option if you don't want to commit to an interior style because cushion covers can be changed more inexpensively than bedding.
Find various Americana-style patterns for cushion covers and gather them together on the bed to build a layered look.
This cabin lifestyle plaid bedding set is available on Amazon.