Bedroom furniture in dark brown tones can create a warm feel, but when it comes to deciding what bedding colors go with this earthy color, it can prove to be somewhat challenging to find the right color palette. This is because dark brown furniture tends to lean towards contrasting themes, so you are least likely to see this furniture color in minimalist or luxurious interiors.
So what color bedding goes with dark brown furniture? Neutrals such as white, cream, beige, and gray all work with dark brown. But if you want to add a bright and bold color to your bed, opt for purple, pink, red, green, or yellow. You may even add striped patterns or prints to enhance the style.
If you're curious to see what your dark brown bedroom furniture will look like with the above-mentioned bedding colors, then take a look at our examples with images right here:
Bedding Colors that Complement Dark Brown Furniture
White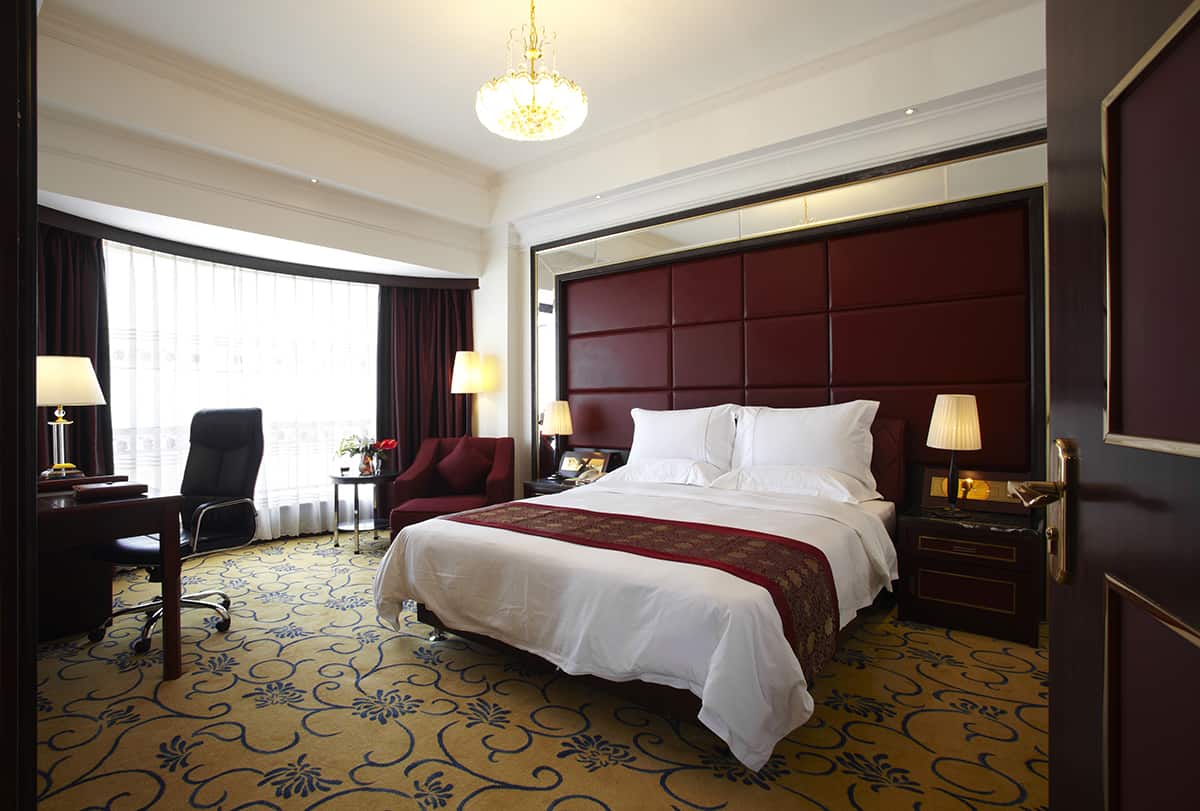 Many of us love the feeling of soft, white sheets against our skin. White bedding is the ultimate popular color as it goes with any furniture color. If you love simple white bedding for a traditional look, then consider pairing your dark brown furniture with this crisp, neutral color.
This brown and white bedroom example is proof that you don't need bold bedding colors to create an aesthetically pleasing space. The classic white brings out the richness of dark brown in order to create balance in the room.
For contrast, use neutral lamps for the bedside tables or natural wood wall art for a classic look.
Blue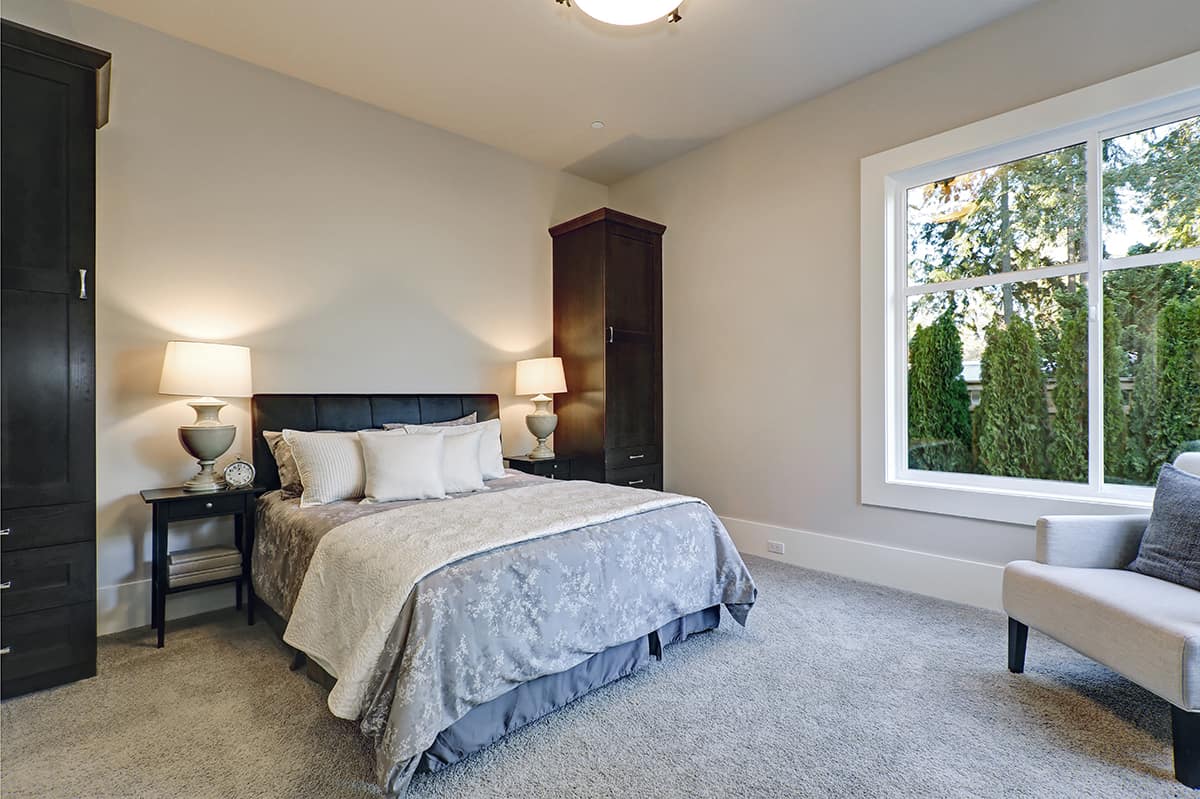 Blue bedding is a great choice for any bed frame color. This beautiful color promotes serenity, which is said to help get a better night's sleep. All shades of blue go well with dark brown bedroom furniture. But if you really must decide on one shade, we recommend sky blue or turquoise.
Just as you can see in this traditional bedroom example, the dark brown wardrobes and headboard are paired with soft blue bedding. The final result is a peaceful and balanced space with a well-coordinated color scheme.
Cream or Beige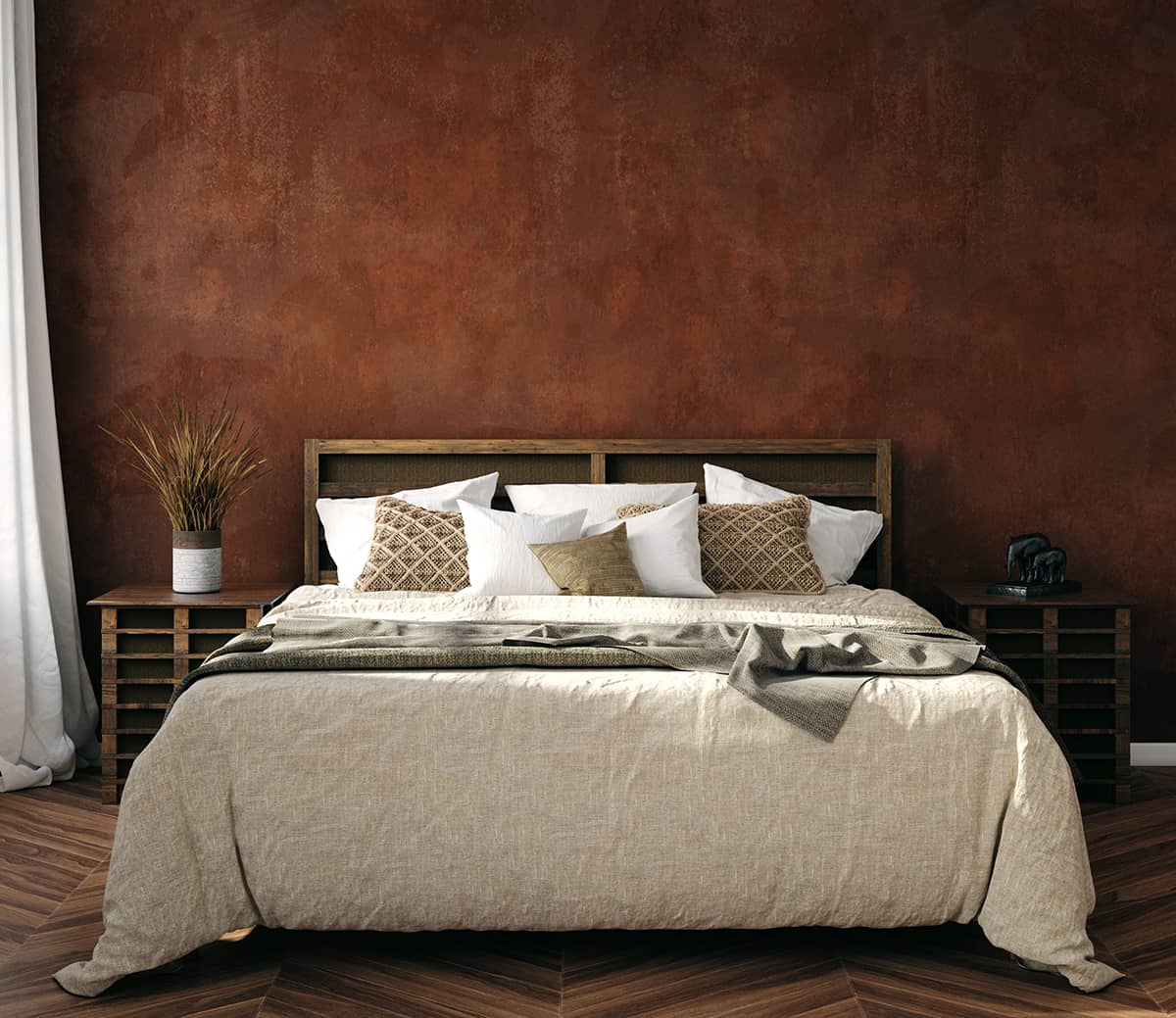 Cream or beige bedding is a classic choice for a bedroom with dark brown furniture. These neutral colors are in the same family, but still offer a beautiful contrast for a clean look.
With this color combination, you can mix light brown pillow covers with cream or beige sheets and a tan comforter to coordinate with dark brown furniture.
Earthy Greens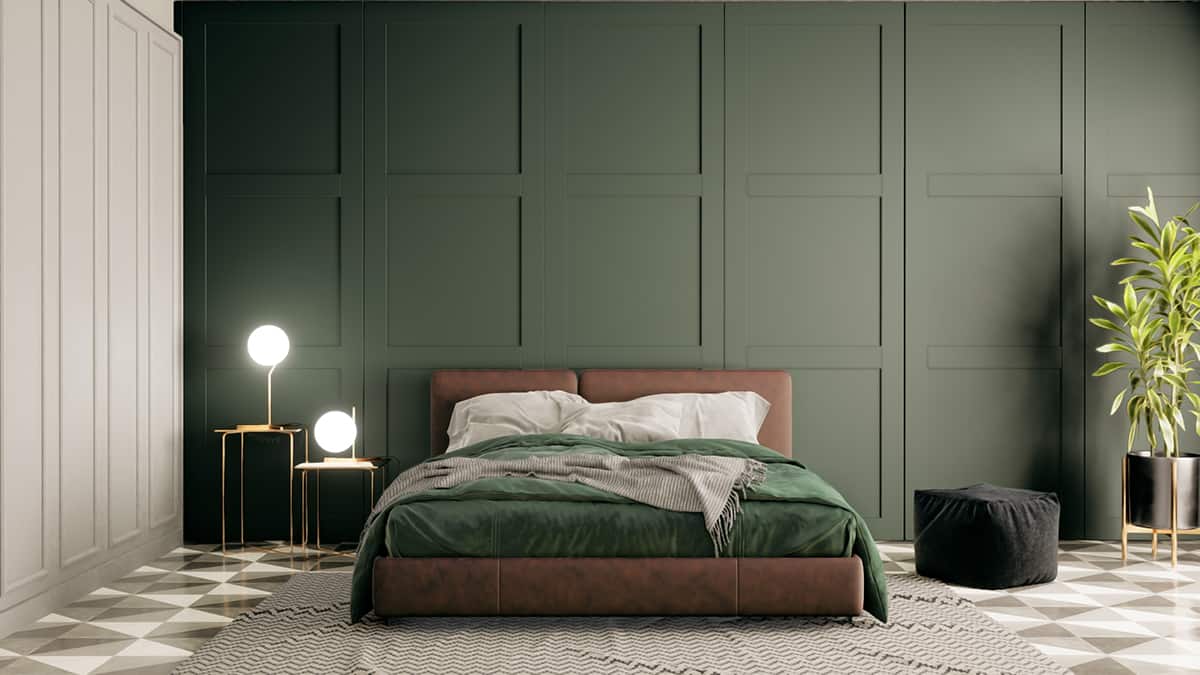 Warm, earthy green colors like olive, mint, or sage are a great pairing with dark brown, but you can also pair muted tones or lighter shades of greens with your bedding colors.
No need to restrict your choices to muted greens though. If you have dark brown furniture, go for darker shades of green like the image you can see here. The warm, earthy color schemes are sure to bring a touch of sophistication to your dark brown bed. Tip: for a truly luxurious sleep, opt for satin or silk sheets in dark green!
Purple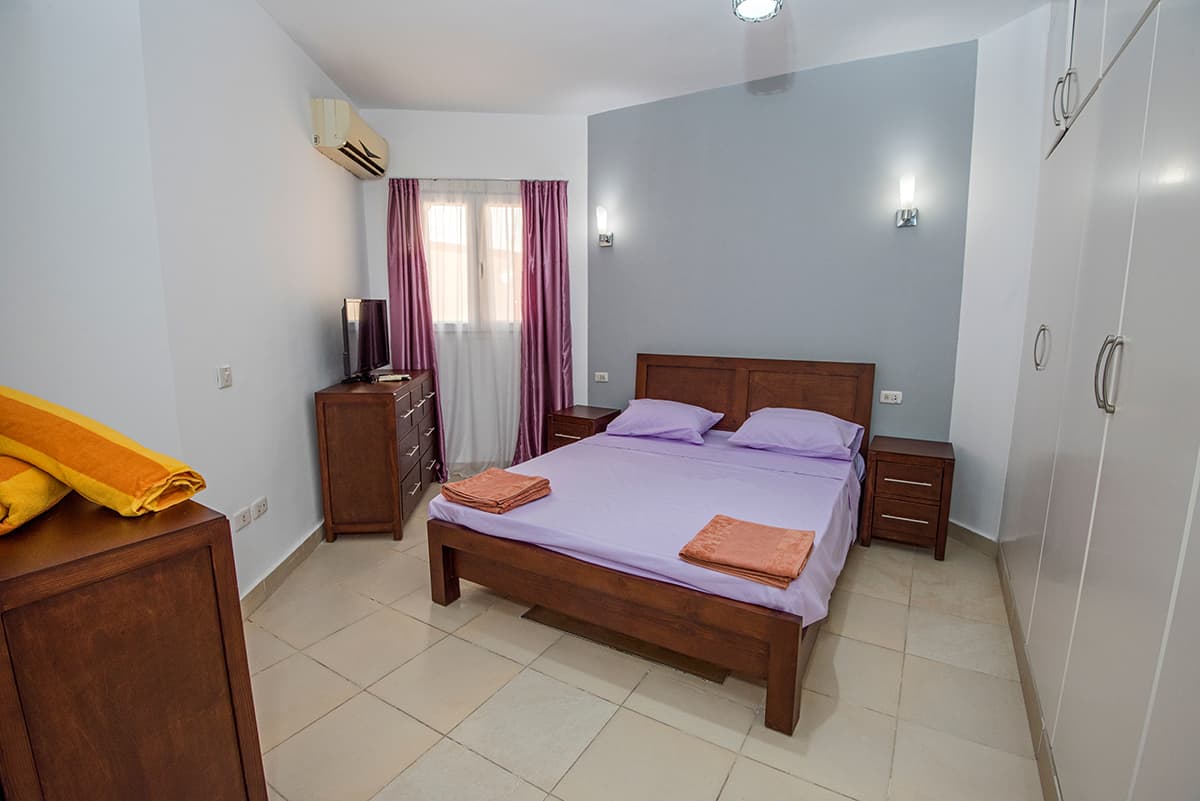 Purple sheets bring a special softness to a dark brown bed. Shades like lavender, heather, or iris bring a sense of relaxation to the bedroom.
An all-purple beds with matching window treatments paired with dark brown furniture are a beautiful combination as you can see in this example.
Pink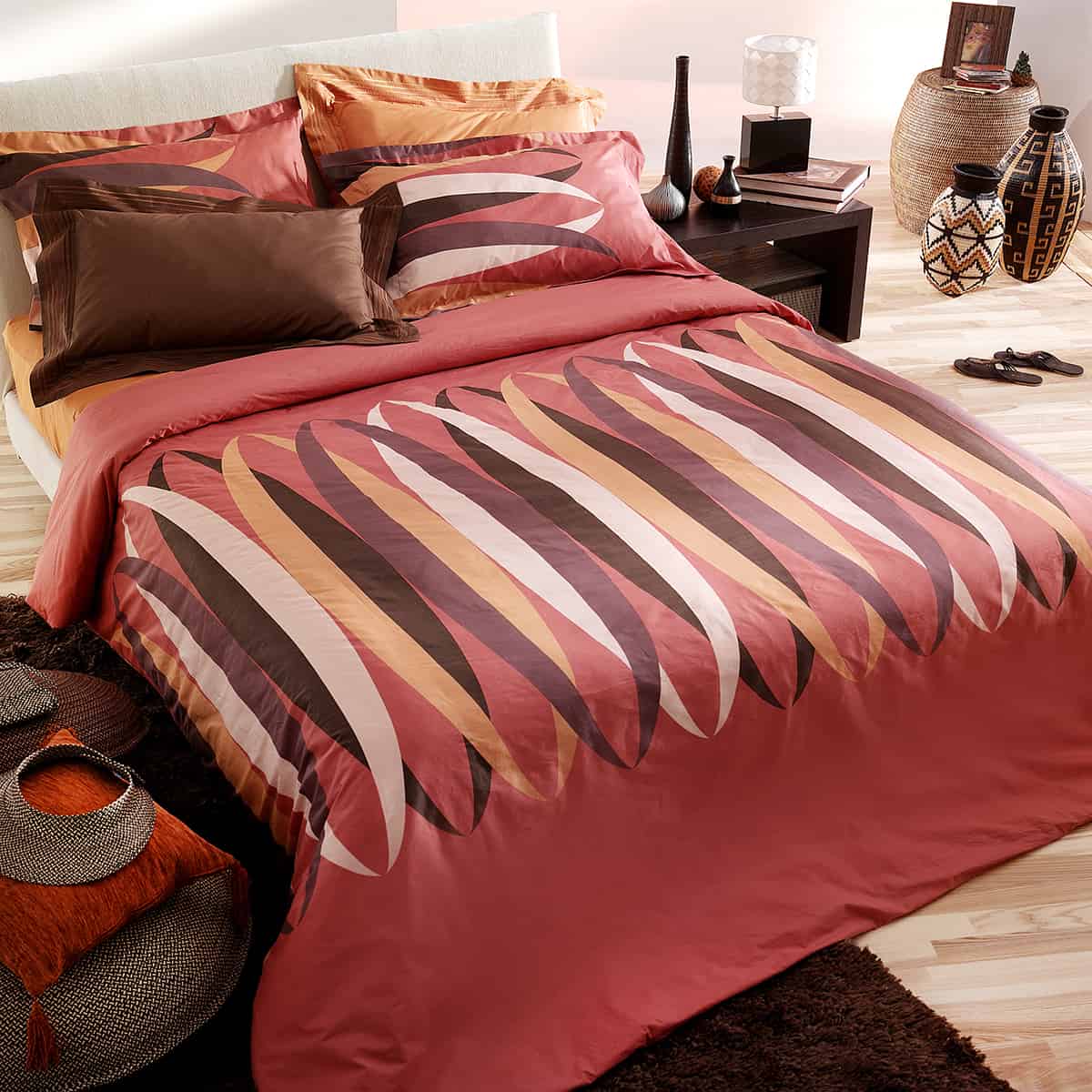 To add a feminine touch to your dark brown bed, consider pink bedding. This color combination adds an ethnic touch to your bedroom, especially when you choose patterned bedding in bold pink.
For a more contemporary look, choose soft pink instead. Coral is one such shade that works very well with dark brown.
A Combination of Red and White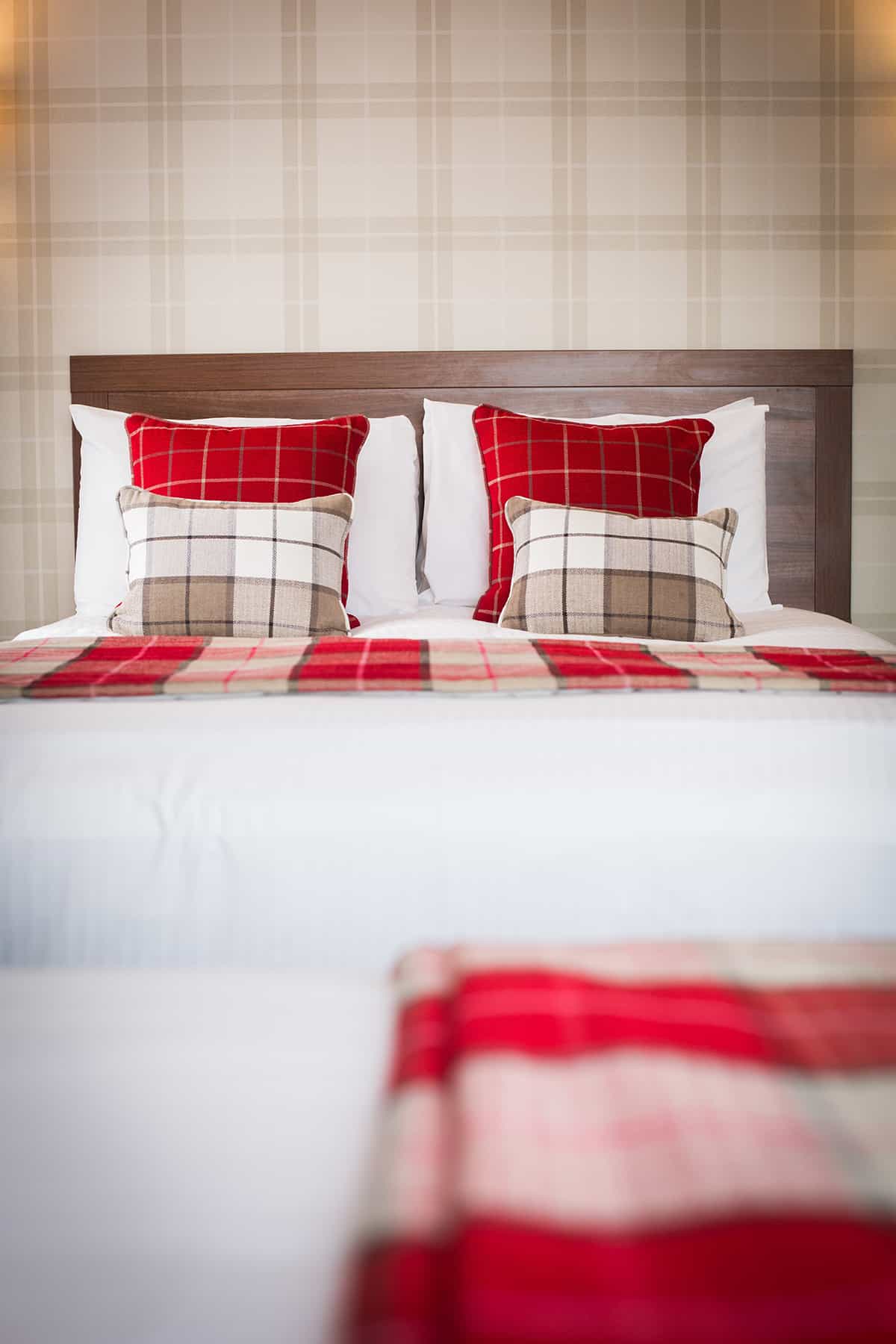 In interior decorating, the color red can add visual interest to the room. This vivid color is bright enough to respond well to the dark brown furniture.
However, a deep shade of red paired with dark brown can look a little intense. To prevent this from happening, add white to your color scheme. A blend of red and white bedding color works well with dark brown furniture, so you might want to consider striped red and white patterns or any other print you like to soften the look.
Alternatively, you may consider choosing a toned-down red color for your bedding. Shades like burgundy will look great for the sheets, while a striped red and white comforter with matching pillow shams will provoke a comforting feel in your bedroom.
Any Shade of Gray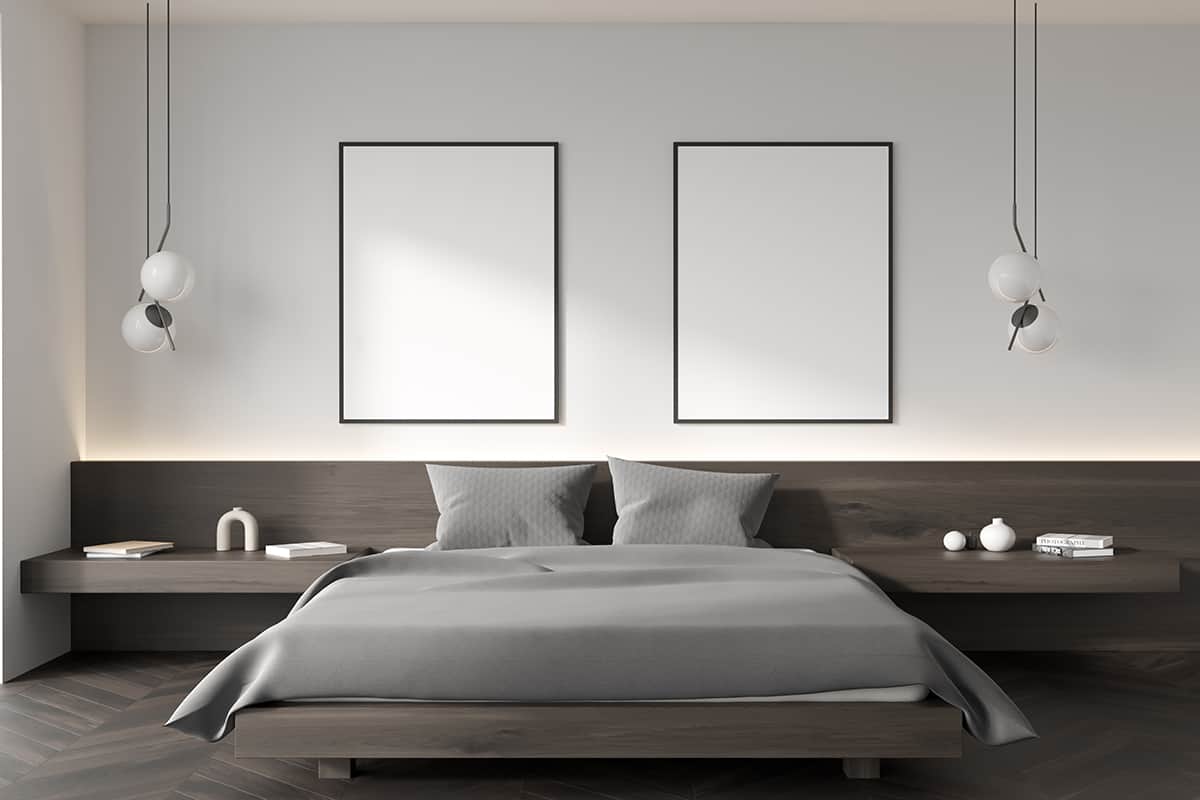 A trendy color to consider for the bedding of your dark brown bed is gray. Any shade of gray will go with dark brown. Whether you pick a charcoal or pewter color scheme to pair with your dark brown furniture, this neutral color can be a creative alternative to the plain white or cream as seen here. The dark brown bed is dressed with all-gray bedding and pillows for a modern twist.
Yellow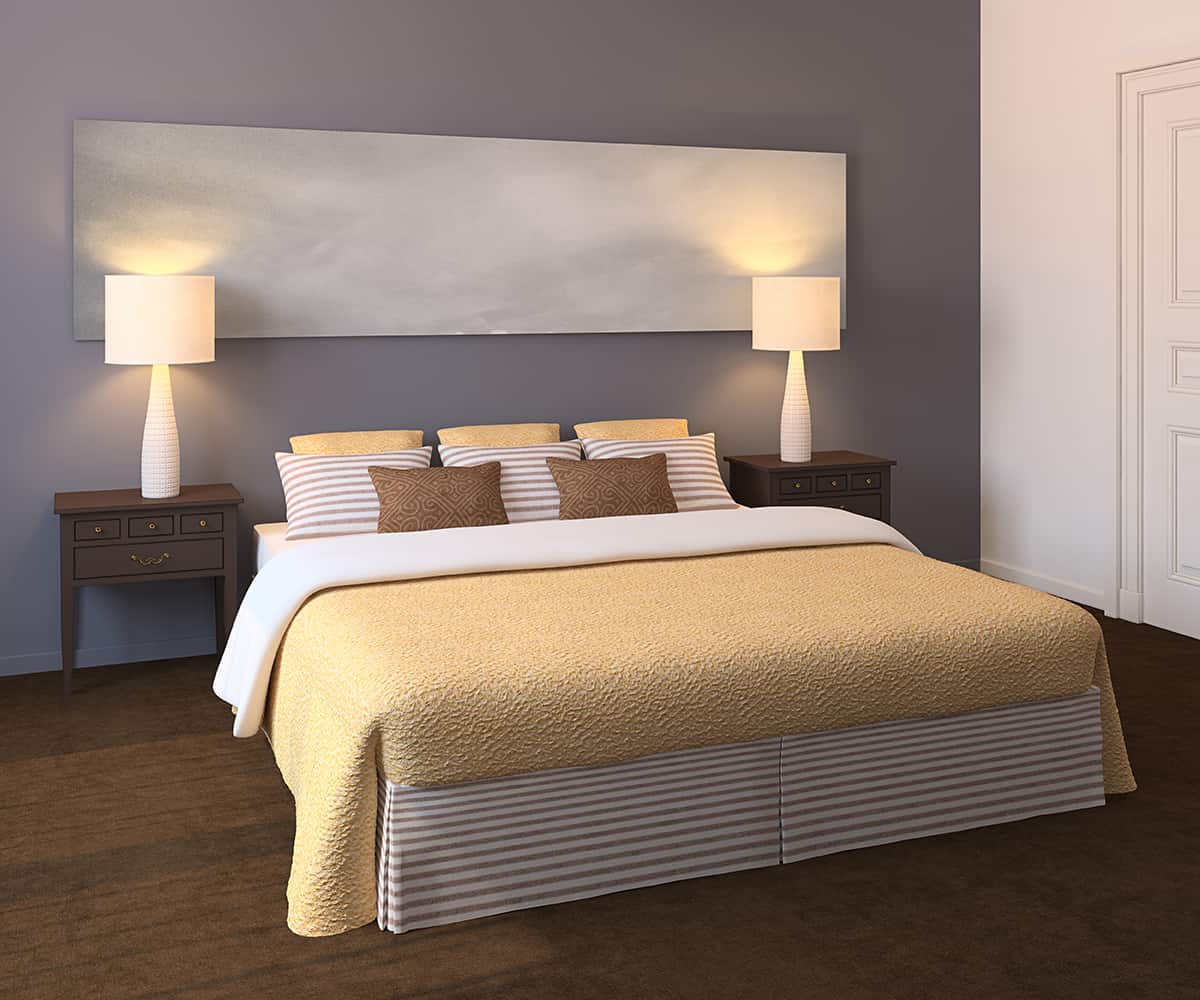 If you want to brighten up your bedroom with dark brown furniture, adding a sunny shade of yellow bedding can be a great idea. The bedding can be in solid yellow, patterned or floral prints, depending on your preference.
In this bedroom example, the yellow comforter and back pillows are a beautiful complement to the dark brown bedside tables. Both brown and yellow are warm-toned colors, thus a lovely combination for a modern bedroom.
How Do I Brighten a Bedroom with Dark Brown Furniture?
A bedroom with dark brown furniture and insufficient amount of natural lighting can feel dark or gloomy, especially if the space is compact. However, there are some ways you can brighten your bedroom without changing your furniture. Here are some suggestions below:
Choose a Neutral Wall Paint Color
Dark brown furniture is a prominent feature of the bedroom as it takes up a lot of visual space. To tone it down and brighten up your room, consider painting the walls a neutral color.
White, light gray, or cream paint colors will counteract the dark atmosphere that's been created by the dark brown furniture. These neutral colors ensure the walls work with the furniture as well as the bedding and overall decor.
Add More Lights
Adding more light to a bedroom with dark brown furniture is an effective way to brighten up the space. However, this will cost more money than painting your walls a light color.
That said, there are some great energy-saving LED lights that can be added to the bedside table or the corner walls. Most innovative artificial lights don't require complex installation, so you can instantly brighten up your space without much effort.
For maximum results, place your lights in poorly lit areas that lack natural light. Corner walls are usually where sconces are installed, and if you can stretch the extra budget, consider adding an extra window. This allows more sunlight as well as fresh air to enter the room, thus saving you money on energy bills.
Hang a Large Mirror
In a small bedroom with dark furniture, placing a large mirror or a series of small mirrors on the wall can easily expand the space visually.
A mirror not only reflects light, but it also makes your bedroom appear bigger than it really is. Feel free to add more than one mirror on each wall of your bedroom, and if possible, place one of the mirrors directly opposite the window.
Go with Light Color Flooring
Bright color tile, wooden or marble flooring are ideal options for a bedroom with dark brown furniture. If you decide to go with hardwood flooring, make sure it is a light color for a refined look.
There are also alternatives to hardwood flooring, such as vinyl or laminate, which are lighter in appearance when compared to wood, but with the same polished look as real wood.
Although this idea won't come cheap, it will be worth the investment, especially if your bedroom's existing flooring is dark or outdated. Tip: to achieve maximum brightness in a bedroom with dark brown furniture, choose light-color flooring made of any material but with a high amount of gloss.
Conclusion
To wrap it up, paint your bedroom walls a neutral color, add more artificial lights, hang a large mirror, and choose light-color flooring to achieve maximum brightness in a bedroom with dark brown furniture.
And as for the bedding, any of the colors we've suggested in our examples will work with your dark furniture.