Upholstered headboards make for a luxurious feeling in a bedroom, creating a style you might see in a boutique hotel.
The plush padding makes for a comfortable spot to lean against while you read or work in bed, and the texture of a fabric headboard compared with a wood or metal headboard provides a softer touch that works well in bedrooms.
Opting for a gray upholstered headboard is a smart move because it is a neutral color that can be used in almost any color scheme. This makes it future-proof against changing trends because you will be able to completely switch up your color scheme further down the line without having to buy a new headboard.
Gray is a hugely popular color in modern interior design, and it can be incorporated into so many different looks. Here we look at some of the most stylish colors of bedding to go with a gray headboard.
Types of Bedding
Solid Color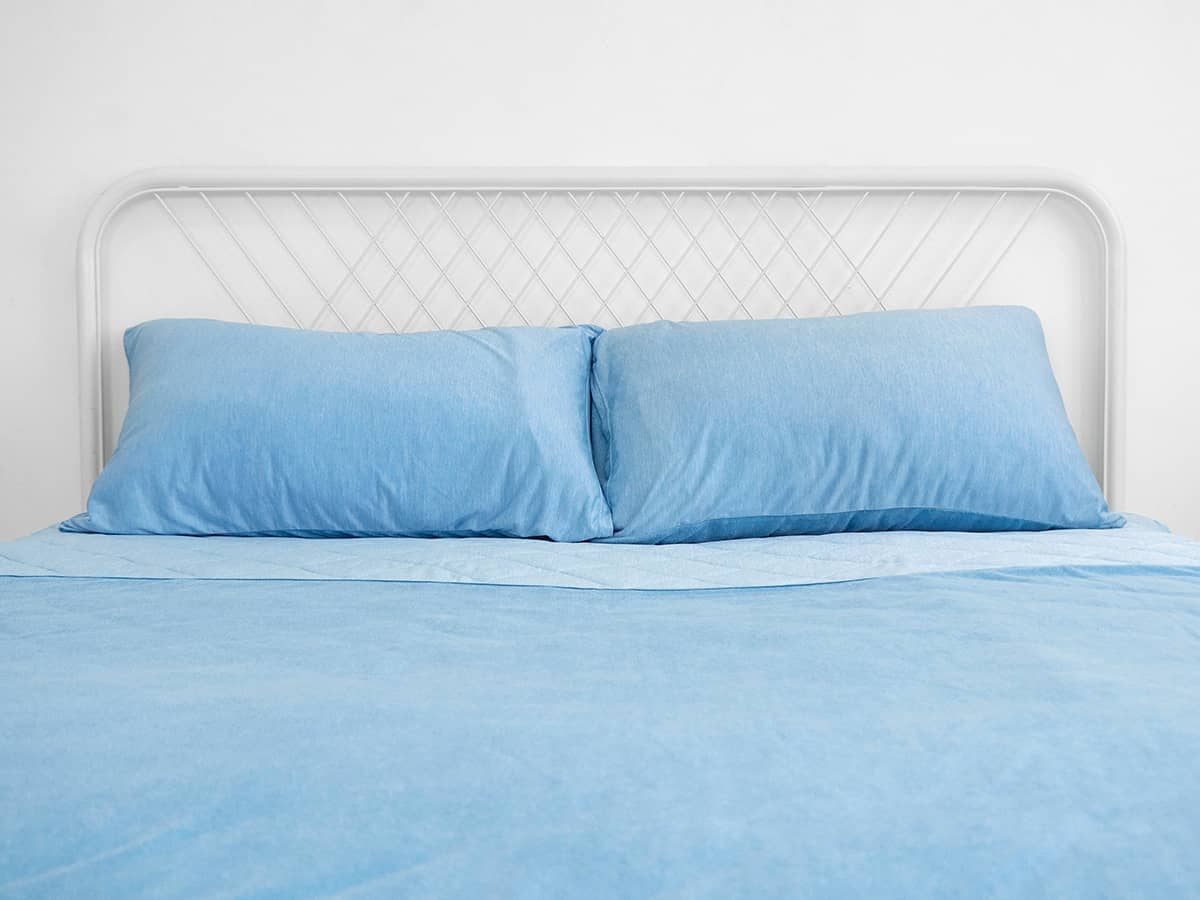 Bedding which is one solid color without patterns or motifs can make for a very sleek and modern-looking bedroom. Solid colored bedding is what you will typically find in hotels, giving your home bedroom a smarter and more neutral appearance.
The clean lines of solid colored bedding create a crisp look that can help to make your bedroom feel like a calm haven, as busy patterns or multiple colors can have the opposite effect and make you feel stressed out.
Solid colored bedding also makes for the ideal base if you like to layer cushions and throw blankets on your bed. A solid color can be added to patterned cushions without creating a chaotic look.
Patterned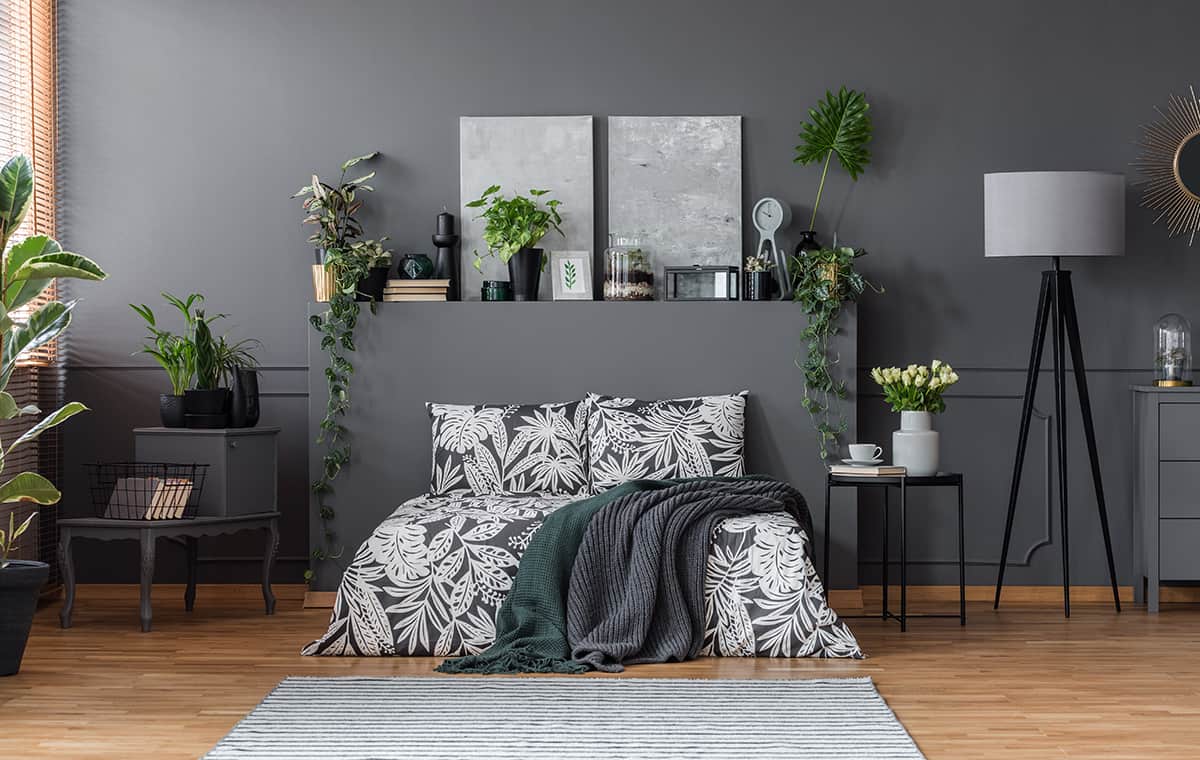 Patterned bedding is great for adding character and personality to a bedroom. Children's bedding is commonly patterned to feature characters they enjoy, and this can help them to feel more secure in their beds.
Patterned bedding is usually avoided in hotel rooms because it is too personal, but in-home bedrooms, it's a great way to ensure your space reflects your taste.
Patterned fabrics are also a good way to help define a color scheme. For example, if you have a gray headboard and blue walls, then you can tie these elements together by choosing a patterned bedding that incorporates both of those colors.
If you opt for patterned bedding, you'll need to be careful to avoid making the room overstimulating. You can do this by keeping other fabrics in the bedroom plain, such as curtains and cushions.
Too many different patterns in one room can make for a busy look which is not conducive to rest and relaxation.
Textured
The texture of your bedding is also worth considering to ensure it works with the texture of your headboard and also so that you achieve the style and atmosphere you want. For gray linen headboards, you may want to stick with cotton bedding to maintain a natural and casual feel.
Velvet headboards have a more luxurious or glamorous feel which can work with cotton or other sumptuous fabrics such as faux fur and satin. If you have a gray suede headboard, you can create a warm and cozy feel with microfiber bedding.
You can also use texture to add personality to bedding if you prefer to avoid patterned fabrics.
Ruffles or pom poms are a nice addition to bedding if you want to create a playful feel, or you could choose bedding with a lace trim or ruched effect. These textures add interest without being too bold or obvious.
Bedding Colors for Gray Headboard
White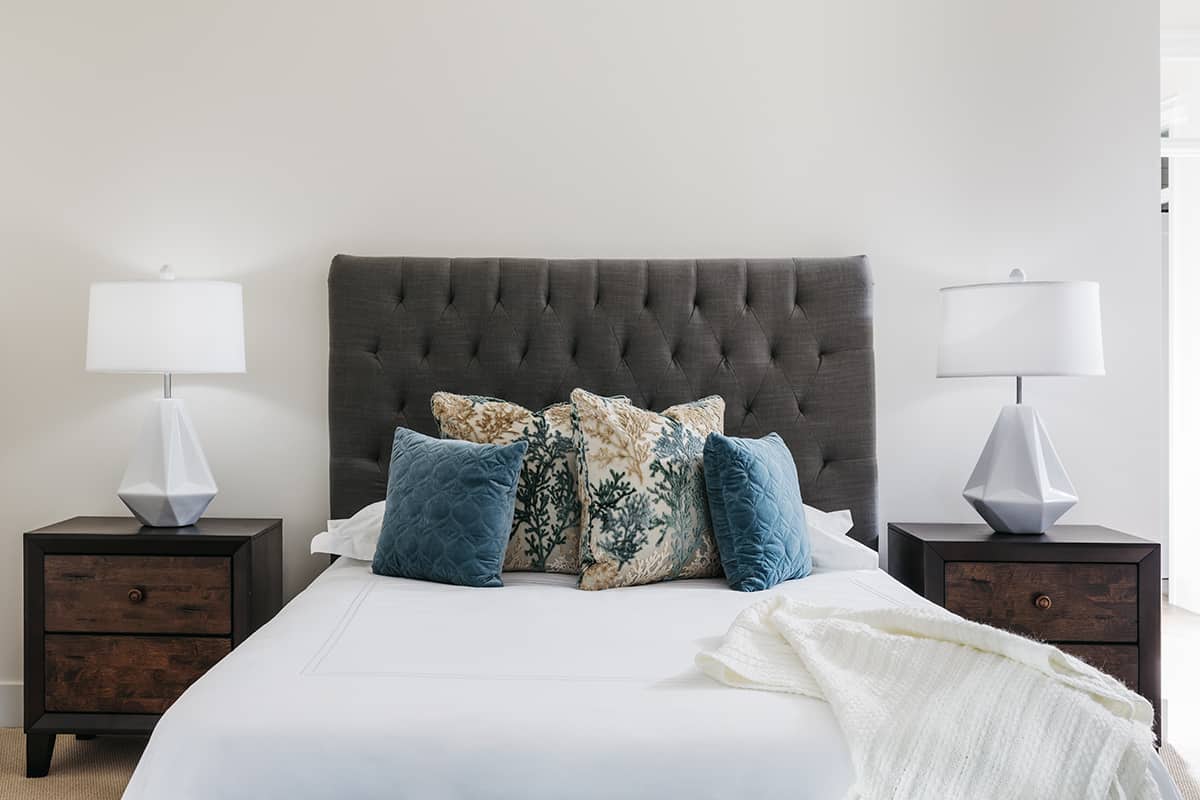 If you have a gray headboard, then you can create a chic and stylish vibe in your room that will feel like a high-end hotel. If you pair white bedding with pale gray or white walls, then this will result in an open, airy feel, or you can create a contrast with the white bedsheets by painting the walls in a dark color.
White sheets may seem like they will be difficult to keep clean, and although they show stains easily, they are actually the easiest color to renew in the washing machine if you use a high temperature and a detergent for white garments.
White and gray are a classic color combination that looks elegant and classy. They can be used to create a modern look but work equally well in traditional or vintage style decor designs.
Gray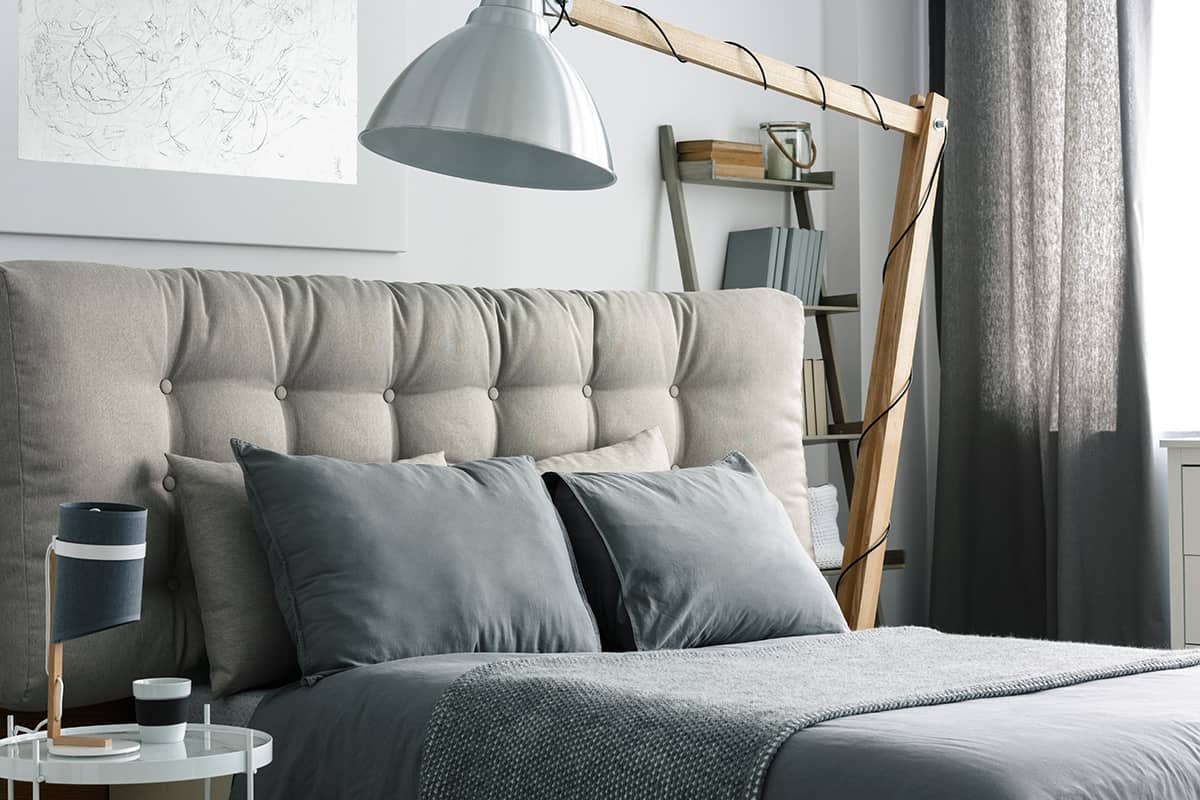 If you have a gray headboard, then pairing it with gray bedding is a stylish and modern approach to interior design. Avoid matching the colors exactly, and instead, choose a gray bedding that is the same hue as your headboard but in a darker or lighter shade.
You can then also add cushions in various shades of gray to complete the layered look. This is an easy way to achieve a high-end style that is guaranteed to look comfortable yet sophisticated.
You could also look for gray bedding, which is patterned to introduce other shades which could be picked out in other parts of the room. For example, a gray head and gray bedding with a pink pom-pom trim would look great with matching pink cushions or pink painted walls.
Emerald Green
Green and gray work well together in various settings, with the muted tone of gray helping to set off the vibrancy of green.
Though numerous shades of green will look good with a gray headboard, emerald green is especially on-trend right now when paired with cool neutrals. Emerald green bedding will look stunning with a medium to the dark gray headboard to achieve a moody and intimate style.
Rich jewel tones like this are used to capture a feeling of luxury, so be sure to also focus on textures. A gray velvet headboard would be beautiful alongside emerald green bedding.
Gold highlights would elevate this look even further, so choose green bedding with gold accents or add gold silk cushions to the finished bed.
Dusky Pink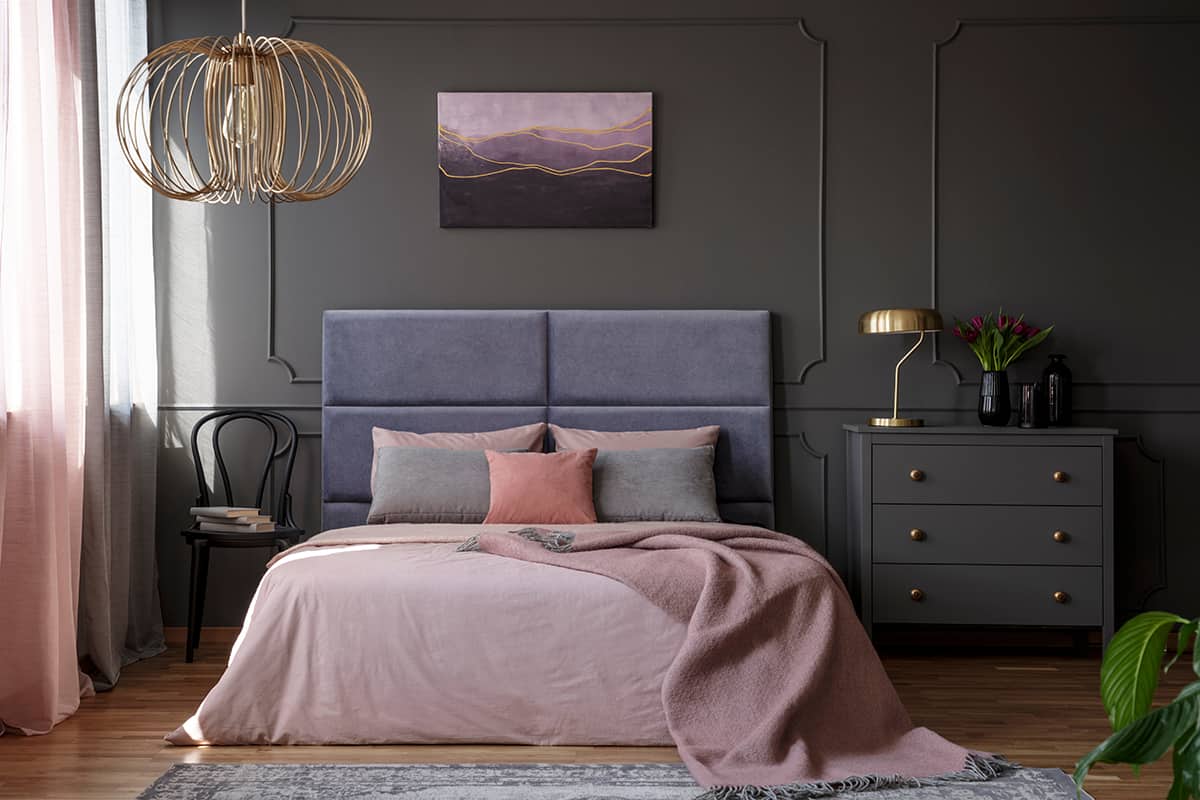 Dusky pink is a subtle and muted shade of pink that is feminine but not overwhelmingly so. It is given a modern twist when paired with gray, which is why dusky pink bedding works so well with a gray headboard. These two colors balance each other out to create a soothing and moderately uplifting space.
Gray and pink are a lovely color combination for a bedroom because they make for a soft and welcoming atmosphere that calls you to come and rest.
Dark charcoal gray headboards will be contrasted nicely with pale dusky pink bedding, but this will create a more intense look. For a more casual, easygoing vibe, choose a light gray headboard with dusky pink bedding.
Sapphire Blue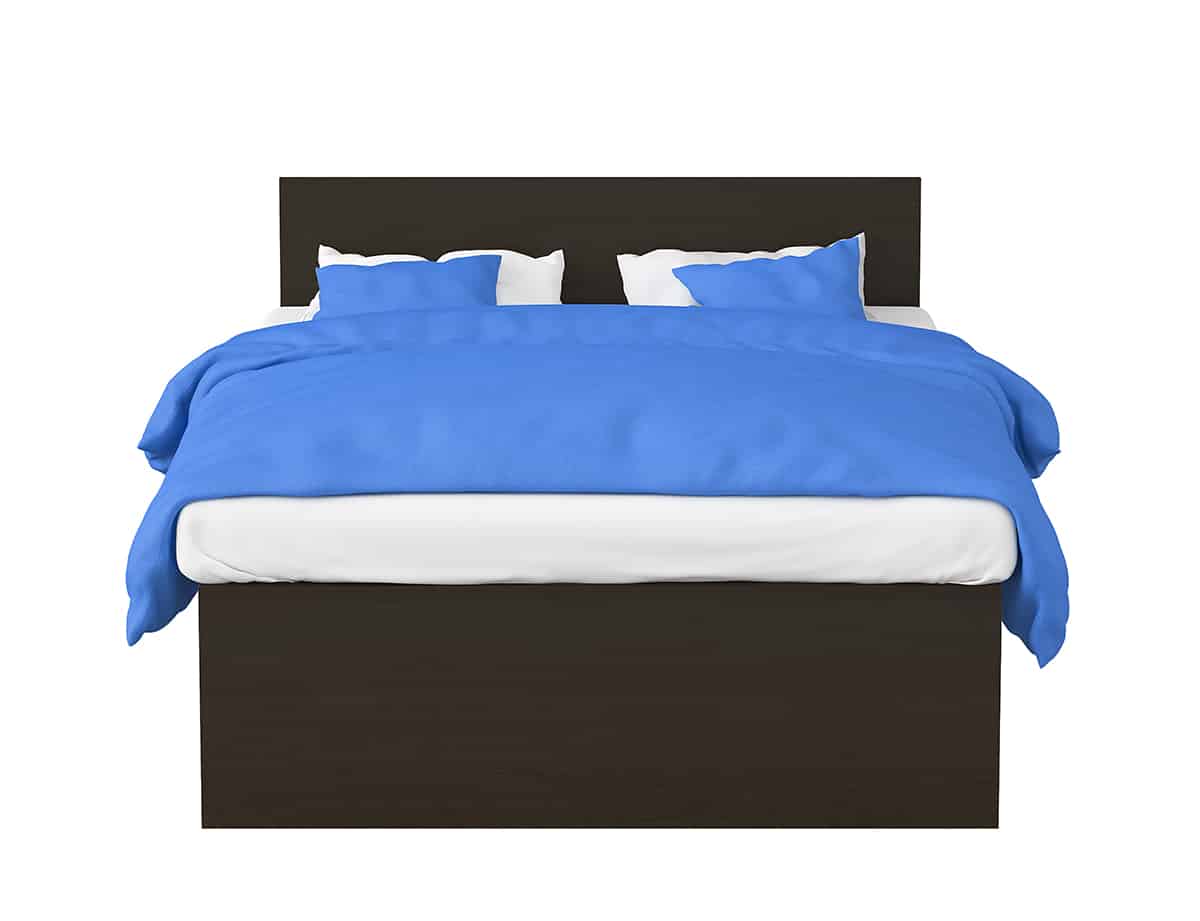 If you want to get away from neutral colors but aren't confident at choosing color combinations, then blue is a good choice.
This is a safe color that never fails to look stylish with gray and can be used in so many different styles, from beachy and casual, to elegant and lavish, to rustic or country chic.
Sapphire blue is a popular color in interior design right now, which looks beautiful alongside gray.
Choose a cool-toned gray headboard for a sleek look or a warm gray headboard with hints of taupe for a softer, more cozy appeal.
Orange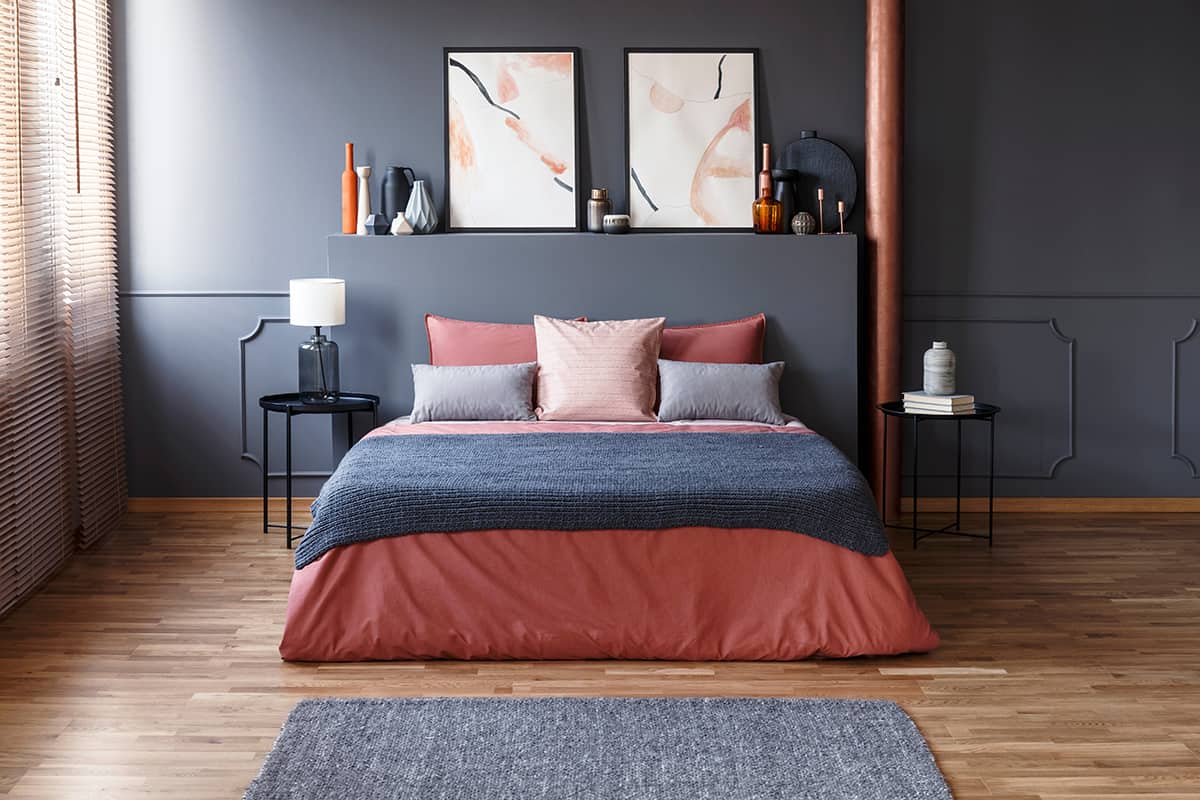 Orange and gray complement each other nicely because the warmth in orange is toned down by the coolness of gray, while the coolness of gray is toned down by the warmth of orange. Using them together in a space ensures a good balance of energy and also creates a contrast that is pleasing to the eye.
Bedding in earthy orange shades such as amber and ginger will create a cozy and inviting atmosphere that will make you want to spend lazy mornings in bed, while more vibrant shades of orange like tangerine will encourage energy, positivity, and creativity to give you a morning boost.
You could also use metallic versions of orange with a gray headboard to elevate the style, such as bronze and copper. Silk bed sheets in copper will look indulgent and luxurious, or you could choose cotton bedding with metallic copper thread embroidery.
Copper really pops against gray, which is why copper touches in bedding look striking alongside a gray headboard.
Beige
If you want a soothing and inviting bedroom, then using pale neutral colors is a good way to achieve this. Beige and gray work really well together as they are both neutrals that can have warm or cool undertones. To create an indulgent vibe, choose a warm gray headboard with warm beige bedding.
You can tie the two colors together by opting for cushions or wall paint in greige, which is a cross between gray and beige.
This tonal approach makes for a luxurious yet casual feel in a bedroom, which can be emphasized with textures. To keep the look breezy, choose linen and cotton fabrics or soft and fluffy fabrics for a more sumptuous style.