A gray sofa is a good investment piece of furniture because, as a neutral and very versatile color, gray can be coordinated with almost any other color, allowing you to change your decor style without having to buy a new sofa each time.
If you're ready to change up your accent chairs or add new accent chairs to your setup alongside your gray sofa, use this guide for inspiration and to help you decide which type of accent chairs to choose.
Considerations When Buying Accent Chairs For a Gray Sofa
Color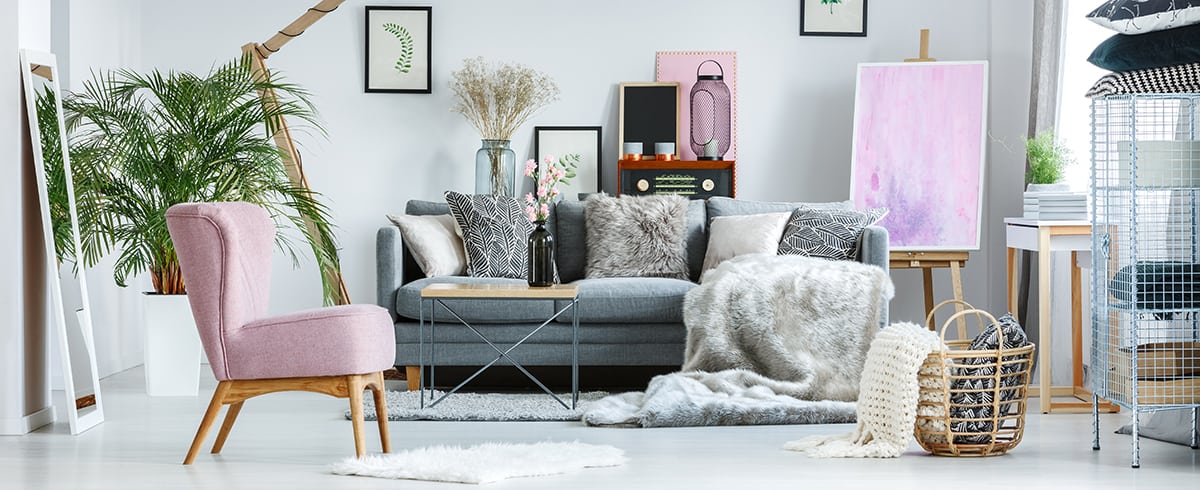 Accent chairs are called accent chairs for a reason. They should be a color that accents the rest of your decor and helps to bring it all together. Choose accent chairs in a color that is within your color scheme to ensure they work with the rest of your interior decor to aid with continuity. For example, if your room is white, gray, and teal, then choose accent chairs in teal.
For a more eclectic look, you could consider choosing an accent chair in a completely different color to anything else in the room, as long as it is complimentary. For example, in a gray and green room, you could choose accent chairs in navy blue or dusky pink.
Try to maintain a similar tone as other decor in your room to avoid the accent chairs looking out of place. For example, use a pastel accent chair amongst other pastel shades or a jewel-colored accent chair alongside other jewel tones.
The great thing about accent chairs compared with sofas is that they aren't the primary focus in the room, and they aren't the largest furniture pieces names in the room, so you can afford to get a little daring and choose a color that you might not be confident enough to choose if you were buying a new sofa.
Accent chairs can be fun and add real personality to a room, so take a leap and buy the pink velvet sofa if you've been eyeing it up for a while. As gray is a neutral shade, it can work well with a whole range of colors, but there are certain colors that particularly compliment gray. These include pale pink, blue, green, beige, yellow, and brown.
Warm-toned accent chairs will help to balance out the cool energy in a gray sofa and make a space feel more inviting, while cool-toned accent chairs can bring about a soothing or refreshing feel in a room.
Fabric

The fabric of your accent chairs will help to convey the style and atmosphere you want to achieve in your room, and this should be cohesive with the fabric of your gray sofa. If your gray sofa is upholstered with microfiber, then it suggests a cozy feel, so this should be continued with your accent chairs.
Other cozy fabrics include velvet and corduroy. If your gray sofa is linen, then this is suggestive of a more laid-back, casual vibe, so accent chairs would also need to be linen or a cotton-based fabric. If your gray sofa is faux leather, then this opens up more options because it can work well with both casual, luxurious, formal, and comfortable styles.
With a gray leather sofa, avoid choosing leather accent chairs because it can look jarring when different colors of leather are positioned close to each other. Instead, opt for a piece of fabric on your accent chairs that reflects the style you want to achieve, and continue this around the rest of the room. For example, if you want an elegant look, choose accent chairs upholstered in silk, and buy matching silk cushion covers to go on your gray leather sofa or coordinating silk curtains.
Pattern
If your gray sofa is plain, then adding accent chairs with a patterned fabric can really elevate the style in the room and prevent it from looking too flat or basic.
A good way to coordinate a gray sofa with accent chairs is to choose a fabric that contains some gray elements, as this will instantly tie the sofa and the chairs together as part of a cohesive design. For example, you might choose yellow fabric with gray stripes running through it or a bright floral patterned fabric on a gray background.
If your gray sofa is patterned, this doesn't mean your accent chairs cannot be patterned, but it does restrict your options somewhat.
If you can pair a patterned sofa and patterned accent chairs together using two different patterns that complement each other, this will achieve a very stylized look that could be right out of an interior design magazine, but if you choose two patterns that do not work well together, it can result in a very awkward look. This is why many people are not brave enough to mix patterns and instead go for a simple look where there is less room for getting things wrong.
One rule for ensuring patterns complement each other is making sure that they are different enough but not too different, which can be a tricky line to walk. For example, do not use two floral patterns together because they will clash. Instead, use a vastly different pattern in similar colors. One way to achieve this would be to have a striped gray sofa and floral accent chairs with gray notes.
Alternatively, if you have a gray floral print sofa, you might choose tartan print accent chairs with gray running through them. If you do choose a patterned accent chair, there is the option of finding cushions or curtains in the same patterned fabric to tie them together, but this can look dated and matchy-matchy.
It is perfectly acceptable to have accent chairs in a patterned fabric that is not featured anywhere else in the room, so long as the fabric fits into the color scheme of the space. Always choose plain cushions on heavily patterned accent chairs to avoid clashing.
Legs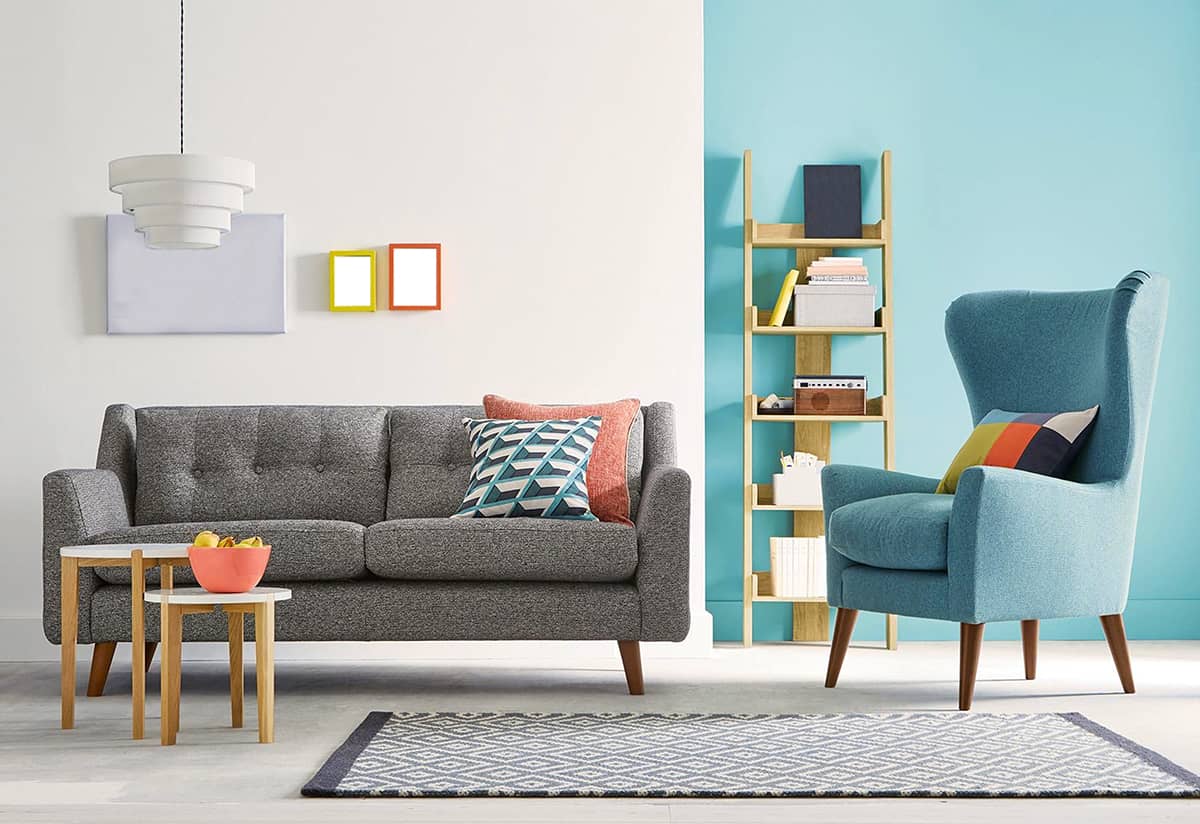 The legs or frame of an accent chair are often overlooked, but it is details like this that can really upgrade the look of a room and elevate the style. If your gray sofa has wooden legs or feet, your accent chair's legs do not need to match, but they should complement the style. If you are trying to achieve a rustic feel in your room, then choosing accent chairs that reflect this will ensure they add to the style of your room.
Rustic legs on an accent chair could include dark wood chunky legs or aged wooden legs resembling the look of driftwood. Accent chairs with rustic style legs would look good next to a gray sofa with casual styling or in a coastal or woodland-themed room.
If your gray sofa has a more formal feel and you want to bring more sophistication into the room, then consider glossy metallic legs. Metal legs which have been sprayed in gold or copper-colored paint are popular in interior design right now, and they can go a long way to add elegance to a room.
You can match the material of your accent chairs with other items in the room to ensure they fit with the decor, even if the color or pattern of the upholstery is different from the rest of the space.
For example, accent chairs with gold legs could be used in a room with gold picture frames and gold light fittings. This will help to provide decor continuity and will allow you to choose an accent chair in a bright or bold color that isn't necessarily coordinated with the rest of your color scheme.
Style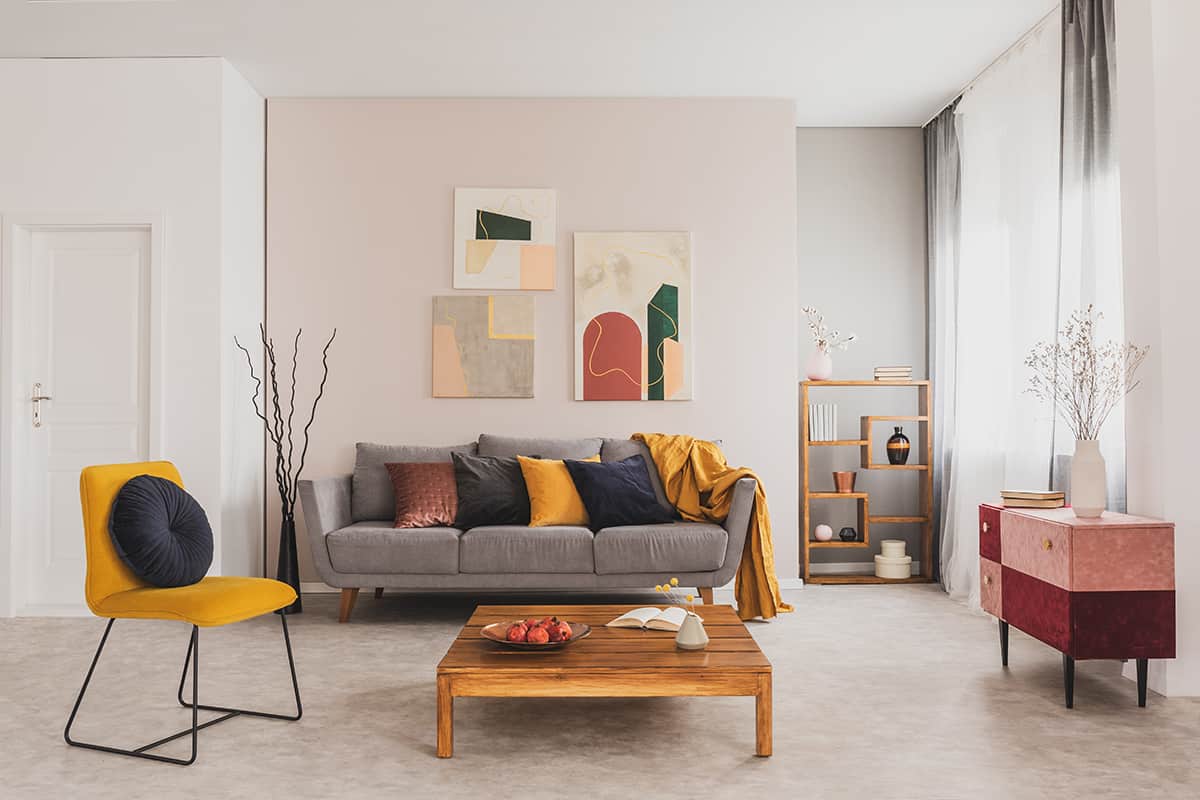 Arguably the style of your accent chair is one of the most important considerations in terms of interior design to ensure a cohesive look. If you want to achieve an art deco style, then your gray sofa and your accent chairs should reflect this, and the same can be said of any style.
As gray is a neutral shade that will go with almost any other color, matching the style of your gray sofa with the style of accent chairs is more important than finding a color that works. The same can apply if you have brown sofas and wonder what accent chairs to pair with, as brown is another neutral color.
If you get the style well-coordinated, then you can choose an accent chair in a completely random color, and it will still work, whereas even the most complimentary shade of gray will not look right if the sofa and accent chairs are contradictory styles.
For example, in a mid-century modern room, you could pick a mustard yellow chair despite there not being anything else yellow in the space, but as long as both the gray chair and accent chair were in the mid-century modern style, then the look would work.
As well as considering the style of the sofa in regard to choosing accent chairs, you should also consider the style of the room in general. The style of the accent chairs should fit with the decor style of the room, whether that be traditional, industrial, minimalist, or something else.