Do you love the earthy, warm tone of a brown sofa? This classy color can bring sophistication to a living room, but what accent chairs go with a brown sofa?
Whether your sofa is a light or dark shade of brown, the color of the accent chair needs to complement any shade of brown. Most earthy, warm tones go with brown, but there are also neutral shades like gray and black that make a great choice.
In this post, we will show you the most complementing accent chair colors to pair with a brown sofa.
Best Accent Chair Colors that Go with Brown Sofa
Black and Gold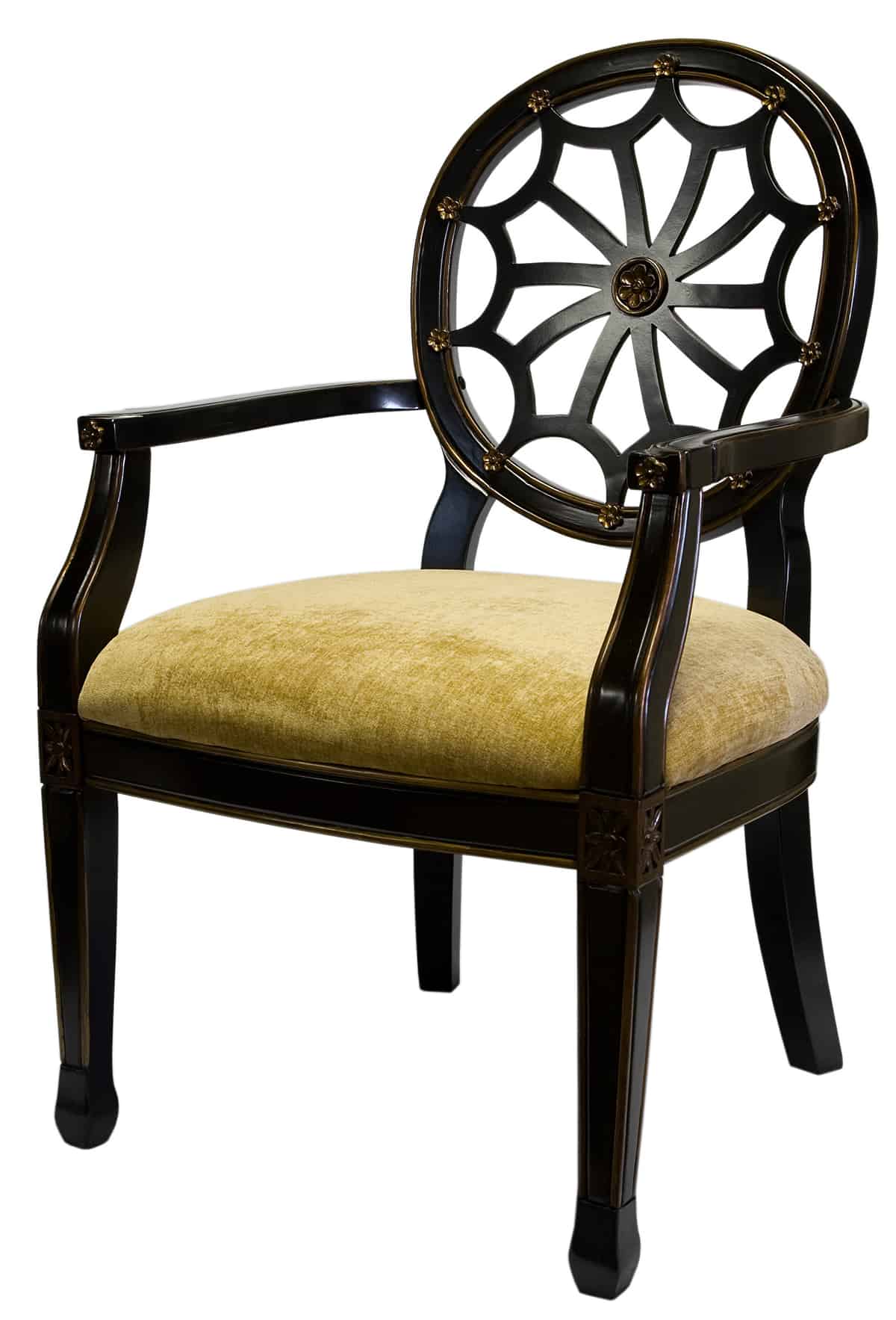 Since brown is a timeless color, why not pair the sofa with a black and gold accent chair as a classic combination.
Black and gold go well with light brown, or alternatively, you may pair a dark brown sofa with the black and gold chair to bring a sense of sophistication. This combination works particularly well in industrial-style interiors.
Keep in mind that a brown sofa paired with a black and gold accent chair works best in living rooms with adequate natural light and bright, neutral walls.
This idea won't work well in small or narrow living rooms as the brown sofa, and black accent chair pairing will only overwhelm the compact space.
White
When it comes to pairing your brown sofa with an accent chair, white has to be the safest color out of them all.
This neutral hue blends with any decor, including a brown couch. A crisp, white chair next to any shade of brown sofa immediately provides a sharp contrast. The two pieces of furniture create a luxurious vibe, with the white accent chair as the focal feature of the room.
Yellow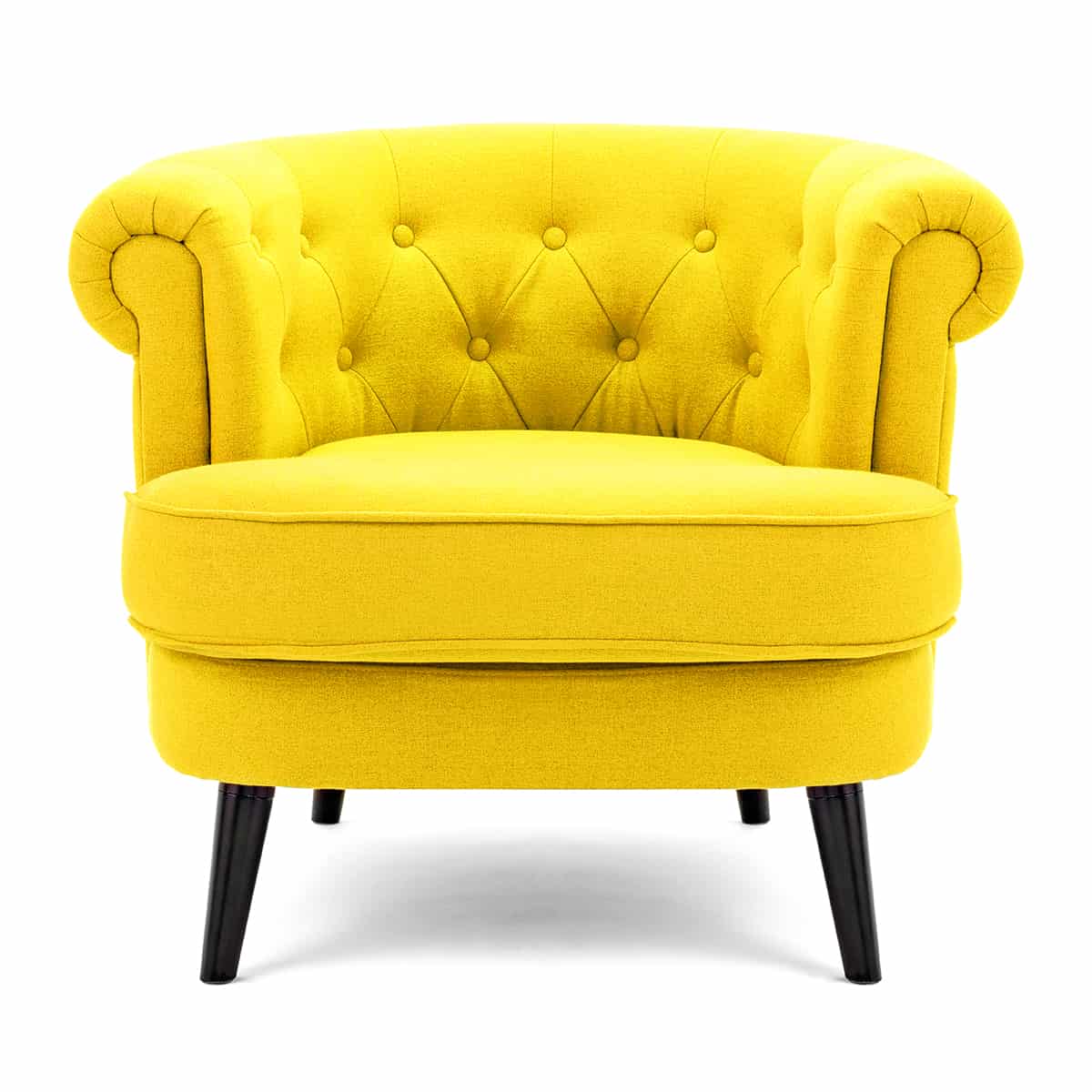 A bright yellow accent chair has to be the liveliest addition to a living room with a brown sofa. Both brown and yellow are warm tones that bring an energetic feel to the room. Sunny yellow is our favorite shade, but you may also go for banana or mustard yellow for a less domineering effect.
A dark brown leather sofa paired with a yellow accent chair creates a refined and glam vibe in a traditional interior.
But if you prefer the modern look, pair your dark brown sofa with a medium yellow-golden tone for a subtler contrast.
Blue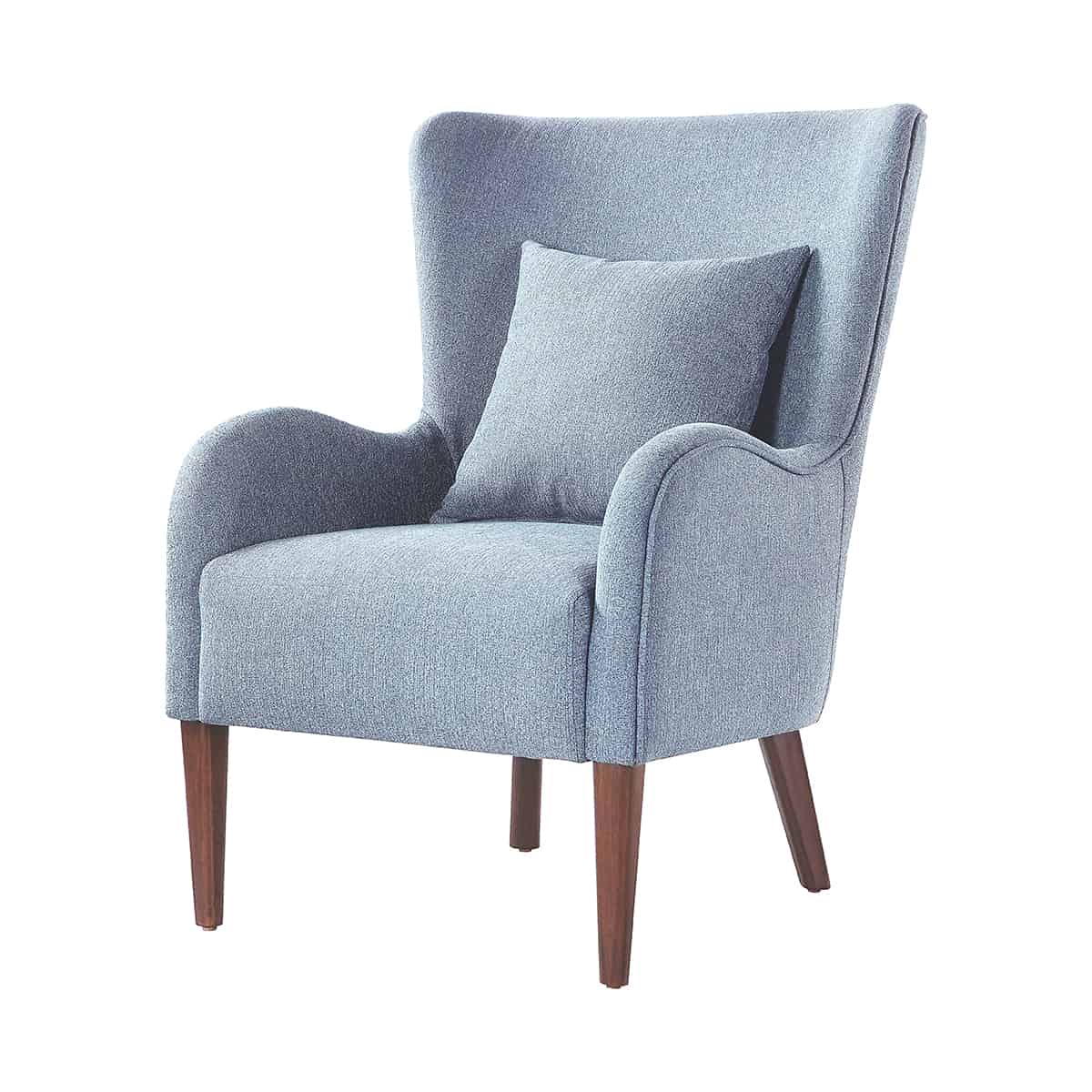 Another perfect match for your brown sofa is a cool shade of blue for the accent chair. Cool blue hues balance and harmonize dark brown tones. But the specific shade of blue you choose depends on the feel you're trying to achieve within your room.
For example, a dark cocoa brown couch paired with a dark blue accent chair brings a rustic feel to the living space, while a light brown sofa next to a sky blue accent chair adds a sense of relaxation.
For an ultra-trendy look, a rich brown leather sofa can be paired with a turquoise accent chair. The result is a modern and sleek appeal that is sure to draw the eye to your furniture as soon as guests walk in the room.
Blue is such a versatile color that no matter which shade you choose, it can look beautiful next to a warm brown sofa. The cool tones soften the dark brown, while the pastel ones brighten up the sofa.
Gray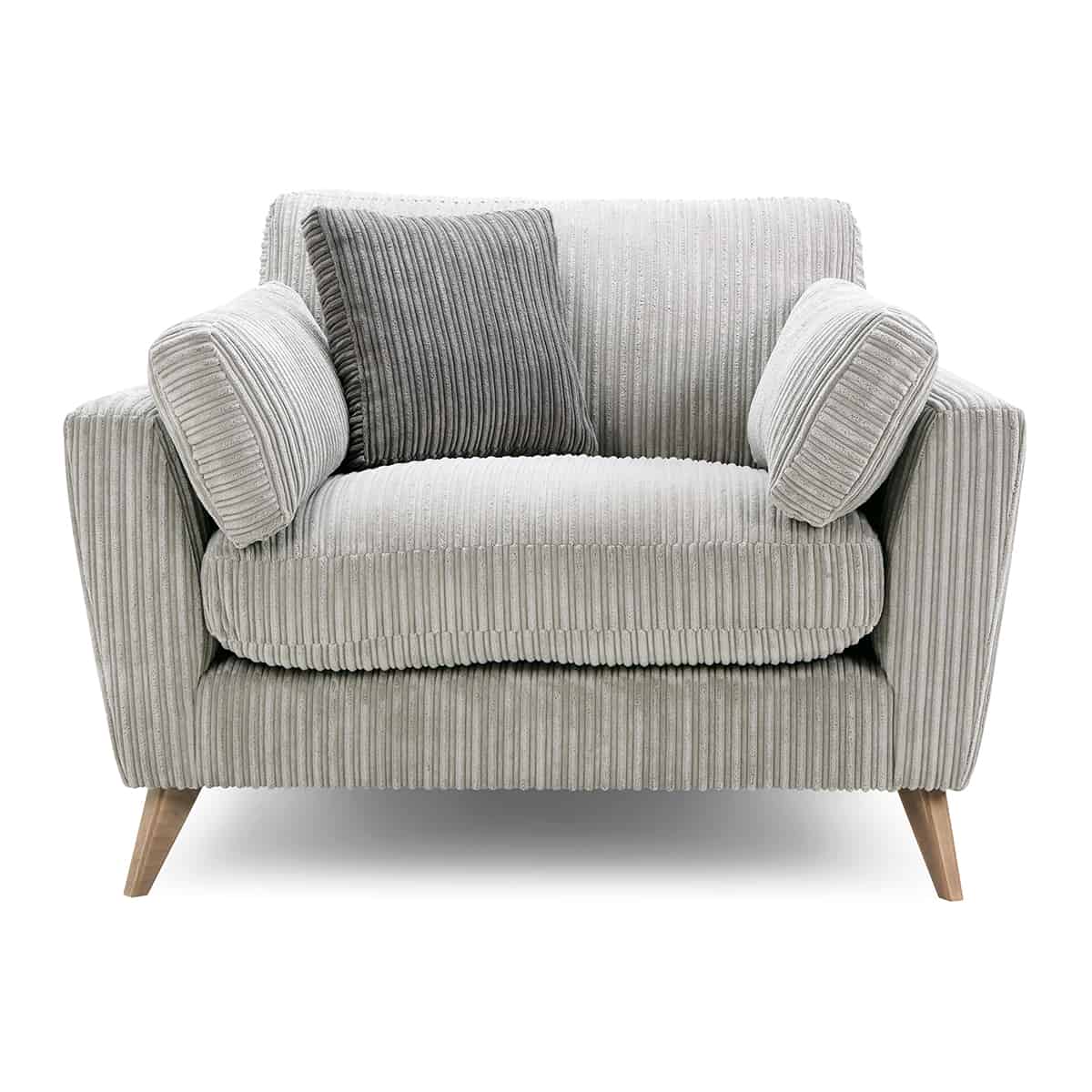 For those who are eager to add a contemporary look to their living space, why not pair a brown sofa with a gray accent chair. Any shade of brown will go with gray, and compared to white, this neutral color brings more sophistication to your space.
For added texture, choose a gray accent chair with a matching pillow. Just like the example here, you may pick a patterned pillow in dark gray to complement the light gray accent chair.
A gray chair with a brown sofa gives a more structured vibe to the space – no matter what the material of the sofa is. You may even complement the brown sofa with a gray accent chair that features wooden legs or arms.
Orange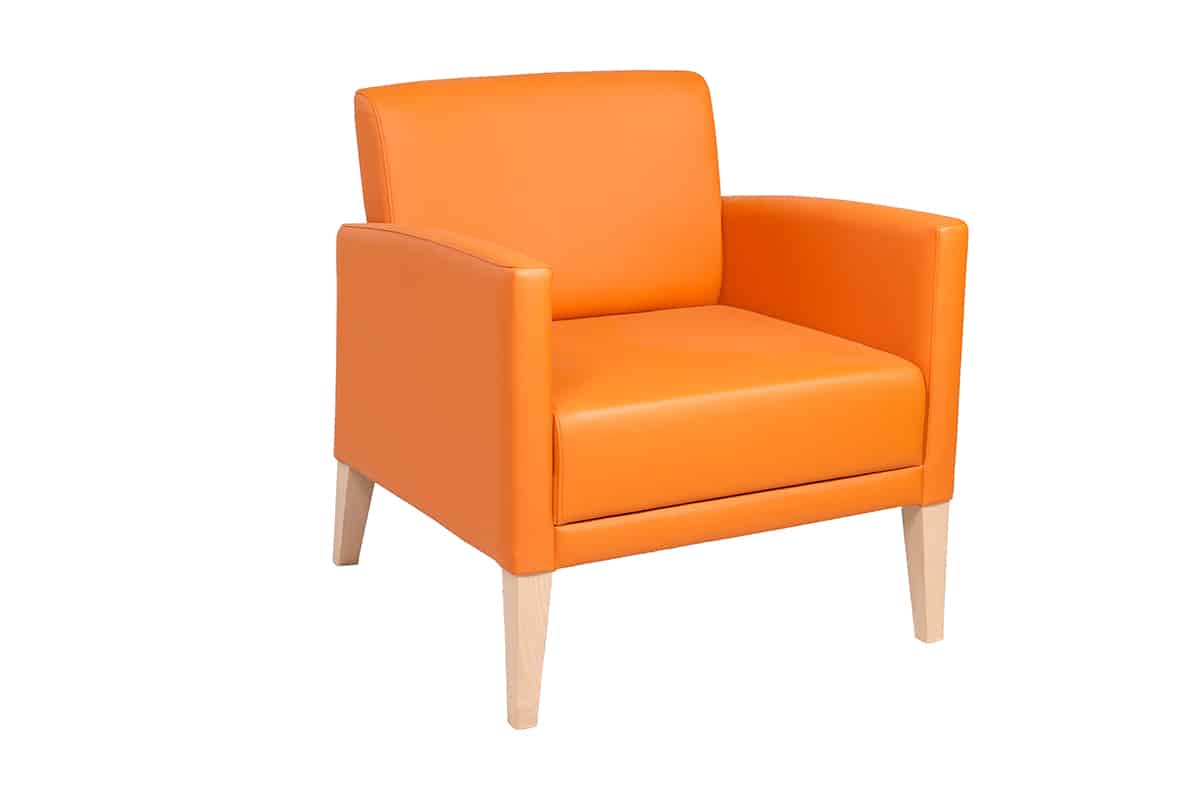 Since orange is similar to brown, it is a popular color combination in modern and traditional interiors. To make your bright orange accent chair visually stand out, pair it with a dark chocolate brown couch. This will bring an energetic vibe to your living space and liven up the place.
The example we've picked here features an orange leather accent chair, which can beautifully complement a dark brown leather sofa.
Pink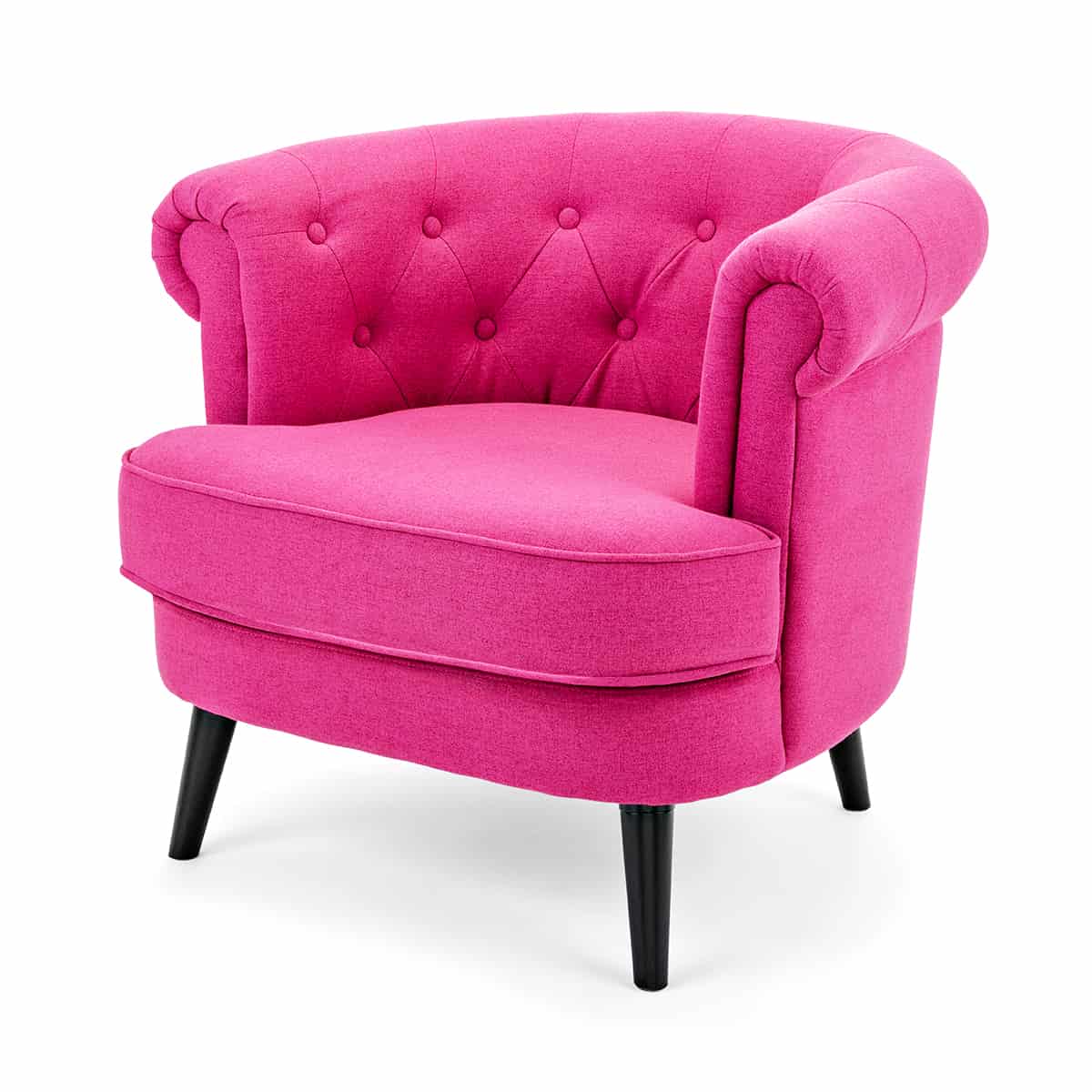 Another bright and lively color for an accent chair is a pretty pink. Such an accent chair is ideal for feminine living rooms or bedrooms. But just be sure to use a light shade of pinks, such as salmon or coral, against dark brown so as to create contrast.
You can also pair your pink accent chair with light pink curtains to make your brown sofa stand out. This also helps reduce the heaviness of the dark brown while at the same time making the orange accent chair maintain its warm feel.
Green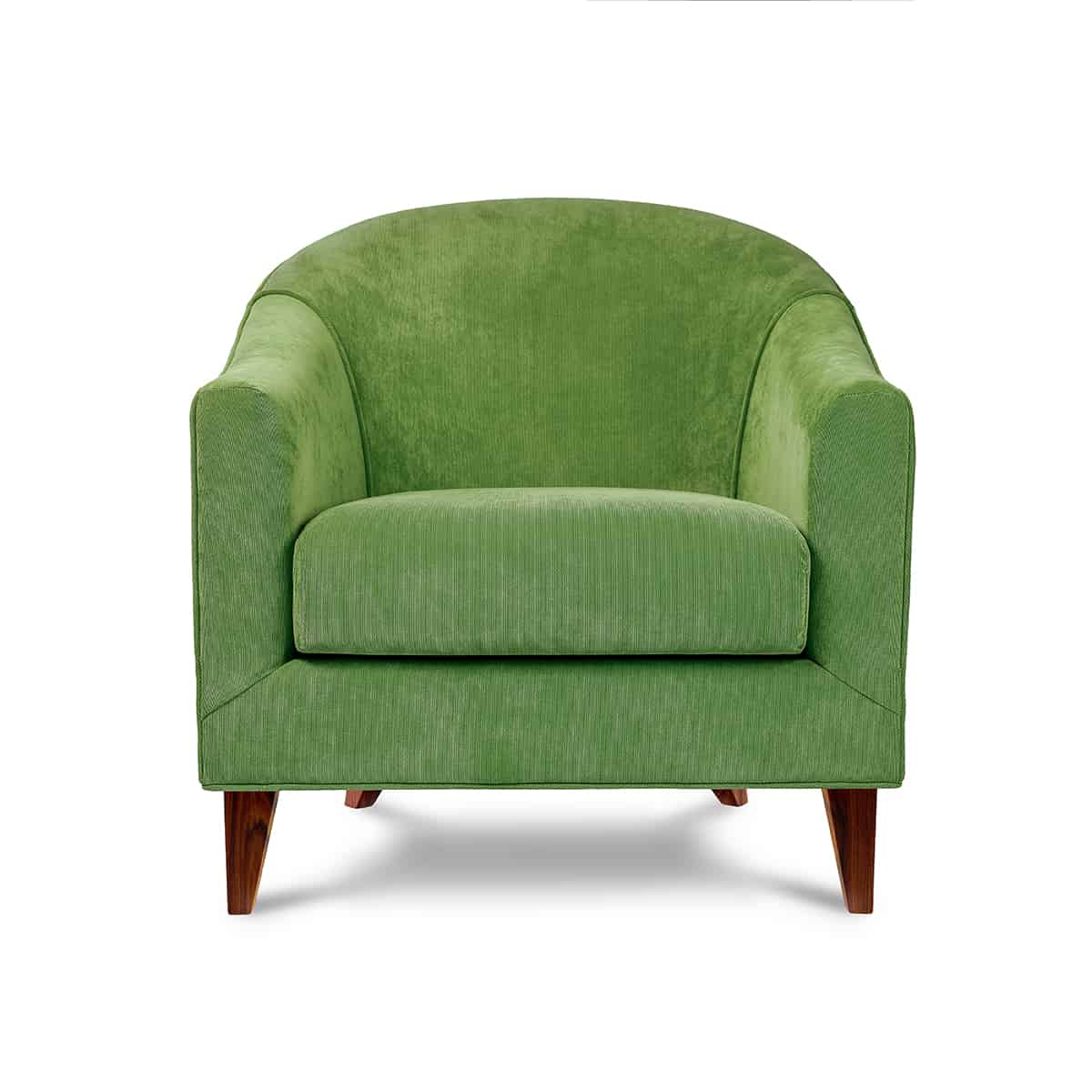 For a grounded feel, pair your brown sofa with a lime green accent chair. Brown and green are both associated with nature so why not bring the outdoors into your home by representing plants, trees and nature?
To soften a dark brown sofa, pair it with a light shade of green, like apple or pistachio. A light green accent chair adds a refreshing touch next to a dark brown sofa.
But if you prefer dark green, mint or sage work well with a light brown sofa. This color combo suits a home office or home theater as the two colors create a moody vibe.
Red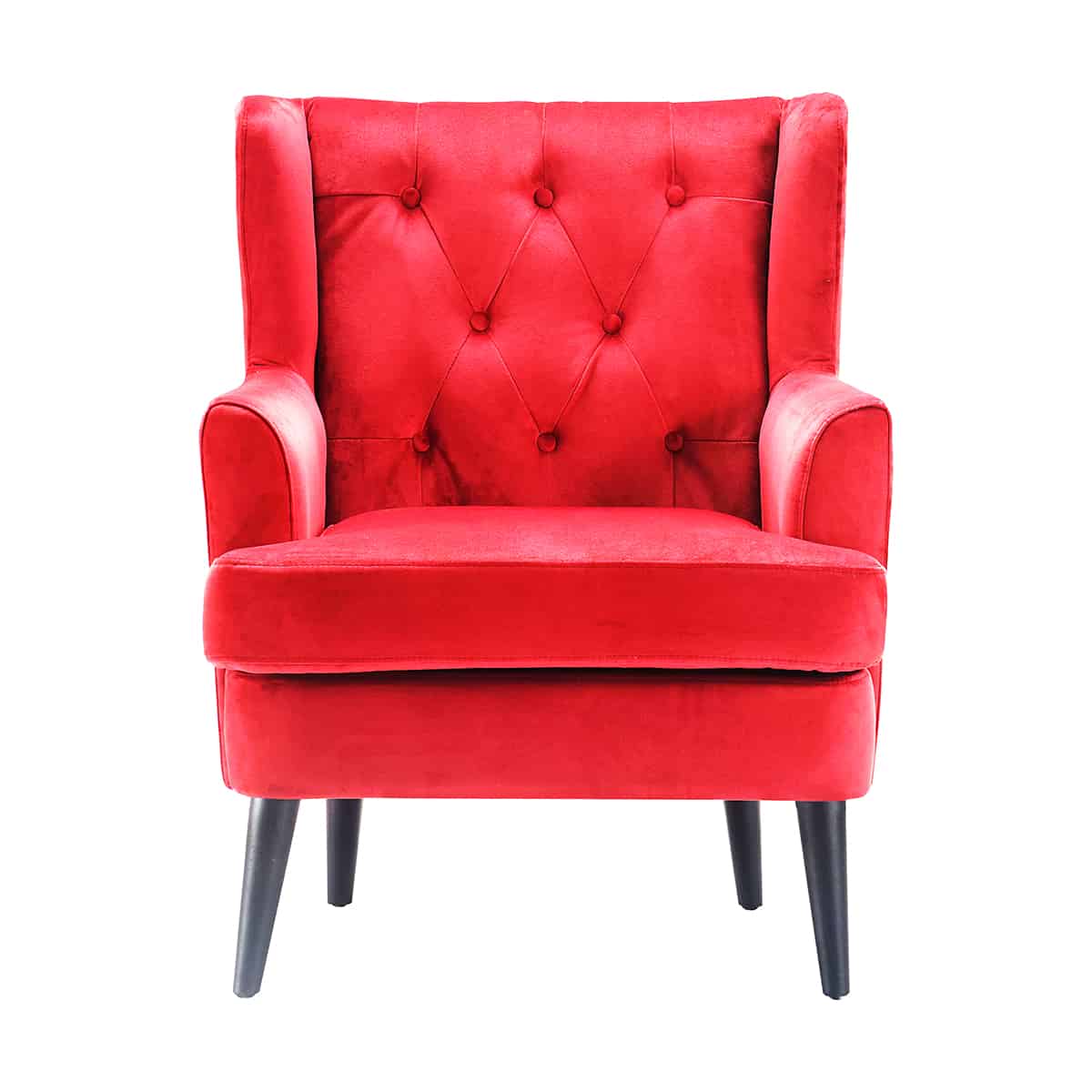 A brown sofa next to red may sound like an unusual combination, but if you choose the right shade of red, you can make this work perfectly.
A bright red accent chair can add a lively and fiery vibe against a light or dark brown sofa. This color combo is ideal in a formal living room or study as it emits a mature yet inviting vibe.
Any shade of red, including burgundy or wine for the accent chair will work next to light or dark brown leather sofa. After all, red immediately reminds us of autumn colors with its fresh burst of energy.
Should My Brown Sofa Match the Accent Chair?
You can either match your brown sofa with the accent chair or choose a shade lighter or darker than the sofa. While you don't have to pick a chair in the exact pattern of the couch, for best results, it's best to opt for a pattern that's as close to the accent chair as possible.
Whether your brown sofa is made of upholstered fabric or leather, there are many accent chair colors that will look amazing next to it. These include tan, chocolate brown, beige and burnt sienna. When choosing an accent chair, you may opt for a different style from the rest of your furniture for contrast.
Dark brown sofas paired with dark brown accent chairs will only overwhelm the room and make it appear darker. It is better to choose a shade lighter and use a brightly colored rug or carpet as well as wooden furniture to lighten up the space. This will also create a traditional and rustic feel.
Is Accent Chair Used Purely for Decorative Purposes?
Accent chairs are meant to stand out as an additional set of furniture in order to complement the overall decor.
One single piece of chair has to make a big impact, thus, it must be chosen carefully. You will often find an accent chair in the hallway, bedroom, or living room as this type of furniture is highly versatile.
But an accent chair isn't just for decorative purposes; it also has a functional use, which is to provide additional seating as well as bring a special flair to an updated space.
You could also place an accent chair in an empty corner and use it as a reading nook. In a large bedroom, you may use the chair for putting on your shoes or relaxing on. As you can see, there are many possibilities, and an accent chair is certainly not used just for decorative purposes!
You may also wonder how many accent chairs a room should have. Generally, you should have around a quarter to a third of all your room seats as accent chairs. For instance, if a room has eight total seats, 1 to 3 of the seats can be accent chairs.
Do Accent Chairs Need Pillows?
An accent chair doesn't necessarily have to be dressed with a pillow, but if you want to enhance your chair and there is enough space for a cushion or pillow, then feel free to add one.
A pillow will make your accent chair feel cozier and more comfortable. Just make sure you match the color or pattern with the chair or the rest of the room's furniture, as this will help tie the elements together.