When one thinks of a rocking chair, oftentimes one's mind goes to an old lady seated at her porch on a lazy Saturday evening or a new mother seated in her baby's nursery half-asleep, mumbling sweet words or lullabies for their baby to go to sleep. This notion is completely dated, as rocking chairs have been updated over the years with luxurious finishes and plush cushions that you sink right in and feel the exhaustion of the day wash out of you.
Their invention is rooted in America's rich history. These chairs were first created with a pair of ice skates tied to a chair in the 16th century, and a few years later, the "rocking chair" term manifested. A staple in many homes both for mothers rocking their babies and also a great option for curling up and enjoying a book, these chairs have become must-haves in any home.
The Standard Dimensions of a Rocking Chair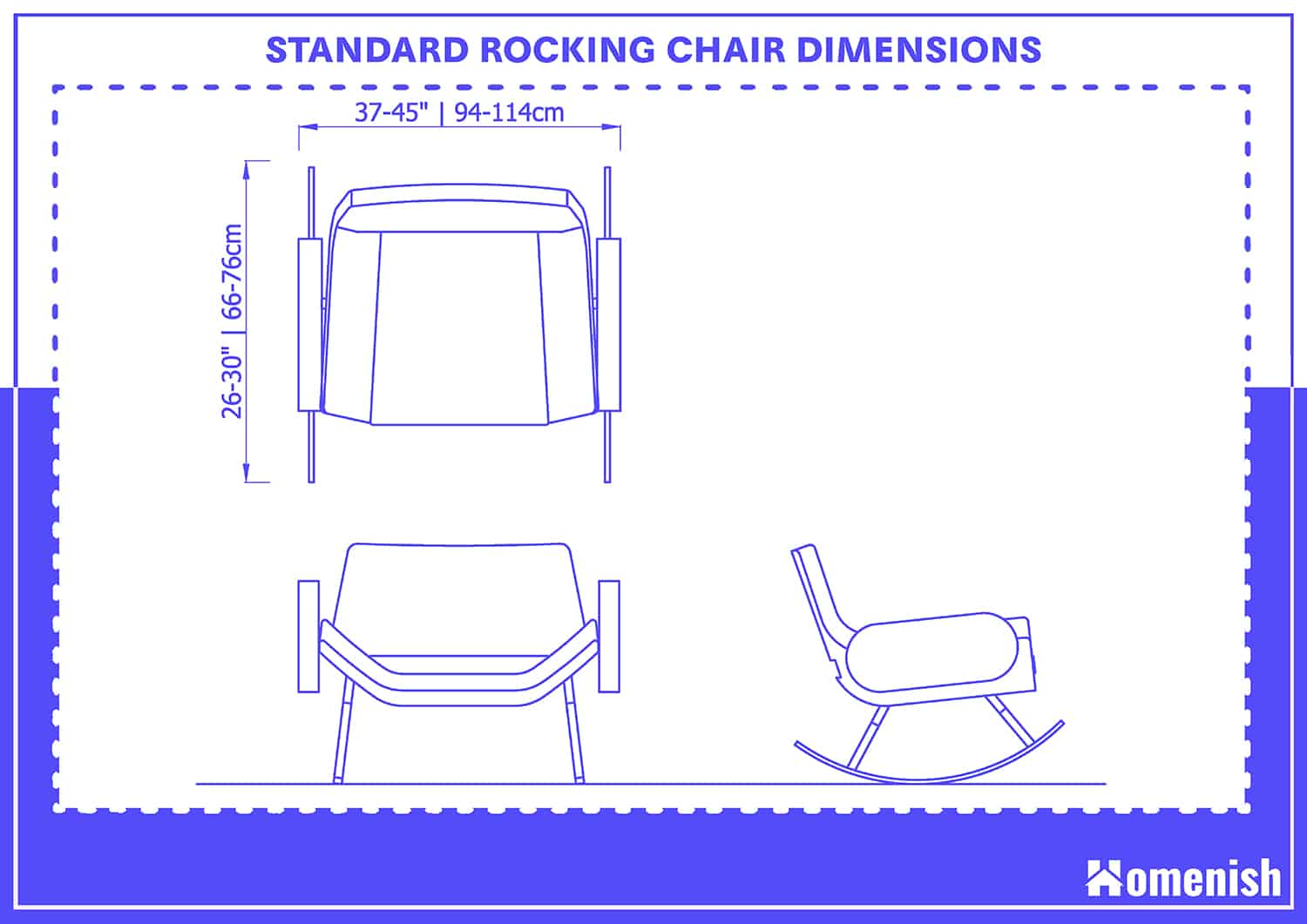 Rocking chairs vary in weight, with some being sturdy and extremely difficult to move around, with most weighing about 15-45 pounds. These chairs will most likely have a 26-30 inches width and a 37-45 inches length to go along with. Height is also an important aspect to look at with these chairs, as shorter people will desire a different height from much taller people, ordinarily. Sixteen inches height will suffice for a shorter person, and 17-17.5 inches will be much more appropriate for a taller one.
These chairs can be placed on wood, tile, and other floor spaces and function well, but they are at their best when placed on a rug or carpet. You should also consider your clearance space since these chairs need enough room at the front and back to give you their best performance.
DIY Your Chair
Rocking chairs are not a one-size-fits-all and so if you're looking for optimum performance and comfort, then your best option is to make one yourself that fits the parameters you look for in your chair. You'll need to make measurements accurately, such as "Seat to the Top of Your Head," "Back of Your Bottom to the Underside of the Knee," and width of the shoulder. The wood used should be the bendable kind, and you need to get the technique down. Multiple YouTube videos can get you through this process of making your rocking chair.
Common Types of Rocking Chairs and Their Space Requirement
Traditional rocking chairs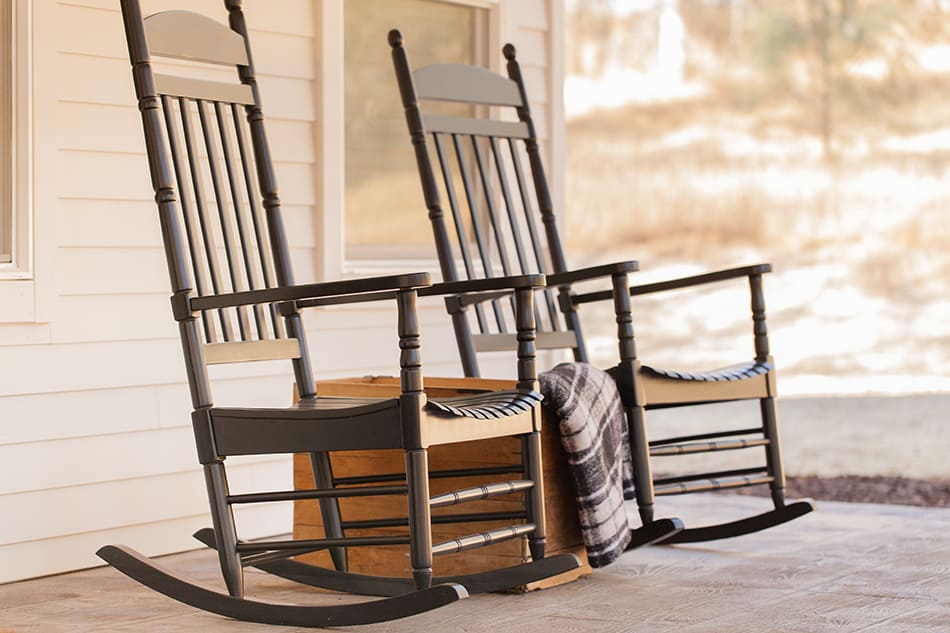 Often designed with wood, these family heirlooms are what first pop up in people's minds when this chair is mentioned. They work well in a nursery and porch, and if you're into antics, you can get one from a local thrift shop with personalized markings on the wood that could be dated years back, considering this is an ancient piece of furniture. These require a lot of floor space because of their massive curved base but are the most durable out of all the chairs on this list, as they are not prone to wear and tear.
Gliding rocking chair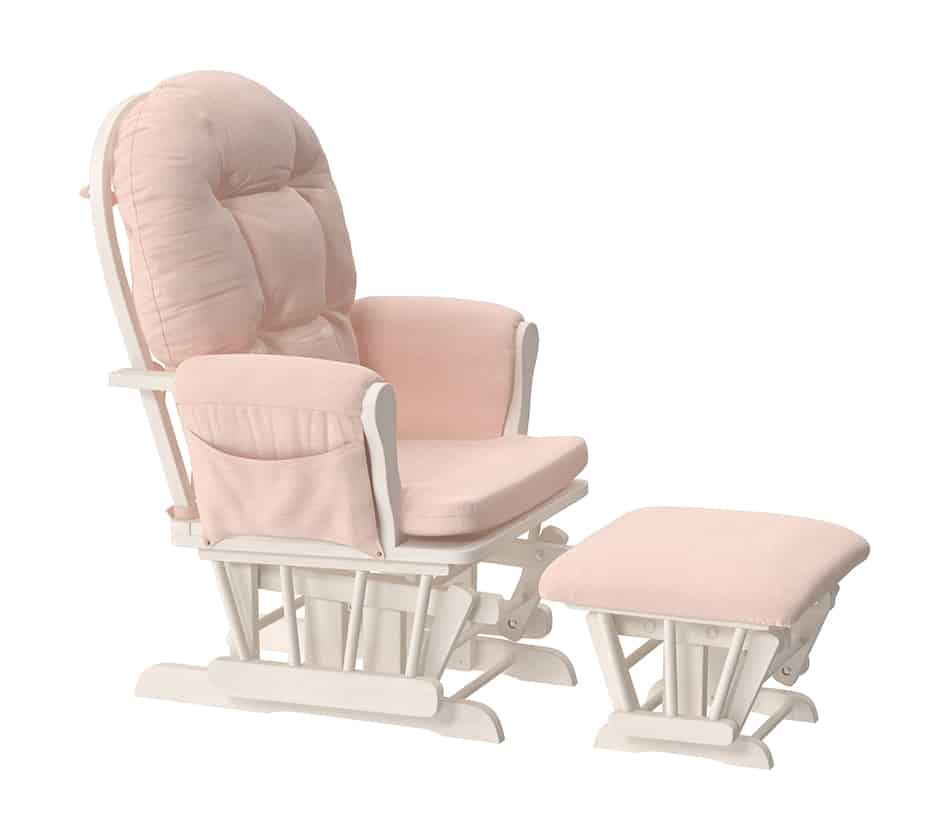 These are the modern version of rocking chairs, and just by looking at their plush cushions, you can tell they cost quite a lot because they do. The traditional rocking chair was reinvented with legs that are not as curved but manage to rock the chair along a flat plane. It's because of this complex mechanism that you'll find that these are a lot more pricy and also come in weighing a ton, so they can't easily be moved anywhere.
Outdoor rocking chair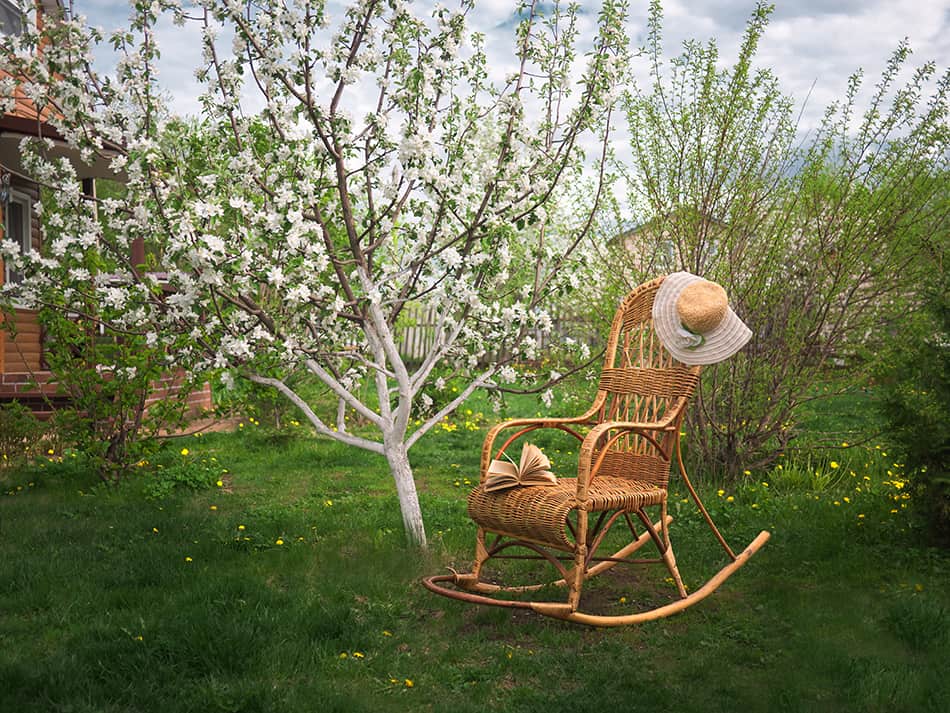 Going camping can be more enjoyable with a relaxing chair that allows you to lean back and look at the stars. These are very lightweight and easily folded and moved to games, music festivals, or any other outdoor festivities. These usually even have cup holders for your coffee mug or beer while you're settled outside enjoying your day.
Reclining rocking chair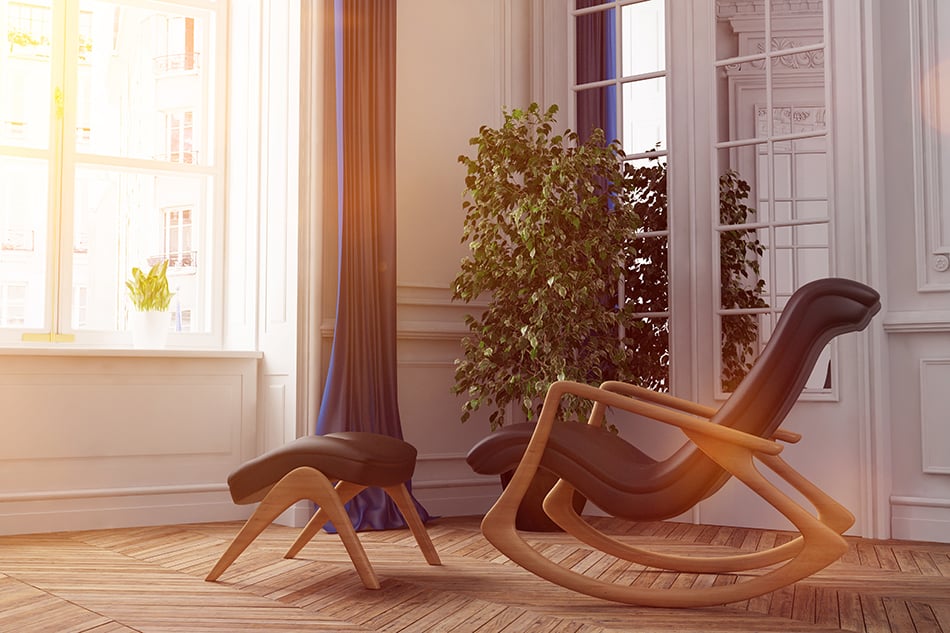 A reclined chair on its own is a masterpiece for comfort; adding that mechanism to a rocking effect makes it a double-threat. All one does is release the chair's catch, and you can lean far back and relax while rocking yourself back and forth. This is designed carefully to ensure that you're not too far back, and this attention to safety makes this one of the more expensive pieces on this list.
Spring rocking chair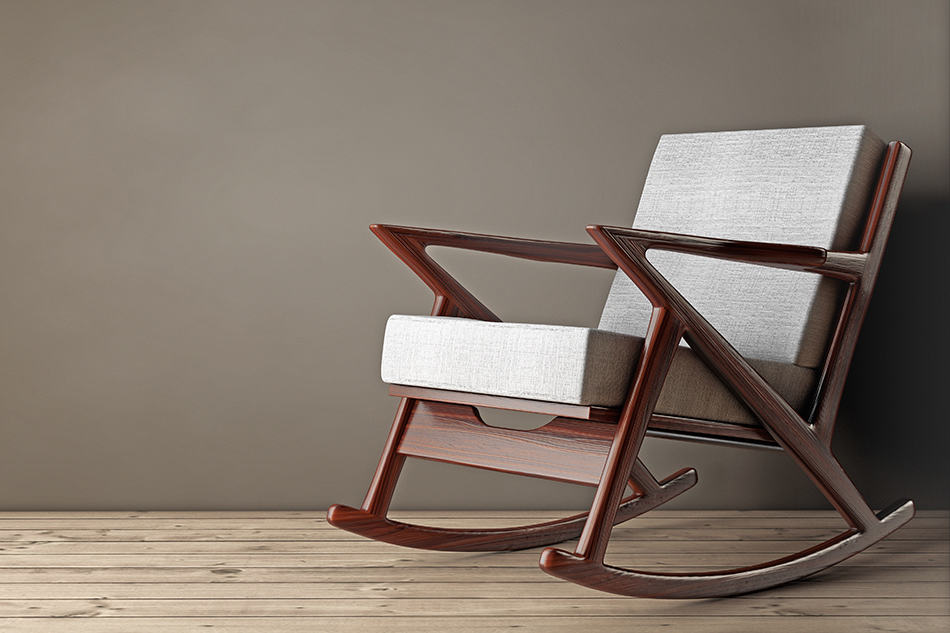 These appear like a typical traditional chair, but the back and forth movement is supported by springs and not a circular base. This mechanism is pretty complex, and thus, even its movement materials are tucked away underneath the chair to avoid accidents with children and pets. This style adds bouncing to the experience and is best suited for outdoor spaces.
Swivel rocking chair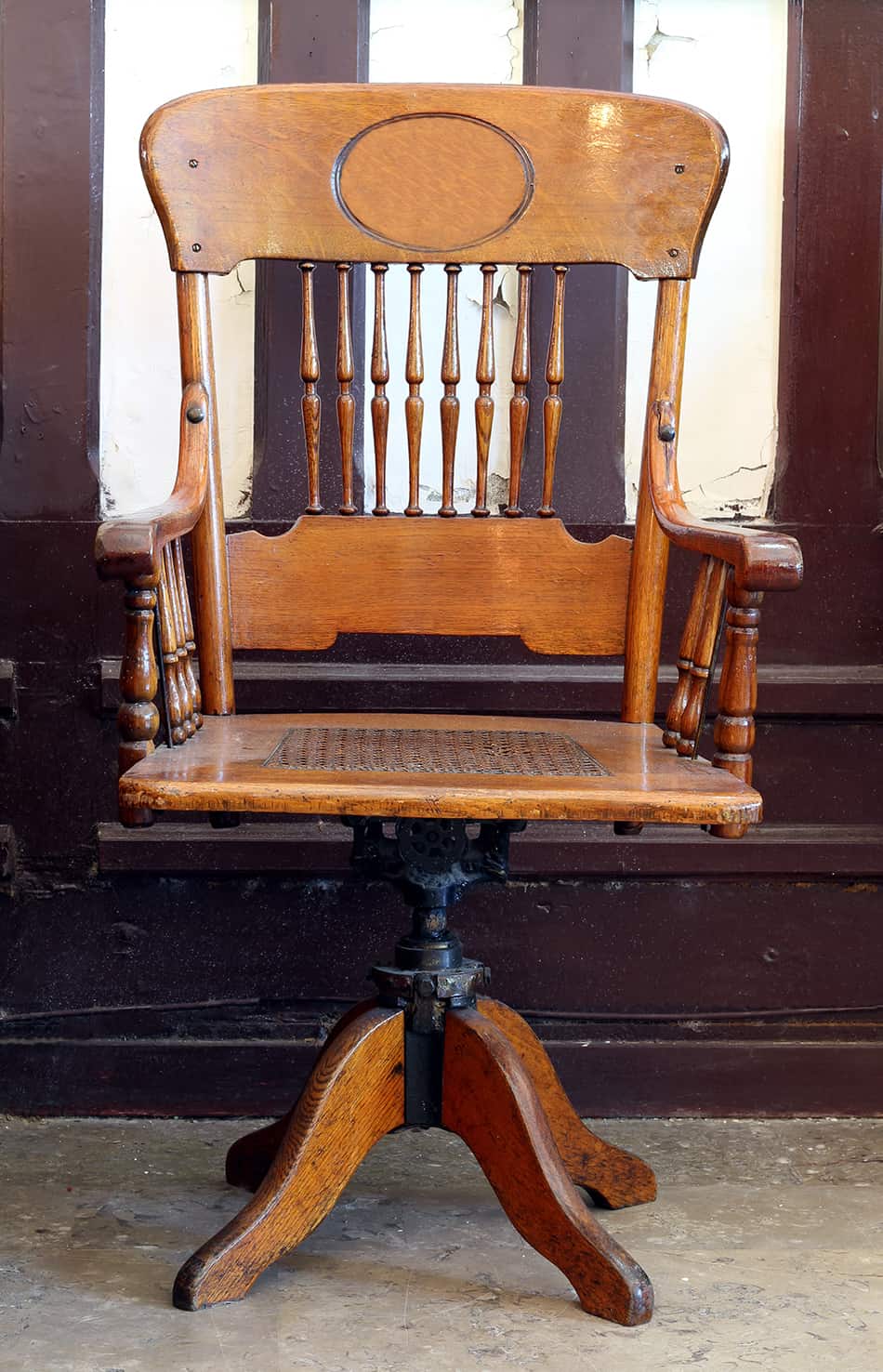 Swivel chairs are known to be office chairs with a rotating mechanism; however, innovations allow both mechanisms to function in one chair, increasing the comfort, hence racking up the price tag. This is great when watching movies and playing games, giving you a relaxing feeling that fleets away all your day's stress. Most of these come in grand elegant designs that are much more comfortable and can easily fit into your contemporary house design.
Conclusion
To wrap up, there are things you should consider before purchasing your rocking chair. Look at the overall design and aesthetic of your home and choose a chair that compliments that beautifully. Understand the purpose of this chair because indoor rocker chairs and outdoor ones differ in material since some, like wicker-made chairs, might not withstand the humidity outside.
Weight capacity should also be considered, as some chairs can only accommodate a certain weight. Therefore, knowing if you fit this weight range is important in your shopping process, especially if you're opting for online shopping. Lastly is portability. If your chair is going to be used outdoors at barbecues, baseball games, and the like, then it should be light enough and foldable as well. This will allow for it to be carried to different areas whilst being able to fit in the trunk of your car.