When we talk about the types of power tools, we can divide them into the kind of power source they use, whether they're portable or stationary, what function they serve (saw, drill, etc.), and the individual tools themselves.
In this post, we'll briefly cover all the categories of power tools so that you'll have a better understanding of how to use each tool.
Types of Power Tool by Power Sources
A power tool can be:
Gas-powered– run on gasoline or a mixture of fuel (kerosene, oil and gas, etc.)
Electric– needs a power cord plugged into an electrical outlet
Battery-powered– you insert rechargeable batteries into the tool
Pneumatic– plugs into an air compressor
You can find different models of the individual tools on this list that run on different power sources. For instance, you can find one drill that has a power cord, while the next drill comes with a battery pack. An impact wrench could be battery-powered or pneumatic. A chainsaw could run on gas, electricity, or a battery.
In general, gas-powered tools are more powerful than electric, and electric tools are more powerful than battery-powered tools. The power of pneumatic tools depends on the pressure they're rated for.
Battery-powered tools are the most convenient to use because you don't have to refill them with gas or have cords around your workspace. But they also run down fairly quickly, so be sure to always have a spare battery charging.
Gas-powered tools can be the most powerful, but the other types of tools are much easier to start.
Portable vs. Stationary Power Tools
A handheld, portable power tool is convenient because you can carry it around the house or to different job sites and perform your tasks where the materials will be installed.
A stationary tool, on the other hand, is able to be moved but is large and heavy enough that you normally keep it in one spot. These are the types of tools you set up in your workshop and bring materials to them.
Because stationary power tools are larger, they can also feature more powerful engines, so they're for heavy-duty work. They'll normally run on gas or air. Portable tools can run on any of the four power sources.
Kinds of Power Tools
Now that we've covered possible power sources and the differences between portable and stationary power tools, let's get into what the tools actually are.
Power Source – Air Compressor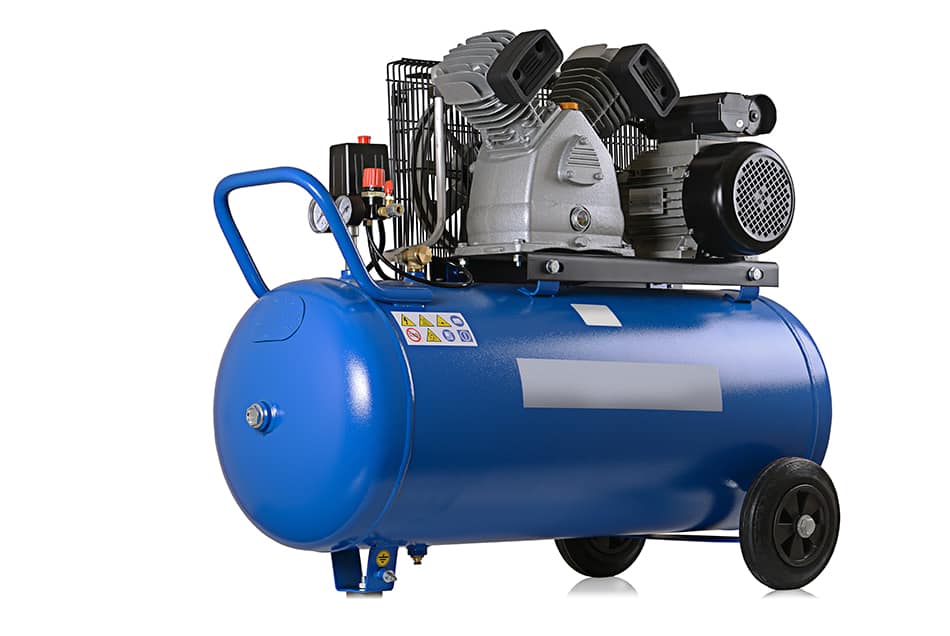 The first item on our list is both a tool and a power source. It's what powers your other pneumatic tools through the use of pressurized air flowing to the tool through an air hose, but you can also use the hoses themselves with an air gun to blow a surface clean and dry.
Air compressors come in a variety of sizes and are rated for the amount of pressure they can produce. Make sure to buy an air compressor that is rated to power all your pneumatic tools.
Drills
The first big category of power tools is drills. They all work to create holes in a surface. They can create small holes or large, and you can make holes in wood, metal, masonry, etc., depending on the type of bit you insert into the drill.
There are four types of drills:
Twist Drill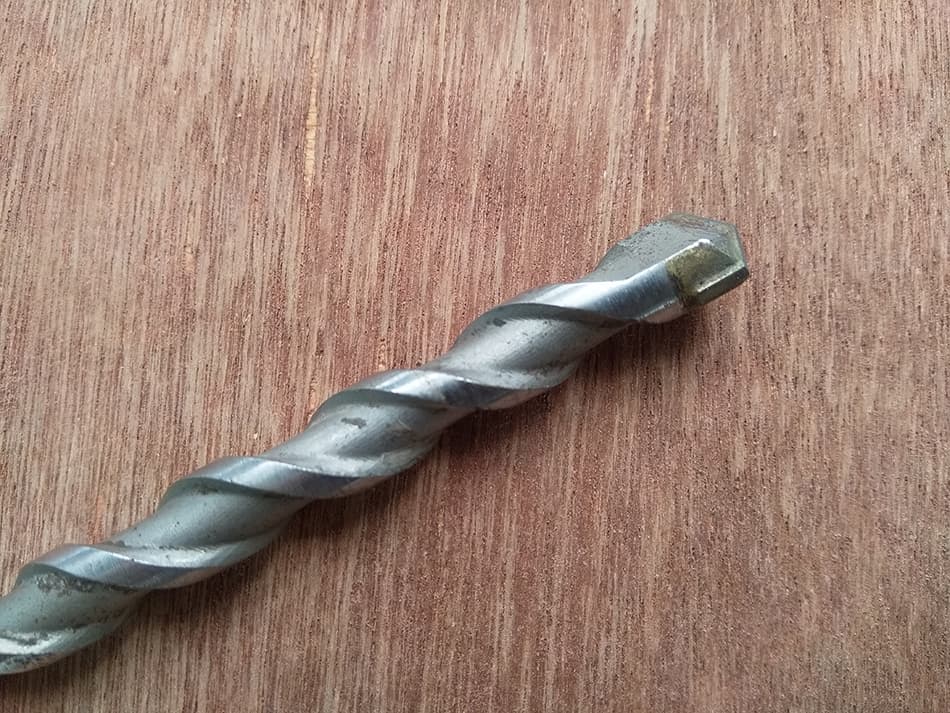 This is the most common type of drill. The drill bit spins to bore holes in your material. You can also reverse the spin, and sometimes, you can change the speed. You may need to press on the back of the drill to encourage the bit to bore through the material.
Besides boring bits, you can buy screwdriver bits and use your drill as a power screwdriver to tighten or loosen screws. One of the most common uses of a twist drill is to make guide holes for your screws.
Drill Press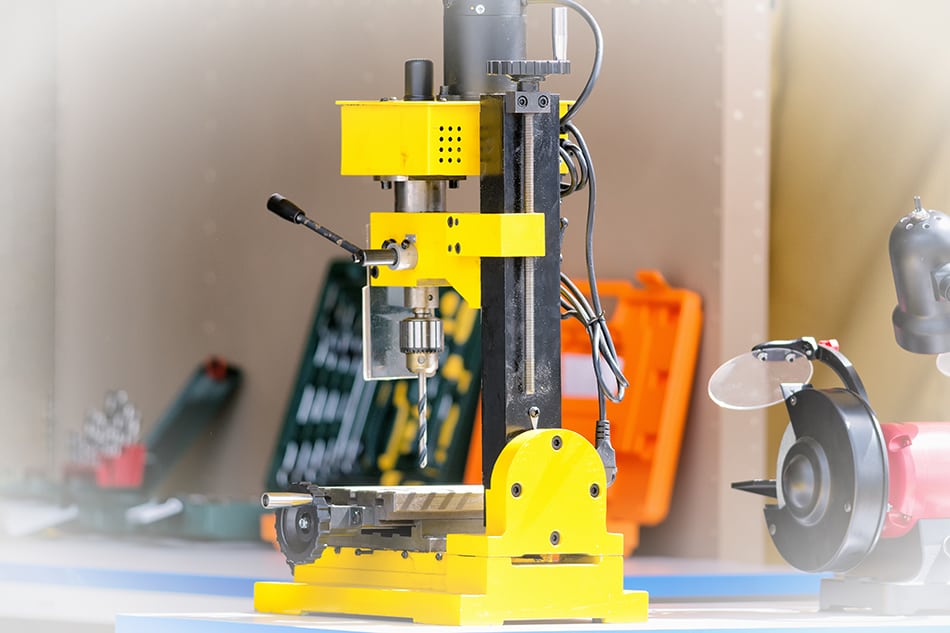 A drill press is the stationary version of a twist drill. You clamp your material down and then lower the drill bit into the surface. The nice thing about a drill press is that you can crank the drill down to drive your bit into the material with more force than you might be able to do by hand. It also ensures your drill holes are straight. Plus, you can set the depth of the press so that you drill through the material only as far as you want to.
Hammer Drill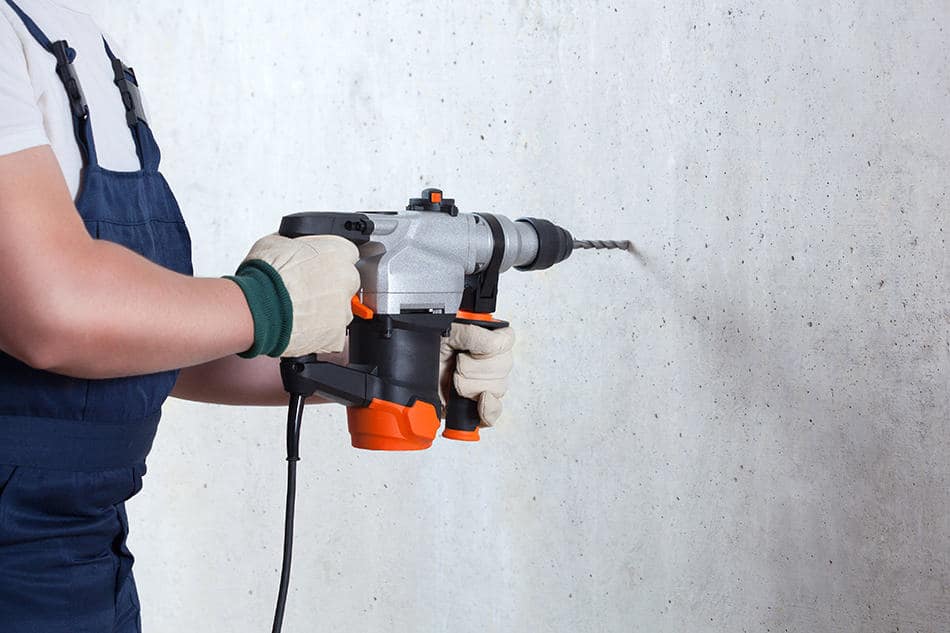 A hammer drill spins but also punches the bit into the material. They're very powerful and not suitable for all materials. Also, be sure to use bits meant for the impact of a hammer drill. You might also hear these called rotary hammers.
Used mostly for masonry, you can set these drills to rotate or hammer only.
Impact Driver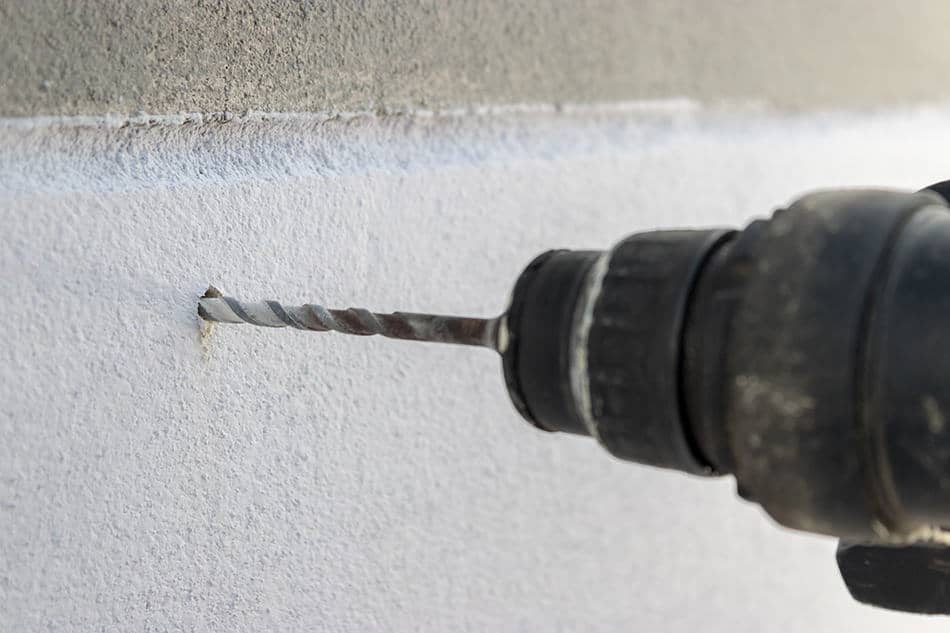 An impact driver doesn't punch into the material but does apply force as it spins. It saves you the effort of pressing the drill into the material.
Learn more about the types of drills here.
Hardware Insertion
Drills and impact drivers can certainly be used to screw nuts, bolts, and screws, but you also have other options.
Power Screwdriver
A power screwdriver works a lot like a drill but is smaller and is meant for screwing or unscrewing in soft materials, such as rubber, or when you've already drilled a guide hole. Like a drill, you can insert different bits into the tip.
Impact Wrench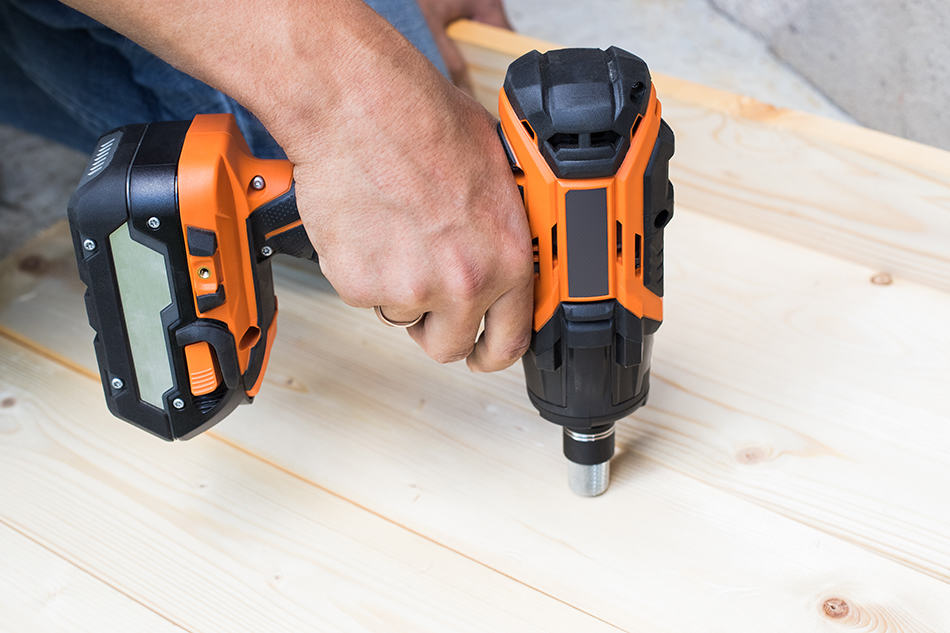 Like an impact driver, an impact wrench presses down on and turns nuts and bolts in short, powerful bursts, making it easier to remove stuck nuts and bolts. You might also hear them referred to as impactors, torque guns, or air guns, as they are usually powered by an air compressor. You can also think of these as power ratchets because they use socket attachments to turn the nuts and bolts.
Nail Gun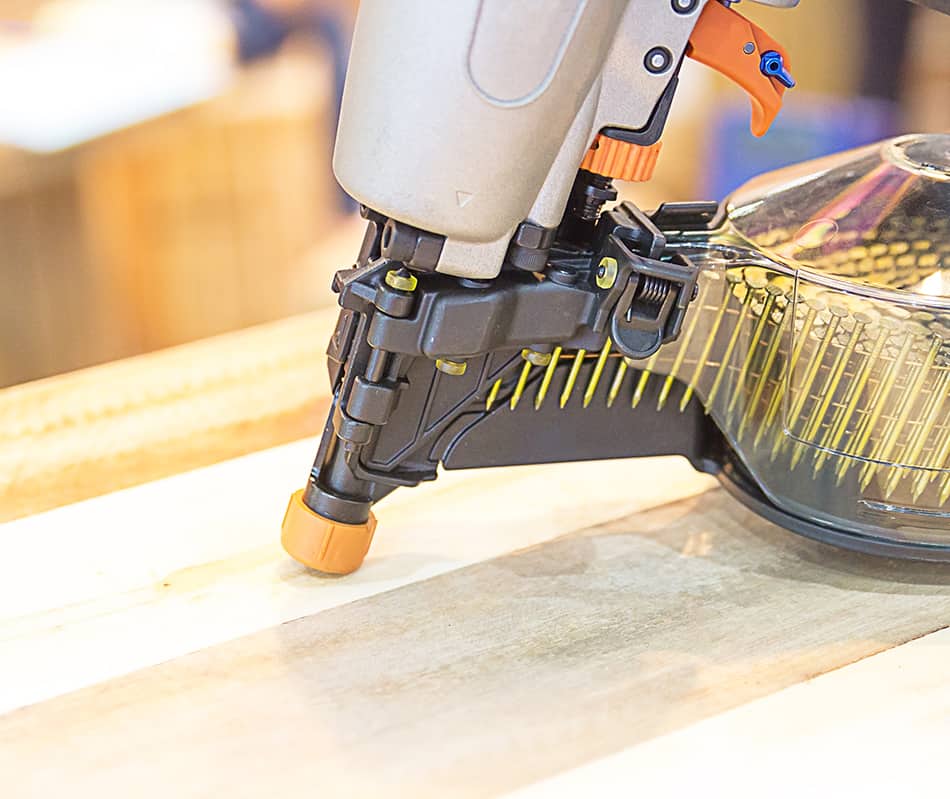 A nail gun, also called a nailer, normally runs on pneumatic power. You load nails into the magazine, and when you press the trigger, it shoots nails into the surface you're working on. You can load differently sized nails, depending on the job. They're most useful when you need to use a lot of the same-sized nails, such as when laying shingles or hanging finishing trim.
Saws
These tools are used to cut through various materials. Many types of saws include.
Chainsaw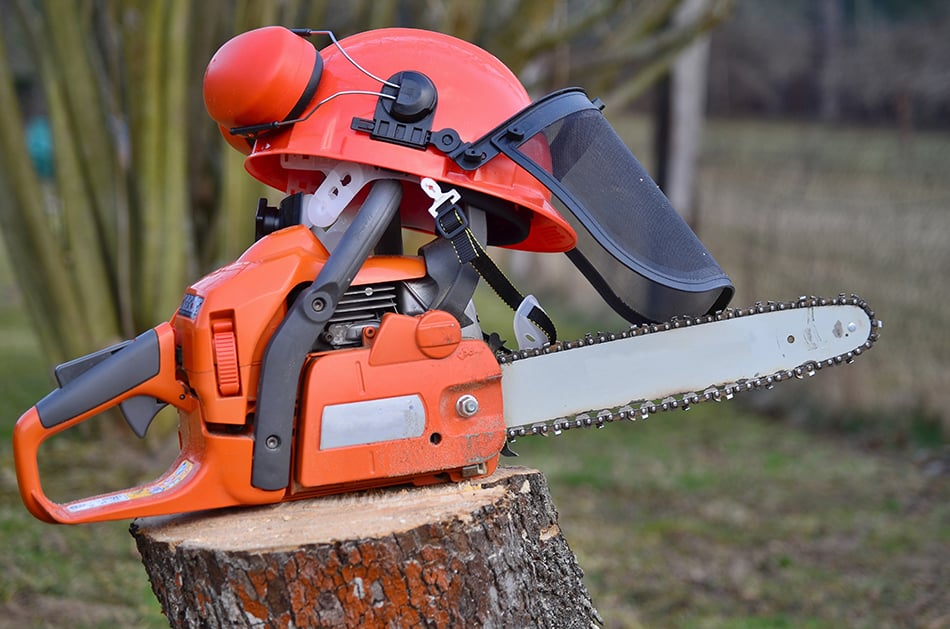 Used for making rough cuts, a sharp, powerful chainsaw cuts through wood very quickly. You can buy longer or shorter chainsaws, depending on the width of the material you need to cut. Keep in mind that longer chainsaws are heavier and more difficult to handle.
Pole Saw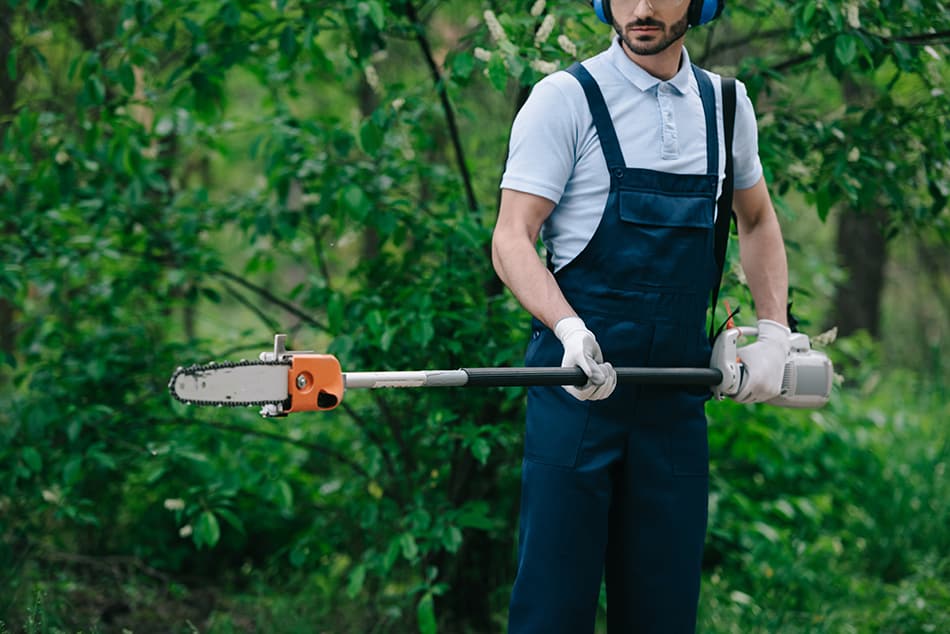 A pole saw is a small chainsaw on the end of a pole. It's even more difficult to handle than a regular chainsaw because you hold it overhead to reach high branches. It's nice not to have to carry a ladder around with you, but expect to be tired after using a pole saw.
Circular Saw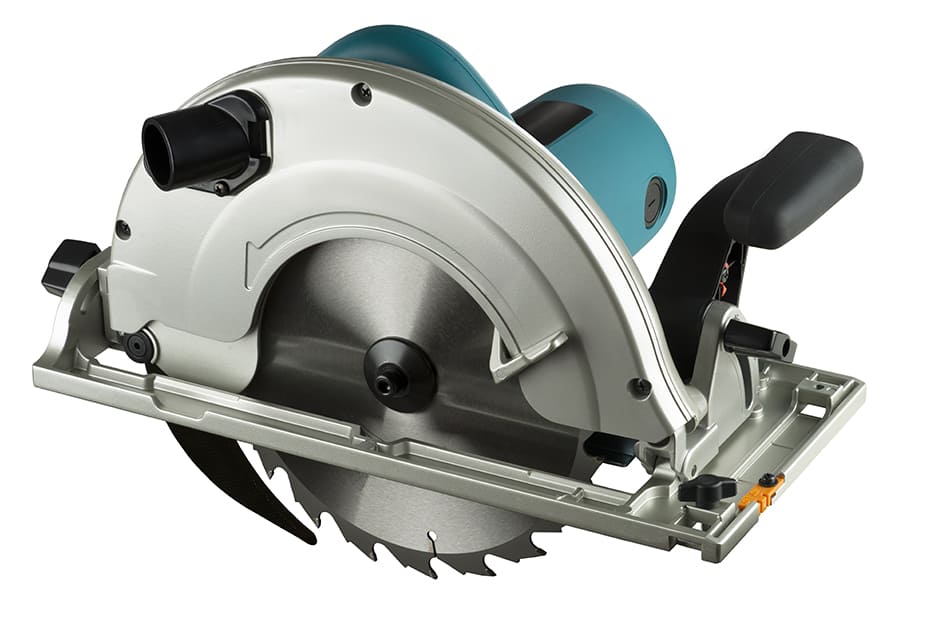 A circular saw is a portable tool that uses a rotating disc blade. You can buy blades meant to cut different materials, and the blades can be designed for making fast, rough cuts or smooth, slower cuts. You can also adjust the cutting depth to a certain degree. The straightness of your cut depends on how well you control the saw as you move it over the material.
Miter Saw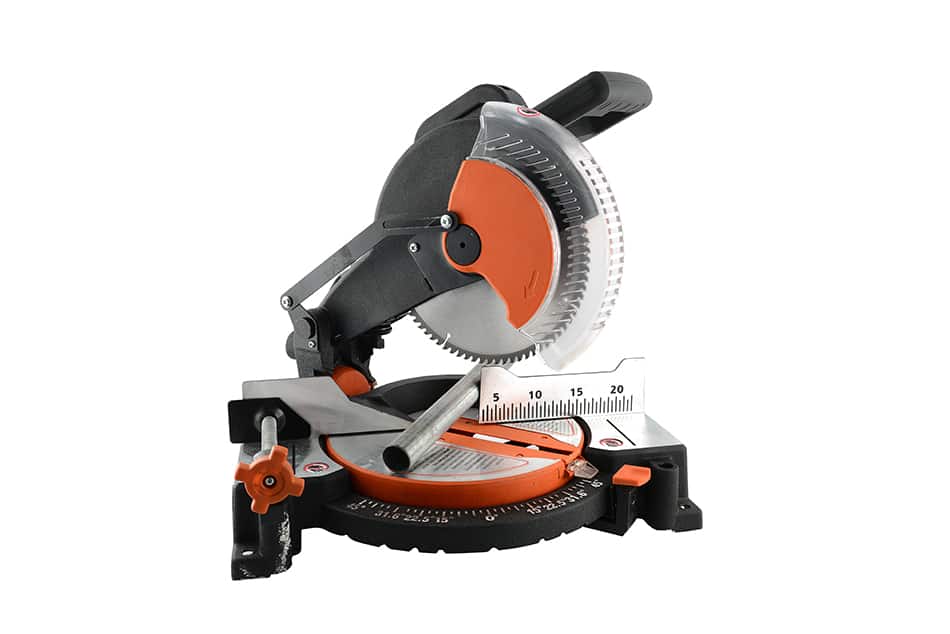 Designed to make angled cuts, a miter saw is most helpful when cutting trim. It makes short cuts with a circular blade being lowered onto the material. The blade does not move other than in an upward and downward motion.
Compound Miter Saw
The "compound" version of the miter saw moves in two ways. To make your cut, you still lower the blade onto the material, but you can also tilt the angle of the blade. This helps you get those complicated cuts needed for joining crown molding.
Flooring Saw
Combining the functions of a circular saw and a miter saw, a flooring saw is used to cut floorboards. It's portable, and the blade runs along a track to ensure the straightness of the cut. You can cut mitered angles with a flooring saw.
Track Saw
A track saw also runs on a track and is a good alternative to a circular saw when making short cuts as the track keeps your saw steady and straight. You could make longer cuts as well, but you'd need to stop the saw and slide your wood piece or the saw into position to cut the next section.
Table Saw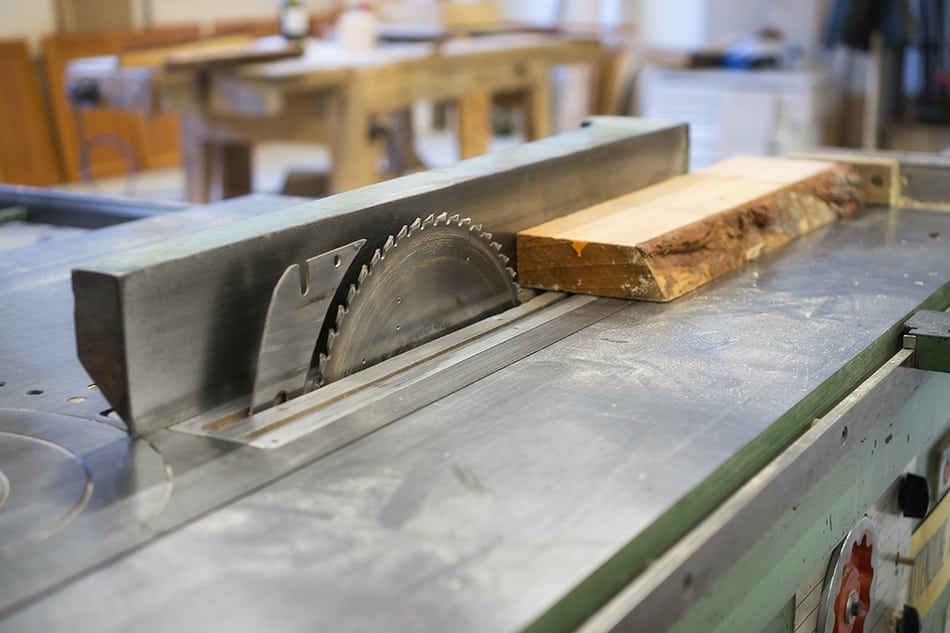 The table saw is like an upside-down, stationary circular saw. The blade comes up out of a slot in the table. Like a circular saw, you can raise or lower the saw to adjust your cutting depth. It also has adjustable guides to measure and keep your cuts straight as you push the wood or other material over the blade.
Panel Saw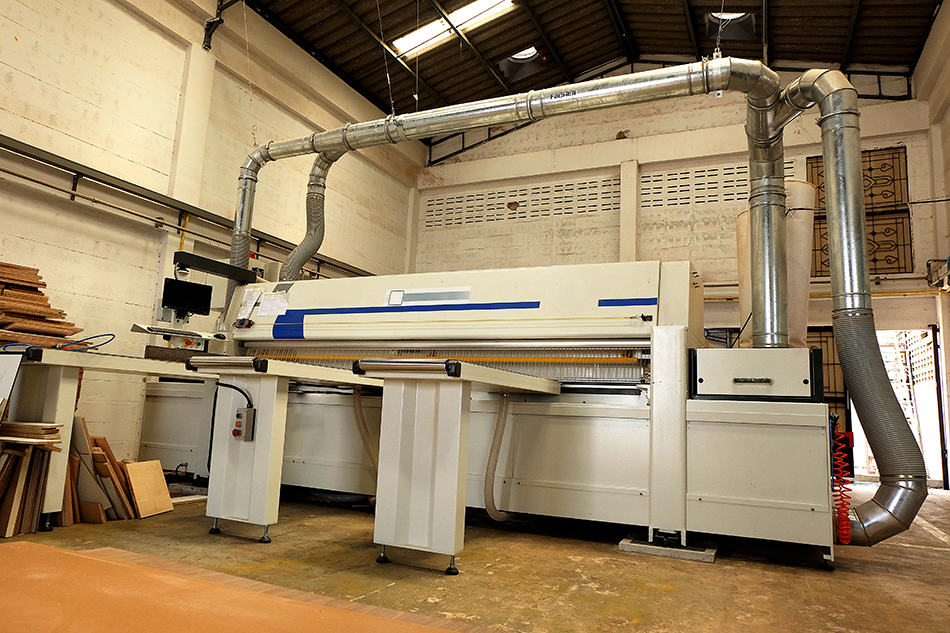 A panel saw is a vertical table saw, where the "table" stands upright. It's good for sliding large pieces of plywood or other panel sheets across the saw. It also has a rolling tray you set the panel on, so it glides over the saw smoothly and easily.
Chop Saw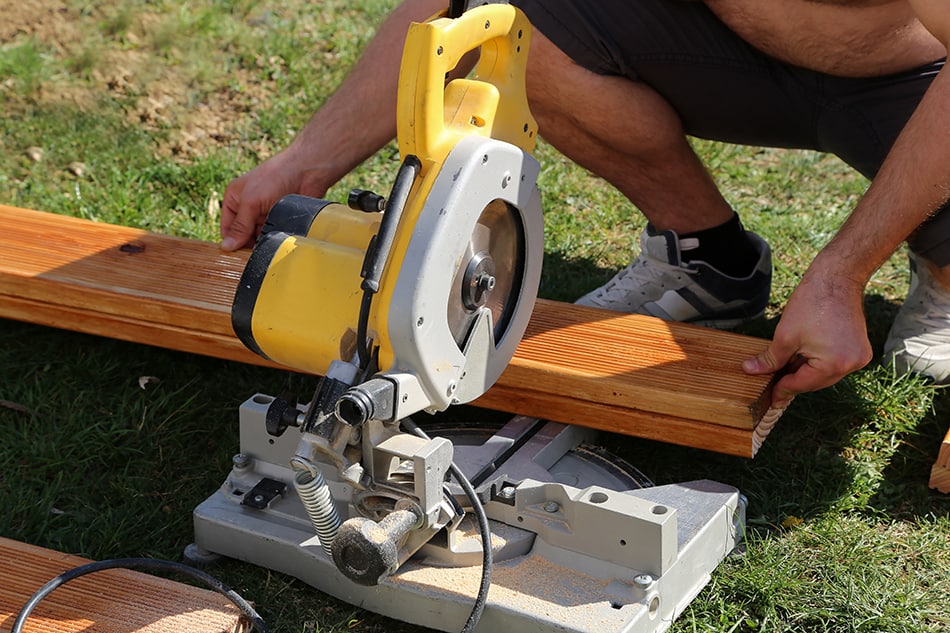 Like a circular saw and miter saws, a chop saw uses a disc blade, but rather than featuring teeth like a woodworking blade, these discs have an abrasive edge like a grinder to cut through masonry and metal. They come in both portable and stationary varieties.
Tile Saw
A tile saw uses a wet abrasive disc to cut through tiles without breaking them. They also come with a guide you can use to line up your tile and make straight cuts as you push the tile through the blade.
Band Saw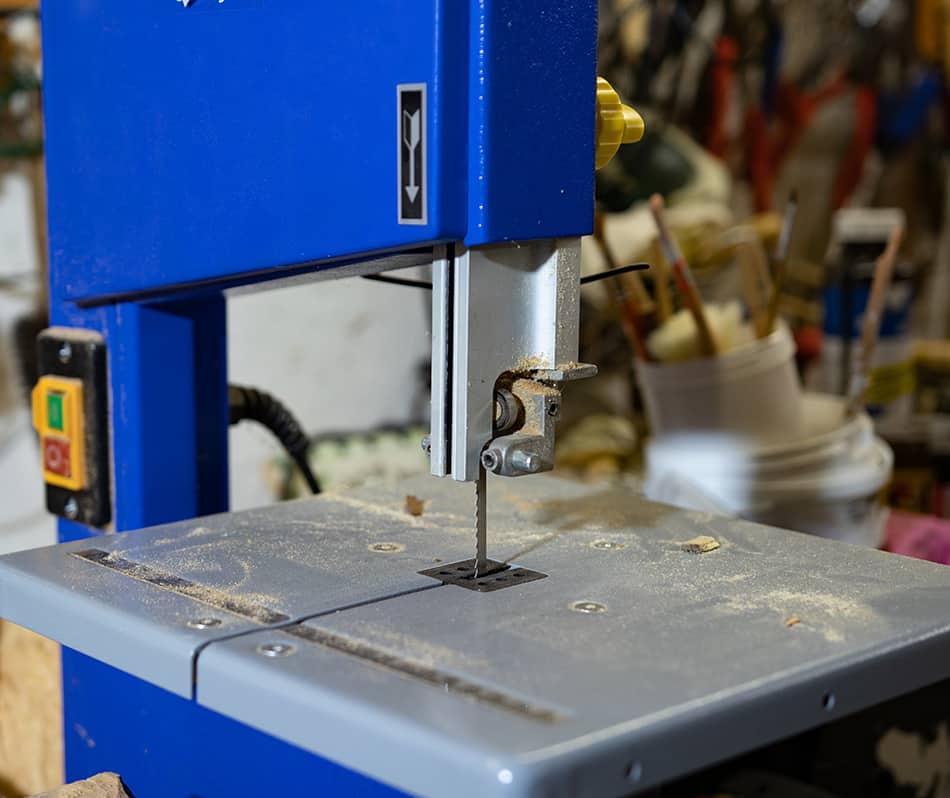 These are also mostly stationary tools, though you can find portable versions. Instead of a blade or disc, these use a thin, serrated metal band. They look like very long coping saw blades. The band rotates around two wheels, and you slide the material into it.
You can cut straight, thin lines, or you can move the material as you cut to make rounded or more intricate designs. In this way, it's much like a scroll saw or jigsaw.
Jigsaw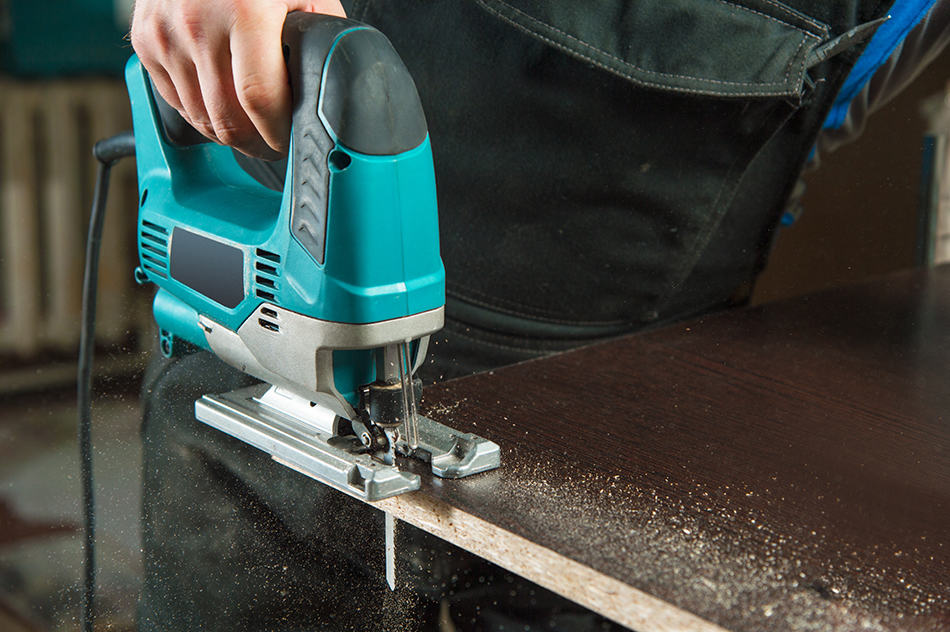 A jigsaw differs from a band saw in that the blade doesn't rotate but moves up and down. It's also handheld, so you turn the saw rather than the material. Like other saws, you can insert different blades into a jigsaw to be able to cut through a wide variety of materials, including wood, metal, plastic, and rubber.
If you're not starting from the edge of a material, you can drill a hole into it and lower your jigsaw blade into the hole to start making your cut.
You might hear a jigsaw referred to as a bayonet saw because of its thin, long blade.
Scroll Saw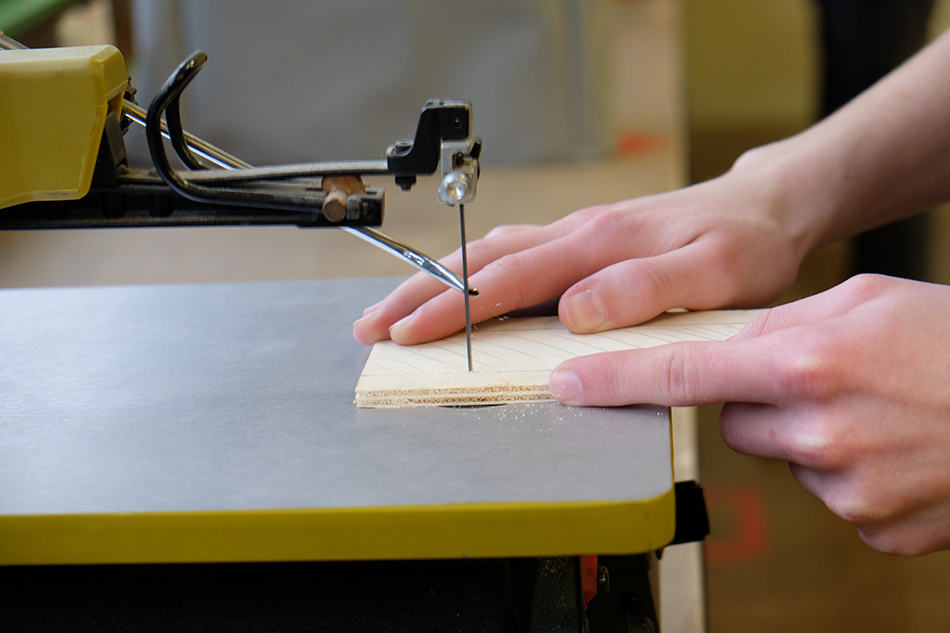 The blade of the scroll saw also moves up and down like a jigsaw but is stationary like a bandsaw. Similar to a bandsaw, you move the material around the blade. You can also control the speed of the blade with a foot pedal. In this way, they're like a sewing machine in which you could use a pedal to control the speed of the needle. This level of control allows you to stop the blade and realign your material as needed.
Reciprocating Saw
A reciprocating saw is a lot like a jigsaw, except instead of the blade moving up and down, it moves in and out. They're also unique because you hold a reciprocating saw with two hands like a rifle. It even has a gun grip and trigger. With its blade sticking out the muzzle, if anything should be called a bayonet saw, this is it.
Sawzall was the first company to make these, so you may hear people still calling them that.
Oscillating Saw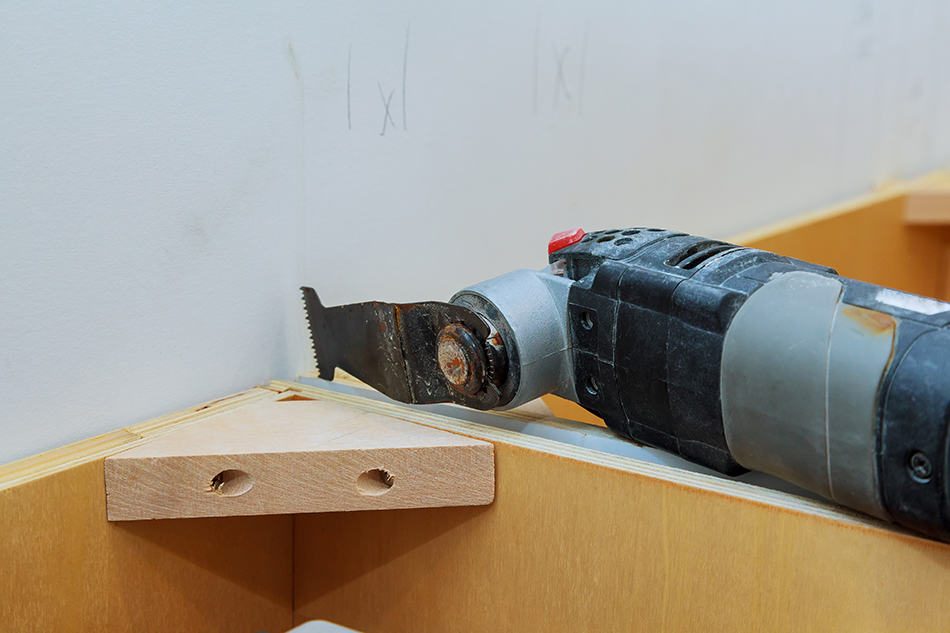 The blade on an oscillating saw moves back and forth to make short cuts. Besides flat and round blades, you can also attach grinding discs and other scraping tools to an oscillating tool.
Spiral Saw
Also called a rotary saw (not to be confused with a circular saw), these saws operate and hand like a drill. The saw blade inserts like a drill bit and spins as you move the blade through the material you want to cut. It works great for cutting shapes out of drywall or panelboard. Because it is handheld, though, the quality of the cut depends a lot on your steadiness of hand.
Wall Chaser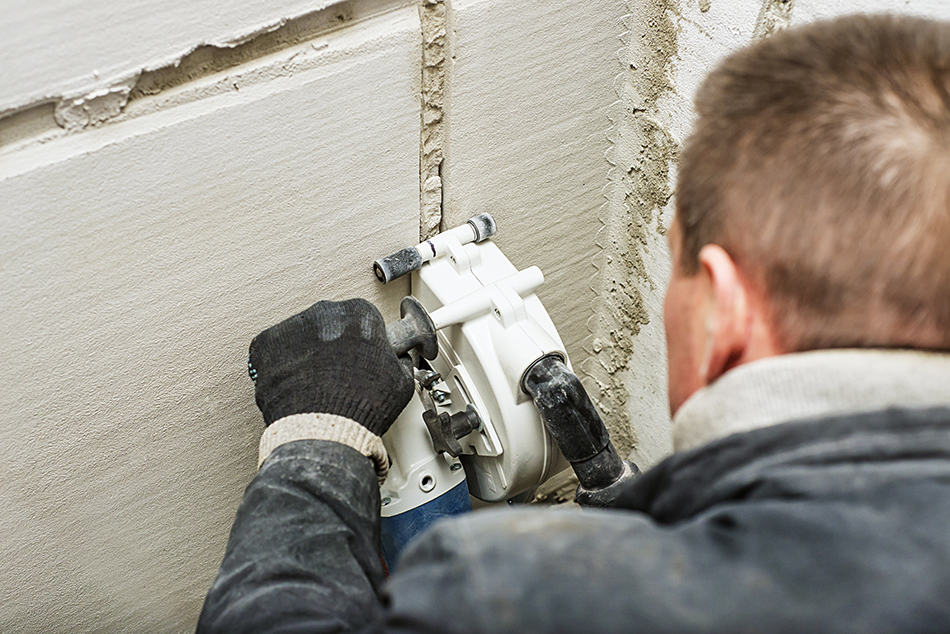 A wall chaser has two parallel cutting discs used to cut slots out of walls or other surfaces for you to be able to access and run wiring or plumbing up the wall. Like a circular saw, it's up to you to follow a straight line as you cut.
Biscuit Joiner
You could also call this a plate joiner. It's a specialized tool that cuts slots out of wood while keeping the removed material in one piece. You then position that removed material, called a biscuit, lengthwise in the slots of two adjoining boards to join them together with a stronger bond than glue.
Jointer
Not to be confused with a joiner, a jointer is more like a power planer. It slides over the surface of a board to make sure it's smooth and even all the way across or to re-cut it to be thinner. Note that a jointer only cuts one surface at a time.
Thickness Planer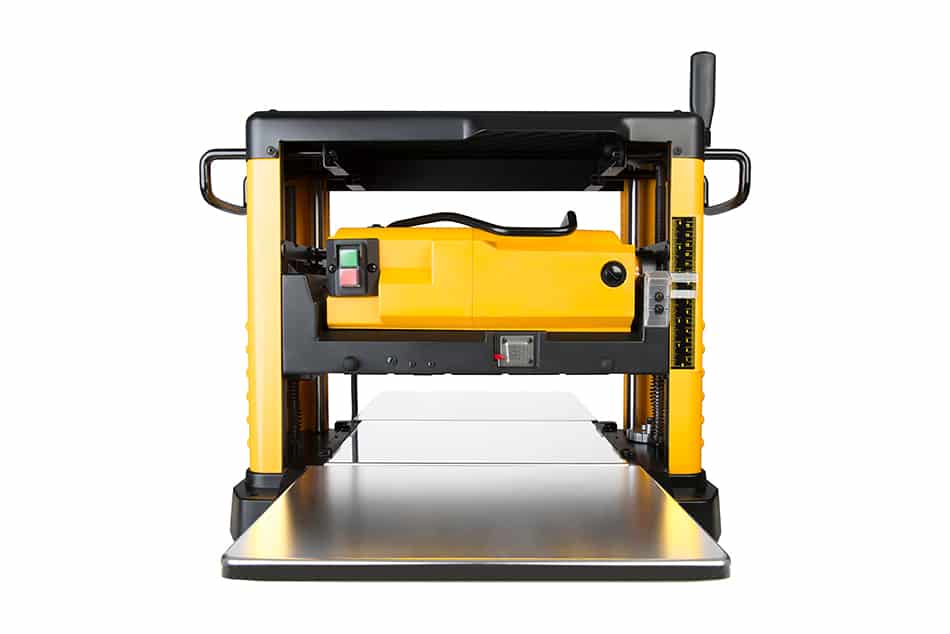 Like a jointer, a thickness planer evens a board's thickness and can re-cut it as needed, but it does so from both sides. Both are stationary, and you feed the board over into the tool. They're much easier to use and produce more accurate results than a hand planer.
Grinders
Grinders form the middle ground between saws and sanders. They use abrasive discs and wheels to cut through, shape, and polish metal and masonry.
Angle Grinder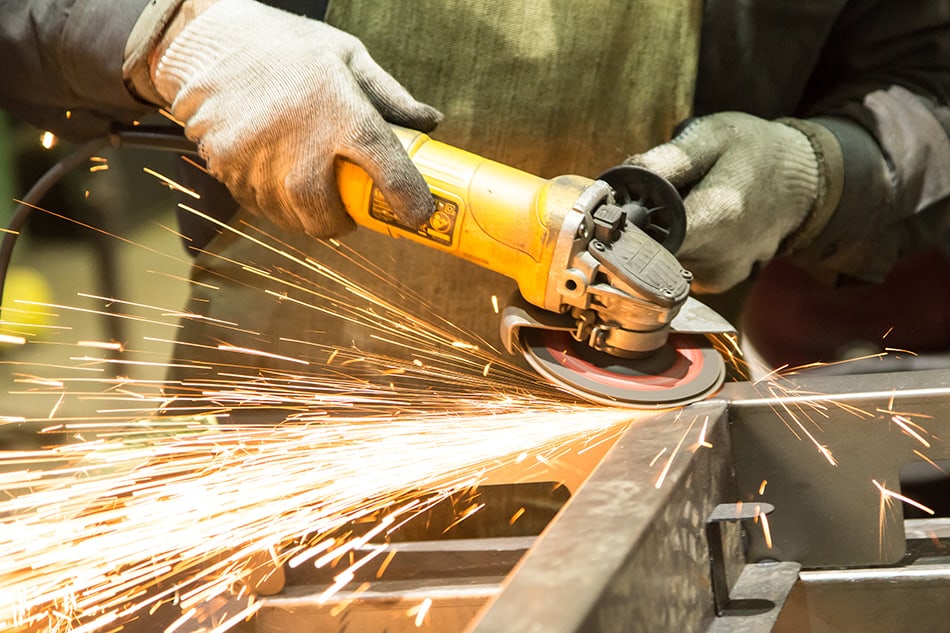 Sometimes called disc grinders, you can attach different discs or brushes to an angle grinder to cut through or polish metal, concrete, stone, etc. When cutting, you're likely to create sparks, so be sure to wear protective gear. Angle grinders are portable.
Bench Grinder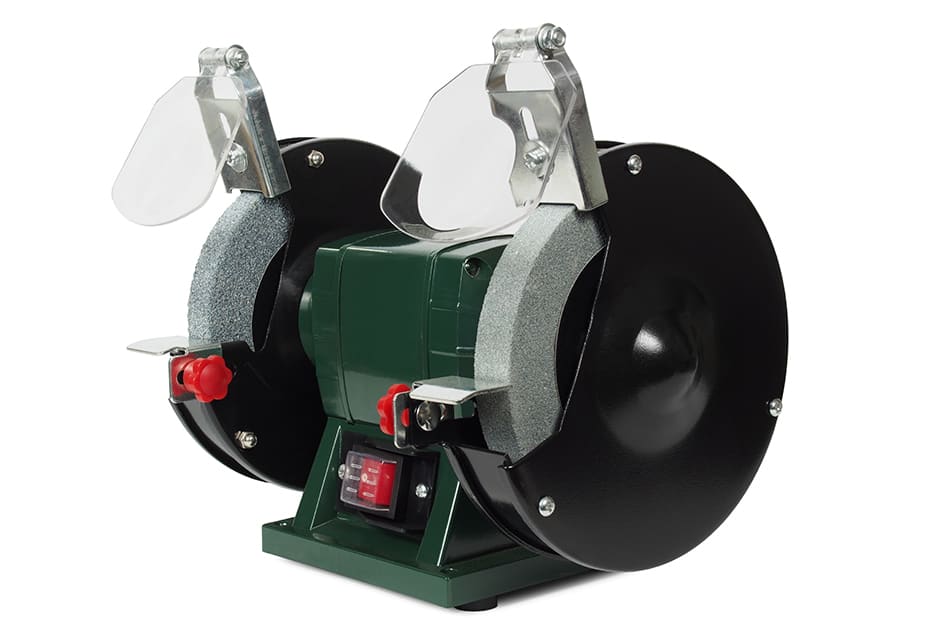 The stationary version is called a bench grinder. An abrasive wheel spins, and you lower the metal or other material onto it. You can change the wheels, just as you would change the discs on an angle grinder. The most common use of a bench grinder is sharpening metal tools. It takes some practice to do this well, but once you learn how to use a bench grinder properly, you'll be able to keep a lot of your other tools in better working order.
Sanders
A sander is used to finish a surface to make sure it's as smooth as possible. With each of these types of sanders, you can attach or insert different types of sanding material to use on different surfaces and to get a rougher or smoother surface.
Belt Sander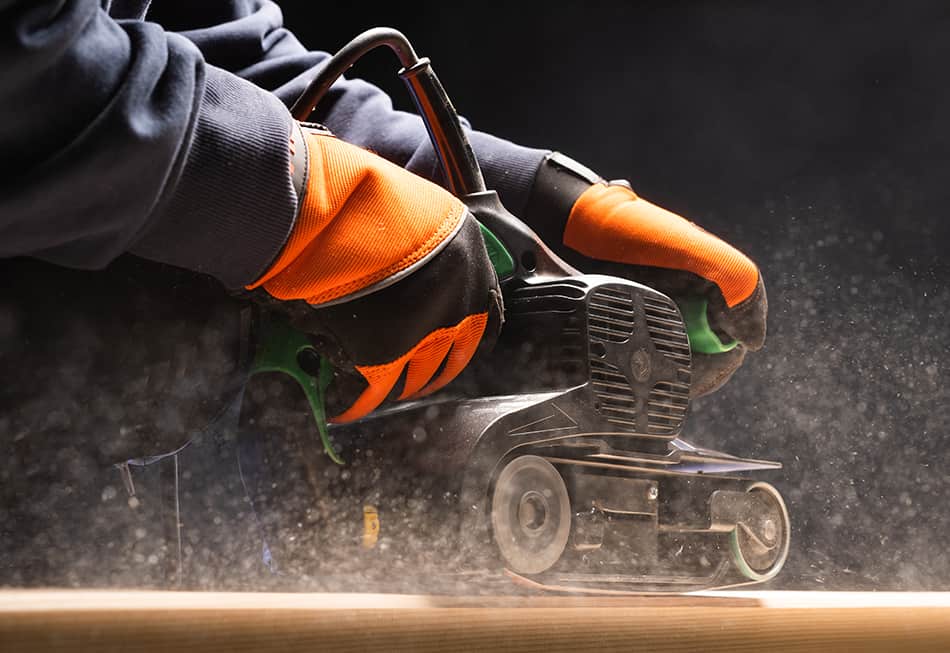 A belt sander can be portable or stationary. It operates by rotating a loop or sandpaper around the rollers. In general, this is the most powerful type of sander.
Orbital Sander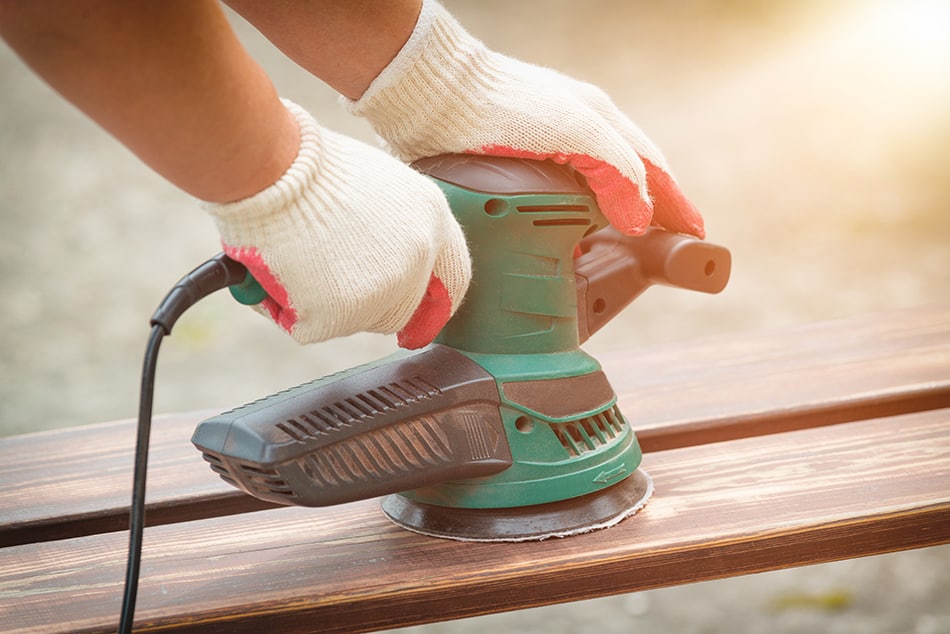 An orbital sander doesn't rotate a belt but vibrates discs in a circular pattern. It's easy to use, but if you're not careful to keep it moving, it will leave swirl marks in your material.
Random Orbital Sander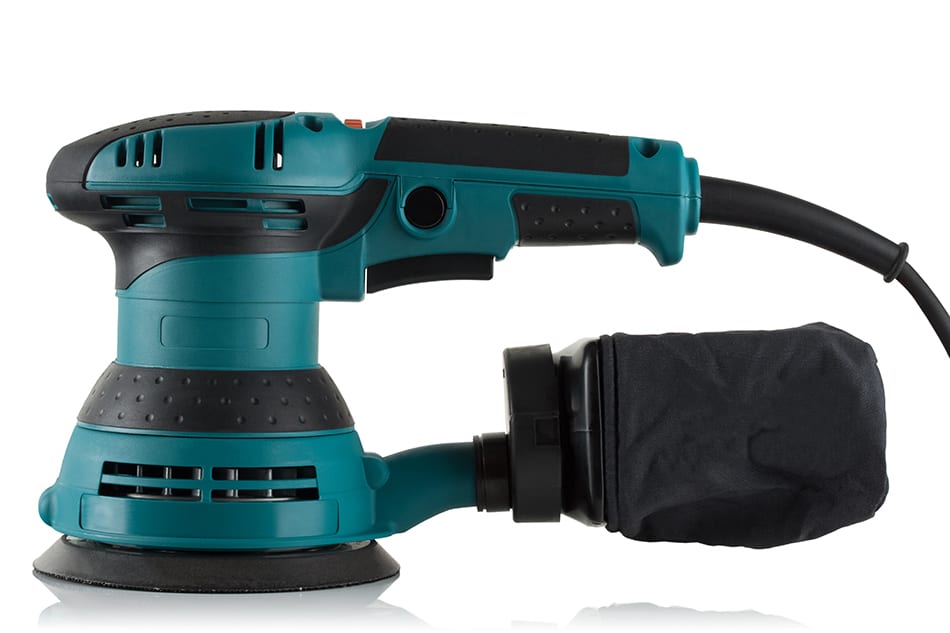 Random orbital sanders spin the disc but also move it for you, so it doesn't leave swirls.
Woodworking
Not quite saws, not quite grinders or sanders, these two tools remove material but in a very specific manner.
Lathe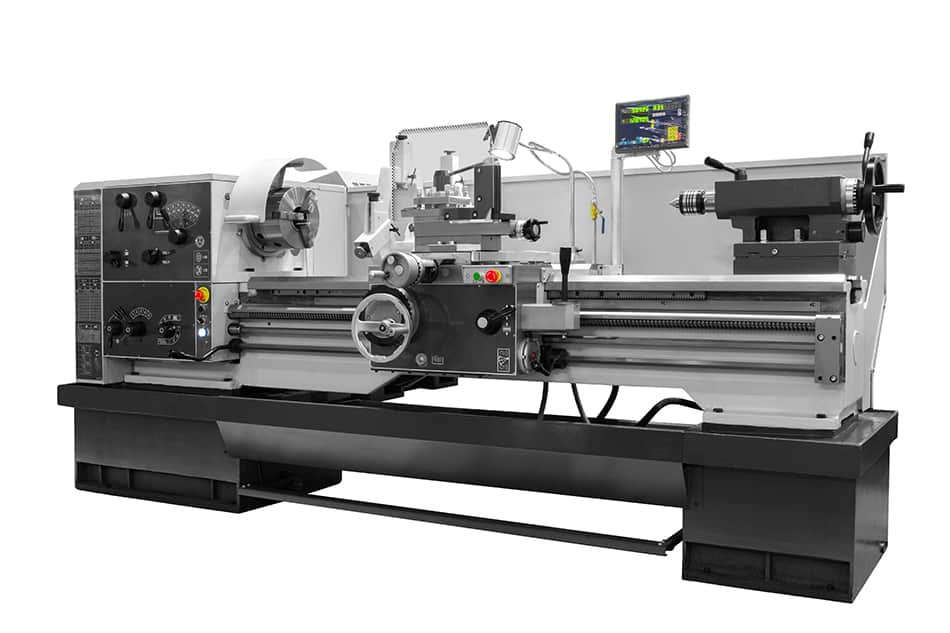 A lathe is a stationary tool in which you place different chisel bits, then rotate a piece of material next to it as it spins to create rounded surfaces and grooves. This is the tool woodworkers use to create baseball bats and rounded, ornate banisters.
Router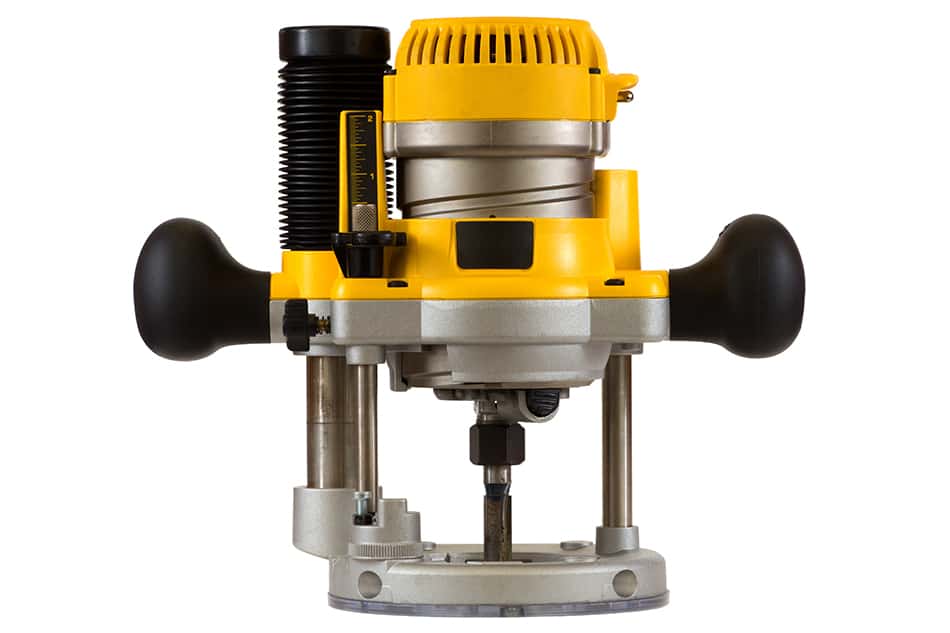 Handheld and portable in most cases, you move a router over the surface of a material to cut grooves and beveled designs. You can change the attachment at the bottom to create larger or smaller paths and different edge types.
Heat Application – Heat Guns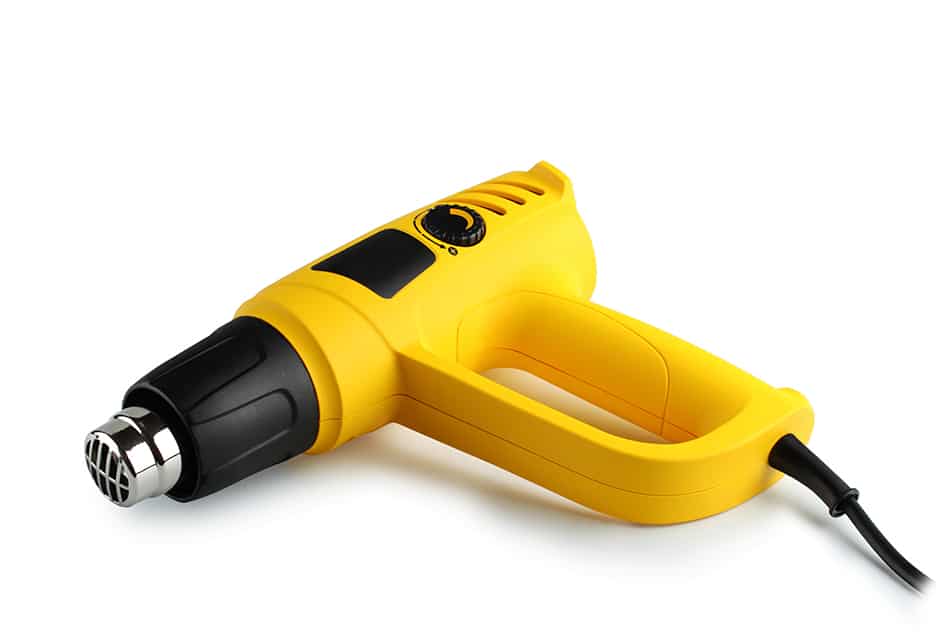 Coming in a variety of shapes and sizes, heat guns are like specialized irons. They apply hot air to do everything from seal packaging materials to loosen wallpaper to peel paint to soften and shape plastic. They are rated to produce different levels of heat, so make sure you know how hot you need your material to be before buying a heat gun.