A wrench is a common tool you have probably used before, but there are a wide variety of wrenches, many of that you have probably never even heard of.
In the US, the spanner (spanner wrench) and wrench are almost considered the same. In the UK, there are some differences – a spanner is considered an adjustable wrench and is used to remove to adjust a fastening component, while a wrench is utilized to turn non-fastening parts.
In this article, we'll uncover different wrench types (including adjustable, box-end, open-end wrenches, and many more).
Types of Wrenches
This list details the numerous types of wrenches available and what they are used for.
Adjustable Wrench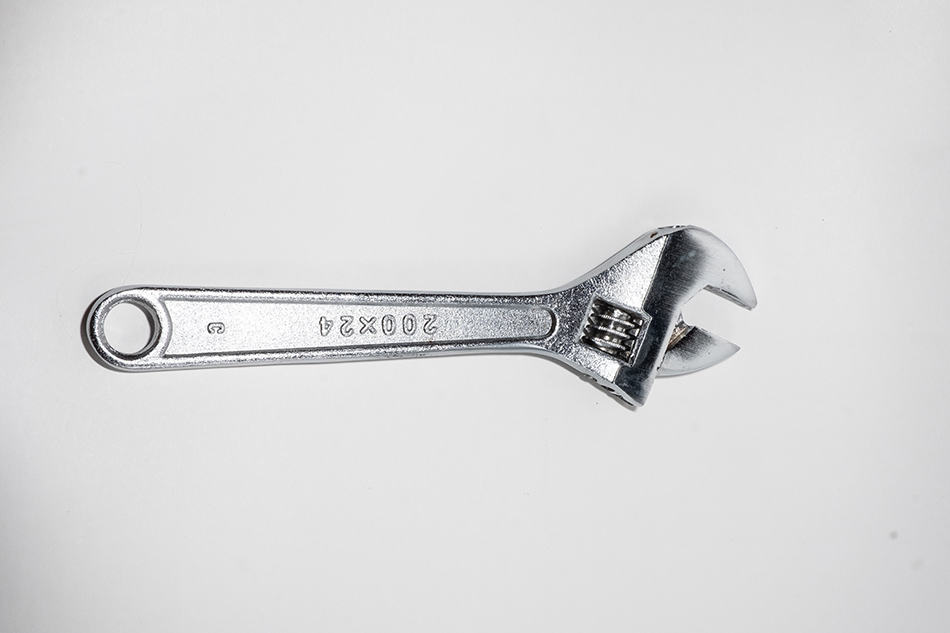 An adjustable wrench is also known as a crescent wrench because its end is shaped like a crescent. It has a fitted screw underneath one side of the crescent that will alter the wrench size as the screw is turned. Turning the screw in one way will tighten the wrench, while turning it in the opposite way will loosen the wrench.
This is one of the most common and popular types of wrench around because it is a single tool that can replace an entire set of different-sized open-ended wrenches.
This will be particularly useful to help condense down a toolbox for portability purposes. An adjustable wrench allows you to effectively customize the size of the wrench for whatever purpose you need it for.
Box-Ended Wrench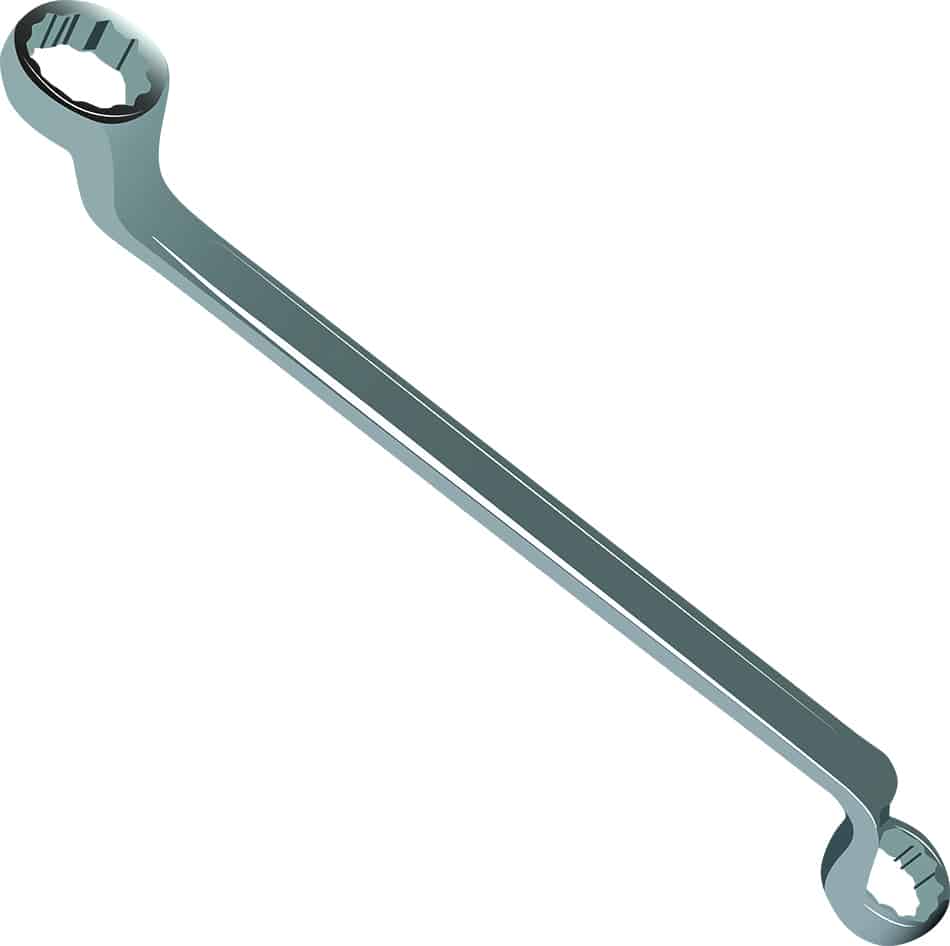 This type of wrench has a closed loop at either end of the central handlebar, and these can be flat in line with the handle or held at an angle. The looped ends will have ridges inside that allow them to grip onto square or hexagonal nuts.
This conventional wrench is usually utilized for nuts that are stuck or screwed on very tightly. They come in various sizes and are not adjustable, so you will need to find the correct-sized box-ended wrench for the nuts you need to loosen. For this reason, these types of wrenches are usually purchased in a wrench set that contains a range of sizes.
Combination Wrench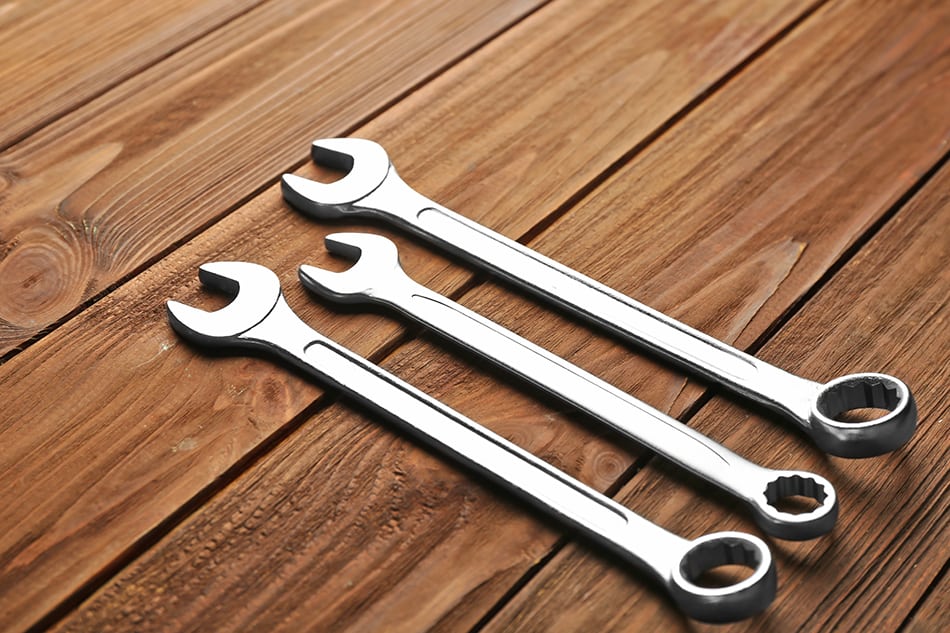 A combination wrench features a box-end wrench at one end and an open-end wrench at the other. The box-end will be a closed-loop with ridges for loosening square or hexagonal nuts, while the open-end will be vaguely U-shaped and designed to unscrew nuts more quickly.
Typically, the box-end would be used to loosen very tightly screwed nuts, and the user would then swap the ends of the tool and use the open end of the wrench to remove the already loosened nut.
Impact Wrench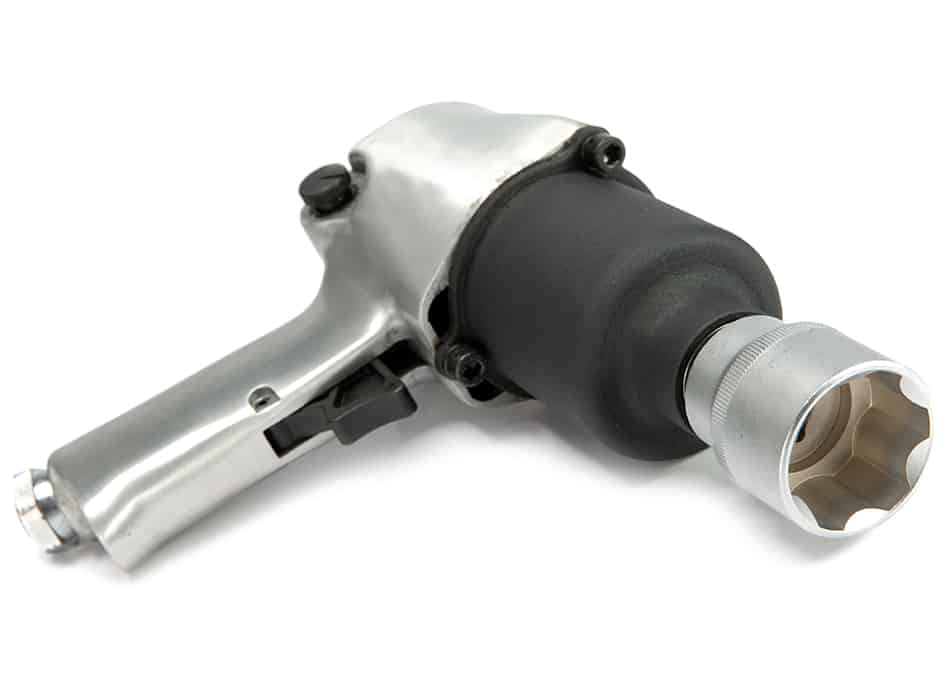 This is a type of power wrench that can be powered by battery or by compressed air. Looks-wise, it resembles a small cordless drill. Those impact wrenches that utilize compressed air can sometimes be known as air guns or air wrenches.
Whichever type of power they use, air wrenches are great for quickly loosening stubborn bolts without having to exert any manpower. These are great for reducing fatigue if you have a lot of nuts to loosen, as they can apply high levels of torque to effectively remove nuts while saving your own energy. They are less useful in areas that require precision.
Crowfoot Wrench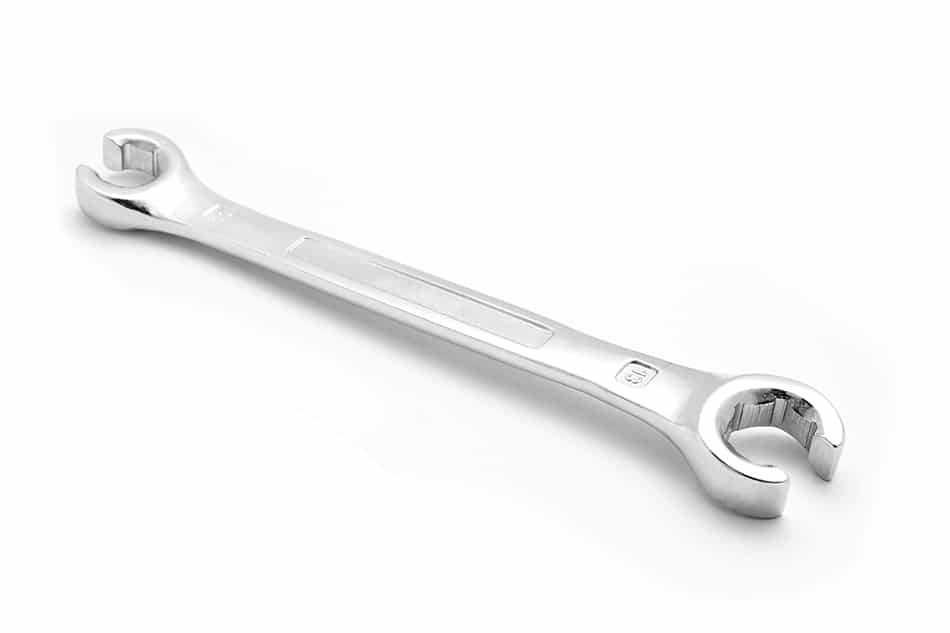 This is an odd-looking tool because it takes the shape of just a wrench head with no attached handle. This wrench type is designed for use in tight spaces or difficult-to-reach areas and can be attached to a ratchet handle or another type of socket handle to allow you to be able to reach areas you couldn't access with an ordinary wrench.
This will be especially useful when working on machinery or vehicles, as it means you can unscrew hard-to-reach bolts without having to disassemble the whole machine to get to them.
Allen Wrench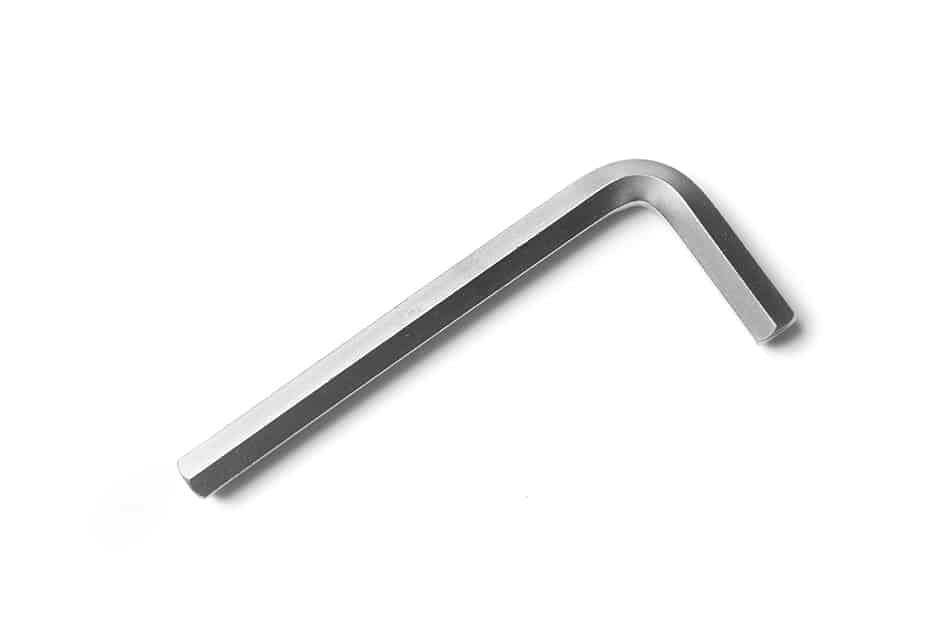 This tool is also known as an Allen key or Hex key. It is made from a piece of metal that has a hexagonal cross-section. It will be shaped in a simple L-shape, with one end being used as the handle and the other being used to tighten or loosen bolts or screws with a recessed head.
These types of wrenches are commonly used on bicycles, door furniture, and furniture assembly. You will often find one of these tools included when you buy a piece of furniture as a means to help you assemble it. You can also buy sets of Allen wrenches in varying sizes.
Oil Filter Wrench / Strap Wrench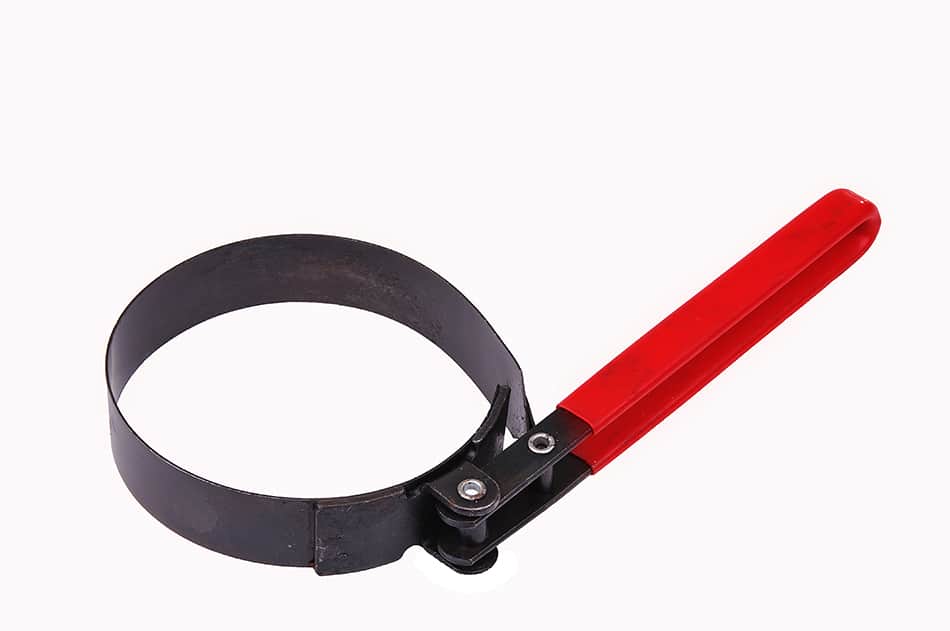 These wrenches are used by mechanics in the automotive industry. The design of the wrench can vary between the make and model of the car, but generally speaking, there are four different designs of an oil filter wrench. Oil filter wrenches with straps (or strap wrenches) will have either a chain or metal strap that wraps around the casing of the oil filter.
Oil filter wrenches may also have a claw foot that would be used in the same way as an adjustable wrench. Oil filter wrenches can also be socket-style, and these have ends that are shaped like a bowl that is missing some sides.
They would fix over the top of a filter cap and be attached to a ratchet handle for use.
Lug Wrench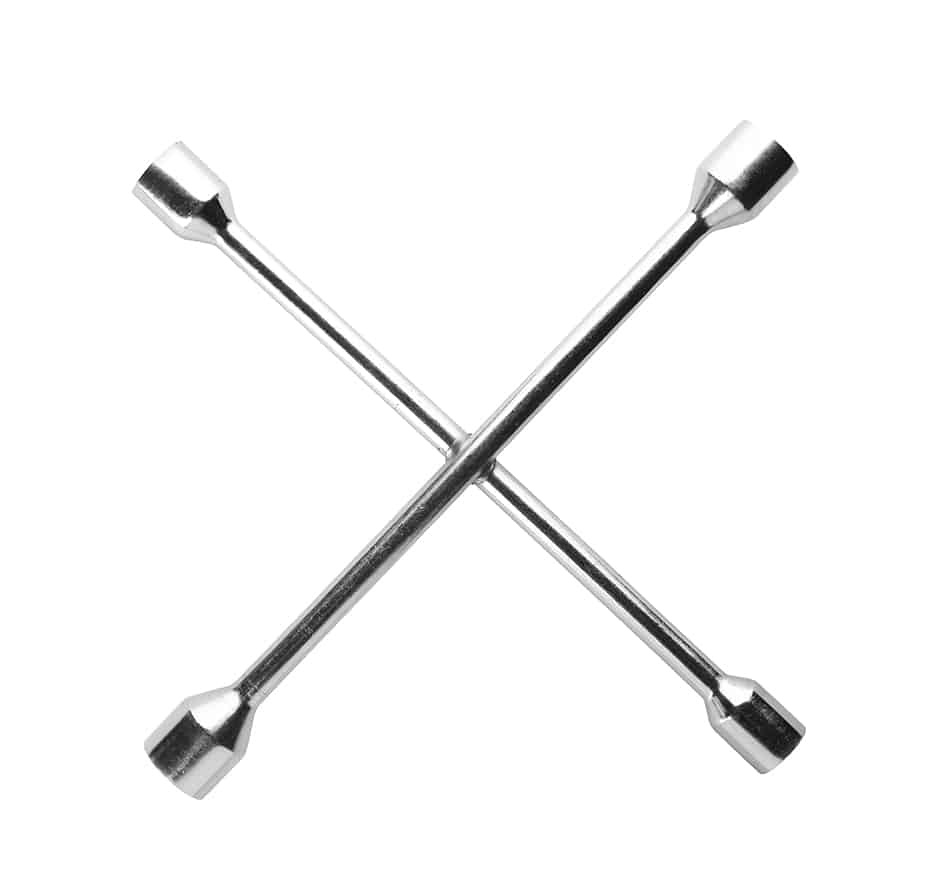 Lug wrenches typically come in two designs. The standard lug wrench will be L-shaped, with a socket at either end, resulting in two sockets in total. The other type of lug wrench also goes by the name of 'spider wrench' and is X-shaped.
This type of wrench also has a socket on every end, resulting in a total of four sockets. They are known as lug wrenches because they are intended for the purpose of loosening or tightening lug nuts on automotive vehicles.
They work in a similar way to a breaker bar, but with wrench sockets on the ends, so the longer the tool is, the more torque will be created when physical pressure is applied.
Pipe Wrench
Pipe wrenches are most commonly used by plumbers and other professionals who work with pipes. It is a sturdy and useful tool, which works in a similar way to an adjustable wrench but is more rugged.
Its end is F-shaped, with an adjustable bar that can be moved up or down the handle to alter the size of the wrench, allowing it to be customized to fit the size of the pipe you are working with.
The jaws of this wrench have serrated teeth, which can easily scratch pipes or fittings and leave marks, so it is intended to be used on pipes and equipment that will not usually be seen, for example, those that are underneath floorboards or inside walls.
Open-Ended Wrench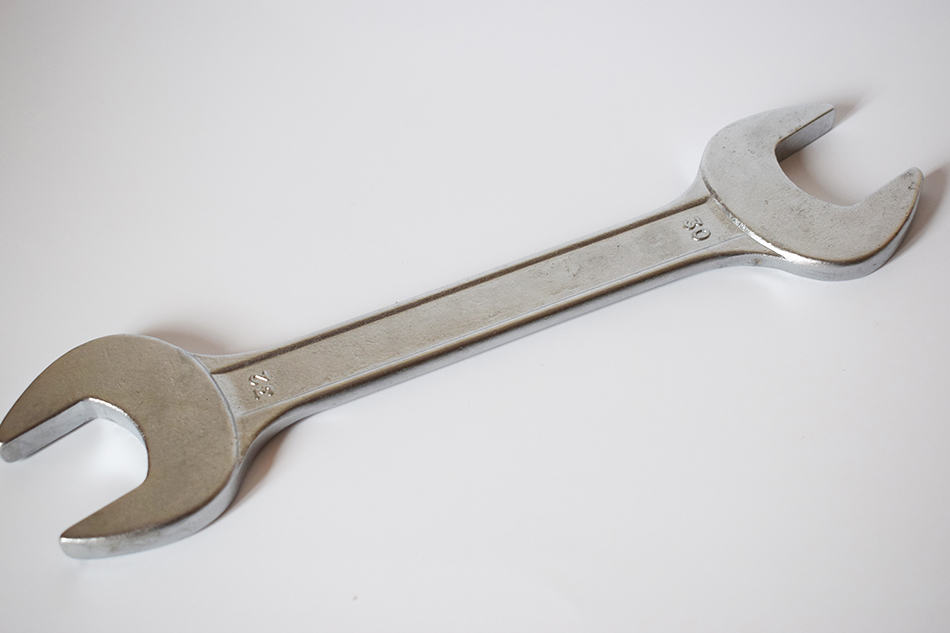 This is one of the most commonly used types of wrenches, which can be used in a multitude of situations, and therefore it is popular in most toolboxes. It has an open C-shaped wrench at either end, with one being slightly smaller than the other.
The open shape means that it can be used both horizontally or vertically because it can grip a nut from above as well as from the side, unlike a box-ended wrench that can only grip a nut when laid along its side. This makes it useful in a greater number of instances than a box-ended wrench.
However, it is more likely to round the edges of nuts compared with a box-ended wrench. It is also better for loosening nuts that are not too stuck or stubborn.
Socket Wrench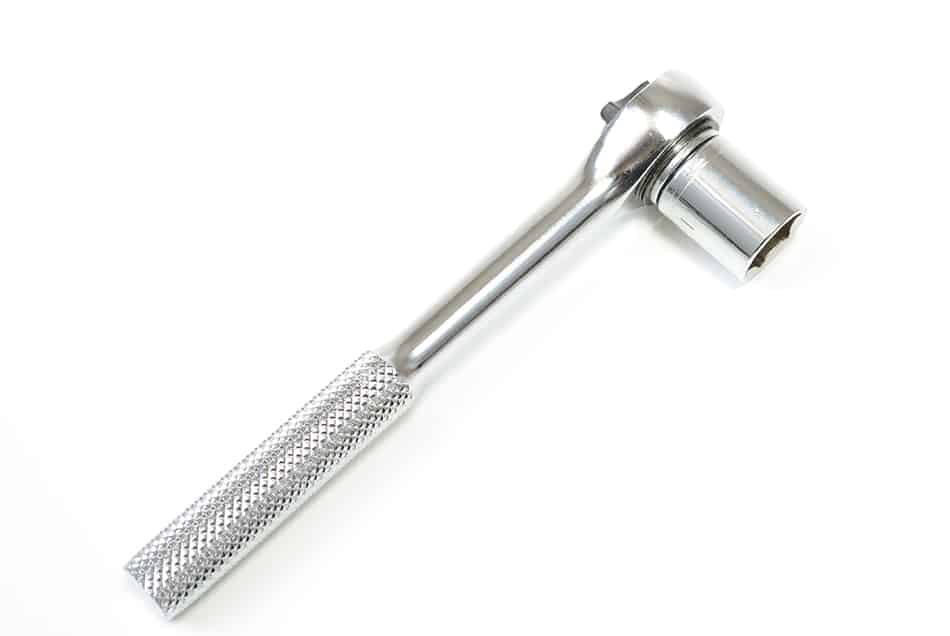 This type of wrench is also known as a ratchet or ratchet wrench. It will usually come with a set of sockets in different sizes that can all be used interchangeably on the socket wrench, depending on whether the size is compatible with the nut you are tightening or loosening.
The benefit of this tool is the ratcheting mechanism at one end, which allows you to repeat small movements to move a nut without having to lift the tool and replace it in the correct position. This can save considerable time and frustration when working in tight spaces.
Ratcheting Wrench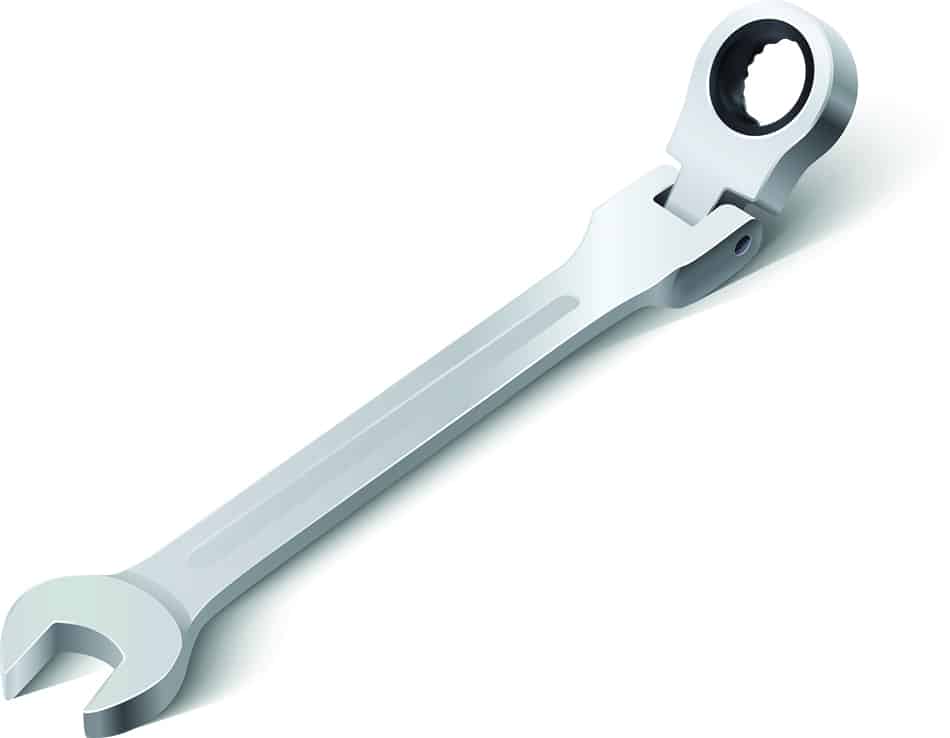 A ratcheting wrench can look like a box-ended wrench, an open-ended wrench, or a combination wrench with different fittings at either end. The important difference between these tools and a ratcheting wrench is that a ratcheting wrench will have a ratchet mechanism at either one end or both ends.
This allows the user to make back and forward movements to loosen or tighten a nut without having to lift it up and readjust its position on the nut. This can make the process of loosening or tightening nuts much quicker and will also make working in small spaces much easier.
Torque Wrench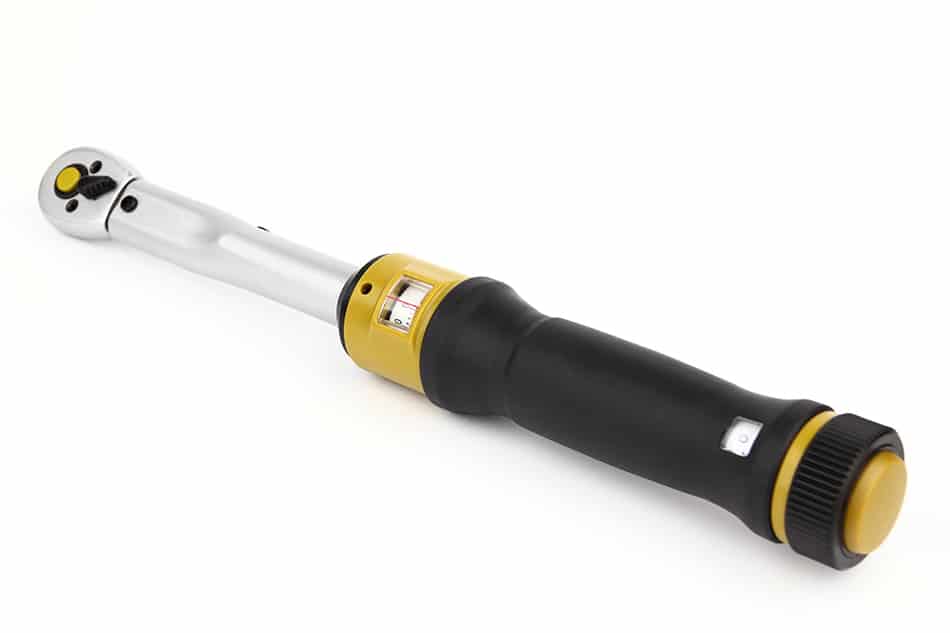 This is a type of socket wrench, with a socket at one end that cups itself over nuts or bolts to loosen or tighten them. It is called a torque wrench because it will apply a certain level of torque to ensure that a nut is tightened at the precise position required and prevents over-tightening.
These tools can be calibrated with a specific level of torque, either digitally or manually. These types of wrenches are most popular in the automotive industry, where the exact tightness of nuts will be specified by the manufacturer, and accuracy is of utmost importance. They may also be used on other types of machinery, such as farm equipment.
Alligator Wrench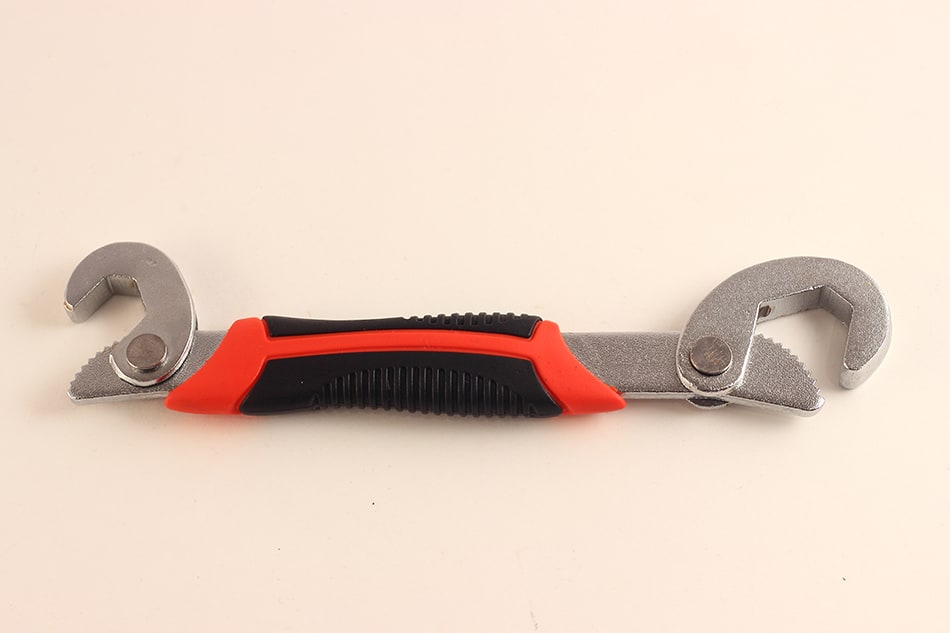 This is a large and sturdy wrench that was once popular but has, in recent years, been predominantly replaced by better-designed wrenches and is therefore rarely seen. It is named the Alligator wrench because the end of the wrench is shaped like alligator jaws, with one side being smooth and the other being serrated.
These tools were originally designed to work with square-shaped nuts, which are less common these days, and so this also contributes to the demise in popularity of the alligator wrench.
Chain Wrench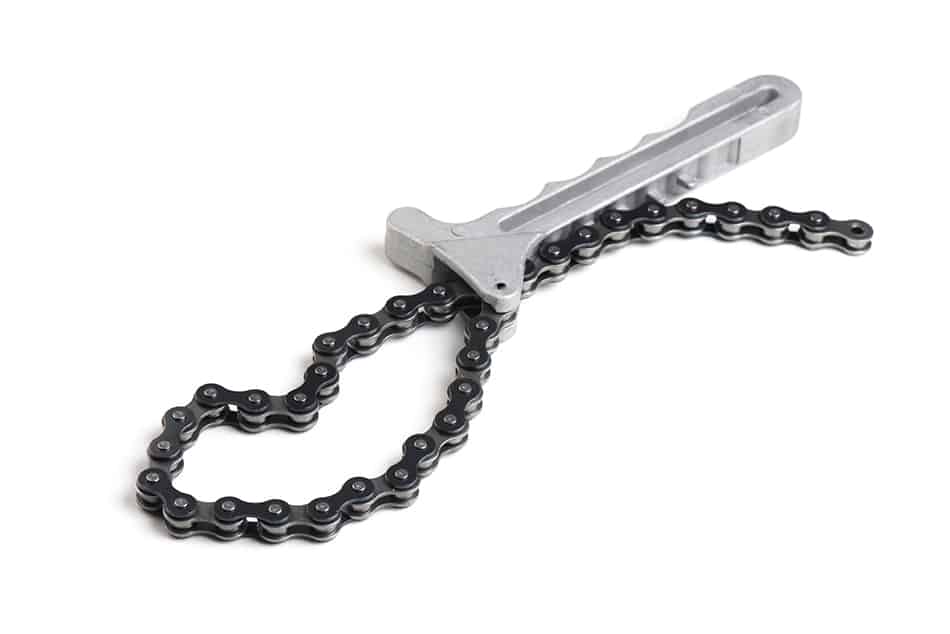 This type of wrench utilizes a metal chain that can be fixed in place when a loop is created. You can create any sized loop, as big as the length of the chain allows. This makes the tool useful for gripping onto large pipes or anything that has a diameter too big for standard types of a wrench.
Basin Wrench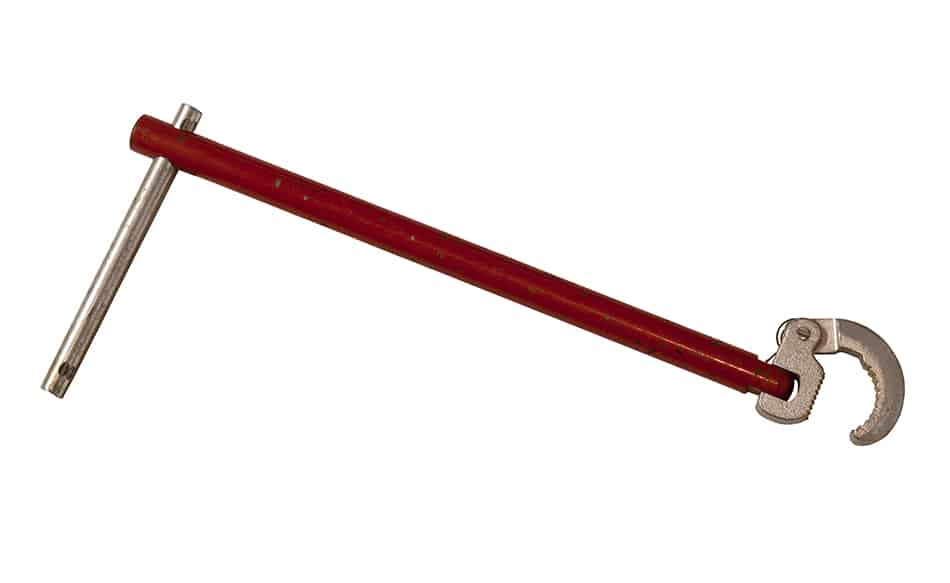 This type of wrench is also known as a faucet wrench because it is primarily used by plumbers to loosen or tighten the fixtures and fittings of faucets beneath a basin. It can also be used on toilet fittings. It takes the shape of a 'T' and has a curved jaw at the opposite end to the handle, which has a serrated grip.
Armorer's Wrench
This tool is designed to be used in conjunction with guns. It helps to loosen or tighten the fittings of a gun so that it can be disassembled and reassembled, either for cleaning or repair.
The design of these wrenches tends to differ between the make of gun, and you will need a specific armorer's wrench that is compatible with your brand of gun. They come in a wide range of sizes with numerous slots and holes that allow one tool to fulfill a range of purposes.
Bung Wrench
This tool is also known as a 'drum bung wrench' or a 'drum plug wrench.' It was specially designed to remove the bung on barrels or drums. These bungs can be made from metal or plastic and are the cap part.
The wrench is socket-style, with a cup-like shape at one end of a handle with rivets sticking out. If you are working with drums that contain flammable substances, you can also get a special 'sparkless' bung wrench, which will be safer to use in these instances.
Bionic Wrench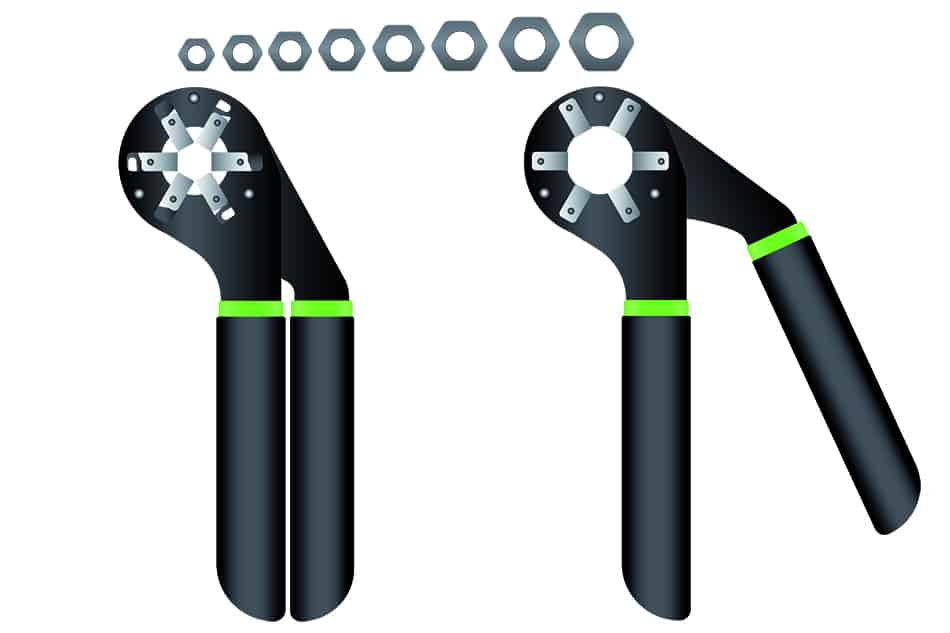 This is a style of wrench that utilizes the design of a box-ended wrench, but it is also adjustable, making it essentially an adjustable box-ended wrench. The size of the wrench can be customized by squeezing together the two handles, which will cause the wrench head to tighten and become smaller.
This is a great advantage because while box-ended wrenches are known for being stronger and better at gripping nuts compared to open-ended wrenches, they lack the capability to adjust, and therefore you will usually need a set of box-ended wrenches to ensure you always have one to fit the nut you need to loosen.
This tool combines the strength of box-ended wrenches with the convenience of adjustable wrenches, making it the best of both.
Dog Bone Wrench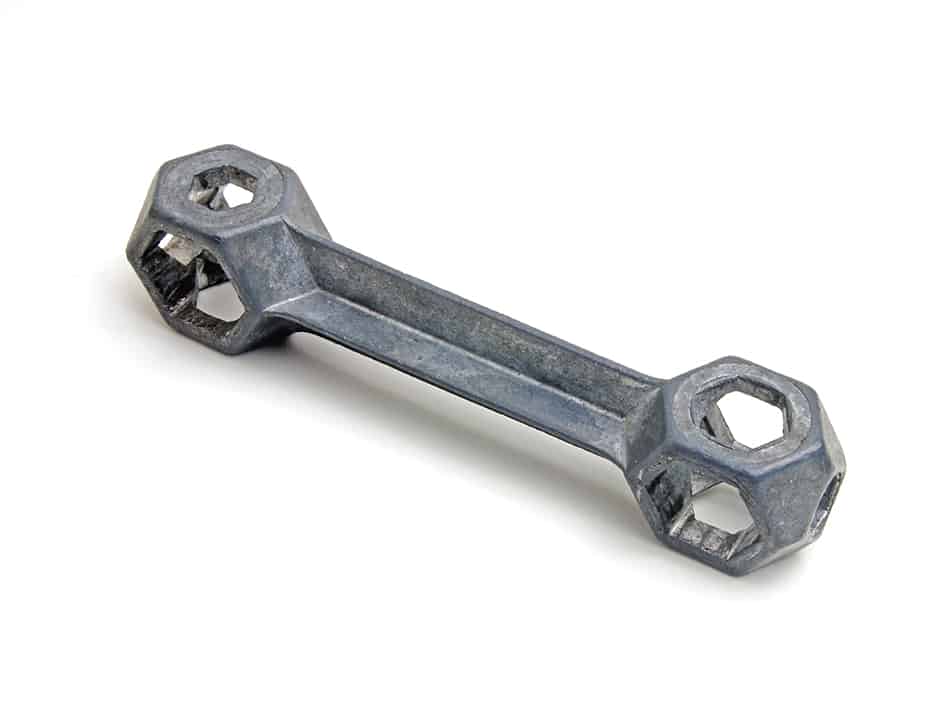 This wrench is shaped like a dog's bone, hence its unusual name. It also resembles a dumbbell and so is accordingly called a dumbbell wrench. It is a type of socket wrench with a differently sized socket at either end of the handle.
It is able to grip onto square or hexagonal nuts for loosening or tightening and is commonly used on bicycles.
Cone Wrench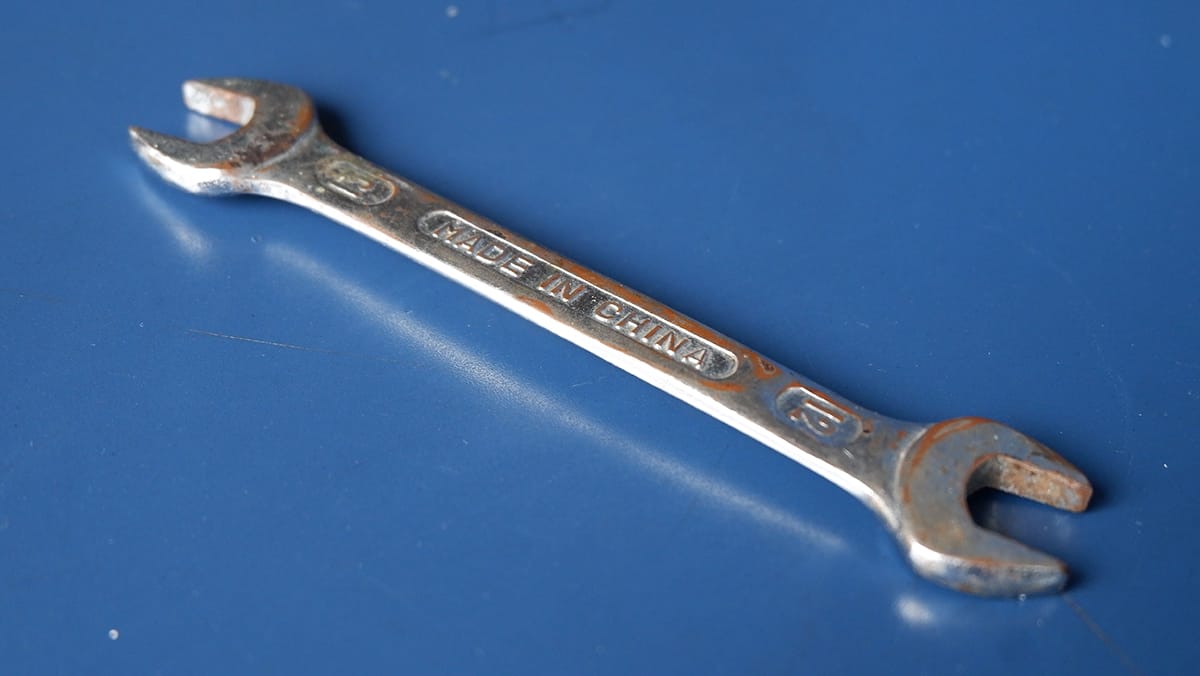 This tool looks like your average open-ended wrench that has been run over by a heavy vehicle and has subsequently been rolled flat. It is effectively a slimline wrench that can be used in areas where space is tight.
For example, it is commonly used to alter the feet on washing machines because it is slim enough to slide under the machine. It might also be used on bicycles and other projects where a standard open-ended wrench is too chunky.
Fan Clutch Wrench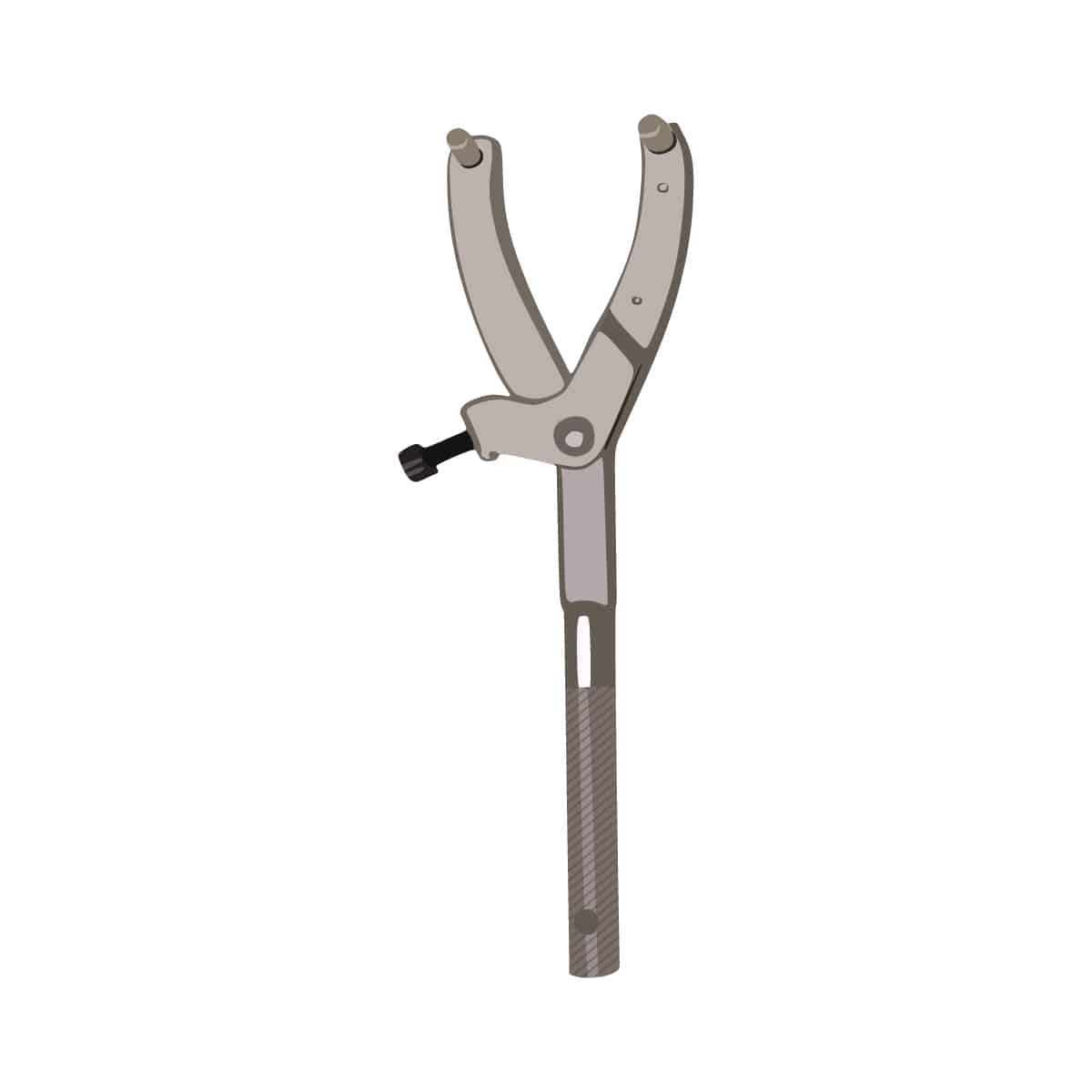 These wrenches, as you may guess from the name, have been specifically designed to use on fan clutches in automobiles. It has a flat shape, with a large U-shaped head at one end that grips the fan clutch. Some types of fan clutch wrenches will also have a square cut out at the opposite end, which makes it multifunctional.
Drum Key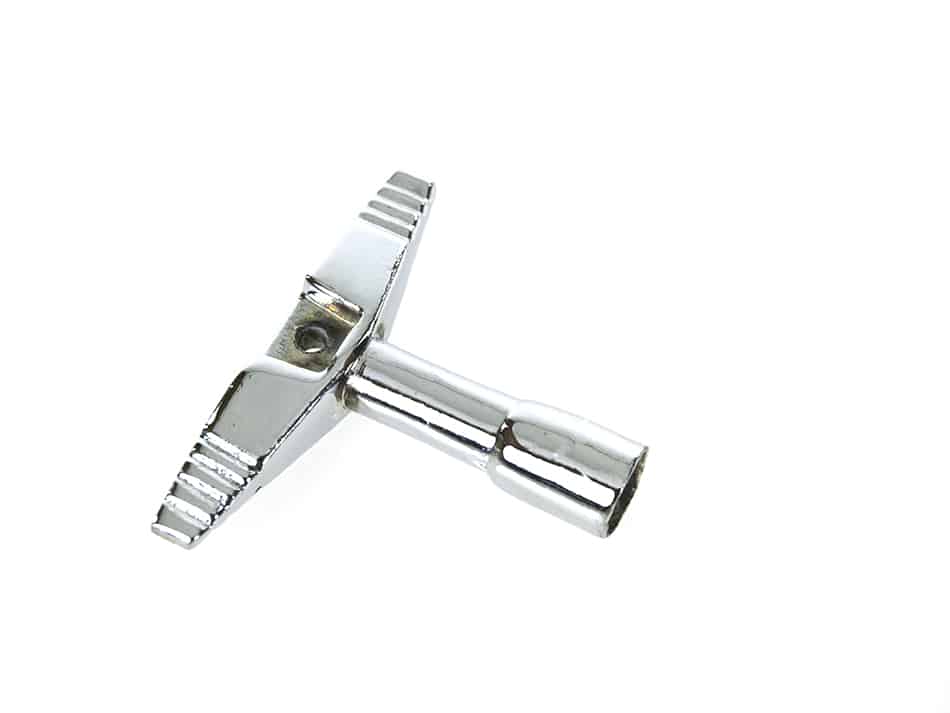 This is a type of socket wrench that takes a 'T' shape. The foot of the 'T' is a square socket that is used to loosen or tighten the fittings on percussion instruments, namely drums. Drum keys can vary in size, with some having long or short handles.
The longer the handle is on the drum key, the more torque will be released when pressure is applied, making it better able to loosen tight nuts or tighten up nuts securely.
Fire Hydrant Wrench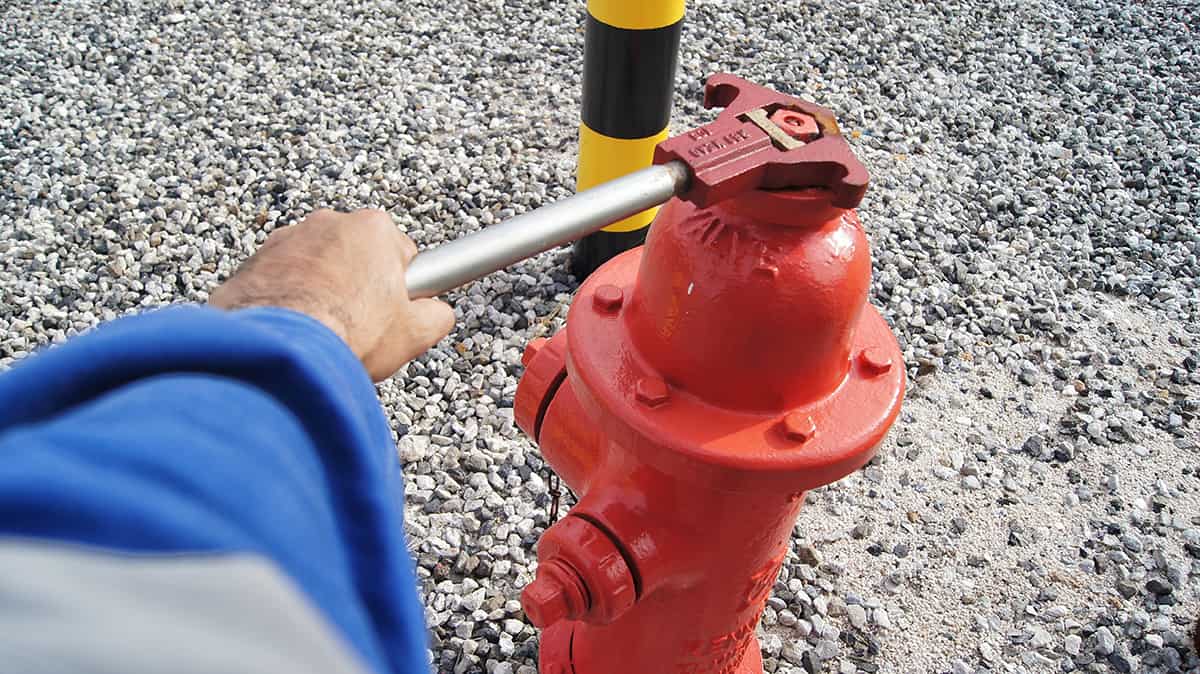 Fire hydrants have specific nuts on them that are pentagon-shaped. This is a type of nut that is not used on any other equipment, which makes fire hydrants safer because people are not able to tamper with them with the average wrench you could buy from a hardware store.
Fire hydrant wrenches are used by fire safety officers and emergency services, and these are the only types of wrenches that can tighten or loosen the nuts on a fire hydrant.
The wrench is a box-ended type of wrench with a pentagon-shaped loop to grip onto pentagon-shaped nuts. These are not available to buy from stores in order to make it more difficult for civilians to fool around with fire hydrants.
Garbage Disposal Wrench
This type of wrench is necessary when your garbage disposal needs to be unclogged. There are two designs of garbage disposal wrench, depending on the size of the nuts on your appliance that need removing.
Many garbage disposals will be supplied with a wrench that looks like a large Allen wrench, which will suffice in most cases to help dislodge blockages, but for removing bigger components, you may need an alternative garbage disposal wrench. These have a big T-handle to grip onto and a flattened U-shaped head at the opposite end that can rotate.
Monkey Wrench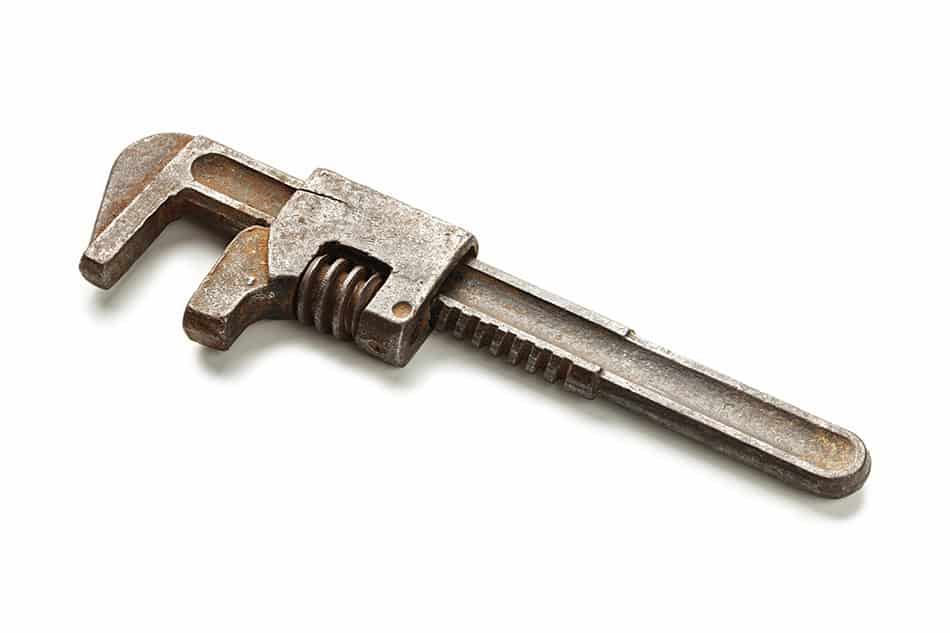 This is a type of adjustable wrench that closely resembles the pipe wrench and alligator wrench. The main difference between these wrenches and the monkey wrench is that they have serrated grips, while the monkey wrench is completely smooth.
This makes it better suited for gripping pipes and plumbing connections that will be seen, and therefore it is important that they not be scratched or marked by the wrench. However, the smooth jaws make it inadequate to use on threaded pipes.
Monkey wrenches were invented in America in the 1800s, gaining rapid popularity across many industries, including car and aircraft manufacturing. They are now most commonly used in plumbing.
Hammer Wrench
A hammer wrench is a chunky wrench made from solid, heavy metal. It will have a wrench head at one end, either open-ended or box-ended and on the opposite end, the metal will be shaped into a blunt block.
This end can then be used as a hammer for hitting fasteners and ensuring they are fitted securely. The hammer end can also be used to whack nuts and bolts that are very stubborn, helping to dislodge them a little before the wrench end is able to turn them.
Pedal Wrench
This is a wrench with a round head that will have one or two semi-circles cut out of it. As you may assume from the name, it was designed specifically for working with pedals. These tools will commonly be used in bicycle repair stores or on any other type of equipment that has pedals, such as a pedal boat.
Spud Wrench
This is an adjustable or standard box wrench with a tapered spike on one's end. This handle spike is used to line up or align bolt holes when working with mechanical parts, automotive components, or pipe fittings; then, you can easily turn over the wrench to insert and tighten the bolts.
Pliers Wrench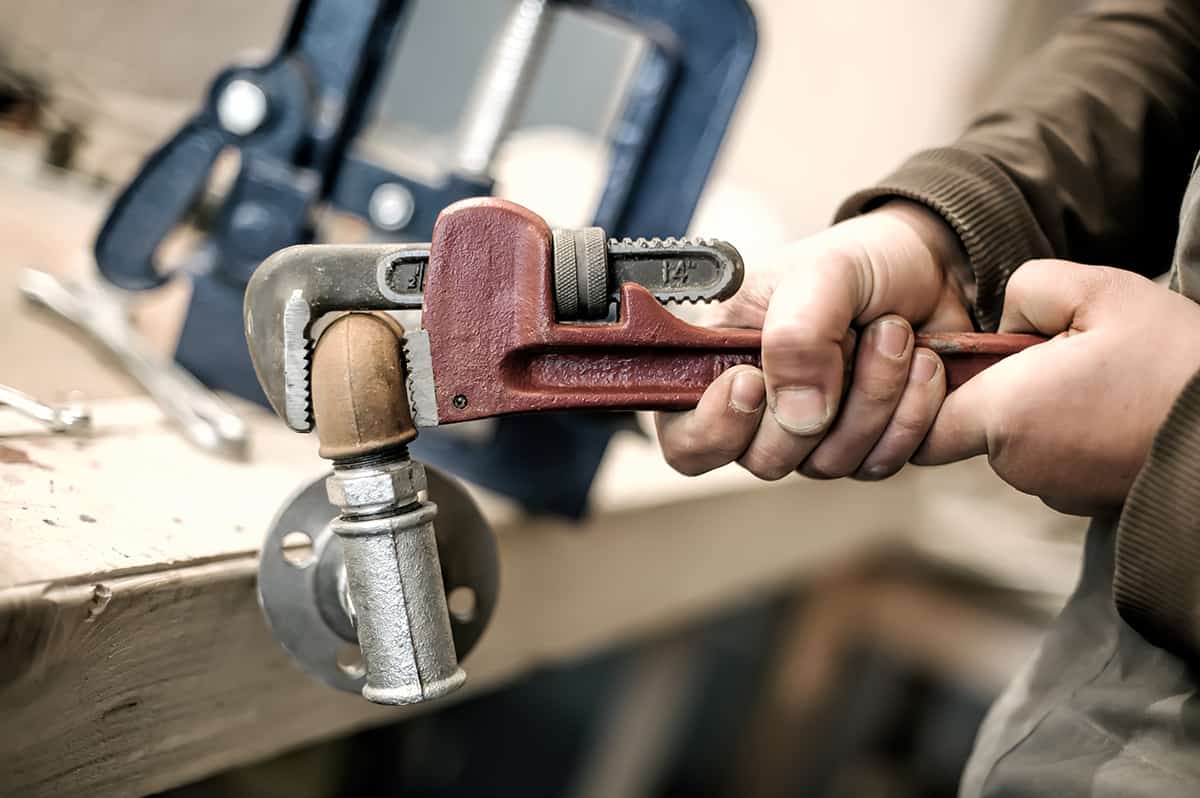 This wrench is named after its two handles that operate in the same way as pliers. It is a fairly common tool with two flat blades that sit at an angle to the handles. The blades can be adjusted to grip different-sized nuts by sliding the attached bolt up or down, making it a very useful tool suitable for a wide range of jobs.
Spark Plug Wrench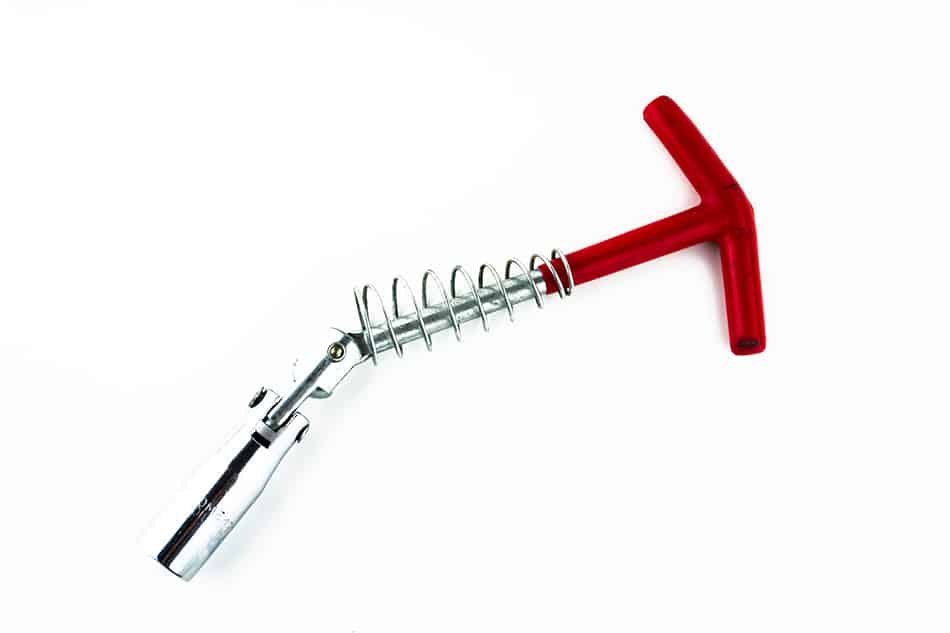 This wrench is designed for use with, you guess it, spark plugs. It has a hexagon-shaped socket on one end and a T-bar handle that you twist to operate it. These are common tools found in automotive repair shops and will be regularly used by mechanics.
Tension Wrench
This is one of two tools needed when picking a lock. The tension wrench would be inserted into the keyhole, where it applies tension while the pick is used. These come in a wide variety of designs, but they all have the same purpose.
Stubby Wrench
A stubby wrench is essentially just a short version of a combination wrench. It is named 'stubby' because of its small stature. The size of this wrench makes it useful in scenarios where space is tight or limited.