Understanding sofa dimensions before you buy a new sofa is absolutely essential. For most people, a sofa is one of the most costly items of furniture they will ever purchase, so it can be an expensive mistake if you get it wrong. Here we look at the typical dimensions of different types of sofas and the size considerations you need to be aware of when sofa shopping.
Elements of Sofa Sizing
There are four aspects to consider when measuring a sofa. These are:
Width: from the front arm of the sofa to the back
Height: from the floor to the top of the back cushions
Depth: from the front seat cushions to the back
Diagonal depth: from the lower back corner of the sofa to the top front of the arm, measured diagonally
You may be asking, isn't width the same as depth? Good question. While the depth and width are similar, they do differ in some sofas as the width measures the sofa's arms while the depth only measures from the front to the back.
To measure the depth, start from the bottom of the sofa at the front of the cushions to the back. Be sure to measure from the widest part of the sofa. For example, if you have a Chesterfield couch with folded arms, measure from the widest point of the arms. This is the diagonal depth.
When measuring the sofa's depth, be sure to start from the widest points of the couch. For example, if you have a couch with flared arms, measure from the widest point of the arms across the length. This is a diagonal depth measurement, which also applies to width, height, and length.
Standard Dimensions For 1 to 5-seat Sofa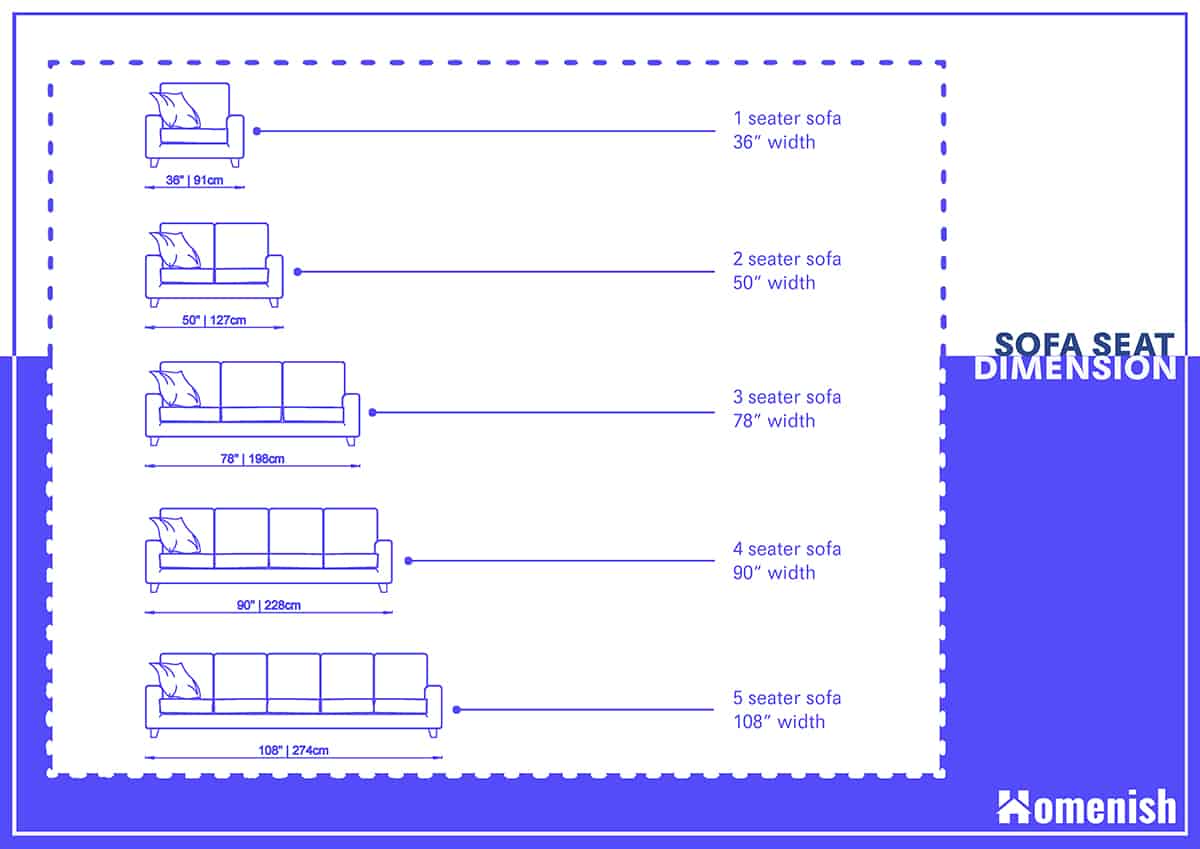 No two sofa style is the same. Some styles mean bigger measurements. But to give you a basic idea, take a look at the following standard size dimensions in width:
Single-seater sofa: 36 inches
2-person sofa: 50 inches
3-person sofa: 78 inches
4-person sofa: 90 inches
5-person sofa: 108 inches
Typical Sofa Dimensions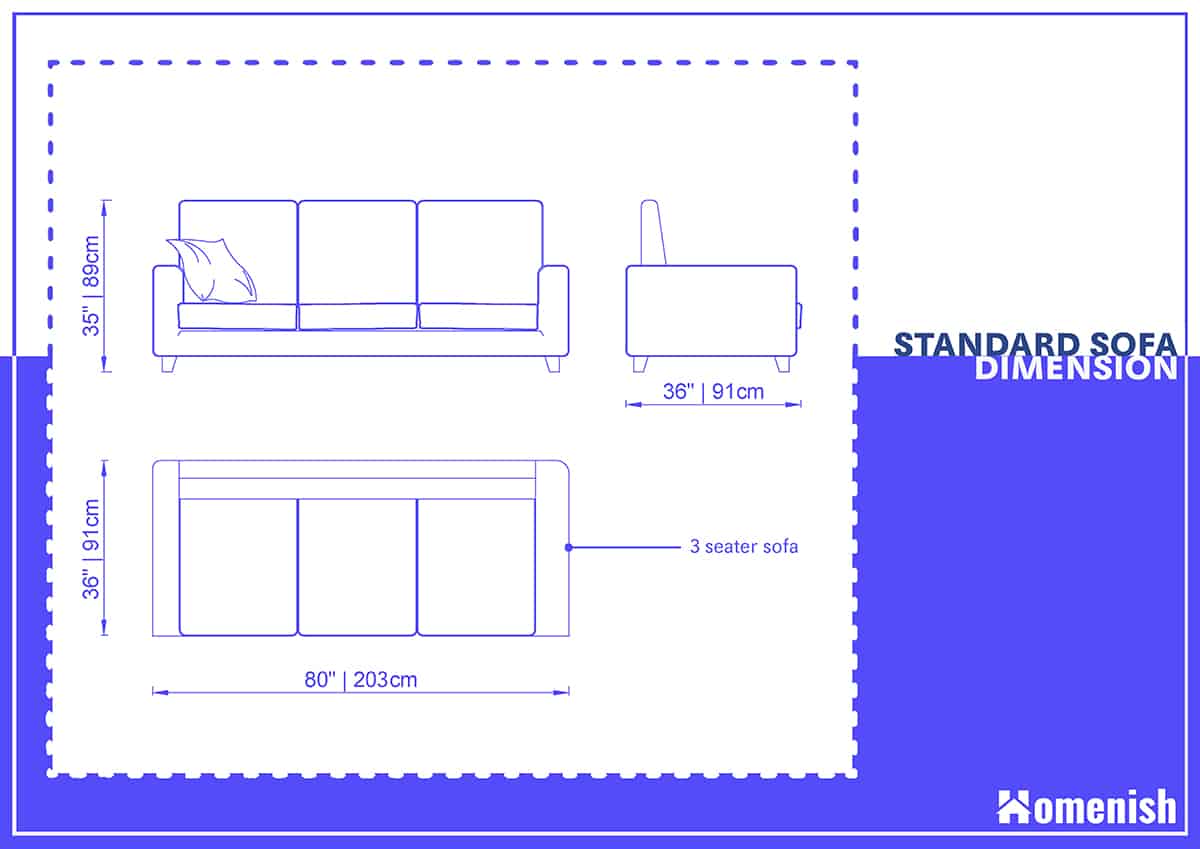 A standard sofa has the average dimensions of 70-84 inches in length x 30-40 inches in width x 30-42 inches in height.
Standard sofas are often designed to seat 3 people so if you want to comfortably fit a coffee table in front of the sofa, make sure you allow 10 to 20 inches in between for plenty of legroom.
The sofa height is made up of the sofa seat height and sofa back height. Typically, a sofa seat height is measured at 17 – 18 inches. With a back height, the total standard sofa height should be between 30 – 42 inches, typically 38 – 42 inches.
The sofa arm heights usually range from 6 inches to 10 inches or more depending on its purposes – for lounging, offices, or for personal uses.
Sectional Sofa Dimensions
Sectional sofas are a little larger than standard ones, which makes them a good option for anyone who needs more seating space.
Sectional sofas come in a variety of sizes, styles, and designs, but in general, you can add as many sections as you like to accommodate all your guests. Since sectionals come in a range of shapes and sizes, their measurements can differ.
Let's take a look at the most common sectionals and their sizes:
L-shaped Sectional Sofas
L-shaped sectionals can greatly fit any corner and have seats on both sides that can typically accommodate up to 5 people. The standard dimensions of these sectionals are 95 inches by 95 inches, with depths starting from 37 inches to 40 inches.
Three-Seater Sectionals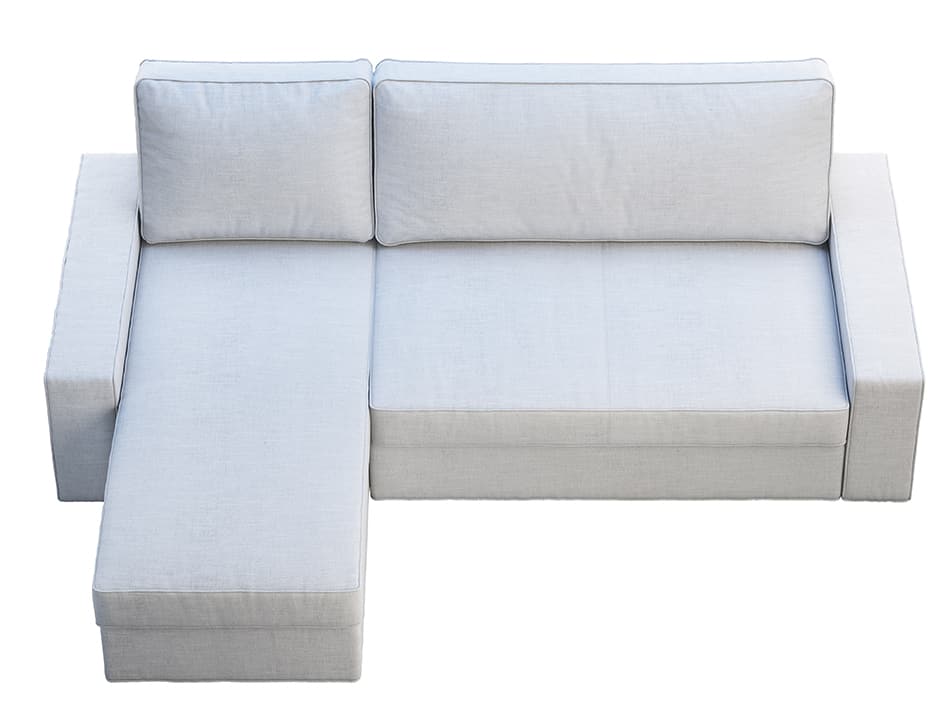 The three-seater sectional sofa typically measures 37 inches to 40 inches in depth, and the length comes to 78 to 87 inches. The seat height ranges from 15 to 20 inches measuring from the floor to the top of the cushion. The standard seat height for most sofas, however, is 18 inches.
Chaise Sectionals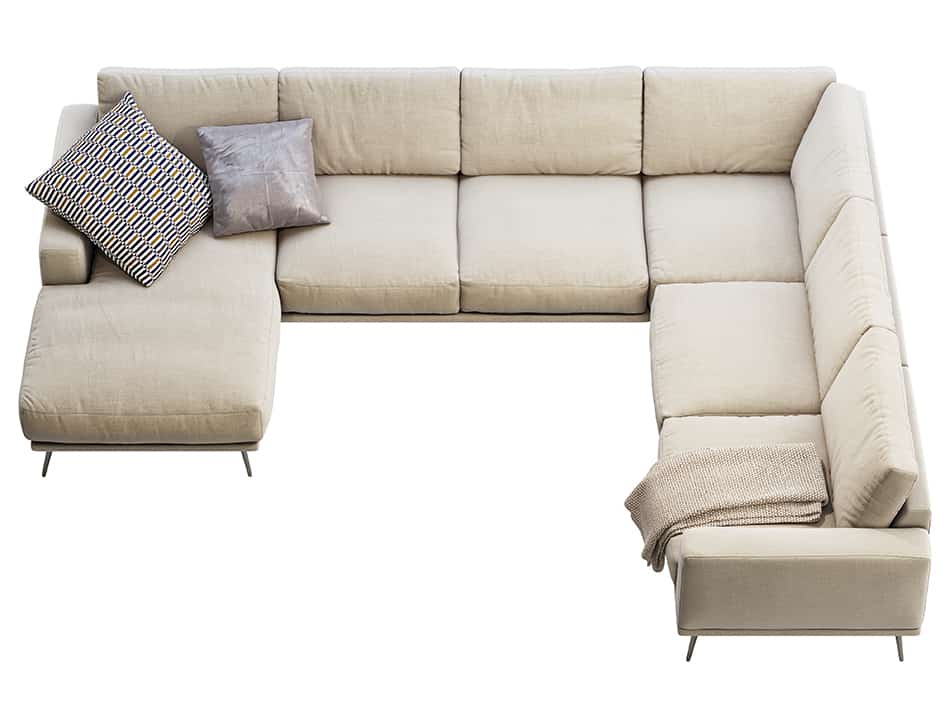 One of the most popular styles of the sectional sofa is the chaise, which has an average depth of 37 to 40 inches with varying lengths depending on the number of seats it offers.
It's not uncommon to find a 7-seater chaise sectional with measurements of around 190 inches to 210 inches in length.
Sleeper Sofa Dimensions
A sleeper sofa is one of the most common options for people who like to take naps on the sofa. This 2-in-1 sofa includes a built-in bed under the seat cushions, making it ideal for small apartments where a spare bedroom isn't available.
Here are the standard sizes for this type of sofa:
Queen-Size Sleeper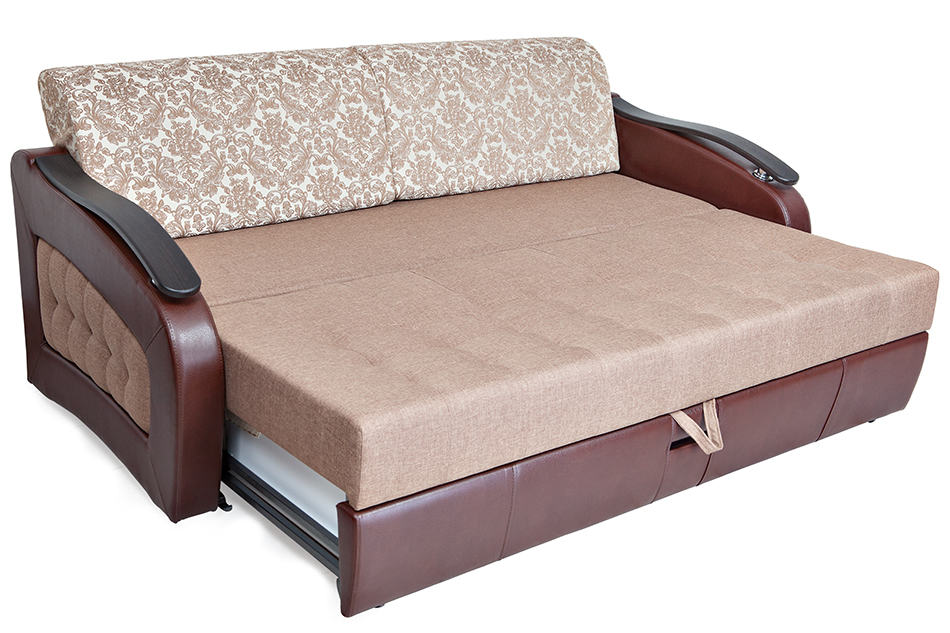 The queen-size sleeper sofa's standard dimensions come to 92 inches in width, 39 inches in height, and 40 inches in depth.
When the sofa is in bed position, the dimensions are typically 89 inches in depth measuring from the front of the mattress to the back of the couch. Speaking of the mattress, the average size is 60 inches in width, 72 inches in depth, and 4.5 inches in height.
Full-Size Sleeper

A full sleeper sofa's dimensions are 78 inches in width, 36 inches in height, and 38 inches in depth. When it is in bed position, the dimensions are typically 89 inches in depth starting from the front of the mattress to the back cushions. The mattress of a full sleeper sofa measures at 52 inches in width, 72 inches in depth, and 4.5 inches in height.
Twin Sleeper
The standard size of a twin sleeper is 57 inches in width, 36 inches in height, and 38 inches in depth. When it's in bed position, the measurements come to 89 inches in depth. The mattress is on average 33 inches in width, 72 inches in depth, and 4.5 inches in height.
Loveseat Sofa Dimensions
Loveseats are usually 2 seater upholstered sofas that are specially made for studio apartments or small living rooms. Having said that, this type of two-seater sofa can just about fit in any space. The average seat length of a loveseat is 58 to 64 inches from arm to arm.
While the standard loveseats can range in different lengths and measure up to 58 inches in width, the shallower-back loveseats will measure slightly less.
Futon Sofa Dimensions
Futon sofas are one of the most popular types of furniture that tend to be more comfortable for seating rather than sleeping on. Unlike an average sofa's height, a futon sofa is more compact and shorter. What's more, a futon doesn't take up a lot of space, thus making it a great choice for any room of the house.
Futons come in 6 standard sizes: queen, full, loveseat, single, and chair. The standard size of a futon sofa, or a full-size futon, is 53 by 75 inches. An average futon sofa has a depth of 35 inches and a width of 84 inches.
Oversized Sofa Dimensions
If you have an open floor plan to accommodate an oversized sofa, or your living room is larger than average, then this type of sofa makes a great option. An oversized couch is ideal for people who need a large seating space to accommodate their guests.
A typical dimension of an oversized sofa is 90 inches in width and 40 inches in depth.
How to Choose the Right Sofa Size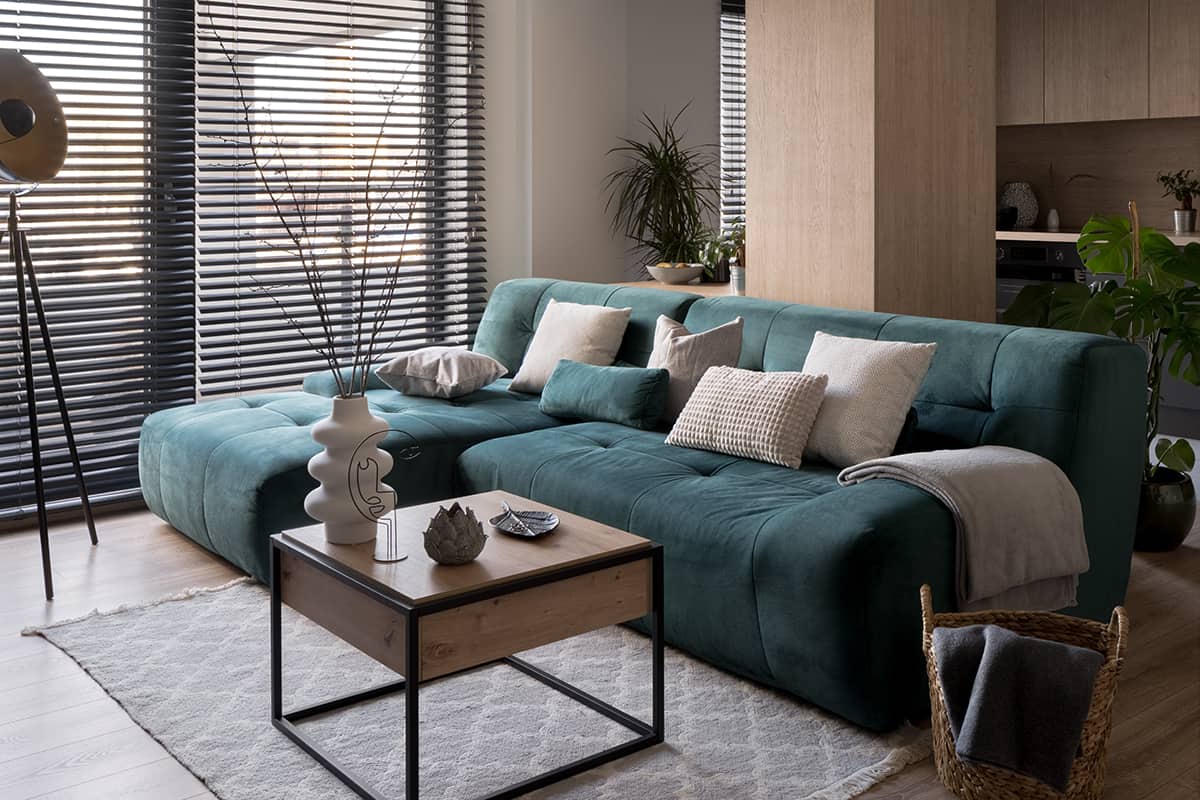 Room Size
By knowing the size of your room, you will be able to find the sofa that fits your space perfectly. To figure out what the maximum length of your sofa should be, start by measuring the length of your available space. Remember to take the windows, door access, other furnishings, and traffic into consideration.
Seat Space
The next tip is the number of seats you want the sofa to have. This might be dictated by the number of people living in your home or if you frequently have guests over to visit. When you know how many people you need your sofa to seat, you can rule out the sofas which don't offer the right number of seats.
If you wish to seat four people or more, consider a sectional. This type of sofa is a great option for a large gathering on a movie night. Sectionals are available in various sizes, shapes, and styles, so you won't have any seating issues for your friends.
Want to take afternoon naps on the sofa? You can with an L-shaped sectional sofa that's at least 90 inches long. A sleeper sofa is another good option for apartments that lack a guest bedroom.
Room and User Height
The ideal height of the sofa must be determined by the size of your room as well as your comfort. For example, if you have an 8-foot ceiling, you don't want to give the impression that the ceiling is higher than it actually is, so always choose a low-height sofa.
On the flip side, go for taller sofas if you have a high ceiling so that the sofa doesn't look overwhelmed by the space. If you have members of your family who are taller than average, then you'll want a high sofa in order to improve their level of comfort.
If you're going to place a sofa under a window, make sure its height doesn't block the view.
Sectional sofas with a lower back make the space look less imposing. If your living room has adequate space, you could place the sofa in the middle of the room rather than against the wall.
With the detailed tips explained above, you should now be able to choose the right sofa size for your space.