Whether you want a casual or formal layout for your living room, multi-functional sectionals help maximize seating, especially in large spaces. Sectional sofas have evolved over the years and today's designs are much more sophisticated.
But contrary to popular belief, sectional sofas aren't just fit for large living rooms. These versatile seating options are also perfect for small spaces as they come in a variety of shapes and sizes.
And aside from the size and shape of sectionals, there are the texture and fabric finishes that you'll also want to think about.
To know all about sectional sofas and why they are the ideal seating option, read this guide now. You'll also discover the different styles of sectionals as well as some great examples of living rooms with sectional sofas.
What is a Sectional Sofa?
Sectional sofas are composed of multiple seating pieces that can be arranged in different positions. These versatile sofas suit all kinds of room layouts, with the majority including a seat cushion with one or more armrests on the right or left side.
Sectionals can be used to create a single long seating to L-shaped arrangements. The reason they are so desirable is mainly due to their multiple seating options for large gatherings.
You can choose from several different types of sectional sofas, which I will go into more detail about later.
Why Choose a Sectional Sofa
You can put them anywhere: Sectionals aren't just for large living rooms. They can maximize the seating options in smaller rooms, especially when placed in a corner.
They provide room for everyone: With the help of sectionals, your available space can be used to provide seating for all your guests.
A traditional sofa may only seat two or three people, but with a sectional, it's possible to seat up to 6 people or more. There is also the chaise lounger (the extended corner seat) that offers additional comfort for your guests.
They are visually pleasing: Sectional sofas are available in various sizes, colors, materials, and designs, thus making them one of the most aesthetically appealing items of furniture precisely because of their quirky look.
Sectionals are versatile: These types of sofas can be split into multiple seating pieces so you can arrange them how you like. Depending on the space you have in your living room, you can choose a semi-circular or L-shape sectional to suit your needs.
For those who don't have an extra bedroom to accommodate their overnight guests, a large sectional sofa is an ideal piece of furniture to sleep on, especially the chaise loungers.
Wondering what a chaise lounger is? It is one of the 6 styles of sectional sofas, which I have listed below. Read on to find out more.
6 Sectional Sofa Styles
When it comes to choosing the right sectional sofa for your living room, you must first understand the various styles that are available. To get a head start, here are the most common sectionals you'll find on the market:
1. L-shaped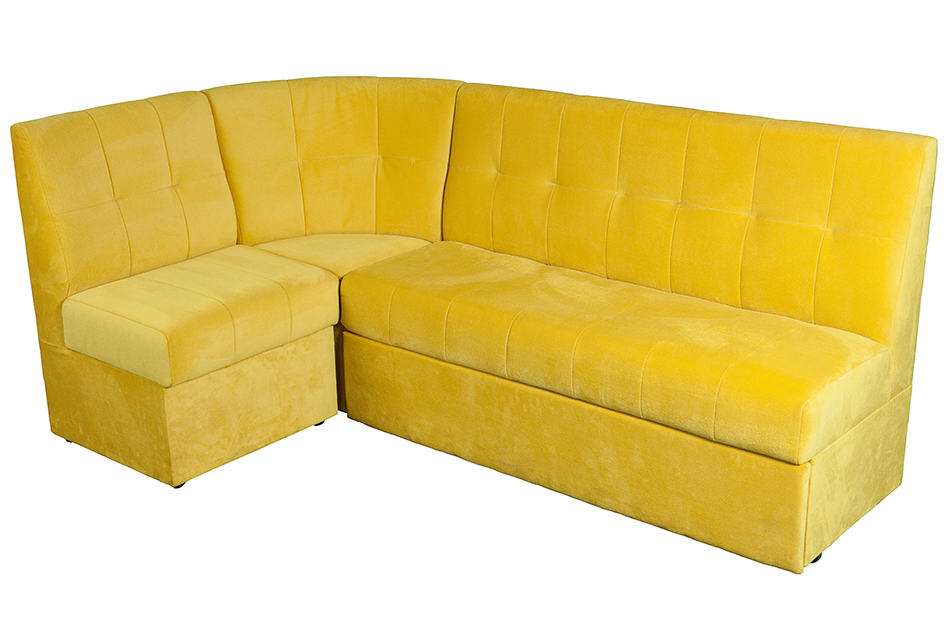 Just as the name suggests, an L-shaped sectional looks like two sofas joined together to form an L shape.
These are mostly three or four cushion-style seaters that can easily fit in any corner space, thus making the L-shaped sectional one of the most versatile and popular styles.
2. Chaise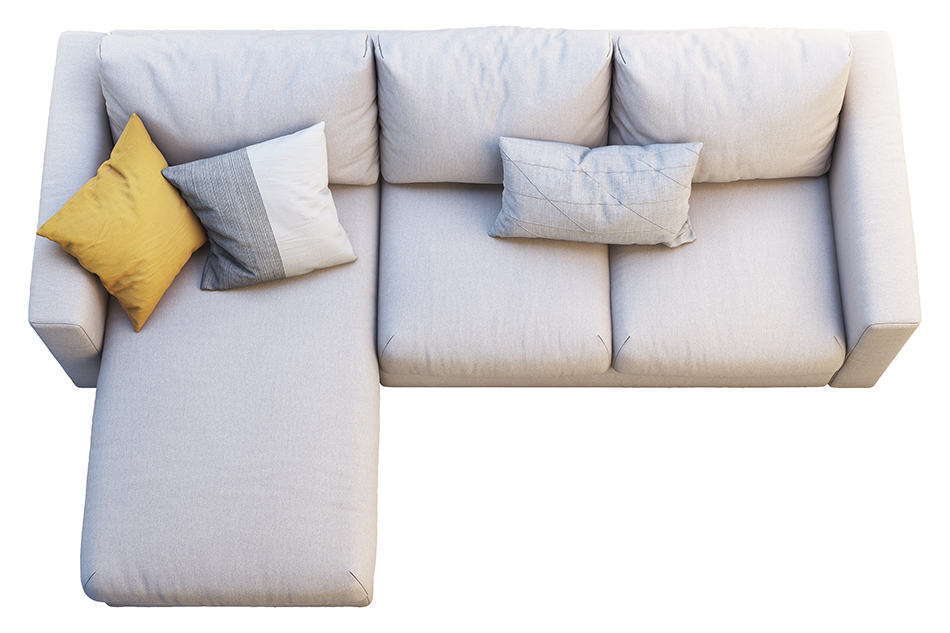 The chaise lounger is a sofa with an extended ottoman on one side of the sectional.
This style is closely linked to the L-shaped sectional and can be placed just about anywhere in a large living room. This type of sectional is ideal for lounging on or enjoying an afternoon nap.
3. Curved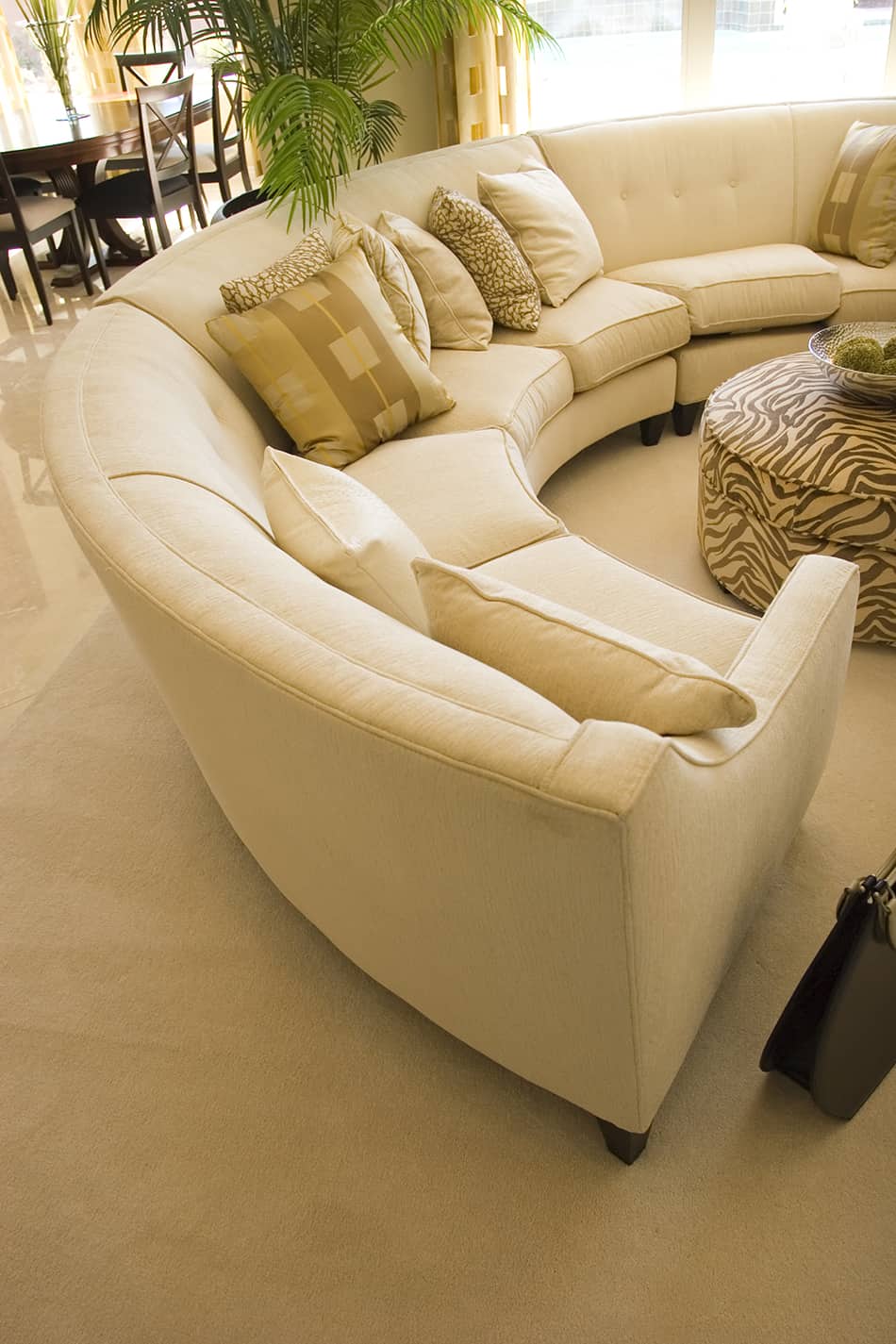 The curved sectional is an interesting-looking style that brings visual appeal to any living room. In fact, it can act as a focal point or make a statement in a large space.
However, you won't be able to fit a curved sectional in a small living room since it doesn't fit in a corner. This type of sectional is best positioned in the middle of the room.
4. U-shaped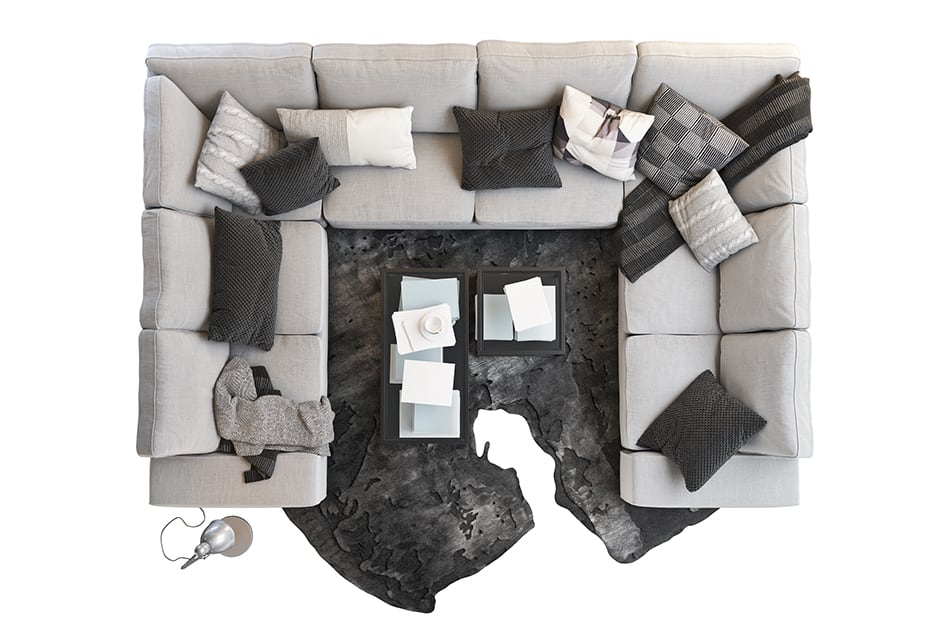 For larger-than-average living rooms, a U-shaped sectional has an extended arm on each side and is the ideal seating option.
This style easily accommodates large gatherings, thus making it perfect for intimate conversation or movie nights.
5. Modular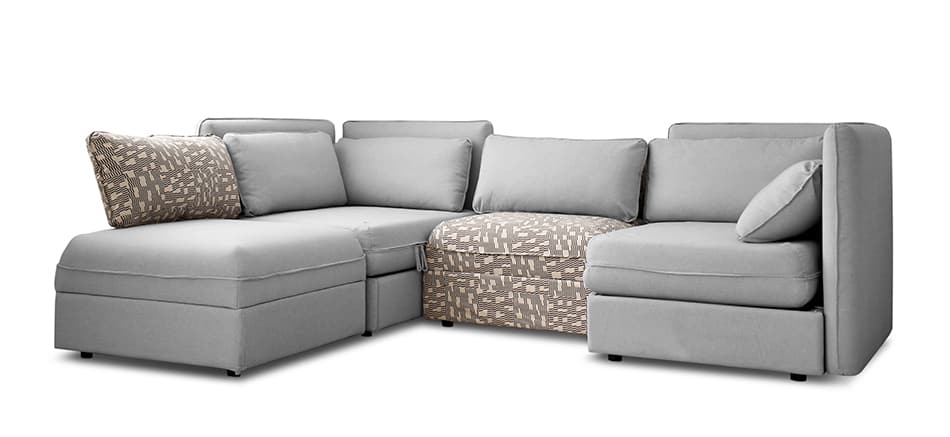 Since sectionals consist of multiple stationary pieces, you can easily connect each sofa to provide multiple seating. With a modular sectional, up to six pieces can be rearranged to form a certain configuration.
6. Sleeper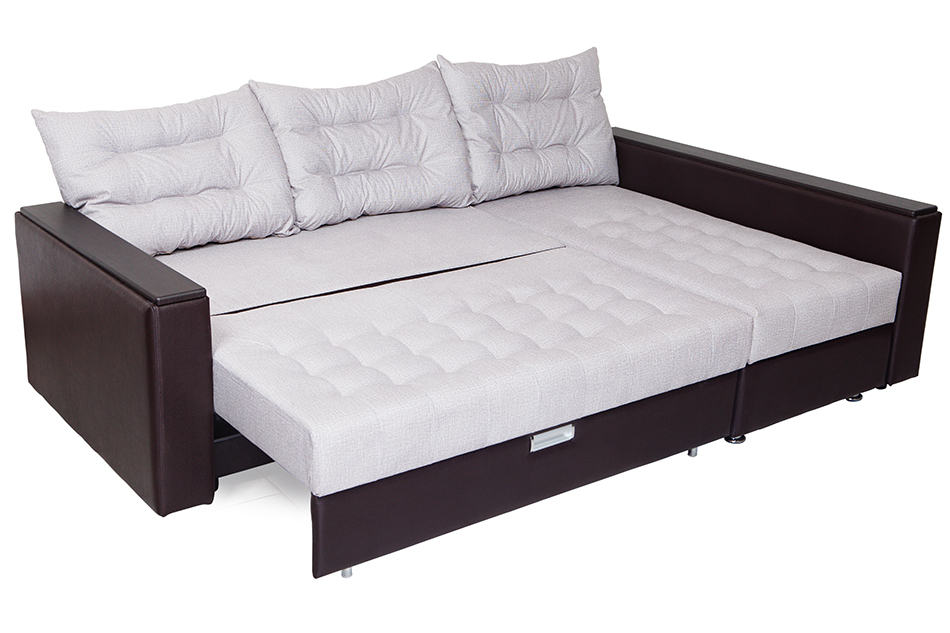 Sectional equals functional, and it couldn't get more functional than a sleeper! This style is similar to a chaise and can be used for both sitting and sleeping.
Now that you've learned about the different styles of sectionals, it's time to decide how to design your living room with sectional sofas. The following ideas should help you with this task.
7 Examples of Living Room Layouts with Sectionals
1. White Sectional Sofa in a Large Living Room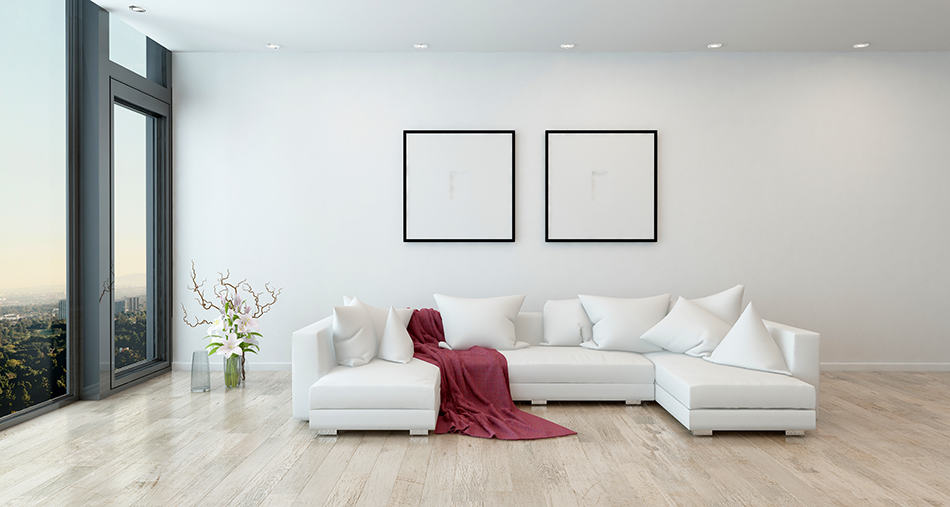 If you don't have pets or children, a white sectional will be the perfect addition to your large living room. This neutral furniture can make a huge impact in a room, especially in high-ceiling living rooms.
To bring out the excess white and make it noticeable, add matching cushions on the entire length of the sofa with a bright-colored throw blanket as shown here.
This multi-seating white sectional looks beautiful and suits any living room style precisely because of its minimal color palette.
2. Bold Color Sectional to Draw the Eye
The best thing about sectional sofas is their great design element. Why not bring some color to your living room by adding a bold color just like this pink sectional sofa. It can define the space and set the tone nicely.
You can even introduce some textures like throw blankets and cushions to complement the pink. The idea is to experiment with bold colors and make them stand out in the living room.
After all, no one wants to stare at plain white walls and neutral furniture all day. Just remember not to add too much color so as not to overpower the space.
Tip: tone it down with white or grey rugs and wall decor.
3. Elegant Velvet for Visual Appeal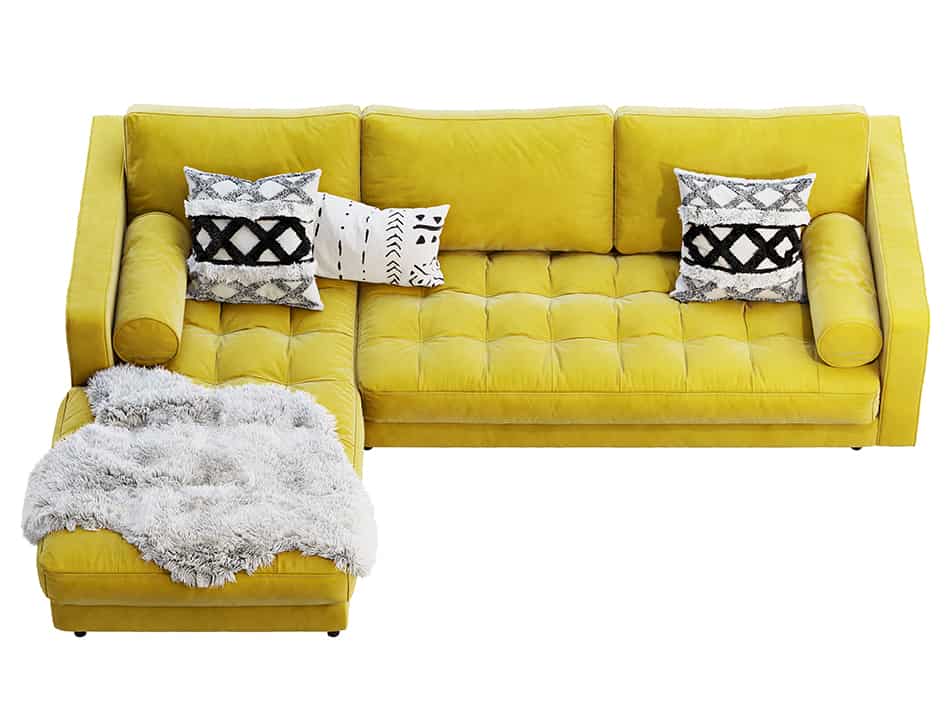 Another excellent way to add some style to your living room decor is to choose an elegant fabric for your sectional sofa. Velvet looks especially interesting on a large chaise sectional in bold color as shown here.
This is a great example of visual interest in the form of a deeply tufted sectional that has created depth. Thanks to the velvet fabric, your sofa will feel heavenly when sat on.
Tip: add some cushions and throw blankets in contrasting colors to further enhance the texture of your sectional.
4. Luxurious Leather for Sophistication

Since we're on the subject of elegant fabrics, it's worth noting that velvet isn't the only option for your sectional. Black leather is usually synonymous with luxury, so if your budget can stretch, consider adding a comfortable sectional sofa in this fabric to your living room.
Gone are the days when black leather sofas were associated with casino lounges. These leather couches ooze comfort and add a luxurious feel to any living room. When combined with a faux fur throw blanket or rug, it will give an especially homely feeling to your living room.
5. A Wrap-Around Sectional for Gatherings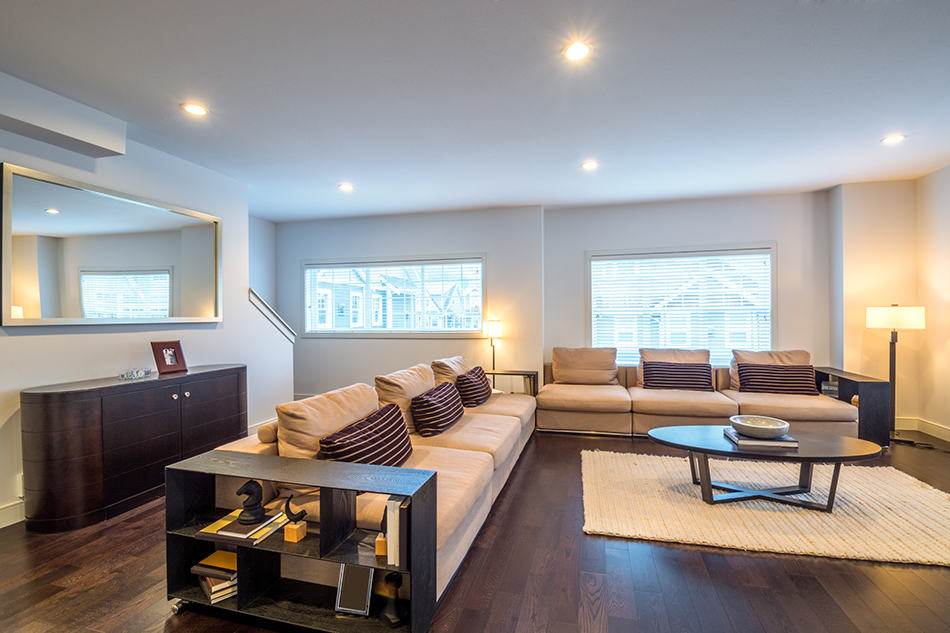 As I mentioned before, U-shaped sectionals are perfect for large gatherings. These types of sofas do a great job of bringing families together for movie nights or intimate conversations.
The inviting full wrap-around sofa works very well in large living rooms, especially if you add a long coffee table or an ottoman for your sectional in the middle.
6. Sectional Sofa as a Focal Point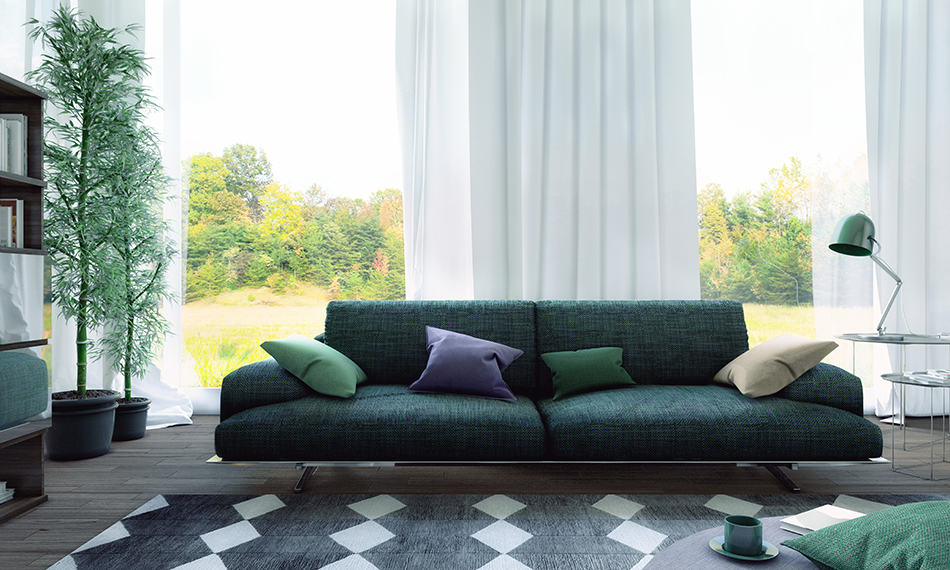 Who said the focal point of a living room has to be the fireplace, the accent wall, or a chandelier.
A smartly colored sectional sofa can make a statement and stand out in the living room – as long as you pair it with the right accents. In this example, see how the green sectional has become the focal point of this room precisely because of the matching greenery around it.
7. Size Matters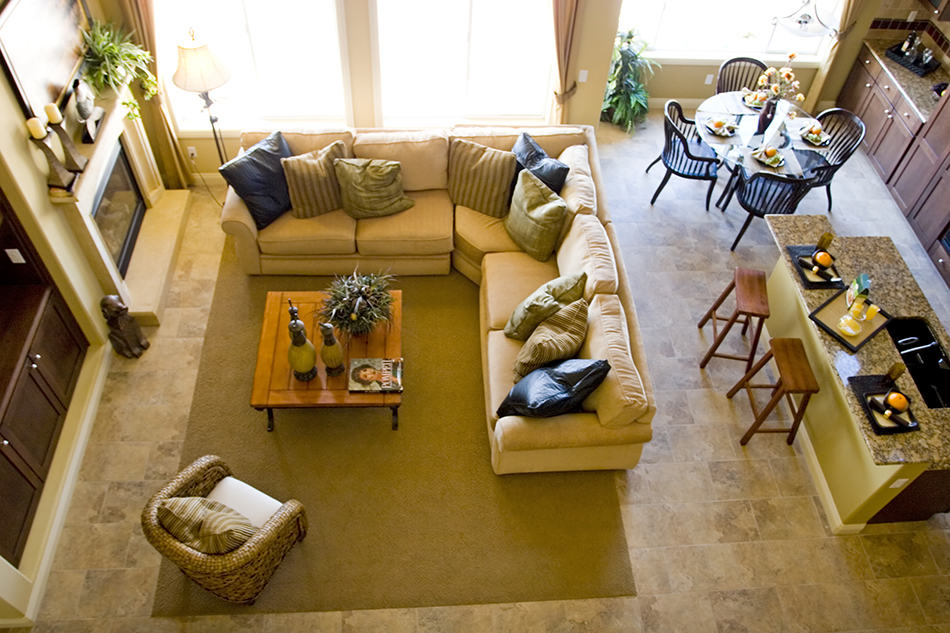 We all know the living room size matters when it comes to choosing a sectional sofa size.The bigger the room, the larger the furniture, right?
Sure, the sectional sofa can be as large as you like, but when choosing a floor covering, there are many options to choose from when placing rugs under a sectional sofa – a rug extend the sofa legs, a rug only covers the front sofa legs and some more.
The coffee table, on the other hand, should remain within the sofa's boundaries as shown in this example.