If you have limited space in your living room, or you simply want to create additional seating/sleeping areas, you should consider using futons. These functional items of furniture will save you space as they can be used for both seating and sleeping purposes.
In this comprehensive guide, learn everything about futons, including their history, benefits, materials, and much more.
What is a Futon?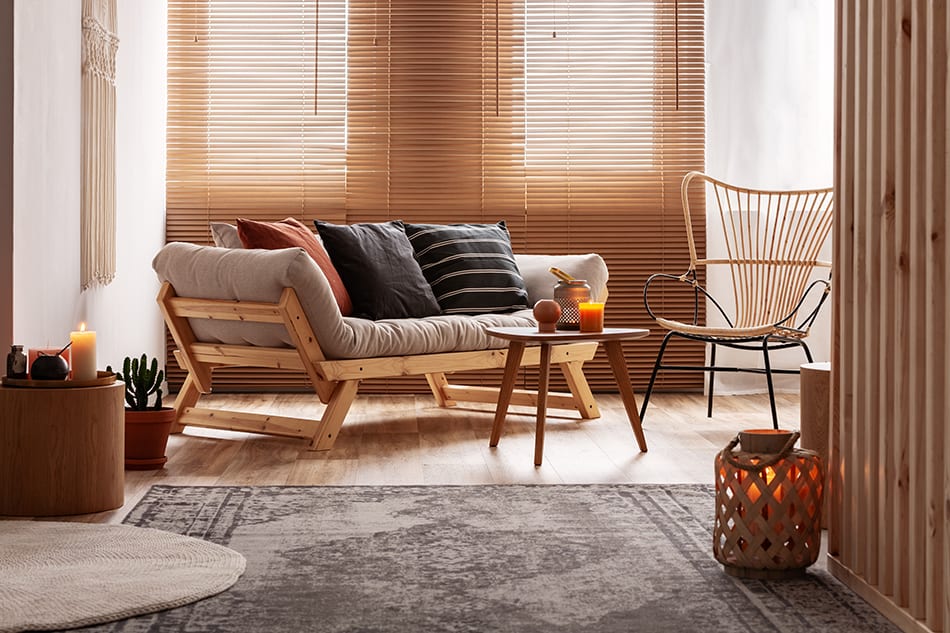 Futons are traditional Japanese-style or Western-style seats that can be folded out into a mattress. The padded cushion of the sofa is used as a bed. Futons are also referred to as sofa beds and commonly feature quilted or foam mattresses instead of a standard innerspring mattress.
The word 'Futon' actually refers to a bedding system, not an actual bed itself. This item of furniture consists of a base, a futon mattress, a comforter or mattress cover, and a pillow.
Futons can be considered a type of sofas and couches, and there are some varieties of them that can be used as a bed or chair as well. They are mostly used in small apartments, dormitories, and just about any space that needs extra sleeping and seating options.
Benefits of Futons
As mentioned previously, futons can help you save space since they can easily be folded up as a couch and folded out to resemble a bed.
Aside from saving space, a futon can also enhance the modern look of a living room. With these items of furniture, you can be as creative as you like by, for example, adding stylish throw pillows and patterned covers to them. This is especially a great idea if your futon is in the living room or bedroom.
Another major plus to futons is that they are cheaper than beds and sofas. Even if you choose the highest quality model, you're certainly going to pay much less than if you were to buy a bed and sofa.
A Quick History of Futons
Futons were originally made popular in Japan due to their easy storage and portability option. It wasn't long before other countries started to follow the trend and design their own versions of futons.
Futons started to make an appearance in the US in the early 70s. But rather than being used to sleep on, the US-versions of futons were mainly used for sitting purposes. These early models were somewhat uncomfortable to sit on but still more affordable than traditional sofas.
Today's modern futons are made much more comfortable and designed to last longer. They are available in many beautiful designs, sizes, and materials. In fact, most futon manufacturers use hardwood, such as walnut or oak, to ensure the highest quality frames.
Traditional Futon Mattress and Seating Sizes
| Size | Dimensions in inches |
| --- | --- |
| Single/ Twin | 39 x 75 |
| Double/Twin Xlarge | 39 x 7 |
| Full | 54 x 75 |
| Full Xlarge | 54 x 79 |
| Queen | 60 x 80 |
| California King | 72 x 84 |
| Eastern King | 76 x 80 |
| Futon Seating | Sizes in inches |
| --- | --- |
| Double/Full Seat | 54 x 54 |
| Queen Seat | 54 x 60 |
| Double/Full Ottoman | 21 x 54 |
| Queen Ottoman | 21 x 60 |
| Single/Twin Seat | 39 x 54 |
| Single/ Twin Ottoman | 21 x 39 |
| Chair | 28 x 54 |
| Ottoman for Chair | 21 x 28 |
Types of Futons (Based on Frames)
Bi-fold Frames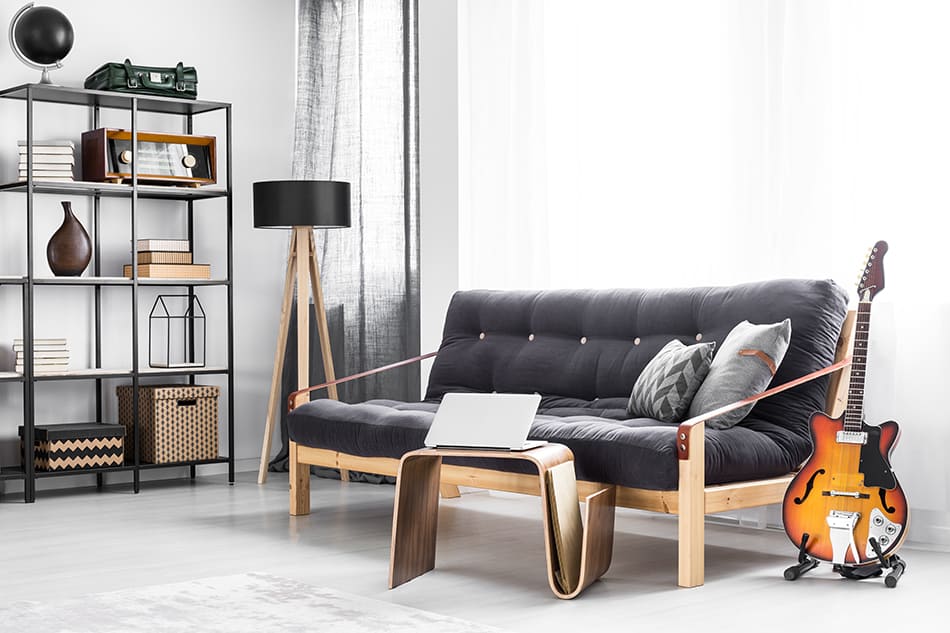 The size of these frames corresponds to the length of the mattress. A bi-fold futon can range in a length from 77 to 80 inches so this is the minimum space you'll need to fit the frame.
If your living room or bedroom doesn't have the wall space available, opt for a tri-fold frame instead.
Tri-fold Frames
These types of futon frames were the very first designs available. They fold in two separate places and consist of three sections: the back, the lower part, and the seat.
Some tri-fold frames have a permanently attached ottoman for extra comfort when you want to put your feet up, while others come with a separate ottoman for space-saving.
Keep in mind that with tri-fold frames, you'll need more floor space rather than wall space as the width corresponds to the futon mattress rather than its length. In fact, a typical tri-fold frame width can measure between 55 and 60 inches so you must make sure you have adequate floor space to accommodate this type of frame.
Loveseat Frames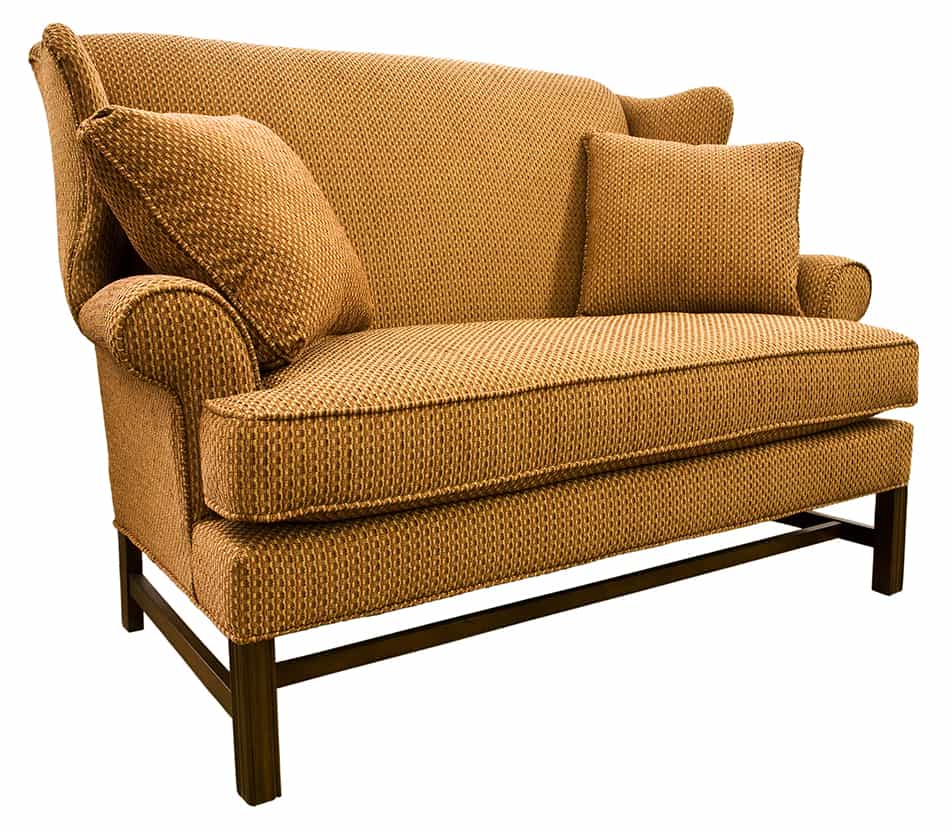 These frames are perhaps the most comfortable and stylish of all futon frames. They are designed to look like a sofa and their cushions double up as a mattress to save space.
Although loveseat frames are somewhat smaller than normal-sized futons, they can easily sleep two children.
The Adjustable Arm Frames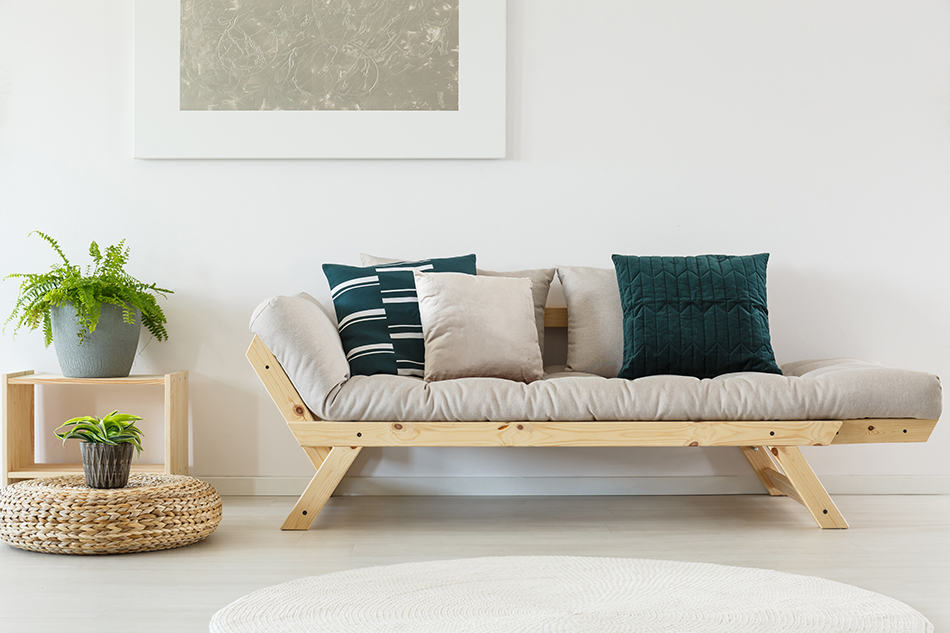 These are yet another stylish type of frame that allows for extra comfort.
Unlike the bi-fold and tri-fold frames that don't have adjustable arms, these futons are ideal for people who like to take short naps using the headrest. The adjustable arm easily reclines down or up for extra convenience and comfort.
Outdoor Futon Frames
Although the outdoor types of frames are smaller in size, they are just as comfortable as loveseat frames. They come with a fold-out option and waterproof cover for outdoor use.
These items of garden furniture are ideal as both seating and sleeping options whenever you have guests around or wish to take a quick afternoon nap in your backyard.
Most Common Futon Styles
Armless
This futon style is beautiful and most practical as a bed when compared to other futon styles. This is thanks to the easy-to-set-up mechanisms of armless futons. You can also use the seat cushion as a mattress.
Traditional
The traditionally-shaped style of the futon is possibly the most popular type and is almost identical to a classic sofa as it comes with full arms and a matching mattress. Some traditional futons are upholstered to provide a unique look.
Lounger
This is yet another unique-looking futon style that resembles a recliner. Since it already looks like an upright bed, no assembly is required. Just add a duvet cover and lie back for the rest of the day!
Bunk bed
This type of futon is stacked on top of another, thus allowing two or more people to sleep in the same room. Bunk bed futons are ideal for compact spaces and commonly found in children's rooms and university halls.
Ottoman
Last but not least, no futon chair is complete without an ottoman. It offers a more comfortable seating experience and sleeping surface.
Futon Frame Materials
There are two types of futon frames: metal and solid wood.
Metal Frame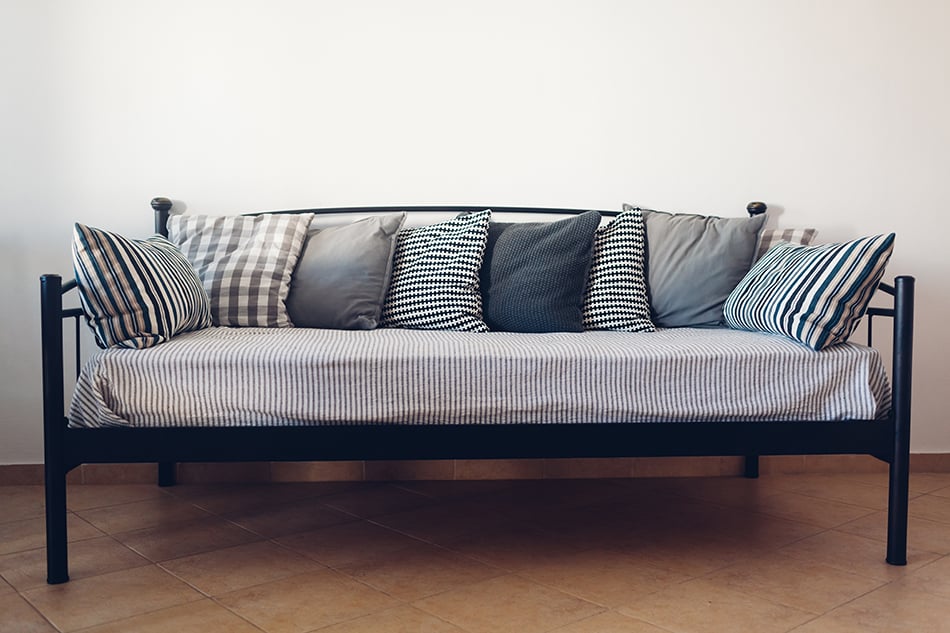 A metal frame futon is lighter in weight and more portable than a solid wood frame. Metal frame futons can be molded into different shapes and are easier to convert into beds thanks to their adjustable mechanism.
However, metal frame futons aren't as aesthetically appealing as wooden versions plus they can be a little less sturdy.
Wooden Frame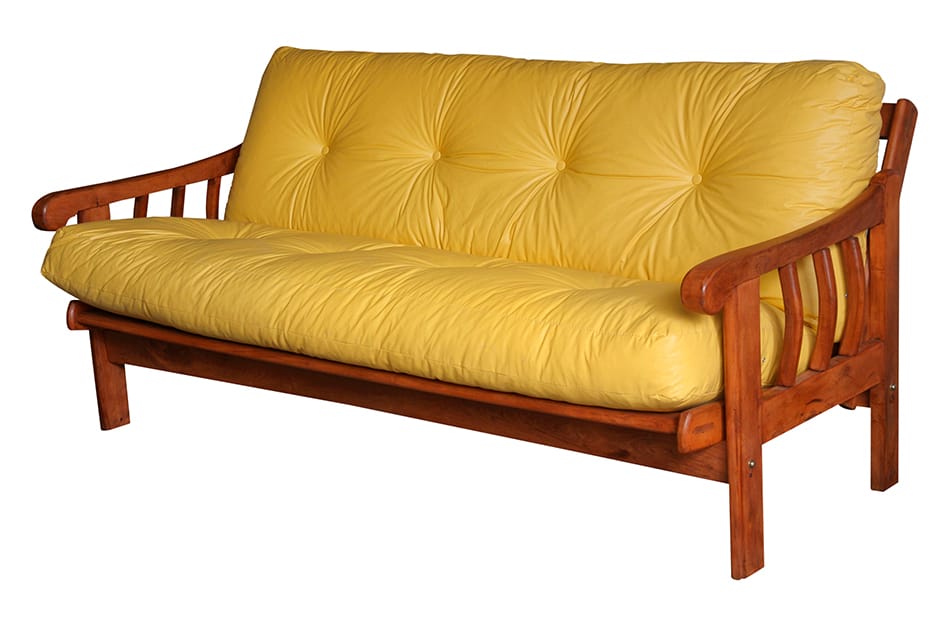 Solid wood frames are the sturdiest material when compared to metal. They are highly durable and beautiful to look at plus you get the adequate support you need when lying down on your futon.
Since wooden frames are much heavier than metal, you may find them a little difficult to move to another room or reposition them from sofa to bed or vice versa.
So which is better? Since metal frames are more flexible and lighter in weight than solid wood, they can be moved around easier whenever you change positions. Metal frames have locking mechanisms that allow them to be more flexible.
They are also a cheaper option than solid wood frames. Having said that, solid wood frames have a longer lifespan and make a better choice for rustic or traditional living spaces.
Futon Mattress Materials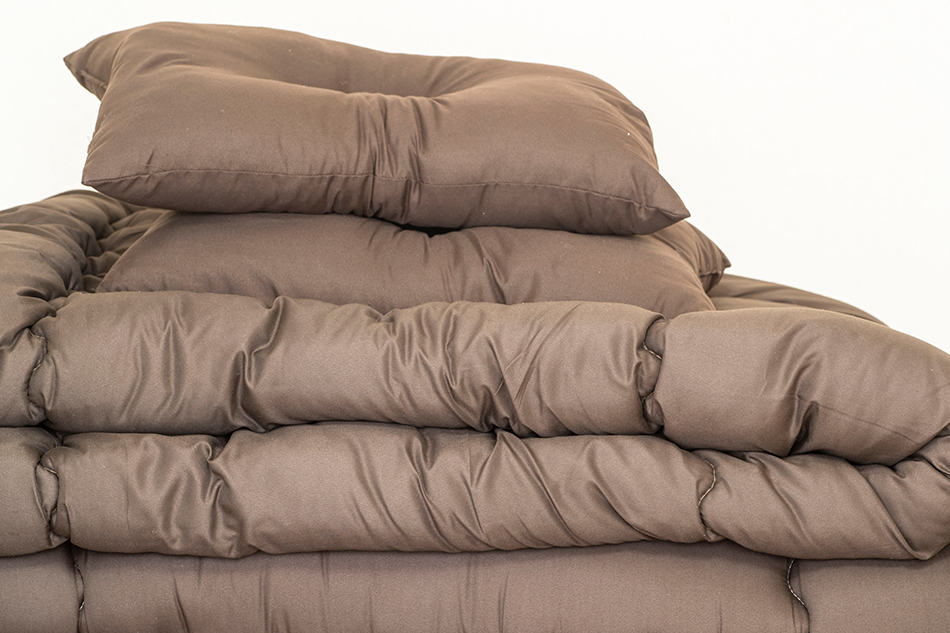 The traditional Japanese futon mattresses were filled with rice straw or horsehair. Nowadays, most futon mattresses are usually filled with foam and cotton.
The futon mattress contains layers of cotton batting, which is padded for maximum support. The foam provides firmer and softer support while adding more weight to the mattress.
Modern futons tend to have latex mattresses as they are more popular and comfortable to sleep on than foam-filled ones.
There are also polyester mattresses that have been used in the bedding industry for many years now. This synthetic material is similar to foam but contains additional fiber, such as cotton.
You will also find a blend of cotton and wool type of futon mattress that's ideal for colder months of the year. Wool is highly resilient and provides great support. It's also flame retardant and makes an ideal material for futon mattresses.
But if you prefer your mattress to be of pure wool, you should know that wool futons weigh three times more than cotton futon mattresses. They may be more rigid and sturdy, but there is almost no flexibility, so opt for a blend of wool and cotton to get the best of both worlds.
Finally, the innerspring futon mattresses with an interlocking spring unit provide a remarkably flexible sleeping option, but they are more expensive than other types of futon mattresses plus a little heavier. This type of futon mattress is no longer popular since the foam was introduced to the market.