If you've never heard of barndominiums, or you're curious about this house style, then it's about time you knew about the practical living solutions of barndos. Over the years, this modern alternative living idea has caught the attention of ranch dwellers in rural areas. Thanks to the barn-like features of barndominiums, their character is what sets them apart from other farmhouse style homes.
Get to know all about barndominiums, their pros and cons, the cost of building one, and how to build them. At the end of the article, you'll see some great examples (and virtual videos) of the exterior and interior layouts of barndos.
What is a Barndominium?
The word barndominium is in fact made up of two different words: barn and condominium. When joined together, the meaning applies to a steel and metal building that has been converted into a residential dwelling. The interior can be simple or intricate depending on the barndominium owners' desire. The metal shell of barndos can easily and quickly be put together, with oversized additions, such as garages or workshops to follow. The interior layout and design of a barndo provides utmost flexibility for a truly open floor plan that accommodates all lifestyles.
When describing a barndo, think of a plain-designed warehouse with a front porch and oversized garage door. The same concept is incorporated into a barndo as a low-cost, simple-to-build dwelling, but with an upgraded exterior compared to a warehouse.
Most barndo models feature the following characteristics:
Sliding barn doors
Energy-efficient windows
Concrete floors
Rustic wooden staircases
Up to 14 feet vaulted ceilings with exposed beams
Gabled metal roof
Columns
1 to 3 stories high
Characteristics of Barndominiums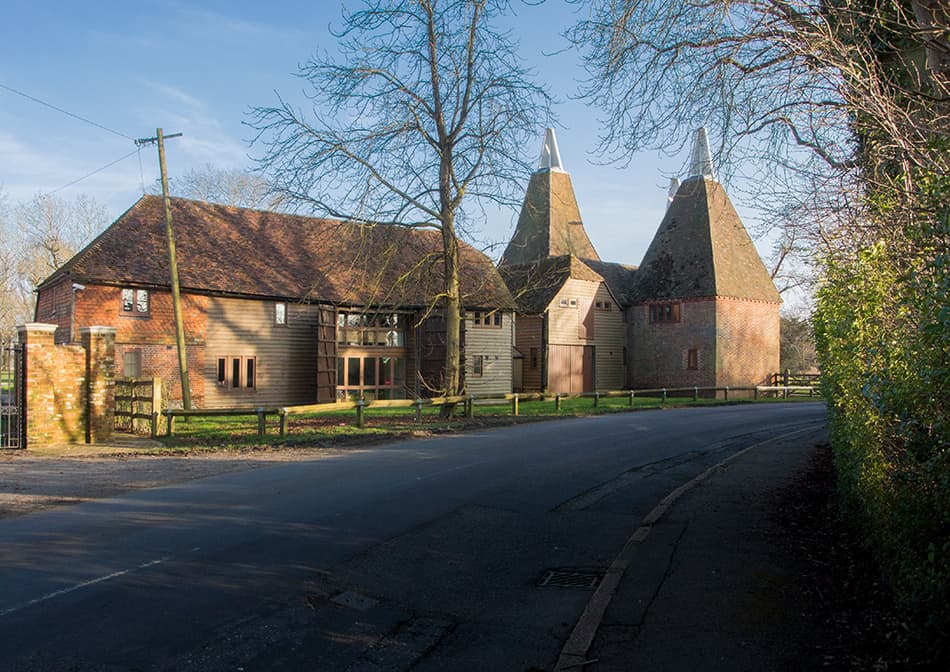 Open-concept living space: since barns are open and airy spaces, most barndominiums also feature open concept floor plans. Open living spaces are, after all, highly desirable even in conventional homes as most people don't like the idea of 4 walls separating each room.
Exposed ceiling beams: just like conventional homes, many barndos also feature exposed ceiling beams or trusses for decorative or structural purposes. These beams are large triangle-shaped structures that give a home a rustic feel. No matter which type of wooden ceiling structure you choose for your barndo, this feature is sure to add dimension to the space.
Tongue and Groove soffits: eaves and soffits are parts of the roof's edge that face downward. Some contemporary barndos have wooden soffits on the side-walk part of the roof's eave. The tongue and groove walls and ceilings are mainly seen in rustic barndos but they can also be included in modern dwellings.
Advantages of a Barndominium
Versatile living option: versatility is without doubt one of the best qualities of barndos thanks to their open and customizable design. If you love open and airy interiors with high ceilings, a barndo is the right house for you. The layout of this home style can easily be transformed into a desirable living space.
Easy and quick to build: building a conventional home can take many months or even a year to complete. The good news is, barndos are super easy and quick to build so you won't have to wait for many months to move into your new home. In fact, you can have your barndo completed within three weeks depending on the area. Since most barndos are assembled off-site, most of the work will have already been done. All that requires to be done is the interior finishing work.
Dual-purpose solution: if you work from home, a barndo will provide you with an excellent dual-purpose living solution. These homes allow self-employed people to maximize the space by creating a large home office without sacrificing any of the other rooms. Even those who want to run a commercial business from their home can greatly benefit from living in a barndo thanks to its ample storage space.
Customizable interiors: the interiors of a barndo can be finished with any type of material you desire. From modest fixtures to luxurious and designer accent pieces, you can easily customize your barndo any way you want.
Additions made easy: one of the biggest benefits of barndominiums is the possibility of increasing the available space as and when you need it. Whether you need a double garage, an additional storage room, or more bedrooms, all you need to do is add an extra wall to the structure.
A modern design concept: since barndominiums are all about spaciousness, they allow plenty of uninterrupted natural light to flow inside. As I mentioned before, the modern design concept of a barndo allows you to arrange the interiors to your own liking without worrying about cramping or cluttering the space.
Energy-efficient: most barndo contractors use environmentally-friendly materials with exceptional insulating systems and HVAC units that are energy efficient. This means you'll save significant money on your cooling and heating bills, which will offset the initial building costs of the barndo.
Ideal as a retreat or second home: for those who want to use a barndo as a weekend retreat or vacation home, they should know that barndominiums are ideal as second homes. Whether you end up using the barndo as a guest suite, a games room, an office, a rental or a vacation home, this versatile dwelling is an excellent option for you thanks to its tranquil rural setting.
Made from durable metal/steel: a barndo made from metal offers utmost protection against the elements. Metal and steel can ward off pests. Unlike wooden buildings that can rot, you can rest assured that your metal and steel building will be in tip top condition for many years.
Additional benefits of metal barndos:
Metal is a long-lasting and sturdy material that makes an excellent long-term investment.
Metal barndos can hold up against natural disasters and harsh elements, such as hurricanes and earthquakes. What's more, they are fire-resistant unlike wood, which can go up in flames quickly.
Metal barndominiums are easy to maintain compared to wood. There is no need to stain and paint the structure on a regular basis. A little cleaning from time to time is all that's required.
Wood is an expensive material while metal and steel are cheaper and tougher in quality. This makes a metal and steel barndominium a cost-effective building choice.
Compared to a wooden home, the insurance premiums for a metal barndominium are less because of the material's durability.
We put together pole barn vs. steel barn benefits and drawbacks here
Drawbacks of a Barndominium
Higher initial costs: although the cost of building a metal barndominium is much less than a conventional house, the initial build is still more expensive, especially if you hire contractors. The cost savings can only be made with fewer finishing features and cheaper labor. If you choose to take on the building project on your own, you may want to opt for a single-family dwelling as a cheaper option rather than a three-story conversion. That said, the budget you set aside for building a barndo will be dependent on how big and lavish your new metal-framed home will be.
Rural living: because of the relaxed building codes and regulations in rural communities, barndominiums tend to be most popular in those areas rather than in cities. While it's true that in a rural area, you'll have more design and space options, you'll still need to consider the travel expenses, especially if you need to commute to work. There is also the problem of being miles away from friends or relatives, which may be a problem for some people.
Maintenance is your responsibility: living in a barndo means you won't benefit from the same perks as condo communities. This is because barndominiums are independent units located outside of town so you won't be living in a community. You'll have to take care of all the upkeep and maintenance of the property and its grounds so if you are looking for a maintenance-free home, this option wouldn't suit your needs.
Metal roofs are noisy: metal barndominiums aren't the best properties for blocking out the outside noise. Even if you use the highest quality insulation material, the sounds from the outside tend to be louder because of the metal or steel roof. For instance, whenever it rains or snows, you'll hear the loud noise from whichever room you're in. The noise will be even louder when the snow turns to ice and starts sliding down the roof. This can be a potential disadvantage, especially for those who are sensitive to noise.
Cost of Building a Barndo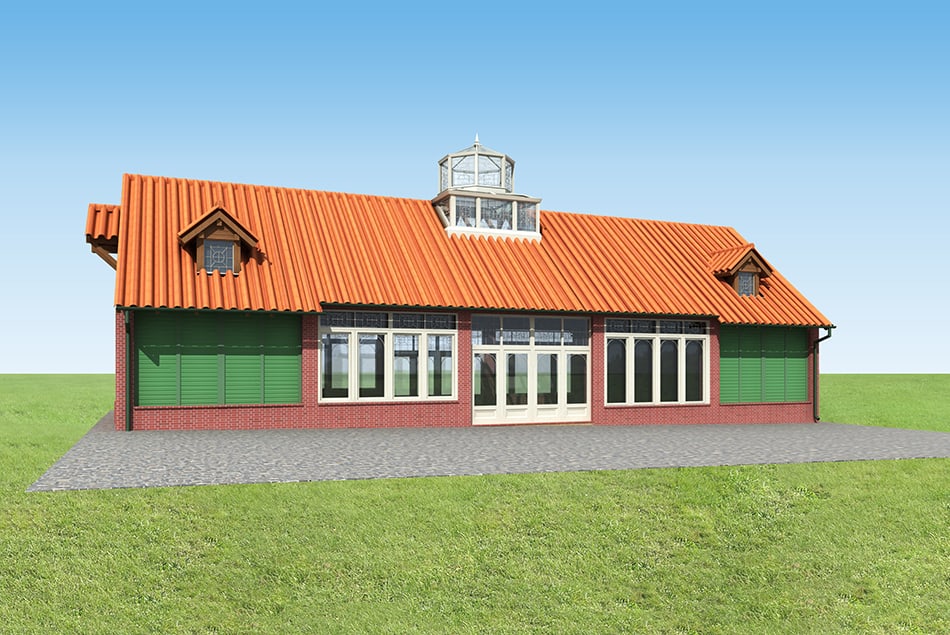 If you wish to build a barndominium from scratch, you'll have to pay around $30 per square foot depending on the area. The starting cost of a 30 x 40 barndo works out about $36,000. There is also the finishing that bumps up the price to around $80 per square foot. You will more than likely want to add a kitchen, a couple of bathrooms, and bedrooms for a custom barndominum – that's where the numbers increase. Some building companies will charge as much as $150 per square foot for a complete buildout, which means they will build the barndo, install the high-end finishes, and build any custom cabinets or countertops for your kitchen. All these add up to approximately $180,000.
However, you can choose an even cheaper option by purchasing a prefabricated barndominium kit. This is an unassembled house that literally comes in a box. For the installation, you can either do it yourself or hire a contractor to assemble the metal framing on your land for a fraction of the cost of building a traditional house.
Barndominium kits are available in a variety of styles and designs, from small cabins to luxury cottages and modern houses. The framing is almost always metal or steel and the interiors can be customized to your liking.
One of the biggest appeals of opting for a kit home is the time and money you save. You won't have to wait for many months for the kit house to be built plus the entire project will cost a fraction of a traditional home. In fact, you may save as much as 50% by opting for a kit rather than building a barndo from scratch.
Kit homes vary in style and features so the most economical way is to choose a basic model and customize it over time as and when you can afford to. Moreover, there are barndominium building companies that sell the shell of a barndo for as little as $10,000 for an average-size kit. These companies will deliver the shell to your land, offload the metal frames, and the only thing you'll need to do is to assemble the kit or get someone to help you.
There are also some larger barndo kit companies that will sell more than just the building's shell. For example, they can take care of the front door installation, the engineered concrete slabs, the stained concrete floors, the spray foam insulation, the roofing, and the energy efficient windows, to name some of the few services they offer.
So as you can see, the cost of building a barndominium doesn't have to be such a scary prospect as long as you plan it carefully and weigh up all your options beforehand. To help you further with your barndominium's cost planning, take a look at the following guide:
Main Factors that Influence the Final Cost of a Barndominium:
The type of metal you choose for your barndo's structure will influence the price as well as the other materials needed for the construction of the roof and columns.
How big you want your barndo to be will impact the building cost as it's calculated per square foot. While larger barndos tend to be more expensive than smaller ones, their overall cost of materials tends to be lower.
Remember that the more windows and doors you want for your barndo, the more costly it will be. The same goes for any other architectural features you'll be adding to the property.
The finishing choices for your barndo's interiors can result in price variations. For example, marble is a high-end material for the flooring, which will increase the cost. If your budget is tight, opt for ceramic tiles or composite flooring instead. Another way to save money on the materials is by ordering them in bulk rather than batches.
One of the biggest advantages of barndos is their flexibility in roof design. You are free to choose any type of roof based on your budget and the local climate.
The next important consideration is the price of the insulation material. The thicker the insulation the higher its price so in terms of energy savings, it is worth spending extra on premium-quality insulation.
The final consideration that will impact the cost is how you'll be building your barndo. If you have the time and the expertise, you may consider ordering a prefabricated metal building kit and doing all or part of the construction work yourself. This will obviously save you money as you won't need to hire contractors for the entire project. However, if you must bring barndominium builders to construct the steel or metal barn from start to finish, take into account the prices of kits, delivery, and labor charges. It's best to obtain two or more quotes before going down this route.
What to Consider Before Building a Barndo
Before you start building your barndominium, it's worth thinking about what your use will be from this type of dwelling. For example, will it be your main residence? A rental property? A workshop? Or will it be used as a vacation home? With these questions in mind, you'll be able to make an informed decision with regards to the number of bedrooms, the furniture, and the storage needs. Once you've determined the purpose of your barndo, you can then calculate the cost of building one.
Permits
Building permits must be acquired before, during, and after the barndominium construction. These permits include building, occupancy, septic tank installation, electrical wiring, plumbing, and many others depending on the area you'll be living in.
Common Barndo Sizes
Just like every other residential structure, your barndo plan can be as small or large as you want. Here are the most common barndo sizes:
30×40
40×60
40×75
60×60
60×70
How to Build a Barndominium
The first step is to decide whether you want to build the barndo yourself or hire contractors for the job. Here are some options to consider:
Get contractors to construct the entire building from the start to finish.
Get contractors to build the basic barn structure so you can complete the rest yourself.
Build the shell yourself and get a contractor to finish it for you.
Purchase a building kit, have it delivered to you, and hire contractors to assemble it on-site.
Purchase a building kit, have it delivered to you, and do all the work yourself.
With the above in mind, you should carefully assess the advantages and disadvantages of each option in terms of labor charges, time, cost, and the final result of the project.
The next step is to create a barndominium floor plan: once you've come up with an idea of how you want to build your barndo, you'll need to create floor plans. It is possible to either buy such floor plans, have them completed by experts, or create your own.
If you're not planning on building the barndo yourself, you must now go down the route of hiring contractors. Take the time to research and find established companies that specialize in building metal structures. Obtain a few quotes and ask for references before proceeding.
Now you're ready to get the necessary permits to build the barndo. If you're hiring contractors for the job, they will take care of all the relevant permissions and paperwork.
Once you've completed all the above steps and obtained the permits, you'll need to apply for financing at a bank or lending company. This is only in case you don't have the available cash to fund the entire building project. It's best to put together a realistic timetable for the construction project and a professionally drawn barndominium floor plan in order to increase your approval chances.
Here is another quick video showing how to build a barndominium.

4 Barndominium Examples
1. A Single-Story Barndo With Homely Interiors

Take a tour through this bungalow-style white/tan barndo featuring a roll-up garage door in the same color as the rest of the exterior. This barndo provides an inviting feel with its stone and wooden columns that complement the metal structure.
2. A Two-Story Barndo With Tons of Character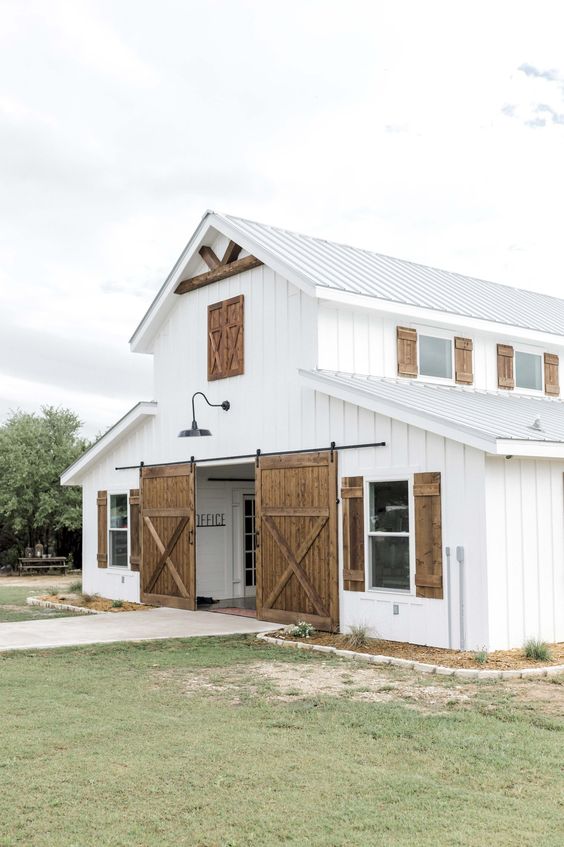 This modern 2 story barndo is drenched in charm and character. The exterior elements perfectly match the traditional features of this house plan thanks to the sliding barn doors that create a simple, yet beautiful, dwelling. The matching shutters and wooden accents have further contributed to this barndo's visual appeal.
3. A Larger Than Average Barndo in a Simple Design

The next example is a large 2-story barndo with metal roof and columns all around the structure. The attached double garage has a fiberglass door with matching roof and black columns.
4. A Three-Story Farmhouse-Style Barndo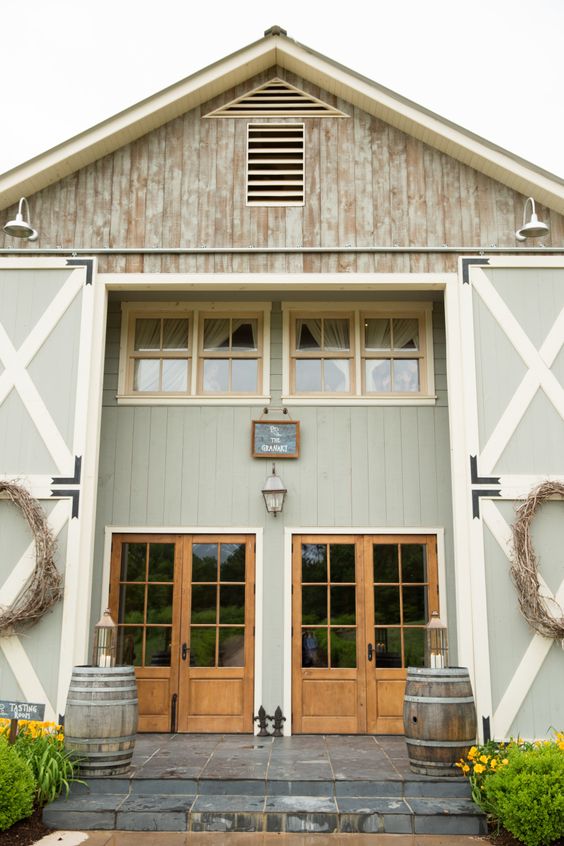 The last example is a beautiful rustic-style barndo with oversized weathered wood barn doors, metal hardware, and two barrels for a truly traditional touch.
Final Thoughts
If you have succumbed to the idea of living in a unique home closer to nature and away from the hustle and bustle of the city, then a barndominium will be the perfect investment. Barndos provide plenty of open space, land access, and the flexibility to customize them to your liking. With careful budget planning and the necessary permits, you'll be building your own barndo in no time!