Are you thinking of changing or painting all your entry doors but can't decide whether all exterior doors should be of the same color or not? On the one hand, it's a smart idea to color match, and on the other hand, you may want a bold color for your front door but not for the rest of the exterior entries.
The good news is, not all your exterior doors have to be the same color. Some people choose vibrant colors for their front doors with complementing colors for the rest of their home.
To help you decide on the best colors for your exterior entries, continue reading this article.
Exterior Doors: Same Color or Not?
Since your front door is the first thing most people see when approaching your home, it is important to make it stand out. By using a different color for your front door than the rest of the house, you create visual interest. You don't necessarily have to paint the front door the same color as the other exterior entries to make an impact.
Your home will always look aesthetically appealing if you take a cohesive approach to your exterior door paint colors. External doors only need to match closely if they are visible to the passersby. Since it is impossible to see the exterior door at the back of your property, it may be best to choose a subtle color rather than a bold one. That said, there is no reason you can't choose the same color for both your front and rear exterior doors.
The main aesthetic concern should be the color of your windows as they are highly visible. Most windows are either brown or white and easily match any color front door. Brown is a popular choice, especially if you choose the natural wood stain finish. If you're trying to decide on the best exterior door colors, it may be best to go for a similar shade of brown to match your window frames.
Darker colors for your window frames also work well as a nice contrast against your front door.
Aside from your front door and windows, you will also want to think about the best color for your garage door. If the garage door is located right next to the front door, two different colors may be overpowering so it's worth considering a matching color. For example, a blue front door will create a cohesive look alongside a blue garage door.
For bright red or yellow front doors, on the other hand, the same color for the garage door might not be a good idea as too much of these bright colors can be overwhelming.
What Color Should I Paint My Front Door?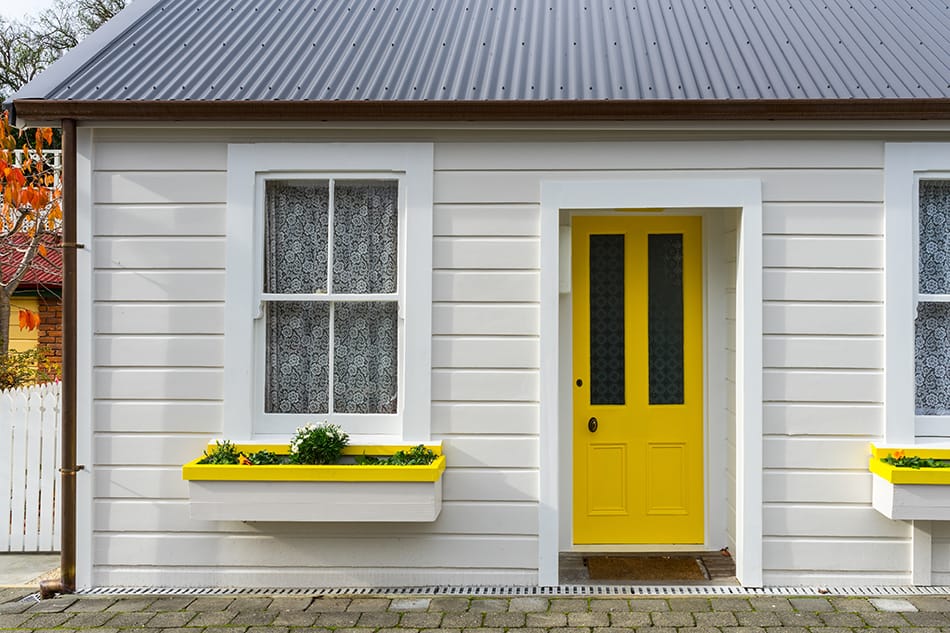 The best color for painting an external door depends on your personal taste. Bolder colors stand out and make it easier for people to locate your home. White, red, yellow and brown are some of the most popular front door colors.
But if you prefer to go for a little more classic color, consider glossy jet black or green. Depending on the surrounding elements of your home and the color of your window frames, bold colored front doors, such as white, black or even pink will pop more convincingly.
So as you can see, there is no right or wrong decision when it comes to choosing the best door color. Take into account the features of your home, its surroundings and the roof color before selecting a paint color.
What Color Should My Exterior Door Trim Be?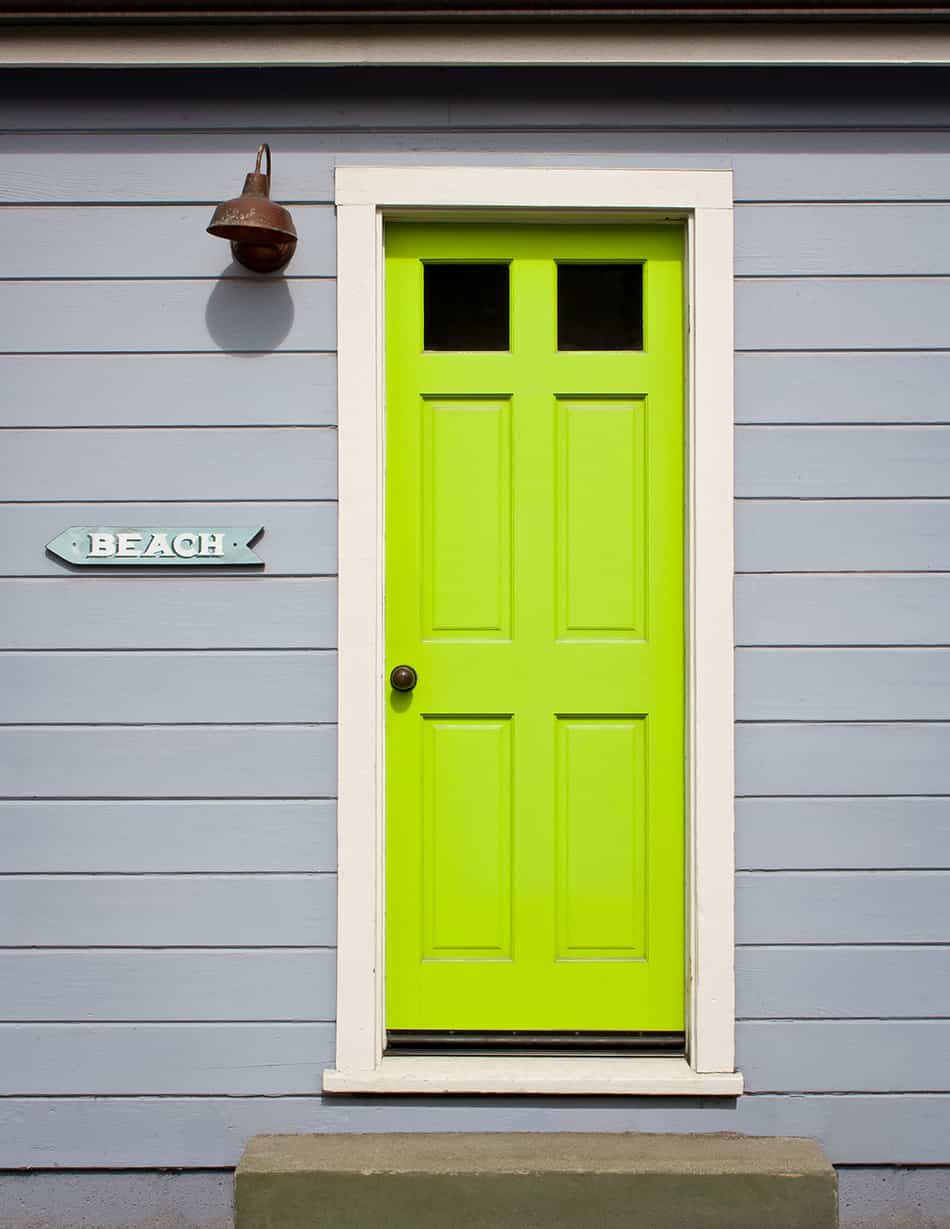 For the door trim, you'll want to pick a color that complements the door itself. A black frame, for example, will make the white door stand out. On the other hand, a white frame will stand apart. A bold colored frame is a risky choice, but if you must choose it, try to match it with the door color.
What Color Should I Paint My Storm Doors?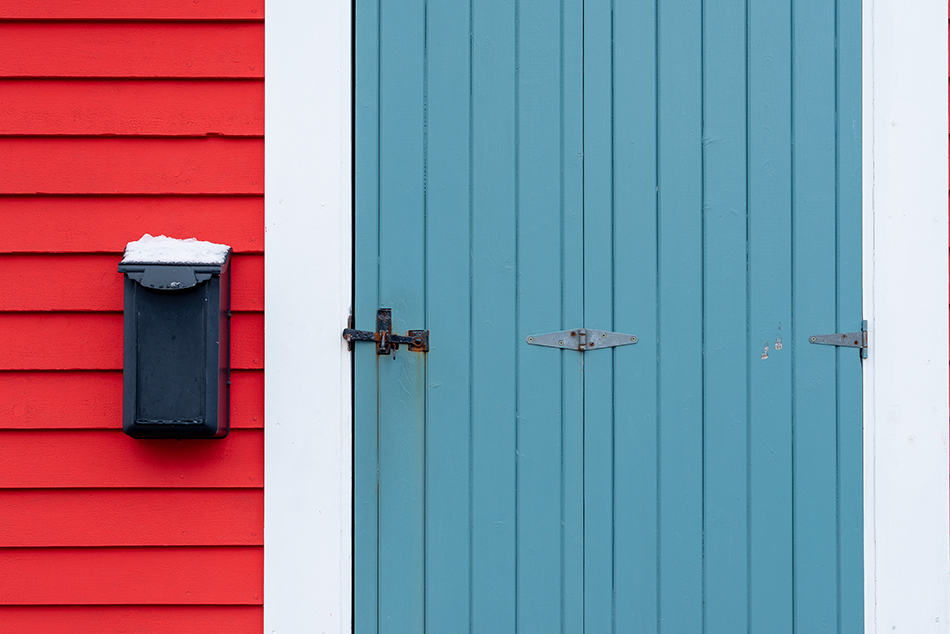 Secondary doors, or better known as storm doors, are installed over the main exterior door in order to protect against adverse weather elements. These doors typically have large glass panels for better visibility when the main door is open. Some homeowners prefer to match the front door color to the storm door, but you don't have to. Many storm doors come in bold colors so if you want a touch of color, you may choose purple, red or blue.
What Color Should My Shutters Be?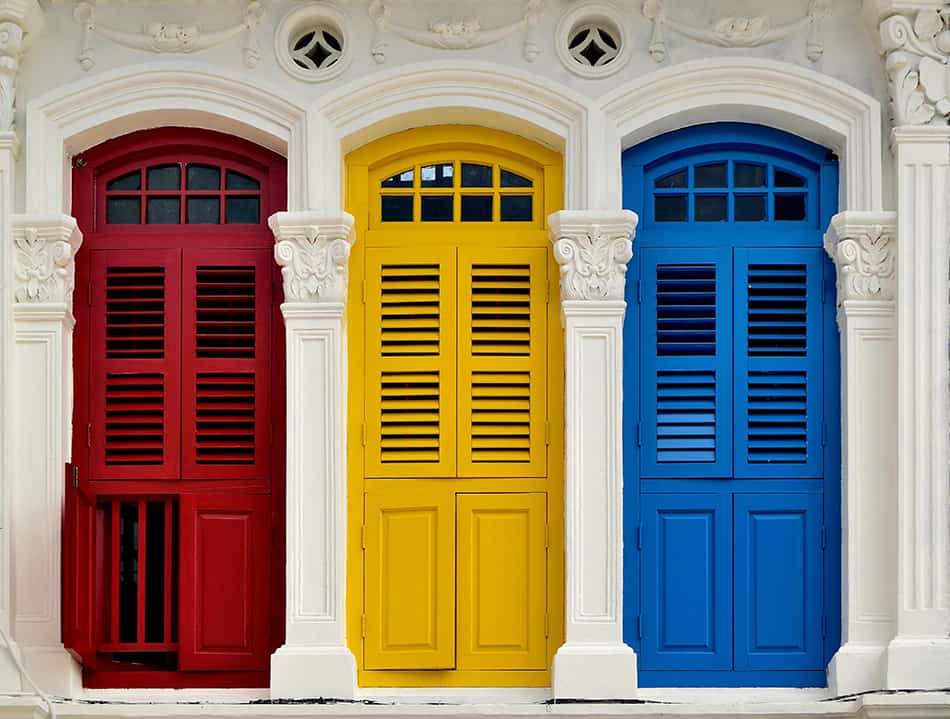 If your home has shutters, it is a great opportunity to bring style and uniqueness to your exteriors. Choosing a specific color for your shutters will make or break the aesthetic appearance of your home. But the question is, should your shutters match the front door color? Well, the shutters should coordinate well with all your exterior doors but they don't have to be in the same color.
One option is to go for a lighter or darker shade for your shutters. Another common approach is to use contrasting colors. For example, purple, yellow, red or green shutters work very well with the opposite color palettes, such as orange or lilac front doors.
Conclusion
When deciding on the best paint colors for exterior doors and windows, ask yourself whether you want the color of your garage door to match your window frames and doors. There is also the local building code you need to know about before selecting the best color palette. If you're going to sell your home, choose colors that attract potential buyers like white or red. Most homeowners tend to go for colors that coordinate well with the architectural style of their home.
Your personal taste in exterior door colors is perhaps the most important deciding factor. While you don't need to have all your exterior doors in the same color, to make your home visually interesting, you may want to paint your shutters or trims one shade lighter or darker than the rest of the exterior entries.