Your front door is the one part of your home's exterior that allows you to make a great first impression. If you have a gray house, choosing the right front door color can set the tone and increase curb appeal.
Although most homes today are painted either in magnolia or white, gray is by far the most preferred color as it goes with pretty much everything.
If you have gray siding, you can choose any bold front door color to match this color scheme. But picking the best front door colors for gray house takes some experimentation with different color palettes so as to ensure they don't clash or look bad next to each other.
When deciding on the best front door colors, always consider your gray siding's undertone. Even if there is just a small hint of gray, you'll still need to think carefully about the paint color for your front door.
To help you with this task, we will show you the best front door colors that work with gray siding so you can make an informed decision for your home.
Front Door Colors that Go with Gray House
Pretty Pink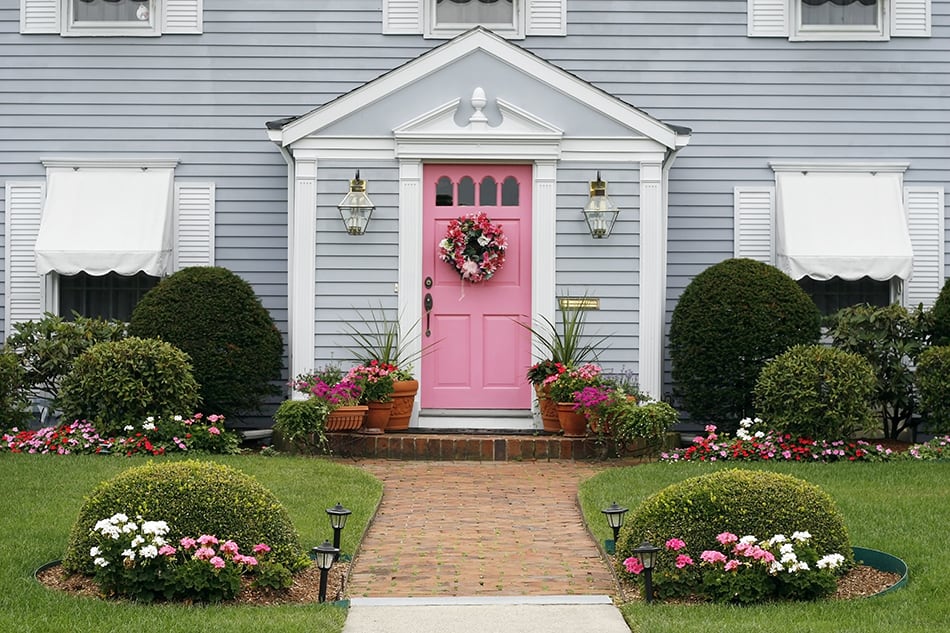 Pink is a bright and bold color for a front door, so if you want your home to be noticed by passersby, this is the color to choose.
Pink goes perfectly with dark or light grays, but to make maximum impact, be sure to pair it with bluish-gray siding as shown here.
Pink will also enhance your home when surrounded by hanging plants and minty green hues. This house is a perfect example of how you can transform your gray exterior with a pretty shade of pink and plenty of greenery.
Vibrant Red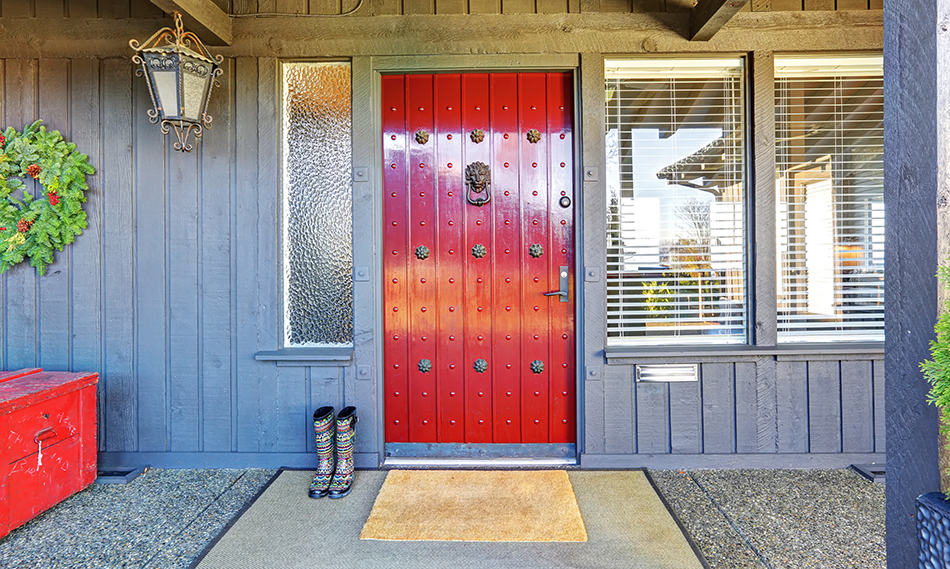 Red means welcome in Feng Shui so what better color to choose for your front door than red! According to this ancient Chinese philosophy, red encourages good flow of energy into a home through the Mouth of Chi (front door).
Whether you believe in Feng Shui or just want to create welcoming energy, red is the color to choose for your front door. This classic color makes a bold statement, especially next to a neutral siding exterior as it is associated with intensity and passion.
From maroon to cherry, a red door works with muted neutrals that don't crave for attention. When embellished with brass hardware, your red front door will be a welcoming entryway next to bluish gray siding like the one shown here.
Pumpkin Orange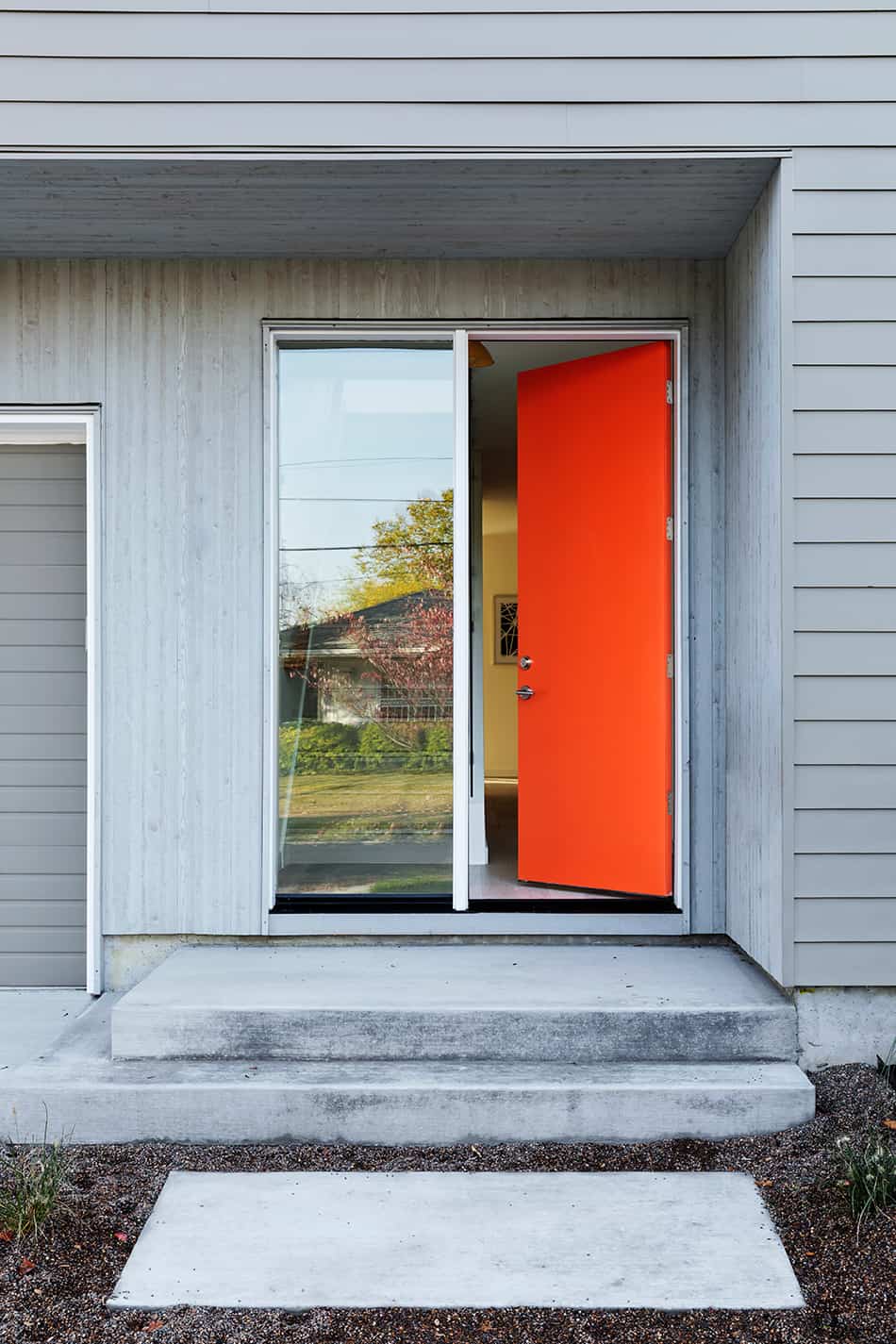 Pumpkin spice is a shade of orange that competes for attention. When chosen as a front door paint color, orange creates a daring and inviting feel.
To make it work next to gray, stick with slightly muted orange or opt for a brighter shade of orange against dark gray walls.
Pool Blue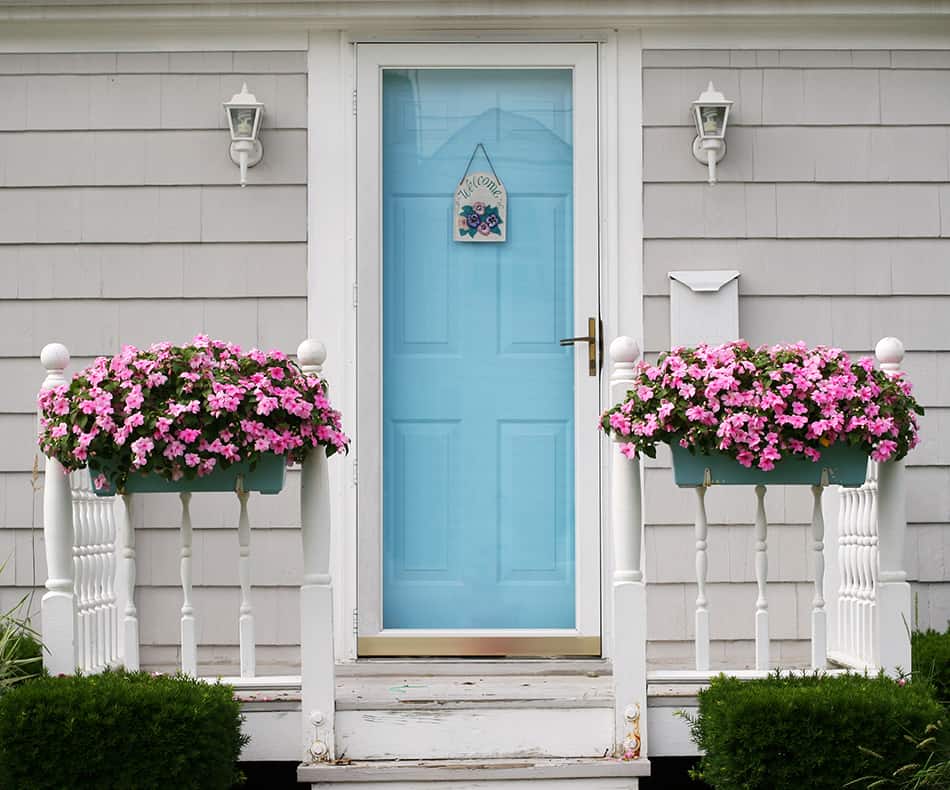 When you think of pool blue, doesn't it bring to mind the summer and the comfortable atmosphere? This versatile color is ideal for a front door, especially when paired with gray siding.
The combination of aqua blue and light gray creates a coastal vibe, but you may also use other shades of blue like azure, teal, or navy for your gray siding.
You can try this pool blue color with the Benjamin Moore Pool Blue 2052-50 or Benjamin Moore China Blue 2052-60 .
Navy Blue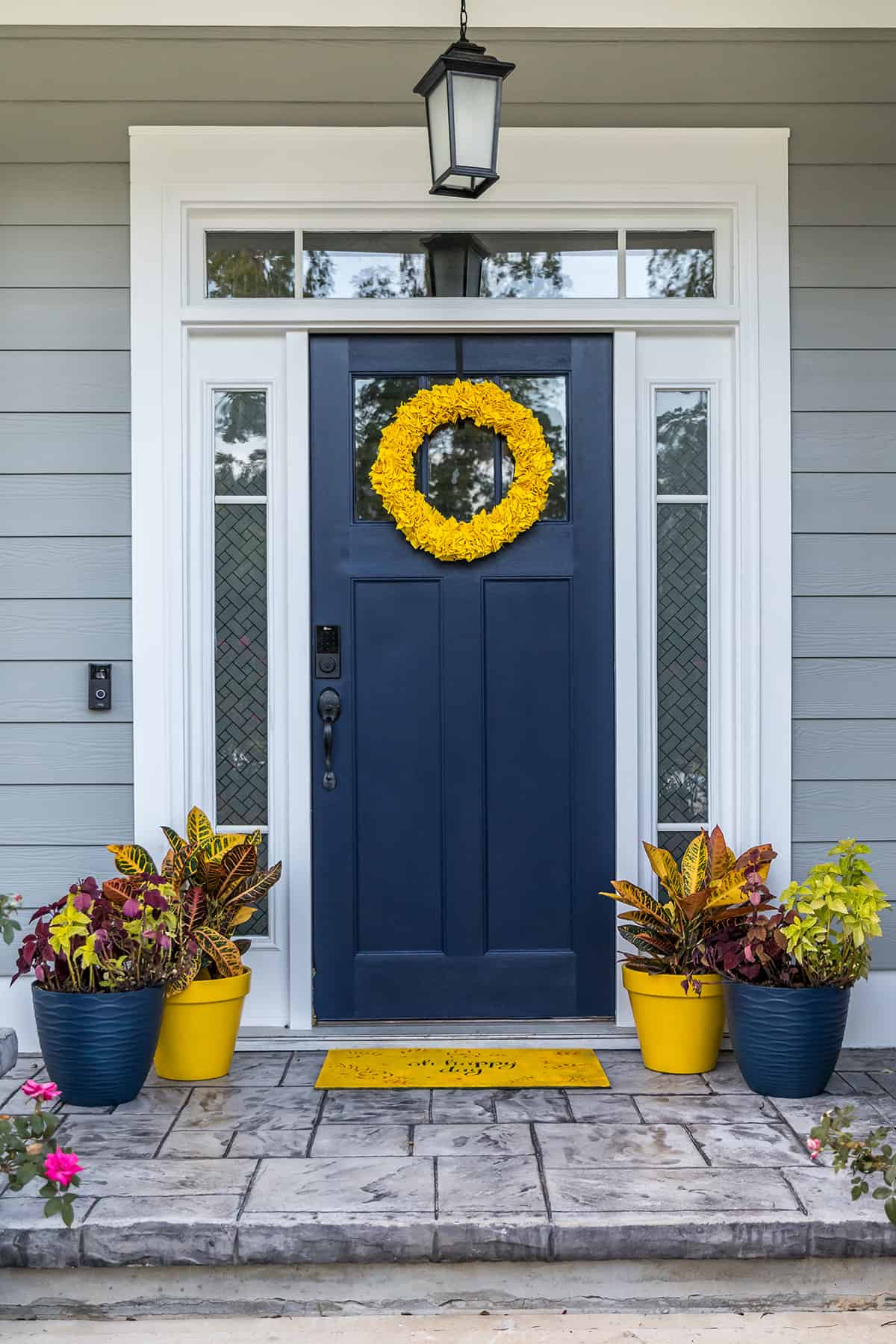 Want to create an elegant look with the grey house and blue door combo? Try navy blue front door and gray-cloud siding.
Mix white in between for the trim, which blends well with the dark color of the bluish tone and light gray. You might also consider adding some shining colors like yellow, or orange for surrounding decorative items to bring some energetic vibe to the exterior.
Woody Brown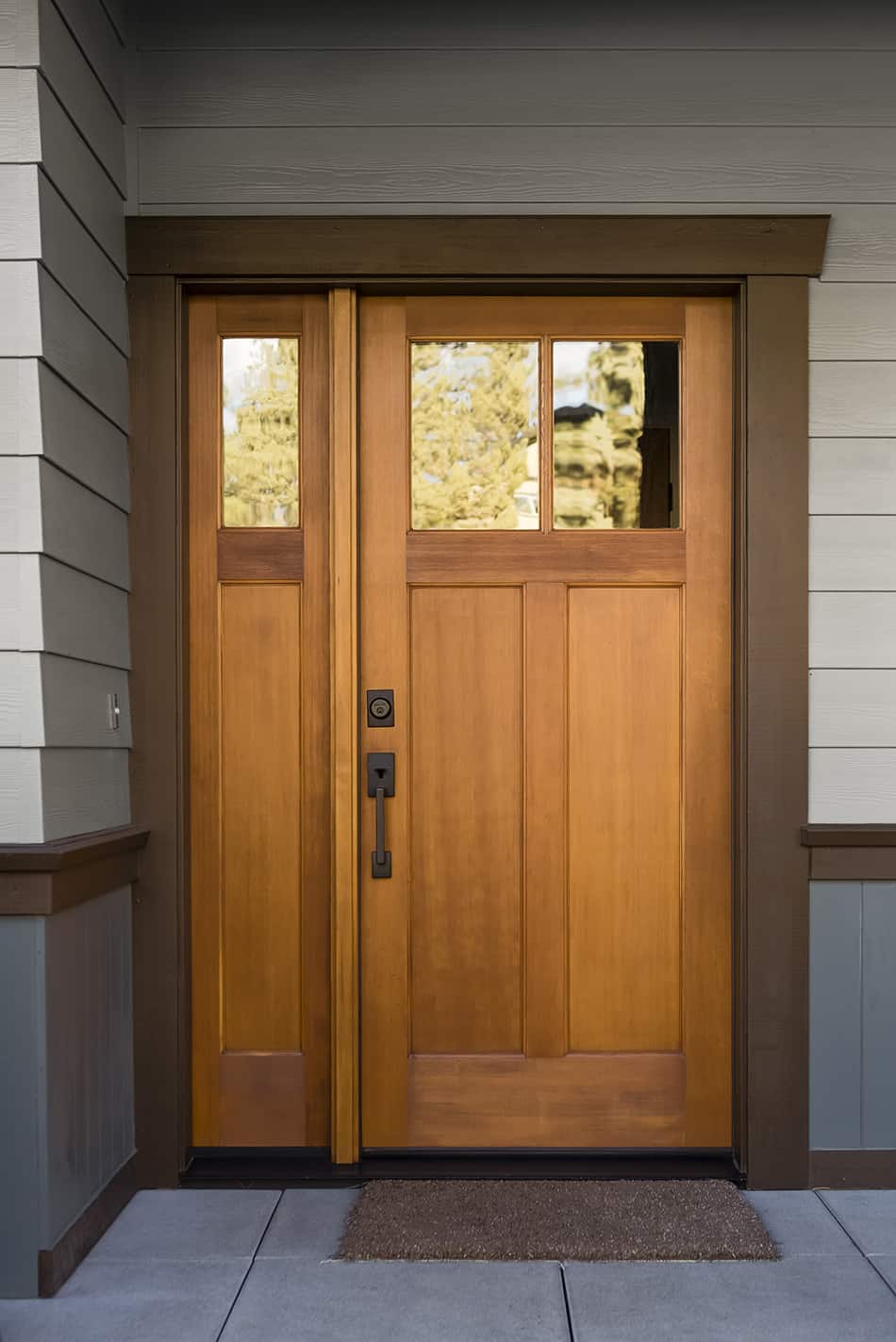 Brown is another beautiful color for a gray home's front door. This color is closely related to wood and looks great no matter how light or dark the gray siding is. Brown is such a versatile color that it's definitely worth considering.
If you prefer, you may choose real wood as a brown front door. Real wood doors work perfectly with modern or traditional exteriors. Even the most contemporary homes can benefit from natural materials like real wooden doors painted in brown.
On the other hand, if your front door isn't made of solid wood, you can always paint it brown. This warm neutral color will complement any earthy tone to create a lustrous monochromatic look. Here, the light brown front door next to dark gray siding stands out as the focal point of this house.
Dreamy Purple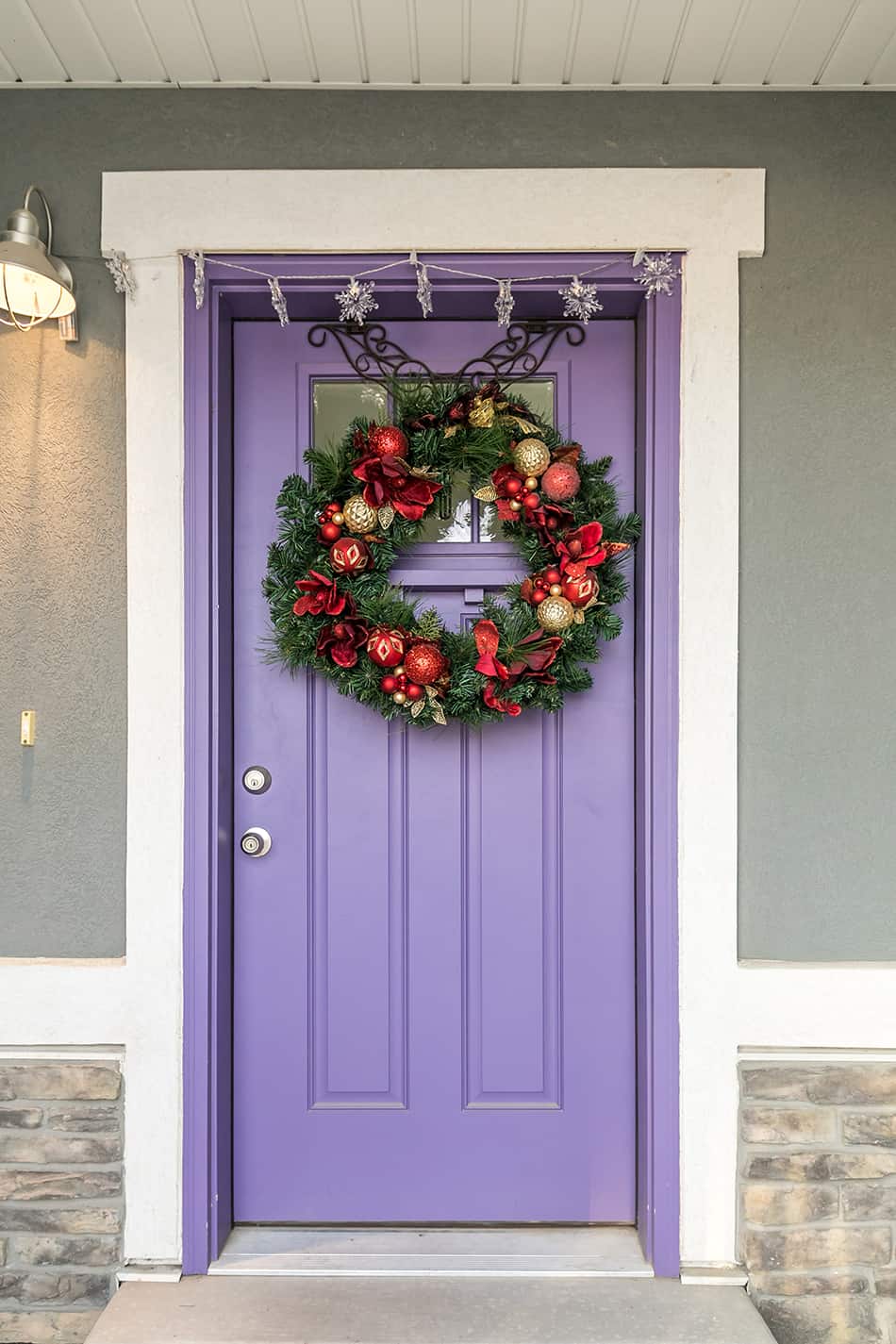 Purple is an unusual color for a front door, but did you know it works very well with muted gray siding as you can see here. A purple front door is a daring way of adding a dash of color to your gray exterior.
Purple is a great color to use subtly next to gray brick, vinyl or stone siding. This moody yet mysterious color fits a front door perfectly and brings out your muted gray exterior.
In Feng Shui, the color purple is associated with peace and prosperity. In interior design, this color provides a stylish look to the exterior of homes.
Purple is a soothing color that's related to spirituality. In fact, this hue is the only color that can be placed in any direction so if you want to make a statement, feel free to experiment with different shades of purple before picking your favorite shade for your gray house.
Canary Yellow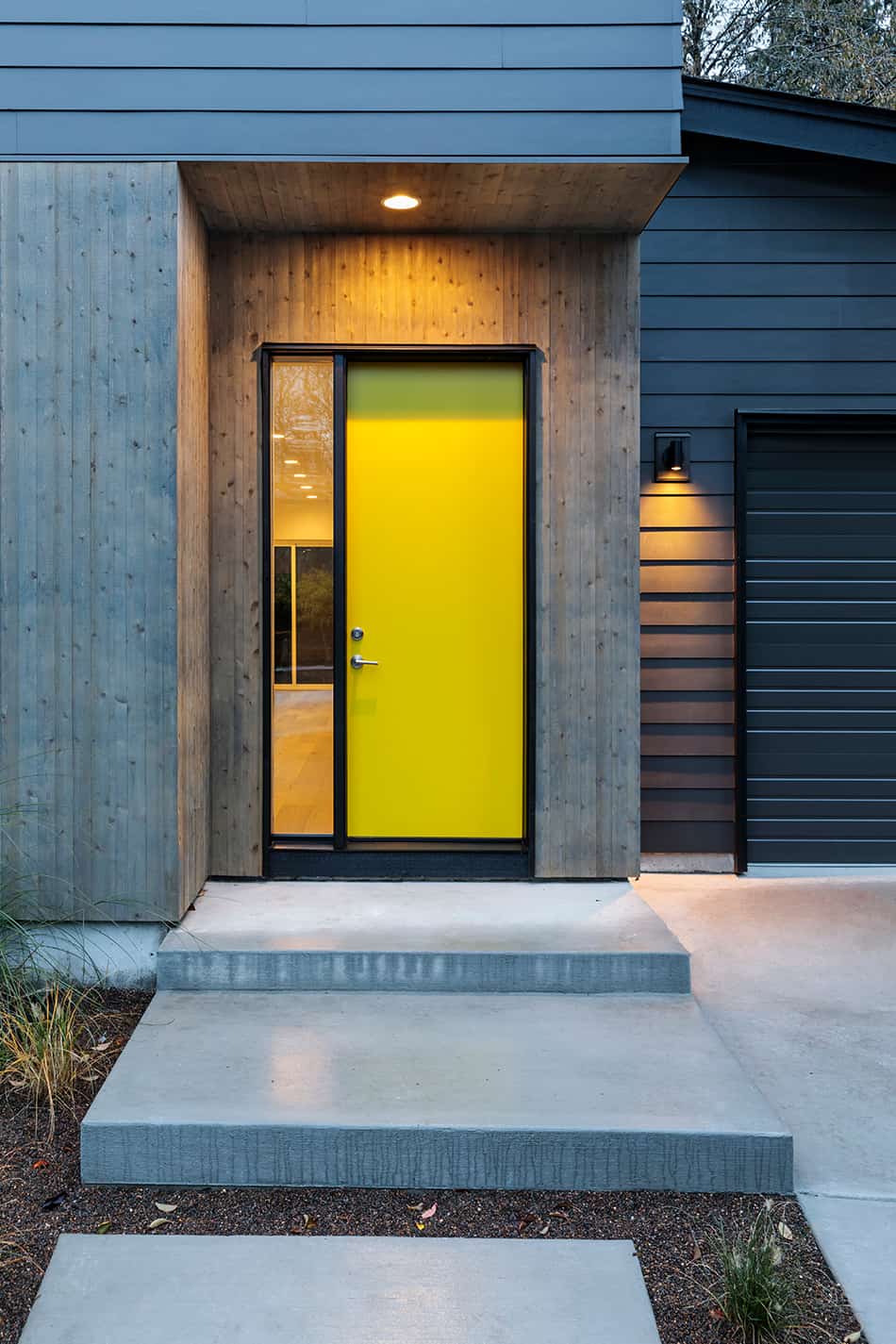 As a cheerful and sunny color, yellow for the front door will look great next to gray walls. This modern color offers a sleek vibe to any front door. While some colors promote relaxation, yellow will brighten up your day in an instant.
Canary yellow is one particular hue that stands out next to a gray siding. But it can be a little tricky to get used to this hue, especially if you've never considered such a bold shade for your front door.
However, you can really set the tone and mood by introducing a bright shade of yellow to your gray exterior.
Yellow is, after all, a vibrant, joyful color that emits a carefree vibe. It promotes wellness and can have an energizing effect, thus making it a perfect color for the front door of a gray house.
Graceful Gray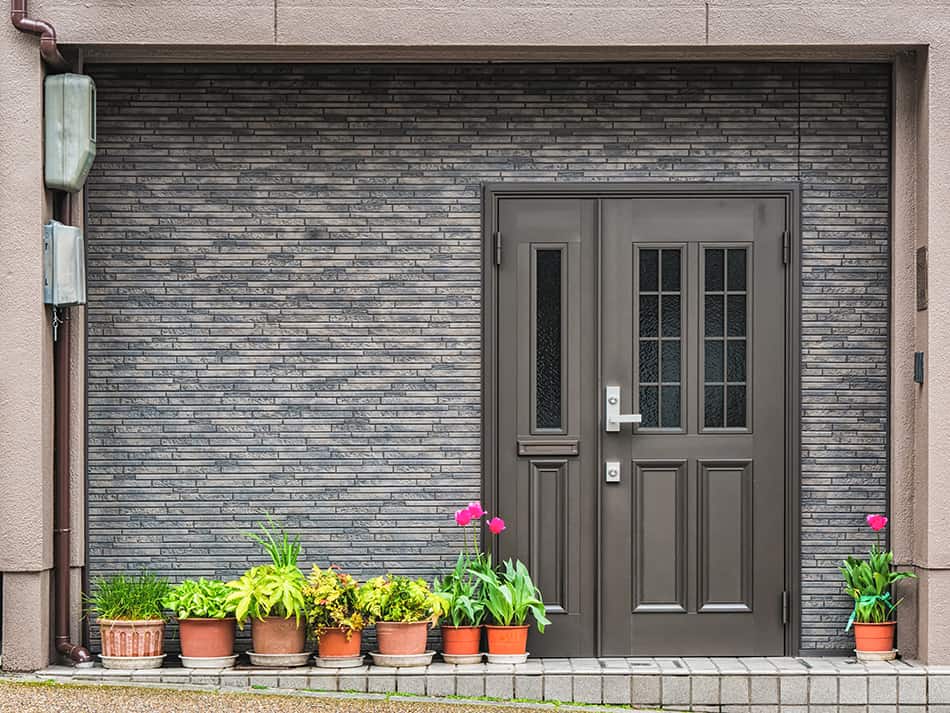 Gray is the new black so why not match it with your gray siding to create a cohesive look! The right shade of gray has the power to bring warm elegance to your front door with minimal effort.
Gray is a classic, versatile color that not only flows with a gray house, but it can also make a statement on its own.
Whether you opt for mid-toned gray or a muted hue, this hot and trendy color is one of the best combinations to use with a gray house. That said, some people may be hesitant to use gray for their front door as they think the color will look too gloomy.
But as you can see in this example, the dark gray front door has in fact made the exterior of this home ultra-smart and chic.
Using so many gray colors might make the house look like an old house, but the medium gray door is just the right tone to match with a light gray house. As a beautiful touch, add greenery to your gray exterior to bring a touch of color to your front porch.
Elegant Black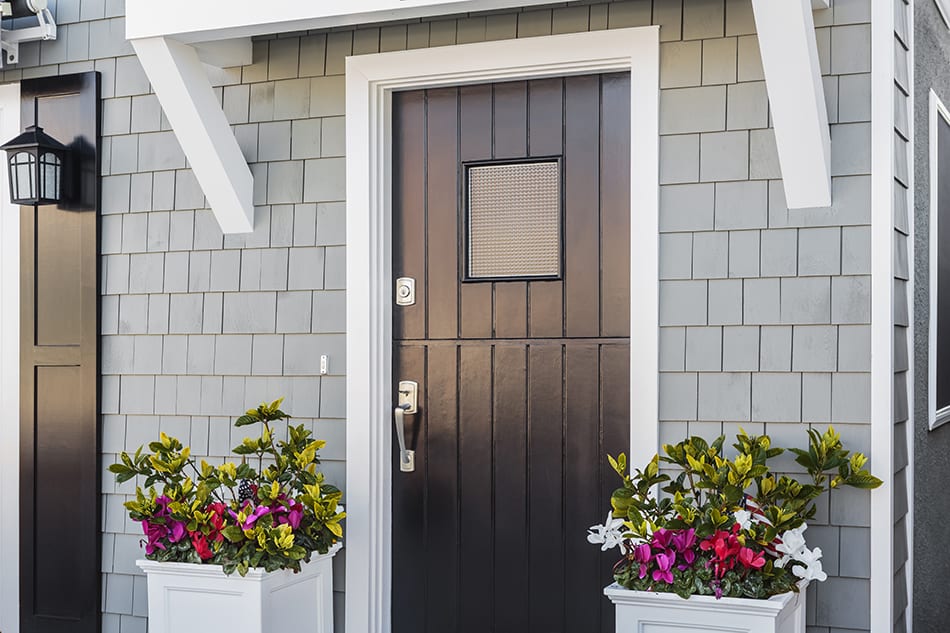 Black has always been associated with glamor and prestige. If you plan on drawing attention to your front door, consider a black front door.
This color looks great next to gray siding as a muted backdrop as gray will showcase the black. By painting your front door black, you can create tons of depth and make the color appear more colorful.
With a little glossy or matte black paint on the front door, any gray exterior can transform into modern luxury.
See how smart this shiny black door looks next to the light gray exterior. This color combo is a fantastic way of attracting attention to your home.
If you don't want dark tones with gray and black to stick out from the front, try mixing with white trim, white porch railings, some green plants, and red brick steps on the porch. See this combination in the photo below.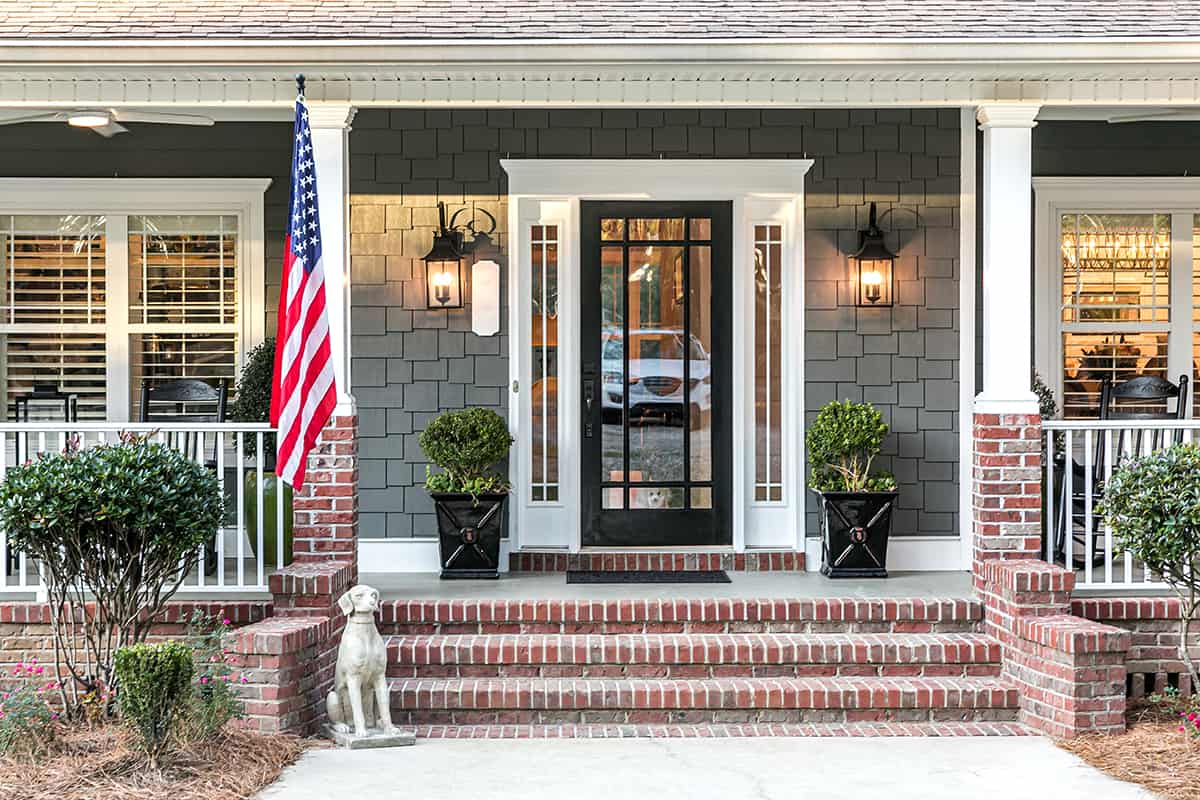 Bright White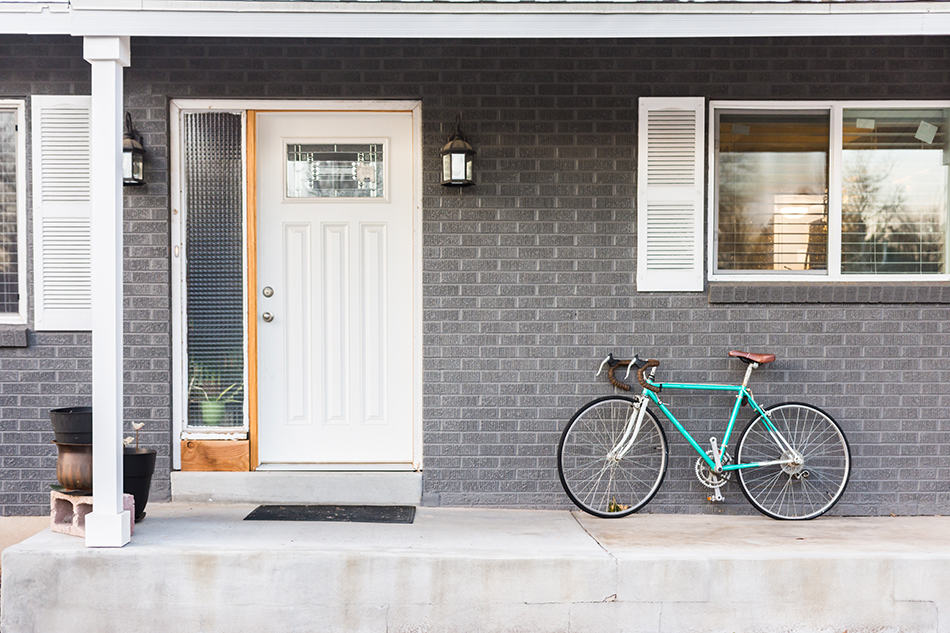 White may sound like an obvious choice for a gray house, but nevertheless, this is a clean and classy color that never goes out of style. A white front door can make a statement on its own or next to any shade of gray as the supporting color.
Gray and white go hand in hand for the entryway and exterior of your house as proven in this image. This color combination has provided a sophisticated yet simple design, which makes it incredibly versatile.
If you want to increase your home's curb appeal and resale value, consider a bright white front door. By choosing this color next to mid-tone grays, you can make a great first impression. There is no denying the timeless beauty of white!
Peach Jam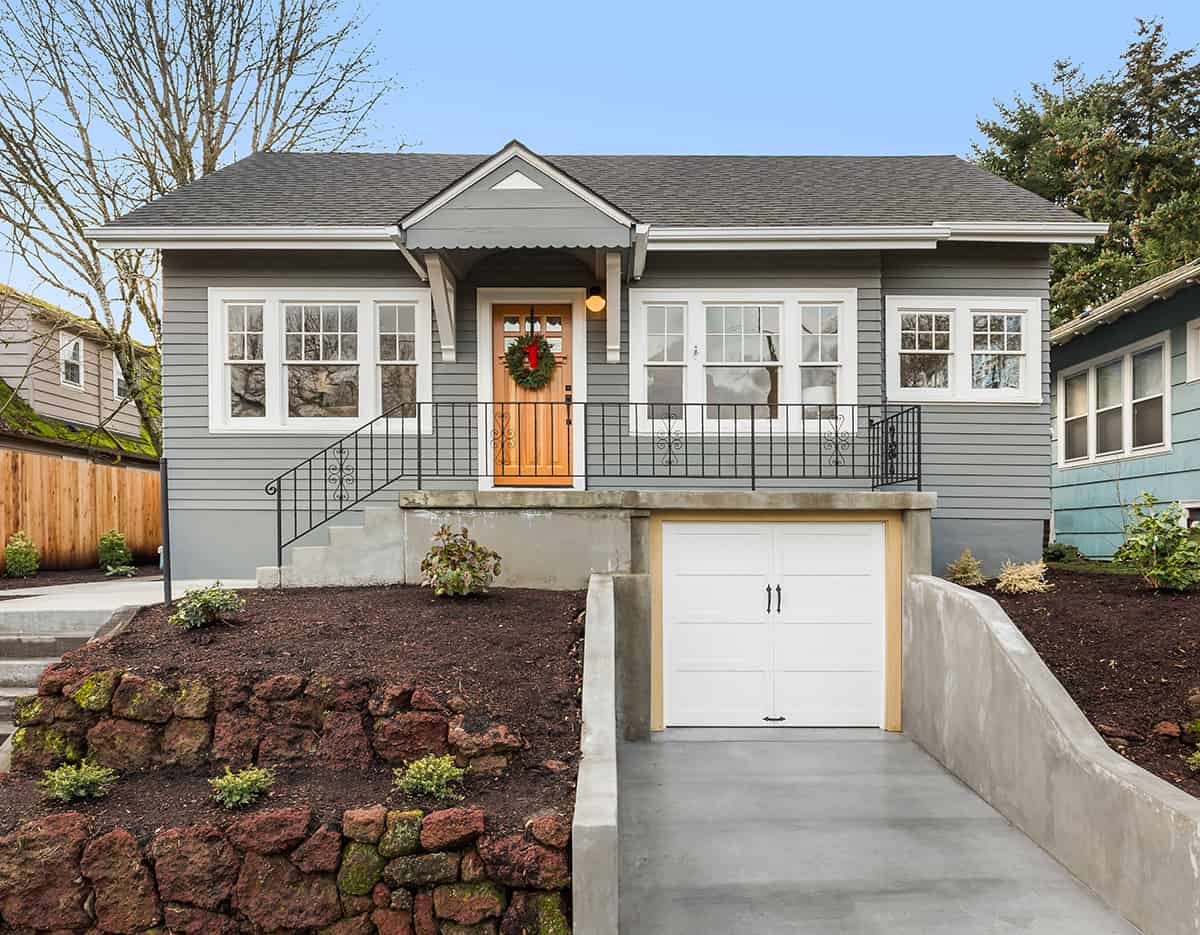 A light orange shade like peach jam color works perfectly well with a light gray house siding.
Here we can see the wooden peach-colored door compliments the gray and white color scheme of the house. The garage door stands out with a different pattern using white for the door and peach jam for the trim.
Find the Benjamin Moore – Peach Jam Color on Amazon here.
Conclusion
With so many great color options for your gray home's front door, you'll surely find the right paint color to wow your visitors and increase your home's curb appeal.
We hope our inspirational pictures have helped you design your dream home – whether you're after a classy, modern, or quirky style.
After all, the right front door color for a gray exterior provides the focal point of any home design.