There comes a time when you want to give your home exterior a complete repaint. However, you don't need to paint the whole house in order to give it a refreshing makeover. With a coat of paint on your front door and shutters, you can create visual interest without breaking the bank!
But before you rush off to your local home improvement store to look for paint colors, ask yourself the following questions: should shutters match the front door and which colors are the most attractive?
While your front door doesn't have to match your shutter color, there are many complementing and matching colors that will enhance the aesthetic appeal of your home. In this article, we'll take a look at some of these colors for your front door and shutters.
Should My Front Door Color Match My Shutters?
Since your front door is a unique part of your home, it is fine to make it stand out with a different color to your shutters. When you use a different color on your front door, you create a focal point that instantly draws the eye. So the answer to the above question is no, you don't need to paint your front door the same color as your shutters.
That said, you shouldn't choose a color that clashes with your shutter color. For example, if your shutters are in a neutral tone, any bold color will work for your front door. However, if you have bold color shutters, it's best not to use a bolder color for your front door.
What Color Should I Paint my Shutters?
Shutters are a beautiful addition to the exterior of a home thanks to their uniqueness and style. But how do you pick the right paint color for your shutters? Should they match or complement your front door color?
While your shutters should coordinate with your front door, they don't have to be in the same color. You may go one shade lighter or darker without the risk of clashing. Alternatively, you may use complementary colors, which are the opposite of each other on the color wheel. Red shutters and green doors, for example, will create a striking look. But one thing to keep in mind is that with bold colors, it is harder to bring harmony to your home exterior. Depending on the rest of your home's exterior color and elements, you will need to experiment with different paint colors to see which works better.
We've made your task easier by listing a few great examples of matching and complementing colors for your shutters and front door.
Best Matching Colors for Shutters and Front Door
Black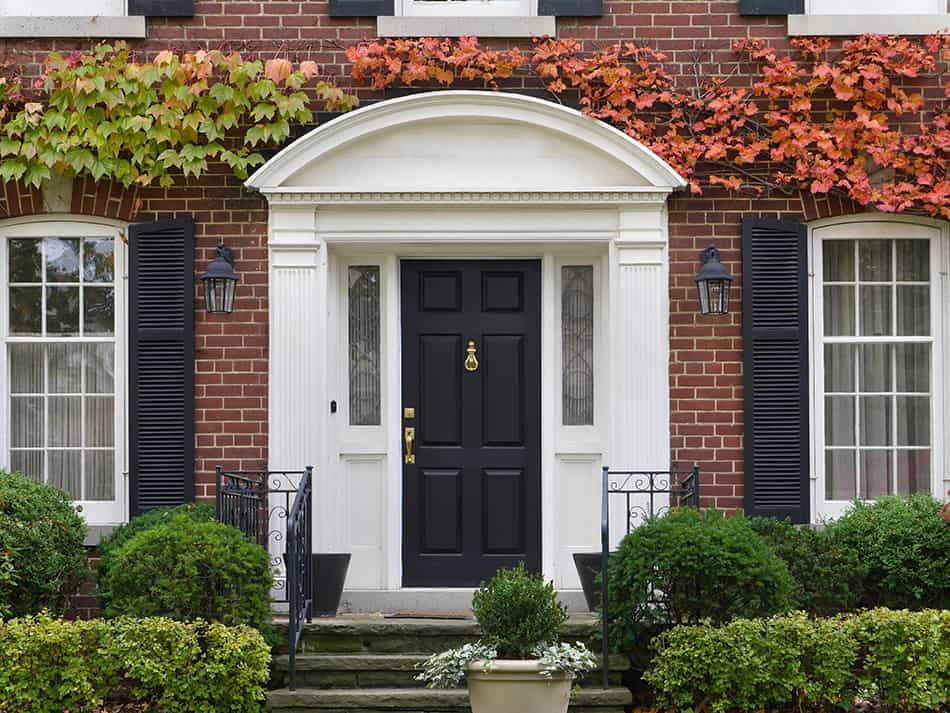 Black is a timeless and traditional color that works well on both shutters and the front door. This color brings definition and a touch of class to any home so you can't go wrong by painting your front door and shutters black. It complements brick, stucco and stone exteriors as shown in this example of a red brick home with black front door and shutters.
Navy Blue
Navy blue is a lustrous color for a modern home's exterior. This dark shade of blue is a great way to add depth and makes a more attractive alternative to black. If you want to give your home a bit more personality, then consider painting your front door and shutters navy blue. Here, see how the color stands out against this red brick facade.
White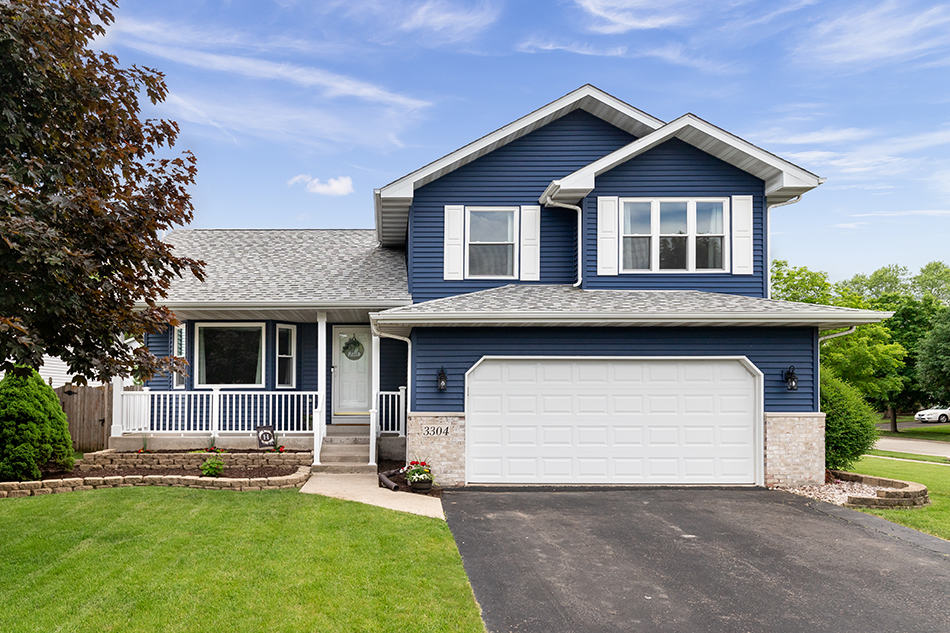 White is a clean, airy and bright color that works especially well on front doors and shutters. It is in fact the second most popular color after black due to its timelessness. White shutters in particular can make the windows look larger while a matching front door offers a stunning combination next to stone or natural wood siding. In fact, white is a safe bet for any exterior siding as shown here.
Red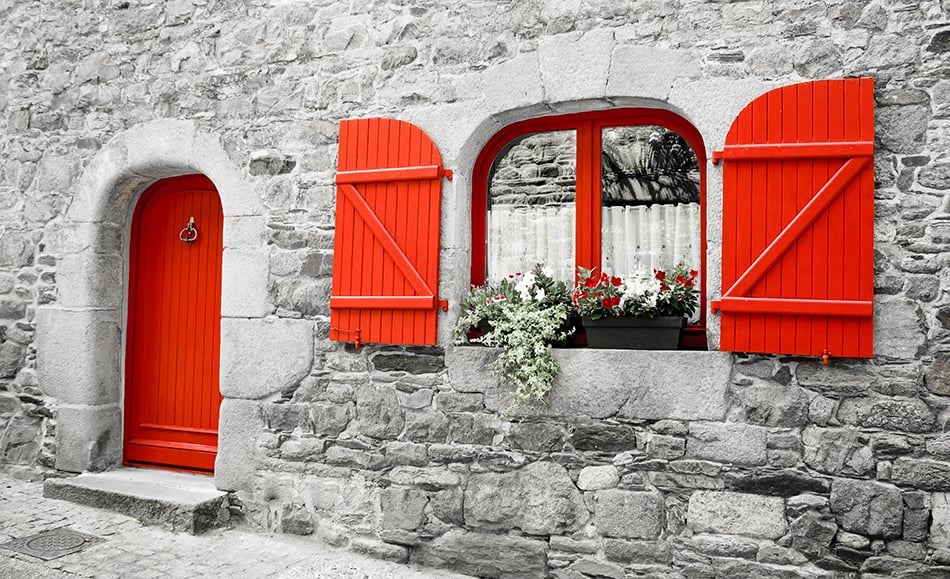 If you want to go bold, red is a popular choice that offers a classic look. Red front doors are most people's favorite and oftentimes they want shutters to match. Whether you choose bright or dark red, this color is sure to complement any exterior. Bright red shutters look great on brick, stucco and stone while dark red shutters go with everything!
Here, we love how the bright red front door and wooden shutters have enhanced the character of this rustic-style stone property. It is simply stunning!
Green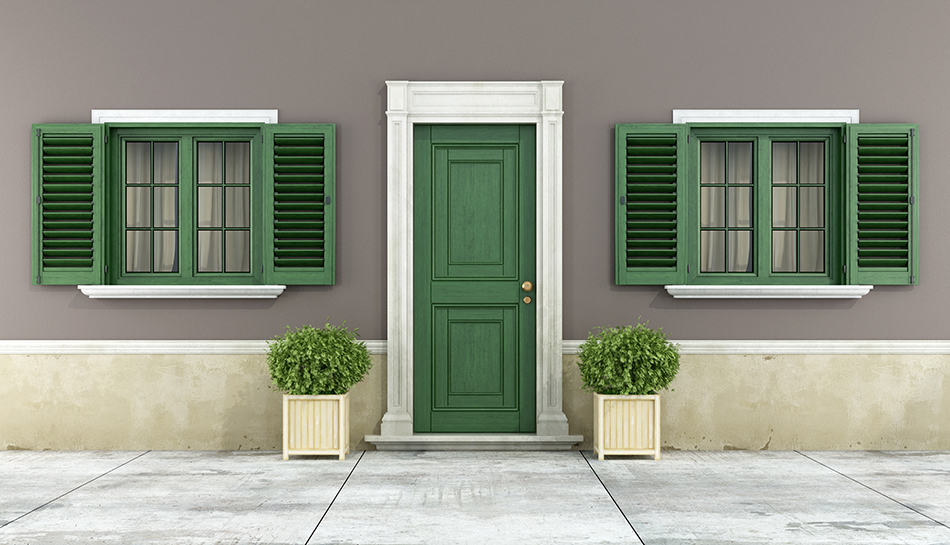 Admittedly, green isn't the first color that pops to mind when deciding on the best color for shutters. But you'll be surprised to know that green is actually a popular color, especially on rustic style stone or wooden homes. This color not only emits a traditional look, but it also looks beautiful on stucco exteriors. Lighter shades of green are becoming more popular now thanks to their earthy tone. If your home is modern, you may use a darker shade of green to make a dramatic statement.
Brown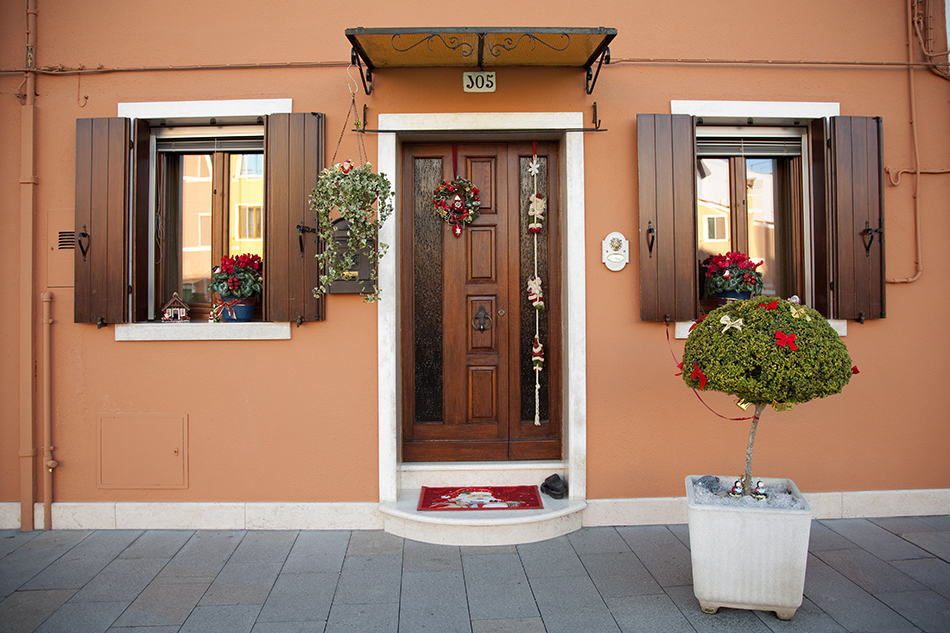 Brown is a stately color, whether you use a dark or light version of it. This earthy and natural tone is a great option for homeowners who want to incorporate natural colors to your exteriors. All shades of dark or light brown work well on stone, brown brick and stucco so feel free to experiment with both to match your home's exterior siding.
Gray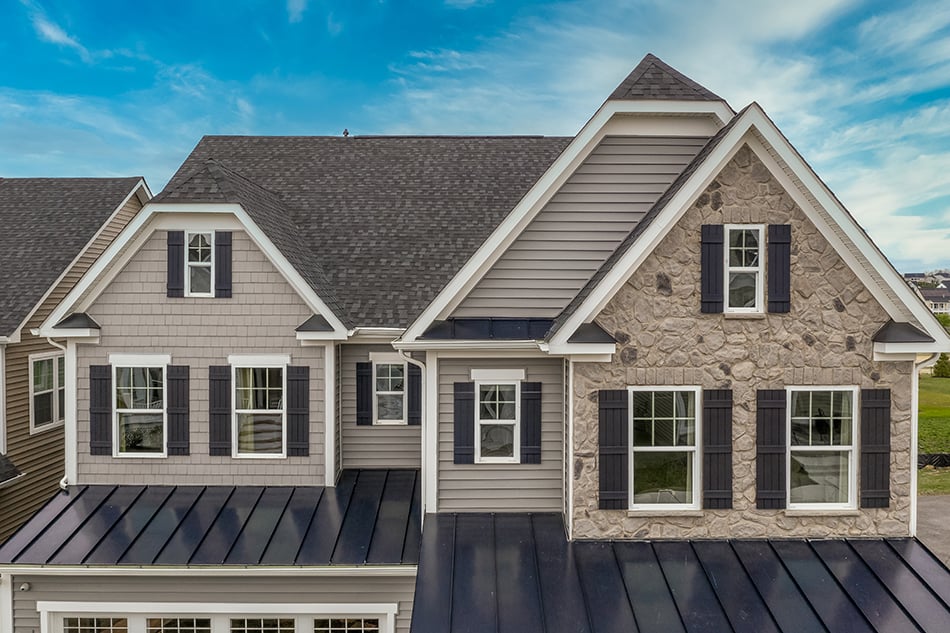 Classic yet modern, gray shutters are by far the most popular option to match with a front door. This color has a distinctly modern feel without being over the top. Dark or light shades of gray shutters never go out of style. You can go for the pastel, muted or white-tinted gray shutters and door to make a subdued statement.
In this example, the stone veneer exterior of this house is perfectly matched with the stunning gray shutters. Gray is certainly one of those colors that gives a subtle nod to contemporary exterior design without going over the top.
Complementing Colors for Shutters and Front Door
Black Door with Gray Shutters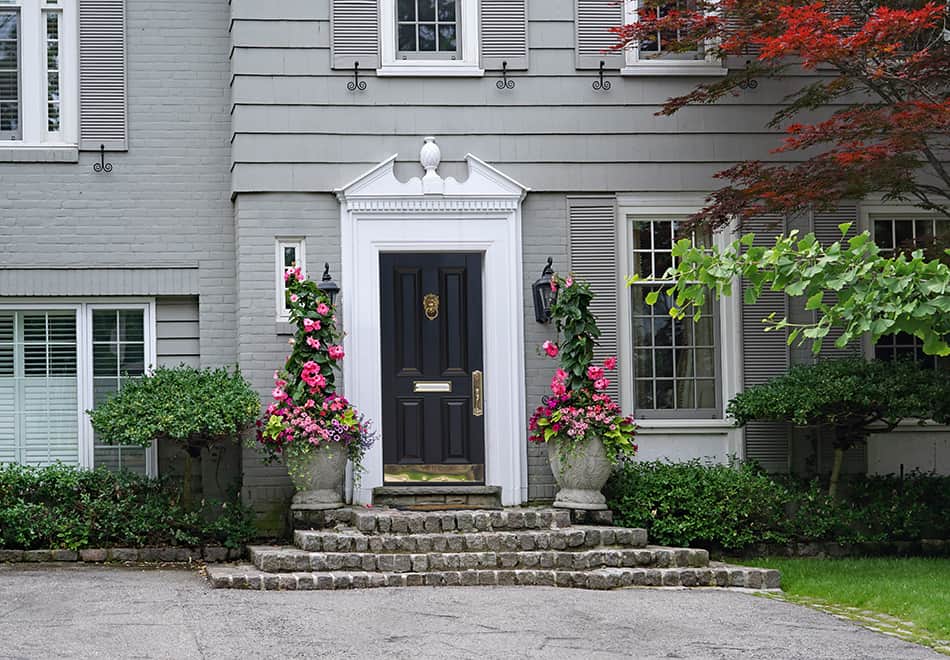 Black is a complementing color to gray. This color combination adds a subtle twist to the traditional black and white color scheme. Black and gray are the safest color pairings for the front door and shutters as they never go out of style.
If black and gray color pairings are a little bland for you, consider adding hanging plants to your front porch to add some color to the exterior of your home. The good thing about black and gray is that these colors are the perfect canvas for almost any exterior.
Black Door with Blue Shutters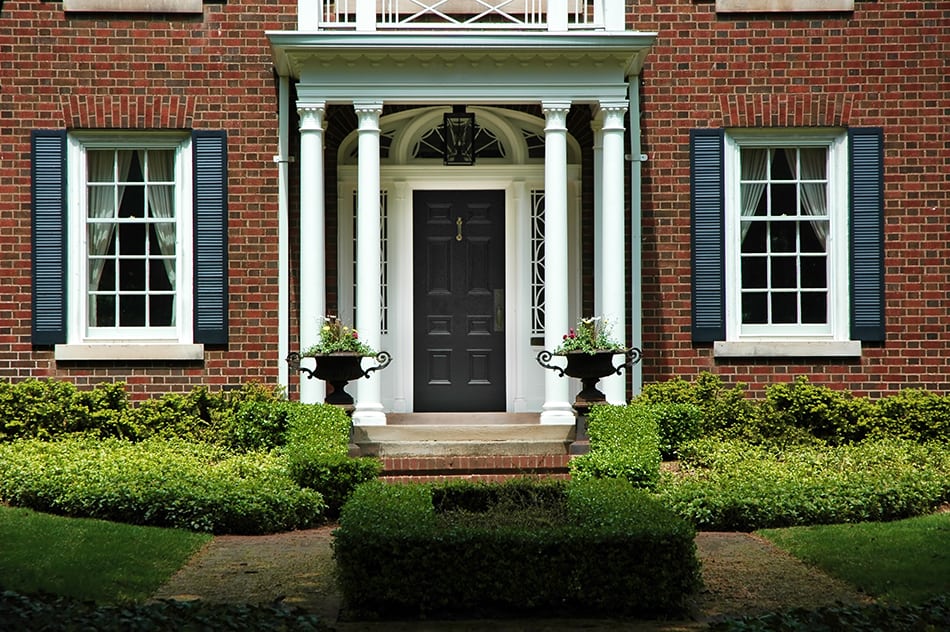 For Colonial style or period homes, a black front door with dark blue shutters is the perfect pairing dream. This color scheme goes beautifully with red brick exteriors as a smart and elegant combination.
We love the dark blue color of these shutters as the dominating hue against the beautiful black door. To complete your home's overall color palette, consider adding planters or metal lighting for even more sophistication.
White Door with Purple Shutters
To make a fun statement, we'd say go for a pairing of white and purple. White front doors are the most favored among homeowners but to make your home stand out from the rest, paint your shutters in a lavender shade of purple for a little out-of-the-box approach. And if you ever get tired of the color purple, just repaint it any color you want as your white front door will look great next to any other color. Purple and white hues give off an elegant monochromatic look so why not consider this pairing for your home?
Red Door with Blue Shutters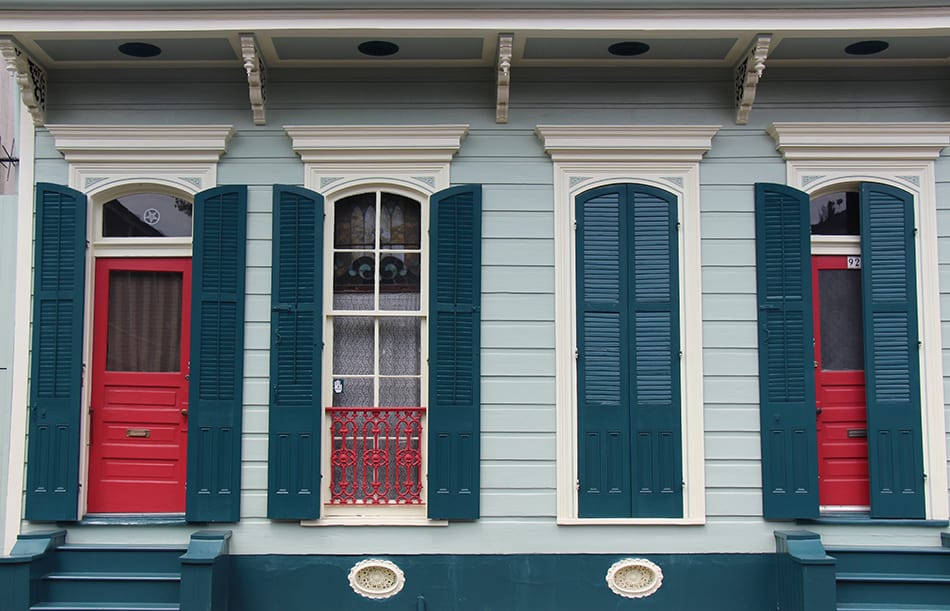 Now who would have thought of a red and blue pairing for their front door and shutters! An odd pairing? Sure, we've seen red front doors as timeless additions to both modern and traditional homes, but have you ever considered blue shutters to bring out the beauty of your bold red door? After all, two bold colors next to each other might clash, but not red and blue.
Get inspired with this beautiful example of a colorful home featuring dark blue shutters and a red front door against light blue siding.
Yellow Door with Black Shutters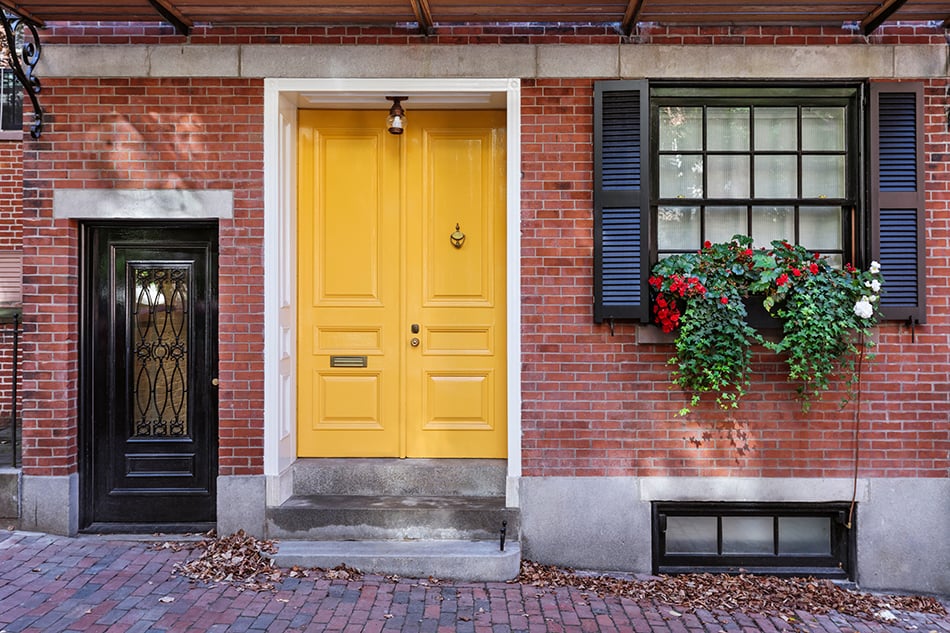 Add some brightness and cheer to your front door with a coat of yellow paint. And as for your shutters, a safe and complementing color is black as it allows your front door to stand out. We love the way this yellow front door speaks for itself next to the black shutters.