Have you ever considered injecting some personality into your front door by opting for the color pink? From fuchsia and magenta to bubblegum and wild berry – yes we are talking about the rich spectrums of pinks that surpass versatility. Whether you love wearing pink, or want to make a statement by decorating your home in this hot color, you can certainly say it with passion.
I'm sure you'll agree that we all need an attention boost from time to time so why not give your entranceway a complete makeover and show off your personality with a pink front door. Creating curb appeal doesn't have to kill your budget as you don't need to paint your whole house. By simply applying a fresh coat of pink paint to your entrance, you'll create an intoxicating punch of presence. 
Still in two minds about this color? Then read my top reasons why you should choose this color for your front door and take a look at my 14 examples of pink front doors on different exteriors with pictures.
What Does a Pink Door Mean?
Pink is the color for those who love making statements and dare to show off their extrovertism. In color psychology, pink represents a sign of hope and good health. In interior design, pink brings a loving energy to a home and is mostly seen in girls' bedrooms. However, if you don't have a pink bedroom and you want to bring some loving energy to YOUR home, consider a pink front door. 
Why Pick Pink as Your Front Door Color
Show off your personality: no matter what style home you live in, you're bound to find a suitable pink shade that'll look perfect on your home as well as make your personality stand out. Pink is a shade that adds a touch of sweetness and spice to any entryway.
Lots of shades to choose from: there are 24 shades of pink, from salmon and watermelon to taffy and fandango, so you're guaranteed to find your favorite shade. 
Pink looks great with accessories: if you love accentuating your entryway with accessories, a pink front door will undoubtedly help make your decorative elements look even more fabulous. For example, you can enhance your brass door knocker, mailbox, door handle, or the lighting with a statement pink door.
A pink front door is stylish and unique: if you want your home to stand out from the neighbors', a pink door will be the best option. Since red, white, and black are the most common colors for front doors, try something a little different for your entryway by picking a stylish pink door. 
Now that I've given you all the reasons why you should choose pink for your front door color, check out my best examples of pink front doors with pictures.
14 Pink Front Door Ideas
1. Bold Pink with Pink Flowers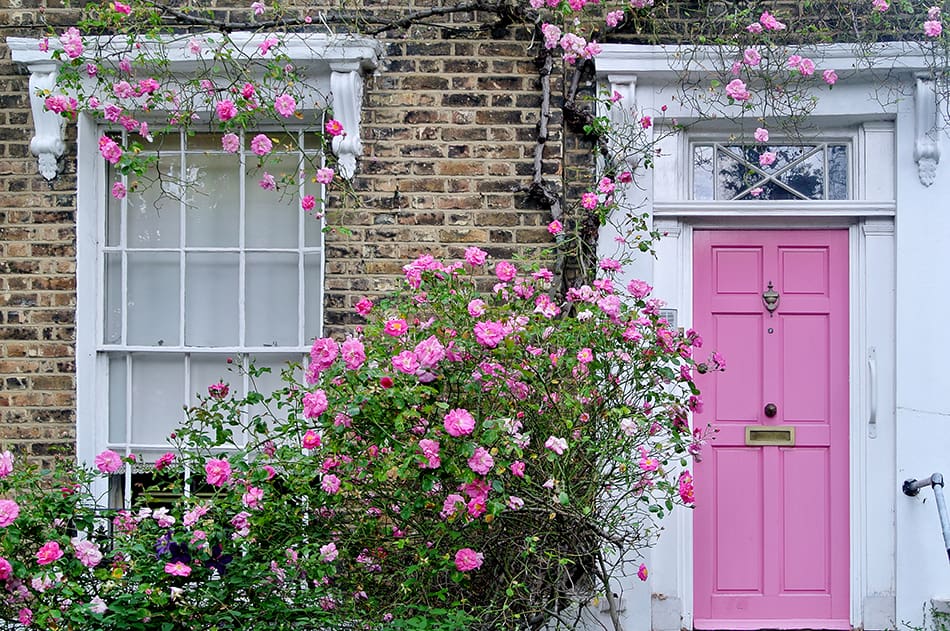 While pink isn't a traditional color for a front door, you can still use it on a classic brick exterior by introducing lots of pink flowers to enhance the look. Just like this elegant pink door, the bold hue doesn't stick out like an eyesore thanks to the matching pink flowers all over the exterior of this traditional brick home.  
2. Soft Pink and White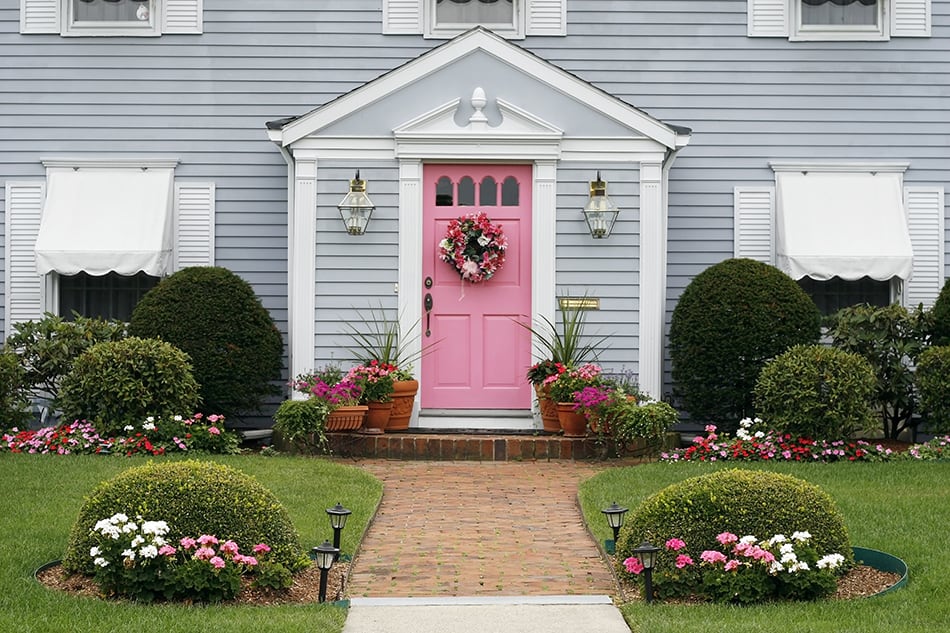 A soft pink front door is the perfect way to make a subtle statement against light grey and white siding. The white shutters, white framing, and the light grey siding make this house's pink door stand out along with its landscaped front garden. A stunning combination!
3. Light Pink on Stone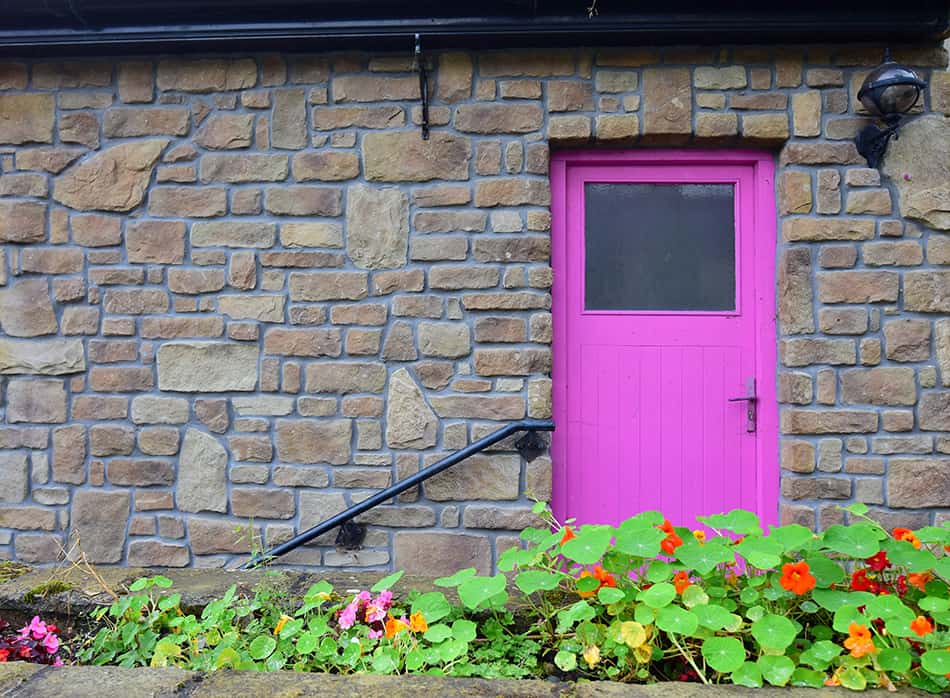 Another fine example of soft pink on a front door shows how this color goes beautifully with a stone exterior. The pretty leafy flowers at the foot of the door give a visually enhanced appeal with a striking contrast.
4. Pink Door with a Festive Look
A pink front door doesn't have to stick out like a sore thumb in the street. It can be beautifully decorated with festive wreaths and evergreen trees on the doorstep for an eye-catching entrance. This well-designed entryway looks inviting with its uniquely designed front door and the decorative features all around it. This shows how a pink door can look visually stunning and harmonious when it's festively decorated with wreaths – no matter which season of the year it is.   
5. Farmhouse Style Pink Door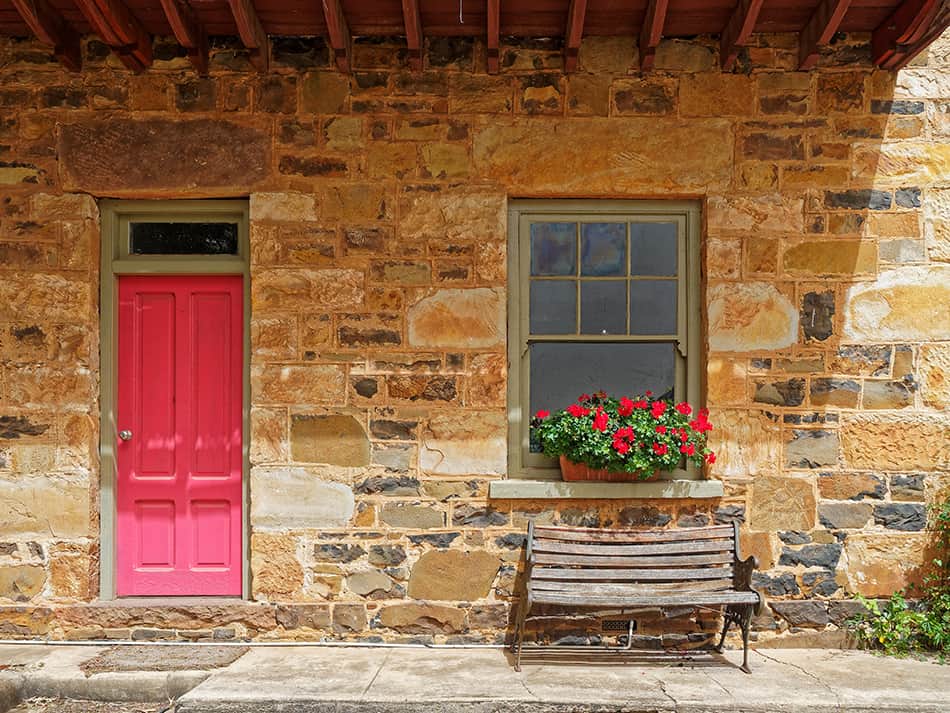 A farm-style house like a converted barn can look even more charming with a pink front door. While this pink door doesn't take center stage, it's a great example of how pink can be so alluring on an entryway, especially when it's paired with pink flowers on the window pane.
6. Vintage Pink Wooden Door on Stone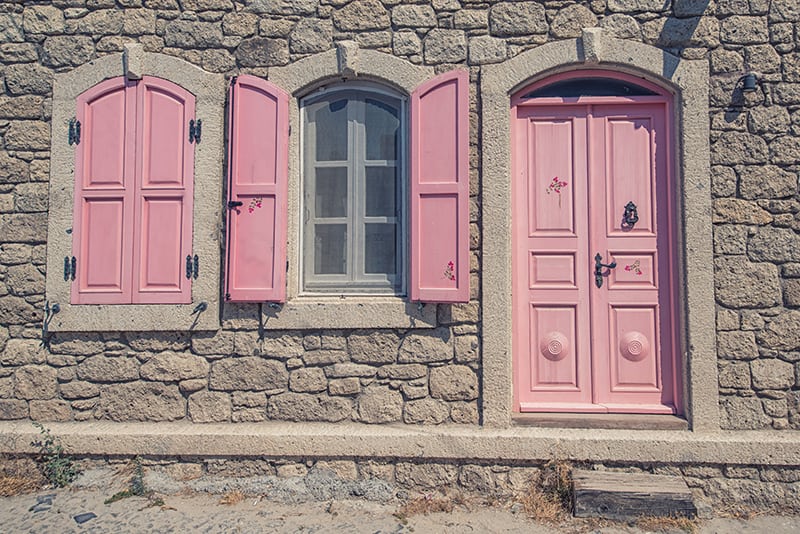 A stone exterior will look classic with a rosy pink door and matching shutters to make a stylish statement. See how this vintage wooden pink door and shutters complement the grey stone and enhance its color even more. The only thing that's missing is some outdoor greenery or pink roses to polish the entryway.  
7. Pink Door with Matching Windows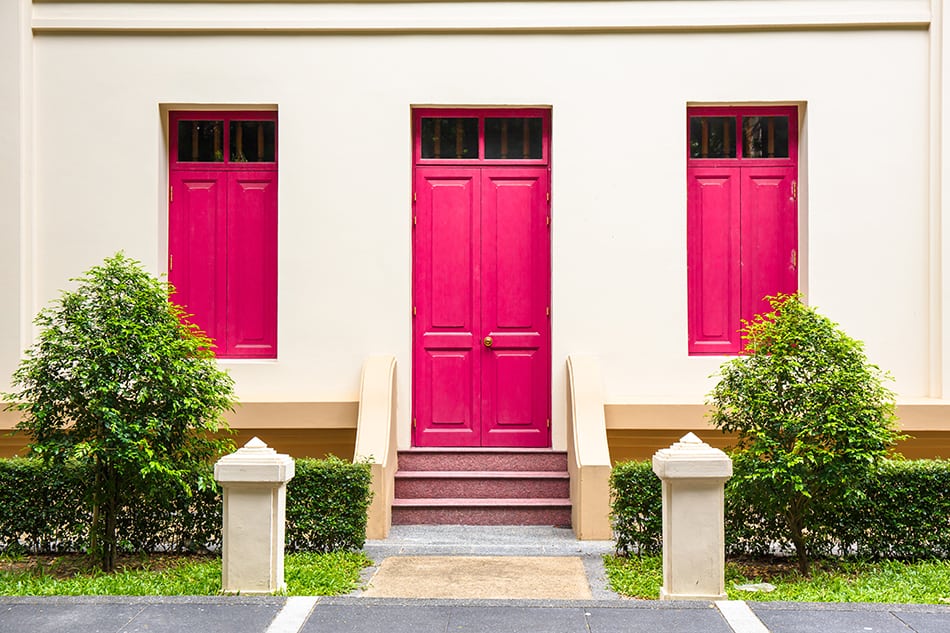 A darker pink hue looks perfect on white as it's not too strong or soft. I love the symmetrical pink windows that work in harmony with this pink door. The windows aren't just the same color but are exactly the same design as the door. The steps that lead up to the door together with the greenery on both corners make the entryway even more inviting.
8. Georgian Pink with White Decorative Framing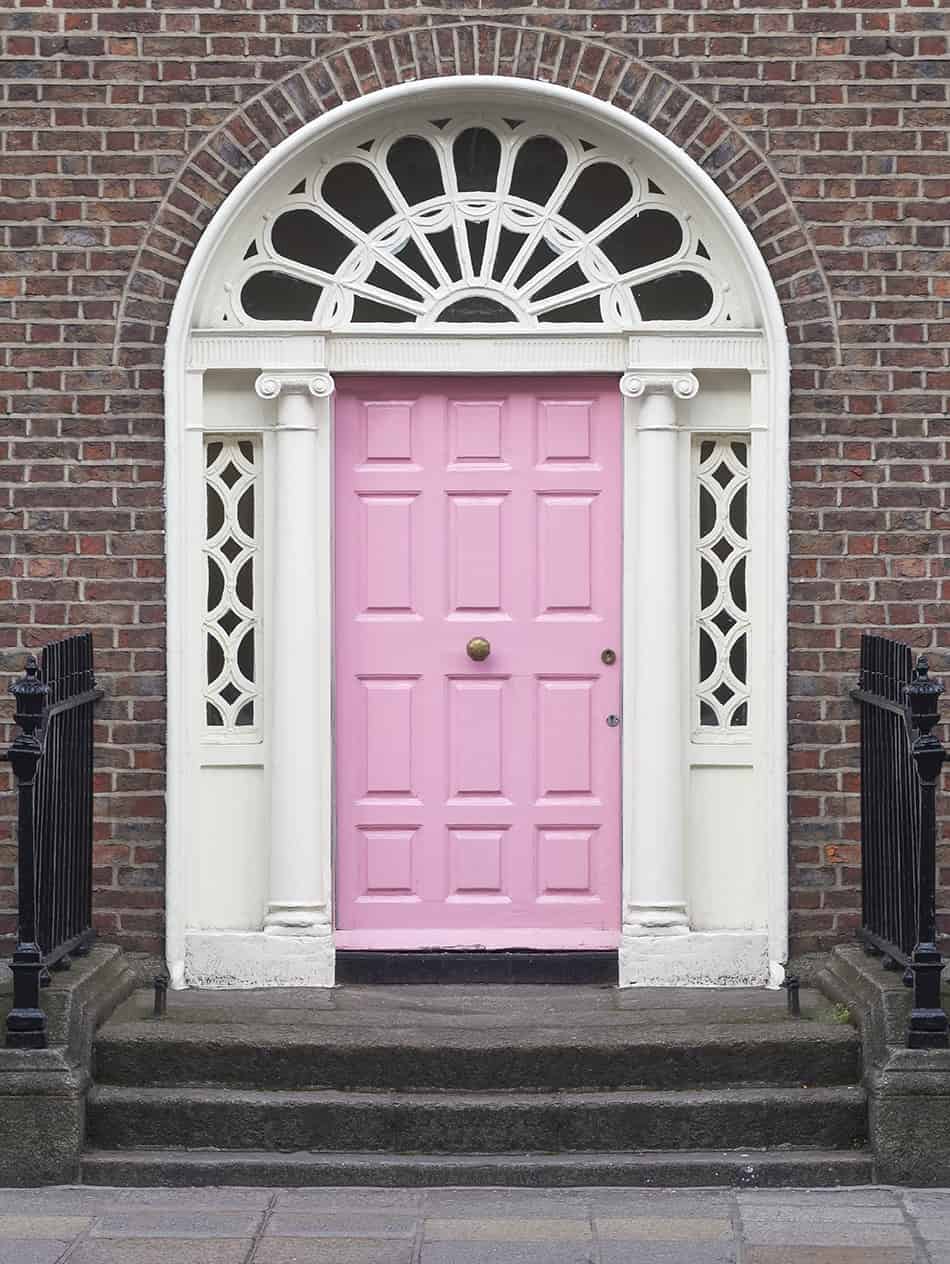 Pink isn't a color that any home can pull off. But in a classic Georgian style house, a warm shade of pink wil be an unbeatable combination. The decorative white framing of this Georgian home has set the backdrop for a lovely and majestic pink door. The traditional details like the brick wall and black railings have given this entryway a feeling of utter sophistication.   
9. Blush Pink on White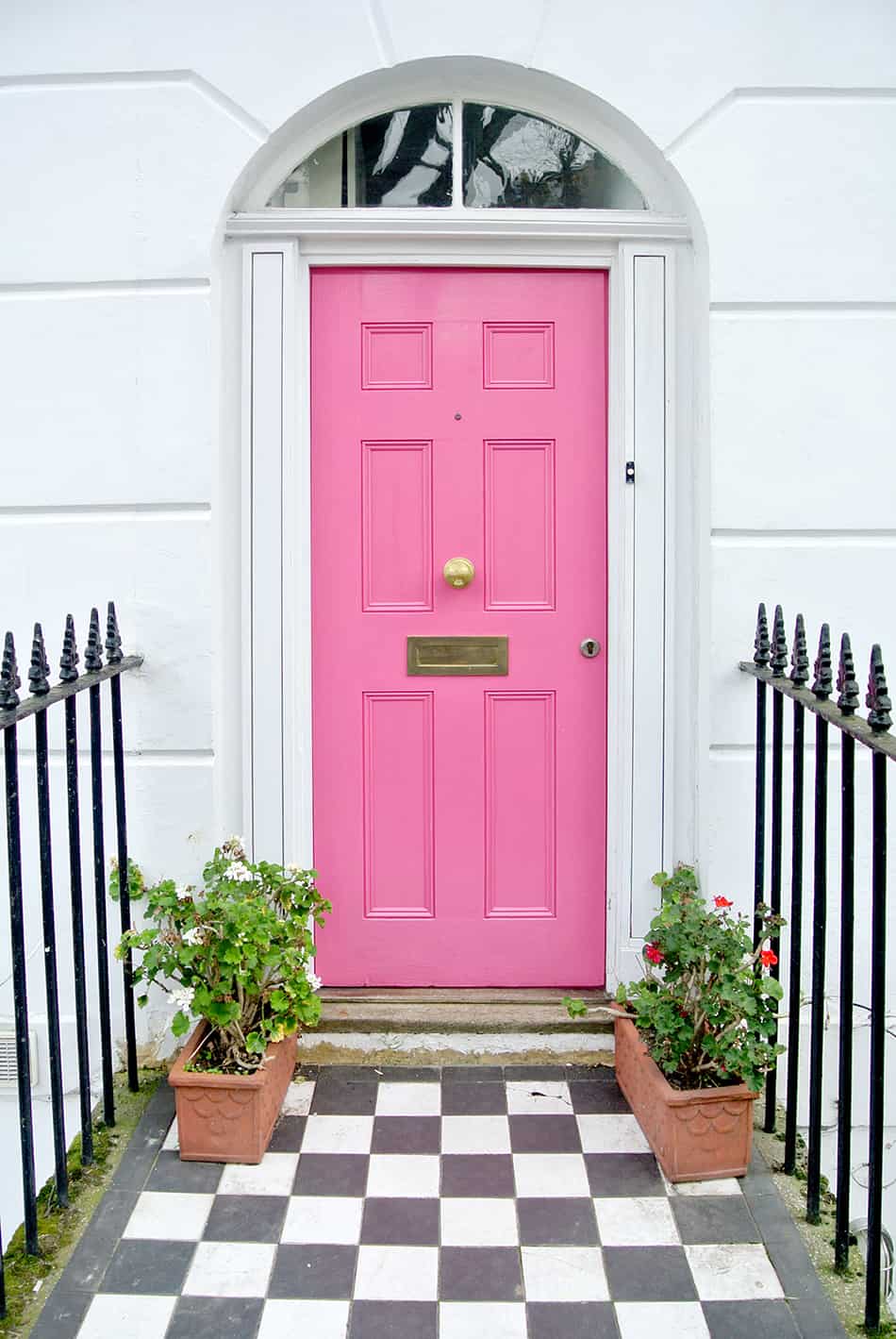 Blush pink is a hue that's been taking the interior design world by storm. You can see this color pop up in both exterior and interior spaces. Blush pink is a softer and warmer version of pink that doesn't look as feminine as hot pink. When used on a white exterior with black railings, the most ordinary looking pink front door can simply look stunning just like this image.
10. Hot Pink on Brick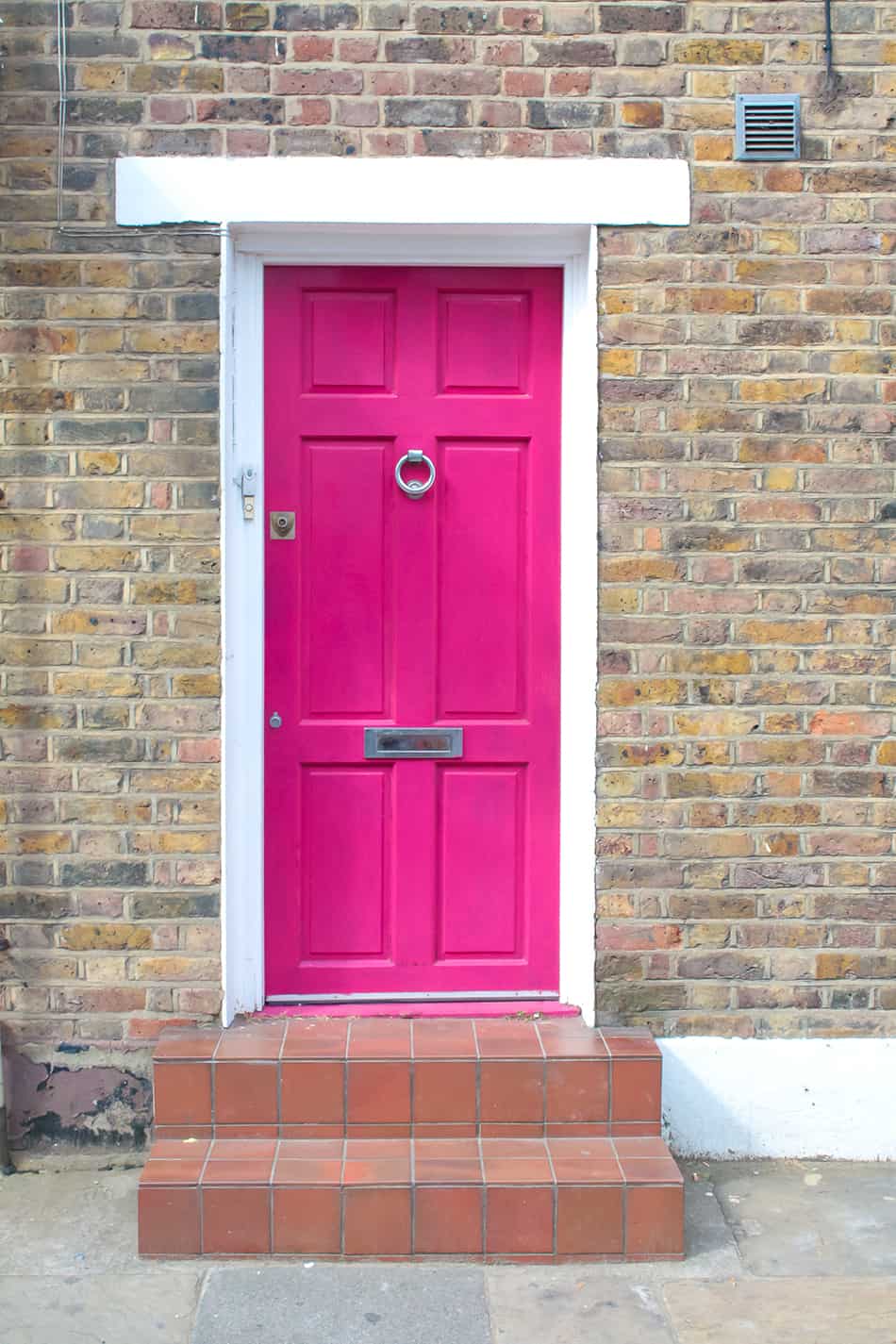 It may be a little difficult to picture a hot pink door paired with a brick exterior, but it can actually make an enchanting combination as shown here. The gold door knocker on this pink door has further added to the front door's visual appeal. 
11.
Cool Pink on a Pink Townhouse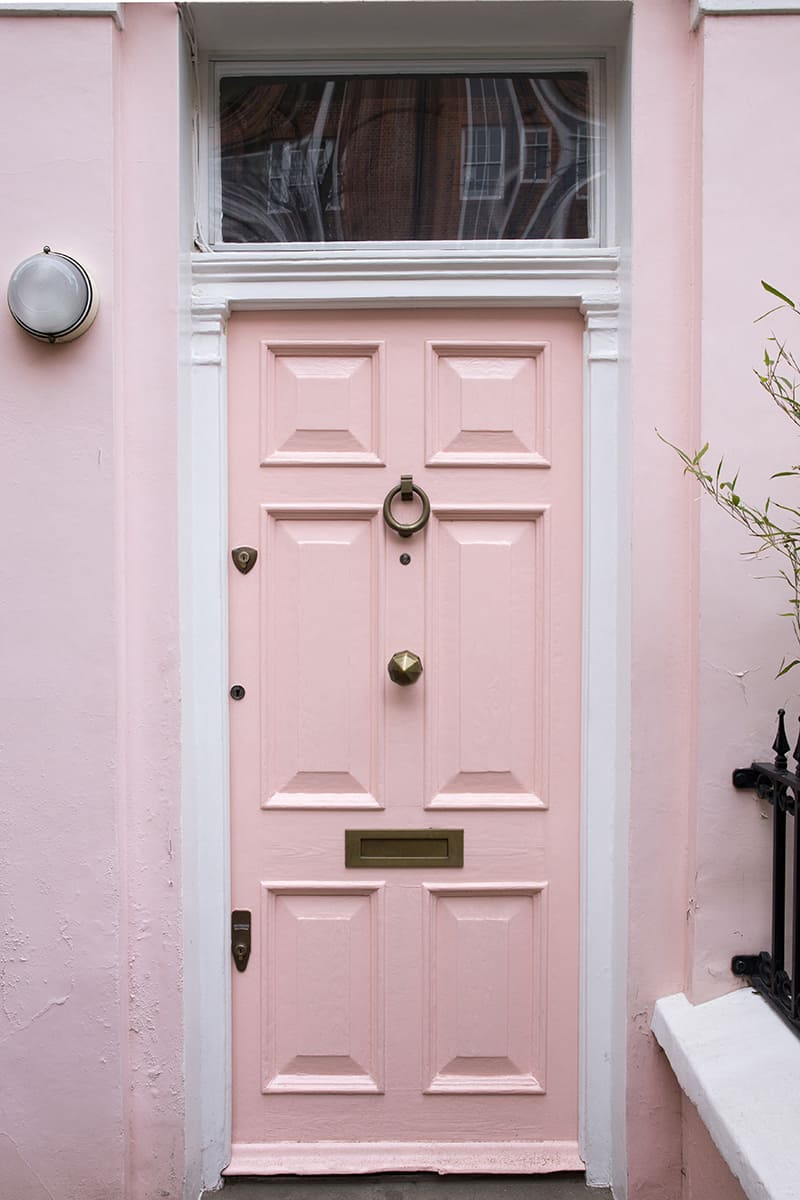 This calm and elegant feminine pink front door works beautifully with the pink exterior of this traditional townhouse. Paired with a large door knocker, side lighting, white trims, and upper glass panel, this cool pink door looks fancy and can be implemented with any decorative element. 
12. Classy Pink with a Floral Theme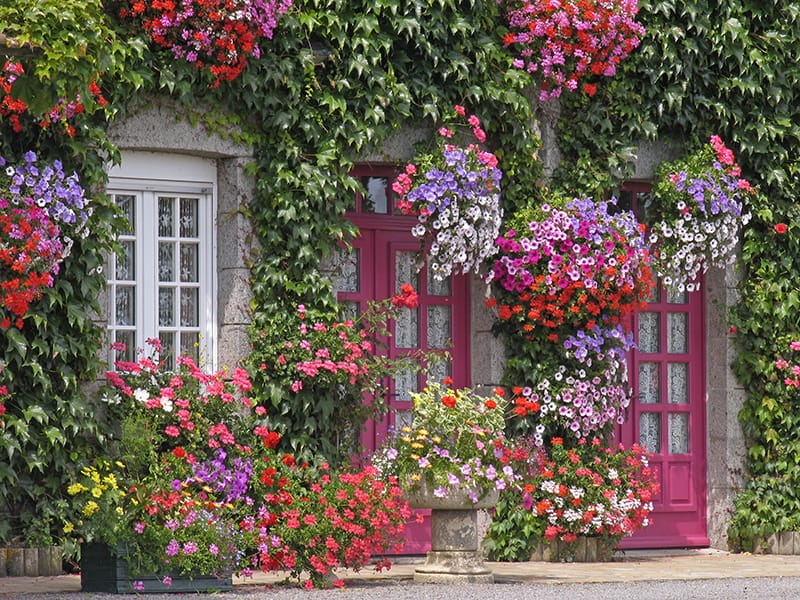 If you've ever dreamt of the day you'd be walking out of your pink French door onto a patio full of beautiful flowers and plants, then this picture has to be the perfect example of a mid-century home with French pink doors nestled between lots of colorful flowers. It couldn't get any prettier than this landscape! The floral arrangement has enhanced the pink and made this entryway highly welcoming. Everything about the French-style pink doors oozes with character and sophistication, don't you think? Regardless of whether you live in a contemporary or traditional home, why not use the same French-inspired entryway by adding plenty of vibrant flowers and hanging plants all around your pink French door.    
13. Think in Pink for a Cozy Cottage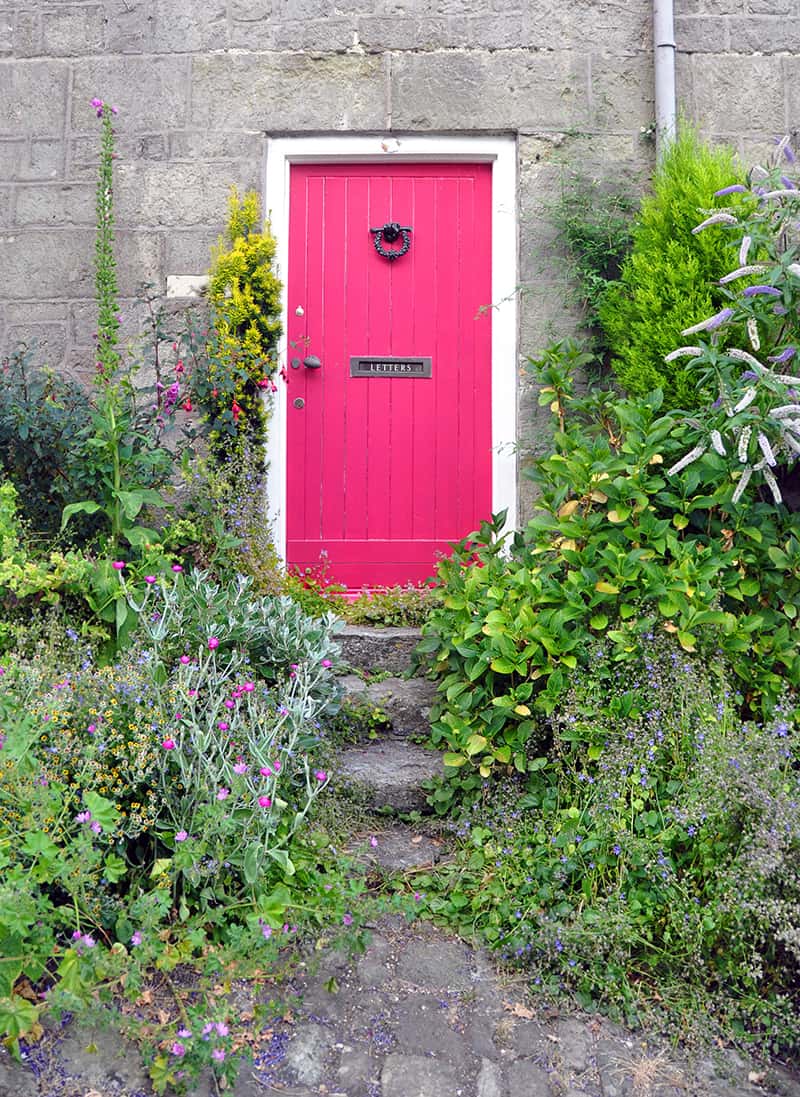 A cozy cottage with a grey exterior can easily look depressing or grim if it doesn't have a vibrant and bold front door. And what better color to pick than pink! Even on rainy days, your pink front door will look warm and joyful, especially when you add features like a huge metal door knocker and lots of greenery as seen here. This pink wooden front door has made this house feel like home thanks to its bright tone and the wild flowers all over the doorstep. 
14. Vivid Pink on Stone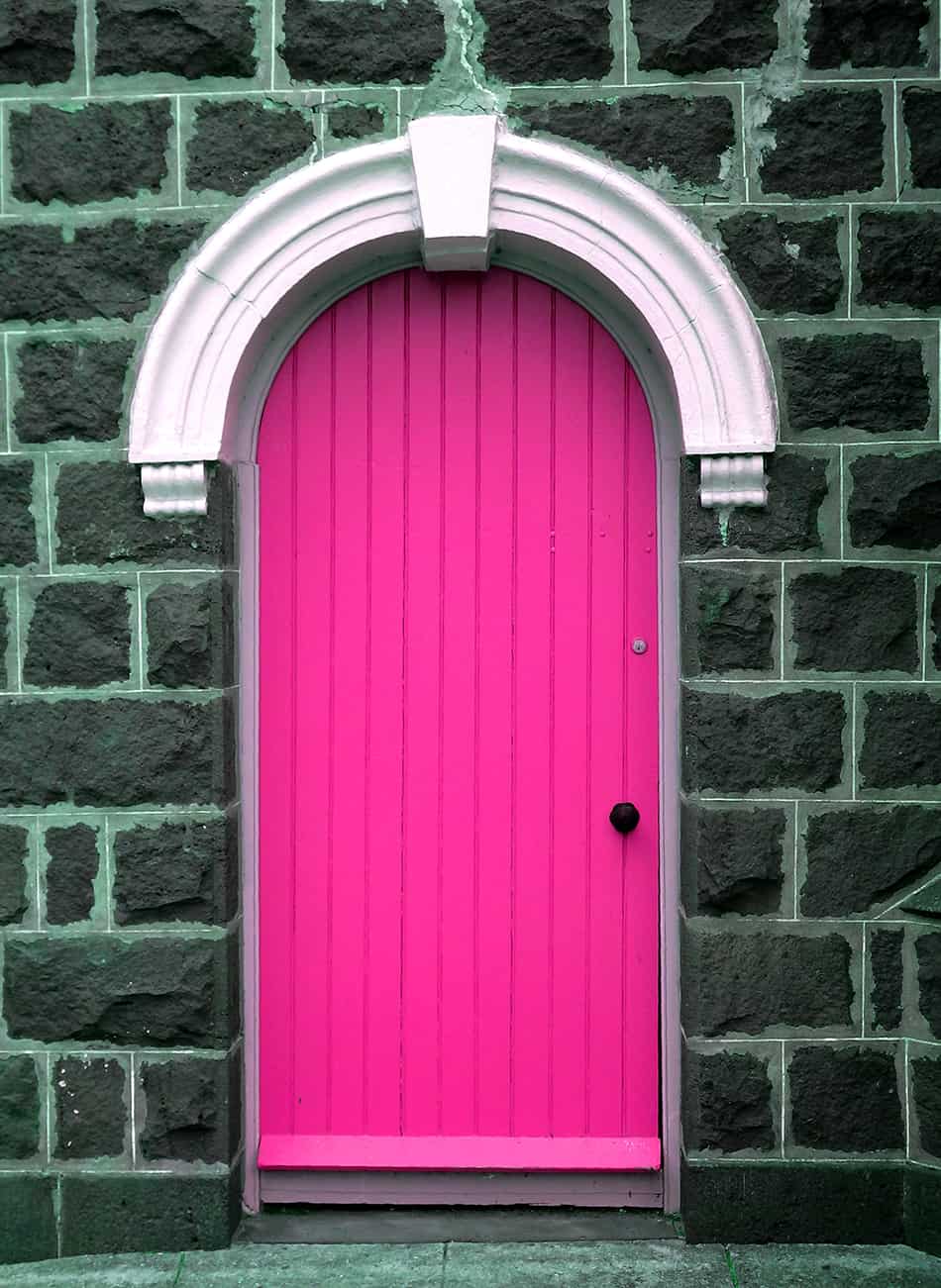 When you combine a vivid pink front door with dark grey and even black exterior, it may look a little out of place – but not if you add a fresh white trim to the top of the door to make the color pop. This vivid pink front door against the dark grey wall looks vividly enhanced thanks to the white arched pediment.