Sapphire blue is a heavily saturated blue color that is named after the gemstone of the same name. This color is darker than royal blue but not as dark as navy blue. It is currently an extremely popular shade in interior design and is being used in a wide range of styles.
This color can evoke a sense of glamor and luxury, but it can also work well in more casual and relaxing spaces. Here we take a deeper look into sapphire blue and the meaning of the color, as well as similar shades and how to use sapphire in home decor.
What is Sapphire Blue?

Sapphire blue is a color that sits somewhere between medium blue and dark blue, though it leans more towards the darker end of the scale. The color is named after the sapphire gemstone, which can come in various shades of blue, as well as other colors, though they are more famously known for their dark blue shade.
The use of sapphire in terms of a color name is known to date back as far as the early 1400s, and it is still widely used to reference dark blue colors today.
What Does Sapphire Blue Mean?
Sapphire gemstones are believed to be linked to prosperity, good fortune, and health. In Feng Shui, the color is associated with wisdom and integrity. Sapphire blue is also a color linked to love and romanticism since sapphire stones are commonly found in engagement rings.
It is also a color which is associated with royalty, with Princess Diana's engagement ring which was passed on to Catherine, Duchess of Cambridge, famously containing a sapphire. Throughout time, sapphires have also been worn to protect the wearer of the stone and ward off evils.
Similar Colors to Sapphire Blue
Cornflower blue

This color is more of a medium blue, while sapphire blue sits hallways between medium and dark blue. It has a more casual feel to it compared with sapphire, but since it is a very similar shade, the colors could be used interchangeably in color schemes.
Use cornflower blue instead of sapphire blue if you want to achieve a more easy-breezy vibe.
Royal blue

Royal blue and sapphire blue are incredibly similar colors, and actually, it can be difficult to tell them apart. Many people describe true blue sapphire stones as being royal blue, so it can be easy to get confused between the two.
The key difference is in the brightness of royal blue compared to sapphire blue. Royal blue appears more intense, while sapphire blue leans slightly towards a darker hue. These two colors will both work well in the same color schemes since the difference between them is almost imperceptible.
Navy blue

Navy blue is a few shades darker than sapphire blue, with navy appearing as almost a neutral shade while sapphire is a more determinedly saturated blue color. Navy blue is more versatile because it is a more subtle shade of blue compared with sapphire blue, so it is generally the more commonly used of the two.
It will work well in a wider variety of color schemes compared with royal blue; however, it will typically also make less of an impact. If you want to find a muted shade of blue, then navy is a great choice; however, for a bolder style, opt for sapphire blue.
Cobalt blue

Cobalt blue is a similar shade to sapphire blue, but it has a more heavily saturated electric look to it. Cobalt blue is so intense that it almost seems as though it would glow in the dark.
Sapphire blue will be a more modest color choice compared with cobalt blue; however, cobalt is well suited to more vibrant color schemes.
Midnight blue

Midnight blue is a very deep and dark shade of blue that can appear almost black in some lights. This is the color of the sky during the darkest hours of the night and is the darkest shade of blue you can get before you get into the territory of black.
This color is much darker than sapphire blue, though you can find sapphire gemstones with elements of midnight blue in them. Midnight blue will work as a good base color or as a neutral, while sapphire is better for accenting.
Using Sapphire Blue in Home Decor
Feature wall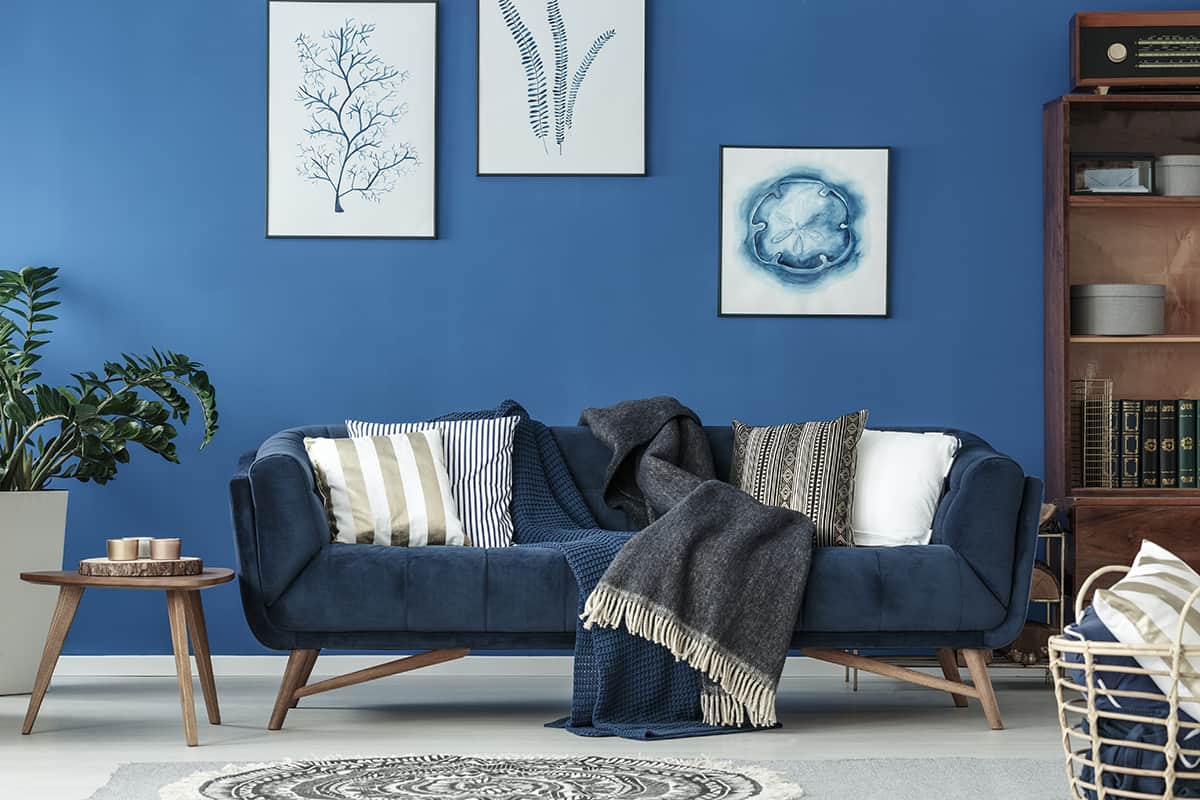 Sapphire blue is a bold color that can be put to good use as a paint color on a feature wall or accent wall. Most people will feel that this color is too intense to use on all walls in a room; however, when used on one focal wall, it makes a statement without appearing too overwhelming. Paint the remaining walls in the room in a neutral color to ensure a good balance, such as pale gray or off-white.
A wallpaper featuring a heavy ratio of sapphire blue will also work really well when applied to a feature wall. You can then pick out other sapphire blue elements in the room, such as cushions and a rug, to help define the color scheme and tie the shades together.
Alternatively, create your own pattern on a feature wall by painting sapphire blue and white stripes, or a geometric pattern using decorators tape to ensure neat and clean edges.
Upholstery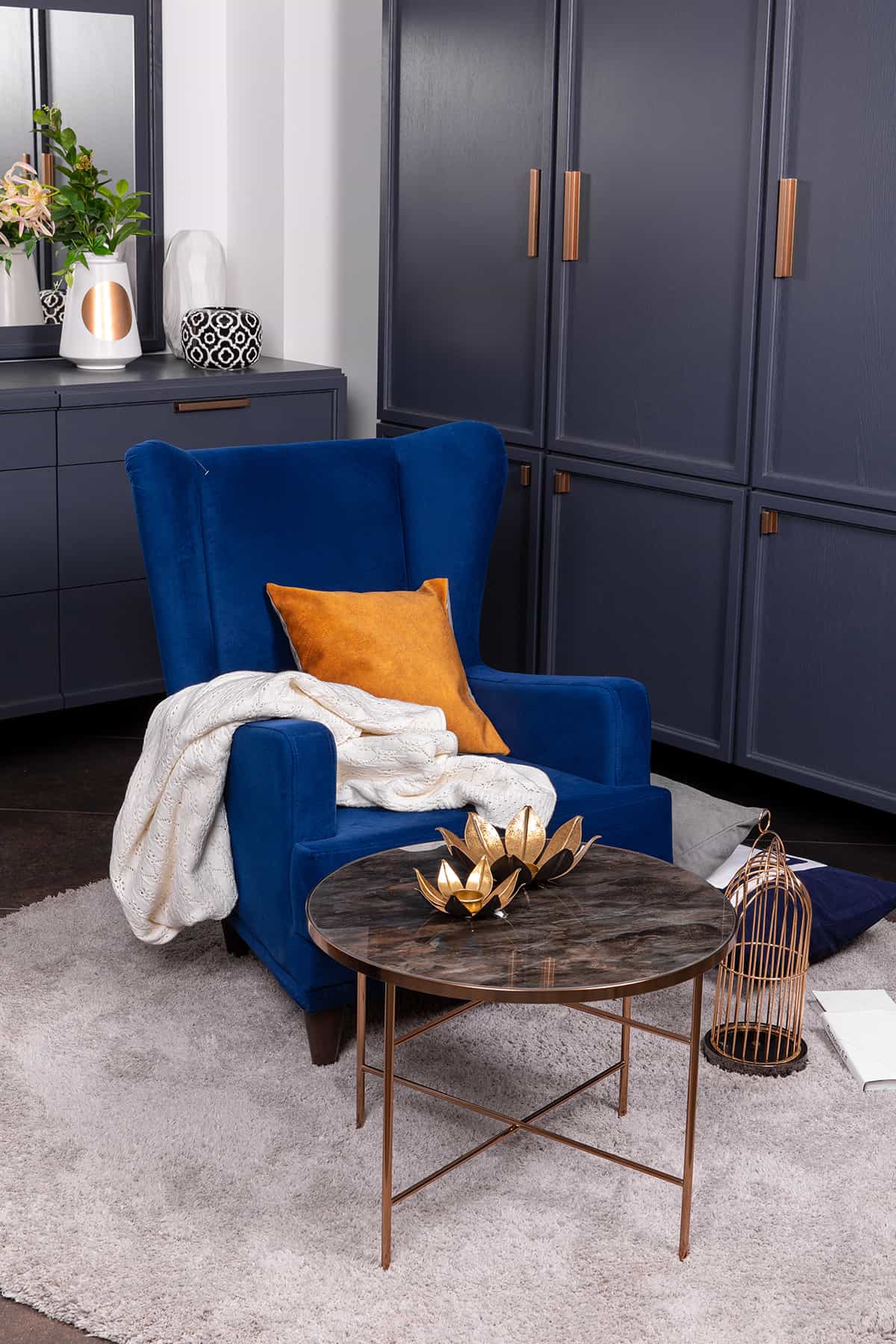 Sapphire blue is a classy fabric color choice for upholstery since it has an elegant and timeless appeal, yet it is bold enough to make a statement. Choose sapphire blue upholstery for an accent piece in a room, such as a velvet armchair in a living room or an upholstered chaise longue in a bedroom.
Use tactile fabrics for sophisticated or glamorous themed spaces, for example, velvet or suede, and choose more natural finishes like cotton or linen in a casual themed room.
You could also use sapphire blue as a dominant color in a room by opting for sapphire blue upholstered sofas. Linen sofas in sapphire blue will look refreshing in an off-white painted room with gray accents.
Soft furnishings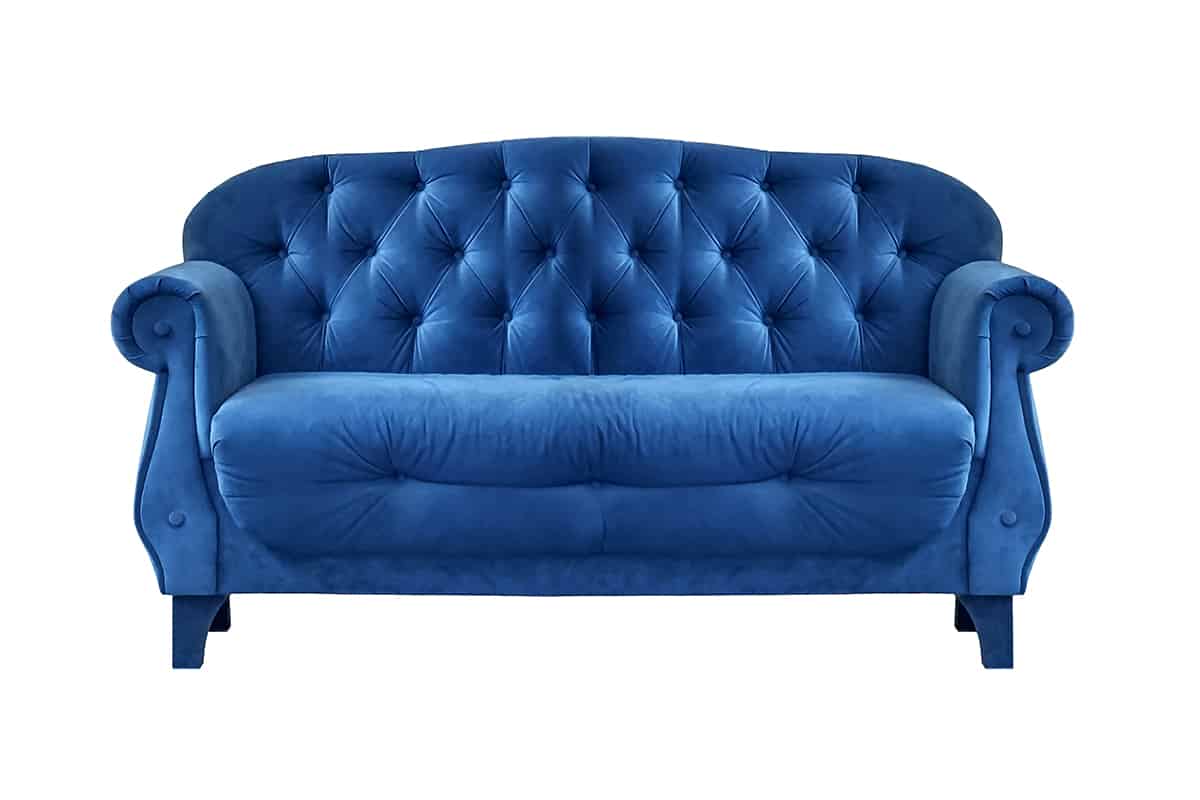 Since sapphire blue is a striking color, it can be daunting to add this to a color scheme in your home. If you'd prefer to not make such a permanent change to your home as painting walls or buying big-ticket items like sofas, then opt for sapphire blue soft furnishings.
This is a fun way to experiment with color and switch up the atmosphere in a room without making a commitment or spending heaps of money.
Buy sapphire blue cushion covers or dining placemats to introduce sapphire blue into a color scheme on a small scale. If you find that you like the result, then you can always add more further down the line, such as a sapphire blue rug or sapphire blue curtains.
Small room wall color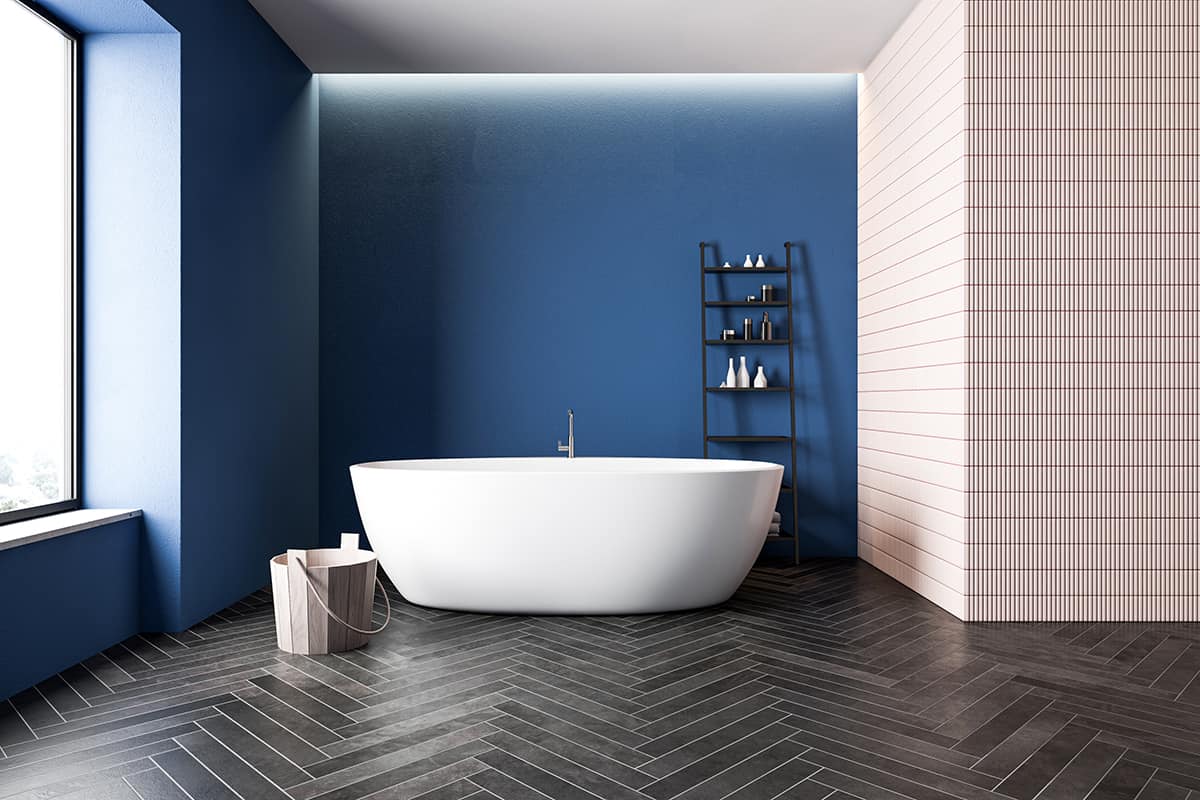 Sapphire blue is a color that most people will shy away from as a wall color because it is so intense. However, there is a growing trend for bold paint colors in small rooms, which is gaining popularity. Despite beliefs that pale and light colors should be used in small rooms to help them feel bigger, bold or dark colors have come into fashion for small rooms because they can add depth.
If you have been contemplating sapphire-blue walls but don't want to make such a bold statement in the main rooms in your home, then consider this color for walls in a small room like a bathroom. These are rooms that you don't tend to spend long periods of time in, so they are a good choice for bold color themes.
Paint a bathroom in sapphire blue and contrast it with glossy white trim to make it feel sleek and modern. Add in charcoal accents such as towels and a bath mat, and use gold accessories like a gold metal planter or a gold-framed mirror on the wall.
Cabinetry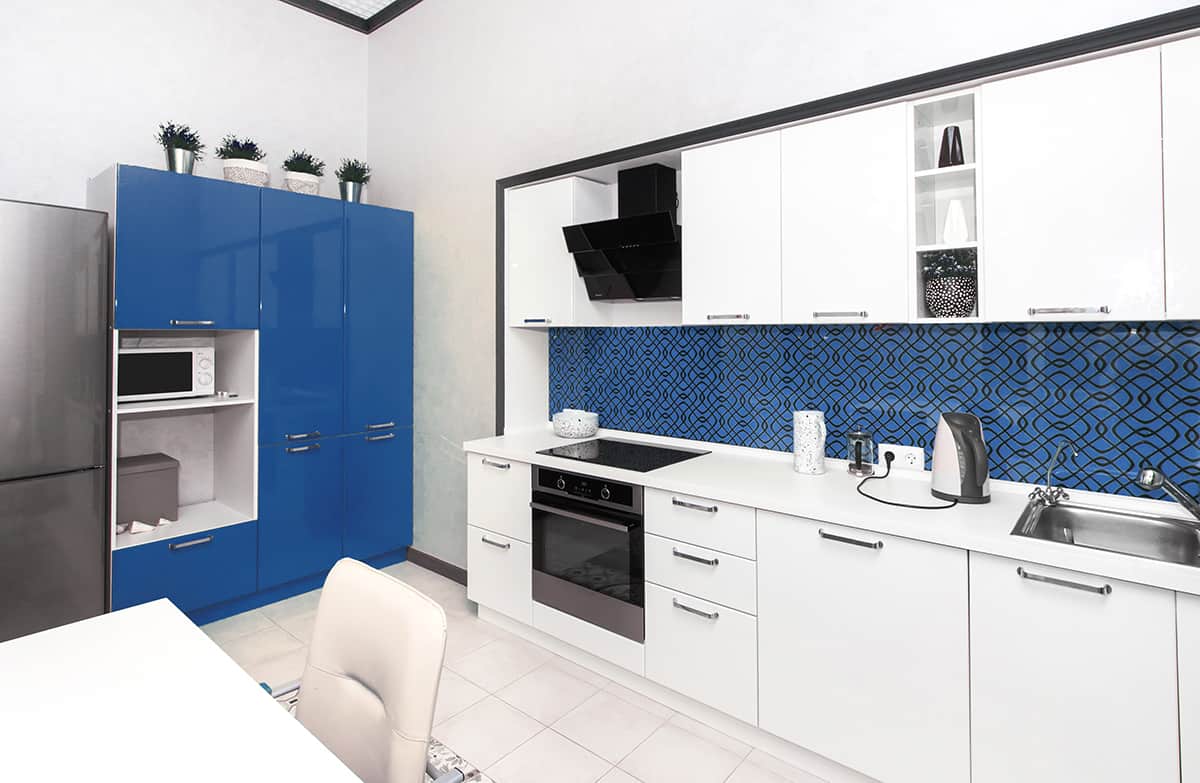 Kitchen or bathroom cabinets will look modern and funky when painted in sapphire blue. Use this color for a Scandinavian-style kitchen, with pure white walls and bright yellow accessories such as a yellow retro stand mixer displayed on the countertop.
Sapphire blue cabinets will also work well in a contemporary kitchen, with pale gray walls and marble countertops. If an entire kitchen of sapphire blue cabinets sounds too intense, then follow the trend of dual-colored kitchen cabinets, painting the base cabinet doors in sapphire blue, and the wall cabinets in white or pale gray.
When taking on this look, note that your darkest color should be used on the base cabinets and the lighter color on the wall cabinets. This will help to create a grounded feeling in the room and also prevent it from feeling off-balance or top-heavy.
In a bathroom, create a fun and casual beach style with a painted sapphire blue cabinet and light beige walls, with mustard-colored towels and bath mats.